---
Areknamés (Italy) see: Samples
| | |
| --- | --- |
| Arena (UK) see: | |
In Deep (1972, 45.22) ***/T

God Gave Rock and Roll to You
It's Only Money Part 1
It's Only Money Part 2
Losing Hold
Be Glad
Christmas for the Free
Candles on the River
Rosie

Nexus (1974, 42.08) ****/TTT½

The Coming of Kohoutek
Once Around the Sun
Infinite Wanderer
Love
Music From the Spheres
Thunder and Lightning
Keeper of the Flame
A Man for All Reasons
Gonna Meet My Maker
Encore (1974, 75.24) ****/TTT

The Coming of Kohoutek
It's Only Money (Part One)
It's Only Money (Part Two)
God Gave Rock'n'Roll to You
Thunder and Lightning
Music From the Spheres
I Don't Believe in Miracles
Dance of Ages
Keep on Rolling
Hold Your Head Up
Time of the Season
Circus (1975, 36.51) ***½/TTT½

Circus
Highwire
Clown
Trapeze
Shine on Sunshine
The Ring
The Jester

Counterpoints (1976, 37.11) ***/T

On My Feet Again
I Can't Remember, But Yes
Time
Waiting for the Yellow One
It's Fallin' Off
Be Strong
Rock'n'Roll Show
Butterfly
Road Back Home
Current availability:
In Deep/Nexus: Epic/Sony
Encore: BGO (UK)
Circus/Counterpoints: on CD, may be out of print
Mellotron used:
All titles: band's own M400
After the Zombies fell apart at the tail-end of the '60s, keyboard man Rod Argent formed a self-named outfit with songwriter/guitarist/vocalist Russ Ballard, later to have his songs performed by many high-profile acts, including Rainbow. Their albums improved as time went on, although you can see why they were never one of the progressive frontrunners, to be honest. Apart from anything else, their sound was probably too diverse to appeal to large numbers of people, with the Argent/Chris White progressive compositions clashing with Ballard's pop-rock numbers, although their two hits (Hold Your Head Up and God Gave Rock And Roll To You) were, of course, both Ballard songs.
Although it would've sounded good on some of their earlier material, Argent didn't obtain a Mellotron until album no.4, In Deep. The album isn't their greatest, to be honest, opening with the deeply irritating God Gave Rock And Roll To You, and filled with substandard material like Rosie and Christmas For The Free, although the eccentric Be Glad and the prog epic Candles On The River redress the balance slightly. There's one 'Tron track credited, Losing Hold, with a rather wobbly flute melody towards the end, and possibly strings buried somewhere in the mix, but other than that, it's piano and organ all the way, although that's hardly a problem.
Musically, it all came together on Argent's next release, Nexus. It opens with the instrumental cometary-inclined triple-whammy of The Coming Of Kohoutek/Once Around The Sun/Infinite Wanderer, utilising the medieval Dies Irae motif, though not, to be honest, as well as The Enid a couple of years later. The suite opens with a dual synth/Mellotron reading of the melody before the whole band comes in, moving through several sections, referring back to the main theme throughout the piece. Maybe a fraction less Emersonising on the organ would've been nice though, Rod... Love is a decidedly wussy Ballard ballad (ho ho), almost saved by 'Tron cellos, flutes and strings. But only almost. Side two's chief 'Tron tracks are Keeper Of The Flame and A Man For All Reasons, though neither match up to the album's opening salvo, although the 'Tron-free Music From The Spheres is another excellent prog workout.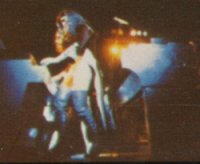 By the time the double live Encore appeared, the Argent/Ballard balancing act had finally toppled, though Ballard appears on the album. It's a fairly typical double-live effort, containing slightly rockier versions of studio tracks, with a fair bit of extended jamming, although it also displays the dichotomy at the heart of the band's sound; I Am The Dance Of Ages followed by Keep On Rolling. Prog epic, chock full of Mellotron, with a barrelhouse piano knees-up hard on its heels? You wouldn't have caught Genesis doing that... Anyway, going by the multiple pics on the sleeve, Rod was using not only a C3, M400, Pianet and MiniMoog, but also a grand piano, stuck way out to stage right. The extravagance...
The 'Tron gets slightly less use than you might think, although Kohoutek, I Don't Believe In Miracles and Dance Of Ages all have some superb string and flute parts, the latter two demonstrating the effectiveness of adding 'Tron to pieces from earlier in the band's career. Thunder And Lightning has the same minimal use as on the studio version and, sadly, they resisted the temptation to slap it all over Time Of The Season, opting for a couple of background string chords. One confusing aspect of the album is on I Don't Believe In Miracles, where you can clearly hear grand piano and Mellotron strings played simultaneously, and possibly even 'Tron cellos, too, yet no-one else is credited with keyboards. Hmmm. I can't hear any guitar on the track, so was Russ Ballard playing keys? I think we should be told.
Circus was Argent's first post-Ballard LP, and appears to be a semi-concept album, although not all the tracks seem to fit lyrically. The album starts well enough, with Circus and Highwire, but I feel some of the subsequent tracks seem to veer a little too closely to easy listening (Clown) or jazz (Trapeze). Maybe that's just diversity, though, not lack of direction. Sorry, my mistake. The Mellotron use is pretty good throughout, mainly strings, but plenty of 'em, with flutes on another lesser track, the jazzy, balladic Shine On Sunshine, which almost sounds like Queen for some reason, though with less humour. So, OK, but could do better. Sadly, they didn't.
Counterpoints ended up being the last Argent album, before Rod went off into a solo career, and it follows the by now familiar mid- to late-'70s pattern of shorter and simpler songs, although it still has its progressive moments. Unfortunately, Argent's muse seemed to be heading in a somewhat fusiony direction by this album, so if that's not your bag, I wouldn't go out of your way. Two Mellotron tracks, with standard strings on 'On My Feet Again' and cellos and strings on 'Road Back Home', bookending the album.
So; Nexus and Encore are the obvious choices, despite the track overlap, then maybe Circus, though more for the Mellotron than the music. Nothing much else they did is that special, with the best two tracks from their third album, All Together Now (***), on Encore, and neither In Deep nor Counterpoints being all that. There's a later archive live release, BBC Radio 1 Live in Concert, which appears to have been recorded an album or two before Encore, so I've no idea whether or not Rod was using his Mellotron at that point. More news when I get to hear a copy.
See: The Zombies
Acoustic Soul (2001, 61.25) **½/0

Intro
Video
Promises
Brown Skin
Strength, Courage and Wisdom
Nature
Back to the Middle
Ready for Love
Interlude
Always in My Head
I See God in You
Simple
Part of My Life
Beautiful
Outro
Wonderful
Current availability:
Mellotron used:
India.Arie (born India Arie Simpson, not sure why the dot) is frequently referred to as 'neo soul', whatever that means; her debut, Acoustic Soul, sounds like a more acceptable, acoustic version of the dreaded 'R & B' to my ears. Her lyrical concerns are immeasurably higher than those of her contemporaries, however, tackling image (Video), race (Brown Skin) and strength, courage and wisdom in, er, Strength, Courage And Wisdom. The problem with the album isn't its worthiness, but the tedium instilled by the style Ms. Arie has used to gain popularity, which, after a few tracks, feels like being licked to death by some slobbery old bloodhound; gentle, but relentless.
Plenty of vintage keys here, from Mark Batson, largely Hammond and Rhodes, but can I hear the credited Mellotron? Can I hell. There's a couple of points at which a cello or a distant flute just might be tape-generated, but it's impossible to tell, so it's a resounding zero on the 'Tron front, I think. Acoustic Soul starts as if it's going to be quite palatable to non-mainstream ears, but quickly degenerates into (admittedly fairly acoustic) R&B by numbers by about halfway through, until you end up preferring to chew the carpet than hear any more. Unless the mainstream's your thing, avoid.
Ariel Kill Him (Sweden) see: Samples
We Are the Ark (2000, 47.24) ***½/T

Hey Modern Days
Echo Chamber
Joy Surrender
It Takes a Fool to Remain Sane
Ain't Too Proud to Bow
Bottleneck Barbiturate
Let Your Body Decide
Patchouli
This Sad Bouquet
Angelheads
Laurel Wreath
You, Who Stole My Solitude
In Lust We Trust (2002, 44.09) ***½/½

Beauty is the Beast
Father of a Son
Tell Me This Night is Over
Calleth You, Cometh I
A Virgin Like You
Interlude
Tired of Being an Object?
Disease
Vendelay
2000 Light-Years of Darkness
The Most Radical Thing to Do
Current availability:
Mellotrons used:
The Ark are a difficult one to categorise, to be honest; usually referred to as 'glam rock', this seems to refer more to their chosen mode of dress than their music, although I can see where that description's coming from. Going by the two albums I've heard, they bear comparison with Mott the Hoople, another 'glam' act who were so much more than that. Basically, we're talking tuneful, literate pop/rock with a glammy edge, with lyrics that tackle uncomfortable subjects and tunes that stick in your head without the crassness of most modern 'commercial' stuff. Somehow or other, these guys actually played Sweden's 2007 Eurovision entry, although they failed dismally...
Their debut, 2000's We Are the Ark, sets their stall out nicely with memorable material like the (very) slightly Bowie-esque Hey Modern Days, the near-electropop of You, Who Stole My Solitude with its insanely catchy synth coda and the sleazy piano ballad Bottleneck Barbiturate. Vocalist/bandleader Ola Salo plays Mellotron on Joy Surrender, with strings all over the thing which are cranky enough to possibly even be real.
Two years on, and In Lust We Trust repeats the formula, with highlights including the controversial Father Of A Son, the chugging Calleth You, Cometh I and more Bowie-isms on Tired Of Being An Object? Calleth You, Cometh I features some rather grungy 'Tron strings that may well be sampled, apparently from Peter Kvint, but nothing you can't live without. I've seen references to 'Tron use on 2000 Light-Years Of Darkness, but it sounds like real strings to my ears.
So; a current band playing music inspired by the best of the early-'70s UK glam scene, who actually know how to write a tune or three. These are essentially fun albums that should probably be played in your car with the top down; not that many people bother with them here, 'cos you'd get wet, but you know what I mean. Not a lot of Mellotron, but these albums' charms lie elsewhere.
Armia (Poland) see: Samples
| | |
| --- | --- |
| Arsnova (Japan) see: | |
Supernatural Fairy Tales (1967, 37.06) ***½/½

I Think I'm Going Weird
What's That Sound (For What it's
Worth)
African Thing
Room With a View
Flying Anchors
Supernatural Fairy Tale
Love Is Real
Come on Up
Brothers Dads and Mothers
Talkin' to Myself
Alive Not Dead
Rome Take Away Three
Current availability:
Mellotron used:
Art were essentially precursors to the ever-changing Spooky Tooth, sans Gary Wright, but they seem to do just fine without him, thanks very much. It's been pointed out that it's actually exceedingly heavy for the time, with Luther Grosvenor (later of Mott the Hoople, of course) seriously overdoing the fuzz-guitar on most tracks; this is well ahead of the first Yes album. The songwriting is pretty typical 'it's the Summer Of Love, maaan' stuff, although somehow... nastier, including a cover of Buffalo Springfield's cynical For What It's Worth, retitled What's That Sound, although they'd probably have been better off sticking to their own material, to be honest. I Think I'm Going Weird opens like The Who on steroids (!), and the title track rocks like a bastard, as does Come On Up, so don't expect too much 'hello trees, hello flowers' stuff here...
Only one 'Tron track, with strings on Supernatural Fairy Tale itself, presumably from Mike Harrison; not the most essential use, but worth hearing if you're going to buy the album anyway. I don't know if the CD is still available, as it came out some years ago and I can't trace a website for the label, but if you see a copy, buy it to hear an undiscovered slice of proto-hard rock psych, well ahead of its time.
See: Spooky Tooth
Art Abscons (Germany) see: Samples
The World as it is Today (1981, 31.17) ***½/T½

The Song of Investment Capital Overseas
TRUTH
FREEDOM
(Armed) PEACE
CIVILISATION
DEMOCRACY
The Song of the Martyrs
LAW
The Song of the Monopolists
The Song of the Dignity of Labour Under Capital
ALBION AWAKE!
Current availability:
Included in The Art Box: Recommended (UK)
Mellotron used:
The Art Bears originally formed as a Henry Cow side-project, named for an abbreviated quote from Jane Ellen Harrison's Ancient Art and Ritual: "...Art bears traces of its collective, social origin". Suitably intellectual and enigmatic, I think, also drily witty. The trio's last album, 1981's The World as it is Today, is difficult to compare to anyone or anything else, frankly. Political avant-progressive? Marxist RIO? A bloody racket? All of the above? Dagmar Krause's most singular vocal style dominates proceedings, which isn't to say Fred Frith's guitar, keyboard and nearly everything else work and Chris Cutler's mad percussives aren't of equal importance. Best track? Funny kind of question to ask, really. Opener The Song Of Investment Capital Overseas, perhaps, or closer ALBION AWAKE!? And most unlistenable? Dagmar's unearthly screams on FREEDOM duke it out with the exceedingly dissonant piano on The Song Of The Dignity Of Labour Under Capital. Call it a draw.
Frith plays Mellotron (as he did on two contemporaneous solo albums), with wonky strings on FREEDOM, more regular ones on (Armed) PEACE and CIVILISATION (plus choirs on the latter?), leaving closer ALBION AWAKE!, with its mental string part as the album's chief Mellotron track, although I suspect the strings on DEMOCRACY are Frith's overdubbed violin and viola. Now, there's something of a story attached to the last-named: The Art Bears were clearly a major influence on Cardiacs, to the point where I have it on excellent authority that ALBION AWAKE!, reversed and heavily amended, is the basis for that band's ever-changing intro tape. This is an album of deeply uneasy listening and is all the better for it; I'm not sure when I'll listen to it next, but that's hardly the point. Music like this needs to exist, if only as an antidote to the vast quantities of shite pushed on us by commercial concerns. Play it to the kind of person that listens to daytime radio.
See: Fred Frith
Deus ex Machina (1995, 50.13) ***/T½

Strange
One Inch Closer
I Breathe
Rosegarden
Pain
Junk
Swallow
Deus ex Machina
Skinny
Mushroom
Melon (1996, 40.04) **½/½

Melon
Smoother
Cobweb
Esox Lucius
Pighead
X
Short Cuts
I Remember California
Ambient Song
Gummy
Current availability:
Both titles: downloads from band's website
Mellotrons used:
Art By Machinery were a slightly proggy goth/metal bunch from Norway who released three albums in the mid-'90s, the first of which was Deus ex Machina. It's... a slightly proggy goth/metal album from Norway, actually; most tracks either crunching or etherealing (hey! A new word!) their way through a few minutes of doomy stuff with sub-Jim Morrison vocals - pretty much as you'd expect, then. In fairness, it doesn't offend, but nor does it really impinge itself on the listener at all, which may've been the band's problem. Best track? Deus Ex Machina itself, the one point on the album where they really combine their influences properly and make a genuinely progressive piece of music. Producer Lars Lien (Badger, Dadafon, 3rd & the Mortal) plays Mellotron strings on Junk, Mushroom and the title track, the best use being on the latter, making it easily the most worthwhile thing here.
The band followed up the next year with Melon, but whatever had fuelled their debut was gone, leaving merely a rather empty set of goth/electronica/metal efforts of little substance, with few obvious highpoints, closer Gummy being possibly the best thing here. Lien on Mellotron again, with only a brief string part on I Remember California to relieve the boredom. Given that their albums are clearly long out of print, the band have taken the enlightened step of making two of them available as free downloads from their site; goth types will probably go a bundle on these, so grab 'em while you can. Mellotron? I'm never convinced that Lien's productions use real 'Tron, but what's here is decent enough without ever being in any danger of being outstanding.
Big City Secrets (1997, 55.47) ***/T½

Big City Secret
Mercedes
Mikel K
Good About Me
Daddy's on Prozac
Marina
Birthday Card
Crying Like a Man
Porcupine
Dessert
Haunted Eyes
Bottle of You
Redemption's Son (2002, 73.14) **½/TT½

Redemption's Son
Honey and the Moon
You Could Be in Jail
I Would Rather Hide
Innocent World
September Baby
Nation of Slaves
Evidence
Buy a Bag
Termite Song
Permission
Favorite Girl
You Are the Dark
In the Night
Blue Lips
You've Been Loved
Current availability:
Mellotrons used:
Akron's Joseph Arthur struck lucky when Peter Gabriel's A&R man played him one of Arthur's demos, resulting in him becoming the first American signing to Gabriel's Real World label. His debut album, 1997's Big City Secrets, is a reasonable enough record in a modern singer-songwriter vein, although it starts with some weak (and therefore probably considered 'commercial') material. The songs seem to improve as the album progresses, with Daddy's On Prozac proving to be a highlight, although, overall, the album's overlong, with too many of those 'crescendo' songs for its own good. Mellotronically speaking, Nick Plytas plays a great strings part on Birthday Card, while Simon Edwards adds cellos to Haunted Eyes, with a string part later in the song, heard unaccompanied and in-yer-face at the end.
After 2000's Come to Where I'm From, Arthur's second (and, to date, last) Mellotron album is 2002's Redemption's Son. I'm sorry, but this time round his style merely bores, and what's more, bores for over seventy long, long minutes. OK, it's not actually terrible, but I don't think I'm being unfair in describing it as a somewhat lacklustre release, which could have done with a little less emoting and a little more... mystery. Loads of Mellotron this time round, from Pat Sansone, with strings on the title track, flutes on Honey And The Moon and September Baby, upfront flutes and cellos on I Would Rather Hide (the album's top 'Tron track - spot the key-click) and cellos on Innocent World and You've Been Loved, although little of it's as upfront as on Big City Secrets.
Overall, then, Big City Secrets is better than Redemption's Son, and both have their Mellotronic Moments, but we're not exactly talking the most exciting records you're ever going to hear. Ordinary.
See: Peter Gabriel
Tilt - Immagini per un Orecchio (1974, 36.46) ****½/TTT

Gravità 9,81
Strips
Corrosione
Positivo/Negativo
In Cammino
Ferenheit
Articolazioni
Tilt
Giro di Valzer per Domani (1975, 44.21) ***½/½

Valzer per Domani
Mirafiori
Saper Sentire
Nove Luna Prima
Da Nord a Sud
Nove Luna Dopo
Mescal
Mescalero
Dimensione Terra
Aria Pesante
Consapevolezza parte 1
Sagra
Consapevolezza parte 2
Rinuncia
Marilyn
Terminal
Current availability:
Both titles: Akarma (Italy)
Mellotron used:
Both titles: band's own M400
One from Scott Hamrick
The Italian progressive rock scene of the 1970s is legendary and was incredibly prolific. There were literally hundreds of bands, many of whom produced albums that were as good as much of what came out of England at the time. However, many of these bands did little to distinguish themselves much from each other - thus creating a fairly homogeneous, but original style of prog rock unique to Italy. While much of this music was of high quality, only a few bands from this scene really stood out due to originality or other exceptional qualities. One of these standout bands was Arti & Mestieri.
This band's first album, which blends symphonic prog and aggressive jazz fusion laced with occasional hints of the avant-garde, put them on a level with the most original and best of their contemporaries. Think of them as a largely instrumental blend of the best of Area and early PFM, add in the supercharged, jaw-droppingly precise jazz drumming of Furio Chirico (formerly of The Trip), and you may have a hint of what to expect on this wonderful album. While Chirico is almost surely the star player of the band, all members give top-notch performances on guitar, violin, saxophone, bass and various keyboards, including ARP synths and Mellotron. These players seemed to thrive on stops, starts and rapid changes in direction. Check out how the band alternates faultlessly between gallops at blazing speed and gentle swing on Articolazioni. Tilt is delicate and mellow one minute, and fiery and muscular the next. All the while, it maintains a polish of professionalism and clarity of vision rarely equalled in Itaprog. This is celebratory, robust music that is rich with emotion as well as technique, but devoid of pretension.
Even though Mellotron is used on every track but one, the Mellotronic content on Tilt is not overwhelming in terms of how much it is used. They didn't slather it on like early King Crimson or Anekdoten. It's just another instrument in the orchestra (the subtitle for this album translates to 'images for an orchestra'). Its string section does provide rather dry sounding chordal backdrop more often than the other keyboards, but it's always in a tasteful, non-gratuitous manner. Mellotron flute makes a very brief appearance on the 13-minute Articolazioni, sounding beautiful and introspective in its usual way. It also appears briefly as a double to the violin melody in Positivo/Negativo. Only Tilt, the odd closer of this album, shows the Mellotron in a more unusual light. This slightly demented sounding reprise of several of the instrumental themes of the album uses random synth blips, multitracked sax and violin playing odd harmonies on top of a bed of rather ominous Mellotron strings. It must be a Cramps label thing, as Area was fond of doing experimental little instrumentals like this at the end of their albums too.
Tilt is probably not a Mellotron classic, but it is a very classic example of the best of Italian prog rock that is made all the better for its Mellotron content. Buy it!
Back to me... I still haven't heard Tilt, but Giro di Valzer per Domani is an energetic, jazz-flavoured prog album, unlike the bulk of the Italian progressive scene of the time. Much of the credited 'Mellotron' is undeniably string synth, making me wonder whether a real 'Tron ever got within spitting distance of this album. I'm assuming the distant strings on Nove Luna Prima are tape-driven, but I wouldn't absolutely swear to it. Incidentally, the CD adds a couple of tracks, inserting them after the original album's fourth track, rather than at the end, as you'd expect.
A revitalised Arti & Mestieri appeared around 2000, though it seems that First Live in Japan (reviewed here) features samples, despite protestations to the contrary. Anyway, Giro di Valzer...'s a good album, but I suspect their debut will blow me away more.
See: Samples | Beppe Crovella | Cantina Sociale | Romantic Warriors | Secret Cinema | Tower
Tradition & Renouveau (1978, 34.29) ****/TT

Le Braconnier
Quand Je Menais Mes Chevaux Boire
J'ai Mon Ami Sous les Brandebourgs
L'Alouette est sur la Branche
D'ou Venez-Vous Belle
La Petite Hirondelle
Ce Soir Francois Villon
Le Lac d'Argent
Le Vent
Les Landes d'Harou
Current availability:
Mellotron used:
Asgard (not to be confused with the ropey early-'90s Italian band) were originally a folk trio who released their debut, L'Hirondelle, in 1976, before adding a keyboard player and becoming more progressive. Their second (and seemingly final) album was '78's Tradition & Renouveau (Tradition and Renewal), a beautiful example of what happens when folk musicians play progressive rock and get the balance right. Side one is more acoustic, but on side two they allow Guy Printemps to let rip on the keys, mostly Moog, piano and Mellotron, which he uses with great subtlety, dovetailing nicely with the approach of the rest of the band. Vocals are in French, but as with Gallic folk gods Malicorne, you really shouldn't let this put you off if you don't speak the language.
Despite having a flautist (Bernard Darsh) on board, J'ai Mon Ami Sous Les Brandebourgs definitely features 'Tron flute at points, alongside the real thing, as does Le Lac D'Argent. However, the album's chief 'Tron use is the surprisingly full-on overdubbed strings and choir on La Petite Hirondelle, with more choirs on Ce Soir Francois Villon and closer Les Landes D'Harou, making for what ends up being a pretty reasonable Mellotron Album.
So; recommended, I think. I'll need more time to get to know this album properly (this and about 1000 others), but on a first hearing, it has staying power, and some decent 'Tron to boot. Buy.
Starring Rosi (1972, 34.31) ***/T

Laughter Loving
Day Dream
Schizo
Cosmic Tango
Interplay of Forces
The Fairy Dance
Bring Me Up
Current availability:
2-on-1 with Join Inn: Purple Pyramid
Mellotron used:
My only contact with any of Manuel Göttsching's work before now has been Ashra's decidedly ropey Correlations (see below), so Join Inn and Starring Rosi are absolute revelations. The Mellotron-free Join Inn (***½) consists of two side-long jams, featuring the mercurial Klaus Schulze's drumming on one side, while on Starring Rosi Göttsching uses a different set of musicians, including his girlfriend Rosi Müller, who also guested on Join Inn. Confused? Good. Starring Rosi couldn't be more different to its predecessor, to be honest; it's as if it was recorded by a different band (OK, to an extent it was). It's a mixture of Allman Bros-type jams (!) and a more trippy, typically German style of stoned-out hippy stuff, with the inimitable Rosi, er, 'doing her thing'.
As far as Göttsching's Mellotron work is concerned, there might be something on Schizo, but the only seriously audible use is a nice string part on The Fairy Dance, so don't go splashing out on this on account of its 'Tron use. So; while Starring Rosi is OK, I'd say Join Inn is the noticeably better album, and I'm told that Ash Ra Tempel (as against Ashra) made better albums anyway. Buy according to taste.
See: Klaus Schulze | Ashra
Truth: Volume One, Edition One (1974?, 33.13) ½/T½

Why Me, Lord
Reach Out to Jesus
Jesus Hold My Hand
The Broken Vessel
King Jesus
Unseen Hand
Didn't He Shine
I Find No Fault in Him
More About Jesus
We've Come This Far By Faith
Come Holy Spirit
Jesus is Lord of All
Current availability:
Mellotron used:
Ashcroft & Bacon. Ashcroft & Bacon. Hmmm. So which Ashcroft, precisely, might this be? An immediately recognisable John Ashcroft, as it happens, subsequently Dubya's attorney general in the early 2000s. Yeah, that John Ashcroft. It seems that he and his equally creepy pal Max Bacon formed a 'gospel' (i.e. Christian country) duo during their joint tenures as Missouri state self-appointed 'leaders' of some description in the early '70s, releasing the abominable Truth: Volume One, Edition One around 1974.
So, how bad is it? How bad d'you think it is? It's beyond bad, that's how bad it is. Its least awful moments include the upbeat, banjo-driven Jesus Hold My Hand and Unseen Hand, where the dynamic duo's backing band briefly manage to kick into a decent country-rock groove, but everything else (and, if truth be told, those two as well) is maudlin, mawkish country-CCM slop. Low points? All of it, really, although the repeated title during I Find No Fault In Him's chorus is particularly bad, while the titular clean-cut God-botherers' vocal 'talents' display vastly more enthusiasm than actual skill, with a distinctly cavalier approach to, y'know, pitch.
An unknown (but perfectly competent) musician adds Mellotron to several tracks, almost certainly due to the project's obviously low budget, with strings on Why Me, Lord (good question, good question), The Broken Vessel, Didn't He Shine (particularly Mellotronic on this one) and closer Jesus Is Lord Of All. Does it improve the album? Does it fuck; this actually goes beyond kitsch, into a hitherto unknown dimension of pure, undiluted awfulness, where screaming with laughter is the only relief from the searing pain induced by the 'harmonies', for want of a better word, never mind the lyrics. Actually, I have several better words, but just for once, I shan't use them. Truth is one of a handful of albums on this site to earn the coveted 'half star' award, for albums so utterly godawful that beating one's head against a brick wall until oblivion is attained seems like a good idea in comparison. To be honest, I go into 'the zone' while listening to albums this bad, where disbelief is suspended, taste is revoked and normal rules don't apply. Good job, really. Oh, and the Mellotron use is actually pretty decent, all things considered.
Alone With Everybody (2000, 59.52) ***/T

A Song for the Lovers
I Get My Beat
Brave New World
New York
You on My Mind in My Sleep
Crazy World
On a Beach
Money to Burn
Slow Was My Heart
C'mon People (We're Making it Now)
Everybody
Current availability:
Mellotron used:
After The Verve imploded in the late '90s, various members went various ways; vocalist Ashcroft elected to record Alone With Everybody, producing what I suppose could be called a modern singer-songwriter album; largely mid-paced, plenty of acoustic guitar, pedal steel (B.J. Cole, of course), real strings - you get the idea. There are the requisite number of tracks with programmed percussion to keep radio programmers happy, and Ashcroft's voice veers between 'sensitive' and a more macho style, particularly on the upbeat New York. This is the sort of album that fulsome reviewers often describe as having a 'lambent beauty' or somesuch; I'm afraid that to my ears it's just plain dull, but then what do I know? You may have gathered by now that I'm not wild about this sort of stuff, but it's done well enough that I can't find it in myself to give it a real slagging.
There are plenty of 'real' instruments on display, along with the programmed stuff, including an all-too brief Hammond part by Chuck Leavell on You On My Mind In My Sleep. Ashcroft plays Mellotron on two tracks: Slow Was My Heart is a balladic number with a little 'Tron flute near the beginning, though I can't tell whether the strings later in the song are real or 'Tron. Everybody is another mid-paced effort, and this time the strings are definitely 'Tron-produced, along with some more flutes. Like the rest of the album, the Mellotron parts are decidedly average without actually being bad, so I find it difficult to recommend this on any grounds, really, unless you're a Verve fan, in which case you've probably got it already.
See: The Verve
Winter in America [a.k.a. Leave Love Enough Alone] (1974, 38.35) ***/½

Leave Love Enough Alone
Willie's Shades
(I Know You) You're the Song
Love Ain't Worth the Livin' When it Dies
The Flowers and the Wine
Skid Row
Sally Broome
You Are All I Need to Know of Love
Jeannie
They Always Seem to Look Like Marianne
Tomorrow is the Last Time
No Other Words
Leave Love Enough Alone (Reprise)
Current availability:
Mellotron used:
Doug Ashdown was your 'typical' '70s singer-songwriter (Aussie division); still is, by the look if it. Roughly comparable to James Taylor (he says, without having ever really heard Taylor properly), at least on 1974's Winter in America, he sang melancholy little vignettes of people's lives like Sally Broome, or 'end of the affair' songs like The Flowers And The Wine or Leave Love Enough Alone. Actually, there's some confusion surrounding the album; when I finally found a copy, I realised I'd seen it before, titled something else (possibly Leave Love Enough Alone). That's the 'subtitle' on my copy, and the main title on the label. Huh? It's not even a US title, designed to sell more over there, but it's called Winter in America on his site...
This is very standard fare, to be honest, like many, many others in the same area, although I imagine Ashdown cleaned up the bedsitter market in Australia. Remove the orchestral accompaniment and the occasional faux-country trappings (They Always Seem To Look Like Marianne) and it'd be better, although it's very much of its time; was he making this album today, it'd have light hip-hop beats behind his voice and guitar, if you know what I mean. Anyway, two Mellotron players, Roy Ritchie and overall keys man, Wayne Findlay, although all I can hear is a choir part on Sally Broome; what, it took two of you to do that?
So; a rather ordinary album of '70s singer-songwriter stuff, with nothing especially outstanding about it in any way, I'm afraid. If you like James Taylor et al., you may like this, but I suspect the rest of us will suppress a yawn and put something else on. Very little Mellotron, too, so don't go out of your way.
Correlations (1979, 42.35) **½/T½

Ice Train
Club Cannibal
Oasis
Bamboo Sands
Morgana da Capo
Pas de Trois
Phantasus
Current availability:
Mellotron used:
Ashra were originally known as Ash Ra Tempel, but had, by the late '70s, morphed into a rather more mainstream outfit. After the chilled-out sounds of 1977's New Age of Earth, Correlations came as a bit of a surprise, launching straight in with the rhythmic Ice Train, best described as 'Teutonic funk'. There's a distinct attempt to find the er, 'groove', rather hampered by the musicians' backgrounds in the German electronic scene; in other words, it swings like the proverbial dead man's penis. Talking of musicians, mainman Manuel Göttsching was joined by drummer Harald Grosskopf and extra keyboard man Lutz Ulbrich, who plays Mellotron on the album.
Like the music, the Mellotron use isn't particularly inspired, to be honest; faint choirs on Ice Train, so-so strings on Club Cannibal and (presumably 'Tron) cellos on Morgana Da Capo. As an instrumental synth-funk album, I have to say that Correlations is a bit of a failure; Pas De Trois is eight minutes long, which is probably about six minutes too many. I kept finding myself wishing each track would finish, hoping that its successor would be better, but constantly being disappointed. All three musicians involved have previously made considerably better music; Correlations seems to be a misguided attempt to 'go commercial', in which I'm fairly sure it failed dismally. Sorry, chaps; play from the heart, not the wallet. Cool Hipgnosis sleeve, though.
See: Ash Ra Tempel
Susan Ashton (1993, 49.32) **/T

Summer Solstice
Waiting for Your Love to Come Down
Remember Not
There is a Line
Heart Like a Rock
Agree to Disagree
Hold the Intangible
Call of the Wild
No Remedy for Love
A Rose is a Rose
A Distant Call (1996, 52.53) ½/½

You Move Me
Blind Side
Body and Soul
All Kinds of People
Crooked Man
Spinning Like a Wheel
Hundreds of Tears
Send a Message
I Will Follow
Lonely River
Love Profound
Current availability:
Both titles: Sparrow (US)
Mellotrons/Chamberlins used:
Another pair of Nick Hewitt CCM reviews, folks! God, he loves this stuff... Unlike Nick.
Susan Ashton may well be her debut album, I suspect it is - I don't know, and to be honest, due to my general dislike of CCM, I don't particularly care. However, as CCM goes, this is better than average. There again, CCM, to my ears, has an inherently low average anyway.
At best, this is MOR-cum-singer/songwriter fare, with a small variety of external non-CCM tinges, such as a bit of C&W, a bit of light jazz and even a hint of rock. One track has, for a while, a riff that is very reminiscent of Don't Fear The Reaper by Blue Öyster Cult, but it doesn't last long - unfortunately! She (Susan that is) does try to be a little different within the genre she knows she is inhabiting, which is to be applauded. Unfortunately, it doesn't last long, as A Distant Call will show. The songwriting, done by herself, mostly in partnership with a Wayne Kirkpatrick, is a bit better than adequate. In general musical terms, it's a bit bland, but within CCM, it is definitely NOT run-of-the-mill CCM, for which she must be congratulated.
The two tracks credited with Mellotron are contrasting. I can't make it out in Waiting For Your Love To Come Down, as there is so much in the background, albeit quietly. There is something there, but to my ears it sounds like a string synth. However, on Hold The Intangible, it is more than noticeable; an initial quiet burst of choirs, followed by something more substantial. It doesn't enhance the music much, as 'Tron doesn't really fit in to a CCM/MOR context - well, I don't think it does! According to the cassette insert, the Mellotron player is a John Mark Painter, who is quoted as playing 'Mellotron Strings and Choir', on BOTH tracks.
Ms Ashton released A Distant Call a few years later, and... well, it's a bad 'un. Typical Contemporary Christian Music (CCM) done by an American, and not a surprise to be heard. A woman, with a perfectly acceptable voice warbles on about her chosen religion, and we're supposed to be inspired by it? - not a chance! Like a lot of stuff put out by fairly anonymous artistes, the music is pretty insipid, giving more credence (to the advocates of CCM) that the 'Message' is more important than the music. BOLLOCKS! - Not in this review, sunshine.
Right, that's got that out of my system. The music is typical run-of the-mill pseudo-C&W, almost verging towards The Eagles, definitely in the MOR mould. Well, I don't want MOR - I want less. The album has the unfortunate property of each track having an introduction that is considerably better than the crux of the song, giving rise, to my mind, that this form of CCM is a trap. It's trying to catch the unwary into thinking that the music is 'this' when it turns out to be 'that' - not always a good idea, and definitely not in this case. Having said that, in a lot of the tracks, I keep hearing traces of The Christians [how appropriate... Ed.], as I also could on her eponymous album. In this case, it's bits of their 2nd LP I keep picking up on, which was, funnily enough, panned for being over-produced. So has this, but it needs to be as it is so bad. I can't understand this, as the album she made three years previous to this was so much better.
Mellotron appears on the one track, and like all 'Tron on CCM, it is utterly wasted. It's quoted on the cassette inlay as 'Mellotron, Strings, Chamberlin Flute - Brown Bannister', whatever that means. It's probable that the comma between 'Mellotron' and 'Strings' should be omitted. I've reviewed the cassette version, so I cannot comment on the accuracy of the label, the precise running time (which I've timed myself) or its availability. In the latter case, I can only pray (!) that it's as low as possible.
I've given this a rating of ½/½, which is too high on both counts, but Andy Thompson won't let me go any lower. It, therefore, goes without saying that this album should be put in a lead and concrete lined box, marked as 'Danger - Fissile Material' on the outside, and sent to the next but one galaxy - please!
Susan Ashton also issued a compilation album called Walk On, also on Sparrow, that includes Waiting For Your Love To Come Down. Bad choice Susie!
Asia (1979, 41.24) ***½/T½

Love May Be Gone
A Better Man for Leavin'
The Taming of the Bull
The Road of Kings
Law of the Land
Requiem

Armed to the Teeth (1980, 36.27) ****/TTTT

Thunder Rider
Xanadu
Kamikaze
Paladin
Genghis Khan
The Bard
Current availability:
Mellotron used:
The original Asia formed in 1977 from the ashes of another South Dakota outfit, White Wing, and most of their debut, '79's Asia is comprised of rearranged White Wing material. The band consisted of two guitars/bass/drums, with one guitarist, Mike Coates, doubling on keys in the studio. The album has a sophisticated mid-'70s US hard rock sound, with progressive overtones, betraying the band's influences in British progressive rock. Coates' classical training shows in the unusual guitar harmonies, while the album's two longest tracks, The Taming Of The Bull and Requiem both feature explicitly 'progressive' arrangements, making this something of a treat for the hard rock/prog crossover fan. Coates only played Mellotron on one track, The Taming Of The Bull, but he slapped strings all over the thing, making for a T½ rating.
Armed to the Teeth is slightly more sophisticated than its predecessor, and definitely has a better sound, although there are also hints of a potential future AOR direction on a couple of tracks. There's a distinct 'eastern' sound and concept to the album, with most track titles alluding to the Far East, although using the title Xanadu after Rush's epic from only three years earlier was possibly a mistake, although Coates only mentions Olivia Newton-John's single of a few months later. Coates goes for it on the 'Tron front in a big way this time, with strings on every track, plus flutes and cellos on closing ballad The Bard. His use isn't always 'typical', but where's the problem in that? I feel that the band could probably have benefitted from having a full-time keyboard player, as a Hammond backdrop to many of the tracks would've worked well, as would some monosynth work, although those newfangled polysynth things wouldn't have fitted in with the band's sound at all.
Of course, the shit hit the fan for Asia when the tedious UK supergroup of the same name appeared a year or so later. It seems there was much legal wrangling, not to mention bullshit in high places, which ended, unsurprisingly, with the British outfit gaining full control of the name, and the Americans dissolving amidst acrimony and debt. That was pretty much it for the band until the mid-'90s, when Michael Piper of The Wild Places reissue label stumbled across a copy of Armed to the Teeth. After much negotiation, transfers were made from pristine copies of the albums (the tapes having been lost in the interim), and they're now available from the label on a 2-on-1. Coates elected to put their sophomore effort first, as they were more pleased with the end result, but to my ears, they would've worked better in sequence, but that's what programmable CD players are for, isn't it?
Anyway, good material and excellent 'Tron, at least on their second album and, let's face it, you're not going to find their debut on its own anyway, are you? Buy.
See: White Wing
---