---
BZN (Netherlands)
7" (1974) ***/T

Barber's Rock
Home Where I'm Going
7" (1974) ***/½

Love Me Like a Lion
Walk Walk
28 Golden Hits (1983, 98.40) */T

Just an Illusion
Don't Give it Up
Blue Eyes
We All Will Dance
Twilight
Les Gens de Tours les Jours
The Valley
Oh Me Oh My
The Clown
It's All Right
Put on Your Make-Up
La Musiquette
Just Say I'm Home
May We Always Be Together
Mon Amour
Marching on
Pearlydumm
Rockin' the Trolls
Chanson d'Amour
Cry to Me
The Old Calahan
Lady McCorey
Sevilla
Just Take My Hand
Don Luigi
America
Hang on to a Dream
Himalaya
Current availability:
Mellotron used:
Oh dear. Ohdearohdearohdear. Well, never let it be said that I don't descend into the fiery pits of musical hell for your reading and listening pleasure... (?) According to the lengthy English-language band history on their website, BZN ('The band with no name', apparently. I wonder what the acronym is for 'The band with no talent'?), formed in the mid-'60s, releasing their first album, the entirely uncharacteristic The Bastard in 1971. After their brief flirtation with hard rock, they made what appears to be a business decision to change their style, and after several years of the odd single here and there, began an annual run of releases in '77 that has continued until the present day. The music? Try to imagine (if you will) a cross between schmaltzy mainstream Europop, Abba on an exceedingly off-day, and German schlager music. Not so much 'if you will' as 'if you can bear to'. I'm sure I've heard worse music, but off the top of my head I'll be buggered if I can remember where. Saying that, they do actually do it very well, although listening to the whole double album completely numbed my brain until I could kickstart it again with some top-notch prog.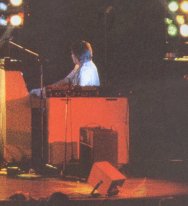 To backtrack for a moment... The band's run of early-to-mid-'70s singles were in more of a glam/not-very-hard rock style, two of which, both released in 1974, actually interest us here. Barber's Rock is a sprightly, classically-influenced boogie (kind of), complete with a mock-operatic piano/vocal section, actually more fun than that sounds, while Love Me Like A Lion is less striking, though perfectly acceptable for the time. Mellotron strings on both from Thomas Tol, distant-yet-distinct on the former, particularly towards the end, with even less of the same on the latter, for what it's worth.
Back to hell... Ignoring the two previous 'hits' compilations (the first being after all of three 'proper' releases), BZN released 28 Golden Hits in 1983, an unusual cross between the standard 'best of' and a live album, with side three (why not four?) being live. The sleeve art tells you all you need to know; the downhome cheeriness of the band members, their dreadful fashion sense (I use the phrase extraordinarily loosely; note those 'noo wave' ties) and the jewel in the crown, the windmills with their vanes overlaid with gold records. Fabulous! It's a pity the cover reproduction here is so small; you can't really see the earnest/bored expressions on the faces of several of the band, notably the two guys in the middle, who look practically catatonic. I can only assume they were force-fed the contents of this album just moments before the photo-shoot. The singer looks a lot like Father Ted; so does the guy standing next to her.
Er... Mellotron? Well, as you can see from this heavily-cropped pic from the inside of the gatefold (you'll thank me for this), keyboard player Tol's rig consists of an upright piano, a Prophet V and a Mellotron M400. In 1982? Odd, but there you go. He only actually uses it on the first one of the seven lives tracks here, Mon Amour, a cheesy French-language track, which takes its place alongside many other similarly cheesy English-language tracks. I can't honestly recommend this album and thus anything else the band have ever recorded to anyone other than elderly Dutch people, hardcore masochists or the terminal insomniac. Even then, I suspect it's more likely to irritate than send one to sleep. Impeccably done, but impeccably done rubbish. One OK 'Tron track.
Just to prove I wasn't exaggerating, here they are playing some filthy schlager somewhere or other, hopefully a long way from here, Mellotron present but unused.
Baba Scholae (UK)
69 (2013, recorded 1969, 46.31) ***½/½

1984/Melancolia Street
Half Day
Will Meant Ciment
Julius
La Chasse au Serpent à la Flûte
Go Down Sunset
Telegram
Song My (My Lai)
Kaleidoscope
Keep it "Rythmique"
Just Like George
White Bird
She's an Indian in Minor
Song for a New Connection
L'œil du Maître
Current availability:
Mellotron used:
Baba Scholae were a short-lived psych/proto-prog outfit at the end of the '60s, whose lineup included Jean-Yves Labat de Rossi, who went on to play in the first version of Todd Rundgren's Utopia as M Frog Labat. Bizarrely, it's taken over forty years to find a release for their professionally-recorded tapes, finally issued in 2012 as 69 (their year of recording). But are they any good? Stylistically, they shift between early progressive (1984/Melancolia Street, the excellent She's An Indian In Minor), semi-avant- (Kaleidoscope, Keep It "Rythmique"), more backward-looking '60s fare (Julius, Go Down Sunset) and even jazz (Song For A New Connection). In many ways a product of its time, this was a band that looked forward at least as much as back, making you wonder what they might have achieved had the dice rolled their way.
Jules Vigh plays Mellotron, although the only obvious use is the background string part on the brief La Chasse Au Serpent À La Flûte, making this of far more interest to fans of obscure psych and prog than to those of the Mellotron.
Baba Yaga (Germany)
Baba Yaga (1974, 37.28) ***½/TTT

The Man Who Wants to Buy the World
Waves
In the Morning
High Fly
Rebekka
Turdus Merula
Powerful Hand
Homage a....
Intoxication
La Tombeau
Current availability:
Mellotron used:
Baba Yaga's debut, 1974's Collage (****), almost defines the much-maligned term 'krautrock', being a document of two superb improvisations (or two edits from one longer one?) that really should be more widely known. I'm not entirely sure, but I get the impression that Baba Yaga, supposedly from the same year, is actually a CD-only archive release, but it's hard to tell. In contrast to their debut, it actually sounds like... Gentle Giant. Well, in places, anyway. Is there anything wrong with that? No, there isn't, but the album is a little less original than its predecessor, although several pieces are in the same general vein. Top tracks? The balladic In The Morning, the Latin-esqe High Fly and the gorgeous-if-unfortunately-named Turdus Merula, to name but three; frankly, nothing here's completely disposable, although the quality dips slightly in places.
Ingo Werner (My Solid Ground) plays Mellotron, with upfront string and flute parts on the gentle In The Morning and Rebekka, while Turdus Merula is effectively a Mellotron flute and string arrangement over piano, with volume-pedalled string chords on Homage A.... and a flute solo (again over piano) on closer La Tombeau. I'm amazed how little-known this is, given the quality of the music, not to mention its Mellotron content (perhaps surprisingly, I don't seem to be the only aficionado on the 'Net); all fans of underground '70s German music need to hear this, while the Mellotron makes it worthwhile for you lot.
Babe Ruth (UK)
Amar Caballero (1973, 35.37) **½/½

Lady
Broken Cloud
Gimme Some Leg
Baby Pride
Cool Jerk
We Are Holding on
Doctor Love
Amar Caballero
El Caballero de la Reina Isabella
Hombre de la Guitarra
El Testament de n'Amelia
Babe Ruth (1975, 38.27) ***/TT

Dancer
Somebody's Nobody
A Fistful of Dollars
We People Darker Than Blue
Jack O'Lantern
Private Number
Turquoise
Sad But Rich
The Duchess of Orleans
Current availability:
Both titles as 2-on-1s, Amar Caballero with First Base, and Babe Ruth with Stealin' Home; BGO (UK)
Mellotrons used:
Babe Ruth (named for the legendary American baseball player) were another of those so-so, a bit heavy, a bit proggy type of mid-'70s outfits, although better than many. Their debut, First Base (***), tends to be their most highly-rated album, though aside from excellent opener Wells Fargo, it's all a bit ordinary. They followed it with Amar Caballero, which (to my ears, at least) was a serious step backwards into vaguely funky territory, with efforts such as Gimme Some Leg and Cool Jerk being worthy of major avoidance, although there are a handful of more acoustic numbers, including Baby Pride and the instrumental violin-led We Are Holding On. The album's clear standout track is Amar Caballero itself, a three-part flamenco-influenced piece, with some excellent acoustic work from guitarist Alan Shacklock. As far as his Mellotron work goes, it's hard to say if there's anything at all; I believe the flute on a couple of tracks is real, and the 'choir' at the end of Baby Pride is possibly one singer multi-overdubbed - it also breaks the eight-second limit, though that can be circumvented in the studio. Hardly a 'Tron classic, then.
Third album, Babe Ruth, is better than its predecessor, but the band appear to run out of ideas by side two, and the album rather runs out of steam. There's some reasonable Mellotron flutes and strings on four tracks, played by Shacklock again, but it's no classic, I'm afraid. However, it's interesting in its choice of covers; Sergio Leone's theme music to A Fistful Of Dollars is worth a listen, and their proggy Mellotron-fuelled take on Curtis Mayfield's anti-racism anthem We People Darker Than Blue is also worth the effort.
So; one so-so album, and one that's really quite poor. Relatively mediocre 'Tron work, so don't go too far out of your way.
Babel Fish (Norway)
Babel Fish (1998, 45.31) **½/TTT½

Mania
Light of Day
Tic-Tac
The Speechwriter
Turning the Blind Eye
Two Feet Tall
Out of the Blue
I Can Wait
Jigsaw Man
Half Hearted
Close to Home
Boyscout Without Eyes
Current availability:
Mellotron used:
Oslo's Babel Fish (named in honour of the Hitchhiker's Guide to the Galaxy, of course) are the kind of band who straddle the divide between powerpop and, well, pop, knowing just how to spoil a potentially good thing. Their eponymous 1998 debut starts well enough, but soon descends into a pit of excess cheesiness, ending on big slushy ballad Boyscout Without Eyes, the kind of song that really isn't going to enhance my day.
Keys man Halvor Holter sticks plenty of (real?) Mellotron on the album, with combinations of cellos, strings and flutes on opener Mania, flutes and strings on all the highlighted tracks above, sounding very genuine in some places and rather less so in others, although it stays here until/if I should find out it's fake. Powerpop fans might wish to hear a few tracks from Babel Fish, but the bulk of the album only succeeds in irritating the discerning music lover. Plenty of Mellotron, mind, assuming it's real.
Baby (US)
Where Did All the Money Go? (1976, 36.35) ***/T½

Where Did All the Money Go?
Still in Love
One Hundred & One Turndowns
Brown Eyed Lady
I Need You
L.A. Lady
Easy Street, Hard Luck Avenue
Yesterday's a Friend of Mine
The World is Waiting for You (South of the Border)
Current availability:
Chamberlin used:
Baby's 1975 eponymous debut is apparently a ZZ Top-style 'suvvern boogie' album, but by their swansong, the following year's Where Did All the Money Go?, they'd softened their approach a little. although a few tracks still fall into the 'rock till you drop' category. The opening title track says it all; a band, burnt out from years on the road, wondering what exactly did happen to all the money they'd earnt? Sly musical quotes from the old chestnut Money and, oddly, England Dan & John Ford Coley's I'd Really Love To See You Tonight, presumably in the charts as Baby were in the studio. Personal favourite on the album is the semi-epic L.A. Lady, shifting gears halfway through to a ripping solo from Johnny Lee Schell, before dropping back down, then picking up again... You get the picture.
Chamberlin (probably hired in) from Schell, with an odd little string part on Brown Eyed Lady and a more straightforward one on L.A. Lady, though very little other keyboard work at all; fair enough, given that they didn't have a full-time player. So; a reasonable album of its type with some nice moments, though hardly groundbreaking, with a bit of Chamby. As a postscript, Baby split soon after the album's release, the good news being that various members went on to play with some high-profile names, so unlike many similar outfits, their individual skills weren't lost to the world.
Baby Ford (UK)
Children of the Revolution: The Inca Love Remix Collection (1989, 19.10) **½/½

Children of the Revolution (Inca Love mix)
Children of the Revolution (Inca edit)
My Innersence
Children of the Revolution (Bumbino)
Current availability:
Mellotron used:
Peter "Baby" Ford is a British producer, notable for his pioneering work in the acid house and minimal techno fields (it says here). I feel I have to come clean at this point: sorry, folks, but my knowledge of these scenes is as minimal as the techno itself, so how much of this review actually has any use is arguable. Ford's fifth single was his take on T. Rex' Children of the Revolution, sounding more like a drastic remix of the original than new recordings. Er, am I surprised? The main thing that makes this palatable to non-fans of the genre is that it's a bloody good pop song to start with and survives its modernist treatment with dignity largely intact. This was released in several different versions, many of them featuring Hi, Mr. Logan on the b-side, although the four-track Inca Love Remix Collection eschews this in favour of My Innersence plus three versions of the title track.
It's version two, the Inca Edit, that we're interested in here, although all I can hear of Ford's credited Mellotron is a few seconds of strings; given that we're talking 1989, though, at least it's probably real. So; you're probably not going to want to hear this, are you? You might even be wondering why I've reviewed it. Obsessive behaviour, frankly. In fairness, it seems to be good at what it does, which is more than I can say for most of the things I've heard that fall loosely under the banner of 'dance'. Incidentally, the relevant track's also available on 1990's "Ooo": The World of Baby Ford compilation.
Baby Woodrose (Denmark)
Money for Soul (2003, 33.54) ***/T

Honeydripper
Disconnected
Pouring Water
Hippie Chick
Everything's Gonna Be Alright
Carrie
Money for Soul
Never Coming Back
You Own it
You Better Run
Rollercoaster
Volcano
Current availability:
Mellotron used:
Baby Woodrose are a Danish garage rock trio, whose second or third (!) album, 2003's Money for Soul, successfully pastiches all areas of British 1966 beat-into-psych, copping licks from all the major bands in the process. While an enjoyable listen, it's about as original as the last Stones album, although rather more fun.
Producer Jürgen Hendlmeier plays Mellotron on Carrie, with a weird-sounding monophonic string line that may or may not actually emanate from a real, tapes-and-stuff 'Tron. Overall, then, you ain't gonna buy this for its Mellotron use, but you just might for the music. Well, it brightened up my day, anyway.
Sophya Baccini (Italy) see: Samples
Bacilos (US)
Sinvergüenza (2004, 45.59) **½/½

Sangre Americana
El Algun Recuerdo
Pasos de Gigante
Porque Brillamos
La Mexicana
En los 70
Miro la Luna y Pienso en Ti
Colores, Colores
Guerras Perdidas
Feliz Conmigo
La Olla
Un Regalo
Current availability:
Mellotron used:
Despite their Latin American sound, Bacilos were based in Florida, although their three core members hailed from Colombia, Brazil and Puerto Rico. Musically, they conformed to the Rock en Español template, sitting firmly in between American pop/rock and more traditional Latin forms, while singing in Spanish. 2004's Sinvergüenza (Shameless) was their fourth (of five) albums, combining their trademark sound with the occasional nod to reggae and other forms, nothing particularly standing out to the non-fan, I'm afraid.
Tom Capone and Maurício Barros are both credited with Mellotron, although I've no idea why it took two musicians to play the brief string part on En Los 70, which is the only obvious audible evidence of its use. Latin pop/rock? Huge in South and Central America, less so elsewhere, unsurprisingly. Sinvergüenza's Mellotron use is highly minimal, so don't bother even trying to hear the relevant track.
Il Bacio della Medusa (Italy)
Deus Lo Vult (2012, 33.53) ****/TTT

Invocazione Alle Muse
Indignatio (Infedeli in Terra Santa)
Urbano iI Bandisce la Prima Crociata
Simplicio
Deus Lo Vult
Verso Casa
La Beffa (Non un Trono, Non un Regno...Solo Sdegno)
Current availability:
Mellotron used:
Going by their third album, 2012's Deus Lo Vult, Il Bacio della Medusa are a band in absolute thrall to the '70s Italian progressive scene (note, NOT a criticism). The album's every bit as eccentric as you could hope for, given their influences, Urbano II Bandisce La Prima Crociata being a prog march, complete with massed male vocals and PFM flute, while Verso Casa is a rather bonkers flute-led waltz. Other highlights include the PFM clone intro, Invocazione Alle Muse, the ripping harmonica work on the rocking title track (quite a bit of full-on rock here, too) and closer La Beffa (Non Un Trono, Non Un Regno...Solo Sdegno). Pretty much everything, then!
Drummer Diego Petrini doubles on Mellotron, with strings all over opener Invocazione Alle Muse, running through into Indignatio (Infedeli In Terra Santa), cropping up again on Simplicio, with cellos and strings on La Beffa (Non Un Trono, Non Un Regno...Solo Sdegno). Real? Sounds it, but it gets harder and harder to tell... Deus Lo Vult is a superb album that can only improve with repeated plays. Buy this immediately.
Back Door (UK)
Activate (1976, 36.31) ***/½

You Got Evil
Thru the Zig Zag Gate
Train Won't Blow
Dragonfly
Eliminate
Speedwalker
Roll on
Moon Mad Woman
Cryin' Inside
Current availability:
Mellotron used:
Imagine walking into a pub, high on the Yorkshire moors, to be confronted by a mad jazz-rock trio who are going down a storm. It must be 1971, you must be at The Lion in Blakey Ridge, you must be watching Back Door. Their original lineup was sax/bass/drums, the bassist being Colin Hodgkinson, who bizarrely went on to play in Whitesnake in the early '80s. Hey, we all gotta make a livin'... After their inauspicious beginnings, Back Door ended up signed to Warners, releasing four albums over five years, 1976's Activate being their last, as the world moved away from music made for its own sake. Hodgkinson had begun singing on their second record, '74's 8th Street Nites (you can tell they'd gone to the States, can't you?), because, as he admitted, he was the "least bad" vocalist in the band, but the album's best moments are instrumental, with Hodgkinson's outrageous 'lead bass' playing (listen to Moon Mad Woman) augmented by saxophonist Ron Asprey's keyboards, largely Rhodes, although some tracks still stick to their original trio formation.
Asprey plays Mellotron on opener You Got Evil, with a brief but unusual 'choppy' single-note choir part at the end of the piece, although he resists the temptation to use it anywhere else, sadly. I assume it was a studio machine that he decided to stick on the track on a whim; sad to say, I can't ask him, as he died in 2003, not long after a brief reformation of their original lineup. If you can find a copy, this is worth it for jazz-rock (note: not fusion) fans. It seems that their first two albums are the only ones available on CD, which is a pity; they're a still-largely undiscovered corner of British jazz, ripe for reappraisal, although most sources say you shouldn't start with Activate.
Miriam Backhouse (UK)
Gypsy Without a Road (1977, 32.27) ****/T

Far Away Tom
The Widow
The Farmers Have Gone East
Long Lankin
Nasty Spider
The Dark Side of the Moon
John Riley
Keys of Canterbury
Gypsy Without a Road
Current availability:
Mellotron used:
Miriam Backhouse's Gypsy Without a Road is a beautiful example of late-'70s folk that combines traditional and modern elements, without straying into 'rock' territory. She had (and hopefully still has) a wonderful voice, making you wonder why she never achieved greater recognition at the time, but then, there's a million factors that affect such things: timing, promotion, sheer good fortune... Opener Far Away Tom incorporates a string quartet, while The Widow heads towards the Renaissance period and Nasty Spider sees Backhouse regressing to her childhood, amongst other stylistic twists, the upshot of which is, every track sounds different to every other, making this an (almost-) lost gem from the UK folk scene, had those nice people at Vinyl Tap not issued it on CD in 1998.
My old friend Dave Etheridge (a couple of years before we met) played Mellotron on The Farmers Have Gone East, with a repeating polyphonic flute part and background cellos, although I believe the bowed double bass on John Riley is real. That isn't the reason you should track this down, though; what is is the excellent music contained herein. Backhouse, now a resident of South Africa, is apparently still touring and plays the UK regularly, so she hasn't fallen off the face of the earth. Miriam tells me her album's been reissued on the Mother Earth label, so do yourself and her a favour and buy a copy.
Backnee Horn (Israel)
Backnee Horn (2009, 63.56) ***½/TTTTT

Zooming Glooming
Outleting Storming Particles
Far Away But Close
Around the Karmal Line
Multiple Streaming Encounter
Exhale Inside a Shell
Flaming Inside Gaming
Malachite Stroke
Current availability:
Mellotron used:
Zohar Cohen's MkII & M400
Backnee Horn (no, I don't know what it means, either) are a new Israeli psych outfit, whose eponymous debut should be lapped up by psychonauts worldwide for its lysergic wanderings. Its main thrust is a kind of semi-improvised, modern take on the style, possibly comparable to Sundial at their trippiest, rather than to psych's historical forebears, muttered vocals (Hebrew? Invented language?) duelling with acid-drenched guitar and swathes of Mellotron (it's cliché city tonight at Planet Mellotron, folks). It's difficult to pick out any 'best tracks', although Outleting Storming Particles defines their style well enough to stand alone as a microcosm of the album as a whole.
Renowned Israeli 'Tronnist Zohar Cohen (Lemmus Lemmus, owner of Pink Floyd's old MkII) plays Mellotron throughout, with strings on everything but Outleting Storming Particles, flutes and choirs on several tracks, a smattering of cellos and an unidentified solo brass instrument here and there and even the MkII's left-hand manual 'moving strings' on closer Malachite Stroke. The vibes may well be Mellotronically-produced, too, not to mention other distant, reverbed sounds.
All in all, a fine psych release, although not for the musically faint of heart, I fear. Backnee Horn is as Mellotron-heavy as you could wish for, Cohen rarely letting up on the instrument, giving the album that elusive five-T rating. Not the easiest of listens, but since when did good music have to be easy-going? Recommended.
Badger (UK)
One Live Badger (1973, 40.55) ***½/TTT½

Wheel of Fortune
Fountain
Wind of Change
River
The Preacher
On the Way Home



White Lady (1974, 42.46) **/T½

A Dream of You
Everybody - Nobody
Listen to Me
Don't Pull the Trigger
Just the Way it Goes
White Lady
Be With You
Lord Who Give Me Life
One More Dream to Hold
The Hole Thing
Current availability:
One Live Badger: Voiceprint (UK)/Wounded Bird (US)
White Lady: Japanese CD
Mellotrons used:
Both titles: band's own M400?
Badger were formed after keyboardist Tony Kaye left Yes in 1970, although One Live Badger wasn't recorded until December '72. I don't know who decided to take the unusual step of debuting with a live album, but the end result is pretty good, and I suppose it saved on studio costs. Despite Kaye's apparent dislike of the Mellotron, and his alleged refusal to play one on The Yes Album, he gets some onto every track on this album, recorded, incidentally, at London's Rainbow Theatre; not bad for a band with no releases to their credit.
Some of the tracks only feature a few seconds of strings, but Wheel Of Fortune and On The Way Home, to name but two, have 'Tron all over them. The only reason I don't give the album a higher 'T' rating is the relatively unambitious arrangements; just because there's a lot of Mellotron on an album doesn't mean it's great 'Tron. Conversely, if there's only a couple of significant tracks (see King Crimson's debut), but they're killers, the full rating may well be awarded. Musically, the album reminds me slightly of Greenslade, in that the band's r'n'b roots show through quite clearly, despite the progressive overtones of their sound. The compositions aren't bad, but I don't really hear any classic material here, although it's a perfectly good listen.
Bizarrely, the band opted to have noted New Orleans legend Allen Toussaint produce White Lady, and I'm afraid the end result's pretty awful. If you like soul-tinged r'n'b, you may go for this album, but for the prog fan it's an utter disaster. There's some pretty uninspired Mellotron on a couple of tracks, but nothing to write home about. I'm sure this album's good at what it does, but I'd really steer well clear of this one.
So, buy One Live Badger if you see it cheapish (the initial pressing featured a wonderful 'pop-up' badger inside the excellent Roger Dean sleeve), but leave White Lady for sad Yes completists.
See: Yes
Badger (Norway)
C'mon Girls! (2004, 46.43) ****/TT½

No Good Together
One Hit Wonders of the World Unite
It's a Glorious Day
The Green Giant
Goodnight All Right
Morristown
Supermarket Marianne
Inventory Day
Polyester
She's a Woman Now
Elizabeth
Barefoot/Laila's Theme
Current availability:
Mellotron used:
Badger (presumably entirely unaware of the British band) are one of Norway's prime progenitors of powerpop, to the extent that you really wouldn't know they weren't native English-speakers. 2004's C'mon Girls! is their second and, to date, latest album, full of glorious songs along the lines of One Hit Wonders Of The World Unite, It's A Glorious Day and Elizabeth, although I'm having trouble finding anything about it I don't like, although closer Barefoot/Laila's Theme is a little too (deliberately?) cheesy.
Producer Lars Lien plays Mellotron, although as always with his productions, I'm not convinced it's real; the flute part on The Green Giant sounds OK until a speedy little run that would be difficult on all but the best set-up M400. The album's other 'Tron use sounds realistic enough, though, with background strings on Supermarket Marianne, a nice polyphonic flute part on She's A Woman Now and more upfront strings on Barefoot/Laila's Theme. All in all, highly recommended; the music's great and with several (hopefully real) Mellotron tracks, you're onto a winner.
Badly Drawn Boy (UK)
About a Boy (2002, 44.03) **½/T

Exit Stage Right
A Peak You Reach
Something to Talk About
Dead Duck
Above You, Below Me
I Love N.Y.E.
Silent Sigh
Wet, Wet, Wet
River-Sea-Ocean
S.P.A.T.
Rachel's Flat
Walking Out of Stride
File Me Away
A Minor Incident
Delta (Little Boy Blues)
Donna and Blitzen
Have You Fed the Fish? (2002, 45.48) **½/T

Coming Into Land
Have You Fed The Fish?
Born Again
40 Days 40 Fights
All Possibilities
I Was Wrong
You Were Right
CentrePeace
How?
The Further I Slide
Imaginary Lines
Using Our Feet
Tickets to What You Need
What is it Now?
Bedside Story
One Plus One is One (2004, 55.16) **½/T

One Plus One is One
Easy Love
Summertime in Wintertime
This is That New Song
Another Devil Dies
The Blossoms
Year of the Rat
Four Leaf Clover
Fewer Words
Logic of a Friend
Stockport
Life Turned Upside Down
Take the Glory
Holy Grail
Current availability:
About/Fish: Twisted Nerve (UK)
One: Astralwerks
Chamberlins/Mellotron used:
About/Fish: Jon Brion's Chamberlin?
One: unknown
So what, precisely, is all the fuss about re. Damon "Badly Drawn Boy" Gough? To hear the media bleat on about him, certainly a few years ago, you'd think he was the bloody second coming. His second album, 2000's The Hour of Bewilderbeast, won the much-coveted Mercury Music Prize; well, it invariably boosts sales manyfold - I'm not surprised it's much-coveted... Going by the evidence here, Gough is bland, dinner-party singer-songwriter fare, with much unnecessary studio tarting. Very safe. Of course he won that prize.
2002 brought his soundtrack to the film adaptation of Nick Hornby's About a Boy. Now, we all know that soundtracks are invariably a mixed bag, with incidental music that frequently makes little sense outside its dramatic context, making this one better than most, or at least, more cohesive. Nevertheless, Gough's songs are pretty bland, leaving some of the short instrumental pieces as the album's highlights, although that isn't saying much. Chamberlin from Jon Brion, with a queasy pitchbent, er, something on A Peak You Reach, with nothing obviously audible on Above You, Below Me (the strings are real), ditto on Delta (Little Boy Blues), although Donna And Blitzen has some very upfront male and female voices, with a solo male voice standing out nicely.
Later that same year, BDB released Have You Fed The Fish?, which turned out to be no more than a more song-orientated version of its predecessor, certainly in the sonic department. Brion and Gough played Chamby this time round, with nothing obvious on How? but nice flutes on The Further I Slide, while Tickets To What You Need reprises the choirs from his previous album. Two years on and One Plus One is One catches Mr. Gough in his immediate post-fame years (unlike its predecessors, you rarely see this album in charity shops); it's actually slightly more palatable than said predecessors, although I wouldn't actually take that as a recommendation. Gough plays Mellotron himself, with a major (and quite real-sounding) string part on The Blossoms, although that would appear to be your lot.
So; please don't buy these albums. Gough almost certainly has enough money already, and I dislike him for a) always wearing a woolly hat and b) thinking it's clever to smoke on camera. Oh, and c) for making horrible mainstream albums like these. One or two decent Chamby/'Tron tracks, but I don't want to catch any of you buying them for that reason.
---