---
Oh Little Fire (2010, 34.10) ***/½

The Thief
Captive
New Loneliness
One Match
Careless
Washington
Late Bloomer
The City
Silverado
The Marble in Your Eye
It Will Sail
Current availability:
Mellotron used:
Canadian singer-songwriter Sarah Harmer's fifth album, 2010's Oh Little Fire (a quote from fourth track One Match) is a reasonably appealing mixture of Suzanne Vega-style confessional material, Americana (notably on The City) and a palatable form of indie, better tracks including New Loneliness and the aforementioned One Match, although nothing here really steps outside its chosen genre.
Whatever Mellotron Sarah adds to New Loneliness is effectively inaudible, while co-producer Gavin Brown adds what I presume are Mellotron vibes to Careless, although you'd have trouble working out they aren't either real or generic samples. Overall, then, good at what it does, which makes a nice change in this area, although its Mellotron use is exceedingly minimal.
Harmonic 33 (UK) see: Samples
Si on Avait Besoin d'une Cinquieme Saison [a.k.a. Le Cinq Saisons] (1975, 41.34) ****/TTT½

Vert
Dixie
Depuis l'Automne
En Pleine Face
Histoires Sans Paroles
L'Heptade (1976, 85.36) ****/T½

Prologue
Comme un Fou
Sommeil Sans Rêves
Chanson Noire
Le Bien, le Mal
Pour une Blanche Cérémonie
Le Premier Ciel
L'Exil
Le Corridor
Lumières de Vie
Lumière de Nuit
Éclipse
Lumière de Jour
Lumière de Vie
Comme un Sage
Épilogue
En Tournée (1980, 87.57) ****/TTT

Introduction
Comme un Fou
Chanson Noire
Le Premier Ciel
L'Exil
Le Corridor
Lumières de Vie
Lumière de Nuit
Lumière de Jour
Lumière de Vie
Comme un Sage
Current availability:
Le Cinq Saison/L'Heptade: on CD, labels unknown
En Tournée: Korean CD (bootleg?)
Mellotrons used:
All titles: band's own M400
While Harmonium's first, self-titled album (***½) is pretty much straight French-influenced folk, Le Cinq Saisons (as it's usually known) adds a progressive element, although it's entirely drumless, reminding me in places of Italy's wonderful Celeste, operating around the same time and half a world away. After opening with the gentle Vert, the album is let down slightly by the irritating, jaunty Dixie, before being completely redeemed by the pastoral, acoustic guitar and piano-led Depuis l'Automne. En Pleine Face is very French, complete with accordion, but lengthy closer Histoires Sans Paroles stays true to its title, 'Story Without Words', by being a lengthy instrumental in the same style as Depuis l'Automne.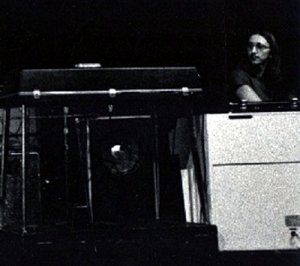 Serge Locat's Mellotron string work on Depuis l'Automne is exemplary, although much of it consists of laying down a two-chord riff for acoustic guitar and sax to solo over. After a wordless vocal/'Tron section, the string part becomes far more interesting, and the ten-minute piece ends on a superb short solo 'Tron section. Histoires Sans Paroles goes one better by having a darker two-chord 'Tron riff, more interesting chords and several solo sections, along with a short chordal flute part near the beginning, which sounds more like Mellotron than the band's two flautists playing in harmony.
1977's ambitious double, L'Heptade, utilises an orchestra across much of its length, who set out their stall from the off, with the almost wholly orchestral Prologue. The album largely moves away from the French folk template that characterised their first two releases, although there's still quite a bit of acoustic material on display. It's difficult to pick highlights, although the 14-minute four-part Lumières De Vie is especially good. Serge Locat plays quite a bit of synth this time round, and drums are used across much of the album, giving it an entirely different feel to its predecessors. Doubtless due to the orchestra, Locat's Mellotron use is rather lesser this time round, although some 'Strawberry Fields'-style flutes can be heard on Comme Un Fou, with the real thing playing over the top. The first part of Chanson Noire and Le Corridor have some background strings, while Comme Un Sage features just a few seconds of choir, quite distinct from the massed voices of the musicians.
En Tournée is basically a slightly cut-down version of L'Heptade, played live, sans the original orchestral accompaniment, meaning that a healthy proportion of the orchestral parts are covered by Locat's Mellotron. Comme Un Fou features strings and choir, with most the album's choir parts being backup for a few real voices. Actually, much of the album's 'Tron work is fairly low-key, although there's a nice upfront string part in L'Exil and some full-on choirs in the last part of Lumières De Vie. I'm torn between a TT½ or TTT rating for this, to be honest; there's Mellotron on practically every track, but mostly in a supporting role to the rest of the band, denying it a full 'Mellotron Album' tag. Saying that, it's a great album - well, it's effectively the same record as L'Heptade, albeit with an extra added live feel. I leave it up to you which version of the album to buy.
So; if folk-influenced symphonic prog sounds like your thing, you really can't go too far wrong with Harmonium. All these LPs may end up with higher * ratings after I've had time to become fully conversant with them; like so many excellent albums, I'm sure they'll grow on me as time goes by. As far as their Mellotron content's concerned, Le Cinq Saisons is a bit of a must, although L'Heptade doesn't really cut the mustard, although it's probably the better of the two albums by a narrow margin. Go for the live version instead.
Diamonds on the Inside (2003, 61.21) ***½/T

With My Own Two Hands
When it's Good
Diamonds on the Inside
Touch From Your Lust
When She Believes
Brown Eyed Blues
Bring the Funk
Everything
Amen Omen
Temporary Remedy
So High So Low
Blessed to Be a Witness
Picture of Jesus
She's Only Happy in the Sun
Current availability:
Mellotron used:
Unfortunately, I keep mixing Ben Harper up with Roy Harper's son, Nick, but there's no real comparison whatsoever, other than their use of acoustic guitar; maybe reviewing this album will separate the two out in my brain. Ben's been around since the early '90s, sometimes recording with his on/off backing band, the Innocent Criminals, operating in the, er, 'acoustic rock' area, I suppose, mixing folk, soul and gospel with rock and funk on his more uptempo tracks. Not my thang, it must be said, but he seems to do it perfectly well, and at least it's well thought out, without that commercial sheen that makes so many current artists almost unlistenable to my ears.
His fifth studio album, Diamonds on the Inside apparently has more funk influences than Harper's previous albums, but they're not that overt, leaving most of the album in the acoustic zone. I find that he writes great intros that morph into average songs, but that's probably only the way I hear them. The Mellotron's played by Greg Kurstin, but it has to be said, we're not looking at the heaviest use ever, with a brief flute part at the beginning of So High So Low and a longer part on closer She's Only Happy In The Sun.
So; very good at what it does, as long as that's what you're into. Beats the crap out of most current rubbish, anyway, and Harper can both play and sing. Not much 'Tron, mind, but at least he used it.
More Scrubbing the Dub (1975, 37.54) ***/½

Queen of Sheba
Goldern Pearl
More Scrubbing the Dub
Hail Dawta
Black Bullet
Roots Train
King Solomon
Lippy
Smile Orange Reggae
Guidance
Rasta Locks
Swinging Chariot
Reggae Disco Rockers (1975, 44.12) **½/T½

Eighteen With a Bullet
Love is Just Around the Corner
Fly Robin Fly
Wish Upon a Star
Caught You in a Lie
Dancing the Reggae
What About Me
Reggae Train
Castles in the Air
Look at Me (I'm in Love)
Bucketful of Tears
All Day Music
Current availability:
Mellotrons used:
It's a bit of a moot point whom, precisely, the actual artist is on 1975's More Scrubbing the Dub; the sleeve is headed 'Derrick Harriott presents', yet the label mentions (below the title) 'The Chariot Riders'. What is certain is that Harriott was a renowned reggae producer by this point, working with various artists, sometimes being credited or co-credited as the artist himself, so he probably had more to do with the recording of this album than the band concerned. Despite its title, it's a long way from being a 'typical' dub album, consisting mostly of reggae instrumentals, with the occasional vocal track, but very little actual dub-plate work, the title track and Roots Train being the nearest it gets to dub sides. Harold Butler plays most of the album's keyboards, including credited Mellotron, although the only place it even might be is the very background strings on Hail Dawta, making this a bit of a no-no on the Mellotron front.
Going by the title of the same year's Reggae Disco Rockers, Harriott seems to be trying to cover as many genres as possible; what we actually get is an album of soft soul/reggae, highlighting the former's influence on the latter. A handful of Harriott originals sit alongside a range of covers, not least opener Eighteen With A Bullet, then recently a hit for its composer, Pete Wingfield, although pretty much every track is given the same laid-back treatment, which you'll either like, or, er, you won't. Butler on Mellotron again, with pseudo-orchestral strings on Wish Upon A Star and Castles In The Air, with solo flute and string parts on the latter.
These are decent enough reggae albums from the time, although heavily overshadowed by The Wailers' more revolutionary approach and subsequently sounding a little dated these days, with better Mellotron use on Reggae Disco Rockers.
Man of Few Words (2010, 38.31) **½/½

I Found Out
Something Beautiful
Mansfield
Drop the Needle
Unspoken
So Easy
Perpetual Motion
See the Light
Wish
Too Late
Man of Few Words
Over and Over
Current availability:
Mellotron used:
Brett Harris (nothing to do with the Christian dweeb) describes himself on his website as a 'pop musician', so at least you know what you're getting. His debut, 2010's Man of Few Words, is a fairly harmless, if also fairly dull poppy singer-songwriter effort, the occasional ray of light creeping through in the form of one or more powerpop tropes, better tracks including Perpetual Motion and the folky Wish.
Legendary powerpop doyen Chris Stamey (credited as 'additional producer') plays Mellotron on See The Light, with a few background flute notes that hardly count, to be honest. Overall, then, a rather weedy take on powerpop, best left to those who favour drippy singer-songwriter fare over anything resembling Big Star and their ilk.
Wonderwall Music (1968, 45.44) ****/TT

Microbes
Red Lady Too
Tabla and Pakavaj
In the Park
Drilling a Home
Guru Vandana
Greasy Legs
Ski-ing
Gat Kirwani
Dream Scene
Party Seacombe
Love Scene
Crying
Cowboy Music
Fantasy Sequins
On the Bed
Glass Box
Wonderwall to Be Here
Singing Om
Current availability:
Mellotron used:
George's MkII? Abbey Road MkII?
George's first solo album is the soundtrack (or a part thereof) to 'Wonderwall', apparently a rather run-of-the-mill psychedelic-era film (I've never seen it) about a guy who brightens his life up a little by drilling a hole through to his hippy neighbours to spy on their lifestyle, falling in love with Jane Birkin in the process (understandable). Slight? Undoubtedly, but George's soundtrack music's really rather good, mixing pieces of Indian music (Microbes, Tabla And Pakavaj, Glass Box etc.) with more typically late-'60s fare, with generous helpings of barroom piano, with the occasional bit of Mellotron thrown in, too. As with most soundtracks, don't expect a cohesive effort here; Dream Scene and Cowboy Music are much as you'd expect, while the frankly bizarre Crying features two violins wailing up and down the scale in an onomatopoeic manner.
Wonderwall Music is actually notable (at least on this site) for being George's only use of (presumably) his own Mark II; at least, I don't know of any other 'Tron use throughout his lengthy solo career, although this album is hardly loaded with it. Red Lady Too has flute chords doubled with 'Tron vibes behind the almost honky-tonk piano, while Drilling A Home features MkII Dixieland rhythms with some interesting varispeed tape effects. Greasy Legs has more vibes, but Wonderwall To Be Here is the album's Mellotronic highlight, with some gorgeous strings giving a very Moodies-like feel to the far too short piece. The recent CD issue adds a swarm of bonus tracks, which I believe are the rest of the soundtrack, plus other odd bits, including a track recorded with George by the Remo Four, on which I hope to comment as soon as I get to hear them.
So... do you or don't you? Well, Wonderwall Music is probably best described as a 'period piece', and it's quite a pleasant listen, but don't expect to hear much (any?) of George's guitar work on it, although Eric Clapton is apparently present somewhere along the line (maybe the psych leads on Ski-ing?). As for the Mellotron, there are only two or three particularly good tracks, and only one of those is at all overt, so I'd probably have to say no for the 'Tron, not sure for the music, but yes for a small piece of music history.
See: Bootlegs | Beatles | Paul McCartney | John Lennon | Ringo Starr
Eat My Shadow (2009, 39.43/58.20) **/T

There's Nothing Wrong With You
I'm Afraid of Fridays
Nullarbor Plain
Funny Guy
Delicate
Ask
I Lead When We Dance
Simple
Glitter
Dark Days Over
Little Bridges
When You Sleep
[Bonus disc:
There is a Light That Never Goes Out
Magnetized
Only Love Can Break Your Heart
Reckless
I Want to Conquer You]
Current availability:
Australian Broadcasting Corporation
Mellotron used:
Angie Hart was vocalist with Frente!, an early '90s Aussie pop outfit, moving on to a duo, Splendid, with her then-husband, before striking out on her own with 2007's Grounded Bird. She followed up, two years later, with Eat My Shadow, a rather insipid singer-songwriter effort, to be honest, little of its material really standing out. Unusually for an album of this type, you can hear Hart's strine accent all over the place, rather than the more common generic US or UK English, although I wouldn't say it's a feature that enhances the record. Funnily enough, the bonus disc that comes with some versions of the album is far better than the album proper, including covers of The Smiths' There Is A Light That Never Goes Out and Neil Young's Only Love Can Break Your Heart, amongst others.
Shane Nicholson plays Mellotron, with flute chords on Funny Guy and Glitter, although that seems to be it. Overall, then, somewhat dullsville, in fact, downright irritating in places, with some minor Mellotron work, although the covers disc is slightly better.
Screamin' for My Supper (1999, 60.50/65.30) **½/T½

Just a Little Hole
Delicious Surprise
L.A. Song (Out of This Town)
Is That Too Much to Ask
By Her
Get Your Shit Together
Stay
G.O.P.
Skin
Girls Say
Sky is Falling
Mama
Favorite Things
[bonus tracks:
Take Me Away
There's No Sound]
Leave the Light on (2003, 41.30) ***/½

Lifts You Up
Leave the Light on
Bottle of Jesus
World Without You
Lay Your Hands on Me
Broken and Ugly
Lifetime
If God Only Knew
Monkey Back
Sky Full of Clover
I'll Stay With You
Current availability:
Screamin' for My Supper: Atlantic
Leave the Light on: Koch
Chamberlin/Mellotron used:
Screamin': Patrick Warren's M1
Leave the Light on: unknown Mellotron
Beth Hart is an L.A.-based singer-songwriter who, going by her performance on her second album, Screamin' for My Supper, desperately wants to be 'soulful', ending up sounding like an updated Janis Joplin (who, ironically, she has played in an off-Broadway show). There's nothing actually wrong with her voice per se, but if she stopped over-emoting for all she's worth, she'd be a lot easier on the ears. Most of the material is far too R&B-ish for my liking, although there's obviously a vast market for this stuff; not in my house, however.
In addition to the four-piece band Hart has playing with her (she plays keyboards, too), several musicians are credited on a track-by-track basis, which tells us that the ubiquitous Patrick Warren plays Chamberlin on two tracks, with various strings on Delicious Surprise and L.A. Song (Out Of This Town). However, there are three other obvious Chamby tracks, so I can only assume that her 'regular' keys man, Benmont Tench (Tom Petty's Heartbreakers) plays it, as he's done for so many other artists, not least Johnny Cash and Aimee Mann, with strings on Just A Little Hole and the album's hidden track, There's No Sound, and a short flute part on Skin.
Hart's follow-up, 2003's Leave the Light on, has been available in many different versions in different 'territories', or 'countries', as the rest of us know them. The 'standard international version', released in late '03, several months after the New Zealand version, for some reason, is a rather mixed bag, although it has its moments, not least Bottle Of Jesus and Lay Your Hands On Me, although the programmed loops are rather irritating, and other tracks merely grate, particularly closer I'll Stay With You. Morten Buchholtz is credited with Mellotron, but the only place it even might be hanging out is a faint string part on World Without You, but you've got to listen pretty closely. I've heard several of the tracks that appeared on the other versions, and there's nothing obvious on any of them, for what it's worth.
As far as Screamin' for My Supper goes, I've probably been a little harsh, but that kind of voice just makes my hackles rise, and the musical content doesn't help. Five Chamby tracks, none of them exactly essential, so I'd go elsewhere if I were you. The aforementioned Aimee Mann might be a good place to start. Leave the Light on is marginally better, but ultimately drags, especially if you hear one of the longer versions.
Jade (1998, 48.28) **/½

Let it Fly
Without You
You & I
Break the Chain
Là-Bas
So Visible (Easy to Miss)
Jade
Reconcile
Above the Trees
Bittersweet
Believing
Everytime You Smile
Current availability:
Mellotron used:
Montreal native Corey Hart seems to've been around for ever, producing pop for adults, AOR-lite (!), singer-songwriter stuff for those who don't want to hear anything unsettling... Suffice to say, his eighth album, Jade, is a soporific collection which only picks up even vaguely towards the end, with a couple of slightly less irritating faster tracks, though they do little to liven things up, to be honest.
One Mellotron track, with near-inaudible strings on Break The Chain from Michel Corriveau, with what sounds like a few volume-pedalled chords a little way in, but like so many of these utterly average records I review, the 'Tron input is minimal; I'd imagine it's rather too full-on for this type of album, which begs the question: why bother at all? So you can put 'Mellotron' on your instrumental credits? Pour quois? So; avoid on all fronts. Pointless.
Bookmarks (2006, 53.50) **½/T

The Life and Times of Joseph Rowe
She is All I Need
Temperance of Peace
My Greatest Success
Flames
I Will Not Fear the Dark
Suffocate
Rain in December
Nothing is Broken
One Thousand Lives
Time is a Thief
Home
Journey's End
Road of Bones (2010, 44.16) ***½/T

Restless Soul
If We Should Meet Again
Waiting for the Sun
Close to the Flame
Boxes
Girl Called Jo
Edge of Love
Day By Day
Playing Soltaire
Road of Bones
Current availability:
Bookmarks: Compass
Road: Vertical
Mellotrons used:
Scot Roddy Hart could easily be mistaken for American, at least on record, his first widely-available album, 2006's Bookmarks, being more Americana than anything else. It's one of those albums where the lyrics take precedence over the music, a casual listen refusing to divulge its strengths, although the actual music is relatively uninteresting, sadly. It's not all bad news; Flames and the Dylanesque She Is All I Need are better than average, but too many of the slightly overlong album's tracks let it down. Hart plays Mellotron himself, with cellos all over Temperance Of Peace and (less so) on Rain In December, although most of the album's keyboard work is very '60s/'70s-sounding Hammond.
Four years on and 2010's Road of Bones is a massive improvement; although Hart's loosely working in the same genre, the songwriting's gone up several notches. Excellent opener Restless Soul mines the same lyrical seam as Richard Thompson's incomparable Beeswing, the energetic Girl Called Jo transcends its slightly mundane subject matter and the closing title track, a piano ballad, rounds the album off stylishly. Hart plays Mellotron again, with an effective flute solo on Close To The Flame, although that would seem to be our lot.
So; two Scottish Americana efforts, one perfectly acceptable yet dull, one very acceptable indeed, both with little Mellotron.
Harvestman (US) see: Samples
Is This Desire? (1998, 40.37) ***½/T

Angeline
The Sky Lit Up
The Wind
My Beautiful Leah
A Perfect Day Elise
Catherine
Electric Light
The Garden
Joy
The River
No Girl So Sweet
Is This Desire?
White Chalk (2007, 34.53) ***½/T

The Devil
Dear Darkness
Grow Grow Grow
When Under Ether
White Chalk
Broken Harp
Silence
To Talk to You
The Piano
Before Departure
The Mountain
A Woman a Man Walked By [as PJ Harvey & John Parish] (2009, 38.02) ***/T½

Black Hearted Love
Sixteen, Fifteen, Fourteen
Leaving California
The Chair
April
A Woman a Man Walked By/The Crow
Knows Where All the Little Children Go
The Soldier
Pig Will Not
Passionless, Pointless
Cracks in the Canvas
Let England Shake (2011, 39.41) ***/0

Let England Shake
The Last Living Rose
The Glorious Land
The Words That Maketh Murder
All and Everyone
On Battleship Hill
England
In the Dark Places
Bitter Branches
Hanging in the Wire
Written on the Forehead
The Colour of the Earth
Current availability:
Mellotrons used:
Desire: unknown
White Chalk: Eric Drew Feldman's M400?
As is well documented, Polly Jean Harvey is a modern-day enigma, constantly changing her sound and image, always a step ahead of the pack. Sound like someone else we know? Kate Bush also falls into this category to an extent, but to her credit, Harvey sounds nothing like her, vocally or musically, unlike several other female singers I can think of. She apparently becomes irritated when critics assume that her work is autobiographical. Fair point; does anyone accuse Dylan of always writing about his own life? Actually, they probably do, which says more about them than him, I think.
1998's Is This Desire?, like the rest of her output, is effectively a singer-songwriter album, albeit heavily stylised, with the core of the album being Polly's actual songs, which are pretty good if you ignore some of the now-dated arrangements. Despite the real strings on several tracks, I'm pretty sure it's Mellotron on the heavily electronic My Beautiful Leah, with strings from either late-period Captain Beefheart collaborator Eric Drew Feldman or John Parish, sounding distinctly different to the real ones. Almost a decade on, 2007's White Chalk is, overall, a more acoustic album, with Polly playing piano on several tracks, though the overall weirdness level is still fairly high. So what would you rather hear? R&fuckin'B? Lyrically, it's as uncompromising as ever, with a particularly rude verse on When Under Ether. Definitely Feldman on 'Tron this time round, with flutes on Silence, though I suspect the various string sounds to be heard on the album are either real or synth.
2009's co-credited Harvey/Parish release, A Woman a Man Walked By, is, well, it's another P.J. Harvey album, co-credit or not, albeit one darker than usual. Once again, it veers between noisy and quiet, although rarely in the same song, better tracks including opener Black Hearted Love, Leaving California and Passionless, Pointless. Definitely Parish on Mellotron this time round, with a high, cracked string line on Leaving California, a major string part on Pig Will Not and flutes on Passionless, Pointless, although the possible flutes on The Chair sound more like some variety of feedback effect. On the other hand, Polly's 2011 solo, Let England Shake, sounding more like her usual self, has Mellotron credited on three tracks: the opening title track, England and the closing The Colour Of The Earth, all from Parish, but it's completely inaudible all round.
So; an eclectic artist who's used a little Mellotron. You don't really need to hear these albums for their Mellotronic input, but Harvey's a fascinating artist in her own right and I can imagine her music repays however much effort is put into getting to know it.
Tokyo Sonata [OST] (2008, 46.20) ****/TTTT

Main Theme A
Shisso
Kokkyo
Unten [take 1]
Unten [take 2]
Nami
Main Theme B
Clair de Lune
Asa
Ryuhei no Mezame
Kaigyaku
Ansoku
Ryushi
Daini no Ansoku
Tori no Yume
Toku ni Mieru Hikari
Okina Juryoku
Suimin
Yasashii Koe
Ending
Echo, Echo
Clair de Lune
Current availability:
Mellotron used:
Kazumasa Hashimoto's Tokyo Sonata is his soundtrack to the 2008 film of the same name, a modern tale of how 'normality' and harmony can be destroyed by circumstance. The soundtrack is a truly beautiful piece of work, performed on woodwind, piano and Mellotron; heartbreakingly transparent, this is not the soundtrack to your typical Hollywood all-action blockbuster. Aside from Debussy's Clair De Lune (the last track is Hashimoto's own arrangement, only found on this album), all the material is original, so no selection of current indie faves and past 'classics' to distract us here. This isn't the kind of album that has 'highlights' per se; it's designed to be listened to in its entirety, and at a mere 46 minutes, surely that isn't asking too much of the listener?
Hashimoto plays what appear to be real Mellotron flutes on a large chunk of the album. Certain notes sound the same (wobbly, dull, even flat) every time they're played, which could indicate first-generation samples, but then, chances are they would using the real thing, if it was badly adjusted. Anyway, it's the main sound used on all the highlighted tracks above (plus cellos on Okina Juryoku and Ending), highlights including the Main Theme, Unten [Take 2] and Okina Juryoku. Listen, this is one of the best 'Mellotron albums' I've heard in a while; do yourself a favour and get to hear it. Great composition and shedloads of 'Tron work; what's not to like?
The Dawn of Ananda (2000, 49.12) ***/T½

Precious One
Ananda
Twig
Summon the Angels
'Michael' Prince of Angels
Lily Lullaby
This is Destiny
A Thousand Angels
Running River Runs
Angel Blue
Current availability:
Mellotron used:
Larry Fast's M400? Samples?
Annie Haslam is, of course, best-known for her long-term membership of Renaissance, where her pure soprano and the band's orchestral approach aided them in standing out from the 'second rung down' progressive pack. The Dawn of Ananda was her fifth solo album, and is probably comparable to the most laid-back end of Renaissance's work, although it borders both MOR and New Age, too; this is not an album for your Inner Punk. Annie's voice is as beautiful as ever here, although the orchestrations are synth-derived these days; there are at least five keyboard players credited on the record, depending on whether the legendary Tony Visconti's 'multi-instruments' credit includes keys.
One of the five 'definites' is Larry Fast, a.k.a. Synergy, always more of a synthesist than a 'keyboard' player per se. It's rumoured that he played Mellotron on the album, and indeed, those distinctive choirs and strings appear on the last two tracks, Running River Runs and Angel Blue, although it's impossible to tell whether or not Fast's M400 is involved; I believe it's been renovated in recent years, although not until after this album's release. So; could be samples, could be real. These things have a way of being verified one way or the other, so I may be coming back to this at some point. In the meantime, if you're looking for something at the very laid-back end of the progressive spectrum, you may just have found it, although I really wouldn't bother for the Mellotron work.
See: Renaissance
Hater (1993, 31.06) **½/T

Mona Bone Jakon
Who Do I Kill?
Tot Finder
Lion and Lamb
Roadside
Down Undershoe
Circles
Putrid
Blistered
Sad McBain
Current availability:
Mellotron used:
Hater were a Soundgarden side-project, formed by bassist Ben Shepherd and drummer Matt Cameron, along with Monster Magnet guitarist John McBain, all three going on to play in the rather better Wellwater Conspiracy. Hater's unformed riffs give the Seattle game away; my chief problem with the whole 'grunge' explosion is that, for something supposedly in the hard rock area, decent riffs are at a premium, although I suppose its thrashy post-punk chord sequences define it. Doesn't make me like it any more, though... Despite the album's brevity, it still manages to outstay its welcome, sounding exactly like what it is: a side-project made by the rhythm section of a better-known band. Sorry, but this is pretty unexciting stuff, badly sung and only competently played, and what the hell's with the country-punk Blistered?
Glenn Slater plays Mellotron on one track, with a rather badly played string part on Lion And Lamb, which really isn't going to put this at the top of your 'Mellotron wants list', or probably even on it all, to be honest. Think: bassist and drummer record side-project. Mind you, the Wellwater Conspiracy are great; maybe they'd got their heads round the whole business by then. Oh, and for anyone else who's spotted the title, opener Mona Bone Jakon is the Cat Stevens track, apparently with Shepherd's additional lyrics.
See: Soundgarden | Monster Magnet | Wellwater Conspiracy
Only Everything (1995, 51.23) **½/T

What a Life
Fleur de Lys
Universal Heart-Beat
Dumb Fun
Live on Tomorrow
Dying Proof
Bottles and Flowers
Outsider
OK OK
Congratulations
Hang Down From Heaven
My Darling
Simplicity is Beautiful
You Blues
Current availability:
Mellotron used:
Juliana Hatfield (ex-Blake Babies) has attracted quite a bit of stick during her career for coming from a fairly well-off family. Well, kiss my arse; so what? If I tried to compile a list of 'rock stars from comfortable homes', I'd be here all year, and it's only February. Going by her second solo album proper, 1995's Only Everything, I would criticise her for her bland, mainstream 'alternative' rock (alternative to what, precisely?), but that's another matter. Maybe if the album had been trimmed down to 30-something minutes it might be better, but 50 minutes of her sub-Pixies/Nirvana style gets a bit much after a while. That isn't to say that the whole album's a dullsville waste of time; Congratulations features an interesting high-up-the-neck riff (a Hatfield trademark, apparently), while Hang Down From Heaven's acoustic verses break the pattern nicely, but there are too many also-rans here, doing the album no favours at all.
Hatfield herself plays Mellotron on My Darling, with a nice enough flute part that almost certainly comes from a real 'Tron, and not a very well maintained one, by the sound of it. That's your lot, though, and it's a lot of substandard post-grunge to listen to for one barely passable track.
Hatfield & the North (1973, 46.20/54.11) ***½/T

The Stubbs Effect
Big Jobs (Poo Poo Extract)
Going Up to People and Tinkling
Calyx
Son of 'There's No Place Like Homerton'
Aigrette
Rifferama
Fol de Rol
Shaving is Boring
Licks for the Ladies
Bossa Nochance
Big Jobs No.2 (By Poo and the Wee Wees)
Lobster in Cleavage Probe
Gigantic Land Crabs in Earth Takeover Bid
The Other Stubbs Effect
[CD adds:
Let's Eat (Real Soon)
Fitter Stoke Has a Bath]
The Rotters Club (1975, 50.19/63.26) ***½/½

Share it
Lounging There Trying
(Big) John Wayne Socks
Psychology on the Jaw
Chaos at the Greasy Spoon
The Yes No Interlude
Fitter Stoke Has a Bath
Didn't Matter Anyway
Underdub
Mumps
Your Majesty is Like a Cream Donut (quiet)
Lumps
Prenut
Your Majesty is Like a Cream Donut (loud)
[CD adds:
(Big) John Wayne Socks Psychology
on the Jaw
Chaos at the Greasy Spoon
Halfway Between Heaven and Earth
Oh, Len's Nature!
Lything and Gracing]
Current availability:
Mellotrons used:
Hatfield and the North (named after a road sign on the A1 on the way out of London - still there, last I saw) were part of the rather nebulous 'Canterbury' scene, progressive rock characterised by a jazzy bent, not to mention somewhat substance-inspired song titles. The Hatfields are a particularly bad example of this, obviously finding something howlingly funny about the titles you see above, although the music suggests nothing of the sort. In fact, the Your Majesty Is Like A Cream Donut bit is borrowed directly from Monty Python, so if I was feeling generous I could write the whole thing off to boyish enthusiasm. Or something. However, it's impossible to slag the band's musical dexterity; fuck, could they play! If you're impressed by obscenely outrageous displays of musicianship (and I know some of you are - and where you live), you'll be blown away by these albums.
Hatfield and the North is at its best when the singing stops, so it's a good job it's largely instrumental. The tracks run into each other to the point where you have to watch the CD display to know when you're on the next one, making me suspect that the track divisions are pretty arbitrary, and mainly there to give the band free rein on their penchant for idiotic titles. Dave Stewart (good Dave Stewart, of Egg, Arzachel etc., as against evil Dave Stewart of the bloody Eurythmics) plays his heart out here, with the sort of instrumental callisthenics that could get him a job as trick keyboardist at the circus; really quite spectacular, with considerable melodic invention. Pity it's all rather dodgy jazz-rock, really, as the band had talent to spare, but obviously considered this was a good area in which to utilise it. Anyway, aside from the usual piano, organ and synths stuff, Stewart plays some typically abstruse Mellotron strings on the rocking Shaving Is Boring, just before it lurches into the 'Caravan section', with that irritating organ sound favoured by bands from Canterbury. Maybe it was something you could only buy there. Let's hope so. The CD bonus tracks are from a single released later in '74, by the way. Yes, they released a single.
The Rotters Club shifts further into 'irritating jazz territory', with too many vocal sections for comfort, though the instrumental sections are still ridiculously dextrous, as you'd expect. The only 'Tron this time round is a few chords at the beginning of Didn't Matter Anyway, with literally a handful of string chords that fade in, then out again. I can't give an album less than half a 'T', but this barely deserves even that; I'm not sure I've heard another album containing so little Mellotron, without (of course), containing none. Why bother? Incidentally, due to the restrictions of my HTML table formatting, Mumps is actually the whole of side two, although its four parts are listed in the second column above, and the bonus tracks are from a posthumous album, Afters.
Anyway, if ferociously-played jazz-rock's your bag, you'll love the Hatfields. Conversely, if it's not... There are a few good tunes (remember them?) here and there on these albums, but they tend to be a bit few and far between. There's so little Mellotron, particularly on The Rotters Club, that they were barely even worth reviewing, to be honest. One (or two) for musos everywhere.
Pillows & Records (2005, 47.54) **/T½

Intro
Take in
Wherever You Are
Interlude
Get Over Yourself
Crush
Somebody Else
Tired
8 Weeks
Neighborhood
The Distance Between Us
Understanding
Pillows & Records
Jenny
Current availability:
Mellotron used:
Aidan Hawken is a modern American singer-songwriter; you may be thinking, &quot'This doesn't bode well". Unfortunately, you'd be right. Saying that, although his solo debut after years of playing in bands, 2005's Pillows & Records, is a pretty insipid affair, unlike, say, Maximilian Hecker, Hawken's music doesn't fill me with homicidal urges, which is a bonus. The album's plus points include some nice instrumental hooks, not least the guitar intro to Crush, although Hawken's weedy voice drags some potentially reasonable material down.
Jason Borger plays Mellotron, with a major cello part on (proper) opener Take In, strings on Get Over Yourself and both on the title track, which was rather more than I'd expected. I'd be lying if I said this was a good listen, but compared to many of his contemporaries worldwide, Hawken's rather limp style isn't actively offensive and sounds like he could actually do something worthwhile if only he'd loosen up a bit.
Hall of the Mountain Grill (1974, 40.56/58.38) ****/TTT½

Psychedelic Warlords
(Disappear in Smoke)
Wind of Change
D-Rider
Web Weaver
You'd Better Believe it (live)
Hall of the Mountain Grill
Lost Johnny
Goat Willow
Paradox (live)
[CD adds:
You'd Better Believe it (single version edit)
Psychedelic Warlords (Disappear in Smoke) (single version)
Paradox (remix single edit)
It's So Easy]
Warrior on the Edge of Time (1975, 44.49/47.51) *****/TTT½

Assault & Battery Part I
The Golden Void Part II
The Wizard Blew His Horn
Opa-Loka
The Demented Man
Magnu
Standing at the Edge
Spiral Galaxy 28948
Warriors
Dying Seas
Kings of Speed
[CD adds:
Motorhead]
The '1999' Party: Live at the Chicago Auditorium, March 21 1974 (1997, 97.53) ****½/TTT½

Intro/Standing on the Edge
Brainbox Pollution
It's So Easy
You Know You're Only Dreaming
Veterans of a Thousand Psychic Wars
Brainstorm
Seven By Seven
The Watcher
The Awakening
Paradox
You'd Better Believe it
The Psychedelic Warlords (Disappear in Smoke)
D-Rider
Sonic Attack
Master of the Universe
Welcome to the Future
Atomhenge 76 (2000, 84.37) ***/½

Intro
Reefer Madness
Paradox
Chronoglide Skyway
Hassan-i-Sabah
Brainstorm
Wind of Change
Instrumental
Steppenwolf
Uncle Sam's on Mars
Time For Sale
Back on the Streets
Sonic Attack
Kerb Crawler
Current availability:
Hall of the Mountain Grill/'1999' Party: EMI
Warrior on the Edge of Time: Griffin (US)
Atomhenge: Voiceprint (UK)
Mellotrons used:
All titles: band's own M400
Space-rock veterans Hawkwind have rarely, if ever kept the same lineup for two albums running, so finding themselves without the services of poet-in-residence Bob Calvert for the recording of their fourth studio outing, Hall of the Mountain Grill, they moved slightly (but only slightly) away from their roots, recording their most overtly 'progressive' album yet. It was the first to feature violinist/keyboard player Simon House, who slapped Mellotron all over the album, giving the band an occasional symphonic edge, without destroying the freeform element of their sound.
Unfortunately, the Mellotron is recorded fairly badly; in fact, the production overall is pretty ropey, but that's what happens when you spend the entire recording process stoned out of your mind, I suppose. House comes straight in on funkyish opener Psychedelic Warlords (Disappear In Smoke) (I expect they do...), with a string part running through most of the song. More of the same on instrumental Wind Of Change, while D-Rider has what may be 'Tron choir, but it may just be actual voices. Hard to tell. The title track is another instrumental piece with loads of 'Tron layered over the piano (!) part. I told you this isn't a typical Hawkwind album... A live Paradox closes the album with more 'Tron strings, giving you a taste of the rarely heard 'Mellotron jam' style; it has to be said, there's a reason you don't usually jam with one, but House makes a good go of it anyway... Incidentally, the EMI CD adds several tracks, most of which are 'single versions', but there's also a b-side, It's So Easy, including more of that strange 'Tron choir.
The following year, Hawkwind produced what some fans consider to be their piéce de resistance, Warrior on the Edge of Time. It's a very different album to, say, their stunning live extravaganza Space Ritual (*****), but works brilliantly as a straight space/prog crossover. Opening with Lemmy's bass under House's 'Tron strings, Assault And Battery is one of the band's all-time classics, driving along superbly before shifting into The Golden Void, with more 'Tron and one of the most piercing MiniMoog notes you're ever likely to hear (and no, it's NOT House's violin!). Opa-Loka isn't really a song, as such; more a rhythm track with some 'Tron strings layered over top, with a few other bits thrown in. In direct contrast, The Demented Man is a rarity for Hawkwind, an acoustic ballad (complete with seagull sound effects), with much 'Tron strings and choir. Side two of the album is strangely 'Tron-free, but just as good, apart from final track Kings Of Speed, which really doesn't fit the album's feel at all; it was released as a single, backed by Lemmy's Motorhead, included on the CD. Stop the disc after Dying Seas and you'll have a more 'complete' album, to be honest. Although House stayed in the band for another couple of albums, he obviously disposed of his Mellotron after Warrior, switching to various synths, along with his trusty violin.
Since the mid-'80s, Hawkwind have fallen prey to the reissue merchants, with literally dozens of compilations, dodgy live recordings and straight reissues of their early albums on a bewildering variety of labels, with, no doubt, little if any of the profits making their way back to the band. Some of these are awful recordings (the cheekily-named Space Ritual Vol.2 (***) springs to mind), while some are just plain awful (The Text of Festival (**½)), so Hawkwind collecting has become an absolute minefield for the newbie. Two or three of the dodgier efforts could put you off them for life, but anyone who picked up The '1999' Party should have no such problem; a good, professional recording from their 1974 'Mountain Grill' tour of the States, it sounds great and is superbly packaged. Simon House's Mellotron is used on six tracks, three of which are the same as their Mountain Grill antecedents, leaving three older songs with Special Extra Added Mellotron for flavour; all are improved by the 'Tron strings, especially the excellent You Know You're Only Dreaming. Incidentally, the album is notable for an early appearance of Mike Moorcock's poem Veterans Of A Thousand Psychic Wars, later to be set to (excellent) music by his other chief musical collaborators, the Blue Öyster Cult.
While we wait in vain for a decent 'Warrior' tour recording, any number of other tours become documented, in highly variable qualities. Atomhenge 76 (edited to a single disc for US release as Thrilling Adventures: Live 1976, a.k.a. Thrilling Hawkwind Adventures) is a murky, bootleg-quality recording from Bristol Colston Hall, September '76 on their Astounding Sounds tour. Bob Calvert was back in the band for a spell, and is one of the best things about the album, although it's noticeable that, aside from Uncle Sam's On Mars (basically Opa-Loka with narration), there's nothing here from the previous year's Warrior.... Basically, this is a bit of a mess; a so-so set list, averagely played and poorly recorded. There are several incredible Hawkwind live albums; this is not one of them. As far as Simon House's credited Mellotron goes, (surely on its last outing?), assuming it's actually one at all, all I can hear is some murky, background strings on Time For Sale (where is this track from?); the strings on about the best things here, Paradox and Wind Of Change, are string synth.
So; all these albums except Thrilling Adventures are well worth your dosh, but if you're not sure where to start, go for Warrior first. In fact, that and Space Ritual should be your Hawkwind starting points, but for 'Tron action, go for any of Mountain Grill, Warrior or '1999' Party. So, when are we going to get a decent '75 live recording, eh?
See: Space Ritual
Lowedges (2003, 40.53) ***/½

Run for Me
Darlin'
Oh My Love
The Only Road
On the Ledge
You Don't Miss Your Water (Till Your River
Runs Dry)
The Motorcycle Song
It's Over Love
I'm on Nights
Danny
The Nights Are Made for Us
Current availability:
Mellotron used:
Sheffield native Richard Hawley played in the last incarnation of Pulp, being encouraged by that band's Steve Mackey and Jarvis Cocker to record his own, pre-psych '60s-influenced songs. Lowedges (named, as are most of his albums, after an area in his hometown) is his second full-lengther, and it has to be said, if you're going to get anything out of this, you'd better be prepared to chuck anything later than, say, 1966 out of the window and get yourself ready for a burst of Sheffield noir. Think: rain, neon, cigarettes, horn-rimmed spectacles (not glasses), more rain, two channels on your black-and-white telly and Dusty Springfield on the radio. Appeal? Not here, it doesn't, but I've never understood this particular brand of nostalgia; however, Richard Hawley does, as do his increasing legion of fans, assuming you can call such a well-mannered bunch a 'legion'.
Colin Elliot is credited with Mellotron (he also plays it on Hawley co-production A Girl Called Eddy's self-titled album), but all I can hear is distant strings and flutes on opener Run For Me, either of which could be produced by almost anything, really. OK, not a Clavinet. Anyway, if you're into this kind of retro, you may well like Mr. Hawley, but don't come here looking for some kind of Mellotronic experience.
See: Pulp | Jarvis Cocker
Transcendental Highway (1998, 62.06) **½/½

Transcendental Highway
Don't Believe You Anymore
My Brilliant Feat
Goodbye My Red Rose
If I Go
I'm Doing Fine
Wash it All Away
Cactus
Death Row Conversation
I'll Leave the Light on
Freedom Calling
I Just Don't Think I'll Ever Get Over You
I'm Doin' Fine (demo)
Current availability:
Chamberlin used:
Colin Hay is one of a host of Australians (famous or otherwise) born in Scotland, who emigrated with their families in childhood (think: most of AC/DC); he's best known as vocalist with Men at Work (come on, who can dislike Down Under?), going solo after their mid-'80s split. 1998's Transcendental Highway is one of those funny albums that starts badly, then improves all at once, in this case at track nine, Death Row Conversation, its sparse arrangement, allied with the album's best tune and lyric, adding up to a genuinely good song. The remainder of the album would make a nice, short-ish release, were Hay to scrap the rather turgid half hour-plus of slightly worldy pop/rock he serves up during the interminable first half, Sadly, this is what we get, dull, overlong efforts and all.
It's often difficult to work out what a Chamberlin's doing in a mix and this album's no exception. I think Dave Dale's providing the strings on If I Go, but it could be something else entirely, while the Chamby might be heard elsewhere. Hard to say. Anyway, while a few tracks here are probably worth hearing, the bulk of the album's pretty dullsville territory, frankly.
Hayden (Canada) see: Samples
The Rub (2001, 31.30) ***/TT

Start a Little Late
Slip is Showing
The Land of Nod
Alone
Wood and Glue
Albatross
Red Lines
Guitar Lesson
Sign of Your Love
Pistol and Glasses
Lovely to See
Current availability:
Mellotron used:
Annie Hayden (ex-Spent) is an American singer-songwriter who has to be applauded for refusing to succumb to the temptation to appeal to the lowest common denominator. Her solo debut, 2001's The Rub, combines acoustic and electric elements on tracks such as Slip Is Showing and Sign Of Your Love, with the surprise addition of several instrumentals, not least the lovely Guitar Lesson and her sympathetic, keyboard-led version of (early) Fleetwood Mac's Albatross.
Hayden and John King share Mellotron duties, with string parts on the brief The Land Of Nod and Wood And Glue and flutes on Albatross, although the chord part on Slip Is Showing (sometimes credited as Mellotron) is nothing of the sort, sounding more like an early polysynth. So; a better than average album of its kind, although expecting anything too exciting will lead to disappointment, while nice Mellotron work on three tracks makes it work checking out if you see a copy cheap.
7" (1969) ***/TTTahiti Farewell
Pantomime People
Current availability:
Both tracks on Measure for Measure: The John Carter Anthology (RPM, 2003)
Mellotron used:
The Haystack were yet another John Carter/Ken Lewis project (creators of the better-known Flower Pot Men, of Let's Go To San Francisco fame), releasing two 45s under the name in 1969. The second, Tahiti Farewell, is a rather slight effort with a vaguely Hawaiian feel, although the flip, Pantomime People, is a far better track, with more of a Flower Pot Men vibe to it.
Pantomime People features some nicely full-on Mellotron flutes and strings (and brass?), presumably from one of the dynamic duo, also presumably played on Southern Studios' much-used MkII. Both sides of the single are available on RPM's 2003 collection Measure for Measure: The John Carter Anthology, along with the 'A' of their first release, A Letter To Josephine, while Letter... and Pantomime... can also be found on The Flower Pot Men's Listen to the Flowers Grow.
See: The Flower Pot Men | Friends | Beautiful People | Ministry of Sound
Blue Jays (1975, 47.00/50.40) **/½

This Morning
Remember Me (My Friend)
My Brother
You
Nights Winters Years
Saved By the Music
I Dreamed Last Night
Who Are You Now
Maybe
When You Wake Up
[CD adds:
Blue Guitar]
Songwriter (1977, 42.27/54.29) *½/0 (½)

Tightrope
Songwriter (Part 1)
Songwriter (Part 2)
Country Girl
One Lonely Room
Lay it on Me
Stage Door
Raised on Love
Doin' Time
Nostradamus
[CD adds:
Wrong Time, Right Place
Marie
Heart of Steel
Learning the Game]
7" (1979) *½/½Marie
Heart of Steel
Current availability:
Blue Jays: Polydor
Songwriter: Decca
Mellotrons used:
It's debatable whether or not The Moody Blues actually split up after the end of the original band's final tour in early '74; their most recent album (1972's Seventh Sojourn) was by then two years old, while their attempts to record its follow-up in '73 came to nothing. All five members recorded solo records, Justin Hayward and Mike Pinder initially working together, until Pinder dropped out, to be replaced by bassist John Lodge for 1975's Blue Jays, although Lodge doesn't actually play on the (originally non-album) hit Blue Guitar, Hayward being backed by 10cc. The album is, frankly, the most insipid piece of soft-rock schlock it's been my displeasure to hear for a while, making the Moodies sound like The Stooges. Well, nearly. Someone (Hayward?) plays a very background Mellotron string part on Who Are You Now, as against the real strings used across the rest of the album, although I'd be lying if I said it added anything to the record.
The same goes for Hayward's Songwriter ('77), a horrendously insipid effort about as out of tune with the times as you can imagine, although the thought of fluffy Justin attempting anything even remotely aggressive is liable to induce uncontrolled smirking. His 1979 single, Marie, however, appears to have some background M400 choirs about halfway through (from Hayward?), although it's a bit 'blink and you'll miss 'em'. If you're a diehard Moodies fan and have to have everything, both sides of the 45 are on the 2004 version of Songwriter, but I really cannot recommend either of these in any way, I'm afraid.
See: The Moody Blues
My Forever (2010, 37.10) *½/TT

Forever & Ever
All About Us
Everything You Do
And Run
Happily Ever After
Kiss it Better
Prove You Wrong
Blame it on the Rain
Love Life
Fall
Current availability:
Mellotron/Chamberlin used:
He is We are the Tacoma, WA-based duo of Rachel Taylor and Trevor Kelly, who, going by their first full album (ignoring 2009's Old Demos), 2010's My Forever, play unbelievably twee indiepop, full of vocal 'oh-ah's and other infuriating indie tropes. Taylor's harsh, characterless voice helps matters not a whit, so with not one single song that transcends their incredibly narrow genre boundaries, this is an album to avoid at all costs.
Dan Romer (Ian Axel, Ingrid Michaelson) seems to play almost everything on the album, including Mellotron and Chamberlin, with (Mellotron?) flutes and (Chamberlin?) strings on opener Forever & Ever, Chamby strings on All About Us and what I take to be more of the same on Happily Ever After, Prove You Wrong and Fall. God, this is awful. This album has just two plus points: its tape-replay use and its merciful brevity.
Flat as a Pancake (1974/75, 39.22) ***/TT

Never Been Any Reason
One Against the Other
Love Me Tonight
City of Gold
Fly By Night Lady
Jefftown Creek
Lovin' Me Along
Ticket Back to Georgia
Brother Jacob
Gettin' Lucky (1977, 41.50) **½/T

Gettin' Lucky
Back in My Own Hands
Show Me I'm Alive
Take it on Home
Dancer Road
Don't Let Me Sleep in the Morning
Sands of Time
Call to Arms and Legs
Time Has a Way
Every Little Bit of My Heart
Current availability:
Flat as a Pancake: A & M
Gettin' Lucky: Not on CD
Mellotrons used:
Both titles: band's own M400?
I don't know where Head East hailed from, specifically [note: St. Louis, Missouri, apparently], but they've got that Midwestern sound about them, a sort of hard-ish rock without really breaking sweat; think early REO Speedwagon, before the (full-on) AOR. Effectively r'n'b-based stuff, with plenty of boogie piano, rock'n'roll guitar and slightly ropey vocal harmonies, they were probably a decent enough draw on the mid-'70s concert circuit, supporting Ted Nugent and his ilk without ever risking being a serious danger to the headliners.
Originally released on their own label in 1974 before being picked up by A&M, Flat as a Pancake is typical of the genre, being perfectly competent, but desperately unexciting, and about as vital as being beaten over the head with a wet sponge. It starts well enough, with some nice synth work from Roger Boyd on Never Been Any Reason, but quickly slips into mid-tempoville, from where it rarely emerges. Boyd's keyboard work is one of the best things about the album, actually, with some nice Hammond (listen to the intro to probably the album's best song, Jefftown Creek), and synth on several other tracks. Not to mention, of course, a bit of Mellotron, most unusually for a band of this type, with the chief use being the strings on City Of Gold and Ticket Back To Georgia, both, unsurprisingly, ballads. I don't know what tapes Boyd had in his machine, but there's some brass on One Against The Other, and with no brass section credited, I suspect that's 'Tron, too. There may just possibly be a couple of other bits of 'Tron buried way down in the mix, but they're just as likely to be high-end Hammond deceiving the ear; hard to say. Anyway, not bad, not really that good, two decent-ish Mellotron tracks. That's it.
I expected there to be some 'Tron on 1976's Get Yourself Up, but with Greg Oakley credited with 'string arrangements', the two tracks with strings sound like the real thing. '77's Gettin' Lucky gets back to the (credited) 'Tron, although the strings on Show Me I'm Alive are real. The album is, to be brutally honest, stupendously average, with the only highlight of any kind being Sands Of Time, which sounds vaguely like Styx, or maybe Kansas, but everything else is either turgid Midwest boogie or a drippy ballad; the term 'filler' could've been invented to describe Call To Arms And Legs. Boyd digs out the 'Tron for one track, the wishy-washy Time Has A Way, but it's no match for even the fairly ordinary use on Flat as a Pancake. For those of you who saw my previous "I won't pay more than a quid or two if I find a copy" note, by the way, I did, in fact, pay exactly a pound for a copy of this in a charity shop. So; I couldn't in all conscience really recommend either of these albums for either music or Mellotron, although if you're into that mid-'70s American thing you might just like them.
Flor di Anglo (1980, 44.17) ***/T

Caribbean Shuffle
Stone Fruit
Sweet Secrets
El Diablo Suelto
Native Tongue
Daniel
Echoes of the Light
Flor di Anglo
Current availability:
Mellotron used:
Head, Heart & Hands were a German fusion outfit with a couple of ex-pat American members (guitarist Roy Louis also played on a few Passport albums), whose third and (to my knowledge) last album, 1980's Flor di Anglo, start off as a fairly typical offering from the period, before going a little off-piste with Sweet Secrets' slurring fretless bass and soprano sax lines, El Diablo Suelto's Disney-esque feel and the title track's epic fusion/prog approach. The rest of the album's slightly less interesting (at least to the non-fusion fan), but three tracks that go even slightly out on a limb is three more than on most similar.
The other non-German member, Geoff Stradling, plays keys, including Mellotron, clustered towards the end of the album, with distant (male?) choirs on Daniel, Echoes Of The Light and the title track. This is actually available on CD, maybe surprisingly; definitely worth it for fusion obsessives, possibly for the curious, but not really for the Mellotron fan.
Home From Home (the Missing Album) (1996, recorded 1970, 39.31) ***/T

Bringing it All on My Own Head
Ain't Gonna Let it Get Me Down
How Does it Feel to Be Right
Achmed
Precious Stone
Friend of a Friend
Windy & Warm
Who Turned Off the Dark
Can You See Me
Home From Home
Make Me Feel Much Better
Current availability:
Mellotron used:
Heads Hands & Feet, including legendary British guitarist Albert Lee and bassist Chas Hodges, later of Chas'n'Dave, coalesced from members of the Johnny Harris Orchestra, playing together at first as One Man Band. They recorded the material that eventually comprised Home From Home (the Missing Album) in 1970, but their record company, inexplicably, not only refused to issue it, but then chopped 1971's double Heads Hands & Feet down to a single disc for their home market, despite releasing the full version in the States. Record companies, eh? 1996 brought an exceedingly belated release for what should've been their debut album, an eclectic mixture of country, blues, folk and pop, not entirely unlike America's Blues Project, in some respects. Better tracks include opener Bringing It All On My Own Head, the syncopated Precious Stone and the folky Who Turned Off The Dark, Lee's and Hodges' instrumental work standing out particularly.
I presume it's keys man Mike O'Neill that plays the Mellotron on Windy & Warm, with a brass part worming its way into the mix halfway through, to be slowly supplanted by those classic, heavily-reverbed MkII strings, to excellent effect. Although a worthwhile release, it must be said that this is really only an album for aficionados, sounding rather dated in the cold light of a few decades later, which isn't to denigrate See for Miles' sterling reissue work in any way. So-so record, one great Mellotron track.
Heads in the Sky (1981, 35.32) ***/T½

Heads in the Sky
Survive
Three Isle, My Land
Atomic Energy Sweet
Heavy Water
Meltdown
Requiem
On My Way to Freedom
Atlantis Lies
Golden Morning
Heads in Rio
Current availability:
Mellotron used:
Heads in the Sky were a little-known late-period prog outfit from Canada, whose sole, eponymous album was only released in their home country, the Netherlands, Germany and Japan, for some obscure reason. To be perfectly honest, it's not that great a record, being mostly rather insipid neo-ish prog, although that style was yet to appear in its full-blown form. There's a slight electro-pop influence in places, too, mainly due to Russ Walker and Chris McKim's synth use, including something that has to be an Oberheim. Unlike so many of their contemporaries, the band obviously had something to say, with both Three Isle, My Land (work it out) and Atomic Energy Sweet tackling the nuclear debate, though in a strangely laid-back kind of way. Walker sings on a few tracks, but overall, the album feels more instrumental than vocal, which is probably a good thing.
Walker and McKim stick some Mellotron on the album, although it's hardly the heaviest use you'll ever hear. There are distant choirs on Survive, occasional upfront string swells on Three Isle, My Land and the relatively lengthy On My Way To Freedom (plus a brief flute part on the latter), while a few seconds of strings on closer Heads In Rio finish a rather unsatisfying album with very little Mellotron use, considering on how many tracks it's used. This is one of those so-so records that gets prog fans excited due to its obscurity, then almost inevitably disappoints when it's actually tracked down. I've heard far worse, but there's practically nothing here that stands out from the pack, with its late-period 'Tron use being its only even minor talking point. Pick it up if you see it cheap, but don't go out of your way.
---