---
Kenso III (1985, 40.08) ***½/T

Sacred Dream I
Power of the Glory
The Breeze Whispered Through My Mind
Far East Celebration
La Liberté de l'Esprit
Patter of the Groovy
Turn to Solution
Nostalgia
Sacred Dream II
Beginnings
Current availability:
Mellotron used:
Kenso are one of Japan's finest progressive bands, although they're rarely mentioned in discussions on Japanese symphonic prog (unbelievably, these do actually happen). Their early albums, at least, are fusion-inflected instrumental progressive of a high standard, with occasional bursts of full-on symphonic prog; Kenso II is particularly good. Kenso III, from three years later, isn't quite up there, but is still an excellent listen, although, as with so many albums from this genre, multiple listens will no doubt reveal its charms more fully.
Surprisingly, maybe, Yoshihisa Shimizu uses a Mellotron on a few tracks, as he didn't before or since, so unsurprisingly, there's only one track, Nostalgia, that uses it to any great degree, with a fairly decent strings part. Sacred Dream I and Power Of The Glory have lesser string parts, but that appears to be your lot. So; good album, fairly mediocre 'Tron, hear their second album first, if you get my drift.
Je Ne Suis qu'une Chanson (2002, 52.12) ***/½

Je Ne Suis qu'une Chanson
Tous les Souvenirs
Les Paroles Silencieuses
Nos Amis, les Autres
Le Nez au Vent
Au Verso de l'Amour
Les Éléphants (Les Éléphants/Les Pôts Cassés)
La Vie Sans Complexes
Ça Sent l'Été
Pain Perdu
Le Pays d'où l'on Ne Revient Pas
L'Aventure Humaine
L'Homme de Mars (2008, 49.04) ***/T

Prologue
Ici et Maintenant
Welcome to My Paradise
Télépathie
On a Marché sur la Terre
Vibrato
Paroles d'Hommes
Comme George Bailey
Rapport Humain
Mon Etudiante
La Nostalgie de l'Avenir
Amer Sonnet
Miss Monde
Happiness et Moi
Dans le Rouge
Planète Mars
Epilogue
Panorama (2009, 74.54) **½/T½

Une Ville à Aimer
Un Peu de Prévert
Je Suis un Kilomètre
Panorama
Tous les Mômes
Betsy Party
Cash
Léo Song
Au Revoir, Adieu
Métropolitain
Mois de Mai
Reste Encore
Des Roses et des Ronces
Les Éléphants
Paroles d'Hommes
Inoxydable
Congas et Maracas
Juste Quelqu'un de Bien
Papillon de Nuit
Current availability:
Cyclone: Barclay
Je Ne Suis/L'Homme: AZ
Panorama: Thoobett
Chamberlins used:
Hervé "Kent (Hutchinson/Cokenstock)" Despesse, a man of many names, was vocalist with pioneering French new wave band Starshooter (it says here), subsequently releasing something like fifteen solo albums, at least three of which are supposed to feature the Chamberlin, although 2000's Cyclone, despite keyboard work by the legendary Mitchell Froom on every track, is not among them. 2002's Je Ne Suis qu'une Chanson is, however, an album based almost entirely on the sound of the traditional French accordion; unusual for a couple of tracks, wearing for twelve. François Lebleu's only definite Chamby use is the distant voices on La Vie Sans Complexes (male? Female? Both?), although it's possible there's something on the opening title track, making this a pretty low-priority tape-replay album.
2008's L'Homme de Mars appears to be some kind of concept effort, indecipherable to the non-French speaker. Musically, it largely consists of epic, mid-'60s influenced orchestral pop, for better or worse: possibly worse, on reflection, although (he said, grudgingly) it does it well. Fred Pallem on Chamberlin this time, with a little burst of strings on Comme George Bailey and more of the same on Dans Le Rouge, any other contributions being well and truly hidden in the mix. 2009's Panorama's chief influence is rockabilly, of all things, although Kent throws several rather French-sounding ballads into the mix, as you might expect, along with a handful of mainstream folk/pop efforts. Pallem on Chamby again, with flutes on Je Suis Un Kilomètre and strings and cellos on Les Éléphants and Paroles D'Hommes. Is this the same Chamberlin used in the late '70s by Magma and Dan ar Bras? I think we should be told.
Anyway, not albums that are likely to appeal to many non-French speakers, or, for that matter, anyone not into accordions, orchestral pop or rockabilly, but at least Panorama's got three decent Chamby tracks.
7" ( 1979) ***&frac12/½

Kong Edvardt
Feberlåten


Kerrs Pink (1981, 48.34/57.15) ****/T

Velkomst
Sett Dem Bare Ned
Barkbillens Flukt
Sang Fra Skogen
Pimpernelle
Parringsstevet
Bamse Brakar
Sirrus
Hvis Jeg er der Neste År
Avskjed
[CD adds:
Kong Edvardt
Feberlåten]
Current availability:
Mellotrons used:
Kerrs Pink (named after a brand of Norwegian potato, apparently) had been around since the early '70s in one form or another before releasing an independent single in 1979, Kong Edvardt/Feberlåten (apologies for the atrocious scan). Despite their ever-changing personnel, they recorded the single with the three-guitar lineup they'd used throughout most of their history, although in a far more mellow way than you might expect, with a folky feel to both pieces. Halvard Haugerud's Mellotron is well back in the mix on the a-side, with a little strings, which seems a bit of a waste, but there you go. Something you don't often hear on 'progressive' stuff, whatever you take that to mean, is the rather jaunty feel of both of these tracks, obviously coming more from the folk end of things than the prog.
The following year, their self-titled first album draws on the Scandinavian folk tradition, among other influences (particularly on Parringsstevet), and although most of the tracks are gentle, laid-back pieces, an occasional burst of (slight) aggression shows through, such as on Sett Dem Bare Ned or the closing section of the excellent Hvis Jeg Er Der Neste År. Other artists are largely noticeable by their absence in the band's sound, although Sirrus has a distinctly Pink Floyd bent to it, and a general 'symphonic' feel pervades several tracks. Again, not that much 'Tron, with a little choir and even less strings, so don't go buying this for that alone.
Kerrs Pink, however, is a very pleasant album, that I suspect will grow on me when I find time to give it enough listens. Incidentally, as you can see, both single tracks are included on the CD, which is a good job, as originals are almost certainly impossible to find. Incidentally, their second album, Mellom Oss, from a year later, may or may not contain Mellotron. The confusion arises from the fact that when Musea reissued it, for some unknown reason, the band elected to submit an entirely re-recorded version of the album from the early '90s, unsurprisingly sans 'Tron. So until/if I can track down a vinyl original... Holiday in Norway coming up? Also incidentally, while none of the reformed '90s band's recordings has had a 'Tron within several hundred miles of them, they're all actually very good, unlike most reformation projects.
Kestrel (1975, 44.10) ***½/TTT½

The Acrobat
Wind Cloud
I Believe in You
Last Request
In the War
Take it Away
End of the Affair
August Carol
Current availability:
Mellotron used:
Kestrel's sole release is an odd little album, being a rare example of the little-remembered MOR/prog crossover (!). Adventurous arrangements, but with frequently cheesy chord sequences and vocal melodies; what were they thinking of? It's actually not a bad listen, as long as you temporarily disable your cheeseometer and pretend that the Fender Rhodes work sounds more like Gentle Giant than it actually does. The best tracks are probably opener The Acrobat and the two longer tracks detailed below, but there's nothing too awful on offer, unless you tend to wither and die at anything played in major (seventh) keys.
John Cook's Mellotron work is quite low-key until several minutes into the lengthy In The War, where a string part cuts in for 30 seconds or more, completely swamping the mix in grand style. Fabulous! The other overwhelming part is the strings and (faint) choir towards the end of the album's other long track, closer August Carol; the rest of his use consists of fainter string and choir parts, but these two tracks earn most of the 'T' rating above.
So; weird, cheesy, but somehow rather wonderful. Kestrel ain't gonna get your heart racing if Yes are too lightweight for you, but ignoring the cheese factor, there's some great Mellotron work and some decent-enough music. Buy possibly.
Keyboards Triangle (Japan) see: Samples
As I am (2007, 55.59) **½/T

As I Am (Intro)
Go Ahead
Superwoman
No One
Like You'll Never See Me Again
Lesson Learned
Wreckless Love
The Thing About Love
Teenage Love Affair
I Need You
Where Do We Go from Here
Prelude to a Kiss
Tell You Something (Nana's Reprise)
Sure Looks Good to Me
Current availability:
Mellotron used:
I'm the sort of person who knows next to nothing about superstars like Alicia Keys, entirely from choice; seriously, why would I? It seems Alicia "Keys" Cook is a stage-school girl from a single-parent background who has sold 30-odd million records to date, which isn't bad going by anybody's standards, I suppose. She's a good singer, albeit in that awful 'R&B' style that's so horribly ubiquitous at the moment and a respectable pianist, making a change from the usual run of 'I can sing a bit' types who seem to sell CDs, er, downloads by the bucketload, none of which makes her utterly mainstream work any more appealing to moi.
Credited Mellotron on three tracks, with nothing audible on Superwoman, distant choirs on No One (both from Keys herself) and an interesting pitchbent string part on The Thing About Love from Bigelf's Damon Fox (!). Not interesting enough to give this more than one T, though.
Deadkidsongs (2005, 13.44) **½/T

We'll Make it Away
Nothing More, Just a Lie
Reality Through a Telescope
Portrait of a Young Man
Current availability:
Mellotron used:
Are Kid Down emo? Is that what this metal/indie/pop hybrid is? Their first release, 2005's Deadkidsongs EP, is the kind of thing a certain kind of young person goes for, while leaving those of us with longer memories completely nonplussed. The most irritating thing about this disc is that it has several good points, but they're all cowed into submission by the infuriating vocal style the band insist on using.
Someone (Eric Höjdén?) plays Mellotron, presumably real, as it was recorded at a different studio to the rest of the EP (usually a giveaway), with background string parts on all but final track Portrait Of A Young Man. I can't honestly recommend this to you, though; if this is emo, I'm outta here.
Kid Rock (2003, 67.15) ***/T

Rock'n'Roll Pain Train
Cadillac Pussy
Feel Like Makin' Love
Black Bob
Jackson, Mississippi
Cold and Empty
Intro
Rock'n'Roll
Hillbilly Stomp
I am
Son of Detroit
Do it for You
Hard Night for Sarah
Run Off to LA
Single Father
Current availability:
Mellotron used:
Robert James "Kid Rock" Ritchie is one of those phenomenally successful artists who have constantly flown under my radar (not that I expect he noticed), probably because his target audience, i.e. disaffected redneck American teenagers, is an awfully long way from my own social demographic. As a result, his 'unsuccessful' ('only' 1.4 million sales) eponymous 2003 album is the first thing I've heard by him, and I have to say, it's far better than I'd expected. Most descriptions of his style include hip-hop, metal, country and Skynyrd-style 'southern rock', which is pretty spot-on, really, sometimes all in the same song. It's actually quite difficult to fault his schtick, as he aims fairly and squarely at his target audience and hits them smack between the eyes while making albums that contain, if not something for everyone (that ludicrous old chestnut), something for a lot more people than you might expect. The upshot of all this is that I actually found Kid Rock fairly palatable, if not something I'll put on every week (or year. Or possibly life), with some surprisingly universal lyrical themes and some reasonable cod-'suvvern' riffing.
Anyway, yer man Rock plays a lovely Mellotron flute part on his version of an unreleased Bob Seger number, Hard Night For Sarah, with the only other even vaguely possible use being the strings on Cold And Empty, although it seems likely they're generic samples, given how upfront it is on the Seger track. Again, the strings on closer Single Father are either real or programmed, but one decent 'Tron track is one more than I'd expected. So; a surprisingly listenable album, with an amusing cover of Bad Company's Feel Like Makin' Love for people old enough to remember the original. I shan't be rushing out to purchase anything else by Mr Rock, but at least I don't feel I've totally thrown away an hour of my life. Criticisms? Like so many modern albums, it's too bloody long, but that seems to be par for the course with mainstream stuff, so it's hardly even worth mentioning, although I did anyway.
Painkiller (2009, 78.32) **½/T

Outbound
Wolfe
Celestial
Crystalline Rush
Song for the Masking
File Under Travel
Look Homeward Angel
Oenone
Spirit in Flame
Forever Lasts for Nothing
Not What You Say
Current availability:
Mellotron used:
Steve Kilbey is better-known as vocalist with legendary Aussie psychonauts The Church, although he's been releasing solo records since the mid-'80s. 2009's Painkiller is something like the eleventh such, and it pains (ho ho) me not to be able to be more positive about it. My problem with it is... it drags. OK, I know The Church have a distinctly psych bent, but this collection of space-rock ramblings really doesn't do Kilbey's reputation any favours. The worst offenders are the tracks where he attempts to ape the Jam Band scene, notably the twelve-minute File Under Travel, which at least has the good grace to be reasonably energetic for some of its length, and half hour closer Not What You Say, of which about the first twelve minutes are 'song' and the remaining twenty ambient electronic goo. Think King Crimson's Moonchild, but infinitely more boring. Like so many other albums I've heard recently, this is OK for a few tracks, then despondency sets in as you realise it isn't going to get any better. The album's highpoint? The lyrics, actually.
Kilbey and Tim Powles both play (real?) Mellotron, with strings on opener Outbound, flutes and strings on Celestial, distant choir stabs on Oenone and similarly background strings on Forever Lasts For Nothing, with a final, more upfront string part on Not What You Say. Several other tracks have something that could be a Mellotron, but given that Wolfe opens with what sounds worryingly like MkII 'moving strings', that would almost certainly throw the entire album into 'sample' territory. Sorry to be so down on this, but even if you discount the last twenty minutes, it's still far too long for its actual content and sounds like it was made by a bunch of stoned-out... Er, hang on... Not at all sure about that 'Mellotron', either.
See: The Church | Hammock/Steve Kilbey/timEbandit Powles
Out of Uranus (1970, 45.26) ***/T

Out of Uranus
Soon There Will Be Everything
Acid Bean
Where Nobody Ever Goes
Sun Keeps Shining
Call for the Politicians
Fido Castrol
Lost Alone
Son of Wet
Milkman
Current availability:
Mellotron used:
Killing Floor were a late-'60s blues boom band, whose sole album, 1970's Out of Uranus (oh my aching sides, etc.), is a somewhat unoriginal slice of under-powered blues-rock, that seems to have picked up some kind of posthumous reputation as a 'classic'. It isn't. Generic blues numbers like Where Nobody Ever Goes or Sun Keeps Shining don't exactly help matters, but a series of uninspired riffs and awful, clichéd lyrics drag the album down, although given time, it's possible the band could've pulled something out of the hat, going by the energetic jammed-out ending to closer Milkman. Mind you, they invented/stole the Block Buster/Jean Genie riff three years early on Lost Alone, so maybe they were innovators after all, although there's a particularly poor example of the Dreaded Studio Drum Solo on Son Of Wet, so I take it all back. Maybe it worked better live.
Mellotron on one track, with some nice MkII strings on Soon There Will Be Everything from Lou Martin, later of Rory Gallagher's band. To be honest, it's the best thing about this very average album; how was it possible to be so unoriginal so early in hard rock's history? An inability to let go of the blues probably didn't help, along with a severe lack of imagination, I suspect. Anyway, a rather ordinary effort with a couple of reasonable tracks and one nice bit of 'Tron. This barely scrapes three stars. Disappointing.
Melos Modos (1999, 44.55) ***/½

Perfect Pizza
Beckon Call-Girl
Honesty Mistake
I've Been Good
Sandalwood + 50
That's All
One Goodbye
Unpaid
Lucky Me
Cheerleader Type
Weeds & Worms
Rocketsleep/Hang Up
Current availability:
Mellotron used:
The Killjoys were a Canadian band, formed in 1992 and operating at the punkier end of powerpop. Melos Modos was their third album, and while containing some reasonable material, fails to leap out at you like the genre leaders, although the key changes in Lucky Me work a treat, while the acoustic-with-cello Weeds & Words might just be the album's best track, sneaking in under the radar. Just when you think you've got the band sussed, they finish the album 'proper' with Rocketsleep, shifting into drone mode after a few minutes, jammed out to six mins plus before the tediously obligatory-for-the-time 'hidden track', Hang Up, and several minutes of silence, for no good reason (subtracted from timing above).
Powerpop legend Marshall Crenshaw guests on Mellotron, with what has to be one of the most minor pieces of actually audible 'Tron on this site, a couple of seconds of buried-in-the-mix cellos on Beckon Call-Girl. Why bother? Anyway, a decent enough album in its genre, but far from classic, with next to no Mellotron.
Kin Ping Meh (1971, 45.48/64.01) ***½/T½ (TT)

Fairy Tales
Sometime
Don't You Know
Too Many People (live)
Drugsen's Trip
My Dove
Everything
My Future
[CD adds:
Everything's My Way
Woman
Every Day
Alexandra
Too Many People]
No.2 (1972, 39.39/48.11) ***/T½

Come Down to the Riverside
Don't Force Your Horse
Come Together
Together Jam
Livable Ways
Day Dreams
Very Long Ago
I Wanna Be Lazy
[CD adds:
Sometime (single version)
Sunday Morning Eve]
Current availability:
Both titles: Repertoire (Germany)
Mellotrons used:
Both titles: band's own M400?
Kin Ping Meh's debut eponymous album is not so much Krautrock as late-period psych/prog, with a guitar-driven jamming sound that was rapidly falling out of favour at the time. This isn't to denigrate the album, as it's actually fairly good, with a driving rhythm section and good playing throughout, although it now sounds very dated, as with many contemporary lesser outfits. The CD version adds five tracks from non-LP singles, and while none of them are bad, neither are any of them very exciting, and actually drag the album into 'boredom' territory, although I'm in general agreement with the 'make everything available' lobby. There isn't actually an awful lot of Frieder Schmitt's Mellotron work, with some flutes on Sometime and a good strings part on My Dove, one of the album's best tracks. If you hear the CD version, the single version of Too Many People has some flutes and strings, too.
The following year's No.2 is, if anything, even less prog than their debut, the nearest they get to that hallowed state being the lengthyish Livable Ways and their take on The Beatles' Come Together, segueing seamlessly into Together Jam. Not that close, really. Schmitt on Mellotron again, with cellos and strings on Livable Ways and flutes, cellos and strings on Day Dreams, plus flutes on the CD's bonus single version of their debut's Sometime.
Despite a handful of 'Tron tracks, I think I can only really recommend these to enthusiasts of the country/era. Not that bad, but not really anything much. Now, here's the bizarrest YouTube clip on this site: KPM backing some bloke called Jacques Perrot, whose party piece appears to be playing his head. In fact, playing Mozart on his head. Backed by a MkII. I'm very keen to find out whether or not this track was ever released commercially. Anyone know?
Powered By Light (2009, 69.13) ***½/TT

Riding in Time
The Ascent
Now and Forever
Peace of Mind, Peace of Heart
Meditation
Reconciliation
See the Children
Current availability:
Mellotron used:
One of Frank Stickle's M400s
Kinetic Element grew out of keyboardist/vocalist Mike Visaggio's solo project, after the release of Starship Universe in 2006. 2009's Powered By Light sees him at the head of a quartet, making progressive rock in the grand tradition (American dept); lyrically, the album apparently explores Visaggio's Christian worldview, but I'm happy to say it isn't particularly apparent, or no more so than, say, Kansas' pre-obviously Christian albums. Actually, Kansas aren't a bad comparison in places; the very lengthy Reconciliation reminds me of them, particularly the piano work, although a better comparison may be the less well-known Magellan, notably their first couple of albums from the dawn of the '90s (another band led by a singing keyboardist, funnily enough). The album works its way through several different progressive styles; opener Riding In Time is a typical modern symphonic effort, there's a slightly fusionesque feel on Now And Forever, while Meditation is an acoustic guitar piece, although the band maintains a consistent feel across the record.
Instrumentally speaking, Visaggio uses equipment ancient and modern; parts of The Ascent illustrate perfectly how 'classic' and modern sounds usually make for poor bedfellows, with the spikey digital synth sounds clashing badly with the Hammond, although this is the worst example. I don't know the story behind the contact, but Visaggio used one or more of East Coast 'Tron guru Frank Stickle's M400s (Frank provides Mellotrons for NEARfest when required). It isn't overused here, with a brief string part on Now And Forever, with considerably more of the same, plus choirs, on Peace Of Mind, Peace Of Heart, while closer See The Children features those instantly recognisable Mellotron cellos in its intro, used in conjunction with strings later on, with more choirs under real voice.
Overall, then, a mixed bag, if I'm going to be honest. Some of the instrumental sections on Powered By Light are wonderful, but the music too often strays into neo-prog territory, and while Visaggio's vocals are pleasant enough, they frequently distract from the music. Like so much prog, you get the feeling that if they'd reworked the music into instrumental pieces, it might've been rather better. And drop those nasty synth sounds, Mike... Nice to hear gobs of real Mellotron, too, although it could probably have been used more, with only one track featuring it to any great extent.
Loves a Long Song (2000, 63.27) **/T½

Butterfly Bomber
Kiss the Beast
Into the Sun
School Blood
I've Heard You're Still Alive
Colorado (Wherever it is You Are)
Born to Sleep
Gentle Collapse (Feels Good)
Current availability:
Mellotron used:
With a name like King Black Acid, I had high hopes of this lot of some modern psych, maybe, or at least something far enough from the mainstream to possibly, just possibly be interesting. It would seem I am, again, wrong. They actually play (or at least do on 2000's grammatically-hopeless Loves a Long Song) slightly psychedelic indie, the most 'psychedelic' thing about them being their track lengths, as you can see from the album timing above. I'm afraid to say that having an average track length of eight minutes doth NOT a psych band make, and nor do interminable guitar jams over synth washes. That isn't to say that the album doesn't have its strong points; some serious editing would've made this a far more listenable proposition in my book, and I usually LIKE bands to stretch out.
I don't know who plays the Mellotron, although the likeliest candidate is Daniel John Riddle, and, for that matter, I don't even know if the thing's real. I suspect not, but as usual, until/if I find out otherwise... The too-consistent slightly too long attack on the notes is a bit of a giveaway, but I could be wrong... Anyway, a small string part on Into The Sun, and a more major one on Colorado (Wherever It Is You Are), and that's your lot.
So; I really wouldn't go out of your way on this one, to be honest. It's pretty drippy and horrendously overlong, although the 'Mellotron' work isn't too bad. But its worst crime? It's BORING.
| | |
| --- | --- |
| King Crimson (UK) see: | |
King Friday (US) see: Samples
Happy Hour (1992, 59.26) ***/T

Intro
Sink
Martin Scorcese
(Why Are We) Trapped?
It's Saturday
VvV (VulvaVoid)
Metanoia
Detachable Penis
Take Me Home
Ed
Anywhere
The Evil Children
Glass
And
King Murdock
I'm Sorry
Heaven
Happy Hour
Current availability:
Mellotron used:
King Missile are effectively a vehicle for John S. Hall's surreal poetry and outlook on life, every lineup held together by his artistic vision. After two early albums as King Missile (Dog Fly Religion), they dropped the suffix, along with their first guitarist and released the iconic Mystical Shit (excellent title). Happy Hour was the new lineup's third effort, consisting of 18 tracks, ranging from relatively (I do say relatively) straightforward early '90s rock (Anywhere, the title track) to surreal vignettes, such as the notorious minor hit Detachable Penis. But is it any good? 'Fraid I can't tell you; that's entirely down to taste, more than most vaguely avant-garde music. Some of it amused me, some of it bored me, while some of it lost my attention completely.
The inimitable Kramer produces and plays Mellotron on the lengthyish Take Me Home, with a string part that floats through the track in a slightly threatening kind of way. Shame it isn't used more, but I'd imagine Kramer and Hall decided it would have more effect used sparingly. Or something. Anyway, an odd record, but if you appreciate the (slightly) further-out reaches of the art, you might just go for this. Not worth it for one 'Tron track, though.
Dew Point E.P. (2002, 22.26) ***/T

This is Radio Theydon
Sunken Field
Tone Poem
Take the Strain
Current availability:
Mellotron used:
Jon Brooks' now sadly outdated nom de plume, King of Woolworths, released a slew of EPs (and the odd album) over a brief period at the beginning of the 2000s, including 2002's Dew Point (yes, it's rude). Brooks' approach to electronica is firmly rooted in a very British, public-information-films-and-TV-incidental-music kind of way, not dissimilar to that of Sundae Club, although his work possibly predates theirs. All four tracks here exude a sparse, melancholic air, slightly spoilt by the programmed rhythms (yup, showing my age again), highlights including opener This Is Radio Theydon (named in honour of Theydon Bois, a hamlet just outside London, boasting possibly the oddest place-name on the Underground network) and closer Take The Strain (referencing a long-running ad for what used to be British Rail), apparently based around an old spoken-word relaxation record picked up in a charity shop.
Mellotron? Brooks plays strings on This Is Radio Theydon, although, as so often, the jury's out on its veracity. Brooks: "I've brought lots of new elements into the picture including a Mellotron." Real? If you're out there, Jon, please let me know. So; do you buy this? Yes if you've heard and enjoyed Sundae Club, but no for the Mellotron.
Kings' Boards (1990, 38.45) ***½/T½

Drama Composition (Motoi Sakuraba)
The Maze of May (Shigetomo Hashimoto)
Corde Spirale (Naomi Miura)
Ladies of Green & Blue (Manabu Kokado)
Hungary (Kodomo Endo)
Current availability:
Made in Japan (Japan) - still in print?
Mellotron used:
This is a bit of an oddity; not a band at all, but a project involving five different noted Japanese progressive keyboard players from the '80s from various bands including White Fang, Deja-Vu and Rosalia; the rhythm sections are mostly from White Fang and Social Tension, and manage a reasonably cohesive sound across the album. All tracks are as expected; guitar-free keyboard extravanganzas with superb, lightning-fast playing from a bunch of classically-trained musicians, although technique tends to take precedence over composition in most cases, with something of an excess of nasty '80s noises on some tracks.
All concerned use a mixture of digital and analogue gear, with Rosalia's Naomi Miura's equipment list featuring a Roland sampler as the only modern bit of kit. Her track, Corde Spirale, opens with what sounds like 'Tron cellos, with a snatch of flutes and a string melody before a great 'eerie discordant strings' part. There's a choir part later on, so maybe I was wrong about the cellos, or maybe she owns two tape frames. It just so happens that Miura's track is the most adventurous on the album, and not just because of her gear... It has less of that 'smooth '80s feel' about it, and is considerably more angular than anything else on offer here.
So; not really a classic, unless you're heavily into the Japanese '80s style, which actually coughed up several very listenable bands. There are a few too many Emersonisms here for comfort (all concerned list their favourite keyboard player, and two name him), not to mention too many spiky digital patches, but worth a listen if you don't have to fork out too much for it. One decent 'Tron track, but not enough for purchase on that front.
The Fast Rise & Fall of the South (2005, 46.25) ***/T½

Harness and Wheel
And What Fallout
What a Shame
Zero G
10008
Snow Angel Dance
Greenland
900 Years
Ruins
Nova
Oh No
Animations
Ol' Mountainsides
Current availability:
Mellotron used:
The Kingsbury Manx play a kind of folk/indie/psych hybrid, with the accent (thankfully) on the folk and psych bits. 2005's The Fast Rise & Fall of the South is their fourth album, and while it's a pleasant enough listen, the bulk of it fails to really grab the attention, although, in fairness, you may be expected to listen closely and let it grow on you over time. The one track that actually made me stop and listen is closer Ol' Mountainsides, but its feedback overdose served only to irritate, I'm afraid.
Mike (Mikael) Jorgensen plays Mellotron, amongst other keys, with fairly major flute parts on 10008 and Animations, the latter adding strings to the mix, although not really enough to make it worth picking up for that alone (yes, people do. No, really).
God is a Moog: The Electronic Prayers of Gershon Kingsley (2006, recorded 1968-74, 130.22) ***½/TT½

Maven on the Moog (parts 1-5)
Jewish Experience (parts 1-5)
What is Creativity?
The First Commandment
I Have a Little Brain
Is There Only ONE?
Haiku
Shabbat for Today
L'cho Dee/ Bor'chu/Sh'ma Yisroeyl
Micho Mocho
V'Shomru
May the Words
S'u Sh'oreem
Baruch Sh'nossan Torah
L'cho Adonoy
Gad'lu/Hodu
Eyts Chayeem
Kiddush
Interlude/Vaanachnu/Bayom Hahu
Kaddish
But Still the World Keeps Rolling on
Benediction
The Fifth Cup
1984 - One, One is One
Ode to Life to Celebrate Our Freedom
First Question - Poverty Ballad; Second Question -
Bitter Herbs; Third Question - Superstition
Wise Men Say
What Does it Take (the Ten Plagues)
Security Song
Grace
Current availability:
Mellotron used:
You know Popcorn - everyone knows Popcorn, even if they were born after its chart reign in 1972. Do you remember the artist? Hot Butter, for what it's worth. Who? A Danish group of synth nuts, as it happens. The track was written by a Jewish/Catholic German/Israeli emigrée, Gershon Kingsley, who settled in America after the war, becoming an electronic music pioneer in the '60s with Jean-Jacques Perry, releasing the original version of Popcorn in 1969, on Music to Moog By.
Decades later, an 82 year-old Kingsley, still a pioneer, opened his archives, the results being the two-disc God is a Moog: The Electronic Prayers of Gershon Kingsley. A less well-known aspect of his career has been his Jewish devotional recordings (given that he's stated he has no belief in God), which received a far better reception at the time than he expected. When Reboot Stereophonic approached him, he had several unreleased albums an many odd tracks sitting on his computer, recorded between the late '60s and mid-'70s, some of which are compiled on this set. They're a pretty bizarre bunch of pieces, frankly; imagine, well, a baritone vocal singing in a pre-rock'n'roll era style over early electronics (Maven On The Moog and Jewish Experience) or Jewish rock opera (side two's two full albums, Shabbat For Today and The Fifth Cup), if you dare. The music treads a line between two different eras, both now dated, in different ways; had this been released at the time, I can see that it would've either been a roaring success or a crushing failure, which may be why it wasn't.
Unfortunately, one of Kingsley's influences on the latter seems to be ELP, especially in the organ department, although the Broadway tropes seem less out of place here than when coming from a British art-rock band. Kingsley plays Mellotron on the piece, with strings on 1984 - One, One Is One, flutes and strings on Ode To Life To Celebrate Our Freedom and First Question (etc.) and strings on Wise Men Say and What Does It Take (The Ten Plagues), although I'm not convinced you actually need to hear it for that reason alone. This set is a fascinating document of the work of a true maverick; bear in mind, though, you'll probably get more out of the spiritual side of it if you're Jewish yourself. As for the rest of us, you may only play this once, but I can guarantee you'll be glued to your seat for the duration. Weird, but in a good way.
Face to Face (1966, 38.42/59.44) ****/0 (T)

Party Line
Rosie Won't You Please Come Home
Dandy
Too Much on My Mind
Session Man
Rainy Day in June
A House in the Country
Holiday in Waikiki
Most Exclusive Residence for Sale
Fancy
Little Miss Queen of Darkness
You're Lookin' Fine
Sunny Afternoon
I'll Remember
[CD adds:
I'm Not Like Everybody Else
Dead End Street
Big Black Smoke
Mister Pleasant
This is Where I Belong
Mr. Reporter
Little Women]
7" ( 1967) ****/TT

Autumn Almanac
Mr. Pleasant
7" ( 1968) ****/TT

Days
She's Got Everything
The Kinks Are the Village Green Preservation Society (1968, 39.45/164.19) *****/TTT (TTTT½)

Village Green Preservation
Society
Do You Remember Walter
Picture Book
Johnny Thunder
The Last of the Steam-
Powered Trains
Big Sky
Sitting By the Riverside
Animal Farm
Village Green
Starstruck
Phenomenal Cat
All of My Friends Were There
Wicked Annabella
Monica
People Take Pictures of Each
Other
[3-CD edition adds:
Mr Songbird
Days
Do You Remember Walter
People Take Pictures of
Each Other
Days
Mr Songbird
Polly
Wonderboy
Berkeley Mews
Village Green
Village Green
Misty Water
Berkeley Mews
Easy Come, There You
Went
Polly
Animal Farm
Phenomenal Cat
Johnny Thunder
Did You See His Name
Mick Avory's Underpants
Lavender Hill
Rosemary Rose
Wonderboy
Spotty Grotty Anna
Where Did My Spring Go
Groovy Movies
Creeping Jean
King Kong
Misty Water
Do You Remember Walter
Animal Farm
Days]
BBC Sessions 1964-1977 (2001, 102.51) ***½/½

Interview
You Really Got Me
Interview
Cadillac
All Day and All of the Night
Tired of Waiting for You
Ev'rybody's Gonna Be Happy
See My Friends
This Strange Effect
Milk Cow Blues
Wonder Where My Baby
is Tonight
Till the End of the Day
Where Have All the Good
Times Gone
Death of a Clown
Love Me Till the Sun Shines
Harry Rag
Good Luck Charm
Waterloo Sunset
Monica
Days
The Village Green
Preservation Society
Mindless Child of Motherhood
Holiday
Demolition
Victoria
Here Comes Yet Another Day
Money Talks
Mirror of Love
Celluloid Heroes
Skin & Bone/Dry Bones
Get Back in the Line
Did You See His Name?
When I Turn Off the Living
Room Lights
Skin & Bone
Money Talks
Picture Book [disc 2] (2008, recorded 1964-94, 77.10) ****/TT

Dedicated Follower of Fashion (alternate)
She's Got Everything
Mr. Reporter (alternate)
Sunny Afternoon
I'm Not Like Everybody Else
This is Where I Belong
Rosy Won't You Please Come Home
Too Much on My Mind
Session Man
End of the Season
Dead End Street (alternate)
Village Green
Two Sisters
David Watts
Mr. Pleasant
Waterloo Sunset (mono)
Death of a Clown
Lavender Hill
Good Luck Charm
Autumn Almanac

Susannah's Still Alive
Animal Farm
Rosemary Rose
Berkeley Mews
Lincoln County
Picture Book
Days
Misty Water
Current availability:
Face to Face/Village Green: Essential (UK)
Autumn Almanac: various greatest hits sets
BBC Sessions/Picture Book: Sanctuary
Mellotrons used:
All titles: studio MkIIs?
The Kinks were never the greatest Mellotron users, apparently ignoring the instrument's heyday in the '70s, preferring to use real strings etc. However, for a short time in the late '60s, they joined almost all their contemporaries by slapping a bit of 'Tron on a couple of songs. The wonderful Autumn Almanac relies heavily on the MkII trombones and mixed brass, the latter being particularly obvious on the raucous ascending runs at the end of each chorus. Days (a UK no.12) has some up-front strings, though somehow avoids being as 'classic' as Strawberry Fields or Space Oddity.
Village Green Preservation Society is almost certainly The Kinks' greatest achievement; Ray Davies' already individual, eclectic and very English songwriting filtered through the haze of psychedelia is a potent brew indeed. The title track gently pokes fun at society's 'traditionalists', while giving you a more than vaguely unsettling feeling that just maybe Davies actually means it. In fact, the whole album is probably worthy of the dreaded 'concept' tag, as most of the tracks seem to deal with the subjects of the past being allowed to slip away and what it meant to be English in the late '60s. In this, I suspect Davies was a couple of decades ahead of his time, as the nostalgia boom of the '80s and '90s proves; whatever, it's a fabulous album of only slightly psychedelic pop, without the often-unnecessary trappings of the era.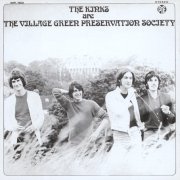 After Essential's 2-on-1 stereo/mono edition comes what has to be the final word on Village Green, Sanctuary's 3-CD version, encompassing full stereo and mono versions, with bonus tracks, plus a disc of rarities. For some reason, the original 12-track album was slated for a September '68 release, then was cancelled at the last minute, to be replaced by a revised 15-track version two months later. This CD issue mops up everything, including several previously unavailable Mellotronic tracks, although I've removed the second disc's straight mono repetition of disc one's stereo album, for the sake of brevity. There are several 'Tron tracks on the original album, two of them absolutely layered with the thing, with strings and brass on Starstruck, and MkII rhythm tapes, regular flutes and 'rock guitar' (!) on Phenomenal Cat. The stunning Do You Remember Walter and Johnny Thunder have some brass (trombones?), with French accordion on Sitting By The Riverside, although some of the more unusual use is reserved for the set's extra tracks.
Apart from various takes of Days, Mr Songbird (originally slated for the 12-track version) has some gorgeous flutes, with more strings on Berkeley Mews and Easy Come, There You Went (pitchbent here), with more trombones on Lavender Hill, leaving two tracks with more of those MkII left-hand rhythm tapes, with a sax coda on both versions of Berkeley Mews (mentioned in the sleevenotes), and a faint rhythm tape at the end of the first bonus version (on disc one) of People Take Pictures Of Each Other. For what it's worth, the sleevenotes also mention that the 'Tron was played by both Ray Davies and session god Nicky Hopkins, more often seen working with the Stones. Incidentally, the last three tracks on disc three are labelled 'BBC session remixes', which actually means the original tracks, overdubbed with a new Ray vocal, and slightly remixed, so the 'Tron parts are the same as on the album.
Just to add some confusion to the story, the remastered CD of 1966's excellent Face to Face album contains, as an unreleased bonus track, an instrumental backing track called Little Women, that is smothered in 'Tron flutes and strings, though I've no idea who, why or anything else. It's a fine album, anyway, containing gems such as Session Man, A House In The Country and Most Exclusive Residence For Sale, not to mention Sunny Afternoon, Dead End Street and Mr Pleasant, the last two also being bonus tracks.
2001's BBC Sessions 1964-1977, a.k.a. The Songs We Sang for Auntie, mops up all the band's surviving BBC sessions (a mere half of the total, sadly), although it's pretty much one for the faithful only. Covering studio and live sessions over the indicated period, it veers between their early, raw r'n'b, their sophisticated late '60s material and the flaccid, middle-of-the-road '70s rock they slipped into in the new decade, making it a decent enough listen without being in any way essential for any but the most committed. One 'Tron track, Nicky Hopkins adding strings to Days in a similar manner to its studio counterpart.
2008 brought The Kinks into the modern age, in the shape of Picture Book, a massive, six-disc box set, in the usual format: a handful of rarities spread amongst acres of familiar material and a high price tag. As has been said before, to whom, exactly, do these sets appeal? They piss off hardcore fans who feel they have to splash out the readies for a few unheard tracks (or often, merely versions of tracks), the casual buyer isn't going to spend this much for the hits, already compiled many times in cheaper form, while anyone genuinely interested in learning about the band's history is more likely to pick up a hits CD and their handful of classic albums (my preferred option). Anyway, disc two is not only the best musically (go on, argue with that at your peril), but the only one with any Mellotron content; of the disc's five 'Tron tracks, four are already available on the Village Green three-CD set, leaving the brief, jaunty Good Luck Charm as the newbie, with a string line, standing alone at the end of the track. Incidentally, as well as regular Kinks tracks (and handful in slightly different versions), we get Dave Davies' Susannah's Still Alive, as so memorably covered by the mighty Cardiacs.
Anyway, Village Green Preservation Society is a godlike album, worthy of anyone's attention. Buy, particularly the recent 3-disc version. Face to Face is a classic, too, though its Mellotronic input is strictly limited to the remastered CD, while BBC Sessions is one to think about when you've got everything else worthwhile by the band.
See: Ray Davies | Dave Davies
Snow (2005, 37.55) ***/0

Golden Lies
Snow
Beautiful Weapon
Box of Limes
Gold
Here Comes Forever
Light Bulb
Movin' on
In Bone
Circles
Current availability:
Mellotron/Chamberlin used:
I didn't know, but should've, that Curt Kirkwood was/is leader of The Meat Puppets, one of America's best 'alternative' bands of the last three decades. 2005's Snow is his first solo album, essentially an Americana record, with the occasional burst of high(er)-energy stuff, notably Light Bulb, complete with trumpet solo. I can't honestly say that much of its material really stands out, but conversely, nor should any of it have been left off.
Michael Murphy is credited with Mellotron and Chamberlin, making it all the more surprising that both instruments are entirely inaudible across the record, although his credited Hammond can be heard on most tracks. So; not bad, not great. But where oh where are those tape-replay machines?
Soldier Blue (2003, 10.16) ***½/TT½

Soldier Blue
Marvin
Impulser

Jesus (2004?, 14.49) ***½/TT

Jesus
Make Over
Leaving
Current availability:
Mellotrons used:
Both titles: Mattias Olsson's M400
Sweden's Kit Le Fever have, confusingly, named themselves after a bit-part actor who had a few roles in the '80s, which probably seems like a long time ago if you're young (he said, bitterly). Like so many artists involved with Änglagård's Mattias Olsson, they have a melancholy, Scandinavian air about them, mixed with a noise æsthetic that rears its ugly head occasionally. Now, I don't believe either of these EPs has ever been commercially available, but three of the tracks are available for download from Mattias' studio site, until/unless they ever come out properly.
The first of these, probably called Soldier Blue (you can see how vague all this is, can't you?), opens with a typically melancholy title track, after which Marvin is rather more raucous, opening with a punchy (Fender Precision?) bass line, leaving Impulser as another beautiful downer. I suspect Mattias plays the Mellotron, with cellos and strings (and maybe choir) on the title track and flutes and pitchbent strings on Impulser.
Their next three-tracker, probably entitled Jesus, probably came out the following year (lots of 'probablys' here). All three tracks have raucous elements, possibly mixing these with their melancholy side more effectively than before. Make Over features cellos, flutes and strings in an almighty Mellotronic mélange, with more strings on Leaving, although Jesus is probably actually the best track here.
So; only one of these two EPs appears to be available by any means at all, which isn't to say the rest of the material won't creep out gently at some indeterminate point in the future. If you like Mattias' productions, you stand a good chance of liking this, and if you don't, you probably won't, which seems as fair an appraisal as I can muster up. For what it's worth, I do...
Silk Road (1980, 42.10) ****/T

Silk Road Theme
Bell Tower
Heavenly Father
The Great River
The Great Wall of China
Flying Celestial Nymphs
Silk Road Fantasy
Shimmering Light
Westbound
Time
Bodhisattva
Everlasting Road
Silk Road II (1980, 43.13) ****/TT½

In the Silence
Takla Makan Desert
Eternal Spring
Silver Moon
Magical Sand Dance
Year 40080
Time Travel
Reincarnation
Dawning
Tienshan
Kitaro in Person Digital (1980, 46.04) ****/TTTT

Prologue
Eternal Spring
Westbound
Silver Moon
Peace
Bell Tower
Morning Prayer
Tienshan
Four Changes
Magical Sand Dancing
Ki (1981, 44.10) ****/TTT

Revelation
Stream of Being
Kaleidoscope
Oasis
Sun
Endless Water
Tree
Cloud in the Sky

Tunhuang (1981, 42.55) ***½/T

Lord of the Wind
Fata Morgana
Sacred Journey I
Lord of the Sand
Tunhuang
Free Flight
Mandala
Tao
Sacred Journey II
Current availability:
Mellotrons used:
All titles: Kitaro's own M400(s)?
Kitaro, a.k.a. Masanori Takahashi, had been around since the mid-'70s as drummer (apparently) with the Far East Family Band, but broke away to start his solo career as a synthesist in what has unfortunately come to be known as the 'new age' field. In all fairness, his best work is well above the 'elevator music' of most of the genre's exponents, although he hasn't produced anything of any great interest for the better part of two decades now. His discography's as confusing as that of many Japanese artists, with one notorious website claiming that many of his albums were released anything up to two years before they were recorded. Yes, well...
His best-known work to this day is probably the music he produced for the epic 'Silk Road' TV series, which followed the old silk route across Asia, covering the various areas' history, geography etc. His fourth album (I think), 1980's Silk Road is marvellous 'relaxing' music, perfectly suited to its role as background soundtrack stuff, while also having just enough substance to make it listenable in its own right. Although there are twelve tracks listed, the album consists of two seamless side-long pieces, with only changes in mood to distinguish between tracks. Apart from the ubiquitous synths and percussion, Kitaro plays 'Mellotrone' (male voice?) choirs on only two definite tracks, though there could be more hidden in the mix. Silk Road II, from later the same year is more of the same, with the extra added ingredient of 'Tron strings along with the choirs, heard to good effect on In The Silence and Magical Sand Dance.
Recorded in the September of that year, Kitaro in Person Digital was his third album of 1980, capturing him live in Tokyo with a band, now notable for the inclusion of a young Ryo Okumoto on synths and Mellotron, (much) later of Spock's Beard. Kitaro plays 'Tron, too, and the album benefits from a more 'live' sound, although there isn't a note out of place, or any applause, which makes you wonder quite how much studio polishing may have been done. The standout 'Tron track is Magical Sand Dancing, with dirty great slabs of (quite raw) strings and choir all over the place, although all the highlighted tracks have worthwhile use, with flutes cropping up occasionally, too.
The 'Tron is slightly thinner on the ground on '81's Ki, although there's some prominent strings on opener Revelation and Sun, plus flutes and choirs here and there. Kitaro's formula was already well-worn by this time, with little real variation between most of his albums, but he seemed (and still seems) to be onto a winner, and he's remained more palatable than most of his rivals, although that seems rather too strong a word to use in such a gentle genre. Tunhuang seems to be another in the Silk Road series - I believe there's a fourth album as well, though I don't know which one it is. It's the same old stuff, though maybe a little blander; to my knowledge, it's also his last Mellotron album, although there isn't an awful lot on it. In fact, apart from the choirs on Lord Of The Wind, which may or may not be 'Tron, the only other use is the strings and choir on Mandala; it's fairly obvious he was winding it down even then.
Well, playing five Kitaro albums in a day is actually slightly mind-numbing; it's all very pleasant, but the essential blandness of his style makes it difficult to actually listen to the music, as against simply hearing it. Nonetheless, the first four of these albums are so faultless that I'd feel churlish giving them any less than four stars, and there isn't really anything wrong with Tunhuang, either, to be honest. There is blander new age stuff about, but if you like a bit of bite to your music, you're probably better off steering clear.
It seems that Kitaro's Mellotron use was tightly concentrated around the 1980/81 period, although at least he managed five albums'-worth in that time. There's none on '82's Millennium (***½), so I'd imagine he was into early samplers by that time; he was/is the sort of artist that synth manufacturers were wetting themselves to have play their latest creations. The surprising thing is that he didn't use a 'Tron until 1980, despite presumably having had access to one years earlier. Anyway, it has to be said that much of his use is background choirs, but if you're going to buy one Kitaro album for its 'Tron input, make it In Person Digital, with Ki and possibly Silk Road II in reserve, although I still maintain that the original Silk Road is actually his creative peak. By the way, I believe there's another live album around, from '81-ish, but as it was a Japanese-only release, I'm unlikely to ever find a copy cheap, but should I hear it, I'll report back if relevant.
See: Far East Family Band | Ryo Okumoto
Hikaru Sazanami (1998, 42.19) ***½/TT

Budokan
Blue
Heels of Boots
Weekends
Akane Sasu
Heart of Stone
Hikaru Sazanami
Current availability:
Mellotron used:
Kitayama was vocalist and head honcho with late-'70s Japanese proggers Shingetsu, who also had an album of odds'n'sods released under the name Serenade. After Shingetsu's demise, he recorded a couple of poorly-received demos, causing him to quit the music business for a good decade, until the CD issue of a couple of Shingetsu albums and the aforementioned Serenade title. Having had his interest revitalised, he finally came up with an album's-worth of new material in 1998 under the above name.
Hikaru Sazanami, which sounds like someone's name, though I have no idea whose, is a bit of a mixed bag, if not exactly a curate's egg. The tracks were all recorded between 1996 and '97, although they were written any time between 1972 and '96, and include unrecorded Serenade and Shingetsu material. The album consists of a full-on prog piece at either end, a more modern proggish effort next track in, and three shorter vocal/piano/string quartet songs in the middle that could possibly have been single material with different arrangements. While Blue and, to a lesser extent, Heart Of Stone are quite reasonable prog pieces, it's only really Budokan and the title track that concern us here.
I don't know if Budokan is named after the famed Tokyo concert hall; it seems more likely that both the venue and the song are named for something else, but it's the album's one full-on 'Tron track. The sleevenotes state that they'd started by recording it with Mellotron samples, then decided that nothing but the real thing would do (more of this attitude, please!), at which point someone called Haneda 'found one in the back of his house'. As you do. I mean, how many people just happen to have a forgotten Mellotron lying around? Anyway, it sounds great, with strings splattered all over the track in true scattergun style by Kazuto Shimizu, reminding one rather of King Crimson in places, not least because of Haruhiko Tsuda's Frippish guitar style. There's more strings towards the end of Hikaru Sazanami itself, but that's yer lot, I'm afraid.
So, while not a classic, I think Hikaru Sazanami has enough decent material on it to make a purchase worthwhile, although it decidedly dips in the middle. Not that much 'Tron, really, but again, what there is, is excellent. A cautious recommendation.
David Kitt (Ireland) see: Samples
Tell Me a Tale EP (the Isle of Wight Sessions) (2011, 13.27) ***/T

Tell Me a Tale
I Need Your Company
Worry Walks Beside Me
Current availability:
Mellotron used:
Michael Kiwanuka makes the kind of music that Mojo mag go (and indeed, have gone) nuts over; imagine a modern soul/pop/jazz hybrid and you won't be too far off the mark. To be honest, the title track of Kiwanuka's first release, 2011's Tell Me a Tale EP (the Isle of Wight Sessions) bored me, as did I Need Your Company, although Worry Walks Beside Me's laid-back jazz/blues feel suits his voice right down to the ground. More like this, please.
Paul Butler plays a Mellotron flute line on I Need Your Company, although it's near-impossible to tell whether or not it's real. Do you like the kind of music Mojo's journos like? Then you'll probably like this. Conversely...
Songs From a Two-Room Chapel (2002, 42.04) ***/T

Homeward Rolling Soldier
Words in the Wires
Allelujah
Broken Wheels
Log at 25
Oh Night
Deliverance
Polish Daughter
At the Rapids
Rid
Current availability:
Mellotron used:
Although Swedish, Christian Kjellvander resettled in the States in 1993, playing in Loosegoats until early the following decade. Songs From a Two-Room Chapel is his first solo album, and given his choice of adopted country, it's not that surprising that it has a distinctly downbeat Americana bent, Kjellvander's singing voice sounding as American as you like. Opening with Homeward Rolling Soldier's solo harmonium and voice, the album never quite matches it throughout the rest of its length, although closer Rid runs it a close second.
Kjellvander and Anders Tingsek are both credited with Mellotron, and while its only obvious use is the strings on opener Homeward Rolling Soldier, there are other points at which strings, flutes and even vibes could be present. Overall, a decent enough album, but not enough Mellotron use to be worth it on that front.
3:47 EST [a.k.a. Klaatu] (1976, 36.46) ***½/TT

Calling Occupants of Interplanetary Craft
California Jam
Anus of Uranus
Sub-Rosa Subway
True Life Hero
Doctor Marvello
Sir Bodsworth Rugglesby III
Little Neutrino
Sir Army Suit (1978, 35.57) ***/T

A Routine Day
Juicy Luicy
Everybody Took a Holiday
Older
Dear Christine
Mister Manson
Tokeymore Field
Perpetual Motion Machine
Chérie
Silly Boys
Sun Set: 1973-1981 (2005, 152.19) ***½/T½

Hanus of Uranus
Sub Rosa Subway
Cherie
Doctor Marvello
For You Girl
California Jam
True Life Hero
Calling Occupants
Sir Bodsworth Rugglesby III
Little Neutrino
We're Off You Know
Around the Universe in 80 Days
Madman
Long Live Politzania
The Loneliest of Creatures
Prelude
So Said the Lighthouse Keeper
Epilogue
Hope
A Routine Day
Juicy Luicy
Everybody Took a Holiday Day
Older (live)
Dear Christine
Mister Manson
Tokeymor Field (demo)
Sir Rupert Said
Sell Out, Sell Out (demo)
Howl at the Moon (demo)
I Can't Help it
Paranoia (demo)
Set the World on Fire (demo)
Dog Star (demo)
All Good Things (demo)
There's Something Happening
I Don't Wanna Go Home (demo)
At the End of the Rainbow
December Dream
Mrs. Toad's Cookies
Magentalane
Ambrose Lightship
Current availability:
3:47 EST: 2-on-1 with Hope/Sir Army Suit: 2-on-1 with Endangered Species: BGO (UK)
Sun Set: Bullseye
Mellotrons used:
All titles: band's own M400?
As you probably know, Klaatu (named after the phrase needed to activate the robot in 'The Day the Earth Stood Still') caused a minor furore when their debut, 3:47 EST appeared in the mid-'70s, as the music press decided it was The Beatles. The evidence? Slim, to be honest. Beatlesy intelligent pop, with a singer who sounded a lot like Paul, no musicians' credits or pics on the sleeve, a general air of mystery, not to mention that selfsame robot appearing on a Ringo album cover... Of course, it didn't take long for the truth to emerge; they were a Canadian trio who just happened to sound a bit like The Beatles and who favoured anonymity. I don't believe there was ever any attempt to deceive; hardly their fault if people got the wrong end of the stick, was it?
Anyway, 3:47 EST [a.k.a. Klaatu] does that mid-'70s semi-progressive pop/rock thing very well indeed, even though it spawned a Cover From Hell in the awful Carpenters' version of its opener, Calling Occupants Of Interplanetary Craft. And no, I don't subscribe to the theory that Richard and Karen are so out they're in, or whatever. The original, however, is really quite nice and less 'rock' than tracks like Anus Of Uranus and True Life Hero. According to their website, Dee Long plays the Mellotron on Calling Occupants, with shedloads of strings, flutes, cellos and choir, while John Woloschuk adds more of the same to Doctor Marvello. There are real strings here, too, on Sir Bodsworth Rugglesby III and others, but the two 'Tron Tracks are most definitely that.
There's no Mellotron on the following year's Hope (***½), but third time round, Sir Army Suit is something of a return to the band's roots, sadly without any killer songs. It's something of a mixed bag, to be honest, chopping and changing between styles with bewildering regularity, and is rather harder to recommend than their earlier work. Two 'Tron tracks, with flutes under real strings on opener A Routine Day, and a little strings pitchbend work on Silly Boys, but that would seem to be it.
Over two decades after the trio's dissolution, the two-disc Sun Set: 1973-1981 appeared in 2005, comprising previously unreleased versions of material from all four Klaatu albums, plus outtakes. The jewel in the crown for fans of the band is undoubtedly the original, orchestral mix of the Hope album, other highlights including a handful of previously-unreleased tracks plus early, single versions of tracks from their debut. Playing the set sequentially shows how their songwriting changed over the course of eight years, the later material, sadly, faring badly in comparison to the earlier. I'd hoped for another Mellotron track or two, but the three on the set are three of the four on the two studio albums above, with no obvious changes in arrangement.
As far as their debut's concerned, 'reasonably good with one Mellotron Classic' is probably the best way to describe it. Calling Occupants is very silly, but also quite wonderful in its own way. Buy if you see it cheap, but don't go too far out of your way for Sir Army Suit, while Sun Set could be regarded as the band's one truly essential album, mopping up the entire contents of their first two releases, albeit in slightly different versions.
See: Terry Draper
Merkur (2009, 48.52) ***/T

Unter Bäumen
When I Long for Life
Stygian
Herbsthauch
Morn of Solace
Der Wald ist ein Meer
Merkur
Lurker in the Moonlight
Noatun
Current availability:
Mellotron used:
Klabautamann (named for a mythical Baltic sea-sprite) play 'atmospheric metal', for want of a better term (it isn't mine this time), combining elements of black, progressive and 'traditional' metal to form a sometimes interesting gestalt. I know death-grunting, or whatever it's called, is considered the norm in some metallic circles, but it does sound silly if you're out of your teens (doesn't it?), spoiling what might otherwise have been a really good album. Actually, it's far from all spoiled and has many worthwhile features, not least its unusual, angular riffs; maybe they'll finally grow out of it and make a classic one day?
Fredy Schnyder (Nucleus Torn) adds Mellotron flutes and strings to one of the album's best tracks, closer Noatun, sounding reasonably real, although it's so hard to tell these days... So; one for the more adventurous metalhead in your life, although with only one 'Tron track, I couldn't honestly say it's worth it on those grounds.
Motten (1995, 56.33) ***/TT

Einleitung
Mali
SATO
Píse Ň
Gichtattacke
Hatajoga
Drei Idioten
You Can Do What You Can
Intermezzo
Oh, it's No Difference
Ibenbach
Green White Ghost
Live CZ (1997, 64.58) ***/T

I Got the Wheel
Drum Circle
Silent Waves
Schweinebeat
Generator Keep Smiling
Sand - Heat
The Rain Keeps Falling
Klik - Klak Hönen
Feuertanz
Should Do That
Cold Trapping
Check Out the Fear I
Check Out the Fear II
Between Coma & Consciousness (2002, 54.21) ***/T½

Now More Than Ever
She Wraps It Up
Firebrand
Patient
The Birds
What's It Worth
Wondering
Tapeworm
I Once Wrote Some Poems
Current availability:
Motten/Live: Rachot Behémót
Coma: Ginkgo Biloba
Mellotrons used:
All titles: Volkmar Miedtke's M400?
Klar were a Czech psychedelic trio, whose debut, 1995's Motten, is as schizophrenic a release as you're likely to encounter all year, shifting between the near-dissonance of opener Einleitung, the African (er, Malian?) chants of Mali, SATO's Farfisa-driven early Floyd vibe and the twin-acoustic attack of Píse Ň and that's just the first four tracks. Drums/keys man Volkmar Miedtke plays Mellotron, with a flute melody running right through Einleitung, high-end cello on Mali, an upfront, semi-dissonant string part on Gichtattacke, interweaving flute lines on Hatajoga and more flutes on Intermezzo, all clearly real.
1997's Live CZ sounds little like a live album to me, with not only no audience noise, but too many audible parts for a trio, unless sequencers were used. It's a more improvisational effort than Motten, faintly resembling '80s King Crimson in places, while Should Do That heavily echoes Hawkwind's You Shouldn't Do That, from 1971's seminal In Search of Space. Miedtke adds Mellotron to just one track, with a blaring string part on closer Check Out The Fear II, once again sounding choppy enough to be real.
The band subsequently split, only to reconvene one last time for 2002's Between Coma & Consciousness, a less cohesive effort than its predecessor, although tracks like Firebrand and The Birds are up to standard. Miedtke on Mellotron again, with a brief string part at the end of Firebrand, more of the same on Wondering and Tapeworm and full-on string and cello parts opening closer I Once Wrote Some Poems, although it's mostly rather low-key.
I have no idea whether or not any of these titles is still actually in print, the 'availability' details above being the last-known sources. While somewhat random in places, they all have enough decent material on them to make them worth hearing for the jaded psychonaut, with enough Mellotron for fans of the instrument, although, due to their slightly random nature, I feel unable to give them higher star ratings.
Jeff Klein (US) see: Samples
Get the Knack (1979, 41.30) ***/½

Let Me Out
Your Number or Your Name
Oh Tara
(She's So) Selfish
Maybe Tonight
Good Girls Don't
My Sharona
Heartbeat
Siamese Twins (the Monkey and Me)
Lucinda
That's What the Little Girls Do
Frustrated
Normal as the Next Guy (2001, 45.39) ***½/½

Les Girls
Disillusion Town
Girl I Never Lied to You
Normal as the Next Guy
Spiritual Pursuit
It's Not Me
One Day at a Time
Seven Days of Heaven
Dance of Romance
Reason to Live
World of My Own
Man on the Beach
Current availability:
Get the Knack: Capitol
Normal: Image Entertainment
Mellotrons used:
The Knack will be known for evermore as the skinny-tied 'new wave' band who wrote My Sharona, although listening to them thirty years on, what is immediately apparent is how typically 'powerpop' they are, never mind 'noo bloody wave'. Get the Knack is a decent enough debut in the field, although it would never have gone platinum at all, never mind in two months, without That Song buoying it up. Mind you, there's nothing here that offends, just not enough that excites, although opener Let Me Out's not bad, ditto Oh Tara. Lead guitarist Berton Averre adds Mellotron flutes to Maybe Tonight, though not to any great effect, to be honest.
Twenty-odd years on and three-quarters of the original band (who never actually split up anyway) release 2001's Normal as the Next Guy, and it's immediately apparent that the band's writing has improved in the interim; fewer crowd-pleasers and more classy, classic powerpop like Disillusion Town or It's Not Me, while the title track is really rather witty and The Man On The Beach has a suitably (and clearly deliberately) Beach Boys' Surf's Up-type feel. Averre and mainman Doug Fieger play the 'Tron, with one tiny burst of stabbed brass on Disillusion Town and a nice flute part opening Reason To Live, repeated at the end of the track.
You probably never want to hear My Sharona again - I know I don't - and Get the Knack's isn't that great, to be honest, but Normal as the Next Guy's well worth hearing if you're into that powerpop thing. Next to no Mellotron on either, though, so don't bother for that. And can anyone tell me why The Knack manage to sport two of the ugliest sleeve designs on this site, smack next to each other? I mean, would you buy a used powerpop album from these guys?
Buried Alone: Tales of Crushing Defeat (2009, 49.26) ****/TT

Singled Out for Battery
The Wretched Fathoms
Corpses Feuding Underground
Severed of Horsehoof
No More Dying
An Arrival
Unwreckaged
Pissed Up on Brakefluid
The Money Shot
Torch
Me to the Future of You
Current availability:
Mellotron used:
It can be difficult to review something when you've known the band/artist for years, although I'm happy to say, I don't have any qualms when it comes to Knifeworld. I first met Kavus Torabi in 1994, becoming his new band, The Monsoon Bassoon's driver soon after, seeing them over forty times (and I still miss 'em). After their eventual split, Kavus worked his way through two related bands in fairly quick succession, alongside joining Cardiacs in 2003 and later, Guapo.
His Knifeworld project has been coalescing for years, recording taking place as and when, Buried Alone: Tales of Crushing Defeat finally appearing in summer 2009. For those who've heard his previous bands, their sound won't be too unfamiliar; heavy echoes of The Bassoon appear on several tracks, not least due to the presence of their clarinettist Sarah Measures on several tracks, angular woodwind lines a speciality (OK, I know Kavus writes them). It's difficult to pinpoint its best material, as it's all good, but closer Me To The Future Of You is an eight-minute psych epic to (almost) rival The Bassoon's legendary In The Iceman's Back Garden.
In late 2003, Kavus rang and asked me if he could record my Mellotron, which tells you how long this project's been in gestation, given that most of the basic tracking must have been completed by that point... He recorded strings, flute and choir parts, with distant strings on No More Dying, more upfront ones and flutes, plus choir swells on Unwreckaged and a beautifully full-on choir part on The Money Shot. There may be other bits scattered around (choirs on The Wretched Fathoms?), but it's hard to tell in the mix.
So; Torabi's singleminded psychedelic vision continues apace, with extra added Mellotron. Buried Alone is an excellent little album with obvious 'growing power', well worth the proverbial flutter for anyone into challenging yet tuneful music. Buy.
Chris Knight (1998, 48.29) ****/T

It Ain't Easy Being Me
Framed
Bring the Harvest Home
Something Changed
House and 90 Acres
Summer of '75
Run From Your Memory
Love and a .45
The Hammer Going Down
The Band is Playing Too Slow
River's Own
William
Current availability:
Mellotron used:
Once upon a time, Chris Knight's Americana might have been dismissed as mere 'country' by a contemptuous and dismissive rock press, but with the rise in acceptability of the new American folk, it's become a great deal easier to see his style for what it is: a true American voice that references Johnny Cash and Steve Earle rather than Nashville's glossy commercial orthodoxy. Knight has actually written songs for other country artists, but few of them are household names, at least on this side of the Atlantic.
A late starter, he was 38 when his debut album, 1998's Chris Knight was released. Chock full of classic Americana, while the tunes are good, the lyrics are the album's highpoint, every song telling a story, mostly of hard times, many in the first person, although I believe Knight actually has a fairly conventional, college-educated background. Best tracks? Maybe opener It Ain't Easy Being Me, House And 90 Acres and Love And A .45, although, truth be told, there's nothing genuinely bad here, with even the most 'country' tracks being acceptable to those acclimatised to the new traditionalism of alt.country. Most heartbreaking lyric? Closer William, telling an all-too-real story while avoiding country clichés with aplomb.
Tony Harrell plays Mellotron, amongst other keyboards, with a wobbly and barely-recognisable flute part on The Band Is Playing Too Slow, but that's not the reason to buy this record. Funnily enough, I'm not sure that the music alone is, either; it's that age-old trick of combining it with real human interest stories, which I suppose is the best country music's finest achievement.
---