---
The Downward Spiral (1994, 64.57) ***/½

Mr. Self Destruct
Piggy
Heresy
March of the Pigs
Closer
Ruiner
The Becoming
I Do Not Want This
Big Man With a Gun
A Warm Place
Eraser
Reptile
The Downward Spiral
Hurt
The Fragile (1999, 102.52) **½/½

Somewhat Damaged
The Day the World Went Away
The Frail
The Wretched
We're in This Together
The Fragile
Just Like You Imagined
Even Deeper
Pilgrimage
No, You Don't
La Mer
The Great Below
The Way Out is Through
Into the Void
Where is Everybody?
The Mark Has Been Made
Please
Starfuckers, Inc.
Complication
I'm Looking Forward to Joining You, Finally
The Big Come Down
Underneath it All
Ripe (With Decay)


With Teeth (2005, 56.05/64.24) ***/½

All the Love in the World
You Know What You Are?
The Collector
The Hand That Feeds
Love is Not Enough
Every Day is Exactly the Same
With Teeth
Only
Getting Smaller
Sunspots
The Line Begins to Blur
Beside You in Time
Right Where it Belongs
[UK pressing adds:
Home
Right Where it Belongs (Version 2)]
Current availability:
Mellotrons used:
I've never really understood why so-called 'industrial' music is so popular; I remember when the term was first used to describe bands like Einsturzende Neubauten and SPK, who were using genuine industrial machinery on stage and generally making a fine old racket. NIN and their ilk, to my ears, anyway, sound like a goth/metal crossover with 'industrial' sounding samples; not the same thing at all really, is it? NIN are not so much led by Trent Reznor as 'are essentially his solo project', with other musicians taken on board as and when they're needed, but given that Reznor runs the whole show, his/their work achieves a kind of consistency often missing when a committee (i.e. other band members) are involved.
1994's The Downward Spiral is famous for hosting possibly Reznor's best song, Hurt (as covered monstrously well by Johnny Cash), but the bulk of the record is more typical of his style, being, basically, electronic rock: sampled drums and sequenced synths paired with metallic guitars and sinister, up-close vocals, used to surprisingly good effect in places, not least the piledriving I Do Not Want This. Reznor plays skronky Mellotron flutes on the title track
Five years on, The Fragile falls into the 'if I don't personally like it, how do I review it?' area. It's a huge sprawling double CD's worth of material, sounding, well, rather like NIN really, with no obvious stand-outs. Reznor plays a bit of 'Tron (assuming it's real, as useable samples were cropping up by this point) on a couple of tracks; The Wretched has some almost inaudible strings, and the title track has a quick blast of flutes. And that's it.
2005's With Teeth seems marginally less electronic than its predecessors, with more of a 'band sound' about it, although it's still recognisably a NIN record. Best track? Could just be Beside You In Time, although that probably isn't the fan's choice. One 'Tron track from Mr. Reznor, with just-about audible strings at the end of You Know What You Are?, although there's a good chance they're sampled, I'd say.
So; if you like NIN, you'll have these already, and none of them are worth it for the Mellotron. The Downward Spiral's probably the best of the three, but everything's relative.
All of Us (1968, 35.48/46.05) ***½/T

Rainbow Chaser
Tiny Goddess
The Touchables (All of Us)
Melanie Blue
Trapeze
The Show Must Go on
Girl in the Park
Miami Masquerade
Frankie the Great
You Can Try
Everybody Loves the Clown
St. John's Wood Affair
[CD adds:
Flashbulb
Oh! What a Performance
Darling Darlane
C Side of Ocho Rios]
Current availability:
Mellotron used:
This is the band who took Kurt Cobain's crew to court, eventually settling the matter amicably. Alex Spyropoulos and Patrick Campbell-Lyons started working together in 1967, a few months after Cobain was born, releasing their debut, The Story of Simon Simopath, that autumn, making it possibly the first narrative 'concept' album. Despite being tagged 'psychedelic', the duo were more about well-crafted songwriting than studio trickery, although their 'classic', Rainbow Chaser, used phasing (actually ADT) extensively.
Rainbow Chaser opened their second album, 1968's All of Us, and although it's the album's best track, that's not to denigrate the rest of the material. There are a couple of slightly regrettable moments, not least the children's choir on Everybody Loves The Clown and the rhyming of 'Frankie' with 'wanky' in Frankie The Great, but overall, we're talking songs of the quality of Girl In The Park and St. John's Wood Affair, making this a solid late-'60s effort, while not up with the likes of The Zombies' deathless Odessey & Oracle or Fairfield Parlour's From Home to Home.
Very little Mellotron, to be honest (player unknown), as most of the album's strings are real, although the overlapping single string notes on You Can Try are definitely a MkII, although that seems to be it. A good album, then, without being outstanding, though one killer track in Rainbow Chaser. Try to pick up the expanded CD of the album, as most of the bonus tracks are worth the effort, unlike most.
dA dA dA (1994, 55.33) **½/TT½

dA dA dA
Dreams
What We Did on Our Holidays
Mourir Avant Quinze Ans
Homeless Boy
Whales of Tadoussac
Chameleon Girl
Instead of...
Day & the Night
Desert Island Song
Sorrow
Bilbao Boa
Abandoned Mine
Current availability:
Mellotron used:
dA dA dA was The Nits' first international release (the band have been together since the mid-'70s), sung in English, although it didn't make global superstars of the band. Listening to it, it's hardly surprising; it isn't a bad album, but its skewed take on mid-'90s pop was never going to get them that platinum disc. The title track seems to be an offbeat eulogy for someone's father, thus the childlike title, with most of the rest of the album being folk-influenced vaguely Celtic pop/rock, just that little bit too far from the mainstream to sell in large quantities, although that was clearly its intention.
Keys man Robert Jan Stips was a lynchpin of revered Dutch progsters Supersister in the early-to-mid-'70s. His association with The Nits began when he produced their 1979 effort Tents, joining the band full-time in 1983. I don't know if he's used any Mellotron on any other Nits albums, but he gets a good bit in here, with very obvious strings on Dreams, a short flute solo part and more strings on What We Did On Our Holidays, strings (over synth ones) on Mourir Avant Quinze Ans and flute stabs on Homeless Boy. It's almost as if they recorded the album, song by song, in its eventual running order and Stips could only make it for a few days, so he only contributed on tracks two to five. Odd.
Overall, then, a reasonable enough album if you like the style, inoffensive, but a bit dull for the rest of us. Genuinely good Mellotron use, though, almost to the point of me saying 'worth it for that if you see it cheap'.
Tragic Kingdom (1995, 59.24) ***/T

Spiderwebs
Excuse Me Mr
Just a Girl
Happy Now?
Different People
Hey You
The Climb
Sixteen
Sunday Morning
Don't Speak
You Can Do it
World Go 'Round
End it on This
Tragic Kingdom
Return of Saturn (2000, 54.43) **½/½

Ex-Girlfriend
Simple Kind of Life
Bathwater
Six Feet Under
Magic's in the Makeup
Artificial Sweetener
Marry Me
New
Too Late
Comforting Lie
Suspension Without Suspense
Staring Problem
Home Now
Dark Blue
CDS (2000) **/½

Simple Kind of Life
Ex-Girlfriend (acoustic live)
Cellophane Boy
Everything in Time (B-Sides, Rarities, Remixes) (2003/04, recorded 1996-2001, 64.21) **½/½

Big Distraction
Leftovers
Under Construction
Beauty Contest
Full Circle
Cellophane Boy
Everything in Time (Los Angeles version)
You're So Foxy
Panic
New Friend
Everything in Time (London)
Sailin' on
Oi to the World
I Throw My Toys Around
New & Approved (remix)
A Real Love Survives (Rock Steady remix)
A Rock Steady Vibe (Rock Steady remix)
Current availability:
Mellotrons used:
I've seen No Doubt described as 'punk/ska', which poses the question, "Where's the punk?" OK, there's some reasonably energetic rock thrown into the mix, but punk? I think not. Mind you, if the ludicrous Green Day are 'punk', so are No Doubt. Anyway, there's enough ska and reggae to support that bit of their description, complete with two-piece horn section. Turns out their singer is the hugely-overrated Gwen Stefani, known mainly to myself for her horrible 2005 reworking/mauling of Topol's If I Were A Rich Man from Fiddler on the Roof; irredeemable.
She puts in a reasonable performance on 1995's Tragic Kingdom, while showing little sign that she'd become a (concurrent with No Doubt, apparently) solo success. Amusingly, the title track is apparently a reference to Disneyland, with lyrical references to various urban myths surrounding the theme park. Mellotron on one track, played by unknown (Eric Stefani? Matthew Wilder?), although the flutes on The Climb sound suspiciously suspicious to me, in a sample kind-of-stylee.
2000's Return of Saturn is probably best described as a No Doubt album that does what No Doubt albums do, which pretty much absolves me from having to make any real judgement on it. No, I didn't like it very much. Gabrial McNair plays Mellotron on the album's second single, Simple Kind Of Life, with faint choirs and a handful of flute notes towards the end of the track.
2003 brought a four-CD box set of No Doubt stuff entitled Boom Box, later split into its individual components. Disc 3 was reissued the following year as Everything in Time (B-Sides, Rarities, Remixes), largely consisting of b-sides and outtakes from Return of Saturn, with some other stuff chucked in. It's apparently pretty good as such collections go - I'll openly admit I can't tell; about the only track that grabbed me at all was their cover of Bad Brains' Sailin' On. The only track that even remotely interests us here is Cellophane Boy, a b-side, with a smattering of very-possibly-not-real 'Tron flutes, possibly from Gabrial McNair.
Overall, Tragic Kingdom's better than expected, which isn't actually a recommendation, while Return of Saturn and Everything in Time are plain dull. One Mellotron track on each, but suspect samples.
No-Man (UK) see: Samples
Noekk (Germany) see: Samples
RossoNoemi (2011, 37.27) **½/T

Up
Fortunatamente
Vuoto a Perdere
Sospesa
Dipendenza Fisica
Odio Tutti i Cantanti
Poi Inventi il Modo
Musa
Le Luci dell'Alba
Current availability:
Mellotron used:
Veronica "Noémi" Scopelliti broke into the mainstream due to her involvement in Italy's 2008 X-Factor, so it's a minor surprise that her second album, 2011's RossoNoemi, injects a level of rock into the expected pop. Opening with the dulcet tones of a grinding Hammond, powerchords and full-blown widdly guitar solos are all over the record, although the material will only disappoint anyone looking for anything out of the ordinary.
Roger Manning Jr. (Jellyfish, many others) plays Mellotron, with background strings on Fortunatamente and flutes on Sospesa, although all other string parts sound real. While the album has its moments, it's basically lightweight pop/rock, so don't go too far out of your way.
7" (1971) **/TT

Jezebel
Current availability:
Mellotron used:
As with other Israeli artists, finding any info on Akiva Nof (male, in case you were wondering) is a near-impossibility; I'm not even convinced 1971's Jezebel was actually a single, although it seems likely. As with many other Israeli records from the era, it's a folk-influenced pop number, of next to no interest to the outside world, klezmer fans excepted.
An unknown musician plays Mellotron strings across the track; the first Mellotron in Israel? It's certainly the first track I'm aware of, for what that's worth. Anyway, if I find out anything else about this (was it on an album?) I shall report back.
Noise Ratchet (2003, 23.09) **½/T

When Losing Ends
Fiction Arms
From Your Lips
A Way to the Heart
New Room
Desire
Current availability:
Mellotron used:
Going by their last release, 2003's Noise Ratchet EP/mini-album (following two full-length albums), the band of the same name sat firmly in the 'alt.punk' ghetto, most of the disc consisting of punchy, emo-ish material, although closer Desire goes for more of a post-rock thing, sadly.
Ben Moore plays (possibly genuine) Mellotron strings on Desire, which do absolutely nothing to improve a pretty awful song. What more can I say? Not a lot; not entirely terrible, but pretty tedious stuff overall.
Nonames [a.k.a. Ktzat Acheret] (1975, 43.15) ***½/½

Travelling
Guru
The Little Prince
Ahemi's Piece
Pink Skies
Spring
Two Chinese
Quinta
The Echo
204
Sweet Song
Bissalad
Current availability:
On CD, label unknown (sorry, don't read Hebrew)
Mellotron used:
Nonames (or No Names, a.k.a. Ktzat Acheret) were one of a handful of Israeli progressive bands in the '70s, along with the better-known Zingale and the recently-discovered Atmosphera; they were apparently something of a 'supergroup', comprising members of other fairly well-known outfits. I believe Nonames was their sole album, and is a mixture of psych, folk and early progressive elements, jumping from one style to another in a slightly disconcerting, though refreshing way. In fact, I think it's fair to say that every track on the album sounds different to every other, but if you're fine with diversity (and why wouldn't you be?), you stand a good chance of enjoying this.
Very little Mellotron indeed, with strings on the frankly bizarre Bissalad from Shlomo Gronich, but really not enough to be worth bothering with. In fact, where the hell did they get access to a Mellotron in mid-'70s Israel? I know there's a couple in Tel Aviv now, but then? Must've been one somewhere. Anyway, a good, unusual album that covers a lot of ground in forty-odd minutes, and which will doubtless repay repeated listens. Worth the effort, though not for the 'Tron.
Nood (Norway) see: Samples
Nordagust (Norway) see: Samples
Luring (2004, 44.31) ***/T½

Kveldssong for Deg Og Meg
Texas
Farvel Til Deg
Hallo Hallo
Orda du Gav Meg
Lausa Ting
Mademoiselle
Borga i Ur
Kom
Under ein Cowboyhatt
Fuglen
Sjøfararsong
Current availability:
Mellotron used:
Odd Nordstoga broke through commercially in his early thirties after the release of his second solo album, 2004's Luring. Best described as Norwegian pop/folk, it's a cheery record, full of accordions, massed male voices, banjos and fiddles, which is actually rather better than it sounds. Top tracks? I'm not sure I'd go that far, but the balladic Orda Du Gav Meg and Borga I Ur work well. Cropredy Festival Friday afternoon fare, if that means anything to you.
Kåre Chr(istoffer) Vestrheim plays Mellotron, with a brief descending string line on Farvel Til Deg, a string part doubling the real violin and cello on Borga I Ur, chordal strings on Kom and a brief, uncredited string part on closer Sjøfararsong. I wouldn't really buy this for its Mellotron use, but as a primer as to what sells well in Norway, you could do a lot worse.
Dusk in Cold Parlours (2003, 39.24) ***½/TT

A Marriage Proposal
Letters Opened in the Bar
Terrified
Kelly Bauman
Jealousy, it's True
Impossible
Oslo
Disappear
No Else Where He Can Go
A Hymnal
The Tired Words
At Dawn or After Dusk
A Gilded Age (2006, 32.10) ***/T

Porch Destruction
A Gilded Age
Watch the Days Slowly Fade
There Are No Places Left for Us
Minor Daughter
Clyde and New Orleans
We Were All Saints
A Voice Through the Wall
The Unsung Colony (2006, 46.56) ***/½

The Longest Stare
The Shortest Stare
Barrels on Fire
How to Reel in
The New Rise of Labor
Rehearsing La Dolce Vita
Arrangements Made
Drifter
Banish All Rock
Atget Waltz
From the Interests of Few
The Longest Stare (Reprise)
Dinero Severo (2010, 52.58) ***½/TTT

Hiding Home
Opinion
Turkish Wine
Every Morning
The Long Goodbye
Future Mother
Whippoorwill Song
Not for Good
So That's How it is
Angel Feet
This is a Number 5
Sue and the Short Order Cook From Chesterfield, SC
Joe the Stalker
Approval From Anyone
Current availability:
Dusk/Gilded: Hush
Unsung: Jealous Butcher
Dinero: 3 Syllables (UK)
Mellotrons used:
Norfolk & Western (doubtless named for the old railroad company) play an intriguing old-tyme Americana/indie crossover, where the dusty American West is sporadically sharply juxtaposed with modern guitar rock, which actually works better than you might expect. All this from a band who apparently incorporate a genuine century-old Victrola Gramophone into their act...
Their third album, 2003's Dusk in Cold Parlours (like the UK spelling, guys), seems to be fairly typical of their sound, highlights including opener A Marriage Proposal, with its tremoloed guitar, the laid-back Impossible, Oslo and A Hymnal. Tony Moreno and Adam Selzer play Mellotron flutes on Impossible and the linguistically-tangled No Else Where He Can Go, with overt flute parts opening Oslo and Disappear. 2006's short A Gilded Age is a good record, without being outstanding, helped along by barely topping the half-hour, not giving it time to pall in any way. Best tracks? Probably the title track (banjo rock, anyone?) and the melancholy There Are No Places Left For Us, though nothing here offends. Rachel Blumberg plays Mellotron, with flutes on Porch Destruction and Minor Daughter and an additional brief wobbly string part on the latter, but nothing you haven't heard before, to be honest. The same year's full-length The Unsung Colony is roughly comparable to its predecessor, stylewise, better tracks including How To Reel In and the lengthy Arrangements Made. Several of its tracks are uncharacteristically noisy, notably The New Rise Of Labor and Banish All Rock, although the overall vibe is still 'subdued'. The album has no Mellotron credited, strangely, but it's clearly audible on the finished product, with a major flute presence on The Longest Stare from Dave Depper.
2010's Dinero Severo sees the band stretching out a bit (channelling Neil Young on The Long Goodbye) and generally combining their influences more effectively than before, at least to my ears. My personal preferences lie towards the rocky Turkish Wine, the talking blues Whippoorwill Song and the rockabilly of Sue And The Short Order Cook From Chesterfield, SC, but there isn't actually a duff track on the record. Blumberg, mainman Adam Selzer and Dave Depper all play Mellotron, with strings on Turkish Wine, Every Morning, Future Mother and Angel Feet, cellos and strings on The Long Goodbye and flutes (pitchbent on the former) on Sue And The Short Order Cook From Chesterfield, SC and Approval From Anyone.
So; Norfolk & Western cross genre boundaries with impunity, largely due to the array of talent within the band (various members play with M. Ward, The Decemberists, Laura Veirs and a host of others), so I look forward to hearing the rest of their catalogue. As you can see, of the better albums above, I found Dinero Severo to be a more rounded listen than A Gilded Age, while which isn't to denigrate the latter in any way, although the former and Dusk in Cold Parlours are quite clearly their major Mellotron albums.
Threshold (1997, 51.31/104.24) ***/TT

Arrival
Neurosaur
No Cross to Carry
Threshold
Neuro Boogie
Trantor Station
Waltz of the Biots
i. Particle Storm
ii. Cocktails in the Vestibule
iii. Grand Ballroom
Critical Mass
i. Leviathan
ii. Anthem
iii. Republic
iv. Foundation
v. Leviathan Reprise
[Remastered 2-disc ed. adds:
The Long Ion Train
Hyperspace
Solace


Return to the Ruins of Trantor
Threshold Medley 1999 - Live at The Cadillac Room
Trantor Station 2001 - Live at ProgWest
No Cross to Carry - QCard Version
Neuro Boogie - QCard Version
Waltz of the Biots - Machine Mix
Neurosaur - Machine Mix]
Music Machine (2003, 106.21) ***/T

Prologue - Project Blue Prince
Music Machine
Turn Me on
Heavy Metal Symphony
Tour of the Sprawl
Andromeda
Letter From Space
Lost Highway
Soma Holiday
Return of the Neurosaur
Project Blue Prince Reprise
Fanfare and Interlude
Beware the Vampires
The Fire of Change
The Fall of the Idol
Metamorphosis
One of the Machines
Fallen
Johnny America
Music Machine Reprise
Epilogue - Sky Full of Stars
Hommage Symphonique (2007, 66.22) ***/TT

Conquistador
Sir Lancelot and the Black Knight
Turn of the Century
Pirates
Clasp
King of the Universe
Children of Sanchez Overture
Starless
Current availability:
All titles: Think Tank Media (US)
Mellotrons used:
All titles: hired-in M400s?
Erik Norlander's a busy man; not only a member of the (now possibly defunct) Rocket Scientists, not only married to and musical director for Lana Lane, but also a solo artist in his own right. An excellent keyboard player, he also has a bent for vintage gear, owning a Hammond (a D, unusually), a Moog modular and various others, although his productions always seem digital-heavy to my ears. His site lists his full set-up, and I see no sign of a Mellotron, though given how much he uses one on record, I can only assume he borrows/hires one on a regular basis... assuming it's real.
1997's Threshold was his first solo album, originally a 50-minute, single-disc effort, expanded to double that on two discs in 2004, as one disc is clearly never enough. The original album is all instrumental, recorded by Norlander with a bassist and drummer; indeed, he somehow persuaded Keith Emerson to contribute sleevenotes, which seems fitting. Luckily, ELP are a relatively minor influence, Norlander's tastes ranging rather more widely, although it's hardly the most exciting thing you'll hear all year, to be honest, although Neurosaur and the rather silly Neuro Boogie aren't bad, even if the latter keeps making me think he's about to break into Purple's Lazy. Not that much Mellotron, either, with flutes all over Arrival, strings and choirs on Neurosaur, flutes on part one of Critical Mass and choir on its final part, which is rather less than I'd expected. The extra tracks on the remaster mostly just stretch the album to paper-thin, particularly the pointless remixes on the second disc. Incidentally, I can't hear any Mellotron on the Neurosaur remix, for what it's worth.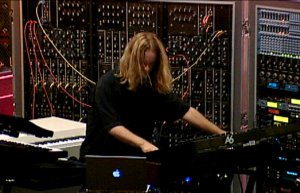 I can't actually hear any Mellotron on 2000's Into the Sunset, but there's a little on the ambitious double, Music Machine. It's a concept work, dealing with the creation of a genetically-engineered superstar with a built-in lifespan, dubbed Johnny America, with Norlander clearly taking the opportunity to have a few well-chosen digs at the corrupt music industry along the way. Many of his famous friends are present, notably (at least for me) the Blue Öyster Cult's inimitable Buck Dharma, though sadly only on one track. My problem with this album is that it has more than a whiff of formula about it; that could be deliberate, given its subject matter, but it seems a little counter-productive to produce two hours of music purposefully written to be less good than it could and should be. I have to assume that this is exactly how Norlander wants it; all well and good, but it's musically almost indistinguishable from the work of his friend and sometime collaborator, Dutch musician Arjen Lucassen, a.k.a. Ayreon.
There's no Mellotron credited anywhere, and none to be heard on disc one, making me think this was another case of mistaken identity, when a familiar choir sound appeared on disc two, track four, The Fall Of The Idol, followed by a really overt 'Strawberry Fields'-style polyphonic flute part and some strings in Fallen. So, why wait so long to use it? Loads of other tracks would've been improved by 'more 'Tron, less digital synth', even if they are the Alesis models Norlander helped to design and programme. Anyway, more background choirs on lengthy closer, Epilogue - Sky Full Of Stars, but that's it. This is basically an AOR concept album with prog-metal overtones, if you can imagine such a thing (do you want to?), but if that sounds like the sort of thing that floats your boat...
After 2004's sample-only Seas of Orion and the live Stars Rain Down, 2007's Hommage Symphonique is Norlander's next )probably) 'Tron album and it's... a covers set. Aargh! Run for the hills! After a rather cheesy version of Procol Harum's Conquistador, Norlander tackles Rick Wakeman's Sir Lancelot And The Black Knight in the spirit in which it was no doubt conceived: bombast, bombast and more bombast. Oh, and some Mellotron choirs and strings. And a vocalist only slightly better than Rick's infamous drinking buddy and pub singer, "Bellowing" Ashley Holt. ELP's Pirates? I have to say, I fail to see the point of covering someone else's song unless you intend to at least slightly make it your own, and something as rigidly defined (not to mention bloody awful) as a typical ELP epic is not that kind of 'song', for want of a better word. And yes, I spotted the America quote. His take on Tull's Clasp is a lot better, with background 'Tron strings, although I think (hope) the flute's real, with more of the same on ELO's startlingly dull King Of The Universe. Crimso's Starless is, of course, er, 'Mellotron-drenched', although the arrangement seems a little awry, and the point where the Mellotron comes back in at the end is, frankly, limp. Extra 'Tron flutes, though.
So; one for those of who into flashy playing, I think. Norlander's protestations that 'the melody is all-important' are somewhat undermined by the rather gratuitous instrumental virtuosity on display on these albums, and a lack of any highly memorable material. So little 'Tron overall that I'm almost surprised he bothered. How much of it's real is a bone of contention, too, although as you can see from the pic, he certainly hires one in on occasion.
See: Samples | Rocket Scientists | Lana Lane | Star One
Myself When I am Real (2002, 49.14) *½/½

Our Mystery
Beautiful You
Falling Down
Great Light of the World
Where the Trees Stand Still
Everything
Just to Look at You
Long Way Home
Under the Sun
So Afraid
My Love
Back to Me
Try (2004, 44.19) **/T

Finding You
Nothing Without You
Disappear
Try
Standing in Your Silence
Other Side of Day
Soldier
Drifting
How You Love Me
Yes I Will
Borrow Mine
Nothing Without You
Current availability:
Mellotrons used:
Bebo Norman (where the hell do these people get their names?) is a pretty typical modern Christian artist, or 'Xian' as I sometimes see it written to my great amusement, as it looks like the kind of name given to the aliens in a particularly dodgy SF effort, probably written by L. Ron Hubbard or someone. Did I say L. Ron Hubbard in a CCM review? Whoops... He rose to prominence with noted CCM act Caedmon's Call (Derek Webb is another ex-member), who also used a smattering of Mellotron on 1999's 40 Acres.
Myself When I am Real is his fourth solo album, and apparently most successful to date. Why? Why is it his most successful? Why did anyone buy it at all? It's horrible, in that utterly insipid way that seemingly only committed Christians (maybe they should be) can manage, although, to give him some vague credit, at least he doesn't whine on about his god incessantly, or at least, not as overtly as many of his god-bothering peers. It's still pretty awful, with the handful of less terrible tracks (Where The Trees Stand Still, My Love) being almost-palatable were it not for his over-emoting vocals, which grate within seconds of first hearing them. Carl Hergesell plays (credited) Mellotron on one track, Just To Look At You; while the flutes are unconvincing, I suspect they're something else entirely, as you can hear a 'Tron cello at the end of the track, as everything else dies away. As, indeed, you would wish the album to.
Norman followed up with 2004's Try, and while I know it's a falling-off-a-log-easy target, wouldn't it be nice if he had? Instead, we get more utterly formulaic CCM, excepting his continuing (and thankful) refusal to make every track a 'worship song', for which I thank the god (small 'g') he believes in and I don't. Somehow, though, it's a gnat's less infuriating than its predecessor, giving it an extra half star. Like he cares. Mellotron from Matt Bronleewe this time, with a major string part on Soldier, although nothing obvious on Drifting, despite rumours.
So; bad (i.e. typical) CCM, very little Mellotron. Don't. Even. Think. About. It.
See: Caedmon's Call | City on a Hill
So Long Ago the Garden (1973, 35.46) **/T

Meet Me at the Airport (Fly, Fly, Fly)
It's the Same Old Story
Lonely By Myself
Be Careful What You Sign
Baroquen Spirits
Christmas Time
She's a Dancer
Soul Survivor
Nightmare #71
Current availability:
Mellotron used:
One of Paul McCartney's M400s
If you can believe the insane hagiography of Larry Norman's Wikipedia entry, he was a leading light in the pre-CCM Jesus Rock movement, releasing his best-known work between the late '60s and mid-'70s. Said entry claims that he released over a hundred albums in his lifetime (he died in 2008 at the age of sixty), but going by the list, many of those are compilations, bootlegs and other 'don't counts'. 1973's So Long Ago the Garden was apparently his favourite, but to the secular ear, it's no more than a dullsville soft-rock singer-songwriter effort with tedious, Goddy lyrics, the nearest it gets to a highpoint being the Dylanesque talking blues Nightmare #71.
Again, according to Wikipedia, Lonely By Myself, "...was recorded using the same Mellotron The Beatles used on Strawberry Fields Forever while Paul McCartney was in the next room recording Live And Let Die", to which I say: bullshit. Because? Because the track contains Mellotron choirs, not available on the (Abbey Road) MkII used for Strawberry Fields. It may well be one of Macca's M400s, but this one 'fact' displays the level of accuracy and pathetic hero-worship of his Wiki entry. Believe at your peril. Anyway, an exceedingly dull album with one passable 'Tron track. Maybe not.
Polaris (2003, 45.04) ***/T

Eyes
Meet Me in the City
Conan
All Along
Otay
Kids These Daze
One to Grow on
Never in All My Days
Bad Bad Pain
Polaris
Time For the Sun to Rise
Be So Glad
Current availability:
Mellotron used:
The North Mississippi Allstars are fronted by legendary (and now late) producer Jim Dickinson (Big Star)'s sons Luther and Cody, whose remit appears to be 'sound as much like a '70s band as possible'. Do I have a problem with this? No I don't. However, their third album, 2003's Polaris, is good, yet not great; the songs aren't bad, but there's a faint air of second-handness about it all, I'm afraid. Better tracks include Otay and Kids These Daze, but their southern soul influences spoil many a halfway decent track (personal opinion, obviously). And, er, what's with the bloke rapping on Be So Glad? Doesn't work at all, guys. Throwing a quick version of The Allmans' Jessica in at the end of the album is reasonably witty, though.
Dad plays Mellotron; is this the M400 pictured on one of Big Star's Third issues? Anyway, we get strings and flutes on All Along, and while it could be elsewhere, that appears to be it for definite. So; not bad, but a little disappointing, with far less Mellotron than there might've been.
Neptune (1992, 66.12) **/T

Twister
Believe
All This Man Can Do
Worlds Away
Why Cry
Somedays
Crocodile Tears
What it's Really About
Hold on
Chain of Flowers
Françesca
Everything
Straight Line
Black Cat
The Way You Are
Current availability:
Mellotron used:
It's impossible to tell from the sleeve of the Northern Pikes' Neptune what it's going to sound like, although there are several things I would've guessed before a Springsteen/Bryan bloody Adams crossover thing. Opening with the barroom boogie of Twister is not designed to appeal to my good self, not that I'd imagine they give a shit. Least offensive tracks? Françesca and Straight Line. And why exactly does closer The Way You Are start with a quick orchestral sample of a snatch of Mussorgsky's Night On Bare Mountain?
Mellotronically speaking, credited choirs on Believe from Greg Johns, and uncredited strings on Chain Of Flowers, including a 'Tron solo on the intro, and Straight Line, which may or may not be from Ross Nykiforuk, who gets a generic 'keyboards' credit in the booklet. So; an overlong album, especially for the straightforward style the band peddled, with very little 'Tron. Next...
NoSound (Italy) see: Samples
Neon Golden (2002, 41.28) **½/T½

One Step Inside Doesn't Mean
You Understand
Pilot
Pick Up the Phone
Trashing Days
This Room
Solitaire
One With the Freaks
Neon Golden
Off the Rails
Consequence
Current availability:
Mellotron used:
The Notwist are a German English-language indie band, who sound like... pretty much any other English-language indie band, frankly. OK, they have a specifically German electronica aspect to their sound, but not enough to actually place them geographically, which I'm sure is the point. Although a handful of tracks have interesting elements (One Step Inside Doesn't Mean You Understand, the banjo on Trashing Days), most of them drone on for a while before finishing, which isn't really a very encouraging thing to say about anything much, is it?
The exceedingly Germanically-named Roberto di Gioia plays Mellotron, with strings on Pilot, while Pick Up The Phone opens with a solo flute part, carrying on through the track, although with real strings and woodwind, the issue is confused in places. Overall, then, a rather dull album with a couple of decent Mellotronic moments. Maybe not, eh?
Snowing in My Heart (2007, 42.43) ***/TTT

Hang on
So Down
The Wicked Are Winning
Days Disappear
This Soft Existence
It's Okay to Be Sad
Erased
I Miss You
Don't Be Afraid
It's Lonely When You're All Alone
Snowing in My Heart
The Terror
Current availability:
Mellotron used:
I haven't heard Salim Nourallah's first Mellotron album, 2005's Beautiful Noise, but its follow-up from two years later, Snowing in My Heart, is a decent enough indie/singer-songwriter effort, avoiding most of the modern clichés, although its downside is a preponderance of rather mournful ballads, particularly closer The Terror, which ends the album in an unnecessarily downbeat mode. Nonetheless, better tracks include The Wicked Are Winning, It's Okay To Be Sad and the '60s-ish Erased, hauling the album up to a respectable three star rating.
Mellotron from Nourallah, Rip Rowan and Chris Holt, with flutes and upfront strings on opener Hang On and The Wicked Are Winning, flutes on So Down, flutes and MkII 'moving strings' on This Soft Existence (is this a sample use giveaway?), flutes on It's Okay To Be Sad and I Miss You, oboe (?), brass and flutes on It's Lonely When You're All Alone, flutes and strings on the title track and strings on closer The Terror. I have to say, I'm not convinced real tapes an'stuff are involved here, given the number of Mellotron sounds used, but I could well be wrong, so this stays until until/if I find out any more.
Siren (1998, 60.50) **/T

London Rain (Nothing Heals Me Like You Do)
Blood of Me
Heart and Shoulder
What a Feeling
Valley of Sound
I'm the Girl
Winterblue
I'm Alive
Widescreen
Paper Cup
Avalanche
Make You Mine
Ruby Red
Not Only Human
Current availability:
Mellotron used:
Heather "Nova" Frith was born in Bermuda and grew up all over the place, before settling in the States, meaning that calling her 'Bermudan' is probably a bit of a misnomer, if technically correct. 1998's Siren is her fourth album, fitting firmly into the 'poppy female singer-songwriter' niche, making it all but unlistenable to those of us who prefer a little substance in our music; this is about as drippy as it gets, fake emotion spilling out of the speakers and staining your carpet. I'm sure it's all about the words, as usual, but so what? So what if she sings about love in all its guises? So what? So what? Sowhatsowhatsowhat, you boring little... And regarding track five, you don't think she's heard these guys, do you? She's only a step or two away from them...
Guy Fletcher (Robbie Williams)'s Mellotron finally kicks in on Widescreen, with a vaguely 'Strawberry Fields' flute part, although that seems to be it, as all the strings appear to be real. There are so many, many better Mellotron tracks than the one contained herein that you really would have to be either a) someone who likes this kind of drivel, or b) mad, to actually shell out good money for this dross. Just don't.
The Jefferson Fracture (2002, 55.32) ****/T

Fingerprints
Sailor
There There
I Got Lucky
Hey Carol
Caravan of Kindness
The Mechanic
Horse Song Part 1
One Table Over
Horse Song Part 2
You Don't Have to Go to Bed Early Anymore
Hardware Store
Current availability:
Mellotron used:
Nova Social are a new US band who fall pretty much into the 'intelligent pop' vein of Jellyfish et al., although they add enough of a contemporary touch to not be considered copyists in any way. The band use a variety of instrumental colouring, both old and new, so The Mechanic, for example, features MiniMoog next to a drum machine and a sampler, whereas Caravan Of Kindness is all-traditional, complete with string quartet. The songwriting is excellent, with some particularly insightful and witty lyrics, like this snippet from 'Hey Carol':
'Hey Carol, did someone make you cry?
Well maybe I can kick his ass for you,
Or maybe I can get my brother to'
(reprising later as)
'Or maybe I can get my mother to'.
Superb! And all this to a Moog line to die for. There isn't actually an awful lot of Mellotron on the album, the only really audible moment being a few bars of strings in the middle of Sailor. There's also some flutes on I Got Lucky, but they're way down in the mix.
So; not a 'Tron classic, but a great album, perfect for summer listening (all assuming we get a decent summer this year). If you like this area of music, buy instantly.
Banished Bridge (1973, 37.35) ***½/½

Banished Bridge
High Evolution
Laughing
Inside of Me (Inside of You)
Konzerte (1977, 61.28) ****/T½

Bolero
Dronsz
Es Färbte Sich die Wiese Grün
Impressionen
Wer Schmetterlinge Lachen Hört
Wunderschätze
Sommerabend
Wetterleuchten
Am Strand
Der Traum
Ein Neuer Tag
Ins Licht
Brandung (1977, 33.00) ***½/T½

Irgendwo, Irgendwann
Wenn Nicht Mehr Zahlen und Figuren
Astralis
Sonnenwende
Brandung
Feuer Bricht in die Zeit
Sonnenfinsternis
Dämmerung

Vielleicht Bist du ein Clown? (1978, 34.43) ***/T½

Der Geigenspieler
Zingaresca
Manchmal Fällt der Regen Eben Lang
Vielleicht Bist du ein Clown
City Nord
Die Welt Wird Alt und Wieder Jung
Flossenengel (1979, 45.14) ***/T

Atlanto
Im Brunnen der Erde
Brennende Freiheit
Im Netz
Flossenengel
Walzer für Einen Verlorenen
Traum
Sklavenzoo
Alle Wollen Leben
Rückkehr
Ob Tier, ob Mensch, ob Baum
Current availability:
Banished Bridge/Brandung/Vielleicht Bist: Repertoire (Germany)
Flossenengel: Castle
Konzerte: Not on CD
Mellotrons used:
All titles: band's own EMI M400?
Novalis are one of those odd, frequently German bands who owned a Mellotron (an EMI M400 in this case, fact fans), then either barely used it, or buried it below layers of other stuff (see: Mythos). Why? I keep thinking I can hear it on their records, only to realise it's real flute, or string synth, so it's quite possible it was also used on their two best albums, 1975's Novalis (****) and the following year's Sommerabend (****), although it's not specifically credited on either. For some reason, apart from the enormously dull Eloy, who were on German EMI, the best German prog bands seemed to end up on Brain, the next rung down were on Pilz, with the also-rans on Sky; Novalis were on Brain for much of their history, and seem to me to be the country's third most popular home-grown prog outfit, after Eloy and another Brain band, the wonderful Grobschnitt.
Banished Bridge is a pleasant, if slightly ineffectual album, with side two being unable to match the side-long title track in the quality stakes. The English-language vocals are a bit of a distraction, to be honest, which the band quickly rectified by ditching them, but the music's not bad, in a drifting sort of way. None of Grobschnitt's dynamics here; Novalis were defiantly laid-back, almost to the point of being laid-out in places. Lutz Rahn is credited with the usual organ/piano/Mellotron/synth, but as I said above, it's pretty hard to spot the 'Tron. The choirs on Banished Bridge itself don't sound like any of the standard sounds, but with only one band member credited with vocals, they're unlikely to be massed backing vox. Some faint strings on High Evolution may be 'Tron, too, as could the solo trumpet sound on Inside Of Me (Inside Of You), but it really is hard to tell.
1977's Konzerte is incredibly long for a single LP (I own shorter doubles), and the sound does suffer on vinyl, though I'm sure the CD would sound a load better, if only it were available. It effectively consists of the bulk of their two previous albums, with only one track missing from each, and nothing from Banished Bridge, though to be fair, they had changed their sound considerably in the interim. After the presumed non-'Tronness of Novalis and Sommerabend, you would've thought that a live album with an M400 specifically credited would finally feature the instrument a little more prominently. But no. Rahn's over-reliance on his Solina smothers the sound in long, sustained string parts, although the 'Tron does turn up in places. Impressionen and Wunderschätze feature flute parts from new member Fred Mühlböck, doubled on 'Tron flutes, and I think it's 'Tron flutes, and maybe choir, on the excellent Wer Schmetterlinge Lachen Hört, but Rahn obviously believed in hiding its light under a bushel, for reasons best known to himself. I still can't decide which keyboard makes the pitchbent string sounds on Sommerabend; it sounds more like string synth than 'Tron, but I wasn't aware you could pitchbend a Solina, so who knows? The flute melody on its opening and closing parts (Wetterleuchten and Ins Licht) sound Mellotronic, too, with a final note below the range of the regular flute, but within the Mellotron's.
Recorded and released later the same year, Brandung has a more upbeat sound, presumably in keeping with the times, although the material is generally of a lower standard than on their previous two albums. Irgendwo, Irgendwann starts the album off nicely enough, and Wenn Nicht Mehr Zahlen Und Figuren is a pleasant enough ballad, but the side-long Sonnenwende is nowhere near as good as Sommerabend, for example. Rahn's Mellotron is limited to a few string notes on Irgendwo, Irgendwann, flutes (alongside the real one) on the first part of Sonnenwende, Brandung itself and choir on part three, Sonnenfinsternis (thanks for those, Tommy).
Novalis' last even remotely 'progressive' album, Vielleicht Bist du ein Clown?, actually features more Mellotron than anything else in their catalogue, for some odd reason, although that Solina's as high in the mix as ever. Der Geigenspieler has some quite upfront strings, and Die Welt Wird Alt Und Wieder Jung has both cellos and strings, so although the album's no better than 'average', there's more 'Tron here than on anything else they recorded. Oh, and the inner sleeve pic is exactly the same as the one inside Brandung's gatefold, which was shatteringly lazy of someone in Brain's art department. They make up for it slightly by having a Hipgnosis sleeve, but it's not exactly one of their classics, either. Their last 'Tron album was '79's Flossenengel, which is as good as its predecessor, maybe (surprisingly) marginally better. Novalis seemed to tap into a Pink Floyd vein on some tracks, notably side one's eight-minute Im Netz. It's a bit of a cheek calling this a 'Tron album at all, although the strings on Walzer Für Einen Verlorenen Traum are quite upfront, but there's nothing else to be heard.
So; hmmm. Not a bad band, but generally a little uninspired, to be brutally honest. If you're going to buy one album, make it Konzerte, since it covers most of their best material, while also being their 'best' Mellotron album, although that's not saying much. For the enthusiast, all the above are just about worth hearing, plus Novalis and Sommerabend, although Flossenengel's follow-up, Augenblicke (**½) is pretty average fare, and anything after that's a waste of time. One other related release that's actually worth the effort is Lutz Rahn's solo album from '78, Solo Trip, which probably features about as much Mellotron as in Novalis' entire career. Odd.
See: Lutz Rahn
Res Inexplicata Volans (2006, 48.45) **½/TT

Mr Right Now
Traz Um Alivio
Inexplicata
Ensaboar Você
Children of the Sun
86
War
Fruta Vermelha
I'm a Rocker
Yage Cameras
Capoeira
Entre eu e Você
Current availability:
Mellotron used:
Apollo Nove (nine) is a big-name Brazilian producer, apparently, who also either owns a Mellotron (one of a single-figure number on the continent) or uses samples well enough to fool my (admittedly blasted) ears. I go for the former, for what it's worth. He's also added it to other artists' work, notably Cibelle and Otto; now it's time to use it himself.
Res Inexplicata Volans is, in many ways, a typical modern Latin record, keeping one foot in the past (the rhythms) and one in the present and future (the sounds), which isn't going to especially endear it to most of you, I'd imagine, although it does what it does perfectly well. He uses different vocalists on most tracks, male and female, which at least adds some variety to the largely mid-paced material. Best moment? Without a doubt, it's I'm A Rocker, better known as Rocker by AC/DC, turned into a smooth, female-fronted Latin number, with the line, "I'm a wicked woman stealer" switched to "boyfriend". And it's got a Mellotron on it.
Nove plays the 'Tron himself, of course, with strings on Mr Right Now, Ensaboar Você, the aforementioned I'm A Rocker and Entre Eu E Você, with strings and flutes on 86 and cellos on Capoeira, although the only part with any real guts is on (you guessed it) I'm A Rocker. You're most unlikely to like this, but I can't slate it for doing what it does, and at least it gets a reasonable dose of Mellotron into the proceedings.
See: AfroReggae | Cibelle | Otto | Freezone
La Songerie (1980, 45.00) ***½/TT½

Illusion
Night With No Name
Unbelieving Words
Letticia
The Boyhood - The Cliff
La Songerie

Requiem (1981, 30.09) ***/T½

Requiem
Part 1
Part 2
Part 3
Metamatic Lady Dance
Nightmare
Secret Love
Ready to Fantasy
Current availability:
Both titles: King? (Japan)
Mellotrons used:
Both titles: band's own M400?
Novela seem to be regarded as one of the leading lights in Japan's progressive scene of the early '80s, although to my ears, they have more in common with the epic hard rock approach of, say, the Japanese-American Mariner. Their standing could have as much to do with their influence as anything else; guitarist Terutsugu Hirayama went on to form the highly-regarded Teru's Symphonia, while keyboard player Toshio Egawa formed Gerard, still active today.
Their debut, 1980's La Songerie, divides its running length between shorter, heavier songs (Illusion, Night With No Name) and longer, more progressive outings (Letticia, The Boyhood - The Cliff), where Egawa really comes into his own. Like so much Japanese prog, there is little here that could be described as original, although the second half of the record has some lovely moments, not least the acoustic guitars halfway through the title track. Egawa's credited with Mellotron, but the bulk of the album's string sounds come from or appear to come from a string- or polysynth, the chief exception being a burst of 'Tronness in the middle of Letticia and a mix of Mellotron and synth strings running through the title track. Apart from some 'Tron choirs on The Boyhood - The Cliff, the album's other main 'Tron use is an excellent flute part and some 'are they/aren't they?' choirs, also in La Songerie itself, making this by far and away the album's top 'Tron track. I haven't heard the CD version, but it adds a shorter track at the end, Shoot A Burning Arrow, 'Tron content unknown.
The following year's Requiem seems to be a stopgap release, a half-hour mini-album, two of whose tracks are repeated on their full-length release later the same year. Its centrepiece and highlight, unsurprisingly, is the 14-minute, three-part title track, although it doesn't match the best material on La Songerie. The rest of the album is a distinctly mixed bag, with the balls-out metal of Metamatic Lady Dance contrasting sharply with the more mainstream proggy hard rock of the final three tracks, leaving the title track as the only even close to essential track here. A couple of tracks of obvious Mellotron from Egawa this time, with full-on string parts in the first two sections of Requiem itself, with overdubbed background choirs, although that's it for the release.
There's supposed to be more 'Tron on the same year's full release, Sanctuary, but all I can hear is choirs from maybe a Roland VP-330 vocoder; definitely not Mellotron, anyway. Both the above albums are worth hearing, although neither are exactly groundbreaking, with better Mellotron use on La Songerie than on Requiem. They're not exactly easy to find, anyway, although Syn-Phonic have them in stock at the time of writing.
See: Gerard
Novox (Netherlands) see: Samples
Escalation (1974, 35.58) ***½/T½

Blue Silver
Manomolela
News From the Chicken Farm
Sixteen Flutes
I'd Rather Sell My Life, Than My Guitar
Escalation
Current availability:
Mellotron used:
Flautist/saxophonist Ralf Nowy (born 1940) had a long and honourable career as frontman, session player, arranger and producer, working with Giorgio Moroder in the latter's pre-disco era. To my knowledge, 1974's Escalation (credited to merely Nowy) was his second solo album, eschewing his debut, the previous year's Lucifer's Dream's krautrock grooves for his natural home, fusion, although the album contains a good helping of progressive stylings. The five short tracks on side one switch between jazz (opener Blue Silver, News From the Chicken Farm), a Latin/hard rock hybrid (Manomolela), massed flute jazz (Sixteen Flutes) and off-kilter blues rock (I'd Rather Sell My Life, Than My Guitar), but the album's centrepiece is its side-long title track, a jazz/classical/rock tour de force, not devoid of humour: note the guitarist's Glenn Miller quote towards the end. I think it's safe to say that you've probably never heard anything quite like this before; its component parts are nothing new, but their combination produces a unique piece, although I'll admit it might be slightly overlong.
Thor Baldursson plays Mellotron, with choirs (including a nice solo sequence), alongside real voices on the title track, although I suspect that all the flutes on, er, Sixteen Flutes are real. I don't believe this is on CD, but now it's turned up on download sites, make the effort to track it down; you'll thank me when you hear Escalation itself. Maybe.
Cuentos de Ayer y de Hoy (1978, 37.31/40.38) ***½/T½

Profecía
Preparan
Algunos Músicos Fueron Nosotros
Cuentos de Ayer y de Hoy
El Juglar
Paraíso de Flautas
[CD adds:
La Explosion del Universo]

A Golpe de Látigo (1979, 41.11) ***½/T

Entrada al Reino
A Golpe de Látigo
A la Caza de Ñu
El Flautista
La Galería
Velocidad
La Ilegada de los Dioses
El Expreso
Current availability:
Cuentos de Ayer y de Hoy: A las Lombrices (Spain)
A Golpe de Látigo: Zafira (Spain)
Mellotrons used:
Ñu were surprisingly heavy for a Spanish progressive outfit, to the point where they could be said to be more of a hard rock band with progressive tendencies, despite the flute and violin they utilised in places. Cuentos de Ayer y de Hoy and A Golpe de Látigo were their first two albums and, in fact, the only ones for some years, before they restarted in the mid-'80s. It may be a cliché to refer to rocking prog outfits with a flute as 'Tull-influenced', but Ñu really were, with José Carlos Molina's flute playing being more than a little reminiscent of Mr. Anderson's, but it's easy to overlook the influence and just take the band on their own merits.
It's difficult to pinpoint highlights on Cuentos de Ayer y de Hoy, with most of the tracks being pretty much on a level, although original LP closer Paraíso De Flautas is pretty good. Not sure who plays the Mellotron, with one source claiming Jose M. Garcia and another one José Carlos Molina, but it isn't that ubiquitous, anyway. I'm not so sure about the strings on Profecía and El Juglar, although they're probably Mellotron under real violin, but the strings and flute on Paraíso de Flautas are most definitely 'Tron, making the other two tracks more likely, I suppose.
A Golpe de Látigo is essentially more of the same, with no obvious stylistic changes and again, the album's final tracks are probably its best. The first sound you hear on the album is the Mellotron brass that opens Entrada Al Reino (this time round definitely credited to Molina and Jorge Calvo), although there's not a lot more to be heard, with some strings under the violin on La Ilegada De Los Dioses and a few upfront string chords at the end of El Expreso.
So; Spanish hard rock in a Tull vein, with a small Mellotronic presence. Good, but not outstanding, so while you probably shouldn't put them at the top of your 'wants' list, nor should you delete them. Reasonably worthwhile.
Nuno (US) see: Samples
Mr. E Jones (1972, 42.29) ***½/T

Sveglati Edgar
Mr. E Jones
Viaggio Nel Mondo dei Sogni
Un'Ora del Tuo Tempo
Fumo di una Sigaretta
Illusione da Poco
Premio di una Vita
Un Altro Giorno
Current availability:
Mellotron used:
Although PFM's first two, Italian-language albums are frequently thought of as the 'first' Italian prog albums, this is blatantly not the case; ask Le Orme, amongst others. Mr. E Jones was Nuova Idea's second album, and fits into the 'early Italian prog' category without a murmur, featuring inventive, varied, symphonic material without the 'pastoral' feel that PFM would memorably bring to the scene later the same year. There's a blues base to some of the tracks (notably Premio Di Una Vita) that would be expunged from the more purist outfits before long, although its inclusion here reminds the listener that Italian prog wasn't always (mistakenly) characterised by acoustic guitars and flutes.
There's very little of Giorgio Usai's Mellotron work to be heard, with nowt but a short combined string/brass part on Illusione Da Poco, although a couple of keyboard parts earlier in the album could just possibly be 'Tron brass or cellos, although an odd organ patch seems just as likely. Nuova Idea signed off with '73's 'Tron-free Clowns, finishing a short but inventive career. So; should you buy Mr. E Jones? Not for the Mellotron, no, but as a good example of early Italian progressive, this is better than anything by the better-known (OK, relatively) Quella Vecchia Locanda, and vastly better than the overrated The Trip. Worth a flutter.
See: Underground Set
Sunny Side Up (2009, 38.31) **/½

10/10
Coming Up Easy
Growing Up Beside You
Candy
Tricks of the Trade
Pencil Full of Lead
No Other Way
High Hopes
Chamber Music
Simple Things
Worried Man
Keep Rolling
Current availability:
Mellotron used:
I don't know what his public profile's like in other parts of the world, but if you live in the UK, it's impossible to be unaware of Italian/Scot Paolo Nutini's questionable charms, although at least his presence is largely confined to large advertising billboards, informing you in breathless tones of his latest release.
When I put on his second album, 2009's Sunny Side Up, I was expecting your typical slushy singer-songwriter nonsense, so was surprised to be confronted with a varied effort, taking its influences from soul, reggae, folk, blues and other forms. Unfortunately, I can't say that Nutini does any of them any particular justice, his 'soulful' (read: ravaged at 22) voice irritates rather than entertains; the country/blues of Simple Things, sounding as if it's being sung by a guy in his sixties, which some may like. Can't say I do.
Producer Ethan Johns plays Mellotron, with what I presume is a high flute part on Candy, although you'd be forgiven for not recognising it (the strings on Worried Man are real). All in all, efficient and diverse, but ultimately tedious, with next to no Mellotron.
Katharina Nuttall (Norway) see: Samples
Nuvole di Paglia (Italy) see: Samples
---