---
| | |
| --- | --- |
| Anthony Phillips (UK) see: | |
Britta Phillips & Dean Wareham (US) see: Samples
Abulum (2000, 45.44) ***½/TT

Careless
Men Just Leave
Back on My Feet
Fred Meyers
My Own Town
It Takes Time
Drive By
Darkest Hour
Professional Victim
Train Wreck
Maya
['bonus track':
Sleep of the Blessed]
Current availability:
Mellotron/Chamberlin used:
It seems Glen Phillips is the ex-mainman of the Pythonically-named Toad the Wet Sprocket (not the NWOBHM outfit, for those of you who have any idea what I'm talking about). I've never heard the estimable (?) Toads, but Phillips has actually released a pretty decent album on his own, containing several notable tracks, principally the excellent Men Just Leave, which says more about the War Of The Sexes in one short song than many people manage in lengthy learned tomes. I suppose the album's best described as being in 'melancholy singer-songwriter' territory, tipping over into Americana in places, although full-blown country is thankfully a no-no. Not all the tracks caught my ear by any means, but enough did to more than justify its purchase from the 'three for a fiver' racks in Steve's Sounds.
Quite a bit of Mellotron/Chamberlin use here, with an upfront Chamby flute part on opener Careless from Richard Causon, who, despite being Phillips' band's regular keyboard player, doesn't get to touch any other tape-replay instruments. Phillips himself plays the discreetly credited 'M400' on two more tracks, with an entirely inaudible part on Back On My Feet and some only slightly more audible flutes on Maya. Producer Ethan Johns provides the rest of the album's tape-replay input, with 'Mellotron strings' (actually separate 'strings', i.e. violins, and cello) on My Own Town, although I can't hear his credited Chamberlin on either Darkest Hour or Professional Victim.
So; not a bad album, albeit very downbeat (is this a problem?). Passable 'Tron/Chamby work, though nothing you haven't heard better before, to be honest. Worth a flutter.
Nineteeneighties (2006, 43.56) ***/T½

Wave of Mutilation
Age of Consent
The Eternal
I Often Dream of Trains
The Killing Moon
Love My Way
Under the Milky Way
City of Refuge
So. Central Rain
Boys Don't Cry
Last Night I Dreamt That Somebody Loved Me
Current availability:
Mellotron used:
Grant-Lee Phillips was, of course, frontperson and all-round mainman of Grant Lee Buffalo, carrying on in solo mode after their dissolution in the late '90s. After three 'regular' solo albums, 2006's Nineteeneighties is, unsurprisingly, Phillips' covers album, pretty much every track being from that decade. Why, you may ask? Why the '80s? Presumably because it was the decade when he turned twenty (he was born in '63), when all his formative influences came together, culminating in the formation of Grant Lee Buffalo and thus of considerable emotional importance to him. And, maybe surprisingly, he's actually come up with a good set of songs from the decade.
I'm afraid to say I'm not conversant with most of the originals, so direct comparison is difficult, but I'm aware of the general styles of most of the covered artists and I think it's safe to say that Phillips has definitely tackled the songs in his own inimitable way, largely as haunted, lovelorn alt.country ballads. Which work best? Probably Joy Division's The Eternal, The Church's Under The Milky Way, R.E.M.'s So. Central Rain and the one I spotted straight away, The Cure's Boys Don't Cry, non-coincidentally four of the slowest numbers here.
Phillips plays the Mellotron himself, with strings on New Order's Age Of Consent, flutes on Robyn Hitchcock's I Often Dream Of Trains and both sounds on The Smiths' Last Night I Dreamt That Somebody Loved Me, closing the album. I vastly prefer this album to anything I've heard by Grant Lee Buffalo, although having not heard any of Phillips' other solo work, I can't comment with regard to it. If you like your country alt., you could do an awful lot worse than to give this a listen; at least you're guaranteed the songwriting's good. Three reasonable 'Tron tracks, but nothing too exciting on that front.
See: Grant Lee Buffalo
Cruel Inventions (1991, 36.25) ***/T½

Lying
Go Down
Cruel Inventions
Standing Still
Tripping Over Gravity
Now I Can't Find the Door
Private Storm
Raised on Promises
Hole in Time
Where the Colors Don't Go
Martinis & Bikinis (1994, 46.12) ***/T

Love and Kisses
Signposts
Same Rain
Baby, I Can't Please You
Circle of Fire
Strawberry Road
When I Fall
Same Changes
Black Sky
Fighting With Fire
I Need Love
Wheel of the Broken Voice
Gimme Some Truth
Omnipop (it's Only a Flesh Wound Lambchop) (1996, 42.15) ***½/TTTT

Entertainmen
Plastic is Forever
Animals on Wheels
Zero Zero Zero!
Help Yourself
Your Hands
Power World
(Skeleton)
Where Are You Taking Me
Compulsive Gambler
Faster Pussycat to the Library!
Slapstick Heart
Current availability:
All titles: Virgin America
Chamberlins used:
Cruel Inventions: T-Bone Burnett's machine?
Omnipop: Patrick Warren/Jon Brion's M1s?
Leslie "Sam" Phillips (quite clearly nothing to do with the Sun Records/Studios man) was married to noted producer T-Bone Burnett (d'you think she called him 'T-Bone' at home?), who produced and played on her third solo album 'proper', Cruel Inventions. 'Proper'? Apparently, she made Christian albums in the '80s under her real name, but let's not hold that against her, as not only did she renounce her faith, but this is actually a halfway decent record. Theoretically, I should hate this, as it's basically a '90s pop album, but it's quirky off-beatness lifts it way above the common-or-garden dreck that everyone else was producing at the time (er, at the time?), with a hint of late-'60s psychedelia thrown in here and there, not least the Beatles-esque faux-trumpets on Hole In Time.
Proving that she was ahead of the game, there are no less than three Chamberlin players on the album, years before everyone was using them, although as so often with this strange instrument, it's not always that easy to spot it. Is this the musical equivalent of camouflage? Anyway, Phillips herself, Burnett and the legendary Van Dyke Parks all play the thing, with flutes and something stringy on Lying, solo trumpet and mutated male voices on Hole In Time, and what has to be a left-hand manual rhythm track of a repeated banjo motif (!) at the end of Tripping Over Gravity. Interesting how the very American Chamberlin rhythm tracks were largely replaced by terribly English ones on the early Mellotrons... Wondrously, there's no credit for generic 'keyboards', so aside from the small string section and piano, anything that isn't obviously guitar or bass should therefore logically be Chamberlin, but I still can't hear it on more than three tracks, which isn't to say it isn't there.
Her follow-up, 1994's Martinis & Bikinis, seems to have no specific instrumental credits, although it only takes a cursory listen to reveal (presumably) Chamberlin use on a couple of tracks. The album itself is more inventive than its predecessor, although no innovator, despite brief opener Love And Kisses, Strawberry Road and the thoroughly odd Black Sky. Of course, there's no real clue as to who actually plays the Chamby: Phillips herself? Burnett again? Guest Benmont Tench? Any of the above or all three? Anyway, we get cellos on Same Rain and Strawberry Road, although that seems to be it, at least to my ears.
1996's Omnipop (it's Only a Flesh Wound Lambchop) (the subtitle's apparently a quote from Mel Brooks' The Producers) is a vastly less mainstream effort than its immediate predecessors, probably influenced by friend and past tourmate Elvis Costello, amongst others. There's remarkably little here to disappoint followers of skewed, offbeat pop, plaudits going to the oddball Plastic Is Forever, strange little waltz Animals On Wheels and Zero Zero Zero!, to name but three. Chamberlin from Phillips, Patrick Warren and Jon Brion, with cellos all over oddly (but correctly) titled opener Entertainmen, nicely upfront strings and flutes on Animals On Wheels, flutes on Zero Zero Zero!, vibes on Help Yourself, strings on Your Hands... You get the picture.
So; three albums, getting weirder as they go along (makes a nice change, that), with Omnipop definitely being the one to go for if you're after something a bit different. It's also the only one worth it on the tape-replay front, notching up an outrageous (and outrageously unexpected) four Ts. Worth the effort.
Furthermore... (1974, 44.17) ***/T

January First
Starbright
Breakthrough
Ninety Two Years
See You
Planscape
Troof
Capé Barres
Song for Northern Ireland
Mr President
Talking in the Garden
Furthermore
Current availability:
Mellotron used:
In some quarters, Shawn Phillips is still best-known for his work with Donovan in the late '60s (his trademark 12-string acoustic sound is all over Don's early albums), but he's still playing today, and recording, albeit sporadically. Furthermore... appears to be his 7th album, and veers between something approximating his '60s folk whimsy and prime '70s fusion, sometimes in the same track (the lengthy Planscape), which can give a slightly schizophrenic feel to the record. The lyrics are all most heartfelt, and obviously where Phillips' heart really lies (his father was a renowned author), so the jazzy muso stuff (from the likes of über-session dude John Gustafson) just seems out of place.
One credited 'Tron track, with Ann Odell playing flutes and (presumably) choirs on Starbright, but the same choir sound crops up on Planscape, so it's probably safe to assume that 'regular' keys man Peter Robinson played it here. So; an odd album, and a rather dated one, I'm afraid to say, with pretty minimal Mellotron use. Next...
See: Donovan
Famous, Rich & Beautiful (1997, 57.01) **/T½

Hurts to Love You
I am the Man
You Stepped on My Life
You Don't Love Me (Like You Used to Do)
Little Rosie
Oleo
The End
Super Sugar Supreme
Head First
The New Messiah
You're Allowed
Cry
Wide Awake
Dinah
Current availability:
Mellotron used:
The Philosopher Kings are (or were; they seem to've been inactive for several years at the time of writing) a Canadian 'r'n'b' band, for want of a better phrase, playing a polished amalgam of funk, pop and soul. 1997's Famous, Rich & Beautiful is their second album, professional to a fault, but largely dull as ditchwater to ears attuned to slightly more challenging music. The album's at its best on The New Messiah, its unusual, highly rhythmic piano part causing it to stand out from its fellows, the rather out-of-place epic rock of Wide Awake and the high-speed jazz of closer Dinah.
Jon Levine's Mellotron work comes in a strange little cluster near the end of the record, with a chordal flute part and a string line on Head First and strings and cellos on The New Messiah. To be perfectly honest, you're not going to buy this for its Mellotron use, while the bulk of the rather overlong album will hold little appeal for the average Planet Mellotron reader.
Philthy McNasty (1974, 36.32) **/TT½

Sweet Caroline
Up Around the Bend
Summertime
The Wanderer
I'm a Man
Break Song
I Finally Had the Time
Heartbreak Hotel
Jesus Christ Superstar
Get Back
Current availability:
Mellotron used:
Er, who? Philthy McNasty, aside from being the name of a Canadian chain of bars and grills, seems to be one of those recurring (and often self-imposed) jokes across the English-speaking world, presumably referring to an individual prone to antisocial habits, possibly of Caledonian ancestry. It was also the name of an utterly obscure St. Louis-area function band back in the '70s, who released an album of the same name in 1974, for which I have to thank (?) regular contributor Mark Medley's girlfriend Jenny, who apparently spotted this horror in a record shop. Gee, thanks, Jenny...
Where to start? The sleeve is actually less awful than I'd expected, although the rear, featuring some terrible band pics and the legend, "Phinaly! Philthy's Phirst Phono!", is side-splitting. The bulk of the poorly-recorded album is, of course, covers from their cabaret set, with one original thrown in for good measure. On the upside, their take on Creedence's Up Around The Bend starts well, before slipping back into cabaretland, while Summertime (complete with wah guitar part) could be worse, ditto the wildly energetic I'm A Man and I Finally Had The Time. On the downside... The rest of the record is Cabaret Hell, particular horrors including opener Sweet Caroline (not much you can do to rescue that one, frankly) and horrible versions of The Wanderer and Heartbreak Hotel, while the brief Break Song is no more than the band mucking about in the studio in full-on kindergarten mode. As for the juvenile 'risque' jokes thrown into Get Back, well, what can I say? Clearly the band's set closer/encore, this 'live in the studio' take might have gone down well with their regular audience (assuming they had one), but is worth paying good money to avoid. A little more time spent tuning up and polishing those vocal harmonies (not to mention writing their own material and forming a proper band) wouldn't have gone amiss, either.
Vince Stevens is credited with Mellotron, amongst other keys, with upfront flute and string parts on Summertime, raucous strings (not to mention a ripping synth solo) on I'm A Man, background strings on I Finally Had The Time and upfront ones again on the hilarious Jesus Christ Superstar, although the male vocals on the track sound real. Well, you're not going to run into a copy of this easily - in fact, it's only Mark's and Jenny's detective work that's unearthed it at all - but, to be frank, you're not missing a great deal. Saying that, this is FAR better than the string of dismal '70s Christian efforts Mark's provided for me... Surprisingly decent Mellotron use, too.
Billy Breathes (1996, 47.08) ***/T

Free
Character Zero
Waste
Taste
Cars Trucks Buses
Talk
Theme from the Bottom
Train Song
Bliss
Billy Breathes
Swept Away
Steep
Prince Caspian
Current availability:
Mellotron used:
After The Grateful Dead, Phish can probably be regarded as the granddaddy of jambands; forming in the early '80s (at a New England university, natch), they split up after twenty years together, only to reform a few years later. 1996's Billy Breathes is their eighth album; much like the bulk of the Dead's studio output, it bears few of their live hallmarks, being a nice collection of mainstream rock songs, influences including psychedelia and Americana. Highlights? Difficult to say, although there's some especially nice guitar work on the title track, while the title of closer Prince Caspian makes a change from Lord of the Rings, I suppose.
As can be seen in the YouTube clip below, keys man Page McConnell plays Mellotron, with brass stabs on the title track and a single skronky string chord on Steep, choking off at the end. The sequence in the footage? Hard to say; apparently, initial sessions were (to quote Wikipedia) "...An attempt to create a sonic 'blob' that filled an entire reel of tape. Each band member contributed on multiple instruments. This idea was later abandoned but elements were used on the tracks Swept Away and Steep". While in no way a Mellotron Album, Billy Breathes is a far better record than I'd expected, featuring no extraneous jamming whatsoever.
Snake in the Radio (2006, 45.50) ***½/0

Forest Fire
Come Home Blues
A Town Too Fast for Your Blues
I'll Wait
Graffiti Girl
Ask the Wind, Ask the Dusk
Don't Look Back
You'll Be Mine
Sin Tax Dance
Snake in the Radio
Town Without the Blues
Cody's Dream (2008, 54.50) ***½/T½

Cody's Dream
Let Me Down Easy
The Last Leaves
She Calls
One More Cup of Coffee
Leaving with the Swamptones
Cherokee Grove
I Promise
And So Be it Then
The Closing Theme
She Sleeps Through the Sirens
Deep Inside Your Shade
Cody's Last Ride
Current availability:
Snake in the Radio: Evangeline
Cody's Dream: Bloodshot
Mellotrons used:
Both titles: Steve Fisk's M400?
Mark Pickerel's had a varied career, originally known as drummer with The Screaming Trees, alongside Mark Lanegan, later jamming with Nirvana, before co-forming Truly with Robert Roth. He now runs a solo career with his band, His Praying Hands, contemporaneously with Truly, producing two albums to date, 2006's Snake in the Radio and 2008's Cody's Dream.
Snake in the Radio is a full-on Americana album, full of dark country ballads and the occasional foray into country/punk along the lines of the excellent A Town Too Fast For Your Blues. Steve Fisk (now apparently a REAL Mellotron owner) is supposed to play one on the album, but I'll be buggered if I can hear where. Whenever I think I can hear it, it turns out to be pedal steel or synth (Fisk also plays Moog and ARP monos), so no idea where it's supposed to be.
Cody's Dream is possibly more adventurous than its predecessor, with Pickerel playing with song structures (see: Deep Inside Your Shade) more than previously. Mellotronically speaking, Fisk's Mellotron makes its first obvious appearance in Pickerel's oeuvre with a high string part on One More Cup Of Coffee (nothing to do with any other song of the same title), switching to flutes later in the song, with more strings on She Sleeps Through The Sirens.
One of a small number of (semi-)successful drummers-turned-singers, Pickerel's produced a couple of good alt.country records here, although only the latter has any obvious Mellotron work. Pick up if seen at decent price, methinks.
See: The Screaming Trees | Truly
Lost Songs of Lennon & McCartney: From a Window (2003, 50.25) ***/TT½

I'm in Love (Kate Pierson)
I'll Keep You Satisfied (Bill Janovitz)
From a Window (Graham Parker)
Step Inside Love (Kate Pierson & Johnny Society)
It's for You (Bill Janovitz)
Bad to Me (Graham Parker)
That Means a Lot (Johnny Society & Robin Zander)
Hello Little Girl (Bill Janovitz)
Love of the Loved (Kate Pierson)
Tip of My Tongue (Graham Parker)
Goodbye (Bill Janovitz)
Come and Get it (Graham Parker)
A World Without Love (Bill Janovitz)
Once and One is Two (Graham Parker)
Nobody I Know (Kate Pierson)
Woman (Bill Janovitz)
I'll Be on My Way (Johnny Society)
Current availability:
Chamberlin used:
Pierson, Parker, Janovitz are Kate Pierson of The B-52's, Bill Janovitz from Buffalo Tom and inimitable Brit pub-rock supremo Graham Parker, whose remit on Lost Songs of Lennon & McCartney: From a Window is to tackle a bunch of songs John and Paul gave away. Of course, the project has one major flaw: it's the songs they gave away bit. Re-listening to the early Beatles albums recently, it became apparent that everything before, say, Rubber Soul contains a highish level of filler, so their cast-offs aren't likely to be that great, by modern standards... Correct. The best track here is Come And Get It, a major hit for the ill-fated Badfinger, leaving the substandard likes of Love Of The Loved and Step Inside Love (both originally by Cilla Black), Tip Of My Tongue (Tommy Quickly) and the title track (Billy J. Kramer & the Dakotas) to fill up the record. As you can see, each vocalist takes between four and six leads, with 'Tron users Johnny Society on a few tracks, including a duet with Cheap Trick's Robin Zander, although even he can't rescue a song as average as That Means A Lot.
Producer Jim Sampas had the good sense to have a fairly consistent house band throughout the album, including ex-Fairport Conventioneer Dave Mattacks on drums and bassist Paul Bryan. Bryan doubles on Chamberlin on several tracks, with a strings pitchbend on Parker's From A Window gives the Chamby game away, cellos and flutes on Bad To Me and strings on It's For You, Come And Get It, Nobody I Know and Woman, the last two named sounding as close to real strings as the Chamby can manage (damn' sight closer than a Mellotron, then).
This can be seen as a companion piece to 1979's The Songs Lennon and McCartney Gave Away compilation, with more consistency, although I suspect a few performances here fall slightly short of the original recordings, not least Pierson's painfully 'out of her range' wail on Step Inside Love. Overall, then, a potentially decent album let down by surprisingly weak songwriting, given whom we're talking about. Good Chamberlin use across the album, though, so possibly worth it on that front.
See: The Beatles
Pigeonhed (US) see: Samples
Pigface (UK/US) see: Samples
LP (2006, 46.30) *½/T½

Can't Let Go
Last Stop
Just Like I am
Eggshells
Keep Looking Up
Trickery
Magnetism
Sailed on
Great Companion
Perfectionist
Tin Man
On the Other Side
Current availability:
Chamberlin used:
Landon Pigg's yet another young, good-looking singer-songwriter types who has his thoroughly ordinary songs made over by top-notch producers until they turn into something that can be used on deeply mainstream US TV shows like The O.T. or something. His first full album, LP (his initials; passable pun), is every bit as drippy as that description would have you believe, otherwise, duh, I wouldn't have written it.
Patrick Warren plays Chamberlin once more, with strings on Just Like I Am, flutes on Great Companion and strings and surprisingly high-in-the-mix flutes on Tin Man, plus the usual several false alarms. Or are they? All of which is no excuse to even remotely consider buying this heap of elephant dung. Landfill wussy singer-songwriter drivel?
Pilate (Canada) see: Samples
Pilgrym (UK) see: Samples
Pilot Balloon (Germany) see: Samples
Quick Look (2002, 37.03) ***/TT½

I Loved the Way
On a Day Like Today
The Flight
Cold Storm
Josephine
Bring Me a Biscuit
The Lady
The Tower
Debt Song
I See the Blue
Guess You Got it (2005, 46.25) ***/T

I Was Walking
Brand New Face
Burning
Butterfly
On Such a Lovely Day
Darkblue and Gold
Bucket of Love
Luise Luise
You Can't Be My Love
Sweet Love
Current availability:
Quick Look: Real World
Guess You Got it: Pre/Virgin
Mellotrons used:
Pina Kollars is an Austrian emigrée living in Ireland, after her divorce, 'discovered' by Peter Gabriel. Her debut album, 2002's Quick Look, was recorded at and released on Real World and is a bit difficult to describe, to be honest; a bit folk, a bit goth, a bit indie and a lot rock, although none of those really cover it. It's by no means a bad album, but you'll have to be quite into that 'modern singer-songwriter' sound to get much out of it, I suspect. Pina plays Mellotron on several tracks, with background strings on On A Day Like Today, a flute melody and strings on The Flight, vague background strings (plus real cello) on Josephine, cellos on The Lady, strings on The Tower and strings and cellos on closer I See The Blue. Little of the Mellotron use is upfront, but it's all good to hear.
She followed up with 2005's Guess You Got it, stylistically not dissimilar to her debut. In all honesty, this really didn't grab me, although plenty of online reviewers are swooning over her Mittel-Europa tones, to the point where I can't even attempt to rate any one track over any other. Pina plays much of the guitar and all of the keyboards on the album, including the 'Mellatron', which can be heard on a couple of tracks. There's a brief flute part on On Such A Lovely Day, and what sounds like 'Tron strings on Bucket Of Love, although given that the sampled variety have already been used, they have to remain slightly suspect.
So; if you'd like to hear what Kate Bush may've sounded like had she been 25 years younger, Pina may be for you, but having found myself unable to engage with two albums that, on the surface, are perfectly 'good', I really can't recommend these, I'm afraid. More 'Tron on the first than the second, but not that much.
The Promise (1976, 31.11) **½/T (T½)

Free as a Dove
You'll Make it Through
I Only Want to Love You
Someone to Believe in
Carry on
Air
Message
The Seed
The Promise
[CD adds:
One Step Into the Light
Island to Island]
Off the Shelf (1993, 20.01) *½/T

The Best Things in Life
When You're Sleeping
Hurry on Home
Fantasy Flight
Waters Beneath the Bridge
Among the Stars (1994, 41.35) *½/T

The Power of Love (Can Survive)
You Can't Take Love Away
The Best Things in Life
Hurry on Home
When You're Sleeping
Fantasy Flight
Among the Stars
Upside Down
Waters Beneath the Bridge
The World Today
Rime of the Ancient Sampler: The Mellotron Album (1993, 3.16) **/TTT

[Mike contributes]
Waters Beneath the Bridge
Current availability:
The Promise: One Step (US)
Rime...: out of print
Mellotrons used:
All titles: Pinder's own MkV (?)
Well, I'd better come clean and say at this point that I'm not the Moody Blues' biggest fan, and that goes for their solo work too, but with knobs on. Sorry, but I just find it all a bit bland for my taste. The music on The Promise is that sort of rather middle of the road country-tinged singer-songwriter stuff that was all the rage in the mid-'70s; extremely professional, but deeply unexciting. Think the worst end of the Strawbs and you're getting close. Mike Pinder's actual playing is fantastic; he's frequently fêted as one of the all-time Mellotron greats, particularly with regard to his manipulation of the notoriously difficult Mark II. Unfortunately, there's very little of it to be heard here, though I don't know whether or not that was because he was sick of it after using it almost exclusively with the Moodies. Saying that, his last recording with them had been four years earlier, as The Promise was actually released towards the end of the band's period of self-imposed exile. Pinder rejoined them for their reformation album, Octave, but ended up only playing on half of it before leaving again, leaving the keyboard slot to Patrick Moraz.
Anyway, the 'Tron strings (MkV, I believe) on I Only Want To Love You aren't bad, but the song isn't really worthy of them, and the title track's strings could easily be mistaken for a rather distant string section, although those choirs may be 'Tron. The only track that caught my ear at all is the short The Seed; shame there isn't a little more instrumental experimentation like it on offer here. As a result, I'm afraid to say that it's difficult to recommend this as a 'Mellotron album' at all, despite its pedigree. incidentally, the CD (on Mike's own label) adds two tracks, one of which is One Step Into The Light, a remake of a track from Mike's last Moodies album, Octave, including the immortal line, "There's one thing I can do, play my Mellotron for you". It appears he does precisely that: the flutes and pitchbent strings on the track don't sound that much like a 'Tron, although they probably are (I don't actually know when this was recorded), but the strange little flute coda most definitely is.
Incidentally, on his site, Mike has this to say about Mellotrons:
"In 1976 I held a 256K digital memory chip in my hand and I saw the future....again." (correct), which leads inexorably to: "I still play the Mellotron, and when I do it never breaks down because I have all of the sounds stored in my digital samplers".
No you don't, Mike; you play samples of a Mellotron. Have your samplers never broken down? Lucky you.
In 1993, Mike contributed an insipid little piece called Waters Beneath The Bridge to the legendary Rime of the Ancient Sampler: The Mellotron Album, but like most of the album's tracks, it isn't actually worth the money you'll probably be asked for a copy, despite some nice 'Tron strings. The song also found its way onto Pinder's first solo effort since The Promise, '93's mini album, Off the Shelf, expanded to full length the following year as Among the Stars. Unexpectedly, the bulk of the material finds the point where AOR meets MOR, and is thoroughly insipid throughout. When I tell you that When You're Sleeping, a faux-country ditty featuring Pinder's infant children is one of the least cheesy songs contained herein... I can only strongly urge you to avoid this album unless you're a die-hard Moodies fan. I mean, it actually makes Justin Hayward's appalling Songwriter look dynamic... I'm reliably informed that Waters Beneath The Bridge is the only genuine 'Tron (or quite possibly Chamby) track on the album; the rest of the 'Mellotron' work is almost defiantly fake, backing up Pinder's aforementioned assertions re. computer memory chips.
See: Moody Blues | Mellodrama
Courtney Pine (UK) see: Samples
The Executioner's Last Songs, Volume 2 & 3 (2003, 90.08) ***½/T

Tim Rutili with Sally Timms,
Rebecca Gates, Jo Walston
& Jon Langford:
Gallows Pole
Dave Avlin with Dean
Schlabowske:
Louis Collins
Kurt Wagner:
The Fall of Troy
Otis Clay:
Banks of the Ohio
Skid Marks with Sally Timms:
Homicide
Kelly Hogan:
Green Green Grass of Home
Rico Bell:
Death Row
Lu Edmonds with John Rice:
Gulag Blues


Chris Mills with Dean
Schlabowske and Dave Alvin:
Horses
Diane Izzo with John Rice:
Strange Fruit
David Yow:
One Dyin' & a Buryin'
Jon Langford with Sally Timms:
Delilah
Charlotte Grieg:
Willie O'Winsbury
Alejandro Escovedo & Jon
Langford with Dave Alvin:
Bad News
Rebecca Gates:
The Ballad of Billy Joe
Rhett Miller:
Dang Me
Rex Hobart:
Forever to Burn
Pat Brennan:
Death Where is Thy Sting
Sally Timms & Edith Frost:
Long Black Veil
Mark Eitzel:
God's Eternal Love
Gurf Morlix:
Hangin' Me Tonight
The Meat Purveyors with Rick Cookin' Sherry:
John Hardy
John Rauhouse:
Pardon This Coffin
Kevin Coyne:
Saviour
Dave Alvin:
Green Green Grass of Home
Tom Greenhalgh:
Angel of Death
The Sundowners:
Tom Dooley
Current availability:
Mellotron used:
The Pine Valley Cosmonauts are a Jon Langford (Mekons, Waco Brothers) side-project, bringing in whoever's needed to realise his punk/alt.country vision. A covers outfit, The Executioner's Last Songs, Volume 2 & 3 is their fourth (or maybe fourth and fifth) album, with all proceeds going to anti-death penalty causes. Interesting how it takes an ex-pat Brit to curate an album dedicated to such a noble cause, eh? Every song on both volumes is about death in one form or another, frequently judicial (Green Green Grass of Home, Death Row), always grim, even when they do it cheerfully. The two volumes together are quite a listen when taken in one hit, although listening to them that way possibly intensifies the message, although ninety minutes of alt.country might be a bit much for some of you.
Pat Brennan plays Mellotron strings on his own Death Where Is Thy Sting, while Ken Sluiter adds credited but very un-Mellotronic strings to Mark Eitzel (American Music Club)'s God's Eternal Love. Overall, then, a very worthy effort, although taking it a disc at a time would probably be the sensible option. Very little Mellotron, but it's hardly the album's focal point.
See: American Music Club | Rhett Miller
Pineapple Thief (UK) see: Samples
Make Believe (1996, 44.22) ****/TTT½

Cup Noodle Song
Unleashed
General Carter Accordingly
Teenage Alex
Barbie
Poor Little Man
Märklin
Lines
French Connection
Smile, Flash, Snap
Trees
Watergarden (1998, 52.29) ****/TTTT

America
Shangri-la
Beauty
Wallgazer
Have You Lost Me?
Hey Little Girl
Water These Flowers
Walk Away
Pardonsong
Watergarden
Close
Panamarenko (2001, 40.16) ****/TTTT

Situation Endless
Queen of the Nineties
Collegeradio Listeners
Slowly
Wake Up
Innocent
Romantic Strings
Car Crash
Coronation
Leave it All Behind
Happy Valentine
Current availability:
All titles: Exergy (Sweden)
Mellotrons used:
All titles: Mattias Olsson's M400
If The Cardigans represent the most successful Swedish pop of the '90s, Pineforest Crunch represent the best. Including Änglagård drummer Mattias Olsson, they play bright, breezy and above all tuneful summery pop, with little of the programmed sound peddled by so many of their contemporaries, bar the occasional loop. Female vocalist Åsa Eklund has a gorgeous voice, and I can only think that a simple matter of lack of overseas promotion has prevented them joining their countrymen in the land of fame and fortune.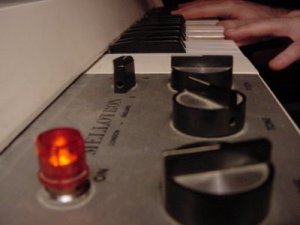 I don't really hear a huge variation in style between these three albums; the band seem to know what they're good at, and operate on the 'if it ain't broke, don't fix it' theory. Apparently Make Believe was a (relative) runaway success, selling over 100,000 copies, since when the band have 'downsized', using their own studio facilities. If you find any reference to an album called Shangri-La, it's essentially a Japanese reissue of Watergarden with two extra tracks.
So, the Mellotron. Mattias bought Änglagård's M400, and has used it on many projects over the last few years. It's actually played by bassist/keyboardist Mats Lundgren, rather than Olsson, and after a tentative start on Make Believe, they've really gone to town with it on Watergarden and Panamarenko; orchestrally-arranged strings, flutes and cellos mainly, although various other sounds creep in here and there, including pipe organ, viola and various woodwinds. There's even a couple of Chamberlin sounds (played via Mellotron) on Panamarenko, along with some Optigan (optical disc player).
So; for uplifting summery pop, you really can't beat Pineforest Crunch, and there's loads of 'Tron too. Excellent albums. Just don't expect anything like Änglagård!
Chronolyse (1976, 52.56) ****/TT

Variations I-VII Sur le Theme de Bene Gesserit
Duncan Idaho
Paul Atreides
Current availability:
Mellotron used:
One from Scott Hamrick. Note the heavy 'Dune' references, incidentally.
Richard Pinhas has made a long and illustrious career out of combining uncompromising rock and cutting-edge electronic music. He is most known as the founder of the pioneering French techno-prog group Heldon (which had close ties to Magma and Lard Free), but he has several fine solo albums to his name as well. Chronolyse is the second of these solo albums and has much to offer to the prog/electronic aficionado while offering the bonus of Mellotron usage.
Side one is comprised of a series of slightly dry, clinical sounding studies in early sequencing techniques where different repetitive rhythms are pitted against each other in various configurations. The first seven short tracks are all variations on similar themes using nothing but Moog synthesizers. It's good stuff if you like the idea of polyrhythmic synth bleeps and wooshes, but probably a little tedious for those who don't.
Side two is quite different, however, and only here does the Mellotron make its appearance. The entire side is occupied by a single, incredibly protracted and spaced-out jam titled Paul Atreides. Here cold, spacey synth explorations (ARP 2600?) mingle with a rock framework to create what sounds a whole lot like Klaus Schulze sitting in during a King Crimson improv circa 1973. Pinhas' guitar, synths and Mellotron are augmented by Didier Batard's bass and Francois Auger's hypnotic drums, so this is basically a Heldon recording. It lives up to any expectations that name might imply too. Mellotron strings and cello are present through much of the middle section of the piece, but are rarely too prominent in the mix, as Pinhas' multitracked guitar solos tend to dominate much of the affair.
Not really a classic on Mellotronic grounds alone, but a fine and very adventurous album.
See: Heldon
Missundaztood (2001, 55.11) ***/0

Missundaztood
Don't Let Me Get Me
Just Like a Pill
Get the Party Started
Respect
18 Wheeler
Family Portrait
Misery
Dear Diary
Eventually
Lonely Girl
Numb
Gone to California
My Vietnam
Try This (2003, 55.53) **½/½

Trouble
God is a DJ
Last to Know
Tonight's the Night
Oh My God
Catch Me While I'm Sleeping
Waiting for Love
Save My Life
Try Too Hard
Humble Neighborhoods
Walk Away
Unwind
Feel Good Time
Love Song
Current availability:
Mellotrons used:
Missundaztood (or M!ssundaztood) was Alecia "Pink" Moore's second album, after the completely mainstream pop of the previous year's Can't Take Me Home, but it isn't exactly Henry Cow (who he?), if you know what I'm saying. It's actually a mixture of hip-hop influenced mainstream pop (Get The Party Started) and more reflective personal material (Family Portrait, Dear Diary), but isn't anywhere near as offensive as that sounds. It is, unfortunately, rather dull, but that's probably because I'm not a 16 year-old girl. Incidentally, Pink got her idol, 4 Non Blondes' Linda Perry in to rock things up a little, and in fairness, she seems to have done precisely that. Marti Frederiksen plays Mellotron on Misery, but I'll be fucked if I can hear it; there's the odd bit of strings or cello that could just possibly be tape-replay, but I wouldn't want to stake anything of any great value on it. Anyway, if you like Pink, you probably a) already own this and b) aren't reading this anyway, and with bugger-all Mellotron, it's all a bit irrelevant.
Two years on, she followed up with Try This, getting Perry in to produce a few tracks again. Musically, it's the same mish-mash of mainstream pop, dance and rock with vaguely amusing efforts like God Is A DJ ("If God is a DJ, life is a dancefloor". Whatever) or the slightly harmonically interesting Feel Good Time rubbing shoulders with the considerably blander likes of Catch Me While I'm Sleeping and Save My Life. Perry produces three tracks and without specific credits, it seems likely she doesn't play Mellotron anywhere else, so all I can hear is possible background strings on the drippy Catch Me While I'm Sleeping, along with Perry's sitar.
P!nk. You try searching for a 'name' spelled like that. Anyway, mainstream pop with an occasional rock edge: why would you? Next to no Mellotron, either.
| | |
| --- | --- |
| Pink Floyd (UK) see: | |
Flight Recorder: From Pinkerton's Assorted Colours to The Flying Machine
(1997, recorded 1965-71, 139.49) **½/½

Mirror Mirror
She Don't Care
Don't Stop Loving Me Baby
Will Ya?
Magic Rocking Horse
It Ain't Right
Mum and Dad
On a Street Car
There's Nobody I'd Sooner Love
Duke's Jetty
Kentucky Woman
Behind the Mirror
Smile a Little Smile for Me
Maybe We've Been Loving
Too Long
Send My Baby Home Again
Look at Me, Look at Me
Baby Make it Soon
There She Goes
Hanging on the Edge of
Sadness
The Flying Machine
The Devil Has Possession of
Your Mind
Hey Little Girl
Yes I Understand
Pages of Your Life
Smile a Little Smile for Me
My Baby's Coming Home
A Thing Called Love
Marie Take a Chance
Waiting on the Shores of
Nowhere
That Same Old Feeling
Broken-Hearted Me, Evil-
Hearted You
Memories of Melinda
Mirror Mirror
Don't Stop Loving Me Baby
Magic Rocking Horse
Shine a Little Light on Me
St. Louis Child
Strawberry Fool
Angel (She Was Born Out
of Love)
People Say
One Man Band
The Lies in Your Eyes
Me Without You
Can't Break the Habit
Shadows on a Foggy Day
If You Were True
4 o'Clock in New York
Hard, Hard Year
Fools Rush in
The Flying Machine
Current availability:
Mellotron used:
Pinkerton's Assorted Colours were a pretty typical mid-'60s pop group, although, for all the money poured into them, they managed just the one hit, Mirror Mirror, although their sound was as post-Beatles as you could ask for. Maybe that was the problem - lack of originality, although it didn't seem to do, say, Herman's Hermits any harm. Like so many other acts of the day (The Tremeloes spring to mind), they mutated into a psych-lite outfit come 1967, changing their name to The Flying Machine and releasing a million-seller in the States, the infuriatingly catchy Smile A Little Smile For Me. Those nice people at Sanctuary have compiled what must be every note ever recorded by both incarnations of the band onto Flight Recorder: From Pinkerton's Assorted Colours to The Flying Machine, disc one dealing with their singles A and B-sides, while disc two mops up album tracks, demos and the like. As you'd expect, it's a bit of a rag-bag, the occasional more inventive track like Flying Machine sitting next to '60s pop by-numbers like Mirror Mirror and There's Nobody I'd Sooner Love with, regretably (if unsurprisingly), vastly more of the latter than the former.
Mellotron (MkII, of course) on a mere one obvious track, player (as so often with '60s groups) unknown, with a cool flute part on Look At Me, Look At Me, that couldn't sound more like Manfred Mann if it tried. It's posible there's some more hidden away here and there (see: the backing flutey sound on Angel (She Was Born Out of Love)), but chances are they're regular orchestral instruments. I've read that Smile A Little Smile... has some, too, but neither version here obliges.
Generally speaking, it seems that both eras of the band relentlessly pursued commercial success at the expense of any real attempt at inventiveness. Pop music, I think it's called. This gets the rating it does more for its professionalism than its quality, although it's perfectly good as far as its oeuvre goes. Whether you'll like it or not's another matter entirely; the vast bulk of this lengthy set is far too cheesily mainstream to really appeal to anyone interested in anything outside the accepted boundaries of '60s pop, and with only one 'Tron track in over two hours of music, I really can't recommend it on that front, either.
---