---
Worlds Away (1982, 42.24) ***½/TT½

She Controls Me
Love Games
One Chance in a Million
Sister Radio
Automatic Sighs
Worlds Away
Kiss in the Dark
Hold on to the Nite
Watermusic
Prisoner
Worlds Away (Reprise)
2wo (1985, 43.27) ***/T

I'll Be the One to Cry
The Second That I Saw You
We Run
Prelude
Home of the Brave
The Sounds of Life
Blue Fire
Just Like You
Running Away
Nor Crystal Tears
The Distance Between (1988, 49.51) **½/½

Till the Stars
Love Becomes Electric
Who Lives Next Door
Love is Strange
This Island Earth
Hold You
Crying in the Ocean
Wild Blue
Rock and Whirl
Ultimate Angels
Alien Time
Current availability:
Worlds Away/Distance Between: not on CD, some tracks on 1990's 60 Minutes With... & 1995's Worlds Away & Back: both EMI Canada
2wo: EMI Canada
Mellotrons used:
All titles: band's own M400
You must be getting a bit sick of me saying this by now, but Strange Advance are a bit of an oddity. Not just their musical style (synth-pop) or era (mid-'80s), but for the Mellotron they owned: the 4-Track. "The what?", I hear you cry? The 4-Track was a last-ditch (US) innovation on the tape-replay front, flying in the face of The Future, in the shape of digital technology and sampling. Instead of single-track heads on a moveable block, the 4-Track had (wait for it) 35 matched 4-track heads, with either three or four track tape running across them, enabling the player to mix'n'match sounds at will. Whether it actually worked is a bit of a moot point, as only a handful were made (some sources quote as few as four), and the whereabouts of any of them now is unknown. What's more, it was a bit of a visual monstrosity, being made of pressed aluminium, giving it a faint resemblance to a washing machine, assuming you turned it sideways and added a keyboard (see below).
However... Keyboard player Drew Arnott contacted me recently, telling me that although the band owned one of these expensive beasties (record company cash, don'cha know?), it sounded so awful that they actually used a regular M400. According to Drew, the manufacturer had 'raved about the sounds', saying that they'd 'improved on the originals by a factor of ten' (yeah, you work that one out). Not only did the sounds 'suck', but the metal cabinet had edges so sharp that you could cut yourself on it. Classy... So the prize for 'first known recording of a 4-Track' is still to be won, it would seem.
Strange Advance were Canada's answer to the early-'80s synth-pop boom (along with the later, related Images in Vogue), with loads of synths (I hear they used massed Prophet 5s at one point, which can't be bad), more slap bass than you can shake a stick at and a singer who sounded a lot like David Bowie, although they were vastly better than the likes of the flaccid Duran Duran. They debuted with 1982's Worlds Away, a pretty decent collection of material within the genre, better material including Sister Radio (spot the Somewhere Over The Rainbow musical quote) and the title track. Arnott adds 'Tron to a few tracks, with background choirs on opener She Controls Me and Hold On To The Nite, strings and choir on the title track and strings, flutes, choir and church organ on Sister Radio.
It took the band three years to follow-up with 2wo, largely due to lineup hassles, I believe. The album sounds surprisingly normal at times, with tracks like Running Away featuring guitar, piano and other un-synthlike instruments, and while the songwriting is reasonable, this is never going to be rated alongside Japan, Soft Cell et al. (not that Japan were actually synth-pop per se, but you know what I mean). Arnott's M400 can only be heard on a couple of tracks here (which explains why what I thought was a 4-Track sounds disappointingly like an M400), with strings on opener I'll Be The One To Cry and choirs (and possibly strings) on We Run, although I think the orchestralish strings on moody album closer (and best track?) Nor Crystal Tears are synth-generated.
The band produced one more album, another three years on, in the shape of 1988's The Distance Between, an even more mainstream effort than its predecessor. I've heard far (FAR!) worse albums, but it's all a little inessential, along with the other 99.9% of '80s pop. Drew assures me there's Mellotron on the album, although the only even slightly possible use is the choirs on Wild Blue and closer Alien Time, neither of which sound particularly Mellotronic.
So; Worlds Away (which I keep trying to call Worlds Apart, from fellow Canucks Saga) is definitely Strange Advance's best album, musically and Mellotronically, 2wo has its moments on both fronts, although The Distance Between comes in a pretty poor third. Incidentally, Arnott got to know producer Bruce Fairbairn, and not only played 'Tron on Aerosmith's seminal Permanent Vacation a few years later, but advised Yes on Mellotron samples for 1999's The Ladder.
See: Images in Vogue
The Key Part II: The Labyrinth (1993, 72.02) *½/T

Darkwood
A New Beginning
Edge of Darkness
Deliverance
A Moment of Sanity
Beyond the Rubicon
Hijrah
The Labyrinth
The First Veil: Sensing a Presence
The Second Veil: Contamination
The Third Veil: Trick of the Light
The Vision Clear
Endzone
Ocean's Flames
Purification
Recovery
A New Perspective
Denouement
Current availability:
Mellotron used:
Strangers on a Train were one of neo-prog führer Clive Nolan's several early '90s projects designed to give him a creative outlet outside the band for whose membership he is still best-known: Pendragon. Allegedly, they're a closed shop writing-wise, with vocalist/guitarist Nick Barrett making a living from the band whilst the other musicians are paid session fees for recording and a wage for touring, although I admit this could be misinformation. These days, although he still has fingers in several pies (quick un-PC weightist joke there), Nolan puts most of his creative energies into revolving door neo-prog supergroup Arena with ex-Marillion drummer Mick Pointer, whose ex-member count must have hit double figures by now.
Anyway, back to this particular project. Strangers on a Train ran concurrently with several other Nolan-related outfits, including Casino and Shadowland, all of which, as far as I can tell, followed the early-'80s neo-prog template to a T, eschewing any attempt at originality, inventive chord sequences and unexpected key modulations in exchange for ersatz, squeaky-clean, bright'n'breezy melodies and fifth-hand ideas stolen from Genesis and Camel, a largely unsung influence on the neo-prog scene, probably due to the relative simplicity of their material, while missing the point that their melodic invention was second to none. I've been fortunate enough not to have heard the Mellotron-free The Key Part I: The Prophecy, but Part II: The Labyrinth is every bit as schlocky as you can imagine, stretching a handful of wafer-thin ideas out over seventy bloody minutes, at the end of which the informed listener is likely to feel like committing several sacrilegious acts [note: destroying the CD doesn't count]. Incidentally, a previously-unmentioned influence on this, and other Nolan projects is the horrible Andrew Lloyd-bloody-Webber, with his ultra-cheesy excuses for musical theatre, an already overly-cheesy genre. Yeah, Lloyd-Webber; it all makes sense now.
For some reason, Clive opted to use ex-Quasar vocalist Tracy Hitchings on the album, also to be heard on Gandalf's Gallery of Dreams and several Landmarq albums, should you really feel the need. She over-emotes in her usual style, sharing the vocal parts with Pallas' Alan Reed, who, while overblown on this occasion, can't compete in the OTT vocal stylings stakes, you'll probably be glad to hear. I have to say, the material here really is godawful, repeating on the listener like a bad curry, giving you the feeling it's never going to end, even when you know, logically, a CD can only last 80 minutes, tops. About the only passable part of the album is part three of The Labyrinth, with a pseudo-medieval feel about it that makes a welcome change from the overblown nonsense that makes up the rest of this crummy album.
Clive's credited with Mellotron, amongst a stack of then-current gear, although the album predates his purchase of IQ's Martin Orford's machine by several years, so I've no idea whose M400 he's using, assuming it's actually real, although (just about) useable samples had recently become generally available. Martin's, but borrowed? Anyway, it's largely buried under a slew of horrible modern synths, although I think that's 'Tron choirs on Hijrah, with more definite ones on part two of The Labyrinth, though I believe that's your lot. Listen, don't buy this album unless your idea of a good listen is the sort of 'prog' that glorifies style over substance, gloss over grit and pompous rubbish over content. I tried to approach this with an open mind, but was defeated about a minute into the first track. Avoid.
Stratocruiser (2002, 40.28) ***½/½

Wallflower
Monday
Something Funny
Thinking
Straight and Narrow
Superstar of Cool
Too Close Song
That Sound
Not So Humble Pie
Wonderful Sun
Brave the Storm
Mornington Crescent
Current availability:
Mellotron used:
Stratocruiser (who apparently have a Doleful Lions connection) play powerpop the way it's meant to be played: like The Beatles, effectively. Their eponymous debut is stuffed with songs of the quality of opener Wallflower (always open with your best track!), the Rickenbacker 12-string jangle of Straight And Narrow and the Wurlitzer-driven Wonderful Sun, although, truth be told, there isn't a bad track here. Neither is there a particularly original one, but that sort of goes with the territory, as it does with most genre-orientated acts these days.
Mike Nicholson is credited with Mellotron, although the only sightings are possible background strings on Something Funny, a few seconds that don't even sound very 'Tronlike at the beginning of Superstar Of Cool and similar at the end of closer Mornington Crescent, making me wonder just how authentic it might be. So; Stratocruiser's an excellent album of its type, as long as you don't object to its originality bypass surgery. The band have two more Mellotron-related releases, 2004's Suburban Contemporary and Revolutions, from two years later. More news when etc. etc.
Will Stratton (US) see: Samples
| | |
| --- | --- |
| Strawbs (UK) see: | |
Suicide (1971, 38.33) ****½/T½

Son of the Father
Nature's Way
Where Do Our Children Belong
Jericho
Run Mister Run
Dearest Eloise
Do You Miss Me
Suicide
Move it (1974, 42.55) **½/T½

Tap
Move it
Hey Domino
Customs Man
Mystic Lady
Somebody Called You
Give it Up
Like a Dream
Don't Look Back
Right From the Start
Our Plea
Current availability:
Both titles: Line (Germany)
Mellotrons used:
Suicide: studio MkII?
Move it: studio M400?
Stray were one of the first wave of British hard rock bands, and deserved better than the near-obscurity they achieved. Their first, self-titled album and Suicide are classics of bluesy hard rock with extra added something; think early-'70s Groundhogs but more adventurous. Admittedly, Suicide shows the first inklings of a softer, duller side, although Son Of The Father, the fab Jericho and the raw (if slightly un-PC) title track make the album well worth hearing for fans of the era. Guitarist Del Bromham played Mellotron strings on Son Of The Father to great effect, plus some on the balladic Dearest Eloise, but it's a real shame he didn't make more use of the instrument; Jericho may well have benefitted from its addition, too.
Three albums on, and the rot had well and truly set in. I used to own 1974's Move it on vinyl, back in pre-history, along with most of their other later albums, but upon listening to it again, I can remember why I flogged it. It's boring. Mid-paced, dullsville rock that wasn't going to set anything alight, let alone the world. Somebody Called You's about the best track, meaning it would be a lesser effort on one of their first two, so don't go expecting too much. Bromham plays 'Tron again, with occasional strings on Somebody Called You and Right From The Start, coincidentally probably the album's next best track. No, really.
As a fan, I'd say buy both Stray (****½) and Suicide, but it's up to you whether or not you consider the latter worth the effort solely for its 'Tron content, and I really wouldn't bother with Move it unless you're the completist I used to be. p.s. Thanks to Tony Haynes for pointing out that I'd missed Dearest Eloise. Oops...
Matador (2010, 44.07) ***/½

Matador
Make a Wish
Drive Away
Baby Your Time's Here Too
Close Your Eyes
Man of the Hour
Molly
Father's Son
Like a Bird in its Gilded Cage
Bad Example (All Hail the Lost)
Better Day
I'll Have You Back
Current availability:
Mellotron used:
Matt Henry Cunitz's 4-Track
San Franciscan Joel Streeter's second solo album, 2010's Matador, has input from several better-knowns, not least Counting Crows' Jim Bogios and Train's Jerry Becker, although, at least to my ears, they serve only to dilute his particular brand of powerpop. It isn't a bad album, not by a long shot, but, possibly due to the contributions from the mainstream guys, it seems to lack either the joie de vivre or the beautiful melancholy I tend to expect of the genre. Better tracks include the opening title track, Drive Away and Man Of The Hour, but little here really stands out in the way I'd like.
Bay Area sessioneer to the stars Matt Henry Cunitz plays his impossibly rare 4-Track Mellotron on Drive Away, adding an 'orchestra' part that, frankly, sounds little like a Mellotron as you or I know it, not helped by the Orchestron sax and cello on the same track. Overall, then, not bad, but could've been so much better. You can hear Streeter's talent in the grooves (micro-pits?), straining to get out. Maybe next time?
...And Other Musical Instruments (1973, 34.37) ***/0

Piano Practicing
I Got Rhythm
Johnny One Note/One Note Samba
Glad to Be Unhappy
People
Second Hand Rose
Don't Rain on My Parade
Don't Ever Leave Me
Monologue (Dialogue)
By Myself
Come Back to Me
I Never Has Seen Snow
Lied: auf dem Wasser zu Singen
The World is a Concerto/Make Your Own Kind of Music
The Sweetest Sounds
Current availability:
Mellotron used:
Er, Barbra Streisand? Huh? Barbra Streisand ...And Other Musical Instruments is the (partial) soundtrack to her 1973 TV special, and is, quite honestly, one of the oddest records ever made, not merely because it's a bit strange, but it's a bit strange and it's by La Streisand. What was she thinking? It's actually far more entertaining than, oh, the rest of her entire career, but it wasn't too popular at the time, and probably hasn't increased an awful lot in popularity since. Basically, it's possibly the only album ever made in the 'experimental showtunes' bracket - a genre of one? Gershwin, Rogers & Hart, Hammerstein & Kern, er, Schubert, all thrown together with Moogs, sitars, bagpipes, Indian percussion... You name it, it's probably here somewhere, although I suspect it worked an awful lot better visually than audibly, and now the special's finally been released on DVD, you can find out for yourself, 'cos I sure as hell won't be buying a copy.
Without the original sleevenotes to refer to, I can only go by what I've read, which is that there's a Mellotron on here somewhere. Maybe it's visible on the DVD? It's allegedly on The World Is A Concerto/Make Your Own Kind of Music, alongside various kitchen implements (!), but I'll be buggered if I can hear it, so that's a bit fat zero on the 'T's, then. Are you going to buy this? Depends on how sick you are, I think; if the thought of the queen of the divas making one of the most bizarre 'mainstream' albums ever appeals to your sense of humour, then yes, you probably will. As for the rest of us... I have to say that Streisand's in superb voice throughout, and I can now see what all the fuss is about re. her voice, but do I give a shit? No. I don't. Three stars anyway.
Misunderstood (1974, 40.18) ****/TT

Open Your Eyes
Misunderstood
Crossed Lines
Seems So Easy
Already Monday
Wing Tips
Take it or Leave it
Searching the Clouds
Current availability:
Mellotron used:
Strider were one of those second-division UK acts who only managed one really good album; I searched for their first, Exposed (**), for years, only to find that it was disappointingly average. Misunderstood, on the other hand, is well worth the effort; hard rock without being overbearingly heavy, it's got great songs, all-round good musicianship and superb dynamics (listen to opener Open Your Eyes for proof). There's a couple of tracks on side two with some 'Tron strings from Ian Kewley, but they're not exactly classics of the genre; Wing Tips is excellent, a bit of a mini-epic, in fact, and Take It Or Leave It is more of a rocker, with a quick burst of 'Tron in the slow middle-eight and its reprise. There may just possibly be some sustained notes (overdubbed?) on closer Searching The Clouds, but it's hard to tell, to be honest.
So, buy the album 'cos it's good, but don't bother for the 'Tron or, indeed, the crap sleeve notes (though not as crap as on their debut). Oh, and talking of which, avoid Exposed like the plague.
Untying the Not (2003, 54.24) ***½/TT

Wake Up
Sirens
Looking Glass
Orion's Belt
Mountain Girl
Lonesome Road Blues
Elijah
Valley of the Jig
Tinder Box
Just Passin' Through
Who am I?
Time Alive
On My Way
Current availability:
Mellotron used:
The String Cheese Incident are one of that peculiar brand of US acts that have sprung up in the '90s in the wake of the Grateful Dead: 'Jam Bands'. If you're not au fait with the genre, it seems to consist of bands who might otherwise have little in common with each other, but who have become intertwined due to their love of, well, jamming. Clearly, this is hardly a new phenomenon, and even the jamband culture is merely a follow-on from the Deadheads, but bands like Phish (spiritual leaders in a post-Dead world), Blues Traveler and (resisting the term strongly) The Dave Matthews Band ride high in the pantheon of Jam Bands, as against the Allman Brothers Band, who pithily describe themselves as a 'band who jams'. Semantics, Schmemantics. Of course, basing your style on your live sound is all well and good, but how do you translate that onto record? The Dead always ran into problems on that front, and so do their successors. The commonest solution seems to be to (like the Dead) write vaguely country rock-ish songs, then embellish them with a little taste of how you'd treat them onstage, presumably more to give your fans an idea of how your jams might start than to have, y'know, hit singles or anything.
The String Cheese Incident's Untying the Not (ho ho) is their seventh album, and fearlessly mixes genres in true jamband style, throwing in a capella (Lonesome Road Blues), dancefloor hoedown (Valley Of The Jig) and a faintly reggae-ish groove (Sirens), with several examples of the vaguely country rock-ish style mentioned above. Plenty of 'psychedelic' spoken-word interludes from various people, not least one from a certain Carolyn Garcia, widow of the late Jerry, with most tracks running into each other in true psych style. Live, this album would last three hours; luckily, a combination of the CD format and common sense has kept it to slightly below one on record, where it doesn't outstay its welcome.
For some reason (availability?), keys man Kyle Hollingsworth has opted to add a Mellotron to his usual organ/piano setup this time round. There are a few background string chords on opener Wake Up, but the album's major 'Tron contribution is on Hollingsworth's piano/violin instrumental Elijah, with string and flute parts weaving in and out of the mix. Faintly 'Strawberry Fields'-style flutes open Who Am I?, carrying on throughout the song, with strings here and there, finishing up with more strings on Time Alive. I have to say, the Mellotron sounds pretty authentic, though it's so hard to tell these days; the strings are wobblier than you'd expect from samples, and lack the squeaky-cleanness of the digital variety, so let's hope, eh?
So; given my lack of knowledge of the genre, this seems to be a decent enough example of jambandmanship, but those of you with little tolerance for what is, essentially, a sub-Grateful Dead experience should probably steer clear. Some nice 'Tron work, though not really enough to make it worth buying for that alone, even though I did.
String Driven Thing (1970, 36.29) **/T

July Morning
Say What You Like
Magic Garden
Wonderful Places
I Don't Wanna Wake Up
City Man
Another Night in This Old City
That's My Lady
Catch as Catch Can
No More You and I
Lie Back and Let it Happen
One of the Lonely People
Current availability:
Mellotron used:
Although String Driven Thing are known chiefly for their 1973 classic The Machine That Cried (****½), it's rather less well-known that they began as the folk trio of Chris and Pauline Adams with John Mannion and their first, eponymous album is a dated-for-1970 folk/pop effort, like a low-budget UK Mamas & the Papas, say. In fairness, it's not complete rubbish, but it shows absolutely no sign of the band they were to become (minus Mannion plus violinist Graham Smith), tracks like July Morning, Magic Garden and Lie Back And Let It Happen being fairly typical of its laid-back, West coast-ish vibe.
Despite the appearance of real strings on several tracks, Wonderful Places quite clearly features MkII strings from an unknown player, although it really isn't enough to make it worth hearing this decidedly substandard album. Get the second String Driven Thing from '72 and The Machine That Cried instead.
Rip it Off (2002, 48.13) **½/½

Latest Disaster
100 Girls
Vacuum Bag
Kick Some Ass
Don't Worry
Do it Again
Just Can't Wait
We Were Wrong
Reject
Anywhere
Lead the Way
California
Current availability:
Chamberlin used:
Are Stroke 9 'emo'? I still don't fully understand the term, but a punk-ish bunch who sing heartfelt lyrics about crappy relationships seem to fit the bill. Don't they? Anyway, 2002's Rip it Off is the Bay Area band's fifth (and second major-label) effort, a lengthy howl of pain from mainman Luke Esterkyn that would've been improved by chopping at least ten minutes from its length. The music's much of a muchness across the record, leaving the lyrics as its central core, more memorable examples including 100 Girls and Vacuum Bag.
Patrick Warren plays Chamberlin strings (and flutes?) on Vacuum Bag, to no great effect, to be honest. I think I'm simply the wrong generation for this album; anyone over, say, eighteen upon its release (and I was well over eighteen) really isn't going to get it, it seems to me. Is it good at what it does? Fucked if I know. Incidentally, given the album's 'CD-R copy' artwork, I wonder how many people actually took the band at their word?
First Impressions of Earth (2006, 52.19) ***/T

You Only Live Once
Juicebox
Heart in a Cage
Razor Blade
On the Other Side
Vision of Division
Ask Me Anything
Electricityscape
Killing Lies
Fear of Sleep
15 Minutes
Ize of the World
Evening Sun
Red Light
Current availability:
Mellotron used:
The Strokes are a band about whom I've read a great deal, but heard very little, or indeed, nothing, which is what happens when you avoid the mainstream media as assiduously as myself. Going by their third album, First Impressions of Earth, their sound is noticeably informed by early-'80s New Wave and the tediously ubiquitous Velvet Underground. OK, the Velvets were good, but am I alone in thinking they're a tad overrated? Anyway, The Strokes manage to cover a fair bit of ground on the album, while toning down the treble assault of their first two releases, which doesn't stop a lot of the material making one reach for the 'next' button.
The album's only real triumph, funnily enough, is the drumless, guitarless Ask Me Anything, which is essentially Julian Casablancas (that name!) singing over guitarist Nick Valensi's complex Mellotron cello part, with another unidentified sound coming in towards the end. Magnificent! Why can't more bands use the mighty 'Tron like this? It sounds genuine, with a low double bass note that many sample sets would probably miss, and is surprisingly well-played for such an awkward instrument.
So; an album that just about scrapes three stars, with a completely essential 'Tron track. What to do? It hasn't been released as a single (yet) - maybe this is what the social evil of paid downloads is for? One great track, not too much money. Obtain, but don't go out of your way for the album. Here's a YouTube clip, complete with M400, doubters.
Strongbow (1975, 39.48) ***½/T½

One Armed Bandit
Sister Sea
The Only One Around
Move Over Gloom
How Can I Be Loving You
Wine Eyes
Hazy May
Current availability:
Mellotron used: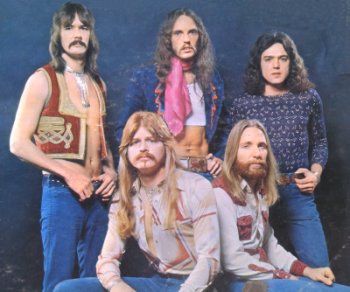 Never let it be said that I don't find utter obscurities for you (as if you would). Strongbow were a mid-'70s US outfit, falling somewhere in between typical Midwest rock and prog-lite, who (to my knowledge) released just the one, eponymous album on the local Southwind label. One Armed Bandit opens with an intriguing sequenced synthesizer part before shifting gear into more mainstream rock, and while Sister Sea has its moments, the excitement factor is rather lacking in places. I had high hopes for The Only One Around, at nearly ten minutes, but it turns out to be a soft-rock epic with a proggy edge. Move Over Gloom and Hazy May are the most dynamic tracks on offer here, but Strongbow sound like a band who weren't quite sure what they wanted to be; to prog or not to prog? Like so many competent bands, especially in the vast hinterlands of the US, I expect they were popular locally, but, like all but the extremely lucky few, they were never going to break out nationally, let alone internationally. As you can see from the enclosed rear-sleeve pic, their fashion sense left a little to be desired, too.
John Stelzer doubled on keys and wind instruments, with vocalist Bill Bendler covering both pianos and electric trombone, apparently. Stelzer's Mellotron work is fairly sparse, with just a few string chords at the end of Sister Sea, although The Only One Around has a little more, scattered throughout the song. Hazy May would definitely have benefitted from its inclusion, but he opted to confine its use to the two tracks on side one, making me think that they almost certainly didn't own a machine, but used the studio's own/hired one in for the session.
So; an OK, so-so sort of album, with a few bright spots, raising it above the 'three star quagmire' of albums about which I can't get even vaguely enthused. I didn't pay that much for my copy, but it was still probably slightly too much. In other words, pick up if you see it cheap.
Streetcore (2003, 41.58) ***½/T½

Coma Girl
Get Down Moses
The Long Shadow
Arms Aloft in Aberdeen
Ramshackle Day Parade
Redemption Song
All in a Day
Burnin' Streets
Midnight Jam
Silver & Gold
Current availability:
Mellotron/Chamberlin used:
John "Joe Strummer" Mellor never really lost his status as 'punk icon' after the Clash finally (and messily) dissolved, even during his 'wilderness years' of the '90s. He worked his way through various bands and lineups, finally settling on the Mescaleros in the late '90s; he'd just finished recording their third album, Streetcore, when he tragically died of a heart attack, aged just 50. The album's really very good; from the propulsive Coma Girl through the American folk of The Long Shadow (written for Johnny Cash, where Strummer finally, posthumously earns his '70s nickname, Woody), to his reggae-free take on Bob Marley's Redemption Song.
Martin Slattery plays Mellotron and Chamberlin; I can already hear some wizened old mohawks whinging that those instruments 'aren't very punk' (not that they're likely to read this site, but you know what I mean...). Well, you know what? Not only does none of Strummer's solo work fit into that straitjacket, but neither does most of the Clash's back-catalogue; even their 'none more punk' debut has a six-minute reggae track on it... Anyway, Slattery sticks some cranky-sounding (Mellotron?) strings onto Burnin' Streets, which sounds like a belated answer to the Clash's London's Burning, from 25 years earlier, and what may be Chamberlin strings and 'Tron flutes on the following Midnight Jam, which quotes London Calling this time.
So; if you like the sound of a trawl through much of the 20th century's musical styles, all in 40-odd minutes, by someone whose delivery was never less than heartfelt, you could do an awful lot worse than invest in a copy of Streetcore. Joe was renowned for giving a shit, be it about environmental issues, politics or his fans, so it's good to see his legacy being upheld by a posthumous release this good. I'm really not a fan of his work with the Clash (and I saw them in '78, so I know what I'm talking about), but it would take an unfeasible level of churlishness to knock it, although its tape-replay input is far from a major component of its sound. Worth hearing, whatever.
Can O'Worms (1995, 44.26) ***/½

Panhandler
Home After Dark
La Passionaria
Who Needs More
What a Day
Expat. Blues
Waterfall
In Madrid
Filipina Stripper
Can't Get Through
The Greatest
Current availability:
Mellotron used:
Dan Stuart was mainman of Paisley Underground ringleaders Green on Red (along with Chuck Prophet), going solo after their dissolution in the early '90s. 1995's Can O'Worms was the first fruit of his solo labour, a decent enough album of (very) slightly psychedelic Americana, highlights including La Passionaria, Expat. Blues and Waterfall, although, if I may level one fault at the album, too much mid-paced material tends to drag after a while.
J.D. Foster plays Mellotron, with distant strings on Waterfall, although I'm sure the flutey sound on Expat. Blues is something else entirely. Saying that, I'm not fully convinced by those strings, but I feel I need to leave this here until I find out otherwise. Good, then, but not classic.
The Serpent is Rising (1973, 40.07) ***½/TT

Witch Wolf
The Grove of Eglantine
Young Man
As Bad as This
Winner Takes All
22 Years
Jonas Psalter
The Serpent is Rising
Krakatoa
Hallelujah Chorus
7" (1974) ***/TTT

Young Man
Unfinished Song
Current availability:
Album and b-side: on The Complete Wooden Nickel Recordings: Hip-O-Select (US)
Mellotrons used:
Well, here's proof that some of my firmly (dearly?)-held beliefs re. Mellotron use can be overturned in an instant. I'm utterly convinced that there's not a jot of 'Tron on any of the four major-label Styx albums I own, although I've been told more than once that they used one at some point. And here it is. The Serpent is Rising, their third album for the Chicago-based Wooden Nickel label, is similar to the band's other early albums (Styx, Styx II and Man of Miracles), in having elements of what they were to become (for better or worse), but without the killer songs. There's some reasonably good material, but they're the work of a band still trying to find their feet, with no sign of a Suite Madame Blue or Queen Of Spades. Take that as you will; I really like late-'70s Styx, but they're heavily reviled by many proggers, particularly Americans, who've overdosed on the band via FM radio.
Anyway, although singer/keys man Dennis DeYoung has quite specific instrumental credits ('organ, pipe organ, piano, arp, moog'), there's quite clearly Mellotron to be heard on several tracks. The Grove Of Eglantine, containing the subtlest filthy lyrics I've heard since Fairport Convention's The Bonny Black Hare ('Serpent is Rising'? I expect it is...) has a few string chords, ditto the end of Jonas Psalter, while Young Man goes for the flutes and more strings. As Bad As This has more string use, but blows it completely with its ludicrous 'plexiglas toilet' end-section (no, you don't want to know); I'm sure it was screamingly funny at the time, but has dated appalling badly. Finally, the rather silly Krakatoa may have a rising string chord, but it holds far too long, and is more likely to be synth.
Young Man was released as a single, with Unfinished Song on the flip, which is thankfully nothing of the sort, with a lyric about, er, an unfinished song. Previously available on a later version of Man of Miracles and a compilation, it's now most easily found as the only non-album track on the 2-CD The Complete Wooden Nickel Recordings (right), which is exactly what it says on the tin. A piano-led Dennis de Young ballad, it features slabs of 'Tron strings, confirming its position as a Serpent is Rising outtake.
So; rather formative, but not a bad record. If you don't already hate Styx with a passion, go for '77's The Grand Illusion (****½), or the following year's magnificent Pieces of Eight (*****) instead, although (to my knowledge) The Serpent is Rising is the only place you'll hear Styx use a Mellotron. Saying that, now I'm going to have to play all their other early albums again... [n.b. Nope, nothing else].
Everything Under the Sun [Disc 3] (2006, 69.57) ***/T

Marley Medley (studio outtake)
Paddle Out (ruff mix)
Caress Me Dub (outtake)
Foolish Fool (unreleased demo)
Westwood One interview
89 Vision
Sweet Little Rosie (studio outtake)
Garden Grove (take 2)
Just Another Day (studio outtake)
Prince of Sin (studio outtake)
I Love My Dog Dub
At it Again
Wrong Way (acoustic)
New Realization (acoustic)
Boss DJ (alternate version)
Real Situation (acoustic)
Date Rape (live)
Soundcheck Jam (live)
Doin' Time (Snoop Time remix)
Doin' Time (Tricked Out Life Sentence remix)
Current availability:
Mellotron used:
It seems that Sublime were one of (or even the?) originators of the Californian ska/punk sound, although I'm not sure we should actually thank them for that. They split in 1996, after frontman Bradley Nowell OD'd on smack, although, in another parallel with Nirvana, they carried on releasing various live and outtake sets for some years. 2006's Everything Under the Sun should be pretty much the last word on the band, collating reams of demo and live material, not to mention several radio interviews of wildly differing lengths. Is it any good? I've no idea. Do you like ska/punk? Then you tell me.
David Kahne plays Mellotron strings on the demo version of Foolish Fool, maybe surprisingly, although it seems to be the only time they used one. Do you bother getting hold of this set for the one track? You do not.
Submarine Silence (Italy) see: Samples
Temporary Psychotic State EP (2004, 17.20) ***½/T½

Temporary Psychotic State (a Recollection of Where it All Began)
Observation Through Metamorphosis
Current availability:
Mellotron used:
Subterranean Masquerade are essentially the duo of Tomer Pink and Jake DePolitte, whose gameplan seems to be the recording of a trilogy of concept albums in a (roughly) progressive metal style, although they incorporate all kinds of other influences. Their 2004 EP, Temporary Psychotic State, is presumably the first release in the trilogy; it's a shame in many ways that it isn't longer, as some of their ideas (not least the heavy use of violin) are well ahead of most of their contemporaries. The disc opens with fairground sounds, morphing into an acoustic guitar passage, before gently picking up the pace, the violin taking the lead, not hitting the 'metal' pedal until the four-minute mark, and then only gently. The second piece carries on in a similar vein, making for one of the more original prog efforts of recent years.
Andy Winter guests on Mellotron, although the caveat as to whether or not it's real applies as usual. Temporary Psychotic State (a Recollection of Where it All Began) features the choirs, while Observation Through Metamorphosis is mainly flutes. It sounds real in places, then not in others, meaning it probably isn't, but I've been caught out before... Anyway, an interesting little progressive release that's well worth investigating further.
Subway (1971, 35.52) ***½/T

I am a Child
Song for Sinking Shelters
Warm You Are
All the Good Things
Enturbulaton - Free Form
Arizona Sands
Rosanna of the Roses
Can I Trade With You My Mind
Current availability:
Mellotron used:
Subway were the duo of Irv and Malcolm, one American, one British - I'll leave it up to you to work out which was which... Irv was the vocalist/guitarist/composer and Malcolm was the violinist; they met in Paris and busked in the Metro, or subway in Americanese. They recorded just the one eponymous album before disappearing, and it's likely only a couple of hundred copies were ever sold, the remainder probably being destroyed. Irv's songs are a dark, not-very-American blend of folk and psych that would easily pass muster as an obscure British album from the same period, with rock elements added to the duo's sound here and there, not least the bass, drums and keyboards on Enturbulaton - Free Form and Rosanna Of The Roses. Overall, the material ranges from good to excellent, and should have received more attention had they been better known.
Person or persons unknown added Mellotron to a couple of tracks, with powerful but restrained string parts on Song For Sinking Shelters and the 'Free Form' part of Enturbulaton - Free Form, distinct from Malcolm's violin work, although they blend well in a way not heard too often, sadly. Well, you're simply not going to find an original of this, I think it's safe to say, but it's been reissued by Spanish label Guerssen, so that's a definite recommendation to the acid folk brigade, although there's really too little Mellotron to be worth worrying about.
Coming Up (1996, 42.34) **/½

Trash
Filmstar
Lazy
By the Sea
She
Beautiful Ones
Starcrazy
Picnic By the Motorway
The Chemistry Between Us
Saturday Night
A New Morning (2002, 46.15) ***/T

Positivity
Obsessions
Lonely Girls
Lost In TV
Beautiful Loser
Streetlife
Astrogirl
Untitled...Morning
One Hit to the Body
When the Rain Falls
You Belong to Me
[Untitled]
Current availability:
Coming Up: Epic
A New Morning: Epic
Mellotrons used:
Suede were much-fêted by all and sundry when they appeared with their eponymous debut in 1993, while music press hysteria reached a peak with their follow-up, Dog Man Star, the following year. People started coming out with stuff like 'the new Bowie', with regard to singer Brett Anderson, although, in hindsight, it has to be said that they were sorely mistaken. The heart of the group seemed to be the working relationship between Anderson and guitarist Bernard Butler, who left in the mid-'90s, leaving the band slightly adrift, and it seems their fortunes have never really recovered from the blow.
Coming Up is their third effort, with guitarist Richard Oakes, who does his best to emulate Butler. While I was never a fan of their sound, I have to say that I found this to be the dullest fag-end of Britpop effort imaginable, desperately dreary, with few songs of any real quality, while Anderson's whiny voice destroys any slight vestiges of quality that may've been present originally. Apart from that, it's fine... Picnic By The Motorway features a brief Mellotron string part (presumably) from keys man Neil Codling, but I wouldn't rush out to buy it on that score if I were you.
A New Morning, however, is a vast improvement, even if the critics preferred Coming Up. OK, when I say 'vast', what I actually mean is, er, 'middling', for want of a better word; several of the album's songs still manage to irritate me, but overall, it's less glam and more singer-songwriter, so to speak, with a particularly good Anderson lyric on Lonely Girls. Credited Mellotron on Astrogirl from Alex Lee, with solo strings on the intro, with a repetition of the part later in the song and other string interjections.
So; if you like mid-'90s UK indie/Britpop, you probably already own everything Suede ever recorded, and aren't going to take any notice of these vicious put-downs reviews. As for the rest of us, you really don't need to bother. Trust me. Incidentally, rumours of Mellotron use on '94's Stay Together EP, but I can't hear anything other than sustained guitar and real strings, so don't bother x2.
See: Bernard Butler
Bully (2001, 39.40) ****/TTT½

What a Drag
Bully
Hello
Mail Order Girlfriend
Motor Mouth
Clover
Over
Gone
Posterchild for Tragedy
Waiting
After All
Current availability:
Mellotron used:
Another excellent Jim Rigberg review, ladies'n'gents!
Apparently, as with all excellent - and somewhat unique (sort of like the bastard child of Weezer and Queen) - new bands these days, Sugarbomb managed to last long enough to issue only one full-length release, 2001's Bully. I suppose a potential silver lining exists - vocalist/keyboard man Les Farrington, on the one hand, and vocalist/guitarist David Harville, on the other, are now free to form two good bands. Unfortunately, given the lack of commercial success of Sugarbomb and the prospects these days for any act that doesn't need to rely on those two Swedish guys that supply the tripe for the Justin Aguileras of the world, it would not surprise me in the least if these talented gentlemen blew off music for lucrative careers in web-design, real estate sales, or catering.
Anyway, Bully really is a power-pop gem. Reviews of the CD included comparisons and references to Todd Rundgren, Cheap Trick, XTC, the Beatles, Smashing Pumpkins, Jellyfish, and - of course - Queen, a stated favorite of Mr. Farrington's. Sugarbomb's music echoes all of these bands and, at the same time, carries plenty of complementary modern production finishes, punk energy à la Supergrass, and great, great hooks. Several songs - What A Drag, Bully, Hello, - are radio-ready (but in a good way); it's hard to believe that this CD (which was released on RCA) didn't do a whole lot better. I can't profess to know all the facts, but I suspect that the usual factors (ahem, abandonment of record company financial and advertising support) contributed to the outcome.
Not much Mellotron on the opening track, What A Drag - just some string washes here and there. Mail Order Girlfiend and Motor Mouth, on the other hand, are stuffed with 'Tron. Mail Order Girlfriend sounds like Queen channeling some boy-band (but, I promise, it does not suck) with plenty of creepy-carnival sounding 'Tron and organ figures. However, the 'Tron centerpiece - and the reason an 11-track CD with 'Tron on only four tracks still merits a TTT½ rating - is Posterchild For Tragedy. The verse, chorus, and outro of this piano-based track boast three distinct melodies that would make Paul McCartney proud. The 'Tron strings are up front, come in on the first chorus and, after the second chorus, don't leave. Most importantly, there is that rarest of rarities, a 'Tron solo!
Equally impressive is the 'Tron-less closer After All, the best Queen song not written or performed by Queen. In fact - I hate saying this - the melody of After All is better than most anything Queen ever came up with.
Five of the songs on Bully were apparently re-mastered/re-engineered/re-recorded tunes that appeared on an EP Sugarbomb released in 1999 or 2000. I've not heard the original versions. I have heard a great acoustic version of Killer Queen they performed which is definitely worth down-loading if you can find it. At any rate, if you like any kind of intricate pop music, Bully is a must-buy. Please, Les and Dave - if you are reading this - either get back together or form your two new bands and get us some new stuff!
Enjoy the Ride (2006, 42.25) **/½

Settlin'
County Line
Want to
Everyday America
Happy Ending
These Are the Days
One Blue Sky
April Showers
Mean Girls
Stay
Sugarland
Current availability:
Mellotron used:
These days, Sugarland are the good-looking C&W duo of Kristian Bush and Jennifer Nettles, although some controversy surrounds the departure of Bush's original musical partner, the openly lesbian Kristen Hall, presumably seen as a barrier to mainstream acceptance. Their second album, 2006's Enjoy the Ride, despite its indie-ish sleeve, is a very typical modern country album, featuring the obligatory arena rock influence alongside the pedal steel and ten-gallon hats, difficult to review objectively without wholeheartedly embracing the country music culture.
Tony Harrell plays Mellotron on two tracks, with some near-inaudible strings on Want To and something entirely inaudible on These Are The Days, making you wonder why anyone bothered. So; mainstream country with next to no Mellotron. Do you bother? You tell me.
Sugarloaf (1970, 37.47) ***/½

Green-Eyed Lady
The Train Kept-a-Rollin' (Stroll on)
Medley: Bach Doors Man/Chest Fever
West of Tomorrow
Gold and the Blues
Things Gonna Change Some
Current availability:
2-on-1 with Spaceship Earth: Collectables
Chamberlin used:
Sugarloaf were based around the talents of vocalist/organist Jerry Corbetta, so it's hardly surprising that their eponymous 1970 debut is stuffed with his fiery Hammond work. Sugarloaf's a strange album, half mainstream pop/rock of the era (big hit Green-Eyed Lady, West Of Tomorrow), half more eclectic material, including a strange instrumental version of The Train Kept-A-Rollin' (a.k.a. Stroll On), the similarly vocal-free Medley: Bach Doors Man/Chest Fever (Corbetta's organ showcase) and the overlong slow blues of Gold And The Blues.
Corbetta adds Chamberlin flutes to the dying seconds of West Of Tomorrow, although that appears to be it, unless there's anything else hidden in the mix. Why bother? Who knows? Anyway, a decent enough album of its type, if a little unexciting. As a sidenote, Corbetta's been known to say that he used 'the Chamberlin music box sound' on, er, Music Box on their follow-up, 1971's Spaceship Earth, but given that a) I'm completely unaware of any music box sound on the Chamby (which doesn't necessarily mean anything, in fairness) and b) he's credited with celeste on the album, which would produce that sound most satisfactorily, it seems unlikely.
Sula Bassana (Germany) see: Samples
Hey, I'm a Ghost (2006, 45.02) **½/T½

Down Here, We All Float
Ten Ways to Impress
Cloudy
The Charity of Saint Elizabeth
Cars at Break-Neck Speeds
Gardens
Insurance for the Weak
How I Remember You
Promise Me
Under the Watchful Eyes of Dr. T.J. Eckleburg
Hey, I'm a Ghost
Current availability:
Mellotron used:
Sullivan were a band at the noisy end of U.S. indie, who released two albums in the mid-'00s, the first being 2006's Hey, I'm a Ghost. You know that slightly punky American indie thing? It's like that, but worse, with appalling, whiny vocals. Sorry, guys, but this really isn't any different to a thousand other bands out there; The Charity Of Saint Elizabeth's about the best thing here, but that isn't really saying much.
Vocalist Brooks Paschal plays Mellotron on the album, with possible strings and definite choirs on Gardens, what sounds like real cello and 'Tron strings on Promise Me, while Under The Watchful Eyes Of Dr. T.J. Eckleburg (a Great Gatsby quote, apparently) opens with a strings part before it gets noisy. You really don't need to hear this for its subdued Mellotronic contributions, though, or for any other reason, for that matter. Generic.
Sum 41 (Canada) see: Samples
Street Faërie (1999, 59.19) ***/T

Revelation Sunshine
Miss Moon
Still Heart
Deliciously Down
Mean Sleep
Life Goes on
Fall
Angry Boy
Sweet Pain
Smooth My Heart
Naheo
Soul Sister
Curious White Boy
Current availability:
Mellotron used:
Cree Summer (Francks) is an actress, mainly known for voicing animated characters, although she's had a fair few 'regular' roles, too. After an unreleased 1993 album, it seems Street Faërie is her only proper release, falling somewhere between R&B, soul and rock, which isn't exactly surprising when you consider it was produced by her friend Lenny Kravitz, whose music is best described as falling somewhere between R&B, soul... you get the picture. As with most of his production efforts, Kravitz is the chief musician on the album, although he seems to have reined in his compositional talents this time round, with a mere single co-writing credit.
Kravitz plays Mellotron on four songs, which is rather more than he manages on his own albums, with rather murky strings on opener Revelation Sunshine and more of the same on Life Goes On. He's credited with 'Mellotron voices' on Smooth My Heart, but if it didn't say, you probably wouldn't know that the faint backing 'aahs' on the track were 'Tron, while Soul Sister has 'Mellotron orchestra', which sounds like it might be a couple of string sounds overdubbed. Overall, very little 'Tron, in true Kravitz style. Why does he bother?
Street Faërie apparently didn't sell very well; maybe it fell between too many stools? It's too laid-back and acoustic to really appeal to the R&B crowd, too rock for the soul fans, too soul... It isn't a bad record, but doesn't really stand out in any noticeable way, and it seems the record-buying public agreed. Ironically, it's immeasurably better than anything by the likes of the horrendous Mariah Carey, or any number of other multi-million-selling 'artistes'; not unoriginal enough? Wouldn't surprise me. Anyway, not worth it on the 'Tron front, despite four credited tracks, and most readers of this site really aren't going to like the music, though I expect you'd worked that one out for yourselves by now.
See: Lenny Kravitz
Rough Diamonds (2003, 50.52) ***/½

Weekend Monster
Inflammable 69: er
Rough Diamond
Living Legends Dyin' Hearts
Ba Ba Ba (the Word is on the Street)
R'n'R Declaration
Vegas Vamp
Love Me, Hurt You
8: PM
In Your Cave
I'll Be Your Monkey
Dullsville Girl
Gravity Blues
Golden Trash
Current availability:
Mellotron used:
Sören "Sulo" Karlsson is best-known as vocalist with '90s Swedish outfit The Diamond Dogs (interesting name; wonder what inspired it?), associated with the better-known Hellacopters. His first solo album, 2003's Rough Diamonds, features various members of The Hellacopters, the Backyard Babies and his regular band and contains a reasonably appealing mix of punk and powerpop in typical Swedish style. Its highlights are possibly more apparent in its influences than the actual material, not least the Pretty Vacant quote on Inflammable 69: er's fadeout, the Beach Boys-esque backing vocals on R'n'R Declaration and the Teenage Kicks-alike riff on I'll Be Your Monkey, the songs themselves being largely competent-yet-slightly-unexciting garage rock, Dullsville Girl probably being the cream of the crop.
Tomas Skogsberg plays Mellotron, but the only even remotely possible part is what just might be some background string section on Vegas Vamp, so we're not exactly talking top Mellotron use here. So; a good, gritty rock'n'roll album, but a bit of a dud on the Mellotron front.
Funeral Mariachi (2010, recorded 2006? 37.12) ***/½

Ben's Radio
The Imam
Black Orchid
This is My Name
Vine Street Piano (Orchestral)
Blue West
Holy Ground
Mineral Wells
El Solo
Come Maddalena
Funeral Mariachi
Current availability:
Mellotron used:
The Sun City Girls (apparently named for a retirement community in Arizona) formed in 1979, keeping a consistent lineup from 1981 to 2007, when they split after drummer Charles Gocher's untimely death. Exponents of '80s cassette culture, the band began the slow switch over to more conventional formats with 1984's eponymous release, their first CD appearing in 1993. Due to multiple-format releases, reissues and the like, it's difficult to say how many albums they've released in thirty-plus years, but according to their website, 2010's Funeral Mariachi (presumably recorded around 2006) is their 57th LP/CD.
It's actually extremely difficult to describe, but I'll have a go. Lo-fi world music? Atonal psychedelic folk? Outsider western swing? Does that explain my dilemma? It's apparently the nearest they ever came to 'mainstream', which makes me wonder just what, exactly, the rest of their output sounds like. Alan Bishop, who, together with his brother Richard, made up the other two-thirds of the trio, is credited with Mellotron, but the only thing I can hear that even might be one is an odd organ sound on This Is My Name that 'hiccups' like a badly-adjusted Mellotron. Hammond (actually Lowrey) organ tapes?
Anyway, while clearly highly accomplished in its genre-of-one, I'm not sure I can recommend this to most of you, either for the music or the Mellotron, though not in a bad way. I'm glad bands like The Sun City Girls exist, if only to act as the grit in the oyster shell of the music business.
Technostalgia (2004, 52.24) ****/TTTT

Angels in the Sky
In Love With Sundae
Frankie & Tronny
Stuff
The Brummagem Fly
When Beechleaves are Falling
Great Big Homburg Hats
Smaller Fedora
Arabian Flights
Balky Mule
A Different Tide
British Summer Time (2008, 60.18) ***½/TTT

Good People
Pies
The Voder
Honey Bee
The Doddler
Flight Four India
Let's Go to Germany
London to Shanghai via Chipping Norton
Circles
My New Neighbours
Holiday Magic
Oh Roger Rum
Current availability:
Technostalgia: Technostalgic Tunes (UK)
British Summer Time: download from here
Mellotrons used:
Both titles: band's own M400
You know when you hear a piece of music and it effortlessly invokes a national or regional characteristic? Oompah bands are forever Bavarian, skirling gypsy violins transport one to Hungary in the blink of an eye, a samba lands you on Copacabana beach; you get the idea. Well, Sundae Club are British. Not a 'rolling green hills and Jane Austen' type of Britishness, more the 'wet bank holiday at Skegness' kind, with the whole family stuffed into your dad's Hillman Hunter, eating fish-paste sandwiches while watching the rain, and hoping your little sister doesn't throw up on the way back to the guest house. But if you think this is starting to sound a little negative, think again...
Technostalgia is a celebration of growing up in the '60s and '70s in Britain, with everything that implies; I keep being reminded of the interval music in the local Odeon, with the cheesy, badly-made adverts for local boutiques and Indian restaurants, and the ubiquitous wobbly Hammond they invariably used as a soundtrack. Nostalgia is the key element here, simultaneously with and without irony; the beautifully-designed CD digipack opens out to reveal the dashboard of an unidentified '70s British car (maybe that Hillman Hunter?) in loving detail, the icing on the cake being the pile of Ladybird books in the glove compartment, the bottom one of which is titled, "How it works: the Mellotron". If you're reading this with non-British bemusement, I apologise; I didn't make the album or design its sleeve, but I'm glad someone did.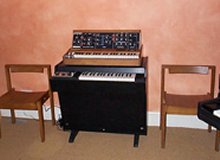 I haven't even tried to describe the music yet... Easier said than done, to be honest; think 'British film samples mixed with '60s easy listening over a faint techno beat', or 'weird Mellotron riffs in a chill-out room with extra added diva'. I dunno - it doesn't sound like anything else, which is entirely in its favour, but it may also be too eclectic for the average listener, which will somewhat restrict its audience. Do they care? Shouldn't think so; Technostalgia has all the hallmarks of an album made for the amusement of its creators, although I doubt if they'd complain if it suddenly took off. Some tracks catch my ear more than others, but that's hardly surprising, with the variety on offer here. I can't really warm to the girly warblings on three of the tracks, and the vocal samples (of the title) in When Beechleaves Are Falling got on my nerves after a while, but the spoken-word samples in The Brummagem Fly and Great Big Homburg Hats are spot-on (no, I didn't spot their sources), and all the instrumental work is excellent.
Sundae Club are Dr. C.D. Mille on 'composition, production, Theremin, cello, keyboards, loops, percussion, tools', and the ingeniously-named Hamstall Ridware (haven't I seen that name on my phone bill? Sorry, UK Mellotron-owner's in-joke...) on 'composition, Mellotron, keyboards, percussion, tapes and wireless', and I think it's fair to say that they are both absolutely barking mad - in the nicest possible way, of course. Mille's contribution to their sound is described on their website as 'mainly techno', while Ridware's is 'mainly nostalgic', with a full equipment list on the CD sleeve, which informs us that not only do they own an M400 (I knew that, thanks), but a Bentley Rhythm Ace (see: Arthur Brown's wondrous Journey album), a Rhodes and a Wurly, and a bloody DX7. Oh, and a Theremin, that looms up out of the sonic morass here and there. Almost too many 'Tron highlights to name: the 8-choir that opens the album? the flute solo in Angels In The Sky? The MkI (yes, I) rhythms on Frankie & Tronny (actually recorded onto MiniDisc and imported from there, but it still counts)? I'm sure I've missed some more subtle 'Tron parts, but I couldn't hear a single track with nothing at all, though I'm sure I'll be corrected if I'm wrong (ah, correction: The English Vice).
It's taken the Sundae chaps four years to follow Technostalgia, with British Summer Time appearing as a download in 2008, preparatory to a full CD release, apparently. Opener Good People fools the listener into thinking they're going to get more of the same, although it has more of a mainstream 'full band' vibe about it. Pies sounds like some cockney geezer rapping over an Ian Dury outtake, giving the impression of a lite funk rewrite of Blur's Parklife, while Honey Bee goes completely overground, with a mainstream male vocal rather strongly resembling Jeff Lynne's warblings with ELO. You know, you can take this nostalgia thing too far, chaps... The Doddler's plethora of samples sounds more like what we've come to expect from the Clubsters, as does Let's Go To Germany, although the latter is a little repetitive. Circles is another mainstream pop song, while the last few tracks are more typical. What's with the guitar solos, though? Much less obvious Mellotron than last time round, although a typical string part on Good People might initially make you think otherwise. Strings (MkII moving strings?) and cellos on Pies, a lovely flute part on The Voder and distant, phased choirs on Flight Four India keep things going, but several tracks feature no obvious 'Tron at all, which is, of course, the band's prerogative. Strings on London To Shanghai Via Chipping Norton and faint, effected choirs here and there, and once the band actually pointed it out to me, MkII guitar on The Doddler and MkII brass on Circles, but still well down on last time.
Technostalgia: wow, what an album! It certainly isn't yer run of the mill effort, and it's a million miles away from my more typical listening, but isn't that a good thing? Completely bonkers, rather wonderful, and more Mellotron than you can shake the proverbial stick at. Of course, you don't have to be British and Of A Certain Age to really appreciate this, but it probably helps. Whatever. Buy this album. British Summer Time is a very different record, but its charms may become more apparent if I find the time to give it repeated plays. Not bad, but not great.
---