---
Wire (2004, 51.21) **/0

'Til the Day I Die
Come on Back to Me
Wire
Rockstar
I Believe
It's a Shame
Blind
I Got a Feeling
You Are Mine
Innocent
Billy Brown
San Angelo
I Will Hold My Head High
Move (2010, 48.18) **/½

Lift Up Your Face
Make Your Move
Children of God
Surrender
Trust in Jesus
Follow Me There
Gone
What Have You Got to Lose?
Everywhere You Go
I'll Be Your Miracle
Sound of Your Voice
Don't Give Up Hope
Current availability:
Mellotrons used:
I should've known from the name; Third Day are a Christian rock outfit, which is at least less painful than full-blown CCM. The trouble with this stuff is, as I've pointed out elsewhere, the message tends to be more important than the medium, so Christian music is largely (at best) a second-rate excuse for a bit of preaching. 2004's Wire is their seventh album and is apparently a 'return to simple, rock and roll-driven melodies', although occasional powerpop echoes, as on Rockstar, liven things up slightly. Oh, and Lynyrd Skynyrd comparisons are seriously null and void. Paul Ebersold guests on various things, including Mellotron, allegedly, although all I can hear is generic strings here and there. Is there one here at all? Why credit the bastard if there isn't? Samples? Oh, I don't know; what a sodding waste of time.
2010's Move is, basically, more of the same, the band's tedious, one-dimensional Christian message wrapped up in vaguely acceptable rock'n'roll threads. Most of its contents are merely forgettable, although the children's chorus on Children Of God is entirely unforgiveable, the swampy acoustic slide that opens Surrender not fully redeeming them (reference intended). Paul Moak (Tyler Burkum, Michael W. Smith) plays Mellotron, with background strings on opener Lift Up Your Face and What Have You Got to Lose?, although the strings on several other tracks appear to be real.
All in all, then, a less-than-fully offensive Christian outfit, but not one I could actually recommend, either. If you remove the ghastly lyrics, these albums are merely dull, but the pious nonsense spouted by vocalist Mac Powell sinks them like a stone.
Third Eye (1976, 36.24) ***½/TTT

Protuberans
Sound Circle
All About Us
Eichendorff 8
Serious
Basic Train
Bloodstream
Arco
Bass Raga
Current availability:
Mellotron used:
Third Eye were a mid-'70s German prog/fusion outfit, not entirely dissimilar to the likes of To Be, who released three albums, although the last of these, 1982's Third Eye Live! seems to have a completely different lineup to their eponymous debut, including no less a personage than Tony Levin. Third Eye itself finds a happy middle ground between the two genres, which I usually find to have far less in common than you might expect. Eichendorff 8 is a piece for jazz piano, Serious is more of a classical piano piece with extra instrumentation, while other tracks feature drum solos (Arco), jazzy Rhodes work (Basic Train) or a tabla-driven bass and Mellotron flute duet (Bass Raga).
Mellotron from two members, keys man Jan Huydts and drummer Frank Kollges; Sound Circle features a pretty full-on 'Tron flute solo, along with what sounds like strings mixed with their Hohner string synth, with strings and choir on All About Us. Not sure who plays the skronky violin on Bloodstream, but there are more of those 'Tron strings and another flute solo, plus, as previously mentioned, more flutes on Bass Raga; a nicely set-up machine, I have to say.
This is apparently pretty damn' hard to find, and won't be to all tastes, but fusion fans will definitely go for it, while those of you who delight in well-played Mellotron flute will be in ecstasies.
Blue (1997, 52.00) **/T

Anything
Wounded
10 Days Late
Never Let You Go
Deep Inside Of You
1000 Julys
An Ode To Maybe
The Red Summer Sun
Camouflage
Farther
Slow Motion
Darkness
Darwin
Current availability:
Mellotron used:
To my (doubtless uneducated) ears, Third Eye Blind sound like a slightly more interesting version of Nickleback, though only slightly. You know, the middling sort of hard rock/pop peddled by any number of very successful American bands that seems to pass for 'passion' in many people's lives, while actually being soulless, overblown and empty. In my humble opinion, of course. Blue is their second album, and the general consensus seems to be that it's less immediate than their debut, but after a few listens it becomes apparent that it's every bit that album's equal, if not superior, which makes me wonder just what Third Eye Blind itself sounds like. But not that much. Opener Anything actually provides a glimmer of hope, but they sink into a mire of bland, faceless 'alternative' rock almost immediately and stay there for the next fifty minutes, which is time I'll never get back.
One 'Tron track, with a fairly standard but nicely upfront string part on The Red Summer Sun from Arion Salazar, although the song speeds up in the middle into what sounds like a pastiche of '77 punk crossed with AC/DC, although I've seen vocalist Stephan Jenkins' performance here compared to Aerosmith's Steven Tyler. Anyway, you really want to avoid this album and so do I. Next.
Starchaser (1981, 41.51) **/TT

Lovers on the Run
Who's Gonna Save the World?
The Seals
Do You Believe in Flying Saucers?
Road to Freedom
Starchaser
Current availability:
Mellotron used:
This is a very odd one indeed. Thirsty Moon's fifth album, Starchaser, has a rock-end-of-jazz-funk sound which keeps veering off into pseudo-proggy territory, with two of the tracks coming in at over ten minutes. The first of these, Who's Gonna Save The World?, is awful; ten minutes 45 of four-to-the-floor drums, like some terrible 12" version of a bargain-basement disco single, but Do You Believe In Flying Saucers? has some nice drifty bits in amongst the failed attempt at a dance remix. Probably the oddest thing about this album is the presence of guitarist/keyboard man Jürgen Drogies' Mellotron; it's not too out of place on the slower material, but the choirs on the aforementioned Who's Gonna Save The World? don't work at all. The 'Tron use is at its best when they use single-note flute lines, which fit into a couple of songs quite well.
I'm afraid I find it quite difficult to say anything particularly nice about Starchaser, although the band's earlier work may well be better; Thirsty Moon seem to be trying to be all things to all men here and fall flat on their faces. There are a few nice moments on the album, but I really can't recommend it either musically or on the Mellot ron front.
Miracle Lick (1972, 38.35) **½/½

Honey I Do
I Need You
Any Other Day
Tupelo
The Sun Keeps Right on Shining
Everybody's Got to Have a Song
Phoenix
Never Felt Better
Take a Look at Yourself
Current availability:
Mellotron used:
Despite originally hailing from New York, Thirty Days Out's two albums are more West Coast than Lower East Side, coming across as an uneasy amalgam of post-hippy folk and Midwest boogie-lite. Their eponymous '71 debut has an acoustic Christian-rock feel, but the following year's Miracle Lick ups the rock content, if only slightly, better tracks including mini-epic Everybody's Got To Have A Song, the REO Speedwagon-alike Phoenix and closer Take A Look At Yourself, although excitement's in pretty short supply here, sadly.
Ted Taylor plays a waiflike Mellotron string part on The Sun Keeps Right On Shining to no particular effect, while the strings on Everybody's Got To Have A Song are real. So; pleasant enough, but wispy and generally unengaging to ears attuned to rock of a slightly more solid nature. The band quietly faded away after Miracle Lick's commercial failure; amusingly, bassist Monte Melnick went on to tour manage the mighty Ramones for many years, which might just be their premier contribution to the World Of Rock.
Gods & Monsters (2003, 65.17) *½/½

Where You Are
Love You Too
The Last Good Year
This is Not Berlin
Spend the Day With Me
Love is Real
Sleeper
Time
A Kind of War
Out of Here
The Sound of My Life
Stay
My Fault
The City in the Sea
The Wake
Current availability:
Mellotron used:
Thom(as Hanreich), or, irritatingly, thom., is a German singer-songwriter who found fame fronting Vivid in the '90s. 2003's Gods & Monsters is his solo debut, an overlong dead ringer for Coldplay, or Radiohead-lite, if you're feeling charitable. Sadly, after over an hour of this stuff, I'm not, so *½ it is. The best the album gets? Occasionally sounding like bad U2. Yeah, that good.
Tim Lauer plays Mellotron, with background flutes (alongside the real one) on opener Where You Are, but nothing obvious on either Love You Too or The City In The Sea. Lauer has several other credits on this site (FFH, Rich Mullins, others), but that doesn't prove the Mellotron's genuine. Unless you're a Coldplay fan or a serious masochist (is there any difference?), you're not going to go for this anyway.
Sandi Thom (UK) see: Samples
Delights (1975, 36.17) **½/T

Julie
Devil's on Your Case
Delight From Demoon
Catherine
Star
Pennydarren
The Good Life
A Gathering of Angels
Captured in Your Dreams
Living on the Dole
Calabash [a.k.a. Goodnight Mrs Calabash] (1976, 35.17) **½/TTT

Liars
For What You Are
Big Parade
Nightmares and Dreams
See Us When You Can
Mary-Jane
Right Before Your Eyes
Don't Want to Love You
Everyday
Goodnight Mrs Calabash
Still Here (1978, 40.39) **½/T½

Just Like You
Sally
I Really Love You
Clear Sailing
Still Here
Coming Home
Faces
Tinkerbell
Tycoon
Current availability:
Calabash: not on CD
Still Here: Wounded Bird (US)
Mellotron used:
Both titles: Hugh Syme's M400
Ian Thomas' career started in the late '60s, when he was still in his teens, although it took him until 1973 to release his first (self-titled) solo album. His third effort, 1975's Delights, is a decent enough album of its type, several tracks (notably Delight From Demoon) falling into the 'proto-AOR' bracket, for better or worse. Thomas' new keyboard player, Hugh Syme, is better known around these parts for his considerable Rush connections, not least designing most of their album sleeves and playing the gorgeous Mellotron part on their only proper 'Tron track, 2112's Tears. Anyway, he and Thomas both play what I presume is Syme's M400, with a pseudo-orchestral string line on opener Julie and strings (and what sound like real voices) on A Gathering Of Angels, with an upfront flute part later on, although those are clearly real strings on Star, Captured In Your Dreams (plus real flutes) and closer Living On The Dole.
His follow-up, '76's Calabash (released in the UK with a different running order as Goodnight Mrs Calabash, for some reason), features the Mellotron on over half its contents, pleasingly. The album itself veers between ordinary-if-acceptable middling rock fare (opener Liars, Mary-Jane) and dated, dullsville, mid-'70s pop/rock (everything else), although I'm fully aware that for a non-genre songwriter, that was a perfectly acceptable style at the time, which doesn't enhance our listening pleasure today, sadly. Syme plays Mellotron strings on no fewer than six tracks - essentially, everything highlighted above - notably some groovy pitchbends on Mary-Jane.
Despite everything the biography on Thomas' website has to say, the only description I can find for 1978's Still Here is late-'70s soft rock, I'm afraid. Not AOR enough for Foreigner fans, not singer-songwriter enough for the bedsitter types, certainly not 'rock' enough for the mainstream rock crowd, it's no more or less than dated, rather gutless West Coast-style soft rock. Although side two's Coming Home attempts an epic approach, it fails to appeal to prog fans by dint of its sheer wussiness and lack of genuine development, although that really wasn't where Thomas was coming from, in fairness. Syme on Mellotron once again, with a nice string part on I Really Love You and a few more chords on Clear Sailing and Tinkerbell, though that would seem to be your lot. [Thinks] Was it this machine he used with Rush? Does anyone aside from me care? [It almost certainly was. Rush ed.]
Anyway, while these are perfectly professional and I'm sure all the songs are well-written etc. etc., they bored me to tears (geddit?), although there's some decent Mellotron work on Calabash.
n.b. As also referenced in my Rush review, Darren has pointed me towards an oddity on Ian Thomas' website; an answer to a question from the man himself, viz:
"I do believe the Mellotron you refer to [on Thomas' The Runner] may very well have been played by the multi-talented Hugh Syme on the Rush track "Tears". That Mellotron was the best one I had ever seen over the years. It was a double manual and with a pretty comprehensive tape library. Note: incorrect. Further down the same page, Syme is quoted as saying, "We used the (classic) white Mellotron 400 (single manual) model [on both the Thomas and Rush recordings]". There is a greater story to that Mellotron in that it was sold to Geddy by none other than the late great jazz pianist Oscar Peterson. Oscar, rest his warm curious soul, was always interested in any technology involving music and in particularly anything involving his love... the keyboard. The songs that the Mellotron were used on didn't make it to the record unfortunately, but my gratitude to Geddy's sense of generosity remained. And hence the credit".
So... Syme used a standard M400, but played Geddy's MkV on The Runner sessions, although none of the relevant tracks are actually on the album.
Cradlesong (2009, 53.33) *½/½

Her Diamonds
Gasoline
Give Me the Meltdown
Someday
Mockingbird
Real World '09
Fire on the Mountain
Hard on You
Still Ain't Over You
Natural
Snowblind
Wonderful
Cradlesong
Getting Late
Current availability:
Chamberlin used:
Rob Thomas is better known as vocalist for the execrable Matchbox Twenty, so it comes as absolutely no surprise to discover that his second solo effort, 2009's Cradlesong, is as painfully mainstream as his band's 'work'. About the only positive thing I can think of to say about it is that one of the German bonus tracks, the powerpoppy Remembered Well, is better than anything on the regular release.
Patrick Warren does his usual Chamberlin thing, although the only thing I can hear is the faint flutes on Natural, which isn't to say there isn't a load more hidden away in the mix. All in all, this one to avoid, urgently, with next to no tape-replay work to sweeten the pill. Horrible.
See: Matchbox Twenty
(Guitar, Vocal) (1976, recorded 1967-76, 68.57) ****/½

Time Will Show the Wiser (Fairport Convention)
Throwaway Street Puzzle (Fairport Convention)
Mr Lacey (Fairport Convention)
The Ballad of Easy Rider (Fairport Convention)
Poor Will and the Jolly Hangman (Fairport Convention)
Sweet Little Rock'n'Roller (Fairport Convention)
A Heart Needs a Home
The Dark End of the Street
It'll Be Me
Flee as a Bird
Night Comes in
The Pitfall/The Excursion
Calvary Cross
Amnesia (1988, 43.48) ****½/T

Turning of the Tide
Gypsy Love Songs
Reckless Kind
Jerusalem on the Jukebox
I Still Dream
Don't Tempt Me
Yankee, Go Home
Can't Win
Waltzing's for Dreamers
Pharaoh
Rumor and Sigh (1991, 61.28) *****/TT

Read About Love
I Feel So Good
I Misunderstood
Grey Walls
You Dream Too Much
Why Must I Plead
1952 Vincent Black Lightning
Backlash Love Affair
Mystery Wind
Don't Sit on My Jimmy Shands
Keep Your Distance
Mother Knows Best
God Loves a Drunk
Psycho Street
Current availability:
(Guitar, Vocal): Hannibal
Amnesia/Rumor and Sigh: Capitol
Mellotron/Chamberlins used:
(Guitar, Vocal): studio MkII?
Amnesia/Rumor and Sigh: Mitchell Froom's M1
Richard Thompson first made his name as a callow 17 year-old with Fairport Convention in the late '60s and has, for his sins, been tarred with the 'folk-rock' brush ever since. Admittedly, there are far worse brushes to be tarred with (?), but it would appear to have become a bit of an albatross round his neck; he apparently sells a consistent 10,000 copies per album in the UK, but despite huge critical acclaim, can't increase his audience. Anyway, to recap: Thompson left Fairport in 1971 and quickly began his solo career. After meeting and marrying his wife Linda, they recorded together for the rest of the decade, before an acrimonious split in the early '80s; I personally much prefer his post-split work, which (to my ears) reached a peak around the early '90s. He's still writing well and playing; after all, he's only in his early fifties now, and as a 'singer-songwriter' (for want of any better term), there's no good reason for him to stop any time in the near future.
The self-deprecatingly titled (Guitar, Vocal) was a stopgap album released during Thompson's self-inflicted three year musical hiatus, when he and Linda became Sufi Muslims and moved into a religious community. It's a double-LP set, one disc a compilation of rarities, the other more recent live material. It's worth it for Fairport's classic Poor Will And The Jolly Hangman, inexplicably left off their Full House LP (1970, ****½) and a storming live rendition of Calvary Cross. Fairport's b-side Throwaway Street Puzzle (remixed, apparently) has Mellotron credited to guitarist Simon Nicol, but to be honest, I'll be fucked if I can hear it.
By 1988, Thompson's post-split career was well under way and he began working with noted US producer Mitchell Froom. Now, Froom is (or maybe was) notorious for using Chamberlin on almost everything he produced and the brilliant Amnesia is no exception. However, due to the instrument's irritating ability to disappear into the mix, I can actually only hear it on one track, Don't Tempt Me, one of the album's lesser songs. There must be a good six classic Thompson songs on the album and there may be some more Chamberlin on there, but it's certainly not immediately apparent.
Its slightly belated follow-up, Rumor and Sigh (another Froom production) really is a classic record, with no less than eight or nine top songs, particularly the opening three numbers, with no noticeably substandard efforts in sight. The two obvious Chamberlin tracks both use strings, and had me thinking they were Mellotron until I looked at the credits more closely. Grey Walls has a great ascending string line, although You Dream Too Much is a little more ordinary. Thompson's next classic, Mirror Blue (1993, *****) (from 'The Lady of Shalott') was also produced by Froom, but without specific instrumental credits I simply can't tell whether or not there's any Chamberlin on the album or not. Killer record, though...
So, although these albums are all total classics, only Rumor and Sigh has any obvious Chamberlin use, and isn't really worth buying on those grounds alone. However, you should buy these IMMEDIATELY to hear a master at the (artistic) peak of his profession.
Separate Ways (2005, 45.57) ***½/T

Shine So Bright
I Should Get Up
Everybody Move it
I Wish it Was Over
Separate Ways
Sorry to See Me Go
Altered State
Think Again
That's Enough Out of You
No Way to Be
You Made it
Frontlines
Take a Message to Mary
Current availability:
Chamberlin used:
Teddy Thompson is, of course, the son of Richard (above), although physically, he more resembles his mother, Linda. Helping the old man out while still in his teens, it's surprising that Thompson the younger has taken so long to come to the public's attention, although he was only 24 when he released his solo debut. The trouble is, while you want to judge his music in its own right, it's almost impossible not to compare it to dad's, as with so many 'kids of famous people', which seems unfair, but then it could be argued, would he have a career if he wasn't who he was? He's a damn' good songwriter, but so are many other, far less well-known artists, who don't have the advantage of good parentage (works for actors, too, of course).
2005's Separate Ways is his second release and while second song in, I Should Get Up, could easily be Richard's, Teddy definitely stamps some of his own identity on the record. As dad guests, it's unknown whether the 'patented Richard Thompson guitar' is Teddy's take on the style or the real thing, while the more rock'n'roll numbers sound disarmingly like dad's Crash The Party-style numbers. Short of forming a metal band, though, or learning the cor anglais and joining an orchestra, what's the man to do?
Co-producer Brad Albetta plays Chamberlin, although the only obvious use is the string part on No Way To Be. Are those flutes on Altered State? Hard to say, so just the one definite. If you like Richard's work, you could do a whole lot worse than investigate his son's; as a Richard fan, I can't believe Teddy's been releasing his own albums for a decade and I haven't heard him before now. Separate Ways is a good, if not killer album, and while its tape-replay use seems to be pretty minimal, it's hardly the album's defining feature.
Earth Vision Impact (2001, 51.38) ****/T

Sulm
Thønkland
Square Root
Pomme
Insharp
Garden
Ela
Rak
Kalevala (2003, 6.38) ***½/T

[Thønk contribute]
Kapittu 45/46
Current availability:
Earth Vision Impact: Galileo (Switzerland)
Kalevala: Musea (France)
Mellotron used:
Pär Lindh's MkV and/or M400
Thønk (no idea why the Norwegian 'ø' from a Swiss band) are a current progressive trio, with the 'traditional' lineup of keys/drums/bass (/occasional guitar), although they completely avoid the usual 'ELP trap', thankfully. Their music is actually quite difficult to categorise, which has to be a good thing, although some reviewers seem to detect a slight UK influence. Earth Vision Impact is instrumental and piano-driven, both features in short supply these days, and that has to be real grand piano I'm hearing; samples never sound right... (Where have we heard this before?). The material is melodic and complex, but with none of the herky-jerkiness of too many current outfits, with a nice 'flow' to every track, probably assisted by Marc "Rak" Grassi's superb piano playing. Why can't we have more bands like this?
Grassi's other keyboard work is based around Hammond and (unspecified) monosynth, with the occasional polysynth part; the very digital sounds on Rak, for example, actually work in the context of the song, unlike on so many similar efforts. It has to be said, there isn't an awful lot of Mellotron on offer here, with a string part in brief opener Sulm, and a few chords in Rak, but that would seem to be your lot. It seems the album was recorded at Pär Lindh's Crimsonic Studio, which explains the 'real' instruments.
So; a very good album indeed, and one that may be reclassified in an upwards direction if I ever find the time to give it several good plays. Very little 'Tron, but that's not why you should buy this album, anyway. There's one overriding reason: the music. Incidentally, Thønk also contribute a track to Musea's vast Kalevala epic, Kapittu 45/46, in a similar vein to their album material, with some faint 'Tron strings that might even be real.
See: Colossus Project
Pass on This Side [a.k.a. Godz Bless California, by The Godz] (1974, 29.57) **½/½

God Bless California
M'Lady
Jimi
Christopher's Sorrow
Walkin' Guitar Blues
Oh Woman
To Err is Human
Sometimes
Current availability:
Mellotron used:
Thornton, Fradkin & Unger & The Big Band's Pass on This Side seems to be overly-convoluted: some sources would have you believe it first appeared in 1970, although Les Fradkin's Wikipedia page (clearly written by himself) giving its release date as 1974. It apparently has a Paul and Linda connection, too; I believe their then-drummer, Denny Seiwell, was involved and brought them in on the sessions.
Fradkin had been a session musician since the late '60s, while Paul Thornton was a member of the original Godz (not the later dodgy hard rock troupe), the pair finding bassist Bob Unger to complete the band. The material's mostly in a Beatles vein (Fradkin was the first 'George' in the Beatlemania stage show), probably sounding rather dated by the mid-'70s, which is why you haven't heard of it. The sleeve was plain black (as ESP's site dryly says, "Like Spïnal Tap"), containing a set of stickers to make your own sleeve. Better tracks include God Bless California and Sometimes, although the album's twin nadirs are the terrible Jimi - heartfelt, I'm sure, but it really is bloody awful (and also a pointer to why this didn't appear in 1970) - and To Err Is Human, not for the song itself, but for David Peel's appalling, bellowing vocals. Who decided this was going on the record?
Fradkin plays Mellotron, with cellos on M'Lady, although the strings on opener God Bless California and Christopher's Sorrow sound real. To be brutally honest, I really can't recommend this; it has its moments, but the songs aren't that great and it sounds dated for its time, so with next to no Mellotron, I'd have to say: don't bother. At least it's short.
See: Les Fradkin
Cyan (1973, 35.20) ***/T½

Happy Song
Play Children Play
Storybook Feeling
Ridin' Thumb
Shambala
Singer Man
Let Me Serenade You
Lay Me Down Easy
Into My Life
Hard Labor (1974, 35.30) **½/TT½

Prelude
Sure as I'm Sittin Here
Anytime Babe
Put Out the Light
Sitting in Limbo
I'd Be So Happy
Play Something Sweet
On the Way Back Home
The Show Must Go on
Coming Down Your Way (1975, 36.07) **½/T½

'Til the World Ends
You Can Leave Your Hat on
Good Old Feeling
Mind Over Matter
Midnight Flyer ("Eli Wheeler")
Kite Man
Coming Down Your Way
When it's Over
Lean Back, Hold Steady
Yo Te Quiero Hablar (Take You Down)
American Pastime (1976, 35.23) **½/TT½

Everybody is a Masterpiece
Easy Evil
Billy the Kid
Mellow Down
Yellow Beach Umbrella
Hang on
Southbound
Drive on, Ride on
Dance the Night Away
Current availability:
Cyan: MCA
Labor/Coming: 2-on-1 (label unknown); Hard Labor also on MCA
Pastime: not on CD
Chamberlins used:
Cyan: unknown
All other titles: Skip Konte's M4 Riviera
Three Dog Night, with their distinctive three-vocalist attack, hit their peak at the end of the '60s, but were losing popularity by the middle of the following decade. From what little I've heard of their earlier stuff (they never meant much in the UK, despite their one major hit here, 1970's Mama Told Me (Not To Come)), they'd become, if anything, even more bland by this stage in their career; soft rock for the masses, to be honest. They were never a band to go out on a limb, but then, wasn't that what they were about? And who am I to argue?
1973's Cyan is pretty much what you'd expect, better tracks including opener Happy Song, vocal showcase Play Children Play and the funky Ridin' Thumb. This was before Skip Konte's membership of the band, making it most likely that Jimmy Greenspoon plays the Chamberlin (?)major string and minor flute parts on Storybook Feeling, including heavily-phased strings towards the end of the track and the string and flute parts on closer In My Life. Thanks, incidentally, to Mark for pointing me at this one.
They released Hard Labor in 1974, with a legendarily crap sleeve design (without or without the sticking-plaster). As always, all the material consisted of covers (they had a reputation at one point for recording songs by up-and-coming writers who later made it big in their own rights), with names I recognise including John Hiatt, Jimmy Cliff, Allen Toussaint and Leo Sayer, but any oomph that the songs may have had originally was long gone by the time Three Dog Night had finished with them. New keys man Skip Konte played Chamberlin (a monster four-manual M4, apparently) on several tracks, however, with the most overt use being the strings on I'd Be So Happy and the flute melody on the title track, although Sayer's The Show Must Go On and Prelude, utilising the same 'circus theme', feature various string and brass parts, too. Incidentally, the rear sleeve pic has a tantalising glimpse of what is almost certainly Konte's Chamberlin, although it's largely hidden behind an amp stack. Bugger.
The following year's Coming Down Your Way (poor sleeve again) actually has track-by-track credits, proving that the 'orchestral' strings on opener 'Til The World Ends are actually Chamby, although I can't really say they make the song any better. They manage to mangle Randy Newman on You Can Leave Your Hat On, and actually break with tradition by playing one of Konte's songs in Midnight Flyer ("Eli Wheeler"). Chamberlin on two other tracks, with flutes on Kite Man and When It's Over, along with a 'proper' string arrangement on the latter.
The band were, to be honest, well past it by the time they released American Pastime, in '76. They were apparently back down at club level by this time, with founder member Danny Hutton no longer part of the band, breaking the triumvirate of singers that had propelled them to fame and fortune just a few years earlier. Anyway, as with their previous few releases, there's some Chamberlin to be heard here, almost certainly played by Skip Konte again. All highlighted tracks feature strings and flutes, often simultaneously, made possible by the multi-manual setup of the gargantuan M4.
So; none of these are the most exciting of albums, although there's some reasonable Chamberlin work on all of them, so maybe they're worth hearing for that. Maybe. There's no Chamby on 1973's live double, Around the World with Three Dog Night and as far as I can work out, the band retired from recording for some years in the late '70s, returning well into the polysynth era, so this is very probably it for their tape-replay work. Good - at least that means I don't have to listen to any more of it. Here's that M4 on a TV studio clip of The Show Must Go On, by the way, complete with Konte dressed like a cross between Peter Gabriel and Arthur Brown.
Three Fish (1996, 57.03) **½/½

Solitude
Song for a Dead Girl
Silence at the Bottom
The Intelligent Fish
Zagreb
All Messed Up
Here in the Darkness
The Half Intelligent Fish
Strangers in My Head
A Lovely Meander
Build
Stupid Fish
Secret Place
Elusive Ones
Laced
Current availability:
Mellotron used:
Three Fish were a minor '90s supergroup consisting of Jeff Ament (Pearl Jam), Robbi Robb (mildly underrated South Africans Tribe After Tribe) and, er, Richard Stuverud, whose first eponymous album (of two) sounds pretty much as you'd expect: very slightly world-influenced grunge. Its better moments include the acoustic Zagreb and Robb's rather odd spoken-word-over-minimal-acoustic-backing 'fish trilogy' morality tales, The Intelligent Fish, The Half Intelligent Fish and Stupid Fish, although tiresome nonsense like Strangers In My Head and Elusive Ones seem to go on forever.
'Honorary fourth Fish' Cary Ecklund plays (very) occasional Mellotron, with fat church organ chords (OK, chord) all over All Messed Up, although that would appear to be it. This has its moments, but frankly, they're few and far between, so with so little Mellotron content, I'm afraid a recommendation's a no-no.
See: Pearl Jam
A Third of a Lifetime (1971, 51.28) ***½/T

Butter Queen
Daze
Another Way
A Third of a Lifetime
Nice One
Three Man Army
Agent Man
See What I Took
Midnight
Together
Current availability:
Mellotron used:
Brothers Adrian and Paul Gurvitz (a.k.a.Curtis) formed Three Man Army after splitting Gun around the turn of the '70s, carrying on that outfit's predisposition for heaviosity. I'm rather surprised I haven't picked up on this lot earlier, as in around 1977, when I first started buying albums properly; their debut, A Third of a Lifetime, is a prime slice of early hard rock, bearing favourable comparison with the likes of Stray or even Budgie. Hard to pinpoint highlights, although Daze had my foot tapping uncontrollably.
I thought it was going to be 'Tron on the title track, but it turned out to be real strings, leaving closer Together as the only 'Tron track here, with a nice orchestrated MkII strings part throughout much of the song. So; definitely worth it for fans of the era, although not for the 'Tron. Beware: the 1990 German Repertoire issue not only has no bonus tracks, unlike later versions, but has also been mastered from vinyl.
Life's Road (2011, 64.15) ***½/½

Too Many Choices
Cold to the Bone
Down to the Bottom
Each to Their Own
Feel Alive
An Endless Delusion
Since Our First Day
Moving on
Life's Road
Current availability:
Mellotron used:
Three Seasons are a new Swedish psych trio, heavily augmented by a keyboard player; Sartez Faraj's guitar tone is pure Strat-through-Marshall, so we're not talking 'English whimsy' here, more 'early '70s over-amped American lunacy'. Their debut, 2011's Life's Road's chief fault is its length; if you're going to make music that sounds like it's from 1972, chaps, keep to vinyl length; an hour-plus really is too long. Saying that, it's a good album, highlights including the lengthy An Endless Delusion and the similarly lengthy title track, although some trimming could've been done in places.
Said keyboard player, Mattias Risberg, plays what sounds like real Mellotron strings on the title track, albeit sparingly, so you're not going to buy this for its Mellotronic input. While not actually prog per se, this will appeal to many prog fans, particularly those who cross over into hard rock territory. Worth hearing.
Paradise Now (1981, 36.55) **½/T½

Moon
They Call Me Crazy
Real Me
Memories
Empty Like Space
Sun
After the Hospital
Desert
Light of Silence (Parts I-III)
Aloha
Current availability:
Mellotron used:
Over two decades before Brit-prog metal hopefuls Threshold appeared, a Finnish band had already nabbed the name, recording what I believe to be the one album, Paradise Now, in 1981. It's an extremely mixed affair, giving the impression that the band hadn't really got the faintest idea what kind of sound they were going for. Opener Moon giving the impression it's going to be an electronic album, before They Call Me Crazy crosses Pink Floyd with Black Sabbath. With a sax solo. Real Me's a short acoustic number, while Sun, Empty Like Space and several other tracks are sort-of new wave/synthpop, making for a rather unsatisfyingly diverse (read: unfocussed) listen.
Ari Taskinen and Esa Kotilainen (Sarcofagus) play what I presume to be the latter's M400, though only on the last two tracks, the proggy Light Of Silence (Parts I-III) and Aloha, with flutes, strings and cellos, as if to make up for the machine's lack elsewhere. Aside from the fact that it's very unavailable, I couldn't really recommend that you track down a copy of Paradise Now for a bit of Mellotron use; musically, it's a mess, although it has its moments, while two 'Tron tracks just aren't enough to make it worthwhile.
Full Collapse (2001, 42.26) ***/½

A0001
Understanding in a Car Crash
Concealer
Autobiography
Hole in the Wall
Cross Out the Eyes
Paris in Flames
I am the Killer
Standing on the Edge of Summer
Wind Up
How Long is the Night
i1100
Current availability:
Mellotron used:
Thursday are apparently best described as 'post-hardcore', which means in practice, 'punky yet not punk, with the occasional interesting melodic or harmonic twist', which is probably why they get called post-hardcore. Full Collapse is their second album, on which they sound very angry; Cross Out The Eyes ends with vocalist Geoff Rickly sounding like something's about to snap, although a couple of tracks have quieter moments.
A smidgeon of Mellotron (apparently credited 'melotone' - aargh!) on Paris In Flames from engineer Tim Gilles, although all you get is a few seconds of high strings. All in all, this isn't a typical Planet Mellotron reader album, and while the band has a following, I rather doubt they're reading this.
Yr (1980, 38.08) ****/TT

Ur
Here Come the Sphexes
Ten Years
One Day
Three Primates
You and it
The Alien Lounge
10 Yr Dance
Current availability:
Mellotron used:
One of Scott Hamrick's:
One of the most refreshing and important musical discoveries I have made in the last year is the music of Steve Tibbetts. While this started with the jaw-dropping and appropriately named 1986 album Exploded View (****½), the only album I have that is of interest to Mellotron enthusiasts is 1980's Yr.
This is Tibbetts' second album, and it hints at the nature of his later work but is more accessible. This is mostly an acoustic affair and is dominated by guitar and a variety of exotic percussion ranging from the African kalimba (thumb piano) to congas and the Indian tabla drum. Imagine an acoustic guitar virtuoso like John Fahey, Leo Kotke or Michael Hedges had recruited Edgar Froese and a couple of hand drum experts to record an album, and you'll get the idea of what Yr has to offer. All the tracks offer moments of brilliance, like when Moog briefly swirls in and out of the mix and across the stereo field on Alien Lounge - or when Ten Years settles into a trance-inducing groove led by the tabla drums. Yr is mostly folksy though, especially on One Day, which has a traditional, Americana feel due to the use of mandolin and fiddle that would not sound too out of place in a country song. The latter was supposedly mixed out of the ECM reissue of the album due to ECM not being able to obtain rights from the fiddle player. So if you must hear the fiddle, you'll have to search out the scarce privately issued LP on the Frammis label.
Tibbetts apparently intended Yr to be a headphone album, as the notes on the back cover include the comment, "Use yr headfones" (sic). Unfortunately, headphone moments, and forays into more progressive and unpredictable territory - like Tibbetts' always exciting electric guitar work - occur sporadically throughout the LP. The result is that listeners may find themselves waiting for the fleeting moments of ecstasy that do occur (as opposed to the rest of the album, which is 'merely' good). Still Yr is a fine, original album and will be more than sufficient to open your eyes to the overlooked genius of Steve Tibbetts.
Mellotronically, Yr is of fairly minimal significance. 'Tron finds its way onto half the tracks, but it's used sparingly and is almost entirely relegated to strings and some very subtle flutes. You And It provides the biggest 'Tron thrills with the machine providing string sounds throughout much of the track and culminating in the veritable Mellotron cadenza at the end of the piece that sounds like it could have come straight out of an early Edgar Froese solo album.
Tibet (1979, 39.12) ***½/TT

Fight Back
City By the Sea
White Ships and Icebergs
Seaside Evening
Take What's Yours
Eagles
No More Time
Current availability:
Mellotron used:
Tibet's music is in the grand tradition of late-'70s German prog, comparable to Ramses or Rousseau, and on listening to the album for the first time in several years, I was struck by how I remembered most of the songs, which is more than I can say for many better-known bands. There is a distinct lack of originality on display in places, with White Ships And Icebergs ripping off Yes outrageously, but overall, it's a pretty good album of its type.
The band invited their original keyboard player, Dieter Kumpakischkis, to participate during the recording, alongside his replacement, Deff Ballin, but I believe it's Ballin who plays the Mellotron on the record. The album was actually recorded over three different sessions over the space of two years, which might explain the string synth on some tracks and the 'Tron on others. Plenty of those 'Tron strings on City By The Sea and White Ships And Icebergs, but other tracks with fairly epic moments only have the string synth, leading me to suspect that these two tracks were the only ones recorded at the (last?) session. Hey, roll over Sherlock and tell Poirot the news...
Anyway, despite being rather generic, Tibet is a reasonably good album, though I wouldn't put it at the top of your 'wants' list.
Cortney Tidwell (US) see: Samples
Aelita (1994, 43.58) ***/T

Aelita, Pt.1
You Said Tomorrow Yesterday
Tamaghis
Aelita, Pt.2
A Rocket Debris Cloud Drifts
Chlebnikov
Other Voices Other Rooms
Aelita, Pt.3
Current availability:
Mellotron used:
Tied + Tickled Trio are a German electronica outfit, for want of a better word, who apparently share members with other bands on the same label, including The Notwist and Lali Puna. Most of their seventh album, 2007's Aelita, consists of gently ebbing and flowing samples with generous helpings of tuned percussion, although Tamaghis adds a dub element to the proceedings, while Other Voices Other Rooms throws in a rather unwelcome indie influence.
An unknown player, probably Johannes Enders, Micha Acher or Markus Acher plays Mellotron choirs and cellos on Chlebnikov. I was inclined to dismiss them as samples initially, until I realised that not only did no note reach its eight-second limit (not in itself proof of authenticity, I admit), but the choirs in particular have a certain wobbliness about them that samples don't tend to have, given that most of them have been cleaned up to an 'acceptable' level to the uninitiated user. So; possibly real 'Tron on an album that may well appeal to electronica fans, although a high tolerance for glockenspiels may well come in useful while listening.
See: Lali Puna
Skyline (2011, 40.12) ***/½

Another Shore
I'm Gonna Live Anyhow
Monuments
The Gutter
Exit 25 Block 20
Hesitation Wound
Forgive Me
The Trial
Vanishing Point
Current availability:
Mellotron used:
Noted French musician and composer Yann Tiersen is probably best-known for his 2001 soundtrack to Amélie, although Good Bye Lenin! will register on film fans' radar, too. 2011's Skyline is his seventh regular studio album, an uncategorisable mélange of traditional French music, synth experimentation, circus music, film noir soundtracks and even a little modern indie, amongst seemingly dozens of genre influences. Tiersen himself admits that he hasn't changed his style that much for this release, so fans of his earlier work are unlikely to be disappointed.
I wasn't at all sure about Tiersen's Mellotron credit, but the overly-smooth choir pitchbends on Forgive Me are redeemed by the wobbly flute line on The Trial, making me think that it might be real after all. Given that he supposedly used loads of analogue synths on the record, it would be nice to think that he bothered to source a real machine, but who knows? Anyway, one for film fans in general and admirers of Tiersen's soundtrack work in particular.
Tiger (1976, 42.08) ***/TTT

Lay Me
Ordinary Girl
Lay Back Stay Back
Prayer
I'm Not Crying
Long Time
Suzy Slicker
Tyger, Tyger
Current availability:
2-on-1 with Jim Sullivan's Big Jim's Back: Diamond (UK)
Mellotron used:
Tiger were an odd sort of band, being basically a vehicle for über-session guitarist 'Big' Jim Sullivan to, er, 'do his own thing', with the end result being only partially successful. Sullivan had already released a dodgy country-flavoured album in '74, Big Jim's Back (**), and the same label, Retreat, opted to release Tiger. To be brutally honest, it's largely undistinguished mid-'70s hard rock, with the occasional country influence creeping through (obviously where Sullivan's heart really lay), with a clever pedal steel imitation from a synth on Lay Back Stay Back. Overall, though, it's not really anything to write home about, although it has its moments.
The main one of these is the sort-of ballad, Prayer, which is absolutely smothered in Dave McCrae's Mellotron choirs and strings, being easily the album's standout track, avoiding the dodgy hard rock trap into which the rest of it falls. More 'Tron on Long Time, while Suzy Slicker has a great strings pitchbend part. Tyger, Tyger opens with solo 'Tron string chords; pity about the distortion that plagues the CD reissue - I doubt if the original sounds like that.
So; was it worth buying? Moot point, really; the first album on this twofer is awful, and while the Tiger LP's OK, the only thing that makes it even remotely worth the effort is the reasonable Mellotron work. I think that leaves it up to you, really. There was a second Tiger album, Goin' Down Fighting (***), which certainly has its moments, but being 'Tron-free I'll leave it for someone else to write about, and I believe a third, Test of Time crept out in '83, some years after being recorded, but I don't know anything about it.
Can't Go Back (2012, 38.50) **½/TT½

All Things to You
Dust on My Shoes
Make the Day
Rock'n'Roll
Science
Keep it Real
Can't Go Back
Heavy Pressure
One Kiss
If the World Should Want for Love
Current availability:
Mellotron/Chamberlin used:
Paul Bryan's (?) M4000/unknown Chamby
I remember all the fuss amongst the chattering classes when Tanita Tikaram's first album appeared in 1988; she was absolutely flavour of the month for, er, about a month, I think. Her eighth album, 2012's Can't Go Back, doesn't sound all that different to her early work, to my ears (in fairness, I'm working from memory here): rather bland adult singer-songwriter pop, typified by material like Make The Day, Keep It Real and the title track, although, in actuality, there are almost as many upbeat numbers as ballads.
Paul Bryan plays Mellotron (his brand-new M4000) and Chamberlin, with strings (Chamby?) and cellos (Mellotron?) on Make The Day, more cellos on Rock'n'Roll and strings on Keep It Real, the title track and closer If The World Should Want For Love (and are those faint choirs on Can't Go Back?). Despite this being one of the earliest recordings of a new M4000 machine, I can't honestly recommend this to anyone but Tikaram's existing fans. Very adult, very mature, very... dull, actually. This reminds me why I never liked her first time round; terribly sophisticated, but far too near the middle of the road for my tastes.
Fly Paper (2008, 49.20) ***½/T

Hide in My Shadow
Sacred & Mundane
Back & Forth
Landscrape
Markers
Dragons, Dreams & Daring Deeds
Crowded Emptiness
Hide & Seek
Current availability:
Mellotron used:
Tiles are a highly-rated newish Canadian progressive band, operating at the heavier end of the spectrum without actually breaking out into full-blown prog metal. Thankfully. 2008's Fly Paper, produced by legendary Rushmeister Terry "Broon" Brown, is their fifth album in over a decade and is surprisingly varied, although you wouldn't exactly call most of its contents original; opener Hide In My Shadow is almost a straight cross between Rush and Dream Theater, while Queensrÿche and King's X are channelled in several songs, particularly in the vocal department. The band go full-throttle on the 'famous guests' front, notably Max Webster's Kim Mitchell on Dragons, Dreams & Daring Deeds and Rush's Alex Lifeson on Sacred & Mundane, but to be honest, they don't need the patronage, being more than capable in their own right.
Matthew Parmenter (ex-Discipline) plays guest keyboards, including Mellotron on two tracks, with flutes on Markers and strings on closer Hide & Seek, although they're a bit suspect, given that the Hammond on Markers is horribly fake, unless they've discovered a Leslie that changes speed like a drunken calliope. Still, nice to hear one (possibly) being used in a modern prog context, especially when the album concerned is actually not at all bad. Cautiously recommended.
See: Matthew Parmenter
A.M.I.G.D.A.L.A. (2008, 54.29) ****/TTTT½

680819DP
Symphony for a Shadow
The Mirrors Room
The Echo of the Dark Side
Nocturnal - Part I
Promenade Avec la Nuit
Alter Action
Eclipse
Nocturnal - Part II
A.M.I.G.D.A.L.A.
The Spaghetti Epic 2: The Good, the Bad & the Ugly (2006, 26.56) ****/TT½

[Tilion contribute]
The Ugly
Current availability:
Both titles: Musea (France)
Mellotrons used:
Both titles: band's own M400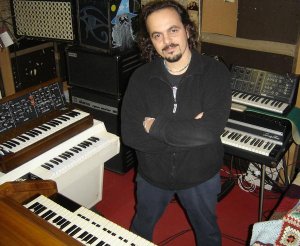 You'll only hear Mellotron samples on Tilion's debut album, 2003's Insolitariamente (reviewed here). It's a good album, but if only it were half as good as their belated follow-up, 2008's A.M.I.G.D.A.L.A., we'd be laughing. After trawling through a couple of colossal Colossus themed sets, this is an absolute joy to listen to; not overlong, inventive, melodic-yet-angular progressive rock with nary a sight of any horrible modern 'boards. The album skips through a variety of styles, while remaining cohesive, covering near-progressive metal (Symphony For A Shadow), Italian symphonic (The Echo Of The Dark Side) and sparse, piano-led progressive (Nocturnal - Part I), amongst others, only slightly let down by the part-time female vocals, which somehow don't sit that comfortably with the music.
Alfio Costa gets his M400 in on every track, wondrously, pretty much all strings and flutes, although I'm sure I heard string section tapes somewhere. Most of his playing's relatively 'standard', although The Echo Of The Dark Side has a flute part (mostly mono-, occasionally poly-) running right through it, almost fooling the ear into thinking it's real in places. As you can see, the band have also contributed to several tribute/multi-artist concept albums, with worthwhile Mellotron use on most.
So; A.M.I.G.D.A.L.A. leaves me hungry to hear any subsequent Tilion albums, but in the meantime, I'll have to make do with this excellent effort. Great music and loads of Mellotron? What more could a dyed-in-the-wool prog fan ask for? Buy.
See: Samples | Daal | Prowlers | Samurai of Prog | Colossus Project
Vacilando Territory Blues (2009, 49.27) ***½/T½

All You See
No Occasion
Firstborn
Vessels
James Blues
Steel on Steel
Laborless Land
Barter Blues
New Imperial Grand Blues
Master's House
Someone With Child
Above All Men
Vacilando Territory
Current availability:
Mellotron used:
J(osh) Tillman's day job was drummer for fêted indie folkers Fleet Foxes, although he appears to belong to several other bands and runs a solo career concurrently, which is pretty impressive, all things considered. Vacilando Territory Blues, his sixth solo album in four years (!), only occasionally actually strays into blues territory (notably on Barter Blues and the more electric New Imperial Grand Blues), sticking mainly to vaguely Nick Drake-ish downbeat acoustic material, if you can imagine a Seattle version of Drake. Difficult to pick out any particular track for praise, as most of the gentler material works very well indeed, although Master's House might just stand slightly taller than its comrades.
Casey Wescott plays Mellotron flutes on No Occasion, the more uptempo Steel On Steel and Someone With Child, all to nice effect, although I'm not totally convinced by their veracity. I'd like to think they're real, though, and this will stay here unless I find out otherwise. All in all, then, a fine album of weary, careworn songs from someone who should be too young to write them. Recommended.
See: Father John Misty | Fleet Foxes
Bottoms of Barrels (2006, 41.38) **½/½

Rainbows in the Dark
Urgency
Bad Education
Lost Girls
Love Song
Sing Songs Along
Black and Blue
Brave Day
The Freest Man
Coughing Colors
O (2008, 32.25) **½/T

Tall Tall Grass
Pot Kettle Black
Cacophony
I Found You
Alligator Skin
Chandelier Lake
Dust Me Off
Falling Without Knowing
Poor Man's Ice Cream
Bloodflower
Too Excited
Current availability:
Mellotrons used:
I'm tempted to label Tilly & the Wall (named for a children's book, natch) The Most Twee Band In The World, although Belle & Sebastian have already cornered that particular market. What's more, despite their substitution of a tap-dancer for a drummer (!), Tilly & co. play a reasonably acceptable form of electronica-assisted indie that, if not exactly exciting, largely manages to avoid 'offensive', too.
2006's Bottoms of Barrels is their second album, mixing male and female vocals, synths, occasional squally guitar and the aforementioned tap-dancing into a listenable enough stew, although I doubt if it repays repeated plays for any but the committed. Mike Mogis plays Mellotron on closer Coughing Colors, with a descending flute line that could probably have emanated from any polysynth you care to name, analogue, digital or PCM sampled, making you wonder why, exactly, they bothered.
2008 follow-up O veers slightly nearer the indie mainstream, accentuating the guitar slightly more than on its predecessor and adding accordion to several tracks. Mogis on 'Tron again, with wildly pitchbent strings (samples? Effect pedal-assisted?) on I Found You and a choppy background string part on Chandelier Lake. The flutes on Falling Without Knowing have a 'Tronnic quality about them, too, but without a credit, it's hard to be sure.
Overall, far better than expected, if not exactly Planet Mellotron's thing. Very little of said Mellotron, though, so difficult to recommend to any but fey indie-types.
Time (1972, 33.08) ****/½

Istina Masina
Pjesma #3
Hegedupa Upa
Kralj Alkohol
Za Koji Zivot Treba da se Rodim
Current availability:
Mellotron used:
Time can lay claim to being Yugoslavia's first progressive band, releasing their eponymous debut in 1972. It's influenced as much by late-period psych and proto-jam bands as Western European prog, with 's incendiary guitar work on Za Koji Zivot Treba Da Se Rodim letting you know you don't have to speak a Romance or Germanic language to rip up the fretboard, thank you very much. There isn't a bad track to be heard here, although the aforementioned lengthy Za Koji Zivot Treba Da Se Rodim is a highlight, moving through several different feels, sounding not unlike Uriah Heep in places, if you can imagine David Byron replaced by a man with a large moustache and an endless appetite for slivovitz. Er, hang on a moment...
I was quite sure there was no Mellotron on this record, until its final track, which I refuse to name again, which features a brief burst of what are quite clearly 'Tron cellos, presumably from organist Tihomir Asanovic, although they're nowhere else to be heard on the Hammond-heavy album. Their follow-up, the imaginatively-titled Time II (***½), is supposed to feature the mighty 'Tron, too, but all I can hear is real strings on one track, so scratch that one. As far as Time goes, if you want to hear where Yugoslav prog was at in the mid-'70s (what d'you mean, you don't?), I couldn't recommend it more highly, though not for its minimal Mellotron use.
Slanted (1992, 24.22) **½/T

Okay!
Trudi Tangerine
In the Supermarket
Dear Nellie Goodrich
Slanted? Oh Yeah!!!
Hush
Something I Can Keep
Mary of the Convent School
Current availability:
Mellotron used:
Norwegians The Time Lodgers played an '80s-ish brand of jangly indie a few years late, 1992's Slanted mini-album being a slight, yet largely inoffensive effort that's rather of its time. Best tracks? Probably Slanted? Oh Yeah!!!, with its slight psych vibe and Hush. Oddly enough, the album improves as it progresses, opening with its most irritating tracks. Maybe they were considered the most commercial.
Odd T. Benkestok plays a pleasant Mellotron flute part on Slanted? Oh Yeah!!!, alongside real strings, although it's far from enough to make this especially worth hearing. Not terrible, but not actually worth 24 minutes of your time, either.
Time's Forgotten (Costa Rica) see: Samples
Woe Be Gone EP (2001, 21.19) ***½/T

Gin I Win
Lorili
This Field Needs a Reaper
Evil
I Hear You Hear
Timesbold (2002, 45.04) ***½/T

Gin I Win
Sewn in Seams
Sing
e e cummings
House Demands
Water Barer
Word
Some Awful Men
Knife Attack
It's Been a Fine Time...
Van Gogh
George Collins
Eye Eye (2004, 44.53) ***½/T

Bone Song
Go Down
Vengeance Day
Wind to Rise
Call to Arms
All Blues
Wings on a Girl
Kudzu
Sometimes the Water
Riches and Grief
Black Eyed Suzy
It's a Sag (When You Lift the World)
(Knowwhere)
Current availability:
Mellotrons used:
Timesbold are yet another entrant in the 'melancholy Americana' sweepstake, having as much in common with the more miserabilist end of, say Wilco as the relentless downbeatness of the wonderful Low. Suffice to say, there's barely a track spread across these releases where the pace picks up to anything above funereal, but since when was that a problem? After a couple of singles, Timesbold took the plunge into longer formats with an EP, Woe Be Gone, although song titles like This Field Needs A Reaper and Evil prove the lie on that one. I believe Max Avery Lichtenstein plays the Mellotron, presumably amongst other keyboards, with a very minor 'Tron flute part towards the end of Gin I Win, and some background choirs on Evil.
2002 brought their first full-length album, the eponymous Timesbold, and it seems to be business as usual, only more of it, with highlights including Sewn In Seams and their tribute to American poet e e cummings [sic], er, e e cummings. Only two 'Tron tracks, one of which is a repeat of Woe Be Gone's lead track, Gin I Win, although the flute part in Sewn In Seams is far more upfront. Two years on, second album Eye Eye is more of the same, although a couple of tracks pick it up a little. Yet again, two Mellotron tracks (Sometimes The Water and Riches And Grief), yet again, flutes on both, opening the former under the vocals, while the latter has a brief part later in the song, plus an equally brief string part, for the first time.
As with many Americana albums, I suspect Timesbold's work will need several plays to reveal their charms fully, and I'm afraid I simply don't have enough time to really do them justice at the moment. I can, however, recommend them to anyone who likes the style, although they're a bit thin on the ground Mellotronically. Recommended anyway.
---