---
Tattoos & Alibis (2003, 51.36) **½/T

Mysterioso
Enemies
Can't Live With Maybe
Genuine Fool
Three Sides to Every Story
It Always Rains on Sunday
Church of Paranoia
Nothing is Real
Tattoos and Alibis
Minor Miracles
Crack'n'Divide
Can't Get Arrested
Close to the Last Call
Ending is Better Than Mending
Current availability:
Mellotron used:
Given that legendary hard-nut Ricky Warwick is best-known for his leadership of the heavier-than-thou Almighty, it comes as something of a surprise to hear 2003's Tattoos & Alibis, probably best described as an Americana-tinged John Mellencamp-style roots-rock album. The trouble with this style is that if you haven't got an absolutely killer set of songs, the whole thing can fall as flat as a pancake, and while Warwick digs out a few decent melodies, the overall effect is of an overlong album of mostly so-so material that, sad to say, fails to ignite.
Ronan McHugh plays Mellotron, with a rather generic flute part on It Always Rains On Sunday and no more than a couple of flute swells on Minor Miracles, although the album's strings appear to be real. All in all, not an album you particularly need, then, unless you're a) an Almighty/Warwick fan, or b) have to have every pseudo-Americana album ever released. Nowt special.
Washed (1975, 40.34) **/T

Roll on
My Father
Gentle Jesus
There's Alot in the Bible
He Smiles at Me
The Resurrection
Revival Train
Latter Rain
Israel
Cain Killed Abel
Man From Galilee
I Walk Beside You
Current availability:
Mellotron used:
Appallingly-named Christian outfit Washed's eponymous 1975 effort features a Biblical quote on the rear sleeve, He That Hath an Ear, Let Him Hear..., that could possibly be taken as the title instead. Either way, Washed were four godly girlies with rather, er, 'untutored' vocal styles and some unpictured backing musicians, whose rather bland, country/folk album contains few surprises. Its most uncharacteristic track is opener Roll On, a truck driver paean in the grand tradition, the rest being split between gentle folky efforts and more upbeat countryish things, mostly featuring overtly Christian lyrics and rather flat voices. Oh joy. There's 'alot' of bad grammar around, too; There's Alot In The Bible indeed...
Aside from piano, Jeff Lass also plays Mellotron, with fittingly watery strings on Latter Rain and a brief flute part on Cain Killed Abel, neither of which should be enough to tempt the heathen Mellotron obsessive, even though Washed can be found on download sites. Not entirely rubbish, then, merely rather dull.
Washington (Norway) see: Samples
Love Awaits (1979, 37.12) **½/T

Boogie Baby
Back in Love Again
Can't Be a Fool for Love
Rock it
Loving You
World of Pain
For the Love of Him
Loneliness
Current availability:
Mellotron used:
The sleeve and title of Deborah Washington's second (and last) album, 1979's Love Awaits, led me to expect the worst, in a slushy soft-soul kind of way, so it comes as a pleasant surprise to be able to tell you that it's an upbeat funk record. A 'pleasant surprise', I hear you cry? Yes. I've just listened to a Westlife (below) beyond-pain release, so something this lively actually comes across pretty well in comparison. It's actually perfectly ordinary funk/soul/disco, but at least it's excellent played and doesn't make we want to kill someone.
Mike Piccinillo plays Mellotron, with volume-pedalled and pitchbent chords on World Of Pain and 'regular' ones on closer Loneliness, although all string parts sound real. Overall, one for the disco queen (of either sex) in your life, although I doubt whether the rest of us will get too much from this.
Eager Seas (2005, 45.58) **/T½

10 Years and Separating States
Face
Free Ride
Courtyard
The Game
Broken Man
All That I Can't Keep
2:57
Sydney Tonight
All of Me
Father, Son
Something to Say
Current availability:
Mellotron used:
Watashi Wa were a Christian indie band, which is every bit as awful as it sounds. Not only whiny, 'confessional'-style vocals, but whiny, 'confessional'-style vocals singing about God. Painful. Eager Seas was apparently originally going to be called People Like People (hey! Good title!) by Eager Seas, a new band rising from the ashes of Watashi Wa, but they were obviously persuaded to keep the moderately successful original brand. Most of the album consists of either over-cheery upbeat songs (the vaguely punky Free Ride, Sydney Tonight) or 'intimate' stuff (the countryish Courtyard, 2:57), with a handful of less tedious tracks (The Game, the powerpop-ish All Of Me). Not really a recommendation, is it?
Zach Hodges and Yuri Ruley both play Mellotron, although there isn't that much of it obviously about, with heavy-duty cellos on Broken Man and slightly lesser ones on All Of Me, plus a string part on Father, Son, distinct from the real strings on a couple of tracks. Generally speaking, then, you really don't want to hear this; I didn't, either, but this site's remit forced my hand. Sort of. Anyway, apart from a bit of full-on cello abuse, there's nothing here Mellotronically that you haven't heard a thousand times before, and better.
| | |
| --- | --- |
| The Watch (Italy) see: | |
McLaren Furnace Room (1992, 51.33) **/T

Cracked
Run & Hide
Try it Sometime
Sleep
Must to Be Free
Falling
Mister
Anything But That
I'm Still Gone
Soul Stealer
Crazy Days
Make You Go Down
Current availability:
Mellotron used:
Canucks The Watchmen play a particularly tedious and unoriginal variety of alt.rock, going by their 1992 debut, McLaren Furnace Room. The album's full of the kind of faux-rootsy songs that probably work well on stage, but lose their mojo entirely the minute they're committed to tape, Soul Stealer being the best of a bad bunch. No one song made me reach for the sick-bag, but nor did any inspire me to give them more than a cursory listen.
Noted Canadian businessman/musician Jason Sniderman plays Mellotron on Must To Be Free, with a repeating sequence of string chords at the end of the track, which wouldn't honestly be missed were they not there. I'm sorry to be so hard on this album; I'm sure I'd have given it a better rating had I attempted to review it from hearing two or three random tracks, but fifty-odd minutes ground me down.
A Rock in the Weary Land (2000, 58.24) ***½/T

Let it Happen
My Love is My Rock in the
Weary Land
It's All Gone
Is She Conscious?
We Are Jonah
Malediction
Dumbing Down the World
His Word is Not His Bond
Night Falls on London
The Charlatan's Lament
The Wind in the Wires
Crown
Current availability:
Mellotron used:
Mike Scott and his band, the Waterboys, are essentially interchangeable, although he didn't use the band name for the bulk of the '90s. Many fans still consider their early 'big music' albums to be their best, and I'd personally quote Red Army Blues, from 1984's A Pagan Place as his/their best song, bar none. 2000's A Rock in the Weary Land was the first album under the Waterboys name for seven years, and, although I've seen it described as 'inspired by alternative music', it sounds to my ears like an update of the band's early sound, with a strong Dylan influence pervading the record. About the only real criticism I'd level at it is that most of the tracks are too long; not because Scott's singing reams of lyrics, but because the band insist on 'stretching out' on almost every track, even when doing so can be to the detriment of the music.
Spiritualized member and frequent Julian Cope collaborator Tim 'Thighpaulsandra' Lewis guests on the album, playing various keyboards, including Mellotron on three tracks. Well, two actually, as the distorted strings on Dumbing Down The World ('recorded in Hell') are credited to 'Slubgob', but as everyone playing on the track is graced with pseudonyms (Scott's is 'Screwtape', wittily referencing noted Christian C.S.Lewis' 'The Screwtape Letters'), but it's almost certainly Thighpaulsandra here, too. On his two credited tracks, there are somewhat background strings on My Love Is My Rock In The Weary Land, and, er, not sure, but possibly distant choirs and upfront brass on closer Crown.
So; Waterboys fans of old who gave up on the band years ago should probably give A Rock... a chance, although there's nothing here sounding anything like The Whole Of The Moon or their other early-'80s efforts. Mellotron nuts (yes, YOU!) probably don't need to bother, but anyone wishing to hear good songwriting in an age of fakery would do well to invest. Incidentally, Scott used Mellotron (amusingly spelt 'Melletron') on 1997's Still Burning solo album and Love Anyway EP, with the (presumed) Floyd homage/tribute/pastiche Careful With That Melletron, Eugene.
See: Mike Scott | Thighpaulsandra | World Party
Waterclime (Norway) see: Samples
Patrick Watson (Canada) see: Samples
Wake Up to Your World (1976, 35.22) */T½

Wake Up to Your World
When Was the Last Time
Ride a Wild Horse
Share Your Love
Diana
Lord, You Made Me a Traveling Man
Give Me the Grace
Turn Yourself Around
Can You Remember
The Best Part of Love
Current availability: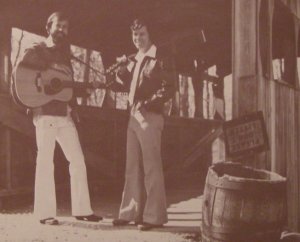 Mellotron used:
Going by the picture on the rear sleeve of 1976's Wake Up to Your World (at least their second album), Joe Wayman and Don Mitchell were a couple of likely-looking lads, probably country dudes. Correct, to a degree; this is actually super-cheesy Christian country (well, all country tends towards God, but you know what I mean) crossed with the easy listening of around a decade earlier, Wayman(?)'s voice as smooth and taste-free as a velvet Elvis. Horrible? You're not wrong. The album's at its least hideous when the pair aim for upbeat country (the title track, Share Your Love, Turn Yourself Around), the remainder being appallingly schmaltzy balladry with Christian-lite lyrics; believe it or not, this actually gains a half star for not being too God-bothering.
With four credited keyboard players (no Mellotron credit), it's impossible to know who's doing what, but given that Tom Brooks went on to play Chamberlin for Doris Frazier a couple of years later, it might just be him on Mellotron. Anyway, although most of the album's strings are real (four players credited), the ones on Lord, You Made Me A Traveling Man sound Mellotronic, while the choirs (in suitably 'heavenly' mode) on When Was The Last Time and Share Your Love are quite definitely so. Anyway, not only is this pretty obscure (once again, thanks, of a strangely twisted kind, to Mark for supplying this), but you really, really don't want to hear it. Believe me. It seems the pair made children's records, too; might there be any Mellotronic involvement on them? I think we need to know.
I Spider (1970, 39.54) ***½/TT

Concerto for Bedsprings
I Spider
Love You
Ymphasomniac
Always I Wait
Current availability:
Mellotron used:
Web are one of the lesser-known of the 'proto-prog' very early '70s UK bands, characterised by a bluesy and/or jazzy feel to much of their material (see: Cressida, Titus Groan et al.). I Spider is notable for being one of Dave Lawson's pre-Greenslade projects, and you can hear at least vague similarities between the two bands. Apart from the usual instrumentation, the album features sax and vibes, adding to its general slight air of jazziness. The material is reasonable, but you can see why they never really took off and aren't regarded as highly as, say, Gracious! these days.
Lawson's Mellotron use (probably a MkII) seems to be limited to the ubiquitous strings, with the one outstanding part being some interesting dissonance at the beginning of Ymphasomniac, but probably not enough over all to make it an essential purchase, unless you're particularly into this era of UK prog.
See: Greenslade
I See Things Upside Down (2004, 63.44) **/T

I Want a Broken Heart
Better Than Wine
The Strong, the Tempted, and the Weak
Reputation
I Repent
Medication
We Come to You
T-Shirts (What We Should Be Known for)
Ballad in Plain Red
Nothing is Ever Enough
Lover Part 2
What is Not Love
Mockingbird (2005, 40.20) ***/T½

Mockingbird
A New Law
A King & a Kingdom
I Hate Everything (But You)
Rich Young Ruler
A Consistent Ethic of Human Life
My Enemies Are Men Like Me
Zeros & Ones
In God We Trust
Please, Before I Go
Love is Not Against the Law
The Ringing Bell (2007, 30.31) ***/T

The End
The Very End
A Love That's Stronger Than Our Fear
I Wanna Marry You All Over Again
I Don't Want to Fight
Name
Can't Be Without You
I for an I
A Savior on Capitol Hill
This Too Shall Be Made Right
Current availability:
I See: INO
Mockingbird: Integrity Media (US)
Ringing: Sony
Mellotrons used:
On/off Caedmon's Call member Derek Webb's second solo album, 2004's I See Things Upside Down, is a pretty tedious affair, I'm afraid to say. Its Christian content is fairly low-key, but its overlong, drawn-out material made this listener have to physically restrain himself from reaching for the 'next' button, the old-style r'n'b of Ballad In Plain Red being about the best thing here. Cason Cooley plays Mellotron, with vaguely 'Strawberry Fields'-esque flutes on the strangely-titled T-Shirts (What We Should Be Known For), although that would seem to be it.
2005's Mockingbird's sparse, folky CCM is something of an improvement, a long way from the offensively syrupy dreck served up by the likes of Charlie Hall et al, which has to be applauded in a world where that kind of stuff is apparently considered acceptable. Saying that, the album is a bit bland in places, not least closer Love Is Not Against The Law, but overall, it's far from unlistenable. On the Mellotron front, flutes on A King & A Kingdom, soon supplanted by a beautiful string part, from pianist Cason Cooley. There's nothing audible on Rich Young Ruler, but My Enemies Are Men Like Me has faint strings and very upfront 'Strawberry Fields'-style flutes from Cooley and Webb, making two worthwhile 'Tron tracks out of three. Minor confusion, as at least two tracks feature sounds that could be considered Mellotronic, but, according to the sleevenotes, aren't.
His follow-up, 2007's The Ringing Bell, is, again, a passable listen, although not something I can honestly see myself digging out too often, even if I don't listen too closely to the lyrics. Ben Shive plays Mellotron this time round, with flutes on The Very End and I For An I, the latter alongside real strings, although we're not exactly talking 'top 'Tron album of '07' here. So; acceptable CCM; will wonders never cease? Two decent 'Tron tracks on Mockingbird, but you're unlikely to rush out to buy these unless you're more into Webb's worldview than myself. Passable.
See: Caedmon's Call | City on a Hill
Take Fountain (2005, 47.02) **½/T½

On Ramp
Interstate 5 (Extended Version)
Always the Quiet One
I'm From Further North Than You
Mars Sparkles Down on Me
Ringway to SeaTac
Don't Touch That Dial (Pacific
Northwest Version)
It's for You
Larry's
Queen Anne
Perfect Blue
El Rey (2008, 45.26) **½/T

Santa Ana Winds
Spider-Man on Hollywood
I Lost the Monkey
Soup
Palisades
The Trouble With Men
Model, Actress, Whatever...
Don't Take Me Home Until I'm Drunk
The Thing I Like Best About Him is His Girlfriend [Santa Moncia and La Brea Version]
Boo Boo
Swingers
Current availability:
Take Fountain: Scopitones
El Rey: Vibrant
Mellotrons used:
The Wedding Present appeared in the mid-'80s, lauded as almost the 'archetypal indie band' by John Peel and other observers, reforming in 2004 after a several-year break, during which mainman David Gedge worked as Cinerama, themselves Mellotron users. Their first post-reformation album was 2005's Take Fountain (from a Bette Davis quote, fact fans), continuing the rhythmic indie stylings of their previous incarnation(s), so whether or not you'll like this largely depends on whether or not you like their earlier work, I suspect. The album's actually quite varied, shifting from the near-noise of Interstate 5 (Extended Version) through the not-so-light jangle of Always The Quiet One to the dark balladry of Mars Sparkles Down On Me.
Co-producer Steve Fisk plays Mellotron, which rings alarm bells straight away; he's notorious 'round these parts for using samples credited as the real thing in the past. However, I believe he's actually obtained a real M400, although it's anyone's guess as to whether or not it's what we're hearing here. Anyway, we get male voices on Interstate 5 (Extended Version) and Queen Anne that go high enough to make me think they're the real deal, with no 'Munchkinisation', plus strings and cellos on closer Perfect Blue, although there may well be real ones in there, too.
I haven't heard the album's 'companion' volume of outtakes, remixes etc., Search for Paradise, but 2008's El Rey has no fewer than three Mellotron players credited. The album's pretty much the usual stuff; you know, if you like The Weddoes you'll like it, with the standard corollary. Gedge, Christopher McConville and Graeme Ramsay all apparently get some 'Tron in, although I've no idea why it took three of them to record so little, with naught but flutes on Model, Actress, Whatever... and cellos on Swingers, although (as so often) I'm willing to admit it may be hidden away elsewhere, too. I don't know if there's any more 'Tron on the album's 'companion' EP set, How the West Was Won; more news if I ever get to hear it.
Generally speaking, these are for fans of yer typical UK indie, although Gedge and Co. aren't always quite that easy to pigeonhole. There isn't an awful lot of (presumed real) 'Tron on these, but the male voices are used sufficiently infrequently that you may at least wish to hear the relevant tracks on Take Fountain. More news on other releases when I track them down.
Fire in the Arms of the Sun (1998, 57.56) ****/TTT

The Angel of Death
Starless
Joan of Arc
Shady Skies and Lullabies
The Flesh of Terrain
Tracey Bowen's Double Life
The Pale Shade
Leaves and Limerance
New Silver Finger II
Molly Bloom
Cutting Blue
Trading Touch
Harvester of Sighs
Straw Days
Fallow
King Rides By
Awake Like Sleep (2001, 41.22) ***½/TT½

These Days
Made
Past Four Corners
East 5th Street
The One True Song
I Will Fall to Meet Her
Ash Rising
Sleep Right
Sun Way Off
The Hive (2004, 44.20) ***½/½

You Won't Be the Same Ever Again
The Lamb's Path
Lay Low
Borderline
Burn the Margins
The Hive
Funhouse
Not Meant for Light
The Wait
Donovan
Division
Be Yourself: A Tribute to Graham Nash's "Songs for Beginners" (2010) ***½/T½

[Greg contributes]
Sleep Song
Current availability:
Fire/Awake: out of print?
Hive: Wichita
Be Yourself: Grassroots
Mellotrons used:
Fire/Awake: unknown
Hive/Be Yourself: Weeks' own M400
Greg Weeks exists in a region of psychedelic folk, having not only released several solo albums, but co-founded the excellent Espers, whilst guesting on several other projects, probably in a similar capacity. Fire in the Arms of the Sun is his 1998 debut, a beautiful album of acoustic guitar, occasional keyboards, bass and cello, all overlaid by Weeks' fragile voice. The songs are pretty much uniformly excellent, although, like so many similar albums, a slight lack of variety begins to tell after a while. Weeks plays a Mellotron flute solo on opener The Angel Of Death, while Starless (not that one) is a short, unaccompanied 'Tron flute piece. More flutes (from Matt Martens) in The Pale Shade, sounding almost like recorders at one point, with a gorgeous string part on Leaves And Limerance, from Martens again. Back to Weeks for more strings on the lengthy Fallow, making for a most satisfying Mellotronic (and musical) experience. Oh, and there's a credit for 'Mellotron hire', just in case you weren't sure.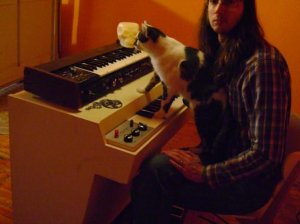 Three years on and Awake Like Sleep is Weeks' next full-length release, more keyboard- than guitar-orientated and somewhat shorter than its predecessor. The songwriting's still extremely good, yet possibly not quite up to his previous standard, although Made, East 5th Street and The One True Song are all quite excellent. Just Weeks on 'Tron this time round: Made has spitty flutes (HIT those keys!), wobbling all over the place, plus groaning string section, with more flutes on East 5th Street and strings and flutes battling it out with a harmonium on Sleep Right, making for another good 'Tron album.
Nothing on his 2003 EP Slightly West, or (I believe) 2005's Blood is Trouble, making us wait until 2008's The Hive for another dose of Weeks 'Tron. The album is even more electronic than its predecessors, although full band arrangements are a no-no, despite a 'drums and percussion' credit. The material is probably on a par with that on Awake Like Sleep, which is obviously where Weeks is at these days (Espers mix folk and electronica, too), with opener Lay Low and the title track probably being highlights. Now, I have an issue here: Weeks credits himself with Mellotron before anything else, yet it's barely to be heard on the record. Huh? His business, obviously, but the only things here that even might be Mellotron are distant, hazy string parts well down in the mix on Burn The Margins and The Hive itself, both of which could easily be something else. Bizarre.
All in all, then, I personally prefer Fire... to either of Weeks' later efforts, but that's simply one man's meat. All three albums are worth hearing, and I suspect the latter two will grow on me given the imaginary time I fondly imagine I may find one day. The first of these three is easily the best for its Mellotron work, although Awake Like Sleep is no slouch. Avoid The Hive is that's all you're listening for, though.
See: Espers | Be Yourself
Ween (US) see: Samples
Be My Thrill (2010, 38.28) **/0

Please Speak Well of Me
When You Go Away
Red Red Rose
I Was Made for Sunny Days
They're in Love, Where am I?
Add My Effort
Be My Thrill
Be My Honeypie
Hummingbird
Hard to Please
Not a Lullaby
How Do You Get High?
Hope Tomorrow
Empty Your Hands
Current availability:
Mellotron used:
The Weepies are the husband/wife duo of Steve Tannen and Deb Talan, already fans of each others' music when they met. Sadly, their fourth album (and third on Nettwerk), 2010's Be My Thrill, is a rather insipid effort; I'm sure they're making exactly the kind of folky/indie stuff they like, but I'm afraid I find myself hard-pushed to say anything nice about it. Or, indeed, anything at all.
Brad Gordon supposedly plays Mellotron, but fuck knows where, as it's completely inaudible, which doesn't even give me the chance to ascertain whether or not it might be sampled. I suppose this is good at what it does, but please don't ask me to trawl through it again.
Tarot (1972, 88.12) ***½/TTT½

Der Narr
Der Magier
Die Hohepriesterin
Die Herrscherin
Der Herrscher
Der Hohepriester
Die Entscheidung
Der Wagen
Die Gerechtigkeit
Der Weise
Das Glücksrad
Die Kraft
Die Prüfung
Der Tod
Die Mäßigkeit
Der Teufel
Die Zerstörung
Die Sterne
Der Mond
Die Sonne
Das Gericht
Die Welt
Current availability:
Mellotron used:
Walter Wegmüller was a Swiss artist who made just the one album, the double Tarot, in 1972. Despite his not actually being German (although a Swiss German speaker), this is full on krautrock of the highest order, a psychedelic pot-pourri of mad juxtapositions, with English and German dialogue intercut with post-Floyd organ, erratic percussion and Wallenstein's Jürgen Dollase's fractured Mellotron parts. There are more conventional moments, too, not least the rocking Der Herrscher (The Emperor) and the gentle Der Hohepriester (The Hierophant), although they're heavily outnumbered by the weirder stuff. The album's sound comes as absolutely no surprise when you realise that the band comes from the same pool of musicians as the Cosmic Jokers, including Klaus Schulze, Walter Westrupp (of Witthüser & Westrupp), members of Ash Ra Tempel and the more conventional Wallenstein.
The album's concept is, rather obviously, the 22 cards of the Tarot's major arcana, in sequence, although quite what angle Wegmüller was taking has to remain a mystery to a non-German speaker. There isn't any singing in the conventional sense on the album, but it could be argued that Wegmüller's incantatory narration works better than someone warbling horribly over music this powerful and strange. Just about every krautrock base is covered here, making this possibly the ultimate kraut album, although I'm sure fans of La Dusseldorf, Neu! and early Kraftwerk might have something to say about that. Dollase's 'Tron work encompasses the insane pitchbent strings and flute on Der Magier (The Magician), which are tempered by ghostly but conventional string parts on Die Hohepriesterin (The High Priestess) and Die Herrscherin (The Empress). Early choir use on Der Weise (The Hermit) and cellos on Das Glücksrad (Wheel of Fortune), with a mélange of sounds on disc two's Die Mäßigkeit (Temperance), including brass. Cellos and choir on Die Zerstörung (The Tower), with a heavenly choir part on Das Gericht (Judgement), although I can't tell if the screechy sounds on either Der Mond (The Moon) or Die Sonne (The Sun) are Mellotron or some form of glissando guitar. Or, for that matter, something else entirely.
Well, for Tarot-inspired albums, I think I'm more likely to stick to Steve Hackett's Voyage of the Acolyte and the subsequent album whose concept supposedly influenced him, The Enid's In the Region of the Summer Stars. Saying that, Tarot sounds absolutely bugger-all like either of those esteemed records, but if your preferred listening includes the likes of the Cosmic Jokers, you probably can't go too far wrong here. Decent Mellotron use, too, against all expectations.
See: Ash Ra Tempel | Cosmic Jokers | Klaus Schulze | Wallenstein | Witthüser & Westrupp
Percolator (2005, 46.32) ***/T

The Maze
Percolator
New Day
Troll
Flight
Smooth Move
No Goodbyes
Rain Daze
Caveman
Prayer
Current availability:
Mellotron used:
I had no idea The Band had reformed in 1985, but it seems Jim Weider played guitar in the reconstituted band, replacing Robbie Robertson, until they split in 2000, following Rick Danko's untimely death. Weider has made a handful of solo albums to date, of which I believe 2005's Percolator is the second. It's a mixed bag, as far as instrumental guitar albums go, with fusion workouts (The Maze, the title track), guitar balladry (New Day, No Goodbyes) and smooth jazz (Smooth Move) amongst the styles he tackles.
Our old friend John Medeski plays Mellotron, with a relatively normal flute part on Troll, at least as far as Medeski's concerned. A couple of other tracks (notably the flutes on New Day) have a vaguely Mellotronic feel to them, but it's only credited on the one track, so they're likely to be synth approximations. Overall, this is a mostly fusion effort, with other influences thrown into the melting pot (coffee pot?), making it stand out from the glut of identikit jazz guitar albums, with a little Mellotron thrown in for good measure.
12 Bar Blues (1998, 59.13) ***/T

Desperation #5
Barbarella
About Nothing
Where's the Man
Divider
Cool Kiss
Date
Son
Jimmy Was a Stimulator
Lady, Your Roof Brings Me Down
Mockingbird Girl
Opposite Octave Reaction
Current availability:
Mellotron used:
When he recorded 12 Bar Blues, Scott Weiland was on some sort of drug sabbatical from the outstandingly average Stone Temple Pilots, with the end result sounding little like his alma mater, which isn't to say it sounds much better, just different. In fairness, there's obviously been some experimentation on the production front, with several tracks using the sort of loops/fake analogue thing that was everywhere in the late '90s, and the overall effect is definitely more interesting, so maybe I'm being rather unfair (what? Me?). Lady, Your Roof Brings Me Down even has a sort of Kurt Weil thing going on, so you certainly can't accuse this album of one-dimensionality.
As for the Mellotron, Victor Indrizzo plays some very upfront flutes on Divider, while Weiland himself allegedly plays it on Cool Kiss, although his contribution is completely inaudible. Maybe he just thought he played it. So; a surprisingly adventurous album, although one which, sadly, doesn't appeal to me very much. Very little audible Mellotron, although what you can hear is pretty good, but hardly enough to recommend purchase. Of course, Weiland finally left STP to join the wholly tedious and overrated Velvet Revolver with various ex-Guns N'Roses. Yawn.
See: Stone Temple Pilots
Weird Weeds (US) see: Samples
Valhalla (1979, 36.09) ***/T½

Machine Time Ship
Y M Alim-Kader
Breathe the Form
Alien Rock
Hedonic Rapture
The Big Apple Mystery
The Return of the Akpallus Mutants (Part A)
The Return of the Akpallus Mutants (Part B): 93rd Current
Valhalla
Consciousness Program [as Denis Wize] (1980, 39.38) ***/TT½

Thought Proceeds Action
Love in Foam and Surf
Only Time We've Got
Anima Manna
Consciousness Program
Back to Earth
Rosita Facilita
Light as Air
Balfazzar
Celestial Cungo Dub
Current availability:
Mellotrons used:
Both titles: Weise's own M400?
Dennis Weise was an American electronic musician who put a couple of albums out at the turn of the '80s. 1979's Valhalla is one of the nuttiest albums I've reviewed on this site, which is saying something; mad, atonal electronics, splintered vocal fragments and bucketloads of white noise, suddenly interrupted by almost normal string synth or Froese-ish guitar. Melodies turn into random squirts of notes, pseudo-tribal rhythms pulsate in and out... Getting the picture? This is quite bonkers, and you really will probably either love it or hate it. After nowt but electronic gyrations, suddenly, on Hedonic Rapture, big slabs of reverbed 'Tron choir make their entrance, although the strings on the track sound synthesized to my ears. There's a little more choir on both parts of The Return Of The Akpallus Mutants, but that's your lot.
Did I say Valhalla is the maddest piece of shit I've heard all year? Weise decided to respell his name Denis Wize and released Consciousness Program the following year. It makes its predecessor look almost structured, full of found sounds, pre-sampler samples and crazed juxtapositions of noises. Oh, and a Mellotron. It's difficult to think of anything constructive to say about the music itself, but Weise/Wize sticks plenty of 'Tron choir on two parts of side one's thirteen-minute 'medley', Anima Manna and the title track. Side two's similarly-lengthed segue has some very faint choirs on Light As Air and some more upfront phased choir on closer Celestial Cungo Dub. It's still difficult to tell what's producing the strings, but I'm sticking with string synth until/if I should find out otherwise (like, how?).
I think it's safe to say you're not going to find these very easily, at least in non-downloadable form; they're the sort of thing that someone will suddenly decide to reissue, but will remain unbelievably obscure until then. Not that much Mellotron on the first, a little more on the second; these are more one for the synth nuts out there who've run out of better-known practitioners.
Welcome (1976, 41.39) ****/TTTT

The Rag Fair
Dizzy Dune
Glory
Chain of Days
Dirge

You're Welcome (1978, 38.12) ***½/TTT½

Music is Life
Seasons
Join the Party
Elf
The Whip
Current availability:
Welcome: Black Rills (Switzerland)
You're Welcome: Not on CD
Mellotrons used:
Welcome were a late-'70s Swiss outfit who seemed to be trying to be the Swiss Yes; mission accomplished, chaps. Their debut, Welcome, while derivative, is a very nice listen indeed, although the vocal harmonies are a little off in places (what was I saying about Yes?). Loads of Mellotron from Bernie Krauer, although the strings on The Rag Fair start off sounding like string synth, though soon resolve into definite 'Tron. The opening flutes on Glory switch to strings almost immediately, before shifting back and forth between the two sounds, but the inaccurately-titled Dirge may be the album's Mellotronic and musical highlight, with a beautiful polyphonic flute part followed by some gloriously upfront strings, although there's probably actually less 'Tron, second for second, than on some of the other tracks.
Their second album, You're Welcome, isn't quite up to the standard of their debut, to be honest; most of the material's reasonably good, though, with the glaring exception of Join The Party, without which the album would be noticeably better. A slightly more American sound too, strangely, with the band reinforcing the ir Yes fixation by adding a Styx influence, themselves Yes-influenced. Mellotron all round, from Krauer again, with choir on Music Is Life, then strings on everything else (even Join The Party), and both sounds cropping up on the side-long The Whip, the album's best track.
So; Welcome is really very good, although I wouldn't call You're Welcome a classic, to be honest, although it's definitely got its moments. I believe there are some non-LP compilation tracks, also featuring 'Tron; more news should I get to hear them sometime.
Well Wishers (US) see: Samples
| | |
| --- | --- |
| Paul Weller (UK) see: | |
Brotherhood of Electric: Operational Directive(s) (1998, 50.12) ***½/T½

Destination 24
Compellor
Teen Lambchop
Hal McBlaine
Born With a Tail
Destination 7
Red Light Green Light
B.O.U.
Psycho Scrimm
Van Vanishing
Right of Left Field
Ladder to the Moon
Dark Passage
Good Pushin'
Dr.Browne Dr.Greene
Jefferson Experiment
Current availability:
Mellotron used:
Wellwater Conspiracy are effectively a duo, comprising ex-Soundgarden man Matt Cameron (who played Mellotron on their Superunknown, fact fans) and John McBain, ex-Monster Magnet, with various friends guesting. Unlike many such projects, they're actually really good, making a heavily psych-influenced sound, throwing all sorts of stuff into the pot, most of which works. Difficult to pick standout tracks, especially on a first listen, but the ones with the Floyd-ish Farfisa are all worth hearing.
I've absolutely no idea who plays the Mellotron parts on their second album, Brotherhood of Electric: Operational Directive(s) (the brackets appear to be optional), as both Cameron and McBain are credited with keyboards, as is Glenn Slater on several tracks, including the 'Tron ones. Anyway, strings and flutes on Red Light Green Light and VERY LOUD strings on B.O.U., which makes a welcome change; they sound cranky enough to be real, too. So; not bad at all, and decent 'Tron on two tracks.
See: Soundgarden | Monster Magnet
No.9 (2009, 36.35) ***/T

Dream
Wonderful
Break My Heart
Roses in June
Exhale
NY is Passing By
Sycamore Tree
The Moon is Out
Hey
Sunday Morning
Yes, We Can
Beautiful Song
Current availability:
Mellotron used:
Although British-born, Wende (Snijders) is very clearly Dutch, although recent albums see her breaking out to an international audience. 2009's No.9, er, isn't; it's either her fifth or sixth release, depending on what you count, a strange album, more vaudeville and circus music than the expected contemporary pop/rock or singer-songwriter guff. Better tracks include Sycamore Tree and The Moon Is Out, but nothing here offends.
Reyn Ouwehand (Charlie Dée, Stephan Eicher) plays most of the album's fairly minimal Mellotron work, with nothing immediately identifiable on Break My Heart and flutes on Exhale and Sycamore Tree, while Wende adds flutes to Yes, We Can, although the eternal question of 'is it a real Mellotron?' is, as so often, unanswerable. Anyway, a welcome breath of fresh air into a stale modern scene and an album that will almost certainly reward further plays. Worthwhile, though probably not for the Mellotron.
Wendy & Lisa (US) see: Samples
Rainbows End (1979, 41.05) ***/TT

Rainbows End
Beware of the Dog
Tale of Tenderness
Sir Dance-Alot
Help Me to Do it Alone
Longsleeper
A Deadly State of Mind
Secrets of Mother Earth
Life's Serenity
Medicineman
A Glamour Story
Current availability:
Mellotron used:
Max Werner was vocalist and sometime drummer for Dutch progressive popsters Kayak, standing stage-front with an M400 to his right, in an almost unique set-up. Rainbows End (sic) is his first solo album, from '79, standing up very well against Kayak's contemporaneous albums, with better tracks including the title track, the instrumental Sir Dance-Alot, Secrets Of Mother Earth and closer A Glamour Story. The sleeve is far more mid- than late-'70s, too, possibly giving some idea of Werner's inspiration for the album.
The album utilises modern technology, including sequencers and what sounds like Prophet brass riffs on several tracks including Rainbows End itself and Beware Of The Dog. However, rather surprisingly, Werner's Mellotron crops up on several tracks, although he only uses the choirs. The title tracks sounds more like a Roland Vocoder, although I think it's the real thing on Tale Of Tenderness, Sir Dance-Alot, A Deadly State of Mind and Life's Serenity; unexpected, but welcome.
Overall, Rainbows End is a pleasant surprise. Yes, it's (progressive) pop, but so are Kayak, and they produced some fine material, better than, say, Earth & Fire's more mainstream efforts. None of the Mellotron work here is exactly essential, but nice to hear on an unexpectedly decent album. Unsurprisingly, though, there's nothing to be heard on his successful follow-up, 1981's Seasons.
See: Kayak | Ton Scherpenzeel
Weights & Wings (2011, 40.21) *½/½

Don't Come Easy
Everything Will Be Alright
Nobody's You
Running Back to You
Family
For the First Time
Someone Like You
Feels So Right
Easier Tonight
Gonna Be Good
Somebody's Gonna Love You
Current availability:
Mellotron used:
Going by his sixth studio album (including an early independent release), 2011's Weights & Wings, Matt Wertz is the very worst kind of wet-as-water, drippy US singer-songwriter; it will come as absolutely no surprise whatsoever to learn that his ultra-twee songs have been used on various crappy mainstream US TV shows. He's also toured with the hideous likes of Jason Mraz and Christians Jars of Clay, so his own appallingness is pretty much a foregone conclusion and, believe me, this album is appalling.
John Deaderick and Jason Lehning play Mellotron, if only just; is that Mellotron flute doubling the whistled melody (ouch) on Everything Will Be Alright? Definite flutes on Easier Tonight, but that would seem to be our lot. Never mind, only masochists and the terminally tasteless are ever going to listen to this steaming heap of garbage anyway.
John Wesley (US) see: Samples
Late Registration (2005, 70.25) ***/½

Wake Up Mr. West
Heard 'Em Say
Touch the Sky
Gold Digger
Skit #1
Drive Slow
My Way Home
Crack Music
Roses
Bring Me Down
Addiction
Skit #2
Diamonds From Sierra Leone (Remix)
We Major
Skit #3
Hey Mama
Celebration
Skit #4
Gone
Diamonds From Sierra Leone
Late
Current availability:
Chamberlin used:
hip-hop, eh? Wossit all about then? Fucked if I know - I'm utterly the wrong demographic for this stuff, but it seems that the controversial Kanye West (real name, it seems) is more inventive and, well, eccentric than most. After a massive hit with 2004's The College Dropout, West could afford the time and money to sink into the following year's Late Registration, including collaborating on several tracks with Chamberlin legend Jon Brion, making for some interesting instrumentation, at least.
According to interview footage in Diana Dillworth's Mellodrama film, Brion plays Chamberlin on Gold Digger, with some squiggly pitchbend stuff at the end of the track, but if you didn't know it was there... So; superior hip-hop, but it's still hip-hop, with next to no obvious Chamby. Maybe not.
See: Jon Brion
Mountain (1969, 35.50) ***½/½

Blood of the Sun
Long Red
Better Watch Out
Blind Man
Baby, I'm Down
Dreams of Milk & Honey
Storyteller Man
This Wheel's on Fire
Look to the Wind
Southbound Train
Because You Are My Friend
The Great Fatsby (1975, 33.58) ***/TTT

Don't Burn Me
House of the Rising Sun
High Roller
I'm Gonna Love You Thru
ESP
Honky Tonk Women
If I Still Had You
Doctor Love
If I Were a Carpenter
Little Bit of Love
Unusual Suspects (2011, 47.48) ***½/T

One More Drink for the Road
Mud Flap Momma
To the Moon
Standing on Higher Ground
Third Degree
Legend
Nothing's Changed
I Feel Fine
Love You Forever
My Gravity
The Party's Over
I Don't Know (the Beetlejuice Song)
Current availability:
Mountain: BGO
Great Fatsby: Voiceprint
Suspects: Provogue
Mellotrons used:
Mountain: unknown MkII
Great Fatsby: Mountain's M400?
Suspects: Phil Parlapiano's M400
While a member of the NYC-based The Vagrants, Leslie "West" Weinstein met producer Felix Pappalardi, who had also worked with Cream; hitting it off, Pappalardi produced West's first solo album, 1969's Mountain, a blueprint for the band of the same name the duo immediately went on to form, playing Woodstock that summer. The album's a decent enough effort, if a little formative, although when you consider when it was recorded, its combination of proto-hard rock and blues with the occasional acoustic interlude was groundbreaking, better tracks including future Mountain classic Blood Of The Sun, Blind Man and West's take on Dylan's This Wheel's On Fire. Pappalardi (a great fan of the Mellotron for some years) plays a string part on the excellent Look To The Wind, almost fooling the ear into thinking it's real until the key-clicks near the end of the track.
The Great Fatsby (ho ho) was West's first post-Mountain effort, promoted with a campaign that greatly upset the then-heavily overweight man, including 'speak your weight'-type machines and the like; I have no idea whether or not the title was his idea. It's not a bad album, though mostly rather pedestrian, with little of the 'rock' really, er, rocking that much. Highlights are probably the instrumental ESP and, maybe surprisingly, his take on the Animals' version of old warhorse House Of The Rising Sun. If I Were A Carpenter isn't bad, but West insists on realigning the vocals so they scan differently, which has the effect of reducing the song's magic, unfortunately. Probably seemed like a good idea at the time. Most surprisingly, loads of Mellotron from Howie Wyeth, being joint main keyboard along with the piano, with background strings on Don't Burn Me and a chordal flute part under real flute opening House Of The Rising Sun, while I'm Gonna Love You Thru features string and choir parts. More flutes and strings on the ESP, very full-on strings on If I Still Had You and another string part on closer Little Bit Of Love wrap things up nicely, making this a most unexpected addition to the ranks of halfway-decent 'Tron albums. The following year's The Leslie West Band (***) was a decent enough effort, if slightly uninspired (again), although it's saved by a few good acoustic tracks, not least a version of The Beatles' Dear Prudence, although sadly, no 'Tron.
Moving on several decades, West's 2011 release, Unusual Suspects, is a blues/rock guitar album par excellence, featuring yer man jamming with a clutch of top players, including Slash, Billy Gibbons, Joe Bonamassa and Zakk Wylde, on a selection of originals and covers. Top tracks include To The Moon, the piano-based Legend and My Gravity, the album's only minor failing being a couple of slightly extraneous tracks. The legendary Phil Parlapiano does his Mellotron thing on To The Moon, with a chordal flute part, although that's yer lot.
So; Mountain is more one for, er, Mountain fans than those of the Mellotron, The Great Fatsby is only average musically, although it's probably worth it for the Mellotron nut (and it's not too often I say that) and Unusual Suspects is a great modern guitar album with one decent Mellotron track.
See: Mountain
7" (1967) ***/TT½

Some Other Someday
Looking Back
Looking Back: The Pye Anthology (2003, recorded 1967-71, 78.31) ***/TT

Some Other Someday
Looking Back
Indigo Spring
Listen to the Man
Colour Sergeant Lillywhite
Lady From Baltimore
All the Love in the World
Spending My Life Saying Goodbye
When the Day Breaks
The Day the Train Never Came
Beggar Man
Cynthia Serenity
I Don't Want Her Anymore
The House Upon the Hill
Melanie Cries Alone
Copper Coloured Years
To Please Louise
Amanda Jane
Cindy in Love
Willow Wood
I'll Always Love You
Soldiers in the Rain
Live and Let Live
Once Upon a Time
What Are They All Singing About Today
Scarlet River
One Day the Train Never Came
Mr. Umbrella Man: A Collection of Demos, 1967-1969 (2008, 78.04) ***½/TT

Amanda Jane
Willow Wood
One Day the Train Never Came
To Please Louise
Elastic Band
We All Love You Baby
Oh! What a Feeling
Ginny Stop (Don't Go 'Way)
Rings and Things
Mr. Umbrella Man
House Upon a Hill
Aimie (Sing Your Song for Me)
Santa Monica Bay
When the Day Breaks
Cindy in Love
Come on Into the Warm
Rest of Your Life (Down Lonely Street)
Cynthia Serenity
Take a Round Trip
Fairground Playboy
Money Matters
Windmill Hill
All the Love in the World
What Are They Singing About Today?
Whatever Became of Emily Jane?
One Six Two
Copper Coloured Years
Current availability:
Looking: Castle
Umbrella: Wooden Hill
Mellotrons used:
The West Coast Consortium were a British Association-style outfit, although that outfit would never have countenanced some of this lot's slightly ropey vocal harmonies. Their vinyl debut was 1967's Some Other Someday, backed with Looking Back, two pleasant enough efforts, if infused with little of that year's psychedelia, guitarist/keyboard player Geoff Simpson's pseudo-orchestral Mellotron strings enhancing both sides nicely.
Thirty years after the band's eventual, mid-'70s implosion and having been neglected for several decades, they were officially pushed, kicking and screaming, into a small corner of the limelight in 2003, with the release of Castle's Looking Back: The Pye Anthology, mopping up most of their single sides and some demos. Top track? Their lone psych single Colour Sergeant Lillywhite, most of the rest being perfectly competent but rather unexciting late '60s vocal harmony pop (representative examples: Lady From Baltimore, Melanie Cries Alone), although Willow Wood sounds like psych-era Status Quo, of all bands. Simpson adds Mellotron to a handful of tracks, with reiterations of the parts from their first single, an occasional flute line (with real strings) on I Don't Want Her Anymore, a background string line on Copper Coloured Years, upfront strings on Amanda Jane and phased ones on Once Upon A Time.
To my great surprise, 2008's Mr. Umbrella Man: A Collection of Demos, 1967-1969 turns out to be a better listen than their official recordings (in my humble opinion, of course). Top tracks include Mellotron-laden opener Amanda Jane, the melancholy One Day The Train Never Came, We All Love You Baby, the slightly jazzy title track, Whatever Became Of Emily Jane? and Copper Coloured Years, amongst many others. Several Simpson Mellotron tracks, even though these are only demos, with a major string part on Amanda Jane, background flutes on To Please Louise, background strings on We All Love You Baby, more upfront strings on House Upon A Hill and so-loud-they-almost-distort strings and vibes on All The Love In The World.
Don't buy Looking Back expecting to hear some lost Brit-psych classics - Colour Sergeant Lillywhite is the nearest to that description and it's already been heavily anthologised - but hardcore fans of the era could do worse than to pick a copy up. Mr. Umbrella Man might actually be a better bet, but with several decent Mellotron tracks apiece, era fans should possibly go for both.
Back Home (2007, 47.30) */0

Home
Us Against the World
Something Right
I'm Already There
When I'm With You
Have You Ever
It's You
Catch My Breath
The Easy Way
I Do
Pictures in My Head
You Must Have Had a Broken Heart
Current availability:
Mellotron used:
I think Westlife's Wikipedia entry says it all: "Westlife are an Irish pop group formed on 3 July 1998". So accurate? Was that the day all the hand-picked participants signed their management contracts? I don't know why I even bother getting disgusted by manufactured boy/girl (or boy/girl) bands; they've been around as long as pop has existed and will be around until it coughs its last. 2007's Back Home is their pretty vile eighth non-compilation effort, consisting of the limpest of limp balladry, interspersed with the occasional upbeat effort (The Easy Way, Pictures In My Head), slightly reducing its overall soporific effect. But only slightly.
Producer Steve Mac is credited with Mellotron on It's You, but whatever he adds to the track is inaudible under the real strings and backing vocals, meaning that I've (half-) listened to this for no reason at all. Gahhh. Y'know, I actually approached this hoping to find something positive to say about it, but have failed dismally. This is music for people who have a gap where some of us have musical taste; not mine, but any taste. Music for people who don't like music. Absolute fucking drivel.
Wet (1981, 20.32) ***/T

To Be a Man
Babies of the Night
The Dreamer
Sunday's Girl
Current availability:
Mellotron used:
Way, way back in 1981, the then-new Kerrang! featured an article by legendary loon Geoff Barton, extolling the virtues of a self-titled EP by a certain Kevin Wet (his real name, surely?), even remarking on its Mellotron usage, amazingly. It has to be said, though, that Barton got just as (if not more) excited by the sleeve, featuring (as you can see) two essentially pornographic pictures of his girlfriend and her mate, although at least a sense of humour makes itself apparent in both shots, especially the 'back' one (right). Although often referred to as a picture disc, the EP was actually clear vinyl with the dodgo pics on a sheet of card.
Anyway, thirty years later, said EP finally turns up on a download blog, to my great excitement. So, is it any good? Er, it's probably best described as a rather turgid attempt at 'epic' hard rock, tracks like Babies Of The Night (the one Barton, inexplicably, went apeshit over) and the rather incoherent seven-minute Sunday's Girl having a decent stab at sophistication, sadly falling rather short. To add to the record's woes, it has to be one of the worst productions I've ever heard; although Wet's vocals are clear enough, instrumental balances are all over the shop and as for the Mellotron...
I believe it's played by either Wet himself or Mark Jelenski, with exceedingly muffled choirs on every track except Babies Of The Night, although I couldn't honestly say it enhances the EP that much, due to the awful recording. Do you need to hear this? Probably not, no - my three-star rating above errs on the generous side - but hard rock (as against metal) obsessives will probably go for it anyway, if only for its rarity value. And Barton's copy? According to a rather confessional column he used to write for Classic Rock mag, he had what sounds like a mini-breakdown sometimes in the '80s and ditched his entire vinyl collection at the local tip, so it's presumably mouldering away in a landfill somewhere. Nice one, Geoff.
---