Waters of Change (1971, 42.30) ****/TTTT

Time Machine
Lament
I've No Idea
Nimbus
Festival
Silver Peacock (Intro)
Silver Peacock
Impromptu
The Fox

Pathfinder (1972, 38.27) ***½/½

Hobo
MacArthur Park
The Witch
Pathfinder
From Shark to Haggis
Stretcher
Madame Doubtfire
Get Your Dog Off Me! (1973, 39.51) ***/T

Get Your Dog Off Me!
Freestyle Ladies
Open Letter
Morning Day
Requiem
Classical Gas
Sweet Blossom Woman
Turn your Money Green
La-Di-Da
Working Man
Current availability:
All titles: Repertoire (Germany)
Mellotrons used:
Waters: band's own MkII
Pathfinder/Dog: hired-in M400?
Beggars [sic.] Opera are yet another of those 'proto-prog' bands who operated on the cusp of the '60s and '70s who, unfortunately, never quite adapted to the new decade so, like the dinosaurs, soon found themselves extinct. Which, all in all, is a pity, as many of these bands had plenty to offer, but such is the fickle nature of fashion.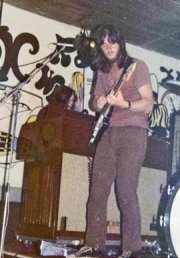 After their debut, Act One (***½), Beggars Opera bought a Mark II Mellotron and Virginia Scott (credited with just 'Mellotron and vocals') used it to good effect on their follow-up, Waters of Change. They get straight in there on lengthy opener Time Machine, with plenty of Mellotron strings to lift the piece up at relevant moments. The next two Mellotron tracks don't make any particularly special use of the instrument, but Silver Peacock (Intro) has a great brass part under the narration (don't ask) and Silver Peacock itself is fantastic - great song and superb Mellotron. The Fox finishes things off nicely in a similar vein; this is a bit of an essential for the Mellotron fan and a fine album in its own right.
Album no. 3, Pathfinder, loses Virginia Scott, leaving regular keyboard man Alan Park to cover all bases, who mainly sticks to the organ and piano he played on Waters of Change. The album is a little more straightforward, too, as the band gently moved away from their psych/prog roots towards a more hard rock direction. The only Mellotron on the album (and only a few chords at that) is on their interpretation of Jim Webb's classic/ludicrous (delete according to taste) MacArthur Park, although they're unable to match the high camp of Richard Harris' original version, for which we should probably be truly grateful.
1973's Get Your Dog Off Me! was the last Beggars Opera album to have any Mellotronic input and then, again, on only one track. The album's another weak mish-mash of styles, veering between the acoustic title track, the rock'n'roll of Freestyle Ladies and the folk rock of Morning Day, to name but three. The most notable tracks are probably Requiem, a Brian-May-(just)-before-Brian-May multi-guitar extravaganza and their excellent multiple-keyboard take on Mason Williams' Classical Gas, including some innovative Moog work and a few Mellotron string chords here and there, which would certainly have worked well elsewhere on the album, not least on the slow-burn of Open Letter, although it clearly wasn't to be.
So; Pathfinder and Get Your Dog Off Me! are a bit so-so, to be honest, but Waters of Change is vastly better, both for material and Mellotron, so if I were you, I'd probably stick to that one. Note of (possible) interest; apparently, while on tour in Italy in '72, they sold their Mark II to PFM, pretty much on a whim, who put it to quite stunning use on their first couple of albums, meaning the Pathfinder and Get Your Dog Off Me! Mellotrons were probably hired-in M400s. Incidentally, as of 2007, a version of the band are working again, releasing an album, Close to My Heart, although I'm assured any Mellotronic input is sampled. Boo, hiss. Oh well - good to have them back, whatever.
Close to My Heart (2007, 64.06) ***
Although Beggars Opera apparently never actually split up, 2007's Close to My Heart is the first release under the name for twenty-seven years, making it effectively a reformation album. Recorded as a trio with Virginia Scott on vocals and keys, it's a decent enough effort, several tracks fitting into a kind of modern art-rock bag, although fans of old shouldn't get too excited at the thought of a symphonic, '72 re-revisited effort. Better tracks include opener Secret, Passing Her and Meet Me, although I'm not sure what's going on with the weirdly punky title track. Criticisms? Some tracks sound strangely unfinished, petering out rather than actually finishing properly, while the drumming is frequently far too busy for its own good. Calm down, sir!
Although Scott's credited with Mellotron, don't be fooled: not only are most of the album's string sounds completely generic, but the band actually wrote to me and admitted they'd used samples. After ploughing through the entire album, they finally appear on closer Here Comes Everybody, Scott adding a strident, descending samplotron string part in a couple of places. I hate to say it, but this album is probably too diverse for its own good, although, of course, that was par for the course back in the band's heyday. Maybe they should've chopped a few of the weaker songs off and brought it down to 'vinyl length'? Maybe surprisingly, they've released a follow-up, 2009's Touching the Edge, although I've no idea if the Mellotron samples put in another appearance.
The live pics above attest to Beggars Opera's live MkII use, but the only bootleg I've been able to trace to date (lucky there are any at all, for a relatively obscure band), from Mannheim in April '72, while a ripping set, is sadly sans both Virginia and the Mellotron.
---