Crack the Sky (1975, 42.00) ****/T

Hold on
Surf City
A Sea Epic
She's a Dancer
Robots for Ronnie
Ice
Mind Baby
I Don't Have a Tie
Sleep

Animal Notes (1976, 37.58) ****/T

We Want Mine
Animal Skins
Wet Teenager
Maybe I Can Fool Everybody (Tonight)
Rangers at Midnight
Virgin...No
Invaders From Mars
Play on

Live on WBAB (1976, 47.43) ****/TT½

Ice
We Want Mine
A Sea Epic
Mind Baby
Rangers at Midnight
Wet Teenager
Hold on/Surf City

Safety in Numbers (1978) ****½/TT

Nuclear Apathy
Long Nights
Flashlight
Prelude to Safety in Numbers
Lighten Up McGraw
Give Myself to You
A Night on the Town (With Snow White)
Safety in Numbers

Live Sky (1978, 51.08) ****½/TTT½

Hold on
Maybe I Can Fool Everybody (Tonight)
Lighten Up McGraw
She's a Dancer
Ice
Surf City
I am the Walrus
White Music (1980, 42.10) ***/T

Poptown
Living With the Lights on
The Radio Cries (it's Singles Time)
Skin Deep
White Music
All American Boy
Hot Razors in My Heart
Suspicion
The Techni Generation
Flying
Songs of Soviet Sons


Photoflamingo (1981, 40.04) ***½/TT

Flamingo Prelude/Too Nice for That
A Girl Like You
Last Time
Hideaway
Only Lonely
Is All We Know
Good Child Gone Wild
The Other Guy
With the Morons
Photoflamingo
World in Motion 1 (1983, 42.47) ***/T

Breakdown
Skindiver
Needles and Pins
All Fly Away
Too Cold to Be Cool
Talking to Napoleon
Stealer
This Time
Mr. DJ
Telephone Lady
Lose That Girl
Working Boys
When I Grow Up
The End (1984, 37.21) ***½/T½

Monkey Time
Skin Deep
Ice
Astro Boy
All American Boy
Nuclear Apathy
Hot Razors
Alive & Kickin' Ass (2006, recorded 1978, 73.18) ****½/TT½

Hold on
Mind Baby
Lighten Up McGraw
She's a Dancer
Nuclear Apathy
Ice
Long Nights
Safety in Numbers
Surf City
I am the Walrus
Safety in Numbers: 21st Century Redux (2006, recorded 1978, 48.20) ***½/½

Safety in Numbers
Lighten Up McGraw
Atlantic City
Nuclear Apathy
Flashlight (of Love)
Jungle Man Lonely
Long Nights
A Night on the Town (With Snow White)
Give Myself to You
The Crying Father, Farmer From Idaho
Current availability:
Crack/Animal/Safety/White: self-released
Kickin'/Safety Redux: Lifesong
All other titles: out of print?
Mellotrons used:
Band's own M400 (possibly MkV on later releases)
Crack the Sky are one of those odd bands who've been together seemingly forever, released loads of albums but never really got anywhere, despite actually being rather good. They kicked off in the mid-'70s under the leadership of vocalist/guitarist/keyboardist/writer John Palumbo, falling loosely into that 'intelligent hard rock with progressive tendencies' category that managed to be commercially successful for a short while at the time. One of their most notable features was their unusual approach to lyric writing, steering well clear of the standard topics, preferring tales of the dysfunctional and the just plain weird; in fact, a slightly better-known point of reference would be Canada's excellent Max Webster (band, not person), although they came along a couple of years later.
Crack the Sky already has all the elements of their sound in place, with a very non-linear approach to songwriting, heard to good effect on A Sea Epic and Ice. So, er, don't expect AC/DC. Some of the material lies outside the boundaries of hard rock altogether, particularly the rather strange Robots For Ronnie, but Hold On and Mind Baby are more typical. The only Mellotron to be heard is an excellent little strings pitchbend part on She's A Dancer - worth hearing if you're going to buy the album anyway. Animal Notes is more of the same, with the salaciously-titled Wet Teenager actually being about anything but and several other high points including Maybe I Can Fool Everybody Tonight and Rangers At Midnight. About the only Mellotron to be heard is a little heavily-reverbed choir on Rangers and even less on Play On, to the point where it's hard to tell whether it's actually there at all, particularly under the orchestration. Another good album, but less Mellotron than its predecessor.
Live on WBAB is a bit of anomaly, being a promo-only live album for record station use, 'released' in '76 and finally made more widely available on CD in 1998, with bonus tracks added from the later Live Sky. It's a good, if slightly lo-fi release, showing off the band's considerable chops and excellent arrangement skills, with several tracks differing from those on their official effort (N.B. the Live Sky tracks added to the CD are the non-crossover ones). It's a shame the whole of the official album isn't currently available, but this should suffice in the meantime. On the Mellotron front, Palumbo plays polyphonic cellos on Ice, with a high string note part and choirs later in the song, with more strings towards the end of A Sea Epic and in the 'William Tell Overture' (!) section of Rangers At Midnight, making for a nice Mellotronic addition to the band's catalogue.
If their first two albums were good, Safety in Numbers is excellent; more progressive still, it contains probably two of their best songs in Nuclear Apathy and the title track, quite coincidentally the two main Mellotron pieces on the album. Nuclear Apathy only has a short burst of strings, but Safety In Numbers features a flute intro (also heard on Prelude to... at the end of side one), then both strings and huge choir towards the end of the track. The rest of the album's good, the band diversifying into pseudo-Queen territory on A Night On The Town (With Snow White), but in its title track, Crack the Sky almost certainly reached their peak. Now bizarrely, although it seems they've always been John Palumbo's band, he neither appears on the album nor writes any of the material on side two, although he was to reappear on White Music a couple of years later. Whether this was a palace coup by the rest of the band or strategic withdrawal on his part is not entirely certain, but I believe he actually left his own band due to the time-honoured 'musical differences'. Oh and just out of interest, the Mellotron is played (credited this time) by guitarist Rick Witkowski.
Live Sky is also Palumboless, featuring a full six-piece lineup, including a vocalist covering Palumbo's parts. Unsurprisingly, there's quite a bit more Mellotron than on the studio versions, largely duplicating orchestral parts, particularly on Maybe I Can Fool Everybody (Tonight), which becomes quite an epic effort live. Strangely, the album concentrates on their debut, with no fewer than four tracks from it, with Mellotron added to two of them, new keyboard man Vince de Paul covering the parts with aplomb. Interestingly, the band use the stage to expand on their studio repertoire, adding a lengthy coda to She's A Dancer (still complete with Mellotron pitchbend part), extending Surf City with a slew of classical quotes including a note-perfect William Tell Overture (see: Live on WBAB) and stretching Ice to a good twelve minutes, albeit without the aimless jamming that many bands might employ. This is seriously well-arranged stuff; it's a shame it's only a single album, but I doubt if their record company saw much point in releasing a double. Pity. Possibly the album's high note is their spot-on cover of I Am The Walrus, which makes you realise just how much the psychedelic-era Beatles influenced Crack the Sky, along with all the more obvious candidates. Pretty essential, really.
Two years later, White Music, as mentioned earlier, saw the return of Palumbo and the loss of much of the rest of the band, only Rick Witkowski and Vince de Paul surviving the cull. Its shorter songs are noticeably more straightforward stylistically, as with most bands at the time and it's probably of rather less interest to the progressive fan, veering closer to New Wave than anything else. The only Mellotron track present is one of the album's few real highlights (along with Songs Of Soviet Sons), Hot Razors In My Heart, with an excellent little string melody repeated throughout the track. The following year's Photoflamingo is in a similar vein, although a handful of tracks (A Girl Like You, the excellent Last Time) hark back to their earlier sound, other highlights including the angular The Other Guy and the triumphal title track. More de Paul Mellotron, with strings and flutes all over Last Time, flute chords, choirs and church organ (!) on Only Lonely and a big strings/cello part on The Other Guy. That's five sounds; is this the suspected twin-manual MkV we're hearing? Against the odds, then, especially for the time, superior to its predecessor.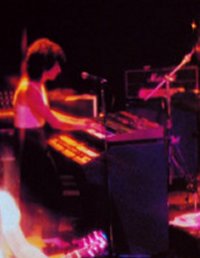 Two years on, '83's World in Motion 1 (rear sleeve pic of de Paul at the MkV to the right) is in a rather more self-consciously contemporary vein, from the synth-heavy Skindiver, their noo wave take on Jackie DeShannon/The Searchers' Needles And Pins, Too Cold To Be Cool's piano balladry, Palumbo-style and the brassy Talking To Napoleon. Better moments include opener Breakdown, a ripping guitar solo on the otherwise undistinguished Mr. DJ and the usual overall levels of wit and intelligence, but the early '80s were clearly finding Crack the Sky slightly adrift. De Paul on uncredited Mellotron, with strings all over Breakdown and background choirs on All Fly Away and This Time.
Going by Palumbo's sleevenotes on 1984's live The End (bogus, OTT crowd noise, fadeouts an' all), not to mention its title, you get the impression that he was winding up proceedings. The album opens with what I take to be a new song, the rather ordinary Monkey Time, enhanced by the strangely uncredited brass section, as is White Music's Skin Deep. The rest of the short disc consists of another presumed newie (Astro Boy), two more White Music tracks and a couple of oldies, the lengthy Ice and Nuclear Apathy, although the latter appears to be less that actual song, more a medley of favourite bits, not least parts of Surf City and Hold On, if I'm not mistaken. De Paul on Mellotron once more, with occasional choir stabs on Skin Deep, a solo flute part, background choirs and string stabs on Ice, more background choirs on All American Boy and occasional strings on Nuclear Apathy, but where, oh where is the major string part on the superb Hot Razors [In My Heart]? Replaced with synth? Huh?
2006's Alive & Kickin' Ass was recorded at the same gigs as Live Sky and can be seen, in some ways, as a more complete version of that album, although it omits one track. Some of the other repeated tracks are longer than the edited versions previously available, but the dedicated fan still needs both albums to hear the nearest it seems we're going to get to a complete concert. Vince de Paul on Mellotron, of course, with the same string pitchbends as on Live Sky (it may actually be the same recording), faint strings and choir in the middle of Nuclear Apathy, choirs on Ice and Safety In Numbers, strings and flutes on Surf City and, finally, strings on I Am The Walrus. This really is an excellent live album; given that I'm not sure that Live Sky is actually available on CD in its entirety, this suffices as a substitute.
I've really been looking forward to hearing 2006's Safety in Numbers: 21st Century Redux; sad to say, it's something of a disappointment. Given Palumbo's non-participation on the original release (see above), he opted to revisit the master tapes thirty years on, add his own vocals, add a few tracks and remix the lot. Hmmm. And hmmm again. Unfortunately, his voice is, essentially, shot, while the remix hasn't obviously improved the overall sound; his modern synth overdubs are thoroughly unnecessary and the nearest any of the unheard material gets to 'worth the effort' is Jungle Man Lonely, which isn't that near. What's that you say? The Mellotron? Bogus strings on a couple of tracks, clearly added by Palumbo, Witkowski's original parts mixed out almost to the point of inaudibility, with distant choirs on the opening title track and equally distant strings on Nuclear Apathy. Mellotron fail.
So; the only really essential Mellotron album here is Live Sky/Alive & Kickin' Ass, although Safety in Numbers probably qualifies, too. The other early albums are good, but White Music's more for aficionados, although it's the only other one with any notable Mellotron work unavailable in any other form. Incidentally, at least the first three albums were available in the UK, on the same independent Lifesong label as in the States, although they don't tend to crop up very often.
Bottom Line, NYC, 1st November 1976 (40.47) ****/T
Mind Baby
Wet Teenager
Maybe I Can Fool Everybody (Tonight)
A Sea Epic
We Want Mine
Rangers at Midnight
Hold on
Surf City
Warner Theatre, Washington D.C., 27th February 1978 (83.31) ****½/TTT½

Hold on
Mind Baby
Nuclear Apathy
Maybe I Can Fool Everybody (Tonight)
Ice
Long Nights
Lighten Up McGraw
She's a Dancer
Surf City
I am the Walrus
Safety in Numbers
Mellotrons used:
'76: band's own M400
'78: band's own MkV?
Once upon a few years ago, CtS helpfully provided links to downloads of several bootlegs on their site, a function now long-discontinued, sadly. This really must've been some time back, as I'm sure I was still on dialup, as the downloads (track-by-track, from what I remember) took forever, so I grabbed a couple and told myself I'd go back to get the rest when I had the time. Fail... Of course, I never did and now they're gone, so all I have is a set from New York's Bottom Line in '76 and what turns out to be the long out-of-print live The End, reviewed above.
According to a great site set up by the guys who ran the Bottom End, that '76 gig was from November 1st, although the DJ talkover at the end (this was obviously a radio broadcast) claims October 26th. Whatever. Anyway, the band were supporting Manfred Mann's Earth Band (listed as Manfred Mann) on the night, which explains the recording's mere forty-minute duration. It's a good set, split evenly between their first two albums, their superb arrangement skills already in place, later heard (sans John Palumbo, of course) on Live Sky, highlights including Wet Teenager, A Sea Epic and Surf City. We get a fantastic between-song crack (sorry) from Palumbo before Rangers At Midnight, where he claims that the record company, the ill-managed Lifesong, "Have authorised... me that they're giving full money-back guarantees [on albums]", which probably pissed said label off massively. I presume it's Palumbo on keys, mostly piano with a smattering of Mellotron, with a brief string part at the end of A Sea Epic and more strings during the William Tell Overture, here included in Rangers At Midnight.
The post-Palumbo band's Washington gig in February '78 is unexpectedly Mellotron-heavy; had the band just bought their twin-manual MkV? Anyway, a blinding radio broadcast, in superb stereo; while there's nothing here that isn't available in live form on one of the three official albums above, some of these versions are, if anything, better than their official counterparts, not least Nuclear Apathy and Safety In Numbers. Vince de Paul's on the Mellotron, with what sounds like a previously-unheard brass part on Mind Baby, the expected strings on Nuclear Apathy, flutes on Maybe I Can Fool Everybody (Tonight), flutes, strings and choirs on Ice, choirs and pitchbent strings on She's A Dancer, strings and flutes on Surf City, strings (of course) on I Am The Walrus and flutes and choirs on Safety In Numbers, making this their top live Mellotron recording, even if it hasn't been officially released.

See: King Friday
---