Trespass (1970, 42.42) ***/T½

Looking for Someone
White Mountain
Visions of Angels
Stagnation
Dusk
The Knife

Nursery Cryme (1971, 39.27) ****½/TTT

The Musical Box
For Absent Friends
The Return of the Giant Hogweed
Seven Stones
Harold the Barrel
Harlequin
The Fountain of Salmacis
Foxtrot (1972, 51.22) *****/TTTT

Watcher of the Skies
Time Table
Get 'Em Out By Friday
Can-Utility and the Coastliners
Horizons
Supper's Ready
Lover's Leap
The Guaranteed Eternal Sanctuary Man
Ikhnaton and Itsacon and Their Band of Merry Men
How Dare I Be So Beautiful?
Willow Farm
Apocalypse in 9/8 (Co-Starring the Delicious Talents of Gabble Ratchet)
As Sure as Eggs is Eggs (Aching Mens' Feet)
Live (1973, 47.03) *****/TTT½

Watcher of the Skies
Get 'Em Out By Friday
The Return of the Giant Hogweed
The Musical Box
The Knife

Selling England By the Pound (1973, 53.50) ****½/TTTT

Dancing With the Moonlit Knight
I Know What I Like (in Your Wardrobe)
Firth of Fifth
More Fool Me
The Battle of Epping Forest
After the Ordeal
The Cinema Show
Aisle of Plenty
The Lamb Lies Down on Broadway (1974, 94.08) ****½/TTTT

The Lamb Lies Down on Broadway
Fly on a Windshield
Broadway Melody of 1974
Cuckoo Cocoon
In the Cage
The Grand Parade of Lifeless Packaging
Back in N.Y.C.
Hairless Heart
Counting Out Time
The Carpet Crawlers
The Chamber of 32 Doors
Lilywhite Lilith
The Waiting Room
Anyway
Here Comes the Supernatural
Anaesthetist
The Lamia
Silent Sorrow in Empty Boats
The Colony of Slippermen
Arrival
A Visit to the Doktor
Raven
Ravine
The Light Dies Down on Broadway
Riding the Scree
In the Rapids
IT
7" (1975) ****/T

The Carpet Crawlers
The Waiting Room (Evil Jam)

A Trick of the Tail (1976, 51.11) ****½/TTT½

Dance on a Volcano
Entangled
Squonk
Mad Man Moon
Robbery, Assault & Battery
Ripples
A Trick of the Tail
Los Endos

Wind & Wuthering (1976, 50.59) ****½/TTT½

Eleventh Earl of Mar
One for the Vine
Your Own Special Way
Wot Gorilla?
All in a Mouse's Night
Blood on the Rooftops
'Unquiet Slumbers for the Sleepers...
...In That Quiet Earth'
Afterglow
Seconds Out (1977, 96.11) ****/TTT½

Squonk
The Carpet Crawl
Robbery, Assault & Battery
Afterglow
Firth of Fifth
I Know What I Like
The Lamb Lies Down on Broadway
The Musical Box (Closing Section)
Supper's Ready
The Cinema Show
Dance on a Volcano
Los Endos
...And Then There Were Three... (1978, 53.30) ***/½

Down and Out
Undertow
Ballad of Big
Snowbound
Burning Rope
Deep in the Motherlode
Many Too Many
Scenes From a Night's Dream
Say it's Alright Joe
The Lady Lies
Follow You Follow Me
Three Sides Live [UK version] (1982, recorded 1976-81, 92.27) ***/TT

Turn it on Again
Dodo
Abacab
Behind the Lines
Duchess
Me & Sarah Jane
Follow You, Follow Me
Misunderstanding
In the Cage (Medley)
Cinema Show
Slippermen
Afterglow
One for the Vine
Fountain of Salmacis
IT/Watcher of the Skies
Archive 1967-75 [Discs 1-3] (1998, 178.06) ****/TTTT

The Lamb Lies Down on Broadway
Fly on a Windshield
Broadway Melody of 1974
Cuckoo Cocoon
In the Cage
The Grand Parade of Lifeless Packaging
Back in N.Y.C.
Hairless Heart
Counting Out Time
The Carpet Crawl
The Chamber of 32 Doors
Lilywhite Lilith
The Waiting Room
Anyway
Here Comes the Supernatural Anaesthetist
The Lamia
Silent Sorrow in Empty Boats
The Colony of Slippermen
Arrival
A Visit to the Doktor
Raven
Ravine
The Light Dies Down on Broadway
Riding the Scree
In the Rapids
IT
Dancing With the Moonlit Knight
Firth of Fifth
More Fool Me
Supper's Ready
I Know What I Like
Stagnation
Twilight Alehouse
Happy the Man
Watcher of the Skies (single)
Archive #2: 1976-1992 [Disc 2] (2000, 72.46) ***/T

Illegal Alien
Dreaming While You Sleep
It's Gonna Get Better
Deep in the Motherlode
Ripples
The Brazilian
Your Own Special Way
Burning Rope
Entangled
Duke's Travels
Current availability:
Mellotrons used:
Trespass: hired-in MkII
Nursery/Foxtrot/Live: band's own MkII
Selling - Archive #2: one of three M400s owned sequentially by the band
Everyone knows the Genesis story (surely?): formed at Charterhouse School from two rival bands, sent a demo to old boy Jonathan King, he gets them a deal with Decca, record pleasant psych/pop album two years too late, reinvent themselves (not for the first time).
Their first 'proper' album, Trespass, displayed their new style, forged over the preceding year. Heavily influenced by King Crimson's In the Court of the Crimson King, the LP contained six mostly lengthy tracks, although they were already developing their own style. Unlike many fans, I find the album rather formative; perfectly good, just not that engaging. Its muddy production doesn't help its cause any, while, going by recordings that have subsequently appeared, I'm not convinced its six songs were the best they had at the time. They didn't own a Mellotron at this point, but Tony Banks used one on three tracks on the LP, with standard strings on Visions Of Angels and Stagnation and, unusually, mandolins on White Mountain, in the intro and at around the six-minute mark, making an interesting change from the usual sounds. After a lineup change that almost split the band, original guitarist Anthony Phillips leaving due to persistent stagefright, his replacement Steve Hackett persuaded the band to buy their own Mellotron. Rumour has it they (fittingly) purchased one of King Crimson's old MkIIs (although this is fairly doubtful), even though the M400 was available.
By the following year's Nursery Cryme, Genesis had got their act together properly, managing several classics on the one album. The Mellotron became more central to the band's sound, although there's nary a trace of it to be heard on The Musical Box, but both The Fountain Of Salmacis and Seven Stones are chock full of strings, there's a smattering of vibes on Harlequin and The Return Of The Giant Hogweed finishes with some fat brass chords. Seven Stones even features one of the MkII's Hammond sounds, probably the 'church organ', in the first half, alongside the real Hammond. Incidentally, Steve Hackett and Phil Collins (back behind the kit! Now!) both made their Genesis debuts with this album, completing the band's 'classic lineup'.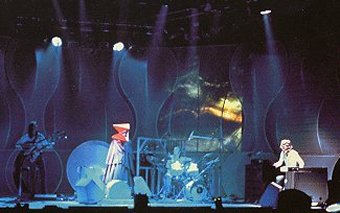 Foxtrot is regarded by some as the band's most consistent album; it's certainly free of any of the occasional whimsy of many of their other efforts. Opening with the band's boldest Mellotron statement of their career, Watcher Of The Skies has a full two minute Mellotron intro (mixed brass/strings with bass accordion), while Get 'Em Out By Friday and Can-Utility And The Coastliners feature nice flute parts, the former alongside Peter Gabriel's real one. The epic Supper's Ready gets halfway through before any sign of Mellotronic activity and when it comes it's mainly brass, plus powerful strings towards the end. Early live versions of the song, before they perfected the live fade-out, have an arpeggiated string part, as the final held chord stretches way beyond the tapes' eight-second limit. Banks always had a certain deftness of touch and considerable taste, both qualities in short supply at the time (and, for that matter, subsequently) and was careful not to overuse the Mellotron, hardly using it at all on some tracks.
Genesis Live almost didn't get a release, which would have left us all poorer; a brilliant live album with loads of atmosphere, it features most of the band's best material to date, bar Supper's Ready. Apparently a test pressing of a double version of the album exists, including Supper and presumably a couple of other tracks, although I've never actually encountered a copy, or even any definite info. What we do get, though, is superb; a version of Watcher that, to my ears, stomps all over the studio version, the intro taken at a more stately pace. Magnificent. Get 'Em Out and Hogweed only have small bursts of Mellotron, but they're highly effective. Nothing on side two, but the album's high 'T' rating is chiefly for the storming version of Watcher.
Selling England By the Pound is my personal favourite of all the Genesis albums, also featuring some of their best Mellotron work. Between Foxtrot and this album, Banks replaced his MkII with an M400, choosing three violins, brass and mixed choir for his main tape frame. In an interview from a few years later he remarked that the strings and brass were noticeably out of tune with each other, making it impossible to mix the two as he had on the MkII. He also added an ARP Pro-Soloist to his rig at the same time and both it and the Mellotron choir were much in evidence on the album, the latter being the first Mellotron sound heard on the album, on Dancing With The Moonlit Knight, superbly recorded, as are the strings over the two-minute coda. Firth Of Fifth has some incredibly effective strings under that guitar solo and may well be the album's Mellotron highlight, while the instrumental section of Cinema Show/Aisle Of Plenty features both strings and choir, the long fade-out echoing Dancing's opening chord sequence. Apparently, another tape frame was used for the short flute part on the intro to The Battle Of Epping Forest (see interview quoted below), played on a reedy Hammond patch live. There may just possibly be a brief snatch of brass on the album, but Banks never recorded with it again; in fact he only ever used it live on Supper's Ready, played on and off until the early '80s. Interestingly, he mentioned in Dianna Dilworth's Mellodrama documentary that he used the oboes on I Know What I Like, which has to be the odd sound towards the end of the track, presumably from that second tape frame again.
The Lamb, as it's commonly known, is regarded by many as Genesis' piéce de resistance; a concept album in the true sense of the word, with a story (albeit a rather confused one) and much use of repeated musical themes. It's certainly a brilliant album, although I have to say that I can't help thinking that it could've been rather shorter without losing any of its impact. Of course, at the time, you either made a single album or a double, so three sides of material was no use to anyone; there's well over two sides of top-notch stuff, though, so I suspect the band had to 'pad it out' a bit. Whatever, it's more than worthy of your attention, although probably not the best starting place for someone new to the band. Banks used his Mellotron on less than half of the album's tracks and many of those sparingly, but there's several grade-A Mellotron classics here, particularly the Fly On A Windshield/Broadway Melody segue, Hairless Heart (despite being doubled with a string synth for some unknown reason, possibly associated with co-producer Eno) and The Chamber Of 32 Doors. Lilywhite Lilith has some more of the 'flutes from the other tape frame' (also played on the organ live), while The Lamia and In The Cage only feature a few seconds of Mellotron. An oddity from this period is the live version of The Waiting Room (appended 'Evil Jam') from the Los Angeles Shrine Auditorium, found on the b-side of most versions of the Carpet Crawlers 7", featuring some radically pitchbent choirs, easily heard, in unedited form, on 1998's Archive 1967-75.
A Trick of the Tail was the band's first album after Gabriel's departure, but they acquitted themselves brilliantly; I've heard some fans opine that 'it was all over after Peter left', but, I have to say, it was Hackett's departure, not Gabriel's, that ruined the band. Trick is a great album, opener Dance On A Volcano remaining a live favourite for years to come. Choirs-a-plenty on Dance's verses and a unique choirs/lead synth unison part on one of the band's last 12-string ballads, Entangled. Mad Man Moon and Robbery, Assault & Battery both have fairly ordinary string parts, but closer Los Endos really lets rip with the choirs on its reprise of the Squonk verse structure. I find it quite odd that the Mellotron wasn't utilised on Ripples, the album's other big ballad, although it wouldn't have suited the album's attempt at 'doing a Zeppelin', Squonk. The only real duffer on the album (in my humble opinion, of course) is the title track, with its overly jaunty feel, but overall, a triumph.
Genesis' last real Mellotron album, Wind & Wuthering, winds things up with a bang; opener Eleventh Earl Of Mar has one of the all-time Mellotron Moments, with a massive strings swell up to a hugely effective key change; makes me come out in goosebumps (not a pretty sight...). Just to compound the gloriousness of the track, Banks reverses the key change at the end of the song, then turns it round again, Mellotron blasting away throughout. One For The Vine and All In A Mouse's Night have some fairly ordinary string parts, but Hackett's Blood On The Rooftops is another Mellotron tour de force. After close listening, I'm fairly certain that album closer Afterglow features multi-overdubbed Collins 'Ah-ahs' rather than anything Mellotronic, although I have heard that it was a set of specially-commissioned tapes. It certainly doesn't sound like it, but I'd be interested to know what anyone else thinks.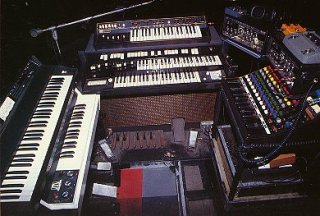 Seconds Out is a fairly typical '70s double live album, although, unlike its live predecessor, it sounds rather muddy and flat to my ears. Whether or not you like Collins' voice on Gabriel songs is a matter of taste, while a couple of the band's live endings leave more than a little to be desired (Cinema Show: ouch!), but overall, it's a good summary of their career to date. Despite some of the 'not as good as the studio version' songs, there is one real highlight which make the album essential; set closer Dance On A Volcano/Drum Duet/Los Endos is jaw-dropping, although it's a shame they abbreviated Dance. Los Endos is worth the price of admission on its own.
'77's Spot the Pigeon EP is entirely Mellotron-free and the following year's ...And Then There Were Three... has so little Mellotron on it that I'd never noticed it until it was pointed out to me; Many Too Many mixes some Mellotron strings with string synth, to no real effect. This was the first Genesis album without Hackett, of course and his presence is sorely missed. I have the utmost respect for Mike Rutherford's bass/rhythm playing, but I always felt that his lead work rather left something to be desired. There's a handful of really good songs on the album, but they were obviously already sliding down the slippery slope by this point. Major hit Follow You Follow Me effectively bought all the band new cars; the story goes that they were quite keen on doing that again and you know the rest. Banks never used a Mellotron with Genesis again, although I'm told that it was still there for early dates on 1980's Duke tour.
The European version of '82's Three Sides Live actually has four live sides, the EP tracks/b-sides of the US version replaced by vintage live material. Now, there's something slightly odd about these tracks; One For The Vine and Fountain Of Salmacis are listed as being from 1980, the first tour after Banks had ditched the Mellotron, but Fountain definitely features the Great Beast, rather than synth strings. Turns out it's actually from '78, but has been labelled 1980. Hopeless. Anyway, the other Mellotron track on the album is a great version of IT (from The Lamb), segueing into an abbreviated Watcher from the '76 tour. Now, please could we have some official live releases, starting with a full 1976 set?
In 1998, Genesis finally gave in and gave their fans what they wanted with Archive 1967-75. Well, sort of. A complete live version of the 'Lamb' from 1975, with a 'reconstructed' version of IT (the tape ran out, apparently) and, worse still, overdubbed vocal and guitar parts, destroying any authenticity the recording may have had. Saying that, it sounds great, just not particularly authentic, although, thankfully, the keyboards remained untouched throughout. Of course, Banks had to approach his parts slightly differently live and, despite his RMI piano with its sustained 'organ' setting, the Mellotron gets more use here than on the piece's studio counterpart. The four-disc set also features several tracks from the band's 1973 performance at the London Rainbow (a heavily bootlegged show), although some of them appear to have been edited, while one friend of mine swears there's some more Gabriel overdubs. It was rumoured before its release that the box was going to feature the version of Supper's Ready left off '73's Live, but it turned out to be the Rainbow version, played on the M400, not the MkII. One highlight of the box, although nothing to do with Mellotrons, are the three 1970 BBC session tracks that had been floating around on bootlegs for a decade or so, after their retransmission in the late '80s. (The) Shepherd, Pacidy and Let Us Now Make Love are, to my ears anyway, superior to almost anything from Trespass and it's a mystery why none of them were chosen for that album. The only reason that occurs to me is that they all have a slightly dated sound, even for the time and Genesis were never a band to look backwards. However, the box is generally excellent, despite some much-hyped but not particularly interesting demos on the fourth disc.
Two years later, Genesis released the second and final 'Archive' box, although three had been promised originally. Far more so than the first, Archive #2 is a real hodgepodge of stuff, b-sides and live material slung together in a complete mish-mash of later Genesis history in seemingly random order. A handful of b-sides have been deliberately left off, meaning that the completist still has to try to track down originals; so maybe Match Of The Day isn't exactly the greatest song the band ever recorded, but neither's More Fool Me and you don't see copies of Selling England with it removed, do you? (Sadly). A double CD of b-sides with a few outtakes and a triple or even quadruple of live material would've served their fans far better and would probably have sold just as well.
A proportion of the box is, of course, complete crap; you may have gathered that I loathe '80s Genesis with a vengeance and many of these tracks are Invisible Touch and We Can't Dance b-sides and the like. Horrible. There are, however, several buried treasures here and there; Evidence Of Autumn ('80) and Naminanu (as late as '81) are excellent and even '86's Do The Neurotic is actually quite listenable. As far as the Mellotron goes, Banks used it live in '78, but only one track from that tour finds its way onto this set. The Mellotron strings on Burning Rope sound great; what was he thinking of, (mostly) leaving it off the album? the only other relevant track is Entangled from the '76 tour; it doesn't have the superb string and choir swells of the original, presumably because Banks was playing 12-string at the time, but the synth/Mellotron choir closing section remains intact.

A few relevant interview snippets have come my way over the years, so here they are...
The development of the polysynth, in this case a Polymoog, killed the Genesis Mellotron stone dead. From being used on almost every track on '76's Wind & Wuthering, '77's Spot the Pigeon EP and '78's ...And Then There Were Three... were almost completely Mellotronless, although he used one on stage alongside his Polymoog in '78. After considerable debate, it turns out that Banks used a smattering of Mellotron on ...ATTWT..., as this interview excerpt proves:
Q: "Are you getting into mixing the string sounds of the Polymoog and the Mellotron at all?"
A: "There's one song on the new album, "Many Too Many" which uses the combined string sound of a Roland string synthesizer and the Mellotron. I still feel that the basic string sound on the Polymoog isn't that great a string imitation. You can get some pretty nice sounds using that setting, but I think you can get better string sounds using the string synthesizer. And when you put the Mellotron in with a string synthesizer you get a sort of rough edge effect. It's a nice sound. On "Many Too Many" I also combined the Roland string sounds with other sounds from the Roland, like its brass setting. When it's mixed into the background, it does sound quite orchestral. It's a fat sound".
The interview carries on to put to rest the various theories regarding the tape set in Banks' Mellotron:
Q: "What tapes have you got in the Mellotron?"
A: "I use the strings, brass and choir. In fact, I'm only using the strings and the choir onstage now. The only thing I might ever use the brass for now is when we have to do "Supper's Ready" as an encore. The final section of it uses the old brass sound. Other than that, though, I don't have a need for it now".
Q: "Does the Mellotron you're using now have the recent updates that were made by Sound Sales, the new owners of Mellotronics?"
A: "I'm using a Mellotron that came from Europe now and any modifications that were done to it came from there. If I remember rightly, I didn't like the modifications that were done to my other Mellotron, the one that I used on the "Wind And Wuthering" tour. They didn't seem to help. The American Mellotron that I used was really falling to pieces after the last tour, so after they'd done the modifications I lost interest. The unit I was using in Europe actually broke down at a gig, so I had to buy a new one. That's the one I'm using now. I find it amazingly stable. I mean, it's the (ARP) 2600 I have to think about nowadays, If I have to worry about anything and it's not really much to worry about. The Mellotron I can set almost without having to play it. I've gotten slightly less critical of it. I find that as long as it has been on a bit and warmed up, there's no problem. They warm up a lot quicker now, too".
A curious interview... did Tony Banks really say 'gotten', or is that a US journalist taking liberties with his phraseology? Anyway, the last time a Mellotron was heard played by Tony Banks was on his first solo album, A Curious Feeling, where a smattering of choir finds its way onto You on side two.
By 1980's Duke tour, Banks had ditched both the Mellotron and the Hammond in favour of the monstrous twin-manual Prophet 10, which he obviously felt covered most bases, along with Roland's Vocoder, which actually provided a passable Mellotron choir simulation (check out the In The Cage medley from '82's Three Sides Live). By this time, Banks had switched across completely to polysynths and the band's sound had moved into the realms of commercial, if musicianly pop, with the occasional epic that rarely showed any of the spark of their earlier work. Unlike some of his contemporaries, Banks seems to have no nostalgia for his musical past, never mind his old instruments, so don't expect a return to the glory days of 1973, even as a one-off.
As a footnote, a brief phone interview was carried out with Tony a few years ago on the subject of his Mellotron use. The answers are, er, 'short and to the point', but a few queries are cleared up. Unfortunately, a few more are created, but that's another story...
Q: The first part of the intro to "Watcher of the Skies" consists of mixed strings and brass played on the right-hand manual of the Mellotron Mk II.
A: Yes, this is true.
Tony is presumably referring to the studio version here, although the same goes for the live version during the Foxtrot period, including "Genesis Live".
Q: Was the left hand playing single notes on the left-hand manual of the Mellotron, using a sound called "Bass Accordion"?
A: Yes.
Q: Was the bass part, which also consisted of single-note lines, played on the Hammond organ pedals?
A: No.
Q: Did part of the Mellotron sound go through the Leslie 760 rotating speakers for a fuller sound?
A: Yes, but only because everything went through the Leslie.
This is especially interesting; sometimes you can hear that the Mellotron is going through a Leslie, but most of the time it sounds uneffected. Was Banks only referring to "Watcher"?
Q: Was the second part of the intro, consisting of descending 3rd intervals, played using the strings/brass mix (left hand) and Hammond organ (right hand)?
A: Can't remember for the studio recording, but yes for on stage.
Q: Was the left-hand manual on the Mellotron Mk II used for any other parts?
A: Can't remember.
Q: The Mellotron 400 that was used for the "Selling England" tour had the Mk II strings and brass. Was the left-hand Mellotron part now played on the Hammond?
A: No.
There is video footage showing Tony playing the "Watcher" intro on the Hammond and Mellotron, so presumably he's referring to the bass part here, not the chords.
Q: Did he have a second tape frame for recording the flute parts on things like "Epping Forest" and "Lilywhite Lilith"?
A: Yes. He said he remembered having strings, brass, voices, flute and oboe.
So that clears that one up... the MkII (s) obviously went into retirement after the "Foxtrot" tour.
Q: Did Tony Banks ever use a Chamberlin tape replay keyboard?
A: No, but he did use some other type of tape replay.
What this might be remains a mystery. Surely not a Birotron?! A Chamberlin was found at the Farm (Genesis studio complex) by an equipment dealer, but presumably it was never used. Probably didn't work...
Q: What kind of string synthesiser did he use for the "Lamb" sessions?
A: Elka Rhapsody mixed with the Mellotron.
Q: Was the recording of "A Curious Feeling" (1979 solo album) the last time he used a Mellotron?
A: Unlikely, but not sure.
This answer is rather unclear. Does Banks mean that he used a Mellotron later (unlikely, it has to be said), or does he mean that it wasn't used on "A Curious Feeling"?
Q: Did the ARP Centaur prototype synth end up on any recording?
A: No. Never used it.
So there you have it. Probably the most direct answers we're ever going to get on the subject, given that Tony seems generally disinterested in his old gear. I suppose if I'd had to lug an L100 and a MkII Mellotron about before I could afford a full-time crew, I might be a little jaded, too...
Banks was interviewed in Korg's own mag in 2007, having this to say on the subject of his old 'boards.
"In the old days I used the organ because it was the only alternative to the piano - it wasn't because I loved the organ! That's also true of the ARP Pro Soloist sounds - we only used them because it was all we had. And I never really liked the Mellotron! It has a nostalgic quality but it isn't a great sound. To me a real string sample is vastly better".
"I think the audience wants to hear organs, pianos and Mellotron-style strings and voices. It's the spirit of the sounds, as much as anything, that you've got to get back".
"You couldn't really write parts on a machine like a Mellotron because they weren't particularly sophisticated. You tended just to put your hand on a chord and play..."
So he never even really liked the Mellotron? Figures, I suppose... 'It isn't a great sound'. Not if you like squeaky-clean digitalness, no. On the other hand... And you can't write parts on a Mellotron? Really? Well I never. Well, not very often, anyway.

See: Steve Hackett | Peter Gabriel | Tony Banks | Anthony Phillips | Mike Rutherford
---