Regal Crabomophone Volume 9 (2012) ****/T½

Crystal Ship
Black Sheep
Bangalore
This is Strange
Alligators Eat Gumdrops (2012, 40.46) ***½/T½

High Heeled Flippers
Bangalore
Ten Meters Over the Ground
Summertime Girl
Amoreena Had Enough Yesterday
Green Faery
Wasting the Days of Youth
Goodnight Anne Berlin
A Carney's Delirium
This is Strange
Alligators Eat Gumdrops
Victoria Moon (2013, 53.47) ****/TTT½

Sassafras Overcoat
Queen of the Stars
Victoria Moon
The Collapse of Suzy Star
Zap
Sitting Bull
Drunk Like Shakespeare on Love
Dandy Horse
Super Phantasmal Heroine
Cracked Alice
Blood on My Feet
She's Your Anodyne
The Horrible Pill Book
The Acceleration of Time (2016, 77.00) ****½/TT½

Slow
Blown to Kingdom Come
A Procession of Marshmallow Soldiers
Across the Clockwork Pudding
The Acceleration of Time
Channel 50 Creature Feature
Arthropoda Lepidoptera
The Family Timekeeper
You Asked About Water on Mars
Only Robots Can Search the Deep Ocean Floor
Another High Speed Blowout
The Happiness Vending Machine
Twelve
White Caps in the Wind
The Saints Are Quiet Above Us
A Man of Conservative Style
Sideshows (2015, 18.51) ****/T½

[The Luck of Eden Hall contribute]
Starship Trooper
Current availability:
Regal/Sideshows: Fruits de Mer (vinyl only)
Alligators/Victoria: self-released
Acceleration: Headspin
Mellotrons used:
Somehow or other, Chicagoans The Luck of Eden Hall (their name derives from a medieval glass beaker, the Luck of Edenhall, in the care of a wealthy Northern British family), led by Gregory Curvey, despite having been in existence for over twenty years, have passed me by up until now; in fact, I only became aware of them when they hired my Mellotron for a short UK tour (hi, chaps). My loss, going the contents of 2012's Regal Crabomophone Volume 9 EP, featuring two tracks from their Alligators Eat Gumdrops LP and two covers, The Doors' immortal Crystal Ship and SRC's Black Sheep. Excellent takes on these two are almost matched by the band's own material, making me look forward to hearing the album, their swirly, modern psychedelia being a match for keys man Jim Licka's own project, Umbra & the Volcan Siege. Licka slathers his new M4000 all over Crystal Ship, with choir and string parts that enhance an almost overly-familiar song beautifully, although that's all we get this time round. At the time of writing, I believe the band have a few copies of this left, after which I expect your only chance will be a Bandcamp download. Even if you invest in a copy of the album, this is worth it for the covers.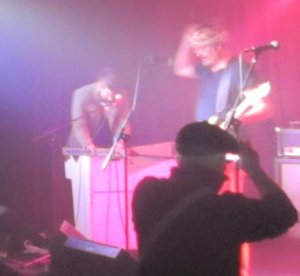 The band using my M400 at a London gig, 2015
The aforementioned Alligators Eat Gumdrops, is, as expected, a fine psychedelic powerpop album, highlights including haunting, upright piano-led opener High Heeled Flippers, the propulsive, sax-driven Ten Meters Over The Ground, the lysergic Amoreena Had Enough Yesterday and the rocking title track that finishes things off. Only two obvious Mellotron tracks, Licka adding lush strings to Amoreena Had Enough Yesterday with some mucking about with flutes, plus brass and string section parts on A Carney's Delirium.
2013's Victoria Moon is a varied, powerpop/psych release, highlights including Queen Of The Stars, the superb, echo-heavy guitar part on Zap, Dandy Horse, vaguely reminiscent of Joe South's Hush and the '60s-ish Cracked Alice, with its treated upright piano part. 'Better left off' efforts? None, I'm pleased to say. Licka's Mellotron turns up on several tracks, unsurprisingly, with high-end cellos (?) on the title track, strings and a skronky flute part at the end of Sitting Bull, background brass (?) on Drunk Like Shakespeare On Love, choirs on Dandy Horse, echoed flutes and choirs on Super Phantasmal Heroine, lush strings on Blood On My Feet and strings on She's Your Anodyne.
2016's double vinyl The Acceleration of Time (getting older? You'll get the title) ups the ante somewhat, although I have to admit to some slight bias, as I played Mellotron with Curvey recently, on a couple of sets including several of these songs. This is recognisably the same band as before, although sleeve credits indicate that Curvey does the lion's share of the work, recording six tracks, including all five instrumental pieces on his own, while Jim Licka only turns up on four. Without one duffer amongst its fifteen tracks, highlights are hard to pinpoint, but Arthropoda Lepidoptera, The Family Timekeeper, The Happiness Vending Machine and Twelve all stand out; uncoincidentally, they're four of the numbers I played live, so familiarity probably helps. Not that much of Licka's M4000 this time round, with strings all over opener Slow and Arthropoda Lepidoptera, strings and choir on The Happiness Vending Machine and strings and flute on Twelve, although Curvey adds samples to several other tracks. Overall? A triumph.
2015's Sideshows is a split LP with Finns Superfjord, who tackle The Byrds's CTA-102 (from Younger Than Yesterday) as a superb side-long jam, while TLoEH's side is given over to an eighteen-minute take on Yes' Starship Trooper, proving that the band know their prog, as well as their psych. How do they double the original's length? Inserting extra jammed-out bits, repeating a couple of sections and, as you'd expect, playing Wurm until it implodes into a slurry of reverbed-to-shit Mellotron choir for several minutes. Speaking of which, Licka slaps Mellotron choirs all over the opening section and elsewhere, albeit to no great effect.

Greatest Hits Vol. 1 (2013, 58.01) ****½
Psychedelic Battles, Volume Four (2017, 23.00) *****
2013's Greatest Hits Vol. 1, although requested by NZ label Active Listener, was curated by the band, collecting twelve songs dating from the early '90s to 2013's Victoria Moon, adding two previously-unreleased numbers onto the end for good measure. Given that it predates The Acceleration of Time, the selection is impeccable, highlights including Dandy Horse, Sister Strange And The Stuffed Furry Things, Chrysalide and Cinnamon Mary And Her Skeleton Cane. Two of these songs actually feature Jim Licka's Mellotron, but, as they're already reviewed above (one each from Alligators Eat Gumdrops and Victoria Moon), I can't really count them again. However, several others feature either actual Mellotron samples or soundalikes, so we get strings on All Else Shall Be Added Unto You, Sister Strange And The Stuffed Furry Things and newie Laugh Your Life Away, although a little samplotron here and there is a long way from your best reason to hear this.
Another year, another split release. TLoEH share a long-player with Italian outfit Red Sun this time round, who ply their trippy, jamming take on the genre with enthusiasm, if no great originality over their three tracks on side two. Although side one's credited to the band, we're effectively hearing a Curvey solo track in Make Way For The Mighty Machines. Now, I have to (again) admit to a level of bias here, as I learned all twenty-three minutes of it for a few performances in summer 2017 and, as with his other material I've played live, getting your teeth into a piece of music to that degree enhances one's appreciation, in one direction or another, admittedly. This is pretty much the ultimate psych/prog crossover, in my book, a side-long, structured prog epic, written and played with a psychedelic mindset, with mucho sampled Mellotron. Sounds like your bag? Good. Although it has only (so far) been available in 'hard copy' on a limited vinyl release, Psychedelic Battles, Volume Four (VE Recordings, Italy, a.k.a. Vincebus Eruptum), I have hopes that it'll turn up on the next TLoEH album, too. Also available on Bandcamp.

---