7" (1967) ***½/TTT½

We Love You
Dandelion
Their Satanic Majesties Request (1967, 44.20) ****/TTTT½

Sing This All Together
Citadel
In Another Land
2000 Man
Sing This All Together (See What Happens)
She's a Rainbow
The Lantern
Gomper
2000 Light Years From Home
On With the Show
Beggar's Banquet (1968, 39.48) ***/½

Sympathy for the Devil
No Expectations
Dear Doctor
Parachute Woman
Jig-Saw Puzzle
Street Fighting Man
Prodigal Son
Stray Cat Blues
Factory Girl
Salt of the Earth
Current availability:
We Love You: on Hot Rocks Vol. 2: Decca
Satanic/Beggar's: Decca
Mellotrons used:
1967 hit the Stones unprepared for the sea-change about to happen to the music world; they'd been refining their raw R'n'B approach for the previous couple of years, writing songs that broke away from the pack, but psychedelia would be their (temporary) undoing. Or so the history books have it. The We Love You single and Their Satanic Majesties Request album are, to my ears, their greatest achievements. Dark, fucked-up psych; the antithesis of All You Need Is Love and Sergeant Pepper and all the better for it. The Stones were doing drugs all right; doubtless the same drugs everyone else was doing, but after the unwanted attention they got from the law and the media they really weren't going to come on all 'peace and love', were they?
I think it's safe to say that you have to take We Love You with a largish pinch of salt. Yeah, sure you do, Mick; it's written all over your snarling vocal and Brian Jones' raw Mellotron brass interjections. This is what happens when The Summer Of Love® goes evilly wrong for all concerned. Then came Satanic Majesties...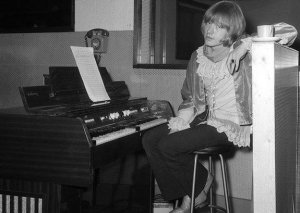 To my knowledge, the Stones were as sincere as they were about anything with the album, but in places it comes across more as dark pastiche than genuine, especially on the 'hello flowers, hello trees'-style In Another Land. Saying that, it's excellent, particularly the classic Mellotron piece 2000 Light Years From Home, featuring one of the most in-your-face pieces of solo Mellotron strings ever. Brian Jones' Mellotron work is superb, albeit rather cranky, but then rumour has it that he'd never really played keyboards before, let alone a Mellotron. Apart from the ubiquitous strings, there's flutes (Sing This All Together (See What Happens)), brass, possibly saxes, maybe even sound FX, although I think the fast-Leslie Hammond on 2000 Man is real. All in all, a great album; experimental, outrageous, killer material (OK, you get the hook to The Lantern out of your head...). Highly recommended.
Like most of their contemporaries, the Stones went back to basics in '68, releasing Beggar's Banquet to the critics' and most of their fans' relief. Personally, I find it a rather dull affair after the previous year's experimentation (see: The Beatles' White Album) and, apart from the infamous Sympathy For The Devil and Street Fighting Man, I can really take or leave it. There's an almost inaudible burst of Jones' Mark II on Stray Cat Blues, but it couldn't really be said that it enhances the song very much. I've been told by various people, not least Philip Johnston, that there are another two Mellotron tracks on the album, with some near-inaudible flutes on Jig-Saw Puzzle from Jones again and mandolins on Factory Girl from Traffic's Dave Mason.

See: Mick Jagger
---