---
Michelle Tumes (Australia) see: Samples etc.
KT Tunstall (UK)
Invisible Empire/Crescent Moon (2013, 51.12) **½/T

Invisible Empire
Made of Glass
How You Kill Me
Carried
Old Man Song
Yellow Flower
Crescent Moon
Waiting on the Heart
Feel it All
Chimes
Honeydew
No Better Shoulder
Feel it All - Band Jam
Current availability:
Mellotron used:
Scottish singer-songwriter Kate Victoria "KT" Tunstall's sobriquet possibly refers to her known admiration for Kate Bush, being reminiscent of that artist's pre-fame KT Bush Band. Her fourth release, Invisible Empire/Crescent Moon, while perfectly pleasant, is also rather unengaging, its better tracks clustered towards the beginning, in true 'mainstream pop' style.
Howe Gelb (Giant Sand) plays Mellotron, although all I can spot are a few seconds of squawking flutes opening the album and a magnificently clicky high-speed strings run in Old Man Song which, despite failing on the musical front, wins hands-down in the Mellotronic stakes. Incidentally, top marks to Ms Tunstall for publicly disowning her stepfather after he opted to stand as a candidate for the odious BNP (far-right scum for non-Brits).
See: Samples etc.
Tuomo & Markus (Finland)
Dead Circles (2016, 55.11) ***½/T½

Over the Rooftops
Life Leaving Your Body
Burn Your Castle
Dead Circles
Beautiful Boy (Darling Boy)
Don't Shut Down Your Radio
Why
Vanity Blinds
What Are You Looking for?
Spinsters
All Blue
Voice From Arkansas
Life Won't Come Easy
Too Late to Change
Lay Lady Lay
Current availability:
Wavelab Studios' M400
Mellotron used:
Tuomo Prättälä is apparently a renowned Finnish soul/jazz artist, while The Latebirds' Markus Nordenstreng also conducts a solo career. The first fruit of their collaboration, 2016's Dead Circles, was recorded in Arizona, their Bandcamp page making tantalising mentions of 'high-profile guests', including members of Wilco (Pat Sansone), Calexico and The Jayhawks. It shouldn't then come as any surprise to hear that this is a prime Americana album, highlights including gentle opener Over The Rooftops, Beautiful Boy (Darling Boy), the semi-Mariachi brass on Vanity Blinds and their piano-driven cover of Dylan's Lay Lady Lay.
Instrumental credits are near-impossible to obtain, but Sansone (apparently) plays Tucson's Wavelab Studios' M400, with strings on Over The Rooftops and Burn Your Castle and rather more distant ones on Vanity Blinds; shame they didn't use it a little more, actually. If I'm going to be brutally honest (and I think I should), this would be better at a good ten minutes shorter; Americana's one of those musical forms that can outstay its welcome all too easily. Still, after the disappointment of Nordenstreng's solo work, this is an absolute triumph.
See: Markus Nordenstreng | The Latebirds
| | |
| --- | --- |
| Tusmørke (Finland) see: | |
Tweedy (US)
Sukierae (2014, 71.44) ***½/½

Please Don't Let Me Be So Understood
High as Hello
World Away
Diamond Light Pt. 1
Wait for Love
Low Key
Pigeons
Slow Love
Nobody Dies Anymore
I'll Sing it
Flowering
Desert Bell
Summer Noon
Honey Combed
New Moon
Down From Above
Where My Love
Fake Fur Coat
Hazel
I'll Never Know
Current availability:
Mellotron used:
Tweedy is the duo of Wilco's Jeff Tweedy and his son Spencer, a sprawling, seventy-minute set that covers a multitude of Americana/singer-songwriter bases. Highlights include the countryish Wait For Love, Pigeons, Nobody Dies Anymore and I'll Sing It, but, amazingly, there's not one single genuine clunker over the album's twenty tracks. The set's lone fault is that it's a bit of a long haul getting through its full length. Possibly more an album to dip into than to play in one hit?
Two credited Mellotron tracks, Scott McCaughey on Low Key and (Jeff) Tweedy on Where My Love, although it's effectively inaudible on both, although there just might be some faint cellos on the latter. However, someone plays choppy strings on opener Please Don't Let Me Be So Understood to reasonable effect, so, while I'll leave the other two tracks highlighted, there's really only half a star's-worth of Mellotron to be heard.
See: Wilco
Twelfth Night (UK)
Twelfth Night [a.k.a. The Electra Tape] (1980, 32.12) ***½/T½

The Cunning Man
Afghan Red
Abacus
Keep the Aspidistra Flying
Live at the Target (1981, 45.44/119.22) ****/½

Für Héléne
After the Eclipse
East to West
Sequences
[Definitive Edition adds:
Entropy
Keep the Aspidistra Flying
Encore une Fois
(Hats Off to) Freddie Hepburn
Afghan Single
Für Héléne I
The Cunning Man
Afghan Red
Für Héléne II]
A Midsummer's Night Dream (2005, recorded 1980, 79.02) ****/T½

Keep the Aspidistra Flying
Abacus
Encore une Fois
After Office Hours
Für Helene I
The Cunning Man
Afghan Red
Sequences

Entropy: Old Five Bells, Northampton, 29th March 1981 (2006, 79.56) ***½/½

Keep the Aspidistra Flying
East to West
Für Héléne I
Entropy
After the Eclipse
Afghan Red
Sequences
Current availability:
Electra: tracks split between Live at the Target CD and Voices in the Night (Cyclops, out of print)
Target: Festival
Midsummer's/Entropy: website
Mellotrons used:
Twelfth Night were one of the first bands to emerge from the early-'80s UK progressive scene, having been around since 1978 in one form or another. After a couple of very limited-release cassettes, they put out a tape of no particular title, sometimes known as Twelfth Night or The Electra Tape, in homage to its rather dreadful American female vocalist, Electra McCloud (yes, really). The music is excellent, displaying their echo-drenched sound, lead bass and intricate arrangements to the full, but it could rather have done without the vocals. Well, the lyrics really. I mean, (from The Cunning Man):
'There he stands upon a stage,
Calmly cool, guitar in hand,
Is he Beck or is he Page?
No! No! He's the Cunning Man'.
Good God. I ask you... Anyway, no point holding that against it, though I think all concerned would now rather it had been fully instrumental. Afghan Red is precisely that, thankfully, starting with Clive Mitten's 6-string bass chords, before their trademark string synth arpeggios and their 'playing along with a delay' stuff cuts in. There's a little Mellotron strings towards the end of the track, but nothing to write home about. Abacus is another vocal track, managing some choir under the vocals but, again, they don't really add very much to the track. I know there's a Twelfth Night reissue programme on the cards at the moment; the four tracks come in at about half an hour and I'm sure with a few other recordings from that era they'd make a fine CD. (n.b. All four tracks are now available on various releases).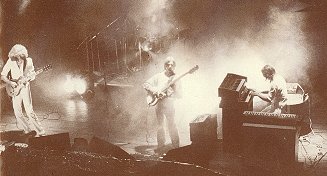 By 1981 (well before Marillion, note), Twelfth Night put out their first album proper, Live at the Target. An all-instrumental affair, their sound is still based heavily on the delayed guitar/bass interplay (difficult to describe; you need to hear it, really), although Rick Battersby's keyboards cut through sometimes. Despite hauling an M400 about, it's only to be heard here on a few chords of Für Héléne; a quick burst of choir and it's gone. As indeed, it was from their setup. After an initial, one-disc expanded version on Cyclops, Festival/F2 released the two-disc 'Definitive Edition' in 2011, adding a raft of live material from various sources (three of which come from the two archive releases below), not to mention a couple of studio tracks for good measure. Mellotronically speaking, we get a few seconds of choir at the end of the second version of Für Héléne I and a brief, background string part on Afghan Red, so nothing to get too excited about.
Battersby left for a while (I saw them in late '82 as a four-piece, desperately trying to cover the keyboard parts between them) and on his return the Mellotron was no more. They'd got themselves a vocalist in the meantime, their old friend Geoff Mann and they started shifting away from their old style, integrating his vocals to their new approach. They'd recorded the classic Fact and Fiction (****½) during Battersby's absence, following it with the even more classic Live and Let Live (*****), released in early '84, after Geoff's departure. Twelfth Night carried on for a few more years before throwing in the towel after an abortive attempt to 'do a Marillion' and 'go commercial' (1986 style). Very nasty. They got their classic lineup back together in '88 to record a previously-unrecorded crowd favourite from their heyday, The Collector, subsequently released on the Collectors Item (****½) compilation. Tragically, Geoff Mann (by this time an ordained vicar) died of cancer in 1993.
Many, many years later... Suddenly, as if from nowhere, in 2005 Twelfth Night released a series of 'official bootlegs' (you know, live albums of a quality too poor for full commercial release). Quality be damned; these are excellent documents of the various stages of 'Night activity, making several of my actual bootlegs redundant in the process. A Midsummer's Night Dream (nice turnaround, there) is a soundboard tape of a gig at Reading University in June 1980, before the recording of The Electra Tape, above. Recording quality is reasonable, although there's a little distortion in places and the odd drop-out. Given that this has doubtless been lying around on cassette for twenty-five years, it sounds remarkably good, to be honest. It contains the first CD release of any sort for Encore Une Fois (originally on their First Tape Album) and instrumental versions of a couple of tracks better-known as vocal ones; After Office Hours is an early version of East To West, in case anyone's watching that closely. You can see Rick's Mellotron clearly in one sleeve pic and indistinctly on another two and indeed, there it is, with some very audible choirs on Abacus and Encore Une Fois. Although I've highlighted opener Keep The Aspidistra Flying, I'm not entirely convinced that's Mellotron strings we're hearing at the end, but since his Vox String Thing couldn't make that sound on its own, I'm assuming it's a composite of the two.
The following year's Entropy: Old Five Bells, Northampton, 29th March 1981 is another CD-R-only release, recorded nine months after Midsummer, the two albums having four out of seven tracks in common. Again, it's hard to work out why Battersby actually bothered hauling a heavy, unreliable instrument around for its exceedingly minimal use, with naught but the same few seconds of choir on Für Héléne I as on ...Target, but there you go. A worthwhile release, either way.
n.b. In late 2007, Twelfth Night reformed, with 4/5ths of their later recording lineup, the only absence being Rick Battersby. Were they good? Yes they were, although they called it a day once more after various members were unable to fully commit due to having lives. Well, it was glorious while it lasted...
Twenty Sixty Six & Then (Germany)
Reflections on the Future (1972, 39.15) ****/TT

At My Home
Autumn
Butterking
Reflections on the Future
How Would You Feel
Current availability:
Mellotron used:
Twenty Sixty Six & Then's recorded legacy is surprisingly complex for a band who only released one album during their 'lifetime'. Reflections on the Future appeared in 1972, a piece of thunderous psych/prog with nary a duffer on board, although Autumn possibly takes 'best track' award. To be honest, I'd expected another stoned-out hippy jam like Emtidi's Saat or Witthüser & Westrupp's Der Jesuspilz/Musik Vom Evangelium, but actually got an excellent psychedelic hard rock album from a band who knew how to keep a jam interesting. Rainer "Steve Robinson" Geyer and Veit Marvos both play Mellotron, with string and brass parts opening Autumn and a fragile flute solo around six minutes in, brass all over Butterking's first couple of minutes and a polyphonic flute part halfway through, the brass returning towards the end, plus background strings on original album closer How Would You Feel.
Now things get complicated. In 1991, Germany's Second Battle label released Reflections on the Past, a three-sided LP of alternate versions, demos and the like, all previously unavailable, none featuring the Mellotron. Possibly under pressure to reissue the original album on CD, they released Reflections! (right) in 1994, claiming that the original album masters were long gone, so their half-and-half version would have to do. As far as I can work out, three of its eight tracks are, effectively, from the original album (Autumn, Butterking and Reflections On The Future, including both of the Mellotron tracks), with one alternate version (At My Home), the remaining four being a mixture of demos, rehearsal tapes and live recordings. Finally, in 2017, the album was treated to a two-CD issue, original tracklisting present and correct (masters clearly tracked down), plus everything from Reflections! and a couple from Reflections on the Past, leaving, as far as I can ascertain, just one murky recording of At My Home from the latter currently unavailable. This really is the last word on Twenty Sixty Six & Then (surely?), even including the previously-unavailable cheesy You Are Under My Skin.
Chaotic release history aside, the two-disc Reflections on the Future is essential listening, several of its extra tracks (not least the 'Hammond duet' on Spring) being well worth the price of entry, some decent Mellotron work merely being the icing on the cake. Buy.
Twilight (Germany)
Day & Night (2000, recorded 1975, 42.48) **½/½

Day and Night
Country Waltz
Leaving in the Morning
Rock'n'Roll Chillun
Stranger in Your Town
White Queen Boogie
Last Night in Verona
Ships Sailing on Sea
Current availability:
Mellotron used:
Bonn's Twilight were one of many, many bands to have a stab at a career, only to fall by the wayside, leaving an album's-worth of unreleased recordings. To be brutally honest, after hearing 2000's Day & Night, you can see why they were never really in with a shot at the big time; Garden of Delights have gone out of their way to make them look 'prog', although this is, at heart, a blues-rock album, at its least dull on the almost-progressive Leaving In The Morning, while pop/rock closer Ships Sailing On Sea [sic] brings a little variety to the proceedings, if not in a particularly good way. I mean, even the anonymous CD booklet author has trouble summoning up much enthusiasm for their work, utilising phrases such as "...sounds a little outdated" and "...unfortunately sounding a bit shallow". I rest my case, m'lud.
Keys man Ulrich Hülder plays occasional high Mellotron string notes on Ships Sailing On Sea, in an 'understandable why no-one's spotted them before' kind of way. Oh the irony; all those German bands claiming Mellotron use for their string synths, then when a genuine one comes along, it isn't credited. Anyway, those looking for lost prog classics should probably look elsewhere, although a couple of tracks pass muster, unlike the cheeso sleeve painting, which no-one in their right mind in the '70s would even have countenanced.
Twilight Hotel (Canada) see: Samples etc.
Twilight Singers (US) see: Samples etc.
Twink (UK)
Think Pink (1969, 38.07) ***/½

Coming of the One
Ten Thousand Words in a Cardboard Box
Dawn of Majic
Tiptoe on the Highest Hill
Fluid
Mexican Grass War
Rock and Roll the Joint
Suicide
Three Little Piggies
Sparrow is a Sign
Current availability:
Mellotron used:
Twink, or John Alder to his mum, worked his way through a series of '60s outfits as drummer, joining the band that became Tomorrow, with Steve Howe, before moving on to the Pretty Things. Think Pink was his first solo album, released either late '69 or early '70, made with the help of various Deviants (in any sense of the word you care to use), before all and sundry went on to form the Pink Fairies and it's... a product of its time. A very trippy album, full of psychedelic guitar workouts like Tiptoe On The Highest Hill and Rock And Roll The Joint, or stoned weirdness like opener Coming Of The One, but very little actually resembling a song per se. Am I missing the point? Or merely the joint?
A little Mellotron (played by the Pretties' John Povey), with a faint string part on Tiptoe On The Highest Hill, very faint brass, strings and flute in Suicide (real vibes, though) and even fainter strings on Ten Thousand Words In A Cardboard Box (thanks, Johannes). Soon to be ex-Deviant and future author Mick Farren's superb memoir, Give the Anarchist a Cigarette, has this to say about the album:
As the producer, I'd conned noteworthy drinking money out of Decca Records, by invoicing for session men - phantom string and oboe players who were in fact nothing more than the Pretty Things' keyboard ace John Povey reproducing them on a Melotron [sic]...
Well, this just scrapes three stars, but is really only for nostalgists, or those who want to hear what hippies really listened to. Minimal Mellotron, too, invoiced-for or otherwise.
See: Pretty Things | Deviants
Twinkeyz (US)
Alpha Jerk (1979, 37.44) ***/T

Aliens in Our Midst
Tonight Again
Sweet Nothing
1,000 Reasons
Cartoon Land
E.S.P.
Twinkeyz Theme
That's the Way it Goes
Alpha Jerk
Strange Feelings
Wild Love
Current availability:
On Aliens in Our Midst: Anopheles
Mellotron used:
The Sacramento-based Twinkeyz (apparently an 'offhand tribute' to Twink, above) were one of California's first DIY outfits of the late '70s, assaulting all and sundry with their 'sci-fi punk', recording a handful of singles and a lone album in the process. 1979's Alpha Jerk was only released in the Netherlands, for some reason, replete with a crummy pressing and production; containing four previously-released tracks, it unsurprisingly sank without trace until reissued as part of 1998's Aliens in Our Midst set (right). Influence-wise, artists springing immediately to mind include The Velvets/solo Lou and Bowie, with a dash of contemporary punk thrown in for good measure, better tracks including the mock-paranoia of Aliens In Our Midst, Twinkeyz Theme (like a darker, less manic Devo) and the strange title track.
Dave Houston plays a strained, clearly deliberately off-key Mellotron string part on Alpha Jerk, although I've no idea how they came to use what must by that point have been seen as a shockingly reactionary, prog-referencing instrument. Subversion? Reverse subversion? For the hell of it? Who knows? Anyway, the whole album comprises the first eleven tracks of Aliens in Our Midst, so it's easy to find should you so desire, although it honestly isn't worth it for its minor Mellotron use.
Twinklehead (Norway) see: Samples etc.
Two Lips (US)
The Lost Album (2000, 44.22) ***½/T

Dog Who's Chasing a Ball
Deborah
Rainbow Colored Cloud
Take a Little Time
Blue Moon Pie
The Harlequin
Disillusion Street
No One Around
Through it All There is Love
Ostrich Avenue
Tulips
Feet on the Ground
Under the Peppertree
Searching for Ramone
Current availability:
Chamberlin used:
There seems to be some confusion over whom, exactly, is the artist on 2000's The Lost Album. The packaging credits Two Lips, but at least half of the major sites (AllMusic, CD Universe, Spotify) file it under Dan Castellaneta, who is none other than the voice of Homer Simpson, amongst many other characters. I've seen this described as 'comedy', but the laughs go no further than Castellaneta's witty lyrics; this is a long way from a 'joke' album. It's actually a rather good powerpop release, at its best on the splendid Disillusion Street, No One Around and Through It All There Is Love, perhaps, although little here is truly dispensable.
Jon Brion plays his Chamberlin, with a nice little flute and string arrangement on Rainbow Colored Cloud, although all other possibles are, I suspect, real viola (Deborah, others), while the horns appear to be real throughout. Actors generally have a poor record making, er, records, but this is the exception that proves the rule, or something. Worth hearing.
Two Times the Trauma (Sweden)
CDS (2005) ***/TT

A Little Sign
Your Ghost (demo)
A Little Sign (demo)
I Fell in Love With an Ocean (2006, 44.00) ****/TTT½

I Fell in Love With an Ocean
A Little Sign
If You Ever
A Song My Love
Freak Show
Some Things Don't Show Until it's Time
Darkness My Dearest
In Your Eyes
3 a.m.
Your Ghost
A Song for a Tiger
Current availability:
Mellotrons used:
Two Times the Trauma were the duo of Mattias Eriksson from Celestine and the inimitable Mattias Olsson (Änglagård, AK-Momo, Nanook of the North etc. etc.), with help from a bevy of friends and acquaintances. Their sound is, of course, somewhat on the melancholy side, but Pineforest Crunch aside, so is every project in which Olsson has ever had his fingers, it seems. 2005's A Little Sign was a taster for the album, a beautiful song, in a melancholic kind of way, packaged with two otherwise-unavailable album demos, Your Ghost and A Little Sign again, the former featuring some distant Mellotron brass of some description.
The following year's I Fell in Love With an Ocean is quietly beautiful, although I wouldn't exactly recommend it as something to make the party go with a swing. While there's not a bad track on the album, it's difficult to pick out highlights on only a couple of listens, although the opening title track is just possibly the best thing here. Copious amounts of Mellotron, of course, variously played by Olsson, Tobias Ljungkvist and Linus Kåse, with plenty of your standard fallbacks, strings (actually three violins, of course) and flutes, although there are plenty of lesser-known sounds, including the striking wineglasses on In Your Eyes and the Chamberlin harp glissandos on several tracks. However, the jewel in this album's Mellotronic crown are the 'Gaby Stenberg bees'. The WHAT, I hear you cry? Unbelievably, these are a set of Mellotron tapes made from (naturally) pitched bumblebees, which sound a lot like... bees. The estimable Ms.Stenberg recorded what must have been an awful lot of bees in order to get nearly three octaves, but she did it and this legendary tape set now belongs to Mattias Olsson, which means we haven't heard the last of them, by a very long way...
So; the usual caveat: do you like Mattias Olsson's Roth-Händle productions? If so, you'll like this, if not, you probably won't. As always, shedloads of Mellotron, plus the usual Orchestron and Optigan, not to mention loads of other obscure old pieces of shit vintage equipment. Recommended.
See: Celestine | Änglagård | AK-Momo | Molesome | Nanook of the North
Matthew Tyas (France) see: Samples etc.
The Tyde (US)
Three's Co. (2006, 36.31) ***/T½

Do it Again Again
Brock Landers
Separate Cars
Too Many Kims
Glassbottom Lights
The Lamest Shows
Ltd. Appeal
County Line
Aloha Breeze
The Pilot
Don't Need a Leash
Current availability:
Mellotron used:
The Tyde grew out of the excellent Beachwood Sparks, eventually outliving them. Less alt.country, more surf/psych, after 2001's Once and '03's Twice, Three's Co. is their best yet, although its stylistic conformity makes the album drag after a while, as it does on its predecessors. Best tracks? Probably openers Do It Again Again and Brock Landers and the powerpop of Too Many Kims. Worst? The pseudo-country of Aloha Breeze.
Mellotron from Ann Do (a.k.a. Ann Do Rademaker, vocalist/guitarist Darren Rademaker's wife) on two tracks, with a little flute melody on Separate Cars, sounding authentically out of tune, with a 'Strawberry Fields flutes' string part on The Lamest Shows, the tapes almost choking to a halt at the end. Real, surely? Anyway, a reasonable if slightly unexciting album with a couple of nice Mellotron tracks. Yup, another one.
See: Beachwood Sparks
Tytan (UK)
Justice: Served! (2017, 47.58) ***½/½

Intro
Love You to Death
Fight the Fight
Spitfire
Reap the Whirlwind
Midnight Sun
Forever Gone
Billy Who
Hells Breath
One Last Detail
Worthy of Honour
The Cradle
Current availability:
Mellotron used:
Given that I play in Tytan, I didn't feel I could review our album, so, almost a year after its release, I've finally found someone to review it. Thank you, Jerry!
Tytan originally rose from the ashes of NWoBHM heroes Angel Witch, the rhythm section heading out and forming a new, more 'melodic' band. Tytan played their first show in early 1982, and their last about a year later. In between, they supported fellow NWoBHMers The Tygers of Pan Tang on a nationwide UK tour and recorded an album. Then their record label went bust, the band lost all their financial support and they split in disarray, album unreleased. The album, Rough Justice (****½), finally crept out in 1985 on the Metal Masters reissue label, its reputation increasing in stature over the years, various (unofficial) CD issues helping it along.
Fast-forward a few decades and band leader Kevin Riddles (bass, vocals, keyboards) put a new line-up together in late 2011, after being offered a slot at Germany's prestigious Keep it True festival. After some line-up changes, the band began writing new material, finally recording in 2016. Riddles had been friends with legendary metal producer Chris Tsangerides (who tragically passed away in early 2018) since the 1980s, making him the obvious choice to record the album at his own studio.
Justice: Served! is a worthy comeback, but don't expect a repeat of Rough Justice; this is a different band, over 30 years on, although there are similarities to their debut. Spitfire (written and sung by guitarist Dave Strange), could be The Ballad Of Edward Case Part II, The Cradle repurposes an old Angel Witch riff, while Fight The Fight references the first album's Women On The Frontline in its lyrics. What really stands out, though, especially in comparison to most of the competition, is the album's diversity: two acoustic numbers, two instrumentals, some metal, some hard rock, some almost-prog.
So what are the best numbers? Fight The Fight is a solid, Metallica-meets-Thin Lizzy effort, Love You To Death also echoes Lizzy, as does the middle section from Hells Breath, Midnight Sun (written by vocalist Tom Barna) is a lovely ballad and Forever Gone is a decent re-recording of a track from the first album. Its two real stars, though, are The Cradle, which could be turned into a real epic live and Reap The Whirlwind, a slowburn epic, probably the album's chief keyboard track.
So how much of Andy's Mellotron do we get to hear? Very little, is the answer. Andy tells me that he played block string chords on Forever Gone and Reap The Whirlwind, but on the record they end up just sounding like any old strings patch. Apparently, Reap The Whirlwind also has a flute part, but it's disappeared in the mix.
Overall, though, a fine effort, although you may end up skipping a few tracks towards the end. Looking forward to album #3!
---