Catastrophe 1999: The Prophecies of Nostradamus (1974, 54.11/73.06) ***/TT

Toho Logo - 5 Years of Fortune
7 Years of Fortune: Visit of
the Black Ship
Poetic Prediction of Defeat
Main Title
Bar Lesson Background Music
Environmental Pollution
'Down the Centuries'
Conference - Red Tide's Raid
On the Moonlit Shore
United Couple
Kita's Wailing
Modern Ballet Background
Music - Bright Illusion
Underground Event -
Sudden Mutation
Nishiyama's Warning
Abnormal Weather
New Guinea Expedition
Giant Animals Raid
Cannibalism
Mad Demon
Living Dead Cavern
Hell on Earth - Burial
Omen of the End
From Mother to Daughter
Beneath the Cherry Tree in
Full Bloom/Car Radio
Background Music
Death of Young People
Rioters
Death of a Loving Thing
Mirage
Eternal Life
Terror of Radioactivity
Final Nuclear War
Silenced World
Prayer to the Future: Ending
[CD adds:
Bar Lesson Background Music
(alt.take)
Cannibalism (non-synth)
Death of Young People (non-synth)
Death of a Loving Thing (non-synth)
Eternal Life (non-synth)
Love Theme (mono)
Main Theme
Love Theme]
Snowflakes are Dancing (1974, 41.14) ***½/TT½

Snowflakes are Dancing
Reverie
Gardens in the Rain
Clair de Lune
Arabesque No. 1
The Engulfed Cathedral
Passepied
The Girl With the Flaxen Hair
Golliwog's Cakewalk
Footprints in the Snow
Pictures at an Exhibition (1975, 37.14) ****/TTT

Promenade
The Gnome
Promenade
The Old Castle
Promenade
Tuileries
Bydio
Promenade
Ballet of the Chicks in Their Shells
The Two Jews
Limoges/Catacombs
Cum Mortuis in Lingua Mortua
Baba Yaga (Hut on Fowls' Legs)
Great Gate of Kiev
Firebird (1976, 43.48) ****/TT

Firebird Suite
Introduction and Dance of the Firebird
Round of the Princesses
Infernal Dance of King Kastchei
Berceuse and Finale
Prelude to the Afternoon of a Faun
A Night on Bare Mountain

The Planets (1976, 52.03) ***½/TT

Mars, the Bringer of War
Venus, the Bringer of Peace
Mercury, the Winged Messenger
Jupiter, the Bringer of Jollity
Saturn, the Bringer of Old Age
Uranus, the Magician
Neptune, the Mystic
Sound Creature (1977, 90.07) ***/TT

Ravel/Daphnis et Chloé: Lever du Jour
Finished Version
Melody Line Strings/Ensemble/Positioning of Sounds and the Wideness
Describing Twittering Birds Twitter/Perspective and Travel of Sounds
Voicing of Choir Mellotron/Non Phase Wideness
Lever du Jour - Arpeggio
Finished Version
A Rocket Heading for "The Planets"
Countdown and Jet Propulsion
Countdown From the Control Tower
In the Cockpit
Jet Propulsion
Opening Part of "Concierto de Aranjuez"
UFO Flies
UFO on "Aranjuez"
One Night of the Milkyway Railroad
The Eve of Centaur Festival
Pillar of the Weather Ring
Swan Station
The Shallow With Crystal Sands
Uncle Bird
Catch
The Scorpion in Red Flame
Excerpt From "The Engulfed Cathedral"
Passepied (Suite Bergamasque, No. 4)
Clair de Lune (Suite Bergamasque, No. 3)
Arabesque No. 1
Golliwog's Cakewalk (Children's Corner, No. 6)
Pictures at an Exhibition Excerpts (Part 1):
Promenade/The Old Castle/Tuileries
Pictures at an Exhibition Excerpts (Conclusion):
Ballet of the Chicks in Their Shell/The Hut of
Baba Yaga/The Great Gate at Kiev
Suite From "The Firebird" (Excerpts):
Introduction/The Firebird and its Dance/Variation
of the Firebird/The Round of the Princesses/
Infernal Dance of King Kastchei/Finale
Kosmos (1978, 52.47) ***/TT

"Star Wars" Main Title
Space Fantasy
The Unanswered Question
Peer Gynt: Solvejg's Song
Hora Staccato
The Sea Named "Solaris"
The Bermuda Triangle (1979, 53.44) ***½/TT½

A Space Ship Lands Emitting Silvery Light
Electromagnetic Waves Descend
A World of Different Dimensions
The Giant Pyramid and its Ancient People
Venus in a Space Uniform Shining in
Fluorescent Light
Space Children in the Underground
Kingdom Called Agharta
The Earth - a Hollow Vessel
The Song of Venus
Dawn Over the Triangle and Mysterious Electric Waves
The Dazzling Cylinder That Crashed in Tunguska, Siberia
The Harp of the Ancient People With Songs of Venus and
Space Children
The Visionary Flight to the 1448 Nebular Group of the Bootes
Daphnis et Chloé [a.k.a. Bolero, a.k.a. The Ravel Album] (1980, 54.05) ****/TT½

Daphnis and Chloe: Suite No. 2
Daybreak
Pantomime
General Dance
Pavan for a Dead Princess
Bolero
Mother Goose Suite
Pavan of the Sleeping Beauty
Hop-o'-My-Thumb
Laideronette, Empress of the Pagodas
Conversations of Beauty and the Beast
The Fairy Garden

Grand Canyon (1981, 35.25) ***/T½

Grand Canyon Suite
Sunrise
Painted Desert
On the Trail
Sunset
Cloudburst
Syncopated Clock
Current availability:
Snowflakes/Pictures/Firebird/Planets/Kosmos: RCA
Bermuda: BMG
Daphnis/Grand Canyon: Phantom
Sound: not on CD
Mellotrons used:
I'm amazed to discover that Isao Tomita was born in 1932, which puts him in his forties when he recorded his first album proper and over seventy now. It seems he's been writing film music since the fifties, but his first synthesizer album was apparently the Japan-only Catastrophe 1999, although it's not generally considered to be one of his major works. The film is apparently so horrific that it's difficult to source a copy even today, aiding and abetting in the relative obscurity of its soundtrack. It's pretty much what you'd expect of a mid-'70s disaster film soundtrack, actually, quite some way from his subsequent albums, with a full band, a small orchestra and singers involved, although I presume that's his Moog modular providing the synthesized soprano voice on several tracks (as against the real one). As with many OSTs, the same themes are reused throughout, to the point where I'm sure some of the differently-titled tracks are actually identical. It's hard to tell whether he uses his Mellotron for anything other than its male-voice choirs, which can be heard on all the highlighted tracks above and possibly others, although it's not always easy to tell. I suppose Tomita completists will want to hear this, but it really isn't what you'd call essential. On with his 'real' career...
He quickly followed up with Snowflakes Are Dancing, his technique on the album being to take pieces by Debussy and rework them via his Moog modular and sundry other electronic equipment, including a Mellotron M400. The results vary in quality, with some of the tracks tipping over into 'cheesy', but much of the album's worth hearing, reminding me of a more electronic version of The Enid, of all people. There's a fair bit of Mellotron on the album, with not only his beloved choirs (particularly on The Engulfed Cathedral), but noticeable string use on Clair De Lune, too.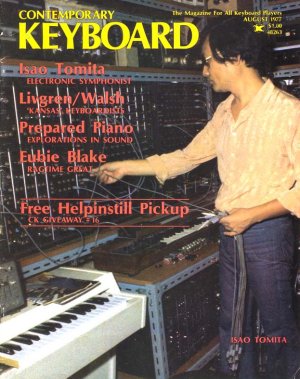 Tomita really went for the jugular with Pictures at an Exhibition. Barely comparable to ELP's 1971 version, it's a case study in how to make a Moog modular emulate just about anything you like; who needs digital synthesis when you can do this? Musically, he's actually more faithful to the original than ELP, with very little 'rock' and far less bombast (now there's a surprise). I believe he covers all parts of Mussorgsky's score, including the somewhat un-PC The Two Jews and however far he goes from the original sounds, the parts are all recognisable. Plenty of Mellotron choirs, particularly on the several repetitions of the main theme, Promenade and although he resists the urge to go completely over the top on the grandiose closing theme, Great Gate Of Kiev, the old 8-voice still gets a look in.
For some odd reason, there's no Mellotron credited on the otherwise impeccable credits on the back of Firebird, where the great man tackles Stravinsky, with the result being something of a stalemate. At least he had the sense to leave The Rite Of Spring well alone, managing a passable take on the Firebird Suite. As so often with Tomita, it's a bit of a struggle working out what's what in the mix, although I can hear choirs on much of the album, often phased half to death, although I don't know if the strings are Mellotron or (more likely) multi-overdubbed Moog. Plenty of timps, too, especially on the familiar Finale to Firebird (Yes intro tape, anyone?) which may well be Mellotron. More Debussy on side two's Prelude To The Afternoon Of A Faun, before Mussorgsky's better-known Night On Bare Mountain (I now have at least three different 'rock' interpretations of this work...), both with more choirs (and is that Mellotron flute towards the end of Bare Mountain?), although the album's Mellotron highlight has to be that Firebird finale. Magnificent.
Next time round, Tomita decided to tackle Holst's The Planets; no point being obscure, I suppose. It's accurate enough that a friend who rang up while it was playing (hi, Mel) and correctly identified Jupiter down the phone, although he still has a few 'weird synth' parts here and there, specifically at the beginning of Mars. The credits say 'Mellotron (chorus, flute, timpani)' and, while not over-used, the choirs are clearly audible on Mars, The Bringer Of War (a somewhat overdone piece, here played quite faithfully), as well as on several other tracks, but I really can't hear either of the other two sounds. 'Buried in the mix', I expect.
1977's Sound Creature (which is hardly canonical) is one of the oddest albums I've ever heard from a major artist: a ninety-minute dissection of Tomita's recording methods, individual synth tracks extracted from the multitracks, almost as if he foresaw the future of sample banks and remixes. Always ahead of his time, Tomita-san... This really isn't an album for your average fan, more for synthesists interested in just how he got those sounds, not that I'd image they'd be a lot wiser after hearing it. Interesting in its own way. Plenty of Mellotron choir, unsurprisingly, given that most, if not all the album is excerpted from his regular releases. Background choirs on the two excerpts from the Finished Versions of Ravel/Daphnis Et Chloé: Lever Du Jour, solo male voices on Voicing Of Choir Mellotron/Non Phase Wideness, followed by massed male and female voices, male voices on Excerpt From "The Engulfed Cathedral" and the album parts from the Pictures at an Exhibition and Firebird excerpts, although the distant choirs on One Night Of The Milkyway Railroad (what is this from?) sound real. In other words, if you want to hear his unaccompanied machine, track down Voicing Of Choir Mellotron.
On Kosmos (a.k.a. Space Fantasy), Tomita took his first tentative steps towards playing material other than solely the classics, opening with a rather unnecessary version of the "Star Wars" main theme. The rest of the album is tried-and-tested dead white men stuff, but the cheese quotient is definitely on the up. As far as the Mellotron's concerned, Space Fantasy has choirs dotted about throughout its length; the piece actually consists of Strauss' Also Sprach Zarathustra, Wagner's Ride Of The Valkyries and Tannhäser Overture, with particularly good Mellotron on the Strauss. More choirs on two other tracks, but far more in the background.
Despite the lengthy and eccentric titles on The Bermuda Triangle, most of the tracks are actually the usual diet of classical pieces, mostly Prokofiev; another John Williams film theme, too; Close Encounters Of The Third Kind this time. The album actually reminds me in places of Tomita's fellow Japanese synthesist, Kitaro, on whom he has obviously been a considerable influence. The music's better than on Kosmos, although, sadly, the invention of his earlier albums seems long gone. There's Mellotron choir on most tracks, but it's frequently either very much in the background or only for a few seconds, which explains why it doesn't get a higher 'T' rating.
Daphnis et Chloé (a.k.a. Bolero), was a distinct return to form, with Tomita playing Ravel relatively straight, including the much-overplayed Bolero itself (appalling memories of Torvill and Dean spring to mind). There's little to dislike here, although of course he had top-notch material to choose from and this time round chooses to mess with it very little. Polysynths had entered his keyboard arsenal by this point, with particularly effective use of his CS80 on the title track, but despite using Roland's VP330 vocoder on the album, I think the choir all over side one is basically Mellotron. There's a few chords towards the end of the Mother Goose Suite that dominates side two, but for the Mellotron, don't even bother flipping the record over.
Grand Canyon is, I believe, Tomita's last Mellotron album. It's dominated by the five-part Grand Canyon Suite, spread over most of the album, written by Grofé, to whom I will admit unfamiliarity, although he was apparently a 20th-century American composer who died in 1972. The album is actually credited to 'Isao Tomita and the Plasma Symphony Orchestra', which would appear to consist of his faithful Moog and Roland modulars, the Mellotron and various polysynths, including the (then) fantastically expensive Synclavier II. The end result is rather less interesting than his early albums, although if you want to hear synthesized harmonica (in On The Trail), go no further, though I feel honour-bound to tell you the piece is a less than totally successful attempt to fuse classical and, er, 'cowboy' music. Hmmm. The rest of the suite is better, but Tomita's own Syncopated Clock is pretty dreadful, to the point where I wonder whether the effect is deliberate. Anyway, Mellotron choirs on three tracks, none of them overt.
Tomita is a classic case of 'earlier stuff better', to be honest. It's ironic that as the technology became more advanced, he did fewer and fewer interesting things with it; I don't know anything about his more recent material, but I strongly suspect it's almost indistinguishable from actual orchestral works, such is the 'accuracy' of modern synths. It has to be said that when he had little more than a Moog modular and a Mellotron, the results were far more unusual and interesting. As far as the above albums go, I'd get the first four and approach the later ones with caution. As a sad (but inevitable) footnote, Tomita died in 2016, aged 84.
Stereo Pop Special-121 (1976, 53.30) ***½/T½

Dawn (From Daphnis and Chloe)
Snowflakes Are Dancing
Clair de Lune
Synthesiser Sounds Demonstration
Arabesque No. 1
Firebird
Passe Pied
Mellotrons used:
Stereo Pop Special-121 is a BBC transcription disc of part of what is claimed to be Tomita's first concert appearance (more likely first overseas), from London's Hammersmith Odeon on 26th March 1976. It must have been a strange evening, the great man introduced by Bob Walker, who explains the goings-on to the audience; whether this was more for the radio audience or not, history does not relate. Without any pictures of Tomita's stage set-up, it's hard to know just what equipment he actually used on the night, although Walker claims 'Moog synthesizer and Mellotron'. Alongside album excerpts, including a piece from Daphnis et Chlo&eacute, four years pre-release, the album features the bizarre, eleven-minute Synthesiser Sounds Demonstration, Walker talking us through Tomita's live demo of how he built up tracks using just the two instruments. Not very rock'n'roll, but then, he wasn't.
Given that one man could only do so much with a modular, a sequencer and a Mellotron (unless he had assistants), it's hard to know how much of the album's Mellotron is live and how much (assuming any) on backing tapes. Either way, we get male choirs on opener Dawn (From Daphnis and Chloe) and Firebird, leaving the heavily-reverbed choirs (sounding like separate males and females; split keyboard?) on Synthesiser Sounds Demonstration as the only 'new' Mellotron on the record. Both sides of this are on YouTube, so you can hear this oddity for yourself.

---