The Raven That Refused to Sing (& Other Stories) (2013, 54.44) ****/TTT½

Luminol
Drive Home
The Holy Drinker
The Pin Drop
The Watchmaker
The Raven That Refused to Sing
Hand. Cannot. Erase. (2015, 66.07) ***½/TT

First Regret
3 Years Older
Hand Cannot Erase
Perfect Life
Routine
Home Invasion
Regret #9
Transience
Ancestral
Happy Returns
Ascendant Here on...
4½ (2016, 37.11) ***/½

My Book of Regrets
Year of the Plague
Happiness III
Sunday Rain Sets in
Vermillioncore
Don't Hate Me
To the Bone (2017, 59.59) ***½/T

To the Bone
Nowhere Now
Pariah
The Same Asylum as Before
Refuge
Permanating
Blank Tapes
People Who Eat Darkness
Song of I
Detonation
Song of Unborn
12" (2018, 13.38) ****/TT½

How Big the Space
How Big the Space (instrumental variation)
People Who Eat Darkness (Ninet version)
Current availability:
How Big: Caroline
All other titles: Kscope
Mellotron used:
Raven: Robert Fripp's MkII
Other titles: Wilson's own M4000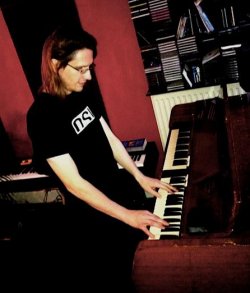 I can't imagine Steven Wilson needs much introduction, but just in case... He formed Porcupine Tree during the early days of No-Man, going on to play with and/or produce many other acts, not least I.E.M., Blackfield and Opeth, becoming prog's current Renaissance Man in the process. 2013's The Raven That Refused to Sing (& Other Stories) is his third solo album, after the sample-employing Insurgentes (2008) and Grace for Drowning (2011), raising the bar on almost every level. You can almost tell that this is the man behind Porcupine Tree albums such as Up the Downstair and The Sky Moves Sideways, but only just, that band's early psychedelia having been largely abandoned here, replaced by a modern-yet-timeless form of progressive rock, where a song's length is determined by expediency, not expectation. Stylistically, the album veers all over the progressive spectrum, opener Luminol channelling various eras of King Crimson and the Canterbury Scene (spot the Caravan-esque section around halfway through), Drive Home is more typically 'Wilsonian', The Holy Drinker harks back to the Porcupine Tree of over a decade earlier... You get the picture? Attempting to isolate any 'best tracks' is entirely futile, as all six have their own particular strengths, although Luminol and The Watchmaker might just have the edge.
Although it seems that Wilson used a real Mellotron on several Porcupine Tree albums, he's more known round these parts for sample use. So why, dear reader, am I reviewing this here? The more observant amongst you may have noticed the picture to the right, Steven playing one of Robert Fripp's MkIIs, which he apparently used on the album. Of course, original MkII tapes have no choirs (you mean you didn't know?), meaning that a mix'n'match approach has clearly been taken, but some real Mellotron's better than none, eh, kiddies? Of course, I can't verify any of the use, but we get string and flute parts on opener Luminol, although the choirs alter in the track make me think samples have been invoked, too, polyphonic flutes on Drive Home, strings on the jazzy The Holy Drinker, strings on The Pin Drop and The Watchmaker and, finally, more flutes on the closing title track, making for a full Mellotronic house. Possibly.
2015's Hand. Cannot. Erase. seems to rein Wilson's talent in a little, featuring maybe slightly too many synth-pad ballads, or at least, balladic sections within longer songs. No, a couple here and there are fine, but this album seems to slightly overdo them. Saying that, there's some excellent material to be heard here: parts of 3 Years Older er, 'kick ass' (sorry), ditto parts of Routine, while that ol' Porcies Pink Floyd influence rears its not-so ugly head on Home Invasion. The thirteen-minute Ancestral is particularly strong, although I was less keen on the title track and Perfect Life, to name but two. Wilson uses his new M4000 all but the last track, largely for strings (although I'm sure there's stuff I'm not hearing), better use including 3 Years Older's intro and Home Invasion, where it's particularly effective on the intro, with a nice pitchbend later on. Oh, and distant choirs on Perfect Life and Happy Returns, as if to prove he uses at least one of his machine's other twenty-three sounds.
The following year's 4½ is classified as a mini-album, although I've heard considerable shorter supposedly 'full-length' releases. It's apparently a clearing-house for unused material from The Raven... and Hand..., essentially a collection of decent outtakes (with a couple of studio-overdubbed live recordings), stronger tracks including potent instrumental Vermillioncore and a new version of Porcupine Tree's Don't Hate Me, with female vocals on the chorus, entirely changing the emphasis of the lyric, not to mention a jazzy Rhodes solo and Pink Floyd sax part, which don't. Little Mellotron, with naught but a quick burst of strings (that Fripp MkII?) on opener My Book Of Regrets, near-inaudible strings on Sunday Rain Sets In and something entirely inaudible on Don't Hate Me.
Wilson freely admits that 2017's To the Bone was influenced by 'the progressive pop of his youth', which, unfortunately, was during the '80s, although hints of Peter Gabriel, Kate Bush and (especially) Talk Talk leak through. Every bit as pertinently, however, his famous quote regarding his intention to make music that fused his parents' copies of Dark Side of the Moon and Donna Summer's Love to Love You Baby seems to've come to fruition; in many ways, this album is a fusion of those two disparate styles, the ever-present Floyd influence inescapable, while an unexpected funkiness makes itself apparent at several points. Highlights? Maybe Nowhere Now and the rockier The Same Asylum As Before, while the nine-minute Detonation is one for his older fans (me). Mildly conservative choices? Sorry. It's hard to tell amongst the orchestration and modern synths, but it sounds like Wilson's M4000 on two tracks, with a flute line on Blank Tapes and distinct (if uncredited) strings on People Who Eat Darkness.
How Big The Space (with lyrics by Andy Partridge) was released as a Record Store Day 12"; yes, I despise these things, too, but there seems to be an insatiable demand for them. It's an outtake from his To the Bone sessions, left off as its woozy, '60s psych feel was deemed not to fit the album's overall ambience. While the vinyl has almost certainly sold out, you can hear this on YouTube; let's hope for a more easily-available release in the future. Wilson plays polyphonic Mellotron flute and string parts on both versions of the track (vocal and instrumental), including a ripping strings pitchbend, plus a reiteration of the album's strings part on the People Who Eat Darkness remix, vocals by Ninet Tayeb.
Do you go for these? An unequivocal 'yes', I'd say, more for its sense of adventure and willingness to experiment than for its Mellotron use, which is clearly only partly genuine. After twenty-five years or so, Wilson's career is still on an uphill gradient, which is, frankly, astonishing. More power to him.

Insurgentes (2008, 55.17) ***
Grace for Drowning (2011, 82.57) ***½
Cover Version (2014, recorded 2003-2010, 54.50) ****
It's difficult to have any connection with modern progressive rock without knowing something about Steven Wilson: founder of both No-Man and Porcupine Tree, his side-projects include I.E.M. and Bass Communion, while he plays with and/or produces Blackfield and Opeth, amongst others. It's rumoured he actually has a private life, although how he finds time for it is a mystery.
Maybe surprisingly, 2008's Insurgentes is his first album under his own name, although his gasmasked visage on the sleeve tells you everything you need to know regarding his semi-legendary views on fame and privacy. Categorising the album's about as difficult as you might expect, elements of prog, metal, post-rock and ambient all battling it out, albeit mostly very quietly, better tracks including the dynamic No Twilight Within The Courts Of The Sun and, from the special edition's bonus disc, Puncture Wound. Wilson is credited with 'Mellotron' on one track on the regular release plus two bonuses, with nothing obvious on Get All You Deserve, distant choirs and strings on Puncture Wound and strings on Collecting Space. Actually, this is almost a primer, style-wise, for Wilson's entire back-catalogue, encompassing elements of almost everything he's done in the past, if only tangentially.
2011's two-disc Grace for Drowning (disc titles: Deform to Form a Star and Like Dust I Have Cleared From My Eye) is, in many ways, similar to Wilson's solo debut, determinedly eclectic and obstinately anti-easy-listening, I'm pleased to report. Highlights include the inventive Remainder The Black Dog, the faintly Cardiacs-esque Track One (Wilson is a fan) and deranged, twenty three-minute avant-prog epic Raider II, but nothing here disappoints, making this a rather better listen than recent Porcupine Tree albums. Samplotron on a few tracks, with strings, choir and flutes on Sectarian, Deform To Form A Star and Raider II, but it's far from a defining sound on the album.
2014's Cover Version is a compilation of six single releases from 2003 to 2010, each being (unsurprisingly) a cover, with a Wilson original on the flip. Almost every track distinguishes itself, the vast majority being gentle, understated pieces, with nary a drumkit in sight, particular highlights including Wilson's takes on Abba's superb The Day Before You Came, The Cure's haunted A Forest and Donovan's drifting Lord Of The Reedy River, while of Wilson's own material, Four Trees Down and the McCartney-esque Well You're Wrong particularly stand out. Plenty of samplotron, although it's not always easy to determine just how 'Mellotronic' the samples might be, with background strings on Moment I Lost, faint, background choirs on his take on The Day Before You Came and Four Trees Down, stabby flutes and choirs on The Guitar Lesson, choirs on Sign O' The Times, squishy strings and angular flutes on Well You're Wrong and choirs on An End To End. All in all, highly recommended.
Speaking of Cardiacs fandom, Wilson's version of the haunting Stoneage Dinosaurs on Tim Smith fund-raising tribute Leader of the Starry Skies is one of the album's most worthwhile contributions. Do you buy these? Are you a fan of Wilson's various projects? All of them, not just Porcupine Tree? Then yes.

See: Porcupine Tree | No-Man | Blackfield | Aviv Geffen | I.E.M. | Mariusz Duda/Steven Wilson | Opeth | Leader of the Starry Skies
---