Trace (1974, 50.37/58.56) *****/TTTT½

Galliarde/Gare le Corbeau/Galliarde
The Death of Ace
The Escape of the Piper
Once
Progression
A Memory/The Lost Past/A Memory
Final Trace
[CD adds:
Progress
Tabu]
Birds (1975, 39.35/47.30) ****½/TTT½

Bourrée
Snuff
In a Mist
Opus 1065
Penny
Trixie-Dixie
King Bird
First Avenue/Sculptor Bird
Second Avenue/Preacher Bird
Third Avenue
Birdcorps
Firecorps
Birdcorps/Mail Bird/Fourth Avenue/
Soul Bird/Mail Bird/Sculptor Bird/
Second Avenue/Preacher Bird/
Last Avenue/King Bird/Reflection
[CD adds:
Birds (edit)
Tabu (second version)]
The White Ladies [as Rick van der Linden and Trace] (1976, 40.06) ***/T½

Legend (Part I)
Interlude I
Confrontation
Interlude II
Dance of the White Ladies
Doubts
Trace I
Witches' Dance
Surrender
Interlude III
Pathétique
Legend (Part II)
Interlude IV
The Rescue
Trace II
Back Home
Meditation
Flash Back
Conclusion
Current availability:
All titles: Musea (France)
Mellotrons used:
All titles: Rick van der Linden's M400
Trace were put together by Dutch keyboard maestro Rick van der Linden after his departure from cheesy classical/rock crossover outfit Ekseption, bringing in bassist Jaap van Eik and ex-Focus drummer Pierre (no relation) van der Linden. Originally called Ace, the recently-formed UK band of the same name (of the truly awful How Long) forced van der Linden and co to rename themselves Trace; Grieg's Death Of Åse is renamed Death Of Ace on the album as a tribute.
Trace brought together the cream of the Dutch progressive scene, so it's no surprise that Trace is a phenomenal album. Opener Galliarde (segueing into bass solo Gare Le Corbeau before returning to the original piece) is an absolute stormer; I was grabbed by it on my very first hearing (thanks Brian!) and still love it a decade later. Basically a straight mix of Bach's Italian Concerto (third movement) and a traditional Polish dance tune, Galliarde rocks like a bastard, with Rick's insanely virtuosic organ playing and the rhythm section blasting away like their lives depended on it. The slow-down to the Mellotron-led folk tune is stunning, with Rick letting out a couple of incoherent yells on the part's repetition later in the track. Grieg's The Death Of Ace is a beautiful piano piece (also recorded by Ekseption on their contemporaneous release Bingo, amusingly), shifting into more familiar territory later in the track, and The Escape Of The Piper lurches into top gear once more, with energy levels rarely heard in the progressive arena. In fact, there's nary a duff track on the whole album, with A Memory also standing out.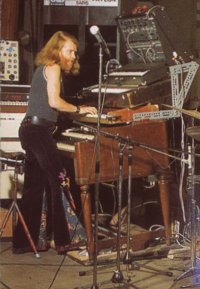 Rick used a huge arsenal of keyboards (see right), including his ubiquitous Mellotron M400 (strings/choir/brass). As you can see, he uses it on almost every track, usually in rather unconventional ways, fading chords in and out unexpectedly on various sounds. The album's 'Tron highlight has to be the previously-mentioned Polish dance section of Galliarde, but all the Mellotron work is worth hearing, although there's little of the Genesis/Yes approach here. In fact, the best way to describe the band is a manic cross between Focus and the best bits of ELP, although Rick avoids Emerson's tastelessness admirably, while still keeping the energy levels higher than you'd have thought possible.
The bonus tracks on the CD are worth hearing, although Progress is, unsurprisingly, an edit of Progression; Tabu is a Dizzy Gillespie tune onto which Trace stamp their distinctive sound. These tracks came out as a single prior to the album's release and are worth hearing if you don't already own Trace on vinyl. Quick note for vinyl owners; the US Sire version has an inner sleeve with a band history/biography and track-by-track annotation, missing from the UK Vertigo issue.
By Birds, a year later, Pierre van der Linden had left, being replaced by Englishman Ian Mosley, later of Gordon Giltrap/Steve Hackett fame, before ending up in the prog graveyard better known as Marillion. The band's style had changed little in the intervening year, although the album probably has fewer of its predecessor's real highs. Side one starts brilliantly with Bach's Bourrée, but turns rather jazzy as the side progresses, which may or may not be good, depending on your taste. Curved Air's Darryl Way guests on violin on some more Bach, Opus 1065, but the music seems to lack the direction of their debut. Side two's King Bird suite is effectively one long track split into repeating parts, rather like Focus' Eruption from Moving Waves, so my Mellotron annotation may be slightly awry. Most of the music is excellent, but the piece is slightly spoilt by Jaap van Eik's vocals on Preacher Bird; his singing is fine, but Trace were basically an instrumental band, and an MOR vocal piece feels rather intrusive. I'm being picky, though; if this was the band's sole legacy, it'd still be regarded as a classic.
Oddly enough, the US version reverses the LP sides, with the Birds suite on side one, and also deletes the 'birds' cartoon strip from the European issue. Musea's CD version (as with their debut) adds both sides of a contemporaneous single, with Birds being a reworked version of King Bird and Tabu being, unsurprisingly, a new version of the b-side of Progress from a year earlier. Fair bit of Mellotron on both, so again, it's worth picking up the CDs as against the vinyl.
By The White Ladies, Trace had become the sole preserve of Rick van der Linden, and the album has to be regarded as something of a disappointment. A concept piece, it's based on the Dutch legend of the White Ladies, who steal a farmer's wife away from her husband and child. Unfortunately, there's some extremely naff narration by Harry Schäfer, not to mention more MOR vocals, this time courtesy of Hetty Smit, and much of the album is orchestrated. Despite all this, there's plenty of Rick's distinctive keyboard work (especially his unusual approach to the harpsichord), and if the narration and vocal parts were removed, it wouldn't be a bad album. As it is, it's certainly listenable, if a bit cheesy at times; better than Ekseption, whatever...
As you can see, there's very little (obvious) Mellotron on the album, but the flute parts on Meditation are about as good as they get. Rick was obviously using a different tape frame for this part; I'm not entirely sure why he bothered with brass in the first place, to be honest. A little burst of choirs at the end of Conclusion and that's it. Rick later rejoined Ekseption, and is reputed to have used his 'Tron one last time, but I can't confirm this either way at present.
So; Trace. BUY! Birds; Buy next. The White Ladies; buy if you can't get enough of Rick's faux-classical style. Until Musea's exhumation of these albums, Trace were a pretty well-kept secret on the progressive scene, despite good sales at the time; I can promise you won't be disappointed by their debut, but I advise caution as you work your way through their small catalogue. Now, all together, "Now ve shall play some Bach!"

Chateau Neuf, Oslo, Norway, 3rd April 1975 (65.16) ****½/TT
King Bird
Largo
A Memory/The Lost Past/A Memory
Galliarde/Gare le Corbeau/Galliarde
Snuff
Ah, those were the days... When a band like Trace could play in Norway and (presumably) make a profit. I don't know if this rather ropily-recorded sixty-five minute recording is their full set or a radio broadcast edit, but it features the band's original lineup, with Pierre Van Der Linden and no second keyboard player. Like Focus, Trace would mess about with arrangements live, turning the twelve-minute studio version of Galliarde/Gare Le Corbeau/Galliarde into a twenty-minute tour de force, although encore Snuff cuts off mid-flow in true bootleg style, robbing us of more Trace madness.
Rick plays Mellotron on everything except drum solo The Lost Past and bass/drum duet Gare Le Corbeau, ignoring the ninety-second Snuff excerpt. The first burst of strings enters a few minutes into King Bird, under the ARP 2600, with upfront, phased choir chords a few minutes later and another burst of strings, string swells in Largo, a major choir part on A Memory (both parts) and the studio version's string and choir parts on Galliarde, although, of course, Rick had to prioritise, only being equipped with the regulation two hands, much as it may seem at times as if he were blessed with at least one spare. Despite its sound quality and other issues, this is the only live Trace recording I've ever heard and, as such, is essential for fans, although slightly less so for the Mellotron.

---