In Deep (1972, 45.22) ***/T

God Gave Rock and Roll to You
It's Only Money Part 1
It's Only Money Part 2
Losing Hold
Be Glad
Christmas for the Free
Candles on the River
Rosie

Nexus (1974, 42.08) ****/TTT½

The Coming of Kohoutek
Once Around the Sun
Infinite Wanderer
Love
Music From the Spheres
Thunder and Lightning
Keeper of the Flame
A Man for All Reasons
Gonna Meet My Maker
Encore (1974, 75.24) ****/TTT

The Coming of Kohoutek
It's Only Money (Part One)
It's Only Money (Part Two)
God Gave Rock'n'Roll to You
Thunder and Lightning
Music From the Spheres
I Don't Believe in Miracles
Dance of Ages
Keep on Rolling
Hold Your Head Up
Time of the Season
Circus (1975, 36.51) ***½/TTT½

Circus
Highwire
Clown
Trapeze
Shine on Sunshine
The Ring
The Jester

Counterpoints (1976, 37.11) ***/T

On My Feet Again
I Can't Remember, But Yes
Time
Waiting for the Yellow One
It's Fallin' Off
Be Strong
Rock'n'Roll Show
Butterfly
Road Back Home
Current availability:
In Deep/Nexus: Epic/Sony
Encore: BGO (UK)
Circus: Talking Elephant
Counterpoints: not on CD
Mellotron used:
After the Zombies fell apart at the tail-end of the '60s, keyboard man Rod Argent formed a self-named outfit with songwriter/guitarist/vocalist Russ Ballard, later to have his songs performed by many high-profile acts, including Rainbow. Their albums improved as time went on, although you can see why they were never one of the progressive frontrunners, to be honest. Apart from anything else, their sound was probably too diverse to appeal to large numbers of people, the Argent/Chris White progressive compositions clashing with Ballard's pop-rock numbers, although their two hits (Hold Your Head Up and God Gave Rock And Roll To You) were, of course, both Ballard songs.
Although it would've sounded good on some of their earlier material, Argent didn't obtain a Mellotron until album no. 4, In Deep. The album isn't their greatest, to be honest, opening with the deeply irritating God Gave Rock And Roll To You and filled with substandard material like Rosie and Christmas For The Free, although the eccentric Be Glad and the prog epic Candles On The River redress the balance slightly. There's one Mellotron track credited, Losing Hold, with a rather wobbly flute melody towards the end and possibly strings buried somewhere in the mix, but other than that, it's piano and organ all the way.
Musically, it all came together on Argent's next release, Nexus. It opens with the instrumental cometary-inclined triple-whammy of The Coming Of Kohoutek/Once Around The Sun/Infinite Wanderer, utilising the medieval Dies Irae motif, though not, to be honest, as well as The Enid a couple of years later. The suite opens with a dual synth/Mellotron reading of the melody before the whole band comes in, moving through several sections, referring back to the main theme throughout the piece. Maybe a fraction less Emersonising on the organ would've been nice though, Rod... Love is a decidedly wussy Ballard ballad (ho ho), almost saved by Mellotron cellos, flutes and strings. But only almost. Side two's chief Mellotron tracks are Keeper Of The Flame and A Man For All Reasons; neither match up to the album's opening salvo, although the Mellotron-free Music From The Spheres is another excellent prog workout.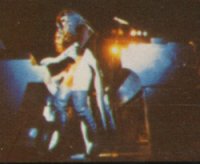 By the time the double live Encore appeared, the Argent/Ballard balancing act had finally toppled, though Ballard appears on the album. It's a fairly typical double-live effort, containing slightly rockier versions of studio tracks, with a fair bit of extended jamming, although it also displays the dichotomy at the heart of the band's sound; I Am The Dance Of Ages followed by Keep On Rolling. Prog epic, chock full of Mellotron, with a barrelhouse piano knees-up hard on its heels? You wouldn't have caught Genesis doing that... Anyway, going by the multiple pics on the sleeve, Rod was using not only a C3, M400, Pianet and MiniMoog, but also a grand piano, stuck way out to stage right. The extravagance...
The Mellotron gets slightly less use than you might think, although Kohoutek, I Don't Believe In Miracles and Dance Of Ages all have superb string and flute parts, the latter two demonstrating the effectiveness of adding Mellotron to pieces from earlier in the band's career. Thunder And Lightning has the same minimal use as on the studio version and, sadly, they resisted the temptation to slap it all over Time Of The Season, opting for a couple of background string chords. One confusing aspect of the album is on I Don't Believe In Miracles, where you can clearly hear grand piano and Mellotron strings played simultaneously and possibly even Mellotron cellos, too, yet no-one else is credited with keyboards. Hmmm. I can't hear any guitar on the track, so was Russ Ballard playing keys? I think we should be told.
Circus was Argent's first post-Ballard LP and appears to be a semi-concept album, although not all the tracks seem to fit lyrically. The album starts well enough, with Circus and Highwire, but I feel some of the subsequent tracks seem to veer a little too closely to easy listening (Clown) or jazz (Trapeze). Perhaps that's just diversity, though, rather than lack of direction. Sorry, my mistake. The Mellotron use is pretty good throughout, mainly strings, but plenty of 'em, with flutes on another lesser track, the jazzy, balladic Shine On Sunshine, which almost sounds like Queen for some reason, albeit with less humour. So, OK, but could do better. Sadly, they didn't. Counterpoints ended up being the last Argent album, before Rod went off into a solo career, following the by-now familiar mid- to late-'70s pattern of shorter and simpler songs, although it still has its progressive moments. Unfortunately, Argent's muse seemed to be heading in a somewhat fusiony direction by this album, so if that's not your bag, I wouldn't go out of your way. Two Mellotron tracks, with standard strings on On My Feet Again and cellos and strings on Road Back Home, bookending the album.
So; Nexus and Encore are the obvious choices, despite the track overlap, then maybe Circus, though more for the Mellotron than the music. Nothing much else they did is that special, with the best two tracks from their third album, All Together Now (***), on Encore and neither In Deep nor Counterpoints being all that. There's a later archive live release, BBC Radio 1 Live in Concert, which appears to have been recorded an album or two before Encore, so I've no idea whether or not Rod was using his Mellotron at that point. More news when I get to hear a copy. [n.b. Good album (***½), but Mellotron-free.]

Live at the High Voltage Festival, 25th July 2010 (2010, 55.25) ***½
Argent's original lineup reformed in 2010 to play a hometown gig at the first High Voltage festival in Victoria Park, Hackney, subsequently playing a handful of gigs over the next couple of years. Their set was less an 'Argent's greatest hits' as 'Argent members' hits', throwing in Ballard's Since You Been Gone and The Zombies' She's Not There, alongside crowd-pleasers Hold Your Head Up, Liar and God Gave Rock'n'Roll To You. On the prog front, they opened with a minute of The Coming Of Kohoutek, but, unless you count Hold Your Head Up, that's about it. Despite having recently used a real M400 with The Zombies, Argent played a hardware Mellotron emulator - presumably a Memotron - with the expected strings part in Kohoutek and chordal strings on I Don't Believe In Miracles.

See: The Zombies | Phoenix
---