---
Big Tent Revival (US) see: Samples etc.
Big Wheel Stunt Show (US) see: Samples etc.
| | |
| --- | --- |
| Bigelf (US) see: | |
Bikeride (US)
The Kiss (2007, 46.00) ***½/T

There's Something Odd About Elizabeth
She's Radioactive!
Your Lips and You
Trouble
A Dancer's Feet Are Not So Neat
Podiaphobia
Hole in My Eye
The Mystery of Magnet Power
Hideaways
...And We Will Come Back as Dogs
Destinitis
Siamese Twins
The Statue Thief
Current availability:
Mellotron used:
Formed in 1994 by Tony Carbone, with an Aquabats connection, 2007's The Kiss was Bikeride's fifth and last album, a rather better proposition than its immediate predecessor, Morning Macumba. It manages to be quite obviously powerpop without being trapped in that genre, like so many other worthy, yet hidebound bands, introducing other influences, not least country (A Dancer's Feet Are Not So Neat), electronica-lite (She's Radioactive!, ...And We Will Come Back As Dogs) and raga-rock (Your Lips And You). Sean How on Mellotron, with faint strings on opener There's Something Odd About Elizabeth and a major flute part on Podiaphobia, although all other orchestrations appear to be real.
This should appeal to anyone who delights in well-crafted, intelligent pop, although, if you're looking for major Mellotron use, you should probably go elsewhere. Recommended anyway. Sadly, Carbone died in 2008, so I rather doubt whether we'll hear any more from Bikeride.
See: Samples etc.
Billy Talent (Canada) see: Samples etc.
Tony Binarelli (Italy)
Quinta Dimensione: ESP Music (1978) ***/TTT

Life
Oxigen
Heat
Relax
Space
ESP (Extra Sensory Perception)
Psychokinesis
Chiaroveggenza
Messaggio dell'Inconscio
Quinta Dimensione
Quinta Dimensione: ESP Music (1978, 69.10) ***/TTT½

Passeggiata Sugli Urali
Canoa
ESP (Extra Sensory Perception)
Pause
Dance
Gioco di Cristalli
Quinta Dimensione
Quinta Armonia
Life
Oxigen
Heat
Relax
Space
Grande Nero
ESP (Definitiva)
Psychokinesis
Chiaroveggenza
Messaggio dell'Inconscio
Current availability:
Edizioni Mediterranee (book + CD)
Mellotron used:
You want odd? You've got it... Tony Binarelli is an Italian magician and general TV personality, who decided, for unknown reasons, to record an album of instrumental prog in 1978 called Quinta Dimensione; I've checked and yes, it's the same guy. It's subtitled 'ESP Music' on the sleeve, which may indicate that he intended it to be used for mildly supernatural purposes, thus the slightly 'out there' style, certainly for '78, by which time most things musically interesting were being replaced by things musically dull (er, didn't the same thing happen at the end of the '60s?). Anyway, it's a surprisingly reasonable effort, all things considered, although it does slip into Cheese Mode every now and again. I still can't work out, though - what made him record this?
It seems that the original LP was a ten-track affair, resequenced and bumped up to eighteen for the CD; more importantly, it seems that Binarelli's (sole?) contribution, his spoken-word passages, have been removed (for shame!), so expect a re-review should I ever find a an original. Marco Grasso plays Mellotron, with choirs and strings on ESP, Oxigen, Heat, bonus track ESP (Definitiva) and Messaggio Dell'Inconscio, plus choirs on bonuses Pause and Quinta Armonia and original tracks Life and Space, making for a surprisingly Mellotron-heavy effort from the late '70s, not to mention in such an unusual setting. Do you buy this? Yes for Italian prog completists (you've got a job on your hands, chaps), or people who just can't get enough Mellotron choir. Y'know, I really need to hear this with Binarelli's original narration...
Benjamin Biolay (France)
Rose Kennedy (2001, 52.10) ***/TT½

Novembre Toute L'Année
Les Roses Et Les Promesses
Les Cerfs-Volants
La Mélodie Du Bonheur
L'Observatoire
La Monotonie
Soixante-Douze Trombones Avant la Grande Parade
Los Angeles
La Palmeraie
Rose Kennedy
Sous le Soleil du Mois d'Août
Les Joggers sur la Plage
Un Eté sur la Côte
La Dernière Heure du Dernier Jour
Current availability:
Mellotron/Chamberlin used:
Benjamin Biolay's debut album, Rose Kennedy, sounds (to my cloth ears) like a hommage to France's most notorious chansonnier, Serge Gainsbourg's L'Histoire de Melody Nelson, not that I've ever actually heard said album, but I'm sure you get the idea. Heavily influenced by French chanson, this is an album out of time, despite the occasional jarring inclusion of modern beats; the cover shot alone, of Biolay smoking on a deserted promenade (looks like Southend, but almost certainly isn't), with Photoshopped-in creases, looks exactly like something you'd find at the bottom of the pile in your local charity shop. For what it's worth, Rose Kennedy has stacks of built-in cool, possibly more likely to appeal to non-French speakers, as even French sounds exotic if you don't speak it (says someone who 'learnt' it for several years and STILL can't speak it).
Biolay plays both Mellotron and Chamberlin, while Yannick Fonderie chips in on Mellotron, too, but due to the album's considerable use of real strings, it's hard to tell where they might've been used. Obvious use is the clicky flutes and choirs on Les Cerfs-Volants and Les Joggers Sur La Plage (hey, even I can translate that!) and the flutes on La Palmeraie, while the strings on the title track are likely to be Chamby, too. Retro-French faux-MOR, anyone? This is the kind of music inextricably linked with Gitanes and lung cancer, never a selling point 'round these parts. If you're really looking for that kind of Left Bank cool, go to source and listen to Gainsbourg.
See: Samples etc.
Bipolaroid (US)
Transparent Make-Believe (2003, 47.47) ****/TTT

Farewell & Godspeed
King of Cabbages
Callous Affair With Lady Godiva
Insect Religion
The Looking Glass
Old Witch
Dimension 5
Madeline
Sympathy for the Swine
Galileo's Son
Time Machine
E(i)ther or (2008, 48.55) ****/TTTT

Day in the Life of a Raincloud
Transparent Make-Believe
Cucumbersome
Technicolor Autumn & Spring
Karmic Engines
Mouth of Lions
Father Time He Wastes it
Hallelujah
Fell Right Out of Bed
The Golden Era
Spiraling Staircase
Jane Jubilee
Illusion Fields (2010, 35.48) ***/T½

Vampires on Montegut
Rising Sun
Black is the New Black
Bright Shadows
Dead Horse
Vibrations
Of House or Home
A Second Line for Minutemen
Lord as My Witness
Here Lies Sorrow
Current availability:
Transparent/E(i)ther: Surreal But Kind (US)
Illusion: self-released
Mellotrons used: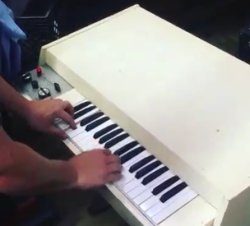 Bipolaroid's M400
Bipolaroid are a modern psych outfit who sound more like Syd's Floyd than, say the Elephant 6 collective, or the whacked-out, 13th Floor Elevators-style stuff that plenty of lazy bands see as a way to psych credibility in the 21st century. 2003's Transparent Make-Believe appears to be their first album and what it lacks in originality, it makes up for in bravado, fearlessly going where no-one (OK, not that many) has gone since, well, The Piper at the Gates of Dawn, I suppose. Ben Glover's vocals are limited, especially his mutterings on Dimension 5 and Time Machine, although overall, the material's great, even if you think you might have heard some of it before. Best tracks? Opening Astronomy Domine soundalike Farewell & Godspeed and closing psych epic Time Machine, probably, but in truth, there's not a bad track to be heard. Plenty of Mellotron from Benjamin Sumner, with flutes on King Of Cabbages, alongside real strings, with a nicely upfront string part on the excellently-named Insect Religion (shades of Bill Bailey, for UK readers). A lovely flute part on The Looking Glass and solo strings opening closer Time Machine and throughout, phased at the end, make this a bit of a Mellotron winner and at the risk of making a twat of myself, it sounds as real as you like, too. Why can't there be more albums like this?
It took Glover five years to get another Bipolaroid lineup together and release a new album, but E(i)ther or (Elliott Smith homage?) has been worth the wait. Pretty much as good as its predecessor, it features a panoply of psych styles, albeit mainly British ones, top tracks including tripped-out opener Day In The Life Of A Raincloud and the frantic Karmic Engines, but there's little here that lets the side down. Strangely, closer Jane Jubilee ends the album rather limply, although it would probably stand up perfectly well on any lesser record. Stacks of Mellotron this time round; the strings on Day In The Life Of A Raincloud are completely outclassed by the full-on ones on Transparent Make-Believe (a new addition to the small list of 'album's title tracks actually found on its follow-up'), with flute and string parts on Technicolor Autumn & Spring. The breakdown in the middle of Karmic Engines is filled with Mellotron strings, displaying fine use of the 'Mellotron ripple': working your way round the inversions of a chord to sustain it (sometimes way) past its eight-second limit, while Mouth Of Lions features flutes and strings through its entire length. There are background choirs, for the first time, on Hallelujah and Fell Right Out Of Bed, plus strings on the latter, with an actual flute solo in Spiraling Staircase, among the remainder of the album's Mellotron work. Wonderful.
2010's Illusion Fields, however, takes a sharp left turn into pastures new, a distinct '60s soul influence obvious on several tracks, along with a general mid- rather than late '60s vibe. A welcome development? Not from Planet Mellotron's perspective, but the band are entitled to do what they like, so my opinion is worth little-to-zero, frankly. Better tracks include druggy opener Vampires On Montegut, the gloomy Dead Horse and the propulsive Vibrations, but, sad to say, little here matches the quality of the band's previous work. Someone plays (real?) Mellotron on a few tracks, with distant strings on Vampires On Montegut, Dead Horse and Vibrations, with more upfront ones on Rising Sun, although other possible sightings are more likely to be background Hammond.
Birdie (UK)
Some Dusty (1999, 34.41) ***½/TT

Laugh
Dusty Morning
Let Her Go
One Two Five
Lazy Day
Folk Singer
Port Sunlight
Blue Dress
Linus
I Can't Let Go
Triple Echo (2001, 35.04) ***½/TT

The Original Strand
Such a Sound
Rosie's Drugstore
Sidewalk
Poster
Blue Eyed Son
Silver Line
Twin I Love You
Monday
Hammond
Blue Eyed Son (Reprise)
Coda
Reverb Deluxe (2002, 33.16) ***/T½

Such a Sound
Please Rain Fall
Send and Receive
Silver Line (Reprise)
Golden Image
Natural Star
Lift Up the Sun
Shipwrecked
Thirty Dollar Drum
Theme From Tired
Linus (Version)
Current availability:
Some/Triple: iT (UK)
Reverb: Apricot
Mellotrons used:
Birdie are (or were) the British duo of Deborah 'Debsey' Wykes and Paul Kelly, both associates of Saint Etienne, so it's hardly surprising that their sound echoes the Etienne crew's '60s pop/girl group sound. They debuted with 1999's Some Dusty, an album so wonderfully out of time that, apart from the clean production, it could quite easily be mistaken for a lost mid-'60s obscurity. The songwriting's good, if not jaw-dropping, although Dusty Morning features a beautiful, unexpected chord change. To my knowledge, all the band's album's were recorded in a little studio in Walthamstow and utilise r.m.i.'s Duncan Goddard's M400, complete with its 8+ tape frames. What we get here (from Wykes) is high strings on Dusty Morning and wavery flutes on Let Her Go and Lazy Day (the latter alongside real strings), although you feel it could've been used a little more.
Their follow-up, Triple Echo, carries on in the same vein as their debut, in a sort of French-easy-listening-via-'60s-film-score stylee, all played by Englishmen (and woman). Birdie's lounge lizardry walks the fine line between knowing irony and genuine homage, to the point where you wouldn't turn a hair if you heard these songs used in a retro/'60s film. Or a genuine one, for that matter, as the band's sound is firmly rooted in that decade, with no obvious modern instrumentation at all; the CD booklet even features lovingly-shot snaps of vintage amps, guitars, haircuts etc. Wykes plays all the Wurly piano and Mellotron parts, with Mellotron flutes on Such A Sound, Coda and Poster, with extra cellos on the latter, leaving Blue Eyed Son (Reprise) as the odd man out, with something I can't readily identify, though it may be one of the MkII sax sounds on M400 tapes.
There seems to be some debate over exactly when Reverb Deluxe was released; 2002 seems to be the nearest we get to a consensus. It essentially follows on from its two predecessors, although the fun seems to have gone out of it slightly, which may explain why it appears to be their last album. Wykes adds Mellotron to a mere two tracks this time, with most full-on strings on Silver Line (Reprise) and Lift Up The Sun, making a never-too-late entry into the Mellotron Strings Stakes.
Birds & Buildings (US) see: Samples etc.
Edwin Birdsong (US)
Super Natural (1973, 36.42) ***½/½

Rising Sign (Funky)
Rising Sign (Climax)
If I Ever
Any Color
Flow Thru My Heart
Turn Around Hate (Communicate)
I Love You Michelle
Down on the Beat
Tune From Callicoon
Last Exit Before the Toll
Dance of Survival (1975, 35.35) ***½/TT

Dance of Survival
Possessed (Take the Evil Spirits Away)
Something Ain't Right (Gotta Go Home)
What's Your Sign?
Night of the Full Moon
Your Smile Gave Birth to My Idea
Astral Walk
Current availability:
Super: Polydor
Dance: SHOUT! (Japan)
Mellotrons used:
Edwin Birdsong seems to be a slightly shadowy figure on the US '70s funk scene, releasing odd albums in a sporadic manner, though, of course, this makes him far more interesting than the usual run-of-the-mill funkster. 1973's Super Natural was his second release, sounding like the bastard child of James Brown and Funkadelic, with huge helpings of Hendrix thrown in, making for a highly listenable rock/funk hybrid. There really isn't a bad track on the album, opener Rising Sign (Funky), Any Color and Flow Thru My Heart particularly standing out, with hardly any 'typical' soul of the period. Birdsong (is that really his name?) plays Mellotron, amongst other instruments (he had proper musical training, which explains a lot), with background strings on If I Ever, I Love You Michelle and Tune From Callicoon, although you'd barely know it were it not credited.
'75's Dance of Survival is another synth-led, post-psychedelic groove machine, getting even my terminally un-funky foot tapping, though those fat Moog lines help with my appreciation, I have to admit... Birdsong, apart from his fantastic full-on blaxploitation vocals, plays all manner of keys, including the ubiquitous Clavinet (What's Your Sign?), the fattest MiniMoog ever (Possessed (Take The Evil Spirits Away)) and, of course, Mellotron. It's rather difficult to tell where the Mellotron appears for the first half of the album; I presume it provides the strings on the title track and Something Ain't Right (Gotta Go Home), although it sounds more like string synth. Side two's a different matter, though; Night Of The Full Moon and Your Smile Gave Birth To My Idea, are upfront Mellotron-a-go-go, with chordal string parts swamping the mix, almost drowning out the gospel-inflected backing vocalists, making this a little more of a Mellotron album than I'd at first thought.
Birdy (US)
Supernominal Paraphernalia (1999, 34.47) ***/½

High as the Sun
Letter Never Sent
You Used to Shine
My Brave Face
Fingerprints
One Pretty Mess
In My Dreams
I See Faces
Perfect Hand
Current availability:
Mellotron used:
I can't tell you a lot about Birdy, other than they were from Hoboken, NJ and they made two albums (to my knowledge), the first being 1999's Supernominal Paraphernalia. Online reviews tell me their sound echoed mid-'80s American guitar bands (think: The Replacements), which translates as 'breezy, female-fronted pop/rock, with hints of powerpop and Americana'. Highlights include opener High As The Sun, My Brave Face and In My Dreams, although several other tracks do their best to drag the album down.
Dave Amels plays background Mellotron flutes on country ballad One Pretty Mess, a couple of notes at the end featuring enough key-click for this to avoid the sample dungeon.
Birmingham Sunday (US)
A Message From Birmingham Sunday (1968, 26.59) ***½/TTTT

Egocentrick Solitude
Wondering What to Feel
Prevalent Visionaries
You're Out of Line
Medieval Journey
Mr. Waters (The Judge)
Fate and the Magician
Peter Pan Revisited
Time to Land
Don't Turn Around
Current availability:
On Prevalent Visionaries: The History of Birmingham Sunday (Crossfire)
Chamberlin used:
Apparently only ever originally released as a test pressing, a mere handful of copies of A Message From Birmingham Sunday are in existence, making the odd volume fluctuation on the reissues a smaller deal than they might otherwise have been. Musically, it's fairly typical West Coast harmony pop with male/female vocals, operating at the lighter end of the Jefferson Airplane-esque spectrum; pleasant, if uninspiring.
This album is absolutely smothered in Paul Buff's Chamberlin strings; almost every track features a strong presence. I'm sure it was only used as a cheap string section substitute, with the unintended result that, nearly forty years on, it can be regarded as a bona fide Chamby classic, even if it's a bit lightweight musically. So; a pleasant enough record (if a little bit wet), very much of its time, but shedloads of Chamby strings, often played quite innovatively, clearly in an attempt to emulate real strings rather than the usual 'block chord' organist's approach. If that's what you're after, buy.
Birthcontrol (Germany)
Rebirth (1973, 38.15) ***/T½

She's Got Nothing on You
Mister Hero
Grandjeanville
No Shade is Real
M.P.C.
Together Alone Tonight
Back From Hell

Plastic People (1975, 43.39) ***½/T

Plastic People
Rockin' Rollin' Roller
My Mind
Tiny Flashlights
Trial Trip
This Song is Just for You
Current availability:
Mellotrons used:
Birthcontrol (or Birth Control, or, indeed, BirthControl) were, at least going by their early material, one of those bands who seem to have ended up being labelled 'prog' without really being anything of the sort. Going by '73's Rebirth and the following year's double Live, they were more in the organ-driven hard rock vein, some material stretching past the five-minute mark; think 'sort of a Teutonic Uriah Heep'. Their two guitar and keys lineup allowed for some interesting instrumental interplay on occasion; in fact, their keyboard player, Bernd "Zeus B." Held went on to be a big-name producer in the eighties. It's interesting to hear that the man can actually play, with several ripping Hammond solos scattered throughout the album.
The actual material on offer here is quite ordinary fare, to be honest; several over-long boogie workouts that were probably more fun to record than they are to listen to and an entirely unnecessary drum solo, complete with 'Moog drum' in album closer Back From Hell. It's not all bad news, though, with the beautiful 12-string guitar instrumental Grandjeanville, the instrumental ballad M.P.C. and the epic Together Alone Tonight. The latter two are the only Mellotron tracks here; M.P.C. has flutes and strings, with more strings buried in the mix on Together Alone Tonight. Strangely, Herr Held is credited with, apart from 'Mellotrone' (sic), 'flute' on M.P.C. (straight quote). It's fairly obviously Mellotron; why make a point of mentioning it?
Two years on, however, Birthcontrol had discovered prog for real, making Plastic People a far better proposition. It still has its weak moments (unsurprisingly, Rockin' Rollin' Roller and This Song Is Just For You are among them), but overall, this is a band who've learnt how to write an intricate arrangement without sacrificing their ability to, er, 'rock'. No Mellotron until side two, with choirs from Held on Tiny Flashlights and brass, unusually, on Trial Trip. Its follow-up, '76's Backdoor Possibilities (***½), is a full-on prog album, albeit sadly Mellotron-free.
David Bisbal (Spain) see: Samples etc.
Bishi (UK)
Nights at the Circus (2007, 45.42) ***/½

Nights at the Circus
Magus
I am You
The Swan
Grandmother's Floor
Never Seen Your Face
Nightbus
After the Party
Vicious Stories
Broken Creatures
On My Own Again
Namaste
Current availability:
Mellotron used:
Bishnu "Bishi" Priya is a London-based musician who successfully combines influences from her ancestral home and her actual one on her debut album, 2007's Nights at the Circus, with various Indian and British forms jostling for space; well, when was the last time you heard harp and sitar on the same track? The overall effect, given that this is essentially pop music, is really rather good, knocking seven shades of unholy shit out of the identikit so-called 'R&B' nonsense that infests our airwaves like a particularly virulent virus.
Bishi plays the Mellotron herself, with a short, clicky flute part on Never Seen Your Face, although the strings sound fairly generic. If you're looking for something a little different in the female-fronted line, Bishi's album may just fit the bill; you're not going to buy it for its Mellotron use, but that's pretty par for the course, really.
Bizarre Ko.Ko.Ko. (Austria)
00 Time (1984, 44.58) ***/T

Metamorphosis of the Element
Retracting the Reflected Consciousness of All Having Come to Into Being
Forced Mutations
Seeming Disintegration/Burning Dog Brain
Current availability:
CD-R on Creel Pone with Cultural Noise's Aphorisms Insane
Mellotron used:
The obscure Bizarre Ko.Ko.Ko. were the Austrian synth duo of Karl Kronfeld and Walter Heinisch, essentially Cultural Noise minus one member. Their sole album, 1984's 00 Time, takes the previous band's work towards the extremes, much of it atonal and experimental, like the anti-Jean Michel Jarre. Opener Metamorphosis Of The Element is typical, combining clattering sequenced percussion with lo-fi vocal samples, the nearest the album gets to 'melody' being the vaguely late '70s Tangs-esque parts on Forced Mutations and Seeming Disintegration/Burning Dog Brain.
No specific credit, but I'd imagine it's Walter Heinisch on Mellotron, with a (relatively) melodic string part towards the end of the quarter-hour Forced Mutations, underlaid with what sounds like distant choirs, with another string melody and definite choirs towards the end of closer Seeming Disintegration/Burning Dog Brain. Is this a lost EM classic? It's on YouTube, so decide for yourself, but hardly worth the effort for the Mellotron work.
See: Cultural Noise
Stein Torleif Bjella (Norway) see: Samples etc.
Irina Björklund (Finland) see: Samples etc.
Anders Björler (Sweden) see: Samples etc.
Frances Black (Ireland) see: Samples etc.
Gus Black (US)
Gus [as Gus] (1996, 44.26) **½/T

Out of Tune
Tomorrow Man
Days Pay
Big Wheel
Let You Drown
Duncan Hartley
Dog
Happy
Crush
Guilty Crooked Fence
Unloaded
Word of Mouth Parade [as Gus] (1999, 47.17) **½/TTT

Baby Blue Airplane
Summerday
Tell Me What You Can't Say
Floodlights
Laugh I Could Learn to Love
Gravity
Word of Mouth Parade
Please Don't Go
Goin' Our Way
Trapeze Days
Slide Away
Current availability:
Both titles: Almo Sounds (out of print?)
Mellotron/Chamberlin used:
Gus: John Philip Shenale's M400?
Word: Patrick Warren's M1
Anthony "Gus Black" Penaloza was still going under the name Gus when he released his self-titled debut in 1996. It's an average indie/singer-songwriter record of the era; I spent much of its length waiting for the drum loop and... yes, it's on Happy, although that's the only offender. Better tracks? Tomorrow Man, Days Pay and Dog, perhaps. John Philip Shenale plays Mellotron, with MkII 'moving strings' on Let You Drown (suggesting early sample use) and strings on Guilty Crooked Fence.
He followed up with Word of Mouth Parade, in a similar vein, at its best on Summerday, Gravity and the title track, although this isn't going to excite anyone who demands anything more from their listening than something to banish the silence. Patrick Warren on his Chamberlin M1, although I'm far from 100% about some of these. Anyway, it sounds like cellos on Summerday, flutes (and cellos?) on Tell Me What You Can't Say, cellos and strings on Floodlights, strings on Laugh I Could Learn To Love, occasional strings on the title track and a flute line on closer Slide Away, while Shenale's credited with string arrangements on a couple of other tracks. The more perceptive amongst you may have noticed that, although both these albums were released under the name Gus, I've filed them under Black. Because? Because he's been Gus Black for the last two decades, including on his third release, reviewed under Samples.
See: Samples etc.
Black Atlantic (Netherlands)
Reverence for Fallen Trees (2009, 34.52/44.15) ***½/T (T½)

Baiulus
Fragile Meadow
Heirloom
An Ocean and Peril
Old, Dim Light
Walked-on Wood
Dandelion
Madagascar
Reverence for Fallen Trees
I Shall Cross This River
[Reissue adds:
Ella
Walked-on Wood (2011 version)]
Darkling, I Listen (2012, 23.25) ***½/TTT½

The Aftermath (of This Unfortunate Event)
The Flooded Road (Built on Sand)
Darkling, I Listen
An Archer, a Dancer
Quiet, Humble Man
Current availability:
Mellotrons used:
Groningen's The Black Atlantic sit somewhere in between that rather American form of haunted, ghostly folk-influenced style and the quieter end of modern indie (Fleet Foxes are a vague reference point), with hints of Sigur Rós' superior post-rock thrown in for good measure.
Their debut, 2009's Reverence for Fallen Trees, opens with Baiulus, a piano-and-massed vocal piece featuring faint echoes of The Beach Boys's Our Prayer, following with another drumless track, Fragile Meadow. I have to say, I actually prefer the tracks where they lock the drummer in a cupboard, particularly the mandolin-fuelled Dandelion; the Sigur Rós comparison especially rears its head on the bonus re-recorded version of Walked-On Wood, but is a constant subliminal companion throughout the record. Matthijs Herder (Oceana Company, several Colossus Project albums) adds Mellotron flutes and strings to Madagascar, with gentle flutes and choirs on bonus track Ella, making this a relatively low-priority Mellotron album, more worth hearing for the actual music.
2012's Darkling, I Listen EP carries on the good work, paring their writing down to the essentials, possibly making a better record than its predecessor in the process. Highlights include the title track and An Archer, A Dancer, but there's no dead wood here whatsoever. Herder adds Mellotron strings to The Flooded Road (Built On Sand) and the title track, with a major part, ever so slightly reminiscent of Genesis' iconic Watcher Of The Skies, on the latter. We also get flutes, strings and choirs on An Archer, A Dancer and flutes and strings on closer Quiet, Humble Man, making for a most satisfying listen all round.
See: Black Oak
---