Futurama (1975, 35.35) ****½/T

Stage Whispers
Love With the Madman
Maid in Heaven
Sister Seagull
Sound Track
Music in Dreamland
Jean Cocteau
Between the Worlds
Swan Song
Sunburst Finish (1976, 39.53) ****½/T

Fair Exchange
Heavenly Homes
Ships in the Night
Crying to the Sky
Sleep That Burns
Beauty Secrets
Life in the Air-Age
Like an Old Blues
Crystal Gazing
Blazing Apostles
Radioland: BBC Radio 1 Live in Concert [a.k.a. Tremulous Antenna] (1997, recorded 1976/78, 77.26) ****/TT½

Life in the Air Age
Sister Seagull
Third Floor Heaven
Blazing Apostles
Maid in Heaven
Kiss of Light
Adventures in a Yorkshire Landscape
Fair Exchange
Ships in the Night
Modern Music/Dancing in the Moonlight/
Honeymoon on Mars/Lost in the Neon World/
Modern Music (Reprise)
New Precision
Superenigmatix
Possession
Dangerous Stranger
Island of the Dead
Panic in the World
Current availability:
Futurama/Sunburst: Harvest
Tremulous: Hux (UK)
Mellotrons used:
Be-Bop Deluxe were a rather excellent band who never did as well as they should've, falling through several gaps, although, of course, this can occasionally work in a band's favour. Be-Bop weren't really prog enough for the prog crowd, heavy enough for the rock fraternity or arty enough for the Roxy/Bowiephiles, although the last is where their allegiances probably really lay. Led by the charismatic Bill Nelson, Be-Bop had an almost complete lineup change between their first two albums, Axe Victim (***½) and Futurama.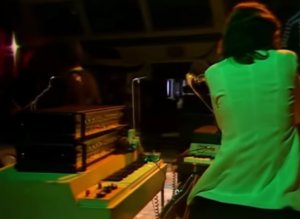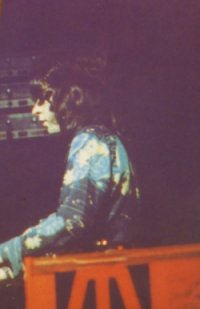 Futurama is a superb piece of work, pieced together lovingly by Nelson, who plays all guitars (and there are a LOT of guitars) and keys. There isn't a duff track to be heard, from the opening killer punch of Stage Whispers on, particular highlights including Between The Worlds and live faves Maid In Heaven and Sister Seagull. The care and attention taken over the recording brings contemporaneous Queen to mind, so it's no surprise that Roy Thomas Baker produces here, too, although I wouldn't want to get involved in an argument over whether Nelson or Brian May was the more innovative player. Closer Swan Song features what I at first took to be real voices, though I'm now fairly certain they're Mellotron, probably multi-overdubbed male voices, though it's hard to tell. While it's not exactly a central part of the album's sound, this is a 'must-own' record, if you have any interest in the era whatsoever.
It wasn't until Be-Bop's third album, Sunburst Finish, that their 'classic' lineup was complete, with the addition of keys man Andy Clark, who seems to have nothing to do with the identically-named keyboard player from Upp. It's a superb album which still holds up well today; it's dated surprisingly well, at least to my ears and provided the band with their only hit in Ships In The Night, along with other killer tracks like Fair Exchange, Life In The Air-Age and the determinedly rocking Blazing Apostles, a blinding put-down aimed at religious nutters. The only tracks that concern us here, though, are the emotive ballad Crying To The Sky, with some rather nice Mellotron choirs thrown in from Clark, with less of the same on Sleep That Burns. So, while I can't really recommend this on Mellotron grounds, it really is a great record, well worthy of your attention. After another studio album (Modern Music (****½)) and an excellent live effort, Live! In the Air Age (*****) Nelson radically changed the band's style, making them more contemporary, but, well, rather dull I'm afraid to say. He split Be-Bop soon after, forming one-off outfit Red Noise, subsequently shifting into a lengthy solo career, helping invent the concept of 'ambient'.
Various Be-Bop compilations including non-LP tracks appeared over the succeeding decade or so, but it wasn't until twenty years after their demise that any completely unheard material appeared. Radioland (later reissued as Tremulous Antenna, apparently with much-improved sound) is a compilation of various BBC radio appearances, with the usual problem that some performances get edited to squeeze everything onto a single disc. In this case it's principally the late-'76 show that gets sliced, which is a real shame, as the original broadcast featured most of their current album, the forward-looking Modern Music. The four songs from early that year, however, have the feel of a complete short broadcast to them and, going by the picture on the right, Andy Clark was using a Mellotron at this stage, although by the later set and their official Live! In the Air Age LP + EP, it was replaced with a Solina string synth. You can hear the Mellotron on three tracks here, along with a few bum notes from various band members (naming no names...), although it's not really used that effectively, to be honest. In fact, at risk of being labelled a heretic, I actually think the Solina sounded better on these tracks. Sorry, but sometimes a Mellotron isn't what's actually called for. Not often, mind you...
Riviera Theatre, Chicago, 1st April 1976 (57.11) ***½/T½

Fair Exchange
Stage Whispers
Life in the Air Age
Sister Seagull
Adventures in a Yorkshire Landscape
Maid in Heaven
Ships in the Night
Bill's Blues
Blazing Apostles
Blazing Apostles in London: 6th July 1976 (29.14) ****/TT

Life in the Air Age
Sleep That Burns
Adventures in a Yorkshire Landscape
Sister Seagull
Blazing Apostles
Mellotrons used:
Be-Bop Deluxe's Mellotron usage period seems to've lasted a year, tops, from maybe late '75 to the following summer. The official Radioland (a.k.a. Tremulous Antenna) gives us a handful of tracks recorded for the BBC in early '76, Mellotron present and correct, but clearly isn't the whole story, which is where the murky world of bootlegs comes in, guns blazing. A BBC recording from June '75 features brand new keys man Andy Clark on naught but a Wurlitzer piano; I'd imagine a decision was made later that year that he needed a larger rig to reproduce the band's studio sound onstage.
A Thin Lizzy support set from Chicago in April '76 gives us two tracks otherwise unavailable in live form, Stage Whispers and Bill's Blues (an unrecorded, rather dull blues jam), together with several tracks familiar to us from Radioland and Live! In the Air Age. While some of the arrangements are fully-formed, they clearly felt they had some work to do, as the beautiful Sister Seagull lacks the punch of the later official live version. Andy Clark's Mellotron work is fairly minimalistic; while a major string part opens Stage Whispers, we don't get to hear it again on the track. String chords drift in and out of Life In The Air Age and Sister Seagull, with choirs on closer Blazing Apostles, but little of it's at all upfront.
Another radio recording, a five-song excerpt from a London gig (venue unknown) in July, retrospectively entitled Blazing Apostles in London, gives us four familiar tracks plus the otherwise-unavailable-live Sleep That Burns, capturing the band on top form. Clark plays the expected Mellotron strings on Life In The Air Age and Sister Seagull and choirs on Blazing Apostles, making the set's one surprise (and the only reason this is here, of course) the choirs that open the excellent Sleep That Burns, reiterating throughout, with strings later on.
By their autumn '76 tour, Be-Bop had replaced their Mellotron with a Solina string synth, used with aplomb on Live! In the Air Age. As I've said above, the band are an unusual case (in my humble opinion, of course) of 'the string synth works better', or is that merely long familiarity with that recording? They used the Mellotron choirs well, but they're not especially missed on the official live release, while the string parts are generally better-suited to the Solina's infinite sustain and Clark's ability to zip up and down the keyboard at high speed. Saying that, these boots are well worth hearing. What I need now is a set from late '75, to determine when the band enlarged their keyboard rig...

---