7" (1975) **½/TT½

Portugal, é
No Tempo em Que o Toninho Lanchava Com os Amigos Na Pastelaria "S. Bento"
7" (1976) **/TT

Ontem, Hoje e Amanhã
Mosca Superstar
7" (1977, 12.41) ***½/TT½

Vida (Sons do Quotidiano) (part 1)
Vida (Sons do Quotidiano) (part 2)
7" (1977) **/TT½

Tia Anita
Junto à Lareira
7" (1977) **/T½

A Anita Não é Bonita
O Meu Nome é Ninguém
10 000 Anos Depois Entre Vénus e Marte (1978, 38.21/51.02) ***½/TT½

O Último Dia Na Terra (The Last Day on Earth)
O Caos (Chaos)
Fuga Para o Espaço (Escape Into Space)
Mellotron o Planeta Fantástico (Mellotron the Fantastic Planet)
10,000 Anos Depois Entre Vénus e Marte (10,000 Years Later Between Venus and Mars)
A Partir do Zero (Starting From Zero)
Memos
[CD adds:
Vida (Sons do Quotidiano)]
7" (1978) **/TTT

A Minha Música
Branca Flôr
Canta Coisas Suas (1979, 41.43) *½/½

Portugal, Portugsal, Portugal
A Pouco e Pouco
Na Cabana Junto á Praia
Amigos
Verdes Trigais em Flor
Olinda a Gigana
Rendez-Vous
Fox-Trot da Lili
A Coisa Mais Pura Que Alguma Vez Tive
Sou um Rochedo Na Maré Viva
Chamaram-me Poeta
My Music (1980, 33.29) **/½

Too Many Nights
Ode to the Beatles
A Love to Share
Count James
Yesterday, Today and Tomorrow
I Kissed Her Goodbye
So Nice, So Fair, So Gay
Sycamore Square
In My Hideway
Big Brother Joe
Os Grandes, Grandes Êxitos de... (1980, recorded 1977?-1980, 76.45) **/TT

Um Grande, Grande Amor
Ontem, Hoje e Amanhã
Junto à Lareira
A Anita Não é Bonita
Verdes Trigais em Flór
20 Anos
A Minha Música
A Pouco e Pouco
Portugal, Portugal, Portugal
Rendez-Vous
Olinda a Cigana
A Mansarda
Amanhã, Amanhã
Tia Anita
Na Cabana Junto à Praia
Glória, Glória Aleluia
O Meu Piano
Sou Um Rochedo Na Maré Viva
Romântico Mas Não Trôpego
Foxtrot da Lili
Current availability:
10 000/Vida: Art Sublime (US)
All other titles: tracks on various compilations, including Antologia 20 Anos Vols. 1 & 2
Mellotrons used:
One or more of Cid's M400s
José Cid was the chief mover and shaker in Quarteto 1111, whose 1975 album, Cantamos Pessoas Vivas, is something of a Mellotron classic. Despite rumours, there's nothing on his eponymous set from '71, but it can be heard on a bevy of singles scattered across the rest of the decade. Incidentally, may I take this opportunity to thank Arnaldo Pata for his help in compiling this discography.
The first definite non-Quarteto sighting is 1975's Portugal, É, smothered in strings, including a speedy run that could probably only be performed on a relatively new machine. The song itself is less appalling than much of Cid's mainstream output of the time, complete with a (low-in-the-mix) psychedelic guitar solo. 1976's Ontem, Hoje e Amanhã is, frankly, a pretty awful effort - I get the impression it was Portugal's Eurovision entry for that year, which says it all - think, cheesy mid-'70s Europop and you won't be too far off the mark. Cid plays Mellotron brass and strings on the track, but it's not something you're going to rush to track down, to be frank. '77's choir-laden twelve-minute plus Vida (split into two for vinyl release), however, takes a sharp left turn into prog territory, which is where I suspect Cid's heart really lay. Tia Anita is back to dross territory, its flip, Junto à Lareira, being an even worse case of rubbishy Mediterranean balladry, although both tracks feature the Mellotron flutes heavily, as does (the related?) A Anita Não é Bonita.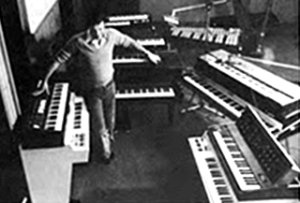 Cid's best-known, at least internationally, for his 1978 album, 10 000 Anos Depois Entre Vénus e Marte. It's that rarest of things, a Portuguese progressive LP, especially given that the country was still under the yoke of a right-wing dictatorship up until 1974. Maybe unsurprisingly, the album sounds quite dated for its time, harking back more to the psych/prog crossover of the beginning of the decade, with none of the local colour to be heard in the Spanish prog of the time. Saying that, it also has a sort of 'pre-neo' vibe about it, too, sounding bizarrely almost like IQ in places. Although Cid owned two Mellotrons (reputedly of three in the country), as on the album, all he uses here are choirs and I'm not even sure if he ventures further afield than the 'standard' 8-voice. All CD issues, from the mid-'90s on, add the Vida single, both halves rejoined, as a bonus track.
10 000 Anos Depois Entre Vénus e Marte (title handily translated on track five) is a good, solid, keyboard-led album, although it doesn't really do anything that exciting. It seems to be a Portuguese-language concept piece about interstellar migration, although where a bonkers title like Mellotron The Fantastic Planet comes in, I've absolutely no idea. None of the songs do that 'prog thing' with key/tempo changes, although there are some nice melodic parts here and there, particularly on the recurring theme best heard on album closer Memos. More Mellotron choirs, mostly block minor chords, on several tracks, but nothing that you could really consider outstanding, to be honest. For some reason, this is yet another example of the 'String Synth Syndrome', where Cid insists on using synth strings, with the Mellotron acting as no more than a 'choir machine'; bit of a waste, really, but there you go.
1978's cheeso Euro-disco A Minha Música (with its amusing Stones quote) features faint choirs, but the Mellotronic pick of the single tracks here is its flip, Branca Flôr, with its full-on flute part, played at a ridiculous speed in the fadeout. Cid's next long-player, 1979's Canta Coisas Suas (literally 'sings your stuff'), couldn't be more of a contrast with 10 000 Anos...; an appalling, ultra-mainstream set of jolly Portuguese songs designed for middle-aged (at the time: over forty) people to listen to of an evening. Quite, quite horrible. To my surprise, the Mellotron turns up on Sou Um Rochedo Na Maré Viva, with an extremely faint background choir part, which should not be taken as any, even remote kind of recommendation.
The following year's My Music is also, frankly, A Thing To Avoid. Cheery, cheesy Euro-singalong stuff, including what sounds like a live recording of a Eurovision entrant, Yesterday, Today And Tomorrow, although it seems his similarly Mellotron-free entry that year was actually the appalling Um Grande, Grande Amor. Ode To The Beatles is as naff as it sounds (maybe it was the height of good taste in Portugal in 1980?) and as for So Nice, So Fair, So Gay, the less said the better. While it isn't credited, I'm absolutely sure I'm hearing Mellotron choirs backing up real voices on Count James and In My Hideway, but this really is some of the least essential Mellotron use you'll find on this site. At least the album's short.
1980's Os Grandes, Grandes Êxitos de... compilation includes two re-recordings, 20 Anos and Ontem, Hoje E Amanhã, both awful, jaunty, folk-influenced Portuguese pop numbers, both featuring upfront Mellotron flutes, both now available on disc two of 2003's Antologia: Nasci P'rà Música.

See: Quarteto 1111 | Ermelinda Duarte | Frei Hermano da Câmara com o Quarteto 1111 | Green Windows | Preâmbulo Que
---