---
Dawnwatcher (UK)
7" (1980) ***½/TT½

Spellbound
Hall of Mirrors
7" (1982) ***½/TT

Backlash
Salvador's Dream
Current availability:
Mellotrons used:
While trading NWoBHM (New Wave of British Heavy Metal, for what it's worth) rarities recently, I was pleased to discover Dawnwatcher, from Keighley, Yorkshire. I'd been aware of the band since '81 or so, but had never heard them, so it came as a pleasant surprise to discover that they were an epic, keyboard-heavy outfit, (very) vaguely in the same area as early Magnum. It came as an even more pleasant surprise to hear a Mellotron on some 1979 demos, although I don't feel I can review this material here, as it's never been commercially available (SEE: bootlegs). There are seven proper studio tracks on my disc, five of whose provenance I can trace, although it would be nice if this stuff were to be officially released at some point.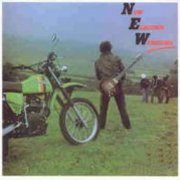 Their first single (the preferred format for NWOBHM outfits, over the demo tape) was Spellbound, which appears to be a heavily-rewritten version of an older song. If you're familiar with the era, it sounds more like Hartlepool heroes White Spirit than anyone, with a similar organ-driven sound, although it's actually its b-side, Hall Of Mirrors, we're interested in here. A seven-minute plus song, it fits all the criteria for epic hard rock of the time, with extra added Mellotron choir in the chorus, played by Peter Darley, who frequently plays to, or sometimes beyond his capabilities, particularly on the monosynth lines. Anyway, Mellotron strings later in the song, helping to make it a minor classic of its era.
Single no. 2 and final, Backlash, came out in '82, the band no doubt struggling through financial vicissitude and general public apathy, as they didn't sound like a carbon copy of Iron bloody Maiden. If anything, Backlash is even less commercial than Spellbound, which, while laudable, wasn't guaranteed to sell copies or make megastars of the band. Again, no Mellotron on the a-side, but the flip, Salvador's Dream, opens with some gothic Hammond before (again) Mellotron choirs in the chorus and strings towards the end. Their only other officially available track of which I'm aware is Firing On All Eight from the mostly appalling New Electric Warriors compilation featuring one of the most stupid sleeves of all time, admittedly against stiff competition. Well, a guy with a (cheap) guitar slung round behind him with his back to the camera, standing next to a trials bike in a field, in the rain, watching three other blokes off in the distance, all wearing bike helmets and playing air guitar? I don't think that description does it justice, although I doubt if you can see that much detail on the image to the left. Anyway, don't blame Dawnwatcher.
See: Bootlegs
Jim Dawson (US)
Jim Dawson (1974, 36.16) **/0

The Singer
Four Strong Winds
Oh No, Mercy Me
Montego Bay (Love and Other Things)
I First Came From the Mountains
The Light of Day
Whatever Happened (to You and Me)..?
Until I Find Someone
Somewhere Down the Road
The Woman With the Beautiful Eyes
Close Your Eyes
Current availability:
Mellotron used:
Jim Dawson was a New York-based folkie, although there isn't an awful lot of 'folk' in evidence on his third album, Jim Dawson. Sadly, there is an awful lot of weak-as-water singer-songwriter stuff, with over-fussy arrangements and the sort of lyrics that you could only get away with for a few years (see: The Woman With The Beautiful Eyes), 1974 being at the epicentre.
Tommy West is credited with Mellotron, but I'll be buggered if I can hear the thing anywhere. Two tracks (I First Came From The Mountains/Until I Find Someone) have real strings, leaving The Woman With The Beautiful Eyes as the only track with any uncredited string parts. Really doesn't sound like a Mellotron, though, so this one may have to remain a mystery. Anyway, a tedious, if heartfelt album, with no obvious Mellotron. Just don't.
Steve Dawson (Canada) see: Samples etc.
Daytime Volume (US) see: Samples etc.
Ermanno de Biagi (Italy)
L'Albero della Pazzia (1979, 36.34) ***/T½

L'Albero della Pazzia
Safari
Al Sole e Alla Luna
Falsa Eternità
Che Senso Ha
Preludio Finale
Canzone di Tutto e di Niente
Il Tuo Silenzio
Ciao Pagliaccio
Ninna Nanna
Current availability:
In Progressive Italia Gli Anni '70 Vol. 7 - The Universal Music Collection
Mellotron used:
According to Discogs, Ermanno de Biagi released just the one album, 1979's L'Albero della Pazzia, an above-average pop/rock effort with progressive touches, many of its tracks resembling the quieter, more straightforward material you'd find on actual prog albums from earlier that decade. Highlights? The gentle opening title track, the lush Preludio Finale and Canzone Di Tutto E Di Niente's pseudo-Baroque middle eight, although little here offends.
Paolo Casa and Alberto Visentin play Mellotron, with distant, occasional choirs on the title track, chordal flutes on Al Sole E Alla Luna, heavily-reverbed choir chords on Che Senso Ha and a flute line on Canzone Di Tutto E Di Niente, although the uncredited cello on Preludio Finale sounds real, while all string parts seem to be string synth.
Mark de Clive-Lowe (New Zealand) see: Samples etc.
Wim de Craene (Belgium)
Alles is Nog Bij het Oude (1975, 38.14) **½/T

Tim
5 Uur
Alles is Nog Bij Het Oude
De Schoolstraat
Onze Jeugd
't Leven is Schoon
Rozerood - Oranje
Rozie
De Gokkers
Drie Heren
Portret Van Gisteren
Piepoe (Morgten Wordt Beter)
Current availability:
On Integraal boxed set: Universal (Belgium)
Mellotron used:
Wim de Craene was a Belgian singer-songwriter, who released eight albums before his tragic suicide in 1990. 1975's Alles is Nog Bij het Oude is the third, a respectable enough set, although its typical early '70s lightweight style dates it terribly. While nothing here actively offends, without understanding the lyrics, the music has little appeal on its own, making it a poor bet unless you're an obsessive era/country collector.
Jean Blaute plays Mellotron, with flutes and strings on opener Tim, flutes on the title track and very background flutes on Onze Jeugd, to passable if not exactly startling effect. Given that this is only properly available on an expensive, 7-disc set, unless you fancy searching out a download, I wouldn't bother, if I were you.
Boudewijn de Groot (Netherlands)
Nacht en Ontij (1969, 29.16) ****/½

Babylon
Heksen-Sabbath (Deel 1)
Heksen-Sabbath (Deel 2)
Current availability:
Mellotron used:
Nacht en Ontij was Boudewijn de Groot's fourth album, finding him in experimental mood, making the kind of record that would probably have fallen foul of British or American record company conservatism. A two-track album was entirely unheard of in 1969, one so long it was split over both sides of the vinyl. Heksen-Sabbath (Witches' Sabbath) is essentially a suite of pieces of greater or lesser orthodoxy, featuring a great many spoken-word parts, sadly indecipherable if you don't speak Dutch, although their ominous tone translates perfectly. The album's other track, the relatively brief Babylon, opens with Mellotron cellos, available on the M300 'A' set; given that said machine M300 appeared in 1968 and only stayed in production for maybe two years, Phonogram Studios would definitely have owned theirs by '69. Most of the track features real strings, but another short Mellotron part at the end (all played by de Groot himself) completes the album's Mellotron work. All Mellotron work confirmed by Boudewijn himself, incidentally.
The mid-'90s CD issue of Nacht en Ontij not only rejoins the two parts of Heksen-Sabbath (they were originally split at a convenient moment of silence, anyway), but adds two (Mellotron-free) single tracks in Wie Kan Me Nog Vertellen and Aeneas Nu, oddly putting them at the beginning of the disc. A contemporaneous single, Waterdrager, is also rumoured to contain Mellotron parts, although all I can hear is a rather piping organ and a real string section. This is actually a really good album; practically unknown outside the Dutch-speaking world (er, Holland?), it's inventive, original and more proto-progressive than psych. Seriously, if you love the era and your palette is jaded, you could do a great deal worse than to track a copy of this down. Recommended, though not for the Mellotron.
Donna De Lory (US)
The Lover & the Beloved (2004, 48.52) **½/½

Ganapati Om
Om Nama Shivaya
He Ma Durga
Hare Krishna
Govinda Jaya Jaya
Samba Sadashiva
Current availability:
Chamberlin used:
Donna De Lory's day job is as a singer/dancer with various mainstream acts, principally Madonna, for whom she worked for twenty years. I can't comment on her earlier solo work (she released her first album in 1993), but 2004's The Lover & the Beloved isn't the drippy singer-songwriter stuff I'd expected, being an album of Indian spiritual chants, set to a semi-Western backing. All rather unexpected, that. While harmless, it's also somewhat unengaging, drifting past the listener like the musical equivalent of clouds, which hopefully gives you some idea of the album's sound.
Zac Rae plays Chamberlin, with a recurring string part on Ganapati Om, although I can't say I spotted anything else obvious. Overall, perfectly pleasant, but not an album to really get your teeth into, being far too light and fluffy for anyone after anything but a temporary distraction.
Rob de Nijs (Netherlands) see: Samples etc.
Vittorio de Scalzi (Italy) see: Samples etc.
Dead Guitars (Germany) see: Samples etc.
Dead Man Ray (Belgium)
Cago (2002, 51.32) **½/TT

Landslide
Centrifugitives
Crossfades
A Single Thing
Short Term Investments
Authentic
Blue Volkswagen 10:10 am
Things That Will Happen Again
Need
Losing the Lost
Current availability:
Mellotron used:
Going by their third album, 2002's Steve Albini-produced Cago, Belgians Dead Man Ray (including an ex-member of dEUS) are a run-of-the-mill indie outfit, although I can already hear their fans' faint outrage at that description wafting across the Channel. Does it have any highpoints? Not really, although Blue Volkswagen 10:10 AM, with its spoken lyrics and psychedelic feel and mildly angular closer Losing The Lost are possibly the least irritating things here.
I'm told (thanks, Peter) that Albini borrowed/hired an M400 for the recording, Wouter van Belle using it extensively, if rarely that overtly. Anyway, we get background cellos and flutes on opener Landslide, cellos on Centrifugitives, flutes and strings on Crossfades, flutes on Short Term Investments, flutes and strings on Things That Will Happen Again and, finally, cellos on Losing The Lost, although nothing stands out as much as I'd like. The band's website describes them as 'giv[ing] itself an introspective break for 2004-2005, probably restarting creativity through 2006', which seems to be an optimistic way of saying, 'we've split up'. Oh well.
Dead Snares (US)
Speak the Language (2010, 41.25) **½/T

The Language
Strike Up the Band
Sever
City Sparks
As Above, So Below
These Dirty Streets
Blood
Thrive (in a Vague Moment)
A Voice to Speak
The Age of Fear
An Unending
Current availability:
Chamberlin used:
Dead Snares seems to be Jeffrey Cain's nom de plume, his debut, Speak the Language, being a kind of indie/post-rock/singer-songwriter mash-up. Better tracks include Sever and These Dirty Streets, but it's pretty slim pickings for those unattuned to Cain's style. Worst track? Dreary, five-minute instrumental closer An Unending. No contest.
Jebin Bruni (Fiona Apple, Aimee Mann, a million others) plays Chamberlin, with a sweeping string part on Strike Up The Band, although all other possibles will have to remain just that. Sorry, can't recommend this, but at least the Chamby sounds real.
Deadly Snakes (Canada)
Porcella (2005, 39.10) ***/T½

Debt Collection
200 Nautical Miles
Sissy Blues
High Prices Going Down
Gore Veil
So Young & So Cruel
Let it All Go
Work
Oh Lord, My Heart!
I Heard Your Voice
By Morning, it's Gone
The Banquet
A Bird in the Hand is Worthless
Current availability:
Mellotron used:
The Deadly Snakes are a Canadian garage rock band with a difference, that difference being that they're influenced as much by Nick Cave and Tom Waits as the usual suspects. As a result, their final album (they split the following year), 2005's Porcella (also released as a longer double LP version entitled Porcella - A Bird in the Hand is Worthless), features strange waltzes, pizzicato strings and soulful Hammond, with no two tracks sounding alike. I'm not sure if it entirely works, but it's certainly a brave attempt.
Someone calling himself Age Of Danger (a.k.a. Max McCabe-Lokos, apparently) plays Mellotron, with some very real-sounding strings on High Prices Going Down and flutes on Gore Veil (ho ho), with a repeating part that carries on after everything else stops, although all other string parts seem to be real. Overall, then, good at what it does, but I'm not convinced that the world actually needs that thing. Good try, though and a couple of decent Mellotron tracks.
Deadstring Brothers (US)
Deadstring Brothers (2003, 45.06) ***/T

I'm Not a Stealer
27 Hours
Unbroken
Entitled
It Takes Love
Lay Me Down
Jones Street
For a Time
Such a Crime
I Know You Dear
The Long Black Veil
Current availability:
Chamberlin used:
The Detroit-based Deadstring Brothers' eponymous debut is an album to raise the spirits of the jaded Americana fan, highlights including the ripping pedal steel work and overall vibe of opener I'm Not A Stealer, Lay Me Down and their take on grim old murder ballad The Long Black Veil, although a couple of 'trad.country' efforts (Jones Street, Such A Crime) could've been sidelined without hurting the record.
Ross Westerbur plays Chamberlin string lines on Unbroken and It Takes Love, enhancing the tracks without being in any danger of becoming the album's defining feature. While no classic, Deadstring Brothers is a very acceptable Americana effort, worth exploring for fans of the genre.
Deadwood Forest (US)
Deadwood Forest (1998, 68.45) ****/TTTT

Music From God
Theme for the Forest
Peace Garden
Living the Life in Between
Remote
She Was a Pretty Girl
New Braunfels
Pebble Stream
Basically Nothing
Better Go Back Home
Heartspill
Blow Away
Days of Wonder
Vital Commentary
Mellodramatic (2000, 47.51) ****½/TTTTT

The Pioneer
—
O L D
King of the Skies
The City in the Sea
Dry
Stolen Smile
—
The Ultraviolence
Departure
Current availability:
Mellotrons used:
Deadwood Forest were a Texas-based outfit with a heavy psychedelic bent to their sound; it seems the various members can't decide whether the band is in 'indefinite hiatus' or has simply split, so let's hope for the former, as at least it provides some hope. Their self-titled debut is good without being outstanding, although I suspect many of its songs will grow on me with repeated plays. There's very little 'prog' to what they were doing at the time at all, bar near-fifteen minute closer, Vital Commentary, but if you're into a sort of psychedelic singer-songwriter thing, Deadwood Forest is definitely worth a listen. Mitch Mignano plays 'organ and Mellotron' throughout and, despite a slow start on the Mellotron front, he ends up sticking it on over the half the tracks, including the aforementioned Vital Commentary, with dirty great slabs of (mainly) strings and choir and the odd burst of flute. Very nice.
Their second album, from two years later, the wittily titled Mellodramatic, is one of those records where the more you play it, the more you hear. An intriguing pot pourri of styles, it's probably best described as psychedelia-influenced progressive rock, with the occasional contemporary touch to throw you off the scent. At least two songs use percussion loops on their intros, but that late-'60s sound is rarely far away, making it an Album For All Eras, maybe. Another specific influence that crops up here and there is that of early-'90s Swedish wunderkind Änglagård; hardly surprising, given that the album is produced by their drummer Mattias Olsson, although in a 'chicken or egg' situation, it's difficult to tell whether or not the influence was there first.
It's also difficult to tell just how much Olsson influenced Mitch Mignano's Mellotron use. The band already owned their machine, but it's to be found on every single track here, with some noticeably Änglagård-like chord sequences in places. Strings, flutes, cellos, choirs all over the shop; this really is a Mellotron fan's wet dream, not to mention an excellent album. Individual highlights are hard to pick out, but opener The Pioneer is especially good and seems to best capture their eclectic mix of styles. Oh and the two '—' tracks are basically untitled instrumentals, the second of which sounds for a moment like it's going to quote 'All Things Bright and Beautiful', but thankfully doesn't.
See: Scattered Pages
Deal's Gone Bad (US) see: Samples etc.
Dear Mr Time (UK)
Grandfather (1970, 44.40) ****/T½

Birth - the Beginning
Out of Time
Make Your Peace
Your's Claudia
Prelude (to Your Country Needs You?)
Your Country Needs You?
A Dawning Moonshine
Years & Fortunes
A Prayer for Her
Light Up a Light
On a Lonely Night
Grandfather
Current availability:
Mellotron used:
Dear Mr Time were an obscure British outfit who straddled the late-period psych/early prog divide with their sole album, a concept piece entitled Grandfather. It (loosely, of course, in true concept album style) tells the story of one man's life from his birth around the turn of the century to his own death, as recounted by his grandson. Birth - The Beginning makes for a pastoral enough start, but the pace picks up quickly enough as the story races towards the protagonist's experiences as a soldier in the trenches. The rest of the album veers between acoustic and electric, but quality's maintained throughout, avoiding the 'only two or three decent tracks' syndrome. On reflection, the concept actually owes a little to the Pretty Things' seminal SF Sorrow, but it's a very different album and, let's face it, a fairly universal subject.
No-one's credited with Mellotron, so I'll assume keyboard player Barry Everitt was responsible for the excellent MkII strings on Prelude (To Your Country Needs You?) and the rather shorter part in closer Grandfather. Pity they didn't use it more, but there you go. Incidentally, the cellos in Prelude are real. All in all, this is really rather good and undeservedly obscure, especially when you consider some of the third-rate stuff that's been available for years. My CD appears to've been pressed from a vinyl copy, but the surface noise isn't too bad; let's hope that more recent reissues are taken from the masters.
Dearworld (Netherlands)
Observe, Absorb, Evolve (2014, 42.54) ***½/T½

Observe
Isolationation
Paradox Superstar
Everything You Are
Absorb
Symmetry
Ashes
Mirage
Evolve
Waster
Ran Outta Love
Spark
Remain
Current availability:
Mellotron used:
Dearworld are a four-piece Dutch 'electro rock' outfit, who successfully combine elements of electronica, synthpop, techno and even metal on 2014's Observe, Absorb, Evolve. Probably unsurprisingly, given those influences, they come across as a Lowlands Ultravox on material such as Isolationation and Everything You Are; no bad thing, as it happens, other highlights including the riffy Symmetry, the dark Ashes and the electro of Waster.
Ruud Peeters guests on his own M400, with icy, high strings, followed by cellos and lower-register strings on Mirage, more strings and flutes on Spark and distant choirs on closer Remain. All in all, a rather good little album, then, particularly if you have a yen for creative synthesis. And what's more, they're giving it away on Bandcamp. What's not to like?
Death Cab for Cutie (US)
Forbidden Love EP (2000, 19.37) ***½/T½

Photobooth
Technicolor Girls
Song for Kelly Huckaby
405 (acoustic)
Company Calls Epilogue (alternate)
Current availability:
Mellotron used:
The main thing I know about the curiously-named Death Cab for Cutie is that they pinched their name from a Bonzos track. It seems they're an 'alternative' (to what?) US outfit and the Forbidden Love EP is their third release, coming after two albums, Something About Airplanes and We Have the Facts and We're Voting Yes. Going by the EP tracks, they play a perfectly pleasant kind of semi-intelligent pop, while not really being a patch on, say, The Posies, although they're perfectly listenable, just a little unexciting. Maybe I'm missing the point.
Anyway, despite some faux-tape replay strings on Photobooth, Song For Kelly Huckaby is the only Mellotron track on offer here, with a melodic string part added to the disc's most rocking track, oddly. I'd swear blind it's real, too; the way the pitch wobbles at the song's conclusion is completely typical and almost impossible to replicate using samples. Hooray! So; one for US college kids everywhere, I think. It actually isn't at all bad, though I'm never going to be the style's biggest fan, I suspect. Putting the word 'cigarettes' in two out of five tracks isn't ever going to endear them to me, either. Anyway, not bad, one nice Mellotron track.
Francis Décamps (France)
Histoire de Fou (1979, 38.27) ****/TT

Droit Vers le Soleil
Malédiction
Canicule
Amédée le Mal Maudit
Apocalypse
Current availability:
Mellotron used:
Francis Décamps is, of course, keyboard player with Ange, by a long chalk France's most successful progressive band, although he seems to've languished in his elder brother Christian's shadow for most of their career. After a decade in the band, Histoire de Fou was his first solo album and can, in many ways, be regarded as the 'lost' Ange album between their last classic (Guet-Apens) and the beginning of their terrible 'commercial' period. Ah, the '80s; don'cha just love 'em? It's difficult to describe this album without repeatedly mentioning Ange, to be honest, although Canicule's orchestral arrangement is interesting, as I don't believe Ange ever went down that particular path. The rest of the material sounds like, er, Ange, so the most useful thing I can think of to say is; if you like them, you should like this.
I believe this was Décamps' last Mellotron album, as well as his last progressive one (at least for a while). He doesn't overuse it, as usual and (again as usual), it's not always easy to tell the Mellotron strings apart from his heavily modified Viscount organ, but it sounds like background strings on Droit Vers Le Soleil and Malédiction, with a far more upfront string part, plus choirs, on Amédée Le Mal Maudit and a final choir part on Apocalypse. Quick note: the queasy-sounding barrel-organ at the end of Amédée Le Mal Maudit is almost worth the price of admission on its own...
See: Ange
The Decayes (US)
Accidental Musik (1979, 50.55) ***/T½

Rich People's Mailboxes
The Prisoner
Melange Malade
Red Silent
K-7
Niteclub
Close Enough for Jazz
Current availability:
Mellotron used:
The Decayes were a late '70s avant-garde combo from southern California, whose best-known (I use the term loosely) work is 1979's Accidental Musik, more because it's been written about on several blogs than because it's actually, y'know, well known... Taking cues from the wave of German experimentalists from earlier in the decade, principally Can, the album veers between near-misses at actually producing regular tunes, woozy jamming and tape cut-ups, sometimes all at once, possibly at its best on the seventeen-minute Niteclub.
Ron Kane, John Payne and Craig Smith all play Mellotron, which was '...recorded at Luxury Living Studios in Lakewood, California'. Can we assume it's Craig's machine we're hearing? Anyway, it's only on two tracks, with two bursts of strings on Niteclub, one scratchy and near-atonal, one more 'traditional', with more of the same on closer Close Enough For Jazz, mixing the two approaches. One for lovers of the further reaches of 'out there', rather than Mellotron fans, I think.
Charlie Dée (Netherlands) see: Samples etc.
Kiki Dee (Band) (UK)
Loving & Free (1973, 39.16) ***/TT

Loving and Free
If it Rains
Lonnie and Josie
Travellin' in Style
You Put Something Better Inside Me
Supercool
Rest My Head
Amoureuse
Song for Adam
Sugar on the Floor
I've Got the Music in Me [Kiki Dee Band] (1974, 42.51) **½/½

I've Got the Music in Me
Someone to Me
Step By Step
Water
Out of My Head
Do it Right
Little Frozen One
Heart and Soul
You Need Help
Kiki Dee (1977, 42.51) **/0

How Much Fun
Sweet Creation
Into Eternity
Standing Room Only
Bad Day child
Chicago
Night Hours
Keep Right on
In Return
Walking
First Thing in the Morning
Current availability:
Loving/Kiki: Out of print (ever on CD?)
I've: Polygram
Mellotrons used:
After her early career on Motown, Pauline "Kiki Dee" Matthews moved into the soft-rock arena with 1973's Loving and Free, including her mate Elton John on keyboards, not least Mellotron (two of the songs are also John/Taupin compositions). In all honesty, I can't get too excited about any of the material here; it's perfectly good at what it does, but it all sounds a bit dull with a few decades' hindsight. Anyway, Elt's Mellotron can be heard on three tracks: strings on Lonnie And Josie and Kiki's cover of Stealer's Wheel's You Put Something Better Inside Me, while, although the credits say it's on Sugar On The Floor, I not only can't hear it there, but I can hear Mellotron flutes on just about the best song here, Jackson Browne's Song For Adam.
Her follow-up, I've Got the Music in Me, contains her career highlight in the title track, a sassy, funky piece of mid-'70s pop, displaying her soul roots for all to see. The rest of the album, sadly, is rather average fare, being very ordinary mainstream pop, with a largish dose of balladry which may have sounded OK at the time, but is terribly dated now. One Mellotron track this time, with keys man Bias Boshell (that's 'Tobias', ex-fabulous British folk rockers Trees, last seen playing with The Moody Blues on a recent tour) playing flutes on Do It Right, along with real strings, to rather underwhelming effect. Don't go out of your way, to be honest. Don't go even less out of your way for her biggest (as against best) hit, '76's Don't Go Breaking My Heart, a duet with Elton and possibly one of the most irritating hits of the decade, against stiff competition.
Her last album of any relevance to this site was '77's Kiki Dee and, I'm afraid to say, it's a bit sorry. Most of Elt's band were on it, but all they succeed in doing is producing another bloody mid-'70s pop/rock album, irritating blues piano licks thrown in at every available opportunity (How Much Fun is a notable offender), not to mention the appalling cod-Philly soul of Chicago. Or is it Chicago soul? Dreadful, wherever it's supposed to be from. About the best track is the only one with any credited Mellotron (funny, that), Into Eternity, a reasonable ballad with an unusual enough sound to catch the ear, although James Newton Howard's Mellotron is entirely inaudible under the real cellos and string section.
See: Elton John
---