---
Harris Chalkitis (Greece)
Harris Chalkitis (1975, 31.59) ½/½

Marita
Funny She Loves Me
Right on Moving
Always on My Mind
Without You
Introduction Moog
Glory of a Love Song
Morning Sunshine
New York City
With a Smile
Let Me Go My Way
Current availability:
Mellotron used:
Be afraid... be very afraid... Sad to say, this is without doubt the worst album I've had to sit through while researching this site [n.b. at the time of writing, anyway] and, believe me, I've sat through a few... The lengthy sleeve notes tell us that Chalkitis played with and wrote for Demis Roussos, which should have warned me not to buy the album; they also say that he played with Roussos in Aphrodites Child - indeed, he guests on their rather fab 666 album. Well, I can't say any of it rubbed off. This is the worst kind of bland, MOR-inspired mid-'70s tosh you can imagine; one minute bright'n'breezy, the next rather maudlin love songs. Truly horrible. Even a track called Introduction Moog can't rescue the album from utter mediocrity. Its only saving grace is its brevity.
So what about the Mellotron? There's a little bit of flute on Always On My Mind (not the Elvis one), played by Chalkitis and that appears to be it. Well, I paid £2.00 for it and it was almost worth it for the laugh. Almost.
See: Demis Roussos | Aphrodites Child
Chamberlain (US)
The Moon My Saddle (1998, 51.16) **½/T

Try for Thunder
Crush You
World Don't Want Us
Stars in the Streetlight
Mountain of a Heart
Racing Cincinnati
Manhattan's Iron Horses (the Last Train Out)
Lonesome Song
Good Enough
Until the Day Burns Down
Last to Know
Current availability:
Mellotron used:
How ironic that I should finally review a band called Chamberl(a)in, yet they use a Mellotron... Going by their second and last 'proper' album for two decades, The Moon My Saddle, Chamberlain were an ex-hardcore band (Split Lip) who moved into the realms of mainstream, 'rootsy' pop/rock in a Counting Crows vein. The only keyboards used are Hammond, piano and Mellotron, while a slightly alt.country air to the proceedings makes comparisons with the Crows, The Hooters et al. unavoidable. Outstanding tracks, or even slightly above average ones? Good Enough, complete with ripping guitar solo and Until The Day Burns Down up the energy levels for a few moments (although the latter's about three minutes too long), but that's hardly a recommendation.
Mellotron? Not a lot, no, just background cellos on Racing Cincinnati and closer Last To Know, from Jonathan Cohen. This is a terribly dull album; I couldn't find a single thing about it that grabbed my attention in any way. Chamberlain sound just like a thousand other American bands, all 'heartfelt' vocals and faux-'authentic' instrumentation, so it's not particularly surprising they came up against a (pre-reformation) brick wall eventually; as is well known, there's only room for so many artists of any one type in the industry.
Matt Chamberlain (US) see: Samples etc.
Courtney Chambers (US) see: Samples etc.
Chambers Brothers (US)
Right Move (1975, 43.21) ***½/T½

Crazy 'Bout the Ladies/Pretty Girls Everywhere
Stop the Train
Miss Lady Brown
Lotta Fine Mama
Smack Dab in the Middle
Stealin' Watermelons (Somethin' You Got)
Who Wants to Listen
We'll Sing Together
Current availability:
Mellotron used:
The Chambers Brothers are best-known for their 1968 psychedelic soul classic Time Has Come Today, but they carried on recording into the mid-'70s. 1975's Right Move was the original band's penultimate release (and possibly their last studio recording), less funk, more a soul/blues/jazz/rock'n'roll hybrid, at its best on raucous opener Crazy 'Bout The Ladies/Pretty Girls Everywhere, Miss Lady Brown and Stealin' Watermelons (Somethin' You Got), the last-named giving the lie to the 'no funk' line.
Jeff Levine adds Mellotron (or Chamberlin?) 'string section replacement' strings to Miss Lady Brown and Who Wants To Listen, with some octave swells and a great pitchbend on the latter. Is this worth it for the tape-replay? Probably not, but it's a fine album of its type, showing that bands past their commercial prime aren't necessarily past their best.
Chameleon (US)
Rising (2013, recorded 1973-78, 77.47) ***½/½

Texas Cyclone
Follow Your Love (Paradise Lost)
Pilot Thoughts
Brave New Way
Drool Away
Pass Thru the Columbian Mountains
Everyday Everyway
Mirkwood Forest
In the Heart
Saturate
Midnight Matinee
Life Positions
In My Own Way
Current availability:
Mellotron used:
Chameleon are yet another US '70s progressive outfit who never escaped from their state or made an album, yet recorded enough material professionally to enable the compilation of a CD of their work, decades later. This bunch hailed from Houston, TX and, like so many of their contemporaries, utilised Yes as a partial template for their sound, although, unlike some, their tastes clearly ranged further afield, not least into the fusion field; this could almost be Dixie Dregs with vocals at times. At its best on opener Texas Cyclone, Pilot Thoughts and Mirkwood Forest, perhaps, the album falls into the common 'archive release' trap of being overlong, although rather too much material than too little, I suppose. No-one's being forced to listen to it in one hit, after all.
Frankly, this only just qualifies for inclusion on this site, as keys man Craig Gysler clearly didn't own his own Mellotron. Texas Cyclone (the only thing here recorded at Nashville Sound, in 1974) features a mere few string chords at the end of the track; bizarre, given that they had access to a machine. You get the feeling that they felt they should use it, because it was there, but weren't really sure where. Dunno about you, but I'd have gone mad with it. Oh well, there you go. All in all, a decent release, if not top-notch US prog, but don't bother for that minimal Mellotron.
Chelsia Chan (Hong Kong)
Dark Side of Your Mind (1975, 40.41) *½/TTT½

Dark Side of Your Mind
Little Bird
Are You Still Mad at Me?
I Only Wanna Be With You
Our Last Song Together
Don't Do it Baby
Pocketful of Music
I Will Follow Him
Where Are You?
Mr. Monday
I Don't Know How to Love
Kiss Me Goodbye
Current availability:
Mellotron used:
Hong Kong native (the only one on this site) Chan Chau "Chelsia Chan" Ha is probably better known as an actress than as a singer, her musical career having seemingly ended over thirty years ago. Her debut, 1975's Dark Side of Your Mind, is as blandly mainstream as you'd expect, led by her own composition and a selection of covers (and originals?), badly dated even then, including an anodyne take on Dusty Springfield's I Only Wanna Be With You, amongst others.
Someone (Chan herself?) plays 'orchestral replacement' Mellotron strings on most tracks, plus flutes on Where Are You?, although the strings on the opening title track and closer Kiss Me Goodbye are real. While heavy with Mellotron, this album is helium-light with anything of interest to, well, pretty much anyone, really. I can't imagine that this was much of a success outside Chan's home market and certainly isn't going to appeal to an international audience all these years later.
Chance: Risiko (Italy) see: Samples etc.
Steven Curtis Chapman (US)
All Things New (2004, 51.13) */TT

All Things New
Much of You
Only Getting Started
Last Day on Earth
What Now
Please Only You
Coming Attractions
Big Story
Believe Me Now
Angels Wish
I Believe in You
Treasure of Jesus
Current availability:
Chamberlin used:
Steven Curtis Chapman is a contemporary Christian artist, which, I'm afraid to say, automatically puts him fairly low down on my priority list. I've been pleasantly surprised occasionally, but as soon as his thirteenth album, 2004's All Things New starts, my heart sinks as it's clear we have another 'contemporary pop/rock with god lyrics' effort, although by all reports, that's better than his usual Christian country schlock, which makes me wonder just how bad that is. This is truly horrible, only a handful of its twelve tracks being anything other uniformly nasty; Last Day On Earth is particularly creepy on the lyric front.
Patrick Warren's on Chamberlin, for the hundredth-and-something time, with (presumably Chamby) strings on all highlighted tracks, plus flutes on Believe Me Now, not that they improve this dreadful record. I don't think I need to reiterate that you neither want nor need to hear this, do I? Good.
Tracy Chapman (US)
Telling Stories (2000, 42.08) ***/½

Telling Stories
Less Than Strangers
Speak the Word
It's OK
Wedding Song
Unsung Psalm
Nothing Yet
Paper and Ink
Devotion
Only One
First Try
Current availability:
Chamberlin used:
Telling Stories seems to be regarded as Tracy Chapman's best work in years, featuring some particularly personal songwriting, even by her standards (notably Unsung Psalm). I don't really feel competent to pass judgement on the songs, as they're not really to my taste (although First Try struck a bit of a chord with me), but, unlike so many current artists, I can see why people rate her and this seems to be a perfectly good album of its type.
Like so many recent albums, much of the instrumental backing is of the 'retro' type, although drum loops are also in evidence, along with the Hammond. Patrick Warren (that man again!) plays Chamberlin, amongst other keyboards, with faint strings on Wedding Song; other tracks feature sounds that could be produced by it, but probably aren't - not at all uncommon with the Chamberlin.
Char-El (US)
Worlds Without End (1996, recorded 1986-96, 65.07) ****/TTT

Rebirth
Earth Orbit
Aurora
Worlds Without End
Nebula
The Ascending Light
The Miracle
On the Rim
Heart Light
Heaven and Earth (2000, 138.55) ****/TTT

Into the Infinite
Timestream
Release
Higher Realms
The Secret Grotto
Heaven
Forgiveness
Solar Wind
Ecstasy
Lightworlds
Beyond the Farthest Star
Full Circle
Earth (All One Tribe)
Mysterious Valley
Vision in the Skies
Skyspirit
Visitors
Molecular Dance
Southwest Winds
Seasons Will Change
Destiny
The Gift
Santa Fe
On the Wings of the Eagle
Breaking Free
Age of Light
Requiem for Planet 3
Resurrection (2009, 79.48) ***½/TTT

Cry of the Spirit
Ancient Temple
There's a Better Place (for You and Me)
Renewal
Reunion Part 1
Where Dreams Come True
Dawn Over Atlantis
For Distant Friends
The Inner Light
Awakening
Only Love
Myths of Ancient Realms
Pathways of Light
Star Dancing
Astral Flight
The Truth Will Set You Free
Reunion Part 2
Remembering
True Love's Light
Current availability:
Mellotrons used:
Char-El, a.k.a. Charles Thaxton, was an Ohio-based musician who described his music as a prog/new age mix, probably a pretty fair description. 1996's Worlds Without End is actually comprised of recordings made over the preceding decade, reminding me more than anything of a sort of occidental Kitaro. The material is pleasantly melodic, drifting along in an agreeable kind of way without ever really impinging itself on your consciousness, but then I think that's probably the point. There's some sampled Mellotron here and there, but of the four tracks containing the real thing, The Miracle's imposing choirs and Heart Light's flutes are the most impressive.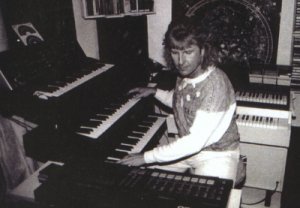 There are an awful lot more samples on Heaven and Earth, but the tracks noted above, according to Charles, are the ones containing genuine Mellotron. Despite the lack of a real machine (Charles sold his a few years ago), the Heaven half of the two-disc set has more very relaxing synth stuff (more Kitaro comparisons here and there), with some excellent Mellotron choir samples on the title track. The Earth half is more prog than new age, Thaxton backed by a full band, although the material that works best (to my ears, anyway) is the slower, more reflective stuff that's nearer the sound of the first disc. The emphasis is on melody throughout, with much piano and impressive guitar work from Larry Clark.
There's a fair bit of real Mellotron to be heard here, often mixed in with samples. Ethereal choir on Visitors, powerful strings and choir on Destiny, overlaid with a searing MiniMoog lead. Age Of Light and Requiem For Planet 3 probably have the best use on the album, though, the choirs on Age Of Light bursting through the mix like the proverbial hot knife through butter. Even the samples sound good, particularly on Santa Fe; it's a shame that there isn't more of the 'real thing', but Thaxton makes good use of the tools available to him.
Charles dug into his archive again in 2009, releasing the results as Resurrection. Unsurprisingly, the bulk of the album's more new age than anything, although a handful of tracks have full band arrangements, this time more in an 'instrumental AOR' vein. Charles uses either his own Mellotron samples or Chamby samples from the Mike Pinder CD-ROM on several tracks, but I'm assured that there are six tracks of genuine Mellotron, with choir on opener Cry Of The Spirit (alongside string samples), choir on There's A Better Place and Myths Of Ancient Realms, strings on Ancient Temple and Remembering and the album's standout Mellotron use, string section, flutes and a trumpet/trombone split on Awakening, with a particularly nice solo part on the latter sound.
p.s. I'm sad to report that Charles died on March 19th, 2019, aged 66. RIP, Charles.
See: Galileo II | Magik Dayze | Voyager
Chariot (US)
I am Ben Hur (1998, 45.50) ***½/T½

Gypsy Son
Black is Black
See You Around
I'd Rather You Leave Me
Runaway Girl
Him or Me
What if I Run Out of My Pills
Running Kind
Hanging Song
Keep on Trying
The Haunting
Dogs Wear Eyeliner
I Want You
Peace of Mind
You're So Fine
Run Out of Numbers
[Some versions add:
[unknown title]
Current availability:
Mellotron used:
Listening to the opening track on Chariot's sole album, 1998's I am Ben Hur, you could be forgiven for thinking you were actually hearing the late-period London-based NWoBHM outfit of the same name, although the powerpop supergroup soon kick into their expected groove. Consisting of The Posies' Ken Stringfellow and Brian Young, along with White Flag's William "Pat Fear" Bartell and The Zeroes' Javier Escovedo, the album mixes originals with covers, including Los Bravos' Black Is Black, The Choir's I'd Rather You Leave Me, Paul Revere & the Raiders' Him Or Me and an unreleased Alex Chilton (Big Star) song (Stringfellow went on to play in the last version of the band), You're So Fine.
Fear plays Mellotron, with brass on Gypsy Son and Black Is Black, muted horns on I Want You and distant strings on Dogs Wear Eyeliner and Peace Of Mind, plus the album's most obvious strings on a bonus track that may or may not be called Temptation, only found on the vinyl version. Generally speaking, I think the album can be considered a successful experiment, many of the band originals deserving a wider audience than this rather low-key release. Worth hearing.
See: The Posies | White Flag
Charlatans (UK)
Us & Us Only (1999, 52.22) ***/TTT½

Forever
Good Witch, Bad Witch 3
Impossible
The Blond Waltz
A House is Not a Home
Senses
My Beautiful Friend
I Don't Care Where You Live
The Blind Stagger
Watching You
Wonderland (2001, 57.31) **/T½

You're So Pretty - We're So Pretty
Judas
Love is the Key
A Man Needs to Be Told
I Just Can't Get Over Losing You
The Bell and the Butterfly
And if I Fall
Wake Up
Is it in You?
Ballad of the Band
Right on
Love to You
Up at the Lake (2004, 45.00) **½/T

Up at the Lake
Feel the Pressure
As I Watch You in Disbelief
Cry Yourself to Sleep
Bona Fide Treasure
High Up Your Tree
Blue for You
I'll Sing a Hymn (You Came to Me)
Loving You is Easy
Try Again Today
Apples and Oranges
Dead Love
Different Days (2017, 45.12) ***/½

Hey Sunrise
Solutions
Different Days
Future Tense
Plastic Machinery
The Forgotten One
Not Forgotten
There Will Be Chances
Over Again
The Same House
Let's Go Together
The Setting Sun
Spinning Out
Current availability:
Us/Wonderland: Universal
Up: Island
Different: BMG
Mellotrons used:
Different: Paul Weller's M4000 (?)
All other titles: band's own M400
Manchester's Charlatans regrouped in 1998 after the death of their organist, Rob Collins, replacing him with Tony Rogers, subsequently branching out on the keyboard front, buying a Wurlitzer and an M400, slapping it all over their next release Us & Us Only. By the way, the band are known as Charlatans UK in the States, due to their ripping-off of the original '60s Charlatans' name. The album starts fantastically, with a grinding Hammond fading in and a driving backbeat, which even Tim Burgess' dodgy vocals can't dispel. Unfortunately, it's the album's best track, although they use Mellotron (mostly strings) on six tracks in total; Senses is particularly good for it, with an unaccompanied part closing the song, while Watching You features a nice flute part, pitchbend included.
Their follow-up, Wonderland, is a distinct backwards step, largely dated baggy-by-numbers, complete with by-now passé drum loops and largely tedious songwriting. Sorry, but I find it difficult to say anything particularly positive about such a lacklustre album; even after several listens, I can't find anything very encouraging to say about it, except: nice vintage keys. Quite a bit of Wurly and, after a slow start, some reasonable Mellotron, with a few string notes on You're So Pretty - We're So Pretty (yeah, yeah, Pistols quote), which start things off with a whimper, but a nice (if brief) flute melody on And If I Fall and a more overt part on Is It In You?, along with strings, brighten things up slightly. The strings on Right On seem to be mixed with generic samples, but the choirs, strings and cellos on closer Love To You finish things off well, at least on the Mellotron front.
2004's Up at the Lake is an improvement on its predecessor, which isn't actually a recommendation; 'not appalling' isn't a synonym for 'good'. It has its moments, but they're rather few and far between, I'm afraid, the title track probably being the best of a ropey bunch. Rogers plays Mellotron on just one obvious track, with strings and flutes on High Up Your Tree, although the strings on closer Dead Love are real. Over a decade later, 2017's Different Days is an improvement over its predecessors, if only because most of its fairly bland material is at least inoffensive. Any better tracks? Maybe Solutions and Plastic Machinery, although Over Again's (deliberate) repetition quickly becomes irritating. Mellotron? To quote an interview with 7Digital regarding album closer Spinning Out, "Tim had been to Paul's studio and recorded some vocals and Paul had played electric piano and some Mellotron..." So there you have it, from the horse's mouth. Presumably Weller's new M4000, for what it's worth. I think we have to assume that the band's own M400 is long gone, though.
See: Tim Burgess
JC Chasez (US)
Schizophrenic (2004, 72.07) **/½

Some Girls (Dance With Women)
She Got Me
100 Ways
Mercy
Build My World
Something Special
If You Were My Girl
Shake it
All Day Long I Dream About Sex
One Night Stand
Come to Me
Dear Goodbye
Everything You Want
Lose Myself
Right Here (By Your Side)
Blowin' Me Up (With Her Love)
Current availability:
Mellotron used:
It seems Joshua Scott "JC" Chasez is the second most famous ex-member of 'N Sync after Justin Timberlake, although, given that I had no idea the latter had anything to do with said boy-band, it's hardly surprising I haven't previously encountered the former. Chasez' sole solo album to date, 2004's Schizophrenic, is well-titled, as it skips between a bewildering variety of pop styles, from the mainstream dance-pop prevalent on its first few tracks through the retro electro of Come To Me (spot that Eurythmics bassline) and the lengthy(ish) All Day Long I Dream About Sex to the Donna Summer non-sample around which One Night Stand is built, not to mention the reggae feel of Everything You Want. I'm not going to pretend for a nanosecond that this album is anything other than an ultra-commercial pop record, but at least it's one that isn't afraid to take the occasional chance, although the likes of Lose Myself and Blowin' Me Up (With Her Love) are enough to make the committed listener gag.
Roger (Joseph) Manning (Jr.) plays keys, including Mellotron, although it isn't exactly evident throughout the bulk of the album. While the strings on Dear Goodbye are clearly keyboard-generated, they sound nothing like a Mellotron, although the brief polyphonic flute part does, so I think we'll have to assume that that's it on the Mellotron front. No, of course you don't need to hear this album, or any part of it, but despite its many failings, it's far less offensive than much of the crap to which I've subjected myself over the last few years.
Scott Chasolen (US) see: Samples etc.
Cheap Trick (US)
One on One (1982, 34.35) ***½/T

I Want You
One on One
If You Want My Love
Oo La La La
Lookin' Out for Number One
She's Tight
Time is Runnin'
Saturday at Midnight
Love's Got a Hold on Me
I Want Be Man
Four Letter Word
Rockford (2006, 41.20) ***½/½

Welcome to the World
Perfect Stranger
If it Takes a Lifetime
Come on Come on Come on
O Claire
This Time You Got it
Give it Away
One More
Every Night and Every Day
Dream the Night Away
All Those Years
Decaf
Current availability:
One: 2-on-1 with Next Position Please: Friday
Rockford: Big3
Mellotrons used:
One: band's own M400
Rockford: one of Damon Fox's M400s? Band's own M400?
Given Rick Nielsen's known fondness for Mellotrons (he played one of the first MkIIs imported into the States in early outfit Fuse and is interviewed in Dianna Dilworth's Mellodrama documentary as a presumed expert), it seems strange that Cheap Trick so rarely used one, although I suppose polysynths were entering the fray by the time the band broke through. Enter my correspondent Brian... It's my fault, really; I've only (previously) heard their first five albums: 1982's One on One is their sixth... But then, who would ever expect to hear a Mellotron on an early '80s release from an established band not previously known for them? That's Cheap Trick for you...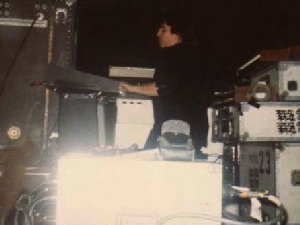 Had I not heard their earlier material, I'd probably be raving about this album's breezy, rock-end-of-pop/rock, although when stood up next to, say, Heaven Tonight or Dream Police, it sounds slightly second-rate. Saying that, material of the quality of ridiculous, glammy stadium-chanter opener I Want You, the title track and power-ballad-with-balls If You Want My Love (note: the first three tracks) do the business very nicely, although lesser efforts such as Oo La La La and the rock'n'roll-ish She's Tight fail to fully maintain the quality set by the openers. Since vocalist Robin Zander is credited with keyboards, I think we have to assume that it's him, not Nielsen, that plays the Mellotron, with strings (choruses) and flutes (verses) all over If You Want My Love and what sounds like choirs behind the real backing vocals on Love's Got A Hold On Me.
As if one elusive Cheap Trick Mellotron album wasn't enough, along comes another... (thanks, once again, to Brian). 2006's Rockford (titled as a paean to their Illinois hometown) does pretty much exactly what you'd expect of a Cheap Trick album, even one written thirty years after the release of their debut: breezy, upbeat, heavy pop/rock with great melodies that invariably neatly sidesteps lesser artists' propensity for cheesiness. Top tracks? Opener (of course) Welcome To The World, Come On Come On Come On, the powerpop of Dream The Night Away and closer Decaf, although there's little here in need of the editor's (virtual) razorblade. I would guess that it's Nielsen playing the 'Strawberry Fields' Mellotron flutes on O Claire (although the track's string part sounds like generic samples); I'd even guess that it's genuine, as Bigelf's Damon Fox plays (non-Mellotronic) keys on Perfect Stranger, so it's very possible they used one of his various machines.
Well I never (well, not often); I finally sourced Cheap Trick's Mellotron use (with help, admittedly). Nielsen has supposedly been using a real M400 on stage on recent tours, apparently to get the right sound for various Beatles covers they've been tackling lately. Pictorial evidence? Not yet... So; do you buy these albums? Do you like Cheap Trick? If not, why not? Yes, you do, but not necessarily for the Mellotron. n.b. To back all of this up, I've had a lovely e-mail from Magic Cristian, the Trick's semi-offstage keyboard player from 1982-85 and 2008-11, who tells me he played Rick's M400 live all through 1982, even providing pictorial evidence (right, visible behind Cristian). I've no idea where you'd find a copy, but there's a King Biscuit recording from the tour, with Cristian playing strings and flutes on If You Want My Love, as per the studio version.
See: Samples etc. | Fuse | Mellodrama
Cheer-Accident (US)
Sever Roots, Tree Dies (1988, 45.16) ***½/T½

Fight for Innocence
Death & Taxes
Uncle Dale
Avoid the Invisible
Severed
Heaven
Black & White
Cutting Off My Arm So I Don't Have to Shake Hands
Tree Dies
What Sequel? (2006, 43.17) ****/½

Keep in Touch
GQ Gone Green
Nefarious Designs, Inc.
You Know You Know
All Over
Surviving a Methopology
Done with the Eternal
Simple Life
Arise and Shine
Crisis Management
Crazy
Current availability:
Sever: Freakshow (Germany)
Sequel: Pravda
Mellotron/Chamberlin used:
Sever: Ted Dominick's M400
Sequel: unknown Chamby
The wonderfully-named Cheer-Accident (monikered for a category of greeting cards, fact fans) are a long-standing institution on the Chicago scene, although I was unaware of their existence before hearing this album. Sever Roots, Tree Dies was their first release and, while the overused term 'avant-garde' is relevant, what I hear is a combination of '70s RIO (Henry Cow et al.), '80s King Crimson and some weirder shit, although I believe the band have grown away from their influences on subsequent albums. Of the band's three members at the time, two (multi-instrumentalists Thymme Jones and Chris Block) play Mellotron, apparently borrowed from one Ted Dominick, whose sleeve credit reads "who else would have a Mellotron?" It isn't actually used until track four, the lengthy Avoid The Invisible, with what sounds like a cello line under one of the more 'normal' parts of the song, before a fantastic discordant strings part takes over. There are more cellos on Severed (the lyrics of which give the album its name), but that appears to be it.
Move forwards some way and 2006's What Sequel? (inspired by 1994's The Why Album, the band's first foray into sort-of vaguely mainstream territory) is the band's second album of, for want of a better phrase, progressive pop, most tracks in the three-something minute territory, as if to deliberately piss off the avant crowd (surely not?!). Top influence? Hard to say, but listening to this triggered a recurrent, nagging feeling that I'd heard the vocal style before. Of course: XTC. Not just the vocals, either; their angular-yet-surprisingly-catchy tunes bear a definite comparison with Andy Partridge's mob. Highlights include the particularly XTC-esque Simple Life and Crazy, with its faint echoes of The Beach Boys, but, with not one single redundant track, this comes highly recommended. Jones plays (real?) Chamberlin, with cellos on Nefarious Designs, Inc., although, as so often, it's exceedingly difficult to tell whether or not it's doing anything else here.
Eagle-Eye Cherry (Sweden/US)
Living in the Present Future (2000, 49.55) ***/T

Been Here Once Before
Are You Still Having Fun
One Good Reason
Promises Made
Burning Up
Together
Long Way Around
Lonely Days (Miles Away)
First to Fall
Miss Fortune
She Didn't Believe
Shades of Grey
Wishing it Was
Current availability:
Chamberlin used:
Eagle-Eye Cherry was actually born in Sweden, but is effectively American, despite spending time in Sweden as an adult. Son of jazz trumpeter Don and brother of Neneh, Eagle-Eye's career kicked off in the late '90s, after the death of his father, releasing Desireless in '97 ('98 in the States). His second release, Living in the Present Future, appeared in 2000, being reissued a year later in the US as Present/Future, with a slightly different tracklisting, an appealing mix of singer-songwriter styled material with a bit of a 'retro' sound with some more current influences, although none of them are that overt. One Good Reason is a beautiful acoustic ballad, while Lonely Days (Miles Away) is probably the album's best upbeat song, though while nothing here actually offends, the album does begin to outstay its welcome around track ten, to be honest.
The inimitable Patrick Warren plays Chamberlin on Promises Made, illustrating why the instrument is sometimes so hard to spot; it's actually almost indistinguishable from real strings, though with a tape-replay edge to it, a trick the Mellotron rarely performs, which is presumably why the Chamby is so popular amongst a small cabal of American producers. Several other tracks feature Hammond, Rhodes and some particularly nice, mellow Moog (presumably a Mini), especially the solo on Lonely Days (Miles Away).
Cherry Five (Italy)
Cherry Five (1975, 43.12) ****/TTT

Country Grave-Yard
The Picture of Dorian Gray
The Swan is a Murderer Part 1
The Swan is a Murderer Part 2
Oliver
My Little Cloud Land
Current availability:
Mellotron used:
Cherry Five were, basically, an early version of the esteemed Goblin, of Dario Argento horror movie theme fame (try saying that quickly); in fact, the sound effects on the album were later re-used on Goblin's Profondo Rosso. Their take on prog was actually slightly dated for 1975, with a psych edge to it in places lost by most of their contemporaries by that time, but don't let that put you off.
Goblin quickly developed their own sound, partly, no doubt, due to most of their albums being soundtracks, but Cherry Five had a distinctly Yes/Gentle Giant flavour to their material, particularly in the vocal harmony (Yes) and organ (Giant) department. The songs actually get better and more contemporary as the album progresses; maybe they recorded their stuff in the order they wrote it? Unlikely, but Cherry Five does have that sort of feel to it. Mellotron on three tracks, all strings, all very nice use, though not enough to be labelled a Mellotron Classic. Anyway, an excellent album that I get the feeling will be a 'grower' the more I play it. Much recommended, especially if you're into '70s Italian prog.
See: Goblin
Vic Chesnutt (US)
Silver Lake (2003, 58.54) ***½/TT

I'm Through
Stay Inside
Band Camp
Girl's Say
2nd Floor
Styrofoam
Zippy Morocco
Sultan, So Mighty
Wren's Nest
Fa-La-La
In My Way, Yes
Current availability:
Chamberlin used:
Vic Chesnutt (1964-2009, NOT 'Chestnut') was an Athens, Georgia-based singer-songwriter, paraplegic since the age of nineteen, whose work loosely fits the 'alt.country' tag, while refusing to be constrained by its usual limitations. 2003's Silver Lake was his ninth album, full of 'story' songs that demand the listener's attention, although the music's good enough to stand up on its own if you're not in the mood for his wry observations. Top tracks include lengthy opener I'm Through, Stay Inside and Zippy Morocco, but it's all good, basically.
Patrick Warren does his Chamberlin thing on several tracks; fortunately, the credits list not only 'Chamberlin', but what the instrument actually does, track-by-track, as several of the sounds aren't that apparent. He plays Chamby pedal steel, doubtless aided by 'that Chamberlin trick' of manipulating the flywheel, difficult on a Mellotron, on Band Camp, although it's almost impossible to pick it out from the other guitar work on the track. Zippy Morocco features a far more obvious string part, while Sultan, So Mighty is big on woodwind, with oboe, clarinet and bassoon parts that could quite easily be 'real', co-existing with Warren's Wurlitzer, with regular (and nicely full-on) strings on Wren's Nest and string and inaudible 'tibia' parts on Fa-La-La finishing the album's tape-replay parts off in style.
---