---
The Knack (US)
Get the Knack (1979, 41.30) ***/½

Let Me Out
Your Number or Your Name
Oh Tara
(She's So) Selfish
Maybe Tonight
Good Girls Don't
My Sharona
Heartbeat
Siamese Twins (the Monkey and Me)
Lucinda
That's What the Little Girls Do
Frustrated
Normal as the Next Guy (2001, 45.39) ***½/½

Les Girls
Disillusion Town
Girl I Never Lied to You
Normal as the Next Guy
Spiritual Pursuit
It's Not Me
One Day at a Time
Seven Days of Heaven
Dance of Romance
Reason to Live
World of My Own
Man on the Beach
Current availability:
Get: Capitol
Normal: Image Entertainment
Mellotrons used:
The Knack will be known for evermore as the skinny-tied 'new wave' band who wrote My Sharona, although listening to them thirty years on, what is immediately apparent is how typically 'powerpop' they are, never mind 'noo bloody wave'. Get the Knack is a decent enough debut in the field, although it would never have gone platinum at all, never mind in two months, without That Song buoying it up. Mind you, there's nothing here that offends, just not enough that excites, although opener Let Me Out's not bad, ditto Oh Tara. Lead guitarist Berton Averre adds Mellotron flutes to Maybe Tonight, though not to any great effect, to be honest.
Twenty-odd years on and three-quarters of the original band (who never actually split up anyway) release 2001's Normal as the Next Guy and it's immediately apparent that the band's writing has improved in the interim. Fewer crowd-pleasers and more classy, classic powerpop like Disillusion Town or It's Not Me, while the title track is really rather witty and The Man On The Beach has a suitably (and clearly deliberately) Surf's Up feel. Averre and mainman Doug Fieger play the Mellotron, with one tiny burst of stabbed brass on Disillusion Town and a nice flute part opening Reason To Live, repeated at the end of the track. Incidentally, can anyone tell me why The Knack manage to sport two of the ugliest sleeve designs on this site, smack next to each other? I mean, would you buy a used powerpop album from these guys?
Knifeworld (UK)
Buried Alone: Tales of Crushing Defeat (2009, 49.26) ****/TT

Singled Out for Battery
The Wretched Fathoms
Corpses Feuding Underground
Severed of Horsehoof
No More Dying
An Arrival
Unwreckaged
Pissed Up on Brakefluid
The Money Shot
Torch
Me to the Future of You
Current availability:
Mellotron used:
It can be difficult to review something when you've known the band/artist for years, although, I'm happy to say, I don't have any qualms when it comes to Knifeworld. I first met Kavus Torabi in 1994, becoming his new band, The Monsoon Bassoon's driver soon after, seeing them over forty times (and I still miss 'em). After their eventual split, Kavus worked his way through two related bands in fairly quick succession, alongside joining Cardiacs in 2003 and later, Guapo and Gong. His Knifeworld project has been coalescing for years, recording taking place as and when, Buried Alone: Tales of Crushing Defeat finally appearing in summer 2009. For those who've heard his previous bands, their sound won't be too unfamiliar; heavy echoes of The Bassoon appear on several tracks, not least due to the presence of their clarinettist Sarah Measures on several tracks, angular woodwind lines a speciality (OK, I know Kavus writes them). It's difficult to pinpoint its best material, as it's all good, but closer Me To The Future Of You is an eight-minute psych epic to (almost) rival The Bassoon's legendary In The Iceman's Back Garden.
In late 2003, Kavus rang and asked me if he could record my Mellotron, which tells you how long this project's been in gestation, given that most of the basic tracking must have been completed by that point... He recorded strings, flute and choir parts, with distant strings on No More Dying, more upfront ones and flutes, plus choir swells on Unwreckaged and a beautifully full-on choir part on The Money Shot. There may be other bits scattered around (choirs on The Wretched Fathoms?), but it's hard to tell in the mix. Torabi's singleminded psychedelic vision continues apace, with extra added Mellotron. Buried Alone is an excellent little album with obvious 'growing power', well worth the proverbial flutter for anyone into challenging yet tuneful music.
Knight Area (Netherlands) see: Samples etc.
Chris Knox (New Zealand)
Croaker (1990, 44.22) ***/0

Dunno Much About Life - But I Know How to Breathe
Liberal Backlash Angst (the Excuse)
Lapse
Light
Citric Acid
Growth Spurt
A Song of the Only Child
Meat
Once When Alone
Plenty
H.P.5
Coloured
Song of the Good Wife
Panic!
Polyfoto, Duck Shaped Pain & "Gum" (1993, 69.05) ***/T

Medley
The Split
Inside Story
Replace Me
(& to Think it All Started
With) Skim Milk
Glide
Under the Influence
Not a Victim
Osmosis
Get a Life (II)
Heart Failure
Letter From L.A.
God Sez "No!" to Cosmetic Surgery
Blameless
The Outer Skin
Intensive Care
Honey Stung Paws
Mum's the Word
View From the Bridge
Spaced
Self Pity's Just a Name for Feeling Real
Current availability:
Both titles: Flying Nun (NZ)
Mellotrons used:
Chris Knox is half of famed Kiwi duo Tall Dwarfs, whose unique take on the lo-fi aesthetic is revered amongst fans of the murkier corners of the psych spectrum. Knox's third solo release, 1990's Croaker, takes lo-fi to an extreme, although it's important to remember that this isn't a set of crummy home demos, but his intended final product, cheap keyboards, fuzz guitar and all. Highlights include opener Dunno Much About Life - But I Know How To Breathe, the punky Growth Spurt and Song Of The Good Wife, but you have to have a high tolerance for murk to get through this. Knox is credited with Mellotron on H.P.5, although there is precisely nothing audible on the track.
1993's Polyfoto, Duck Shaped Pain & "Gum", being (to my knowledge) his fourth solo outing. Its decidedly odd title refers to the album's three-part origin: opener Medley falls under the Polyfoto banner (a mid-20th Century method of capturing multiple poses on one photographic plate), tracks 2-16 are Duck Shaped Pain - the L.P. and the remainder are credited as Gum - the Bonus E.P. Does this differ in any meaningful way from the Tall Dwarfs unique brand of lo-fi Kiwi oddness? Not especially, no, although the lack of any input from Alec Bathgate is presumably apparent to long-term fans. Highlights? Intensive Care is an obvious stand-out, with its typically Antipodean sicko humour, although most of the album's contents should probably be regarded as being 'fans only'.
Knox uses his Mellotron on two tracks, with a distant, reverbed cello line on Inside Story and more obvious flutes on (& To Think It All Started With) Skim Milk, but, as with everything else with which he's associated, it's never over-used, even when you think it should be. Is this album for the casual listener? A resounding 'no'. Is it good at what it does and essential for Flying Nun label fans in general and Knox/Tall Dwarfs fans in particular? A resounding 'yes!' Tragically, Knox suffered a debilitating stroke in 2009, although it appears that he is slowly recovering.
See: Tall Dwarfs
Koldbrann (Norway)
Vertigo (2013, 48.11) ***/½

Introvertigo
Totalt Sjelelig Bankerott
Hjertets Holodomor
Drammen
Stolichnaya Smert
Terminal Transnistrii
Phantom Kosmonaut
Goat Lodge
I Eklipsens Skimmer
Sans Soleil
Inertia Corridors
Current availability:
Season of Mist Underground Activists
Mellotron used:
Lars Fredrik Frøislie's M400(s)
Koldbrann continue black metal's grand tradition of extreme silliness, starting with their name, which translates as Gangrene. Nice. The most irritating thing about this situation is that it's the one metal sub-genre (to my knowledge) that still wishes to progress and/or at least do something more interesting than press the 'repeat' button, which is more than I can say for the death/speed/thrash/power/doom/trad/prog/etc. varieties. So WHY bother with corpsepaint, death grunts and other attempts to scare impressionable teenagers? 2013's Vertigo might actually be quite decent without its more ridiculous elements. Frustrating.
Wobbler's Lars Fredrik Frøislie plays a credited variety of vintage 'boards on three tracks, including one (or more) of his M400s, with cellos (strangely) on Phantom Kosmonaut and an occasional high string line and chordal choirs on closer Inertia Corridors, although I can't hear his contributions to opener Introvertigo. I'd have difficulty recommending this, for the reasons outlined above, but I'm sure the genre has a lot worse to offer. Don't bother for the Mellotron, though.
The Koobas (UK)
7" ( 1968) ***½/TT

The First Cut is the Deepest
Walking Out
Koobas (1969, 37.32) ***½/TT½

Royston Rose
Where Are the Friends?
Constantly Changing
Here's a Day
Fade Forever
Barricades
A Little Piece of My Heart
Gold Leaf Tree
Mr. Claire
Circus
Current availability:
First: BGO release of album
Koobas: BGO (UK)
Mellotrons used:
The Koobas (who also released one single as The Kubas) were an original Merseybeat outfit, actually managed by Brian Epstein, who struggled on until the end of the '60s, mutating into a psych band en route. The First Cut Is The Deepest was their last single, a psyched-up version of the Cat Stevens song (from his New Masters album of the previous year). Starting with a heavily-tremeloed guitar, the instantly-recognisable melody is sung almost solo, before the full-on psychisms of the chorus, Mellotron strings to the fore.
Their sole album, Koobas, is a late-period psych effort, quite possibly released after the band's dissolution; while not essential, it's worth hearing for aficionados of the era, with plenty of echo effects, spooky spoken passages etc. Oh, and some decent songs. On the Mellotron front, Where Are the Friends? starts with some MkII Mellotron 'accompaniment' tapes, probably cello/violin moving chords, with some twinkly piano (presumably real), while Fade Forever has a groovy flute part and brass on Barricades. Strings on Mr. Claire and brass on Circus finish things off nicely, making for quite a Mellotron album, at the end of the day. After the band's split, bassist Keith Ellis went on to an early version of Van der Graaf Generator, although the nearest any of the others got to fame was drummer Tony O'Riley joining Bakerloo (?!). Incidentally, the BGO issue of their album collates all their Mellotron tracks.
The Kooks (UK)
Konk (2008, 43.55/68.08) **½/T (T½)

See the Sun
Always Where I Need to Be
Mr. Maker
Do You Wanna
Gap
Love it All
Stormy Weather
Sway
Shine on
Down to the Market
One Last Time
Tick of Time
All Over Town
[Rak adds:
Watching the Ships Roll in
Eaten By Your Lover
No Longer
Fa La La La La
Nothing Ever Changes
By My Side
Hatful of Love
See the Sun (alternate)
Brooklyn (demo)]
Current availability:
Mellotron used:
If The Kooks are UK indie's latest brightest hope, I think we should probably all give up now. I can see that some of their songs (Do You Wanna, the better-than-average Down To The Market) will make their teeny fans leap up and down in unison at gigs, but in the cold light of day, they're a bit... thin. They desperately want to be The Kinks, not only choosing a similar name, but going as far as to record at Ray Davies' studio and naming their album after it, but they're onto a total loser if they think they have even an echo of Ray and Dave's talent, I'm afraid. Their second album, Konk, is a largely flaccid collection of second-rate, derivative indie, from a band who've made the fatal mistake of capturing the zeitgeist, which usually means that in a couple of years' time, they'll be yesterday's news. I could be wrong, of course - we shall see... Incidentally, for some reason probably unrelated to artistry, Konk is also available in a double-disc version, Konk/Rak (spot the knowing reference to the '70s glam-rock label), as if twelve tracks weren't quite enough, thank you very much.
Although they've refused permission for Streetly to use their name in their advertising, The Kooks are early proud owners of one of the new M4000 Mellotrons, which would make you think they'd splash it all over their album, non? Non, it seems; their guitar-based pop/rock doesn't leave much room for Mellotrons, although anyone with a bit of imagination shouldn't have too much trouble squeezing it in here and there. As for owning a machine with twenty-four sounds on board... We can only assume they went for one because a) it's brand new and b) they can afford it. Wonder who actually owns it, though? Anyway, I think the screechy noises in Gap are probably guitar, but there's an indeterminate sound (distant church organ?) on Sway and Shine On opens with a nice flute part, but that's it for the regular release. The mercifully considerably shorter Rak adds flutes (possibly the new 'Ian McDonald' version?) on opener Watching The Ships Roll In, adding a half T to the album's total rating.
Kool & the Gang (US)
Light of Worlds (1974, 36.02) ***/T½

Street Corner Symphony
Fruitman
Rhyme-Tyme People
Light of Worlds
Whiting H & G
You Don't Have to Change
Higher Plane
Summer Madness
Here After
Current availability:
Mellotron used:
Light of Worlds found Kool & the Gang at the cusp of their ultra-commercial period, as they moved away from the brash funk of their earlier albums. Its mixture of funk (Street Corner Symphony, Rhyme-Tyme People), smooth(-ish) soul (You Don't Have To Change) and musicianly instrumentals (Whiting H & G, Summer Madness) make this a far more palatable listening experience than I'd been expecting. Regular readers of this site will know I'm no great fan of this area of music, but this is so far ahead of, say, The Stylistics' tepid soul slush that they can't even be compared.
Ronald "Khalis Bayyan" Bell plays Mellotron strings on several tracks, using the same technique throughout, that being to volume-pedal chords in softly, attempting to emulate the real strings that were presumably out of the band's financial grasp at the time. No one song is Mellotronically stronger than any other, so this really isn't an album you'll want to hear for that reason. Should you have an interest in raunchy '70s funk, however, I believe this is the last halfway decent Kool & the Gang release, actually having one very good track in Summer Madness, featuring some lovely synth work. Buy according to taste.
Al Kooper (US)
New York City (You're a Woman) (1971, 43.17) ***½/TT½

New York City (You're a Woman)
John the Baptist (Holy John)
Can You Hear it Now (500 Miles)
The Ballad of the Hard Rock Kid
Going Quietly Mad
Medley:
Oo Wee Baby, I Love You
Love is a Man's Best Friend
Back on My Feet
Come Down in Time
Dearest Darling
Nightmare #5
The Warning (Someone's on the Cross Again)
A Possible Projection of the Future/Childhood's End (1972, 38.45) ***/TTT½

A Possible Projection of the Future
The Man in Me
Fly on
Please Tell Me Why
The Monkey Time
Let Your Love Shine
Swept for You Baby
Bended Knees (Please Don't Leave Me Now)
Love Trap
Childhood's End
Act Like Nothing's Wrong (1976, 38.41) **½/T

Is We on the Downbeat?
This Diamond Ring
She Don't Ever Lose Her Groove
I Forgot to Be Your Lover
Missing You
Out of Left Field
(Please Not) One More Time
In My Own Sweet Way
Turn My Head Towards Home
A Visit to the Rainbow Bar & Grill
Hollywood Vampire
Current availability:
NYC/Possible: CBS
Act: Acadia
Mellotrons used:
New: Spring's MkII
Possible/Act: unknown
By the time New York City (You're a Woman) came out, Al Kooper had already served many years as 'sideman to the stars', particularly with regard to Bob Dylan, with whom he played in the mid-'60s. It was Kooper's fourth solo album in as many years, displaying a pot-pourri of influences, with blues and soul to the fore, all squeezed into a vaguely singer-songwriter direction; maybe, just maybe Billy Joel may have sounded like this had he avoided the temptation to turn on the schmaltz quite so often. Kooper sings and plays guitar and keys, bringing in the cream of the session scene of the day to back him, the end result sounding incredibly professional; it's really nice to hear talented musicians playing in real time without any electronic tweaking (remember that?), even if the music isn't really to my personal taste.
Anyway; to the Mellotron: Kooper used UK outfit Spring's MkII, aided and abetted by Gus Dudgeon (who, sadly, died summer 2002). The title track features what turns out to be fairly typical Mellotron use on the album; strings, quite high in the mix, not exactly apeing a real string section, but giving the impression of one to the unenlightened. In fact, the only track to do anything majorly different is Come Down In Time, which has more flute than strings. Nightmare #5, while having the usual strings (and a little flute) is, to my ears, the best song on the album, with a haunting lyric concerning a hitchhiker who gets more than he bargained for.
The following year's rather portentously-titled A Possible Projection of the Future/Childhood's End carries on in a similar vein, meaning that if you like Kooper's melting-pot of influences, you'll probably like it, but conversely... He must've been using an M400 by this time, as he pulls off the difficult trick of using the cellos extensively and actually making them audible (it's all in the mix, obviously). He gets flutes and cellos in all over the place and, while some of the album's strings are definitely real, some (Please Tell Me Why, Smokey Robinson's Swept For You Baby) sound more Mellotronlike, the most obvious part being on closer Childhood's End. This album's actually a bit of a Mellotron monster on the quiet, most tracks featuring it very audibly, with loads of polyphonic cello parts that don't really sound like anyone else. I'm not so sure about the music, but the Mellotron work is superb.
Kooper quotes Act Like Nothing's Wrong as one of his favourites, but to my ears it's a rather bland, heavily soul-and-blues-influenced effort, although that's obviously the effect the man was going for at the time. On the Mellotron front, there's some strings on the waltz-time ballad Out Of Left Field, played by Kooper himself, but this doesn't even come close to New York City... for Mellotronness. Oh and if the cover scan is a little indistinct, this is the album with Kooper's head airbrushed onto a woman's body, the rear sleeve being the reverse.
See: Lynyrd Skynyrd
Kim Koschka (Japan) see: Samples etc.
Samae Koskinen (Finland) see: Samples etc.
Kosmos Express (US) see: Samples etc.
Kossoff, Kirke, Tetsu & Rabbit (UK)
Kossoff, Kirke, Tetsu & Rabbit (1971, 43.45) ***/T

Blue Grass
Sammy's Alright
Anna
Just for the Box
Hold on
Fool's Life
Yellow House
Dying Fire
I'm on the Run
Colours
Current availability:
Mellotron used:
After Free's initial 1971 split, Paul Kossoff and Simon Kirke teamed up with Japanese bassist Tetsu Yamauchi and (already) keyboard gun-for-hire John "Rabbit" Bundrick in the snappily-named Kossoff, Kirke, Tetsu & Rabbit, whose sole self-titled album sounds a lot like, well, Free, to be honest. Free without Paul Rodgers, mind, which isn't the same thing at all, although the mix of musical styles is highly reminiscent of their parent outfit, shifting from hard rock (Blue Grass) through countryish blues (Anna, Yellow House) to laid-back blues-rock (most of the rest). I don't actually know who sings lead - both Bundrick and Kirke are credited with vocals - though I suspect the former; whoever it is, they do a decent enough job, while never being in any danger of impinging on Rodgers' wholly-deserved reputation.
Rabbit's Mellotron work is somewhat thin on the ground here, with a few string chords on Blue Grass and a slightly fuller string arrangement on Dying Fire; given the time this was recorded, he may've used an early M400 (released the previous year, I believe), although it's possible it's a studio MKII. So; Kossoff, Kirke, Tetsu & Rabbit is a rather ordinary album, to be honest, sounding even more dated than Free do these days, with little Mellotronic input, although it has its moments. Free were soon to reform, although bassist Andy Fraser left after recording Free at Last, paving the way for both Yamauchi and Bundrick to join the band for their swansong, Heartbreaker. Rodgers and Kirke, of course, went on to form the immensely successful Bad Company, while Kossoff declined into heroin addiction, finally tragically dying at the age of twenty-five in 1976.
See: Free
Esa Kotilainen (Finland)
Aamu Joella - Morning By the River (1995, 57.07) ***½/T

Kuusaa
Aamu Joella
Terveisiä Astorille
Niskalassa Niksahti
Naavan Ikävä
Menninkäisen Itu
Juhannus Säkälässä
Yllätys Kymijoella
Metsähanhi
Sateen Jälkeen
Kuuyö
Lämmin Kesävalssi
Naapurin Likan Häävalssi
Jonglööri
Patruunan Marssi Ja Polska
Kiessit
Sininen Metsä
Aamun Nousu
Järvi Fantasia
Turpeisen Baari (2003, 48.44) ***½/TTT½

Kesäinen Suvivalssi
Kesäiset Naiset
Ylempi Lentovalssi
Veikeä Ihastus
Hellä Koraali
Posetiivinen Uni
Viola-Valssi (versio 2)
Viola-Valssi (versio 1 - Wanhat Kurtut)
Turpeisen Baarin Jenkka
Poikamiehet Oy
Rannalla
Suvi
Poliisit Kutee (versio 1)
Poliisit Kutee (versio 2)
Kaipaus
Takaa-Ajo
Tuli
Latexi
Loma
Napatanssi
Hitshok
Viola, Naiset ja Miehet
Kylmis
Hiippaileva Psykedelikko
Rantahiippailija
Turquoise Planet (2009, 46.04) ***/T

Lasitunturi
Jääpuikko
Turkoosi Planeetta
Sumuinen Uni
Korpi
Ruska
Tundra
-51°C (2010, 37.55) ***/T½

Syksy
Golggotmánnu
Talvi -51°C
Hongankolistaja
Kutu (ARP 2600 Ja Sammakot)
Perhosniitty (2013, 56.55) ***/½

Metsäretki
Perhosniitty
Maitoreissu
Yöllinen Ratsastus
Vuono Sininen
Fossiili
Napatanssija
Pihakeinu
Syksyn Taikaa
Vieno Tuuli
Equus I - Dysartin Teema
Equus II - Alanin Teema
Equus III - Yöllinen Ratsastus
Current availability:
Aamu: F Records (Finland)
Turpeisen: Musapaja Oy
Turquoise/-51°C/Perhosniitty: Presence
Mellotrons used: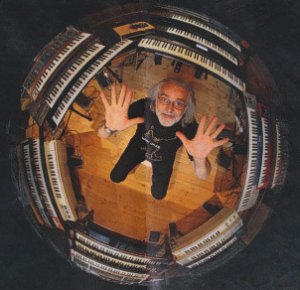 To my knowledge, Esa Kotilainen is one of a tiny handful of Mellotron owner/players in Finland (two M400s, by the looks of the pic to the right); quite a heavy responsibility, you might think, especially given that he's played on a good few dodgy albums in his time. 1995's Aamu Joella - Morning By the River, though, is far from dodgy, although it is a little difficult to categorise. Most of the album falls into the 'Scandinavian folk' bracket, although all tracks are written by Kotilainen himself, presumably 'in the style of'. Much accordion work abounds (Kotilainen's first musical love, apparently), but then Menninkäisen Itu kicks in, giving its folk themes a rock, nay, almost metal treatment, before sliding smoothly back to the accordion on the next track. The album's entirely instrumental and frequently drum-free; if it wasn't for that almost ever-present accordion (not my favourite instrument), this would be gorgeous. Am I missing the point? Esa's Mellotron is on several tracks here, though in a distinctly supporting role, it has to be said. The title track, Sateen Jälkeen and Jonglööri have almost non-existent flutes, although the ones on Kuuyö and Lämmin Kesävalssi can be heard rather more clearly.
Eight years on, 2003's Turpeisen Baari, comprising twenty-five musical vignettes, maintains Kotilainen's instrumental folk roots, accordion once again to the fore, although several tracks (mostly the ones that break the two-minute barrier) buck the trend. Highlights? Ylempi Lentovalssi, Takaa-Ajo's full-on folk metal, complete with wild Hammond solo and closer Rantahiippailija. The album's an absolute Mellotron monster, with (deep breath) flute and string parts on opener Kesäinen Suvivalssi and Poliisit Kutee (Versio 2), choirs on Kesäiset Naiset, flutes on Ylempi Lentovalssi, Veikeä Ihastus, Hellä Koraali, Suvi, Poliisit Kutee (Versio 1) and Kaipaus, choirs, strings and flutes on Viola, Naiset Ja Miehet, pitchbent choirs on Hiippaileva Psykedelikko and volume-pedalled ones on Rantahiippailija.
2009's Turquoise Planet sounds like (and possibly is) incidental music for TV, mostly pseudo-orchestral, possibly at its best on closer Tundra. One obvious Mellotron track, with flutes on Sumuinen Uni, although I wouldn't swear it can't be heard elsewhere, too. The following year's -51°C is a mixed bag, opener Syksy combining Kotilainen's folk and electronica impulses, while Hongankolistaja is ten minutes of semi-ambient synths and percussive bongs and Kutu (ARP 2600 Ja Sammakot) is what it says on the tin, an ARP 2600 mimicking a cluster of frogs. Two Mellotron tracks, with an upfront flute line on Syksy and flutes and strings on Talvi -51°C. 2013's Perhosniitty occasionally applies Kotilainen's folk instincts to a form of accordion-driven progressive rock, although most tracks have that 'trad' feel to them, at their best on the title track, Fossiili and Napatanssija. Very little Mellotron, with background flutes on the title track and unusually high-speed flutes on Vuono Sininen, neither to any great effect. 2015's Ulappa might feature a bit of background Mellotron - the jury's out - but 2018's Jäänalainen II is definitely Mellotron-free.
See: Balls | Crazy World | Olli Haavisto | Hector | Johanna Iivanainen | Pave Maijanen | Neumann | Jukka Perko & Mikko Kuustonen | Rock'n'Roll Band | Sarcofagus | Arto Tamminen | Threshold | To/Die/For | Wigwam
Leo Kottke (US)
My Father's Face (1989, 39.07) ***½/T

Times Twelve
Everybody Lies
B.J.
Why Can't You Fix My Car
Theme From 'The Rick and Bob Report'
My Aunt Francis
William Powell
Back in Buffalo
Mona Ray
Jack Gets Up
Doorbell
Current availability:
Private Music (out of print?)
Chamberlin used:
T Bone Burnett's machine?
Leo Kottke's one of those names that, if you know anything much about contemporary music, you'll have encountered at one time or another, but, like myself, may never have heard. Well, he's a top-notch acoustic guitarist, working in his own blues/jazz/folk crossover field, perhaps comparable to the UK's Gordon Giltrap in his eclecticism. 1989's My Father's Face is his fifteenth studio album, a wonderfully non-'80s sounding record, no doubt largely due to producer T Bone Burnett's unfashionably early retro tastes, at its best on some of its instrumental material (Kottke is notoriously - and deservedly - hard on his singing), including B.J., Theme From 'The Rick And Bob Report', My Aunt Francis and Mona Ray.
Burnett plays uncredited Chamberlin, with a ghostly flute part on Theme From 'The Rick And Bob Report'; good to hear at any time, but during tape-replay instruments' lowest, late '80s ebb, it's almost a miracle. Decent album, then, although probably not worth it for that lone Chamby track.
See: T Bone Burnett
Richie Kotzen (US)
Mother Head's Family Reunion (1994, 47.32) ***/½

Socialite
Mother Head's Family Reunion
Where Did Our Love Go
Natural Thing
A Love Divine
Soul to Soul
Reach Out I'll Be There
Testify
Used
A Woman and a Man
Livin' Easy
Cover Me
Current availability:
Mellotron used:
Although Richie Kotzen played with the dismal Poison in the early '90s, it wouldn't be fair to hold it against him - it was clearly a job and we've all done jobs we didn't like, although I've no idea whether he liked it or not. Mind you, he later played in Mr Big as well, so maybe his taste is rather suspect... I think Mother Head's Family Reunion is Kotzen's fourth solo album, coming straight after his spell in Poison, which apparently ended when he shagged the drummer's ex (ex, note) and found his luggage on the runway with the rest of the band on the flight. Were things really that casual in US airports back then? Anyway, it's a reasonable slice of soulful '70s-influenced hard rock, nothing like the glam rubbish with which he'd just been involved, thankfully. I'm not going to pretend I'm blown away by this stuff, but it's perfectly good at what it does and doesn't offend me.
Good keyboard work across the board, with some nice Wurly and Clav, complementing Kotzen's incendiary guitar nicely, although only one Mellotron track, with faint strings from Richie Zito on Used.
See: Samples etc.
---