---
Janie White & Son-Light (US)
Rise Again (197?, 31.13) *½/TTT

Give Them All
How Great Thou Art
Born Again
Rise Again
Mary Had a Little Lamb
Brand New Life
Home Where I Belong
Jesus Died for Me
Let Your Light Shine
You're Something Special
Current availability:
Mellotron used:
Janie White & Son-Light's undated Rise Again is a typical mid-'70s Christian MOR effort ('thanks', once again, to Mark Medley for this), its contents covering the entire emotional spectrum from A to B. The unbelievably mawkish Mary Had A Little Lamb probably wins the album's uncoveted 'biggest steaming turd' award, against exceedingly stiff competition, notably closer You're Something Special's 'cute' (i.e. tuneless and vomit-inducing) kids' chorus, the Whites' son's solo spot actually making me physically wince. Are there any upsides to this stinking piece of crap? White's contralto voice has more than a little of the Karen Carpenters about it, for better or worse; in fairness (and unlike many of her Christian contemporaries), she can actually sing, shame she chose to waste her talents on something this crass.
Tom Smith plays 'string Melatron' on several tracks, in full-blown 'real strings replacement' mode, notably the high-speed part on opener Give Them All and the upfront ones on the smooth Christian jazz (I shit you not) of Home Where I Belong, the more sedate parts on the other highlighted tracks being the best thing about this sorry effort, knocking Ms White's genuinely excellent voice into second place. Be very thankful you're unlikely to run into a copy of this horror any time soon.
Kenny White (US)
Symphony in 16 Bars (2005, 46.42) ***½/T

Until You Learn
Shoot the Moon
Anabel
Might as Well Leave
Different Today
5 Girls
Letter From X-Ray
Heart of the City
Workin' on a Way
Closer
Symphony in 16 Bars
Current availability:
Chamberlin used:
Kenny White worked as a commercial jingle writer before trying his hand at the piano-driven singer-songwriter game, the end result, on his second outing, 2005's wittily-titled Symphony in 16 Bars, being a melody-rich, vaguely jazzy record that wouldn't have sounded out of place in 1975. That's a compliment, incidentally. Top tracks? I agree with whichever online reviewer lauded the wordy (in a good way) 5 Girls and the closing title track.
Paul Bryan is credited with Chamberlin on two tracks, with nothing obvious on Letter From X-Ray and an arranged strings part on Closer, although a chordal flute part also turns up on Might As Well Leave. Is Letter From X-Ray a mis-credit? It wouldn't be the first time...
Lenny White (US)
Venusian Summer (1975, 38.56) ***½/½

Chicken-Fried Steak
Away Go Troubles Down the Drain
The Venusian Summer Suite
Pt. 1: Sirènes
Pt. 2: Venusian Summer
Prelude to Rainbow Delta
Mating Drive
Prince of the Sea
Current availability:
Mellotron used:
Lenny White shot to prominence at the tender age of twenty, in 1969, after drumming on Miles Davis' seminal Bitches Brew, going on to play with Return to Forever throughout the '70s. It's therefore hardly surprising that his first solo album, 1975's Venusian Summer, is a through-and-through fusion record, although it has its quieter moments, not least the ominous first part of The Venusian Summer Suite, Sirènes. The playing on the rest of the album is probably most accurately described as 'fiery', notably on Mating Drive, featuring some of the most ridiculously athletic bass playing this side of a, well, fusion bassists convention, I suppose, from the outstanding Doug Rauch.
Loads of White's mates play on the album, including no fewer than four different MiniMoog players, plus Onaje Allan Gumbs on Mellotron, amongst other things. Mind you, if you can spot where it might be, you're doing better than me; it might just be providing either strings or flutes in the deep background on Mating Drive, but not so's you'd really notice. Overall then, a superior fusion album, avoiding some of the genre's clichés whilst accentuating others, but in a good way. Maybe you have to be American to play this kind of stuff this well? Don't know, but fusion fans need this album a great deal more than Mellotron ones.
Terry White (US)
Our Separate Ways (2006, 42.34) ***½/½

My Own Head
Live in a Box
Night Keeps Falling
St. Patrick
And So Are You (Mama's Gone)
Come and See
The Ballad of Polly and Neil
Why'd You Give Up on Me
Choo-Choo Train
My Doctor Told Me Blues
Current availability:
Mellotron used:
According to his CD Baby blurb, Terry White recorded Our Separate Ways over a period of time, using two different bands, due to availability, despite which, the end result sounds remarkably cohesive. The bulk of it's not so much country as American folk, although it strays into country territory here and there, highlights including Live In A Box, both musically and lyrically, Night Keeps Falling, St. Patrick and amusing closer My Doctor Told Me Blues.
Pat Brennan plays a tragically brief Mellotron string part on Night Keeps Falling, sounding nicely real, for a change, despite this being such a budget release. So; nothing outstanding, nothing that original, but a really nice set of actual songs, played and sung with a bit of genuine feeling. And a few seconds of Mellotron.
White Birch (Norway) see: Samples etc.
White Denim (US)
Corsicana Lemonade (2013, 37.50) ***/T

At Night in Dreams
Corsicana Lemonade
Limited By Stature
New Blue Feeling
Come Back
Distant Relative Salute
Let it Feel Good (My Eagles)
Pretty Green
Cheer Up/Blues Ending
A Place to Start
Current availability:
Mellotron used:
Texan experimentalists (kind of) White Denim's sixth album in as many years, Corsicana Lemonade, is, I'm led to believe, their most accessible release yet, their math-rock leavened by '70s mainstream rock, typified by the almost-southern rock of New Blue Feeling and Come Back.
Matt Oliver and Wilco's Jeff Tweedy play (Wilco's MkVII?) Mellotron flutes, the former with a polyphonic part on New Blue Feeling and the latter with barely-audible ones on Let It Feel Good (My Eagles). I'm not going to tell you this is the most exciting thing I've heard all year (or possibly even all day), but it's perfectly acceptable, although too restrained for its own good on the Mellotron front.
White Flag (US)
Eternally Undone (1999, 46.52) ***½/½

On the Way Down
Don't Bring Me
This Time in Reverse
Marshwiggle
Empty Heaven
Daddy's Girl
A Moment of Silence
Constellations
Launch Window
Counterclockwise
Faith Void
You Can't Stay Here
Danger Island (Nano's Song)
Novacaine
Strongarm Scratch
R.U. Reciving Me?
Levitate the Listener [split w/Versus You] (2011, 20.34) ***/½

White Flag contribute:
Forever Changes
What Can I Do in a Day?
Dido
Architects
Magically Delicious
A Cellar Full of Neu!'s
Please Stand By
The Witch

Extraordinary Renditions [split w/Gods of Gamble] (2011, 19.18) ***/½

White Flag contribute:
2B...Or Not to Be (the Swindle)
Instant Breakfast
Ilyaa Lloig
Shattered Badge
Let's Live for Today
Within You, Without You, Too
Fhtagn Lw'nafh Ilyaa N'ghft (Extra Sensory Deception)
Current availability:
Eternally: Empty
Levitate: Long Beach
Extraordinary: Stampace
Mellotrons used:
White Flag formed in the early '80s as a reaction against the era's none-more-serious hardcore scene, right down to their Black Flag-satirising name and nom de plumes (noms de plume?), including Mike Mess (sending up Social Distortion's Mike Ness), Jello B. Afro (Dead Kennedys' Jello Biafra) and Pat Fear (The Germs/Nirvana's Pat Smear). Despite the satire, they were apparently friends of many hardcore scenesters, confusing dimwitted fans.
1999's Eternally Undone (often listed as appearing in 2001) appears to've been their first release in a decade, more powerpop than punk, hardly surprising when you note that songwriters include Jellyfish's Roger Manning and The Posies' Ken Stringfellow. Highlights? It's all good, but opener On The Way Down, Empty Heaven, A Moment Of Silence and the punky Counterclockwise (replaced on some versions by Ask Anybody) stand out. Despite their irrelevance to this site, I've left the later edition's bonus tracks on, not least for a handful of covers, including the mighty Blue Öyster Cult's Hot Rails To Hell and Kiss' Deuce, strangely retitled Sweet Bobby Brady. Mellotron? Bill "Pat Fear&quot' Bartell wrote to me in 2011, two years before his untimely death, to tell me about these releases. He didn't give track details for this album, but Brian Kehew's M400 can be heard, badly recorded, with a thin string part and cheekily pitchbent choirs on Danger Island (Nano's Song).
2011's Levitate the Listener is one of many split LPs the band have released over the years, this one with punksters Versus You, whose contributions are decent enough, in a punk-end-of-pop-punk kind of way. White Flag's side of the album isn't dissimilar to their work on Eternally Undone, despite being over a decade later, highlights including the amusingly-titled Dido, which cheekily namechecks the now-largely long-forgotten singer of the same name, in the tradition of The Rumour's Max and Nick Lowe's Bowi (look 'em up) and Magically Delicious. Their raucous cover of The Rattles' iconic The Witch is pretty decent, too, also the only Mellotron track, with an ascending, not-that-Mellotronic string line towards the end of the track.
Another split the same year, Extraordinary Renditions, this time with Gods of Gamble (whose contributions are listenable, but less so than Versus You's), probably has fewer highlights than its immediate predecessor, although the punky Instant Breakfast and the Ramones/Kiss cross (!) Ilyaa Lloig are pretty decent. If Fear hadn't told me there was Mellotron on Fhtagn Lw'nafh Ilyaa N'ghft (Extra Sensory Deception), I'd have had no idea; once you know, you can hear the skronky strings in the background, but really only just.
White Heaven (Japan)
Strange Bedfellow (1993, 37.23) ***/T

Snow
H.L.
Silver Current
Paper Beach
Behind the Locked Door
The Way We Were
Coloured Mind Drops
Mandy Blue
Current availability:
Mellotron used:
White Heaven were Japanese Quicksilver/Doors referencers, going by their second album (of four), 1993's Strange Bedfellow. The band coalesced out of '80s psychsters Living End, releasing their first album in '91 and refining their sound for the follow-up, which sounds almost exactly like a lost artefact from 1969, tracks like the rocking H.L. and the gentle Behind The Locked Door typifying their acid-drenched approach.
New guitarist Soichiro Nakamura plays a decent chordal Mellotron flute part on closer Mandy Blue, which almost sounds like it's from a different album. I've seen this described as a 'psych classic'; I'm not sure I'd go that far, but it's definitely worth the effort for fans of jammed-out guitar psych. You'll never find a vinyl original and it's apparently 'unlikely' ever to appear on CD (why?), but it's available from download blogs.
White Hinterland (US) see: Samples etc.
White Light Riot (US)
Atomism (2007, 46.01) **/T

Charlatan
Atomism
Out of Sight
Dive
Transit State
Grey Divide
In a Shotgun Whirlwind
Midway Souvenirs
Tourniquet
Choice Theory
Our Formative Capital
Forever in the West
Current availability:
Mellotron used:
White Light Riot play US indie in almost exactly the same way as every other US indie outfit, so while nowhere near as irritating/downright offensive as that terrible 'MOR rock' thing they've got going on over there, nor are they actually at all, you know, exciting. 2007's Atomism is their second album and their sole release (to date) on an actual label, as against self-released. What's it like? It's like US indie, almost entirely devoid of character, without even the benefit of any decent tunes to liven things up a little. I'm succinct, me.
Now ex-guitarist Joe Christenson plays (real?) Mellotron, with a string part towards the end of Transit State and the same on Tourniquet, plus background flutes on Choice Theory, although any other possible parts appear to be something else. This is very dull indeed, so with little Mellotronic input, real or otherwise, I feel honour bound to advise you to go elsewhere.
White Octave (US)
Style No. 6312 (2000, 39.26) **/T

Appeals for Insertion
Crashing the Clarion
Devise Executes
Etc.
Call the Kiss
Piss and Vinegar
Adult Entertainment
Crossing the Rubicon
No Resolution Theory
This is Not a Subsistence Existence
South
Guts and Black Stuff
Style No. 6312
Current availability:
Chamberlin used:
I couldn't honestly tell you into which sub-sub-subdivision of The Beast Called Rock White Octave fit. Emo? Indie? Post-grunge (whatever that might be)? Going by their first (of two) albums, 2000's Style No. 6312, they seem to be quite upset about something; while I've no idea what, they go on about it for nearly forty minutes of shouty nonsense, so it must be getting to them fairly badly. Any less tiresome tracks? The instrumental Piss And Vinegar and the closing title track, perhaps.
Drummer Robert P. Biggers Jr. plays Fidelitorium Studios' Chamberlin, with a string arrangement in another instrumental, Guts And Black Stuff, although the strings rolling over into the title track must be the credited Solina.
| | |
| --- | --- |
| White Willow (Norway) see: | |
White Wing (US)
White Wing (1976, 37.58) ***½/TTT

Hansa (Cygnus)
Patent Leather
Slave
Wait Till Tomorrow
The White Ship
Harbinger
A Little Levity
Tuzashottma
Executive Privilege
Hansa (Aquila)
Current availability:
Mellotron used:
White Wing were precursors to the (marginally) better-known Asia (vastly superior US version) and sound a great deal more 'mid-'70s', for the pretty fair reason that that's when they existed. Rather than Asia's full-on frontal assault, White Wing contains a rather sort of middling hard rock, even the heaviest tracks (Patent Leather, A Little Levity) being slightly on the tame side in comparison, which isn't to say they're bad, just a little generic. Actually, some of the album's best tracks are the quieter ones, not least opener Hansa (Cygnus) and its closing reprise, Hansa (Aquila), lush ballads stuffed full of Mellotron strings, making the former a slightly odd first track, though effective nonetheless.
Speaking of which, strings on three more tracks (Slave, Wait Till Tomorrow and The White Ship), played by guitarist Mike Coates, who reprised his dual role a few years later in Asia. All five of the album's relevant pieces feature the (studio?) machine fairly prominently, although it never gets quite as in-yer-face as on the first and last tracks. Now this is readily available, do you bother? Well, don't expect anything much like Asia and you won't be too disappointed, although its Mellotronic input is pretty reasonable. Good, but not outstanding.
See: Asia
Jenny Whiteley (Canada) see: Samples etc.
Whitlams (Australia) see: Samples etc.
Stephen Whynott (US)
From Philly to Tablas (1977, 35.19) ***/TTTT

Retreat Suite
What Have You Seen
Altitude
Rain Swollen Highway
Nine Day Sunflower
Without Us
Go Around
Snows Edge
Mexican Oil
Oh Boy, I've Won The Contest At Last
Current availability:
Mellotron used:
As far as anyone knows, Stephen Whynott released just two LPs in the late '70s, 1977's From Philly to Tablas and the following year's Geography. He operated in the rather overwrought end of the folk-rock spectrum, sounding rather out of time in '77, although the US market seemed to support various supposedly 'outdated' styles past their alleged sell-by dates, probably due to the country's size. From Philly to Tablas was the only one to feature the Mellotron and despite Whynott's emoting, it has its moments, not least its two longest tracks, Go Around and Snows Edge [sic], the former featuring a great solo Hammond part and the latter some classy echoed Rhodes work, both from Dan Frye.
Frye also played Mellotron on several tracks, with flutes, cellos and strings in opener Retreat Suite, piercingly high strings on Rain Swollen Highway, cellos and strings on Without Us, flutes on Go Around... Seems like this is another unsuspected Mellotron-heavy album (plus real oboe) and is worth picking up for its Mellotronness, should you feel so inclined. I hear that although this has never been issued on CD, it sold surprisingly well at the time, all things considered and isn't impossible to find for a few bucks. You may not warm to Whynott's dated material, but the Mellotron use here is excellent, so pick it up if you see it at a decent price.
Wicked Farleys (US) see: Samples etc.
Wicked Minds (Italy) see: Samples etc.
Jason Wietlispach (US)
Oak Creek Recordings (2018, 37.44) ***/T½

Cumulus
The Joe Daley Trio
Sketch For 24 Bass Clarinets
Improvisation For Two Waterphone Players, Vibraphonist And Bass Clarinet
Silent Rael's Empty Boat
Egisto Macchi
Washington Island
Current availability:
Mellotron used:
Jason Wietlispach is a classical DJ and musician, whose 2018 instrumental release on his own Soutrane label, Oak Creek Recordings, appears to be his second album. It's a largely experimental, ambient work, featuring his bass clarinet heavily, alongside vibraphone, singing bowls, bass (electric and acoustic) and various synths, amongst other instrumentation. Best track? I'm not sure if that's a relevant approach to use for this unusual album, but possibly thirteen-minute opener Cumulus, if only because it typifies Wietlispach's approach from the off.
Wietlispach plays his own M400 on two tracks, with drifting choirs on Silent Rael's Empty Boat (see what he did there?) and closer Washington Island. This won't be for everyone, but the more experimentally-minded out there should give this a go.
Steve Wiggins (US)
Steve Wiggins (1991, 35.30) **½/T

Don't Ya Think
Jesus is Real
Dancin' in Sunshine
You Know
Comin' Down
For You
18" Journey
Lovin' Time
Knock it Off
All the Darkness
Current availability:
Mellotron used:
Steve Wiggins' self-titled 1991 debut is a rootsy Christian pop/rock/soul album. How does that sound to you? Something you'd like to hear? Sample lyric (from Dancin' In Sunshine): "Mom, I just don't understand creation/well I asked the preacher/he just says it's better than evolution..." I rest my case, m'lud. In all fairness, it's not that bad musically, if entirely generic, but Wiggins' lyrics will really divide opinion, his evangelical drivel sitting uneasily next to Motown-esque brass and organ arrangements, turning an average-to-above-average effort into something with which most of us aren't going to feel too comfortable.
Frank Weber plays Mellotron, a flute arrangement opening Dancin' In Sunshine, reiterating throughout, although the Mellotronish strings on the track more than likely aren't. Despite being fêted at the time of its release, Steve Wiggins is brought down by its author's faith, quite certainly turning a potential audience away and relegating him to the Christian ghetto. Dare I say, "Serves him right"?
Wigwam (Finland)
Titans Wheel (2002, 68.05) **/T½

Remains to Be Seen
Subterranean Sunrise
Titans Wheel
Drive on Driver
Bitesize
Greatfield
Win Your Love
Drinks on the House
Good Mornington Street
The Lost Lizard King (Ababacab)
To the Other Side
Heaven in a Modern World
That's the Way (Someone Chanted Evening)
Some Several Moons (2005, 60.54) **½/T½

(Intro)
Chord Squad
Sandpainting
Bow Lane
Kabul Grill
Cloudy Dream
Deep Pop (Before the Only One Comes)
Squaw Valley Non-Event
Tokyo Joe (One Roll From Paradise)
Banging on the Ceiling
Cacobe Bar Two-Step
Current availability:
Titan: Harvest
Some: Major Leidén
Mellotrons used:
I was warned that these two recent Wigwam albums bore little in common with their excellent '70s work and my informant/supplier (hi, Johannes) wasn't wrong. Wigwam, led by Brit ex-pat Jim Pembroke, were a damn' good band in their day and were one of the few progressive bands from a non-English speaking country to actually achieve some wider recognition. After splitting in the late '70s, they released Light Ages in 1993, then nothing until 2002's Titans Wheel [sic]. I'm afraid there's only one way to describe this album, particularly when you consider how good some of their original albums were: pseudo-commercial dreck. This is a very mainstream record indeed, although it's dated for when it appeared; maybe you can get away with this sort of thing in Finland? It would be generous to describe most of the songs as poor AOR with a blues influence; I certainly can't imagine the international audience taking this to their hearts, to be honest. As if another fault was needed, the album is overlong, with several tracks dragging on for two or three minutes longer than necessary, all assuming you considered them necessary in the first place. The most embarrassing part of an already poor album is Pembroke's jokey ending, where he merely sounds like a man out of time, referencing Sinatra and other singers from the era. Grim.
Finland's Mellotron player to the stars, Esa Kotilainen, adds Mellotron to a handful of tracks here. There's strings and 'Strawberry Fields' flutes on Remains To Be Seen, with more of the same on the title track and a neat descending/ascending string line on closer That's The Way (Someone Chanted Evening), although that's the only good thing about it, plus faint choir/strings/flute on Bitesize. It sounds like it could be Mellotron on one or two other tracks, but the uncredited flutes sound real and the strings don't quite have that strained quality about them (is the quality of Mellotrons not strain'd? Sorry).
The reconstituted band followed up three years on with Some Several Moons, which manages to be better than its predecessor, although I wouldn't take that as any sort of recommendation. The horrible AORisms are largely absent, replaced by a more 'down home' feel on several tracks, which, while rather uninteresting, isn't actually offensive. The mostly-spoken Squaw Valley Non-Event is about the best track, showcasing Pekka Rechardt's guitar work nicely, but this isn't an album to which I can see myself returning very often. OK, ever. Kotilainen gets his Mellotron in again, with more of those 'Strawberry Fields' flutes in the background on Chord Squad and a more straightforward part on Bow Lane, although the album's best Mellotron work is the layered flutes on Squaw Valley Non-Event (also featuring cellos). Background strings on Tokyo Joe (One Roll From Paradise), exceedingly faint flutes on Cloudy Dream and that's yer lot.
So; some of Wigwam's '70s work is very fine indeed, but neither of these albums is worth your time or money, sadly. Maybe their Finnish fanbase will buy anything with their name on the cover, but these records absolutely do not cut the mustard internationally. Some OK Mellotron work, but overall, avoid.
See: Esa Kotilainen
Jason Wilber (US)
Lost in Your Hometown (1998, 41.35) ***½/T½

I Fell in Line
Walking in the Church
Pick Up Your Heart
Lost in Your Hometown
Evelyn
Stars
If I Owned a Liquor Store
Apologies
As Far as 25th Street
More Alone Than Before
[Hidden Track]
Behind the Midway (2000, 41.18) ***/T

Lay Down When You're Done
Indian Summer
Goin' Fishin'
It's Not Saturday
The Great Twenty-Eight
Dirty Old Town
Over the Road
The Galway Waltz
Your Only One
The Ballad of Amazing Grace and Sideshow Dan
I Can't See You Anymore
Current availability:
Mellotrons used:
Lost: unknown
Behind: Phil Parlapiano's M400
John Prine collaborator Jason Wilber writes the kind of country-inflected songs that transcend that frequently moribund genre, crossed with a downbeat singer-songwriter sensibility, so it's no surprise that there's not one duffer on his solo debut, 1998's Lost in Your Hometown, at its best on the witty If I Owned A Liquor Store and As Far As 25th Street. Wilber plays Mellotron flutes on Stars and wonderfully gratuitous strings on As Far As 25th Street, very clearly genuine.
For those of the non-North American persuasion, the reference in 2000's Behind the Midway is to the area in a funfair or 'carney' where you find the stalls offering anything from sickly candyfloss (cotton candy) to the chance to attempt to knock glued-on coconuts off stands. The album's perfectly good, yet seems to lack Lost in Your Hometown's essential spark, probably at its best on Wilber's cover of Ewan McColl's Dirty Old Town and closer I Can't See You Anymore. Phil Parlapiano plays what I presume to be his M400, with flute and string parts on Over The Road, although the high end of the strings sounds a little inauthentic, frankly.
Wilco (US)
Summer Teeth (1999, 53.09) ***/TT½

Can't Stand it
She's a Jar
A Shot in the Arm
We're Just Friends
I'm Always in Love
Nothing'severgonnastandinmyway (Again)
Pieholden Suite
How to Fight Loneliness
Via Chicago
ELT
My Darling
When You Wake Up Feeling Old
Summer Teeth
In a Future Age
Yankee Hotel Foxtrot (2002, 51.56) ***/T

I Am Trying to Break Your Heart
Kamera
Radio Cure
War on War
Jesus, Etc.
Ashes of American Flags
Heavy Metal Drummer
I'm the Man Who Loves You
Pot Kettle Black
Poor Places
Reservations
Sky Blue Sky (2007, 51.26) ***/T

Either Way
You Are My Face
Impossible Germany
Sky Blue Sky
Side With the Seeds
Shake it Off
Please Be Patient With Me
Hate it Here
Leave Me (Like You Found Me)
Walken
What Light
On and on and on
Wilco (the Album) (2009, 42.46) ***½/T½

Wilco (the Song)
Deeper Down
One Wing
Bull Black Nova
You and I
You Never Know
Country Disappeared
Solitaire
I'll Fight
Sonny Feeling
Everlasting Everything
The Whole Love (2011, 56.23/75.07) ***/T

Art of Almost
I Might
Sunloathe
Dawned on Me
Black Moon
Born Alone
Open Mind
Capitol City
Standing O
Rising Red Lung
Whole Love
One Sunday Morning (Song for Jane Smiley's Boyfriend)
Star Wars (2015, 33.52) ***/½

EKG
More...
Random Name Generator
The Joke Explained
You Satellite
Taste the Ceiling
Pickled Ginger
Where Do I Begin
Cold Slope
King of You
Magnetized
Current availability:
Summer/Yankee: Warners
Sky/Album: Nonesuch
Whole: dBpm
Star: Anti-
Mellotrons/Chamberlins used:
Star: band's own MkVII?
All other titles: band's own M400?, unknown Chamberlin
Summer Teeth, as in 'some are teeth... and some aren't'. Boom boom. Wilco's third album continued the vaguely 'alt.country' feel of their first two, but with added Mellotron on a few tracks. Can't Stand It has some nice strings under the chorus from Jay Bennett and both She's A Jar and ELT feature some decent pitch-bend work; no samples here... Like several other similar things I've heard, the Mellotron tracks tend to be the best on the record (biased? moi?!) and I found the rest of the album a little overrated. By the way, I've been (humorously) berated for not giving this a rave review, so I gave it another shot and have decided I may've been a little unfair. It doesn't really ring my bell, but Sparklehorse et al. fans may well be into this. Not great, but certainly not bad.
They belatedly followed it with 2002's Yankee Hotel Foxtrot, after lineup upheavals that had founder member Bennett moving on. Far more downbeat than its predecessor, it's a good album, but one I suspect the listener will have to work at, as it's far from readily accessible, but since when was that a bad thing? Obvious Mellotron on two tracks, presumably from Bennett, despite his general lack of involvement in the recording process, with an upfront strings part on Pot Kettle Black and some muted cellos on lengthy closer Reservations. It took the band another five years to come up with another tape-replay album, 2007's Sky Blue Sky. It's roughly comparable to their earlier work, although the alt.country quotient may be down slightly. Pat Sansone plays Chamberlin and Mellotron, with inaudible Chamby something on the title track, Mellotron strings on Side With The Seeds and some other inaudible things on Hate It Here and Leave Me (Like You Found Me), making all of one audible tape-replay track. Hmmm.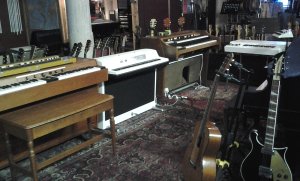 2009's Wilco (the Album) is definitely a Wilco album, but maybe slightly better. Why? Difficult to define, but the songs just seem to grab me a little more, along with nice touches like the amusing George Harrison pedal steel quote from My Sweet Lord on You Never Know. No-one's credited with anything, as such, but that's probably Mellotron (as against a Chamberlin, that is) flutes on One Wing and a nice string part on Everlasting Everything. 2011's The Whole Love is yet another inconsistent Wilco album, highlights (I Might, Black Moon, twelve-minute closer One Sunday Morning (Song For Jane Smiley's Boyfriend)) mildly scuppered by a raft of Wilco-by-numbers material that could/should have been pruned to improve the overall health of the album. Seemingly two Mellotron tracks, from Sansone again, with a string swell on Art Of Almost that pretty much opens the album and background strings on Open Mind, although it could well be present on anything up to three or four other tracks. For that matter, is it even real? Hard to tell, frankly.
Four years on, 2015's Star Wars is a serious conundrum of an album, from its bizarre, kitsch sleeve to its fanboy-baiting title, which is deliberately obtuse, in case you were wondering. Opening with angular instrumental EKG, other notable tracks include the propulsive, jammed-out You Satellite and the murky, fuzzy Pickled Ginger, while King Of You could be seen as a microcosm of the album as a whole. However, closer Magnetized is probably the closest we get to a 'typical' Wilco number, alt.country credentials present and correct. Scott McCaughey supposedly plays Mellotron on Taste The Ceiling, although it's completely inaudible, which leaves us with the distant strings on Magnetized, played by...? Pat Sansone?
So; six good albums in their field, though they're not going to be to everyone's tastes, with the first the better Mellotronic prospect. Incidentally, there's also Mellotron on one track of the band's second Billy Bragg collaboration, Mermaid Avenue Vol.II, though it's really not worth writing home about.
See: Jay Bennett & Edward Burch | Tweedy | Golden Smog | Billy Bragg & Wilco | Nels Cline
Wild Belle (US)
Isles (2013, 40.00) **/T

Keep You
It's Too Late
Shine
Twisted
Backslider
Happy Home
Another Girl
Love Like This
When It's Over
June
Take Me Away
Current availability:
Chamberlin used:
Elliot and Natalie Bergman make up the brother/sister duo (yes, another one) Wild Belle, who make mildly skronky, light-as-air pop on their debut, Isles, the title alluding to every track being in a different genre. Well, kind of. In actuality, reggae is a constant touchstone, as is New York electronica, the end result being the kind of album that irritated me more on a second listen than the first, not least due to Natalie's too-sweet-for-its-own-good voice.
Both of the pair play Chamberlin. Really? In an online interview, they say, "...then some things they only made 500 of, like Chamberlin... ...It's a very fragile instrument.", which makes it sound like it's genuine. Credited on five tracks, it's really only audible on three, with strings towards the end of Shine and When It's Over and flutes on Take Me Away, although I have no idea what they might've done with it on the first two tracks. I can't honestly recommend this, real Chamby or no real Chamby. Sorry.
Wild Colonials (US)
This Can't Be Life (1996, 45.40) **½/½

This Misery
Spirit
Coy
Wake Up Sad
Charm
Want
If
Blue
Different
Childhood
Current availability:
Chamberlin used:
The Wild Colonials formed after Angela McCluskey moved to California from her native Scotland and teamed up with a group of like-minded musicians. Their schtick is faux-Irish roots-rock, although I don't believe there's a genuine Irishman/woman amongst their number. 1996's This Can't Be Life is their second album, filled with rather ordinary songs with an Irish feel to them, which is either going to make you say, "Hell, yeah!" (or similar) or... it isn't.
Jon Brion plays Chamberlin, although not so's you'd notice. Is that background flute on Coy? If it is, it's the nearest this dullsville album gets to any tape-replay content. I don't think I need to elaborate.
See: Angela McCluskey
---