Threshold (1997, 51.31/104.24) ***/TT

Arrival
Neurosaur
No Cross to Carry
Threshold
Neuro Boogie
Trantor Station
Waltz of the Biots
i. Particle Storm
ii. Cocktails in the Vestibule
iii. Grand Ballroom
Critical Mass
i. Leviathan
ii. Anthem
iii. Republic
iv. Foundation
v. Leviathan Reprise
Music Machine (2003, 106.21) ***/T

Prologue - Project Blue Prince
Music Machine
Turn Me on
Heavy Metal Symphony
Tour of the Sprawl
Andromeda
Letter From Space
Lost Highway
Soma Holiday
Return of the Neurosaur
Project Blue Prince Reprise
Fanfare and Interlude
Beware the Vampires
The Fire of Change
The Fall of the Idol
Metamorphosis
One of the Machines
Fallen
Johnny America
Music Machine Reprise
Epilogue - Sky Full of Stars
Hommage Symphonique (2007, 66.22) ***/TT

Conquistador
Sir Lancelot and the Black Knight
Turn of the Century
Pirates
Clasp
King of the Universe
Children of Sanchez Overture
Starless
Current availability:
All titles: Think Tank Media (US)
Mellotrons used:
Erik Norlander's a busy man; not only a member of the (now possibly defunct) Rocket Scientists (below), not only married to and musical director for Lana Lane, but also a solo artist in his own right. An excellent keyboard player, he also has a bent for vintage gear, owning a Hammond (a D, unusually), a Moog modular and various others, although his productions always seem digital-heavy to my ears. His site lists his full set-up and I see no sign of a Mellotron, though given how much he uses one on record, I can only assume he borrows/hires one on a regular basis... assuming it's real.
1997's Threshold was his first solo album, originally a fifty-minute, single-disc effort, expanded to double that on two discs in 2004, as one disc is clearly never enough. The original album is all instrumental, recorded by Norlander with a bassist and drummer; he somehow persuaded Keith Emerson to contribute sleevenotes, which seems fitting. Luckily, ELP are a relatively minor influence, Norlander's tastes ranging rather more widely, although it's hardly the most exciting thing you'll hear all year, to be honest, although Neurosaur and the rather silly Neuro Boogie aren't bad, even if the latter keeps making me think he's about to break into Purple's Lazy. Not that much Mellotron, either, with flutes all over Arrival, strings and choirs on Neurosaur, flutes on part one of Critical Mass and choir on its final part, which is rather less than I'd expected. The extra tracks on the remaster mostly just stretch the album to paper-thin, particularly the pointless remixes on the second disc. Incidentally, I can't hear any Mellotron on the Neurosaur remix, for what it's worth.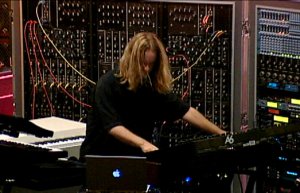 I can't actually hear any Mellotron on 2000's Into the Sunset, but there's a little on the ambitious double, Music Machine. It's a concept work, dealing with the creation of a genetically-engineered superstar with a built-in lifespan, dubbed Johnny America, Norlander clearly taking the opportunity to have a few well-chosen digs at the corrupt music industry along the way. Many of his famous friends are present, notably (at least for me) the Blue Öyster Cult's inimitable Buck Dharma, sadly, only on one track. My problem with this album is that it has more than a whiff of formula about it; that could be deliberate, given its subject matter, but it seems a little counter-productive to produce two hours of music purposefully written to be less good than it could and should be. I have to assume that this is exactly how Norlander wants it; all well and good, but it's musically almost indistinguishable from the work of his friend and sometime collaborator, Dutch musician Arjen Lucassen, a.k.a. Ayreon.
There's no Mellotron credited anywhere and none to be heard on disc one, making me think this was another case of mistaken identity, when a familiar choir sound appeared on disc two, track four, The Fall Of The Idol, followed by a really overt 'Strawberry Fields'-style polyphonic flute part and some strings in Fallen. So, why wait so long to use it? Loads of other tracks would've been improved by 'more Mellotron, less digital synth', even if they are the Alesis models Norlander helped to design and programme. (And?). Anyway, more background choirs on lengthy closer, Epilogue - Sky Full Of Stars, but that's it. This is basically an AOR concept album with prog-metal overtones, if you can imagine such a thing (do you want to?), but if that sounds like the sort of thing that floats your boat...
After 2004's sample-only Seas of Orion and the live Stars Rain Down, 2007's Hommage Symphonique is Norlander's next (probable) Mellotron album and it's... a covers set. Aargh! Run for the hills! After a rather cheesy version of Procol Harum's Conquistador, Norlander tackles Rick Wakeman's Sir Lancelot And The Black Knight in the spirit in which it was no doubt conceived: bombast, bombast and more bombast. Oh, and some Mellotron choirs and strings. And a vocalist only slightly better than Rick's infamous drinking buddy and pub singer, "Bellowing" Ashley Holt. ELP's Pirates? I have to say, I fail to see the point of covering someone else's song unless you intend to at least slightly make it your own, so something as rigidly defined (not to mention bloody awful) as a typical ELP epic is not that kind of 'song', for want of a better word. And yes, I spotted the America quote. His take on Tull's Clasp is a lot better, with background Mellotron strings, although I think (hope) the flute's real, with more of the same on ELO's startlingly dull King Of The Universe. Crimso's Starless is, of course, er, 'Mellotron-drenched', although the arrangement seems a little awry and the point where the Mellotron comes back in at the end is, frankly, limp. Extra Mellotron flutes, though.
So; one for those of who into flashy playing, I think. Norlander's protestations that 'the melody is all-important' are somewhat undermined by the rather gratuitous instrumental virtuosity on display on these albums and a lack of any highly memorable material. So little Mellotron overall that I'm almost surprised he bothered. How much of it's real is a bone of contention, too, although as you can see from the pic, he certainly hires one in on occasion.
Stars Rain Down (2004, 74.57) **½
Although Californian keyboard whizz Erik Norlander (usually) uses a real Mellotron in the studio, it's no great surprise that he uses samples live. 2004's Stars Rain Down is a document of three separate European tours, apparently, the material drawn from his own three albums (plus a track from the forthcoming Seas of Orion) plus two Rocket Scientists releases, his band including some of that outfit and wifey Lana Lane. Better material includes One Of The Machines and his ridiculous take on Gerry Anderson show theme Space: 1999, although it's mostly the same old same old, sadly.
Norlander plays samplotron strings and choirs here and there, plus flutes on Arrival, but it takes second place to his beloved synths, particularly that awful Emersonian synth-brass patch he's so fond of. I was under the impression that there was more samplotron on the same year's Seas of Orion, but it's more of an electronic release (surprising top track: the outrageously-titled twenty-two minute Adrift On The Fire Seas Of Orion's Shield), with no obvious Mellotron sounds. So; another Norlander release, sounding even more like all his others than, er, all his others, given that there's no actual new material on offer here. If you like him, you'll like this. Conversely...
Brutal Architecture (1995, 64.51) ***/TT

Dark Water part one
Wake Me Up
Copernicus
Brutal Architecture
Nether
Dark Water part two
The Fall of Icarus
Resolution
Rainy Days and Pastel Grays
Millennium 3
Mariner
Oblivion Days (1999, 52.18/62.36) ***/TT

Dark Water part three: Neptune's Sun
Aqua Vitae
Oblivion Days
Archimedes
Banquo's Ghost
Space: 1999
Escape
Compass Variation
Break the Silence
Dark Water part four: Heavy Water
Wake Me Up (live)
Revolution Road (2006, 100.40) ***/TTT

Look Up
Sky is Falling
Dream in Red
Better View
Outside the Painted Walls
Revolution Road
Forever Nights
Ptolemy
Gypsy (of a Strange and Distant Time)
Savor Every Moment
Castles Fall
UFO S.H.A.D.O. Theme
Enjoy the Weather
Pay Your Dues
Eden Burns
Hold That Thought
House of Cards
After the Revolution
Progfest 2000 (2001, 21.57) ***/T

[Rocket Scientists contribute]
Dark Water/Earthbound
Aqua Vitae
In the Flesh?/Oblivion Days
Current availability:
Brutal/Oblivion: Think Tank Media (US)
Revolution: ProgRock
Progfest: Musea (France)
Mellotrons used:
It seems Rocket Scientists are the band that have facilitated keyboard virtuoso Erik Norlander's rise to prominence in the progressive scene over the last decade or so. 'So what do they sound like', I hear you ask? Hmmm. A rather un-dynamic form of prog with 'melodic rock' touches? What was once upon a time known as 'techo-rock/metal', before the rise of the dance scene? Not especially complex progressive rock, essentially, plenty of great playing, but not so many great tunes, which seems to be enough for many people, sadly.
Brutal Architecture is their second album, after '93's apparently quite mainstream Earthbound; while it isn't bad, nor is it really that good, to be honest. It has its moments, not least the opening Dark Water Part One, but far too much of the material just drifts along without getting around to changing key, or even tempo, reinforcing the impression of an AOR outfit who decided to tart their sound up a bit for a new audience. Norlander's wife Lana Lane sings backing vox on a couple of tracks, but that really isn't going to endear the album to me, I'm afraid. Mellotron strings on a handful of tracks, notably Wake Me Up and Mariner, but slightly inessential stuff, really.
After a live, Mellotron-sampled effort, '98's Earth Below and Sky Above, '99 brought the third Rocket Scientists album proper, Oblivion Days; more of the same, to be honest, the title track probably being the strongest thing here. One amusing addition to the album is a version of the title theme to Gerry Anderson's Space 1999, taken at a ripping pace, ending up being one of the best tracks on the album. Mellotronically-speaking, Aqua Vitae has not only string washes, but a typically 'Strawberry Fields'-style chordal flute part, while the other highlighted tracks all feature more or less Mellotron strings, although the album's Japanese studio bonus track, Compass Variation, is the only one on either of these albums to feature any Mellotron choir. Sampled strings on the Jap-only live Wake Me Up, but that doesn't count.
After a seven-year break, during which all concerned worked together and apart on other projects, the core of the band released the sprawling two-disc Revolution Road in 2006. As you might expect, it's basically more of the same again, although with two vocalists this time, one for the loud stuff, one for the quiet. Best track? Possibly disc two's House Of Cards, at least until the AOR vocals kick in, although another Gerry Anderson theme, UFO S.H.A.D.O. Theme, doesn't work as well as Space 1999. Now: the Mellotron. Is it real? In places I'd say 'yes', in others, 'not sure', but I've been wrong before, so it stays here, at least for the moment. We get strings and choirs on Sky Is Falling and Better View, choppy flutes and a major string part on Outside The Painted Walls, upfront strings on Forever Nights and their cover of The Moody Blues' Gypsy (Of A Strange And Distant Time) and strings and flutes on Savor Every Moment, closing disc one. Far less (real or sampled) Mellotron on disc two, with background strings on Eden Burns and Stick-fest Hold That Thought, although the choirs on closer After The Revolution sound little like a Mellotron.
I knew these albums were going to be a bit dull, which is why they're been sitting in my 'review' pile for so long; they're not 'rubbish', not by any means, but nor are they especially interesting, being far too mid-paced, by and large, the uptempo parts slipping into metal stylings far too easily. As with so many albums recorded in the CD era, they're also much too long (the US domestic release of Oblivion Days is actually rather shorter), although, it could be argued that with several years between releases, you're actually getting less music than you did from a typical '70s band. The difference is, a forty-minute listen doesn't (usually) feel like an endurance test, but once you get over fifty minutes, it'd better be bloody good, or the attention really does begin to wander. Well, it seems that Norlander has put the band to rest in recent years, as nothing's appeared since Oblivion Days, which isn't to say he won't resurrect them at some point in the future. Both these albums have passable amounts of Mellotron (although Norlander doesn't actually own one), but they're really only three-star efforts at best.
By the way, the band have three tracks on Progfest 2000, with Mellotron on Aqua Vitae and Oblivion Days, although none of the Mellotron use sounds especially authentic and the tracks themselves aren't exactly that essential, either.
Earth Below & Sky Above: Live in Europe & America (1998, 73.49) ***
Refuel (2014, 61.03) **½
Rocket Scientists' 1998 release Earth Below & Sky Above: Live in Europe & America does exactly what it says on the tin, the quartet augmented by Lana Lane, who gets to sing a couple of tracks from her then-recent Ballad Collection, for better or worse. It's rough and ready enough in places to be labelled an 'official bootleg'; it certainly doesn't sound overdubbed, but who knows? Best track? Probably The Fall Of Icarus, although it wouldn't pass muster on a better album, frankly. Norlander plays dreadful Mellotron string samples on Wake Me Up, complete with wildly unrealistic pitchbend, cropping up again on another track or two, although his choir patch isn't even remotely Mellotronic, nor presumably intended to be. This is an album for Rocket Scientists/Norlander/Lane fans only, I suspect, as I can't imagine it converting the non-believer, even with its marginally rockier sound than its contents' studio versions.
Although I'm not fully convinced that at least one of the above albums should remain in the 'Mellotron' section, 2014's Refuel is the band's first definite studio sample effort. And it's... horrible. Lowest points? She's Getting Hysterical repeats the vaguely misogynistic title line ad nauseam, the bit on The Fading Light where the band morph fully into Asia, repeating the trick on the cheesy, synth-brass-led Cheshire Cat Smile, which goes 'full '80s' on us halfway through, with the most appalling synth patch and slap bass... Any better moments? Don Schiff's viola and cello on Reconstruct make a nice change, Galileo's a reasonable enough instrumental... About the best I can do, I'm afraid. Norlander and Mark McCrite both play samplotron, the latter on It's Over and Rome's About To Fall, to no especial effect, to be honest. Incidentally, I'm not sure whether there are two versions of the CD or not, but this is available with four of the tracks tacked on the end as 'no crossfade' versions, just in case you hadn't already had enough of the album.
See: Lana Lane | Progfest | Star One | Asia Featuring John Payne
---