Love is an Illusion (1995/98, 47.01/65.42) **½/T½

LIAA Prelude
Love is an Illusion
Coloured Life
Cold Outside
Through the Fire
Through the Rain
Faerie Tale State of Mind
Dream Burnin' Down
Can't Find My Way Home
LIAA Postlude
[1998 remix adds:
Into the Ether
LIAA Interlude
A Night in the Garden]
Curious Goods (1996/2002, 70.28/67.12) **½/½

Curious Goods Part One
Emerald City
Escher's Staircase
Heart of Dawn
Take a Breath
Reverie
Satyr's Moon
Symphony of Angels
Two Can Play That Game
Voices
Do it Again
Curious Goods Part Two
Clouds
['Special Edition' replaces Do it Again with:
You Only Live Twice]
Garden of the Moon (1998, 57.43) **½/T

River of the Stars
Destination Roswell
Seasons
Moongarden
Evolution Revolution
Under the Olive Tree
Eternal Waters
Dream of the Dragonfly
Garden of the Moon
Symphony of Angels (live with Rocket Scientists)
Ballad Collection (1998, 52.09) **/T

Avalon
Athena's Shadow
Stardust
Seasons End
Through the Fire (acoustic)
When Time Stood Still
Clouds (1998 version)
Heart of Dawn (1998 version)
Take a Breath (1998 version)
Across the Universe
Avalon Reprise
Queen of the Ocean (1999, 51.18) **/T½

In the Hall of the Ocean Queen
Night Falls
Queen of the Ocean
Let Heaven in
Frankenstein Unbound
Souls of the Mermaids
Rainbow's End
Without You
Secrets of Astrology (2000, 72.47) **½/T½

Astrology Prelude
Secrets of Astrology
Alexandria
Raining
The Bell
Speed of Sound
Under the Sun
Tarot
Asherah
Guardian Angel
Long Winter Dreams
Astrology Postlude
Romeo And Juliet
Ballad Collection II (2000, 57.12) **½/½

Nether Lands
Hands to Heal
Goodbye Yellow Brick Road
A Place in Time
Nevermore
A Place in Time Reprise
Ghost Beside My Bed
To the Last Whale
Critical Mass
Wind on the Water
The River Maid
Autumn Leaves
Innocent When You Dream
If Everyone Was Listening
Project Shangri-La (2002, 55.01) **½/½

Redemption Part I
Project Shangri-La
Encore
Before You Go
The Nightingale
The Beast Within You
Tears of Babylon
Ebbtide
(Life is) Only a Dream
Time to say Goodbye
Redemption Part II
Covers Collection (2002, 60.52) ***/TT

The Wall
Kashmir
Soaring
Hold Your Head Up
Innocence
I'll See You in My Dreams
Don't Try So Hard
Northern Lights
Still Loving You
Weep in Silence
Stargazer
European Tour 2003 Souvenir CD [as Lana Lane & Erik Norlander] (2003, 55.44) **½/T½

Dark Water Part III
Fanfare for the Dragon Isle
Garden of the Moon
In the Hall of the Ocean Queen
Escher's Staircase
Autumn Leaves
Phantom's Theme
Metamorphosis [Erik Norlander]
Beware the Vampires [Erik Norlander]
No Quarter
Project Shangri-La
I Believe in You
The Eighth Wonder [Don Schiff]
Dark Water Part I: Earthbound [Rocket Scientists]
Winter Sessions (2003, 59.28) **½/TT½

What a World
Spirit of the Gypsy
A Whiter Shade of Pale
December Moon
I'll Be Seeing You
Carnivale (Let it Rain)
Carry Me Home
Ill Wind (You're Blowin' Me No Good)
California Dreamin'
Winter Song
Terminus Pro Tempore
Lady Macbeth (2005, 54.11) **½/T

The Dream That Never Ends
Someone to Believe
Our Time Now
Summon The Devil
No Tomorrow
Shine on Golden Sun
The Vision
Keeper of the Flame
We Had the World
Dunsinane Walls
Gemini (2006, 56.39) ***/TTT

White Room
White Rabbit
Long Long Way From Home
You Can Never Go Home
"Pink Moon Suite"
Breathe Introduction
Johnny Moon
Breathe in the Air
On the Run
Time
Breathe Reprise
Dream of the Archer
Starrider
Sunshine Of Your Love
Wooden Ships
Nights in White Satin
Red Planet Boulevard (2007, 68.52) **½/T½

Into the Fire
The Frozen Sea
Capture the Sun
Jessica
Stepford, USA
Shine
Lazy Summer Day
No Tears Left
Save the World
Angels and Magicians
The Sheltering Sorrow
Red Planet Boulevard
El Dorado Hotel (2012, 62.24) ***/T½

A Dream Full of Fire
Maybe We'll Meet Again
El Dorado
Darkness Falls
Hotels
Believe
Life of the Party
Gone Are the Days
Moon God
In Exile
Current availability:
Ballad: Avalon (Japan)
Project: LMP
European: Transmission
All other titles: Think Tank Media (US)/Pseudonym, InsideOut, Transmission or Frontiers (Europe)
Mellotrons used:
Solid biographical information about Lana Lane seems to be thin on the ground. Her official site bio carefully omits any mention of birthdate, age etc. opting simply to mention that she 'moved to Los Angeles in the late '80s', where she met and married keyboard whizz/producer Erik Norlander, who had already released albums on his own and with the Rocket Scientists; he still runs his parallel solo career, also guesting with artists such as the Netherlands' Ayreon. They decided to launch Lana's solo career with 1995's Love is an Illusion, which basically falls into the 'melodic rock' (read: slightly toughened-up AOR) category, with progressive stylings in places, notably Norlander's keyboard work. Now, be warned: if you're looking for dark, symphonic rock, don't come here. Lane's music is that 'style over substance' thing that so many 'progressive' artists are coughing up these days; Ayreon are actually a pretty good comparison. Excessively grandiose, swathes of sampled strings and over-effected guitars and nothing much musically to say for itself, it betrays her roots in pseudo-commercial soft rock. One thing I will say in her favour is that her voice is quite excellent, albeit in 'AOR diva' mode. I mean, compare her to the dreadful Tracy Hitchings (Quasar, Landmarq, Gandalf), if you dare; Lane wins hands down, knowing exactly how to use her voice to maximum effect, easily the best thing about her identikit albums.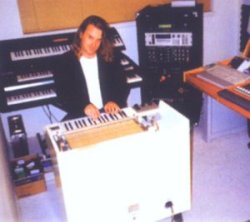 Unfortunately, most of the songs on Love is an Illusion are fairly forgettable, although Coloured Life sports a pretty nifty hook. Keyboardwise, alongside a bunch of modern synths, Norlander plays several genuine vintage 'boards (see pic), with lots of Rhodes work and a couple of excellent Hammond solos. Several credited Mellotron tracks, with choirs on LIAA Prelude, while Coloured Life opens with a flute/cello part, with pitchbent strings later in the song. More choirs in the new recording, LIAA Interlude and distant strings on Can't Find My Way Home, although whatever's supposed to be on Faerie Tale State Of Mind is pretty damn' inaudible.
Now, a rather odd state of affairs exists with Lane's back catalogue: after finding success in Japan with her third release, Garden of the Moon, Norlander went back and reworked her first two albums from the ground up, chiefly for the Japanese market. Love is an Illusion 1998 Version has new guitar parts (wonder what the original guitarist thought?), extended versions of some tracks and three new songs, inserted into the running order where applicable, all of three years after its initial release. How different is it? Well, the guitars are more whizzy, the production has a more 'professional' sheen and it's longer. Three years on again, the 'Special Edition' double set was released, containing both versions; do I detect that distinctive hollow sound of barrels being scraped? There are plenty of other anomalies within her catalogue, some Japanese-only mini-albums having their contents spread over later 'bonus' discs, although, in fairness, the extensive discography on her website attempts to unravel the confusion.
The following year's Curious Goods is more of the same, musically, although track lengths seem to be up slightly all round, which isn't a good thing. Once again, a 'Special Edition' was released, this time six years later, in 2002 and, once again, much messing about with track lengths and overdubs. Not much Mellotron on either version, with the original release only having a string part on Emerald City, while the Special Edition adds choirs on Curious Goods Part One and flutes on the version of Bond theme You Only Live Twice, replacing her cold-blooded butchery of Steely Dan's Do It Again from the original.
Garden of the Moon, the album that broke her in Japan, is marginally more 'progressive' than its predecessors, as Norlander correctly ascertained that, small though the market is for prog, it's still larger than that for AOR. Hey! Let's mix the two and draw in fans of both... The only way this could be considered 'progressive' is in its overlong tracks with extended instrumental breaks, keeping the technique geek faction happy, which really doesn't count in my book. No highlights whatsoever, funnily enough and only one Mellotron track, with surprisingly upfront strings and flutes on Moongarden. Later that year, Norlander and Lane opted to release, in Japan only, a collection entitled Ballad Collection and yes, it's every bit as horrible as that title suggests. To quote from Norlander's sleevenotes, the album was designed to feature Lane's voice "in a more intimate and demur [sic.] setting...", which just about sums up for me the way she's being marketed, appealing to the sexist wanker that lurks in all men, doing the whole submissive little girly schtick that female artists with more gumption have been fighting for decades. Anyway, on the Mellotron front (can't keep me off it for long), Through The Fire has a brief string part under the real viola, while When Time Stood Still (an ELO b-side, it seems) has flutes running right through it, with a flute intro on her version of The Beatles' Across The Universe.
Queen of the Ocean (is it just me, or do these titles all essentially sound the same?) carries on (guess what?) in a similar vein to Garden of the Moon, absolutely nothing about it being outstanding in any way. Norlander's credited with 'Mellotron, Hammond organ, Rhodes piano, MiniMoog, Yamaha and Alesis synthesizers'. Guess what you hear most of? Clue: these instruments are not listed in order of preference. Anyway, enough about the album's failings (which are many); wotabout the Mellotron? I hear you cry. Well, when it's used, it's nicely at the front of the mix, as on the title track. It opens with a chordal string part, shifting into rhythmic flute chords, before Norlander falls back on his rather tedious string samples; I seem to remember there being more Mellotron than this, but the only other bit I can hear is some rather ordinary strings on Let Heaven In.
Secrets of Astrology (aarghh!) doesn't try to fix what ain't broke, or something, while also managing to be Lane's longest album yet. Sadly. Anyway, 'Strawberry Fields'-style Mellotron flutes on the title track and Alexandria, although the flute on Tarot sounds real. Strings on Asherah and, while the flutes on Guardian Angel are Mellotron, the strings defy easy categorisation, possibly being Mellotron doubling samples. The next (and to date, last) volume of ballads, Ballad Collection II, is a lot like volume one, funnily enough, being a mixture of covers (Elton John, Dan Fogelberg, Supertramp) and originals. The trouble with these albums (as against the trouble with her 'normal' releases) is that they're like being drowned in molasses; so sickly sweet that you end up gagging and begging for some of that dodgy metal guitar work she employs so often. Think it's Mellotron flutes on two tracks, Fogelberg's Nether Lands and Ghost Beside My Bed, although similar sounds and parts on other tracks turn out to be something digital. Project Shangri-La starts off marginally better than its predecessors, but proves unable to keep up the pace of change and quickly slides back into the old rut. Only one even slightly obvious Mellotron track, with flutes on the title track, so nothing to write home about here, then. Apparently, the Japanese version's bonus track, I Believe In You (written by John Wetton) is smothered in Mellotron strings, but most of us aren't going to hear it, making it a little irrelevant.
After several similar releases, Lane chose to record some of the songs that inspired her for late 2002's Covers Collection, although I'm surprised to see there's nothing by Heart, apparently one of her favourite bands. As with the rest of her catalogue, whether or not you'll like it depends largely on how much you like her frequently bombastic voice and hubby Norlander's frequently bombastic arrangements. One criticism I would level at the album is that on the songs I know (by no means all of them), there seems to have been very little effort made to make them her own, arrangements being almost identical to the originals, although, for better or worse, she makes a feminist statement on Argent's Hold Your Head Up, changing the original's 'whooah!' to 'woman'. A few of the tracks are (I should hope) obvious, but the ones you may not spot are The Wall (Kansas), Soaring (pompsters Aviary), Innocence (Enuff Z'nuff), I'll See You In My Dreams (AOR-sters Giant), Don't Try So Hard (late-period Queen), Northern Lights (TNT, not Renaissance), Still Loving You (the Scorpions) and Weep In Silence (Uriah Heep). Again, it's often hard to tell when Norlander's using Mellotron, or just generic string samples, but I'll assume all the highlighted tracks above actually contain Mellotron until/if I find out otherwise. None of his use stands out particularly amongst the mush of the arrangements, although the occasional flute or choir part at least makes a change from the strings, particularly the choirs on Weep In Silence. Overall, though, despite the higher star rating than her earlier work, I can't particularly recommend this to any but her hardcore fanbase.
European Tour 2003 Souvenir CD (credited to Lana Lane and Erik Norlander) is a peculiar release, containing a mish-mash of material by Lane and associates, including tracks from her 2002 Japanese tour, previously-released Norlander solo pieces, live Rocket Scientists and a solo piece from their Stick player Don Schiff. The remaining four are solo Lane, one previously released, one Japanese bonus track, one cover (Zeppelin's No Quarter) and Phantom's Theme, described on their website as a 'Japanese promotional track for the 2002 Shangri-La Tour'. Mellotronically speaking, ignoring the samples on a couple of the live tracks, there are three relevant tracks here, including Project Shangri-La. Of the two new(-ish) tracks, there's plenty of Norlander's Mellotron strings (and Taurus pedals) on Phantom's Theme and I Believe in You, making it, maybe surprisingly, one of her higher-rated Mellotron albums.
Winter Sessions seems to be yet another 'in between' album; a mixture of original material and covers, not really designed to be a 'proper' release at all. It is, of course, essentially the same as all the above, with the 'bonus' of not especially good renditions of A Whiter Shade Of Pale and California Dreamin', plus some jazz standards with which I'm not au fait. Nicely detailed track-by-track credits inform us that opener What A World has Norlander playing Mellotron strings, cello and choir, although it seems the flute is real, while Spirit Of The Gypsy has all the above plus flute. The strings and cello on Carnivale (Let It Rain) are pretty much inaudible, as is the cello on Carry Me Home, although the strings on Ill Wind (You're Blowin' Me No Good) are the chief keyboard instrument. The strings on California Dreamin' are somewhat background, but more upfront on Winter Song, making this one of Lane's more pre-eminent Mellotron albums. Lady Macbeth is a concept effort, though I'm not sure how well it tells the story or otherwise. Despite Norlander's assertions on his wife's website that her albums progress throughout her career, there's little real difference over the course of a decade; barely prog-flavoured AOR with overlong songs, in an attempt to sound 'symphonic', in other words, no change here. A little Mellotron, with strings on Our Time Now and flutes and strings (?), plus definite cellos on We Had the World and distant choirs on Dunsinane Walls.
2006's Gemini is yet another covers album, which at least has the advantage of containing consistently good, proven material. For some reason, Lane and Norlander have opted to limit the number of artists covered, so we get two songs (or, in one case, a song and a medley) each from Pink Floyd, Cream, Heart (finally), Jefferson Airplane, The Moody Blues and Foreigner, mostly taken in their trademark bombastic style. Some versions work better than others, as you'd expect, the Floyd stuff generally coming off best. In case you were wondering, the odd man out in the "Pink Moon Suite" is Heart's Johnny Moon, instantly recognisable as theirs from the vocal melody, the other less obvious tracks being The Moodies' You Can Never Go Home, Foreigner's Long Long Way From Home and Starrider and Heart's Dream Of The Archer. On the Mellotron front, White Room contains a few seconds of strings, although the choirs (surely an obvious Mellotron Moment?) sound like generic samples, with flutes (though not obviously strings) on You Can Never Go Home. Strings on Johnny Moon and Starrider, the latter sounding mixed with synth strings, strings and flutes on Wooden Ships (I know it from the CSN&Y version, but it was apparently concurrently released by the Airplane) and the expected strings on Nights In White Satin and a nice burst of Taurus pedal on Dream Of The Archer. All in all, then, not only one of Lane's best albums, but easily her top Mellotron one.
Lane's next album of original material was 2007's Red Planet Boulevard and you probably know what I'm going to say... Yup, it's the same old same old. Overblown, pomp/AOR nonsense, possibly with a concept, possibly not, lacking the crucial element of memorable songs. I'm quite certain Lane and Norlander would disagree vehemently, but when you've written something and rehearsed it into oblivion, of course you're going to remember it (well, you'd like to think so) and, more likely than not, get weird with anyone who says it hasn't got a hook. Despite the lack of any credit, there's a little Mellotron, although it could so easily be samples. Saying that, you could say the same for several of the above; just because Norlander has used a Mellotron (note pictorial evidence), doesn't mean that he always uses one, does it? Anyway, strings on Jessica and the title track, with strings and possible flutes on The Sheltering Sorrow, all sounding a bit fake.
After a five-year gap, 2012's El Dorado Hotel's pretty much business as usual, although an edited version of the album would actually make for a relatively decent listen, for once. Better tracks include the energetic Darkness Falls and epic closer In Exile, particularly its dynamic middle section, while Hotels is genuinely affecting; one for anyone who thinks touring is fun. On the downside, several blandly nothing tracks aside, Lana unforgivably rhymes 'fire' with 'desire' and 'higher' in A Dream Full Of Fire. I mean, what?! How much more clichéd... The horrible, heavy Autotune use on Believe and Moon God are entirely unnecessary, too, not to mention already dated. Norlander adds Mellotron to a few tracks: El Dorado opens with a chordal string part, with background strings on Darkness Falls and In Exile, although I didn't spot anything else.
Listening to these albums has been a deeply painful experience. I'm no fan of 'commercial hard rock', or whatever you want to call it (early Boston are an honourable exception) and these albums are more likely to appeal to those of an AOR bent than the progheads, although the song lengths may put that audience off. Mind you, just because a track's eight or nine minutes long doesn't make it prog; most of the longer tracks here (of which there are far too many) contain very little musical development, mostly simply consisting of a couple of ideas repeated ad infinitum (or should that be nauseam?). There are an awful lot of great prog albums and an awful lot of great Mellotron albums. These are neither. Avoid.

Return to Japan (2004, recorded 1998-2002, 133.42) **
2004's Return to Japan consists of recordings from no fewer than four Japanese tours (Ms. Lane is rather popular there, it seems), between 1998 and 2002. Disc one consists of full band performances, mostly '02 with a smattering of '99, while disc two is mostly acoustic, from various tours, with a couple of covers stuck on the end for good (?) measure. Most of the set is merely dull and overblown, but it reaches a new nadir with a clumsy, lumpy version of King Crimson's deathless In The Court Of The Crimson King (think: 'reimagined' as a pomp/AOR nightmare), complete with a chunk of Grieg stuck in the middle (In The Hall Of The Mountain King - yeah, we get it). Painful.
Norlander doesn't overuse his Mellotron samples (I find it highly unlikely there was a real one on stage), with strings on Queen Of The Ocean, a chordal flute part in Evolution Revolution and choirs on Astrology Prelude, while disc two gives us a major flute part on Alexandria, strings on Autumn Leaves and strings and flutes on In The Court Of The Crimson King. Lana's fanbase will lap (and already have lapped) this up, but I honestly can't recommend it to any but her most hardcore supporters; for better or (probably) worse, it epitomises her crass, taste-free take on prog. Avoid.

See: Erik Norlander | Rocket Scientists
---