Arrive Alive (1981 cassette, 62.34) *****/TTTTT

Five to Four
Queen of the Deep
Flashpoint
Heart Attack
Crown of Thorns
The Ripper
[later copies add:
Paris is Burning]

Arrive Alive (1983 LP) ****½/TTTT½

Arrive Alive
Heart Attack
Queen of the Deep
Crown of Thorns
The Ripper

Arrive Alive (1998 CD, 73.57) ****½/TTTT½

Five to Four (live)
Queen of the Deep (live)
Flashpoint (live)
The Ripper (live)
Crown of Thorns
Paris is Burning
The Hammer Falls
Stranger on the Edge of Time

Paris is Burning EP (1983, 20.06) ***/TTT

Paris is Burning
The Hammer Falls
Stranger on the Edge of Time

The Sentinel (1984 LP, 45.10) ****½/TTTT½

Eyes in the Night (Arrive Alive)
Cut and Run
Rise and Fall
Shock Treatment
Ark of Infinity
Atlantis
The Sentinel (1992 CD, 57.31) *****/TTTTT

Shock Treatment
Cut and Run
Arrive Alive
Rise and Fall (Part One)
East West
March on Atlantis
Rise and Fall (Part Two)
Heart Attack
Atlantis
Ark of Infinity
Eyes in the Night EP (1984, 18.33) ****/TTT½

Eyes in the Night (Arrive Alive)
East West
Crown of Thorns
Shock Treatment EP (1984, 17.50) ****/TTT½

Shock Treatment
March on Atlantis
Heart Attack
The Knightmoves EP (1985, 17.46) ****/TTT

Strangers
Nightmare
Sanctuary
The Wedge (1986, 38.29) ***/T

Dance Through the Fire
Throwing Stones at the Wind
Win or Lose
The Executioner (Bernie Goetz a Gun)
A Million Miles Away (Imagination)
Ratracing
Just a Memory
Throwing Stones at the Wind EP (1986, 21.19) ***/T

Throwing Stones at the Wind (extended mix)
Cut and Run (live)
Crown of Thorns (live)
Live in Southampton (1986, 66.37) ****/TTT½

Dance Through the Fire
Cut and Run
Throwing Stones at the Wind
The Executioner
Rat Racing
Just a Memory
Crown of Thorns
Sanctuary
Atlantis
Sketches (1990?, recorded 1985?-89?, 68.29) ***/T

Voices in the Dark
The Real World
Hide and Seek
Win or Lose (acoustic)
Man of Principles
Ghosts
Meanwhile...
All or Nothing
North Tonight
Wall to Wall
I Believe in Father Christmas
Morning Fleet
Bleak House
Submarine
Dinosaur
Holiday
Tibet
Tokyo Detective
Syanara
Knightmoves to Wedge (1992, 56.15) ***½/TT½

Strangers
The Executioner (Bernie Goetz a Gun)
Throwing Stones at the Wind
Win or Lose
A Million Miles Away (Imagination)
Ratracing
Sanctuary
Just a Memory
Dance Through the Fire
Nightmare
Mythopoeia [CD-ROM] (2002, recorded 1981?-2001?) *****/TTTTT

Five to Four
Crown of Thorns
Radio Silence
Playground/Interview
The Ripper
Birth of Arrive Alive
Stranger on the Edge
The Hammer Falls
Paris is Burning/Cut and Run
Rise and Fall
A New Age Dawns
Scrolls
The Cell
Flashpoint 2
East West
Calm Before the Storm
March on Atlantis
Atlantis
Ark of Infinity
Early Shock Treatment
Cut and Run
Lighthouse
Logo
12 String
Birth of Win or Lose
Nightmare
Stranger in a Strange Land
Mad Machine
Time Wheels
Dance Through the Fire
The Executioner
Imagination
Rat Racing
Call to Arms
The Knightmoves on
Insideoutsidein
Win or Lose
Dinosaur
Sound and Vision
The Reedotron
Falling Apart at the Seams
Voices in the Dark
Refugee
War of Words
Never Too Late
All Go to Heaven
Birth of Ghosts
Children of the Bomb
Beat the Drum (demo)
Beat the Drum
Blood and Roses
Insomniac
Dreamland
Early Cross and the Crucible
Who's to Blame
The Blinding Darkness
Generations
Midas Touch
You'd Better Believe it
Real World (fretless)
Real World
The Cross and the Crucible
The River Sessions 1 (2005, recorded 1983, 55.00) ****/TTT½

Queen of the Deep
Arrive Alive
Crown of Thorns
The Ripper
A Little Bit of Culture

The River Sessions 2 (2005, recorded 1985, 47.27) ***½/TTT

Shock Treatment
Crown of Thorns
Imagination
Dinosaur
Sanctuary
Atlantis (Finale)
Stranger in a Strange Land/Eyes in the Night
The Sentinel Demos (2013, recorded c.1982-84, 90.13) ****/TTTT½

Rise and Fall
A New Age Dawns
The Scrolls
The Cell
Flashpoint 2
East West
The Calm Before the Storm
March on Atlantis
Atlantis
Ark of Infinity
Cut and Run
Shock Treatment in Development
Reprise
Christmas in Atlantis
The Arrive Alive Demos (2013, 71.23) ***½/TT½

Five to Four
Crown of Thorns
Radio Silence
Playground/The Interview
The Ripper Extended Jam
Arrive Alive in Development
Stranger on the Edge of Time
The Hammer Falls
Paris is Burning/Cut & Run in Development
The Knightmoves: An Album That Never Was (2013, recorded c.1985, 57.36) ***½/TTT½

Lighthouse
Logo
12 String
Bring Down the Wall
Piper Play Your Tune
Celtic Tinge
The Knight Moves on
Birth of Win or Lose
Nightmare
Stranger in a Strange Land
Timewheel
Mad Machine
An Alternative Arrive Alive (2020, recorded 1981-82?, 111.44) ****/TTT

Echoes
5 to 4
I Know What I Like
Queen of the Deep
Moonline
Flashpoint
Heart Attack
Crown of Thorns
The Ripper
The Knife/Los Endos
Arriving Alive (2020, recorded 1980-82, 244.23) ****½/TTTT

5 to 4 19-04-80
The Ripper 19-04-80
Flashpoint 19-04-80
Queen of the Deep 19-04-80
Crown of Thorns 13-09-80
The Ripper 13-09-80
The Knife/Los Endos 13-09-80
Deja Vu 13-09-80
Echoes 01-02-81
5 to 4 01-02-81
I Know What I Like 01-02-81
Queen of the Deep (part) 01-02-81
Flashpoint 01-02-81
Heart Attack 01-02-81
Crown of Thorns 01-02-81
The Ripper 01-02-81
Queen of the Deep 20-01-82
Arrive Alive 20-01-82
The Hammer Falls 20-01-82
Paris is Burning 20-01-82
Crown of Thorns 20-01-82
Atlantis 20-01-82
I Know What I Like 20-01-82
The Journey to Atlantis (2020, recorded 1982-2020, 334.05) ***½/TTTT

Eyes in the Night rough mix
Shock Treatment rough mix
Cut and Run rough mix
Ark of Infinity rough mix
Atlantis rough mix
Rise and Fall rough mix
Eyes in the Night Atlanta demo 1
Eyes in the Night Atlanta demo 2
Shock Treatment Atlanta demo
New Track Atlanta demo
Scrolls demo
Flashpoint 2 demo
The Cell demo
Cut and Run demo
A New Age Dawns v1 demo
A New Age Dawns v2 demo
Ark of Infinity demo
Calm Before the Storm demo
East West demo
March on Atlantis demo
Atlantis demo
Rise and Fall demo
Christmas in Atlantis
Reprise
Shock Treatment writing phase
Scrolls GBM vocals writing phase
Scrolls instrumental writing phase v2
The Scrolls writing phase v1
Slow Atlantis ending writing phase
Cut and Run writing phase
Ark writing phase
Ark instrumental writing phase
Ark v1 writing phase
A New Age Dawns writing phase
A New Age Dawns pt2 writing phase
A New Age Dawns instrumental writing phase
Moonline writing phase
Stranger in a Strange Land writing phase
The Tattie Song aka Mad Hatters Tea Party v2
The Tattie Song aka Mad Hatters Tea Party v1
Dance Through the Fire origins 08/82
Cut and Run v2 08/82
Cut and Run 08/82
The Cell 08/82
Procession 08/82
All the World 08/82
East West 08/82
Calm Before the Storm 08/82
Atlantis opening section 08/82
Untitled 08/82
The Origins of Atlantis rehearsals and chat
21st Century Visits
3 Guys With an RE-501
SI Magazine: Compilation Disc (1991, 5.55) *½/½

[Pallas contribute]
War of Words
Current availability:
Arrive cassette/vinyl: out of print
Arrive CD/Sentinel/Wedge: Inside Out
Eyes/Shock/Knightmoves EPs: contained on various CDs
Throwing: b-sides unavailable
Mythopoeia: private
River Sessions: River Records
Southampton/Sketches/all 2013 and later albums: Bandcamp
SI Mag: SI, now out of print
Mellotrons used:
Pallas' discography, as you can see from the above, is an almost hopelessly tangled mess, one album being released in three entirely different versions on three different formats, so the 'CDs only' crowd are going to be a little disappointed. Time to dig out your old turntables and tape decks...
Pallas formed way back in 1975 in Aberdeen, Scotland, but apart from a rather, er, 'formative' EP in '78, released nothing of any consequence until 1981, when the original six-track, hour-long Arrive Alive cassette slipped out. A short feature in an early edition of Kerrang! upped their public profile and probably sold them a good few copies of the tape. Despite a rather rough sound, Arrive Alive is an absolute classic and really can't be lumped in with the rest of the neo-prog Genesisalikes at all; Rush would be a closer comparison, although bits of Genesis do leak through every now and again. Five To Four is a killer opener, Mellotron (actually Novatron. Pedant ed.) to the fore and the band quickly stamp their own sound onto the music, despite their influences. Queen Of The Deep has a more major-key feel, with some excellent Mellotron choir pitch bend in the 'underwater' section. Flashpoint has more than a little of Alice Cooper's Billion Dollar Babies about its riff but, again, much Mellotron all round. By The Ripper, you wonder whether they can squeeze any more Mellotron onto the album, but keys man Ronnie Brown absolutely excels himself with it here, creating a real masterpiece of creepy Mellotron strings underpinned by Graeme Murray's doomy bass, slightly reminiscent of Poisoned Youth from England's Garden Shed opus.
Now, here the confusion starts in earnest; two years later, an LP emerged with the same title and similar sleeve artwork. However, only four of the cassette's six tracks appear, with a studio version of the title track (not on the tape) tacked onto the beginning of the album. OK, that's four out of six easily available, but whither Five To Four and Flashpoint? In late 1998 (yes, fifteen years later...), a CD crept out, adding to the confusion still further. Again, four tracks from the tape, two different to the album... OK, it's great that various single-only tracks are now on CD, but what about the other two live tracks? The version of Crown Of Thorns on the CD is the later EMI studio version, so although all six tracks are available in one form or another, only four of them are the original versions. Wouldn't it have been better to have put out a double CD with one disc being the original tape and the other being single-only tracks and the odds'n'sods they must have lying around somewhere? I suppose that ups the cost and reduces the sales; plus ça change.... Anyway, the other tracks on the CD are worth hearing, but none of 'em are a patch on the missing live tracks. So... in order to get all six original tracks, you'll have to buy the CD and find a copy of the LP, too. Confused? You should be...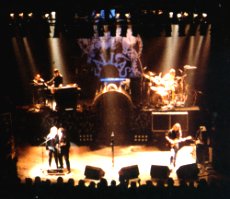 By 1984, Pallas had been signed to EMI in the wake of Marillion and immediately entered into an argument over what exactly they were going to put on their first album for the label. The band wanted to record their entire 'Atlantis' suite, parts of which had been around since Arrive Alive days, but EMI refused to sanction a double album, so the concept was ruthlessly slashed to two (admittedly lengthy) tracks, with another two recorded for b-sides, along with studio takes of Crown Of Thorns and Heart Attack. The Eddy Offord-produced The Sentinel sounds like a bit of a compromise, to be honest, although it's still an excellent album; Arrive Alive turns up again, rearranged, with a new title (copyright problems, I believe) and there are two other shorter tracks, but Ark Of Infinity manages to be suitably grandiose, while the 'Atlantis' tracks, Rise And Fall and Atlantis itself are both superb, although Atlantis was cut from fifteen minutes plus to about eight for the album.
The 1992 CD changes the running order drastically, including slicing Rise And Fall in two and adding 'Atlantis' tracks East To West and the brooding March On Atlantis. Whether the 'concept' makes any more sense can only be a matter for conjecture; without unrecorded gems such as Calm Before The Storm it's never going to sound right anyway. In the sleeve notes, the band claim that everything from the first part of Rise And Fall on are included in the story, but some of the connections are tenuous, to say the least. Pallas' live double CD from 2000, Live Our Lives, includes a 25-minute version of the 'Atlantis Suite', which is probably the nearest we're ever going to get to hearing it as originally intended, albeit without Mellotron. As far as the Mellotron is concerned, there are some fantastic choirs and good string bits here and there. I think the church organ on Ark Of Infinity is Mellotron (I saw them use the sound live), but since they also used a Synclavier on the album, it's hard to tell.
Unfortunately, The Sentinel highlighted vocalist Euan Lowson's shortcomings, so after touring the album, he was quietly replaced by Alan Reed, the diminutive singer from Scotland's second best-known prog band, Abel Ganz. Their first release featuring him was the Knightmoves EP, featuring future Pallas classic Sanctuary, with some wonderful choirs in the closing section. Nightmare has some suitably doomy strings, but although initial live versions of lead track Strangers (then still known as Stranger In A Strange Land) featured a Mellotron church organ run on the intro, the song was completely rearranged for the studio and a rather lesser synth part replaced it.
By 1986's The Wedge, Pallas had moved towards what their detractors later accused them of; Stadium Prog. The album does actually have its moments, but too much of it is only tangentially progressive, with radio-friendly melodies allied to fiddly arrangements, in the (vain) hope of keeping everybody happy. The only Mellotron to be heard is some sustained strings chords on opener Dance Through The Fire; the last time we'd hear it on a Pallas studio album, in fact. They carried on using it live for another couple of years and it can be heard in this guise on the Throwing Stones at the Wind EP, the Live in Southampton cassette and even on a dodgy cover of Greg Lake's I Believe In Father Christmas from another cassette-only release, Sketches, by this time featuring Ronnie Brown's predecessor, Mike Stobbie, back on the keys.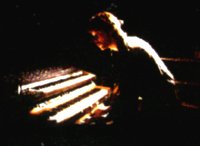 The Southampton tape proves that the band actually used the Mellotron live on several Wedge tracks, presumably as Ronnie's live rig only consisted of two DX7s, an Oberheim poly, a sampler and the Mellotron, so it came in useful for several parts doubtless originally played on something very expensive. Be warned, however; Throwing Stones, The Executioner and Rat Racing only have short bursts of the instrument, so don't expect some sort of Mellotronfest. Saying that, Atlantis has choirs ripping through almost its entire length, making the tape worth it for this track alone.
In late '88, Pallas disappeared from view, leaving most of us thinking they'd quietly called it a day, but five years later they suddenly lurched into view at a UK prog festival, sans Mellotron. They promptly disappeared for another five years, before reappearing in 1998 with a new album, Beat the Drum, sadly in a similar vein to The Wedge, plus the aforementioned Arrive Alive CD. This presaged a veritable flurry of activity from the band; at the time of writing (late 2001), there has been the previously-mentioned Live Our Lives and another studio album, The Cross and the Crucible, with gigs now occurring annually. Oh and Ronnie Brown's back, meaning each keyboard player has now had two stints in the band. Careful, chaps, you might start getting (un?)favourable comparisons with Yes...
In early 2002, Pallas suddenly sprung Mythopoeia on an unsuspecting public. Well, who'd have thought that a progressive band from the outer reaches of Scotland would be the first to come up with such a revolutionary idea? Maybe because they feel they've got nothing to lose, Pallas decided to release six hours of demos, live tracks etc. to the general public in the form of a CD-ROM of MP3s, plus videos and stills, all tied together with a nice little CD-ROM presentation. And all for twelve quid. Despite the rather ropey (read: un-commercially releasable) quality of most of the tracks, this disc is an absolute triumph; many unreleased tracks, including, at last, the full 'Atlantis' concept as it was originally conceived. Now, correct me if I'm wrong, but don't I recognise a few of those tracks from bootlegs, right down to the same type of hiss? No matter; not only is much of the music magnificent, but there's a raft of previously-unheard Mellotron material, particularly on the live stuff. The disc is sub-divided into no fewer than seven sections covering different periods of the band's career, including two so-called 'lost albums'. Oddly, I've discovered five tracks that aren't listed on the interactive menus; four of them are listed at the end and appear to be late-period demos, but the fifth is Calm Before The Storm, part of the 'Atlantis' suite that I know from a bootleg. I can only assume that this is one of those technical hitches commonly known as a 'mistake', which is a shame, as I can imagine many users won't bother to go into their file manager to access tracks individually.
Of the early material, studio demos of Five To Four and Crown Of Thorns are smothered in Mellotron although, surprisingly, the magnificent twenty-minute version of The Ripper isn't; the Mellotron's such a prominent feature of the live version that I suspect this recording predates their Novatronic purchase. A couple of previously-unreleased tracks from this period are rather excellent, though sadly Mellotronless; incidentally, Interview is a song (of sorts) rather than, er, an interview, although the disc also contains a few of them (unlisted above). The Paris Is Burning/Cut & Run track is a straight cross between the two pieces, presumably work-in-progress from around 1983, although The Hammer Falls is the only other Mellotron track in the first section.
So, to 'Atlantis'. As mentioned above, Pallas wanted their first major-label outing to be a double album of their entire 'Atlantis' concept, nixed by EMI on (presumably) cost grounds. Listening to this material in sequence, their decision is revealed to be an artistic error; many of the tracks are tied together by common themes, in true concept album style and at least one track (The Cell) is an absolute classic, better than several Sentinel tracks. Calm Before The Storm is built around the 'Atlantis' Mellotron choir part and Rise And Fall is so Mellotron-heavy that it seems inconceivable that the studio version has none. Most of the pieces that ended up on The Sentinel are in extended versions here, or rather, non-edited. I have a bootleg of March On Atlantis/Atlantis that hits the twenty-minute mark, which is about right going by these versions. Sadly, there are no proper studio versions of much of this material and there's zero chance that Pallas will ever re-record this material properly; anyway, the Mellotron parts would be played on anodyne generic string and choir samples, so be thankful for this disc!
The 1984-5 'missing album' has several tracks with bits of Mellotron thrown in; on Lighthouse it's almost inaudible, but the demo of Nightmare and the early Stranger are loaded with it. Stranger In A Strange Land is particularly interesting as a prime example of well-played Mellotron pipe organ; I remember seeing them play this version live and was rather disappointed that it was so heavily rearranged on the Knightmoves EP. After this period, the Mellotron use tails off sharply; as you can see, there are a handful of tracks from the Wedge/Voices in the Dark period, but nothing to write home about, really, particularly including War Of Words, originally available on the piss-poor SI Magazine: Compilation Disc. By this time, the music had taken a sharp lurch towards the 'pop-prog' style Pallas would unfortunately make their own in the late '80s. Recent works are slightly more back on track, but I wouldn't hold your breath waiting for another Arrive Alive or Sentinel.
In 2005, a company called River Records released a pair of live discs from Radio Clyde's archives, nicely filling a couple of gaps in the band's discography. The River Sessions 1 was recorded in early '83, featuring Euan on vocals, of course, playing a similar set to when I first saw the band a few months earlier. We get three (or four, depending on what you're counting) from Arrive Alive and, at long last, a decent recording of their 'classical medley' encore of the time, A Little Bit Of Culture (which seems to have more of a Scottish bent than the version I used to hear). Mind you, when I say 'decent', what I actually mean is 'good bootleg'; I've heard better-sounding boots, to be honest, although this is invaluable for fans of Pallas' early material. The Mellotron parts on Queen Of The Deep (without its original piano intro), Crown Of Thorns and The Ripper are present and correct, with nothing to be heard on Arrive Alive (still under its original title) or A Little Bit Of Culture.
The River Sessions 2 dates from their Uriah Heep support slot from mid-'85 and apart from a re-run of Crown Of Thorns, is barely recognisable as the same band as on 1. Replacing Euan with Alan Reed lost the band some character but gained it someone who could actually sing, his voice harmonising well with Murray's, while the new (as in 'post-Sentinel') material marks their shift towards the 'stadium prog' sound with which they've doggedly stuck to the present day. Unfortunately, the album exchanges sonic clarity for tracklisting accuracy, completely missing the Atlantis finale segued into from Sanctuary; I mean, it's even got its own track number... Ronnie plays the expected Mellotron parts on Shock Treatment, Crown Of Thorns, Sanctuary and Atlantis, with a few unexpected choir chords at the beginning of the Stranger (In A Strange Land)/Eyes In The Night segue, although it's less Mellotronically-worthwhile than the previous volume. It's interesting to note that the band obviously had considerable input into these releases, with insightful sleevenotes and artwork taken from singles sleeves of the period.
2013 brought Bandcamp releases for The Arrive Alive Demos, The Sentinel Demos and The Knightmoves: An Album That Never Was. Most of the contents of both had been available since 2002, albeit in MP3 form, on Mythopoeia (above), but it's good to see them become more easily available, while both releases now include material not included on the MP3 collection. Taken as a trilogy, these three albums give us a rather more complete picture of where Pallas were actually at in the first half of the '80s. Arrive Alive is interesting to hear, if not a patch on the original six-track tape, highlights including the studio Five To Four, every bit as powerful as the live version and twenty minutes of The Ripper Extended Jam. Not all that much Mellotron/Novatron, actually, with the expected parts on Five To Four and Crown Of Thorns, occasional strings on The Hammer Falls and distant choirs, previously unspotted, on Stranger On The Edge Of Time.
As recounted above, The Sentinel sees the closest we're ever going to get to the original song-cycle, sourced from demos and live tapes, previously-unavailable highlights including The Cell, Flashpoint 2 and The Calm Before The Storm. The two 'new' tracks, Reprise and Christmas In Atlantis are fairly slight, if perfectly pleasant, the former sounding as if it dates from before the band's purchase of their Novatron. It has been pointed out that ninety minutes of The Sentinel is somewhat unwieldy and the original album was a good compromise between 'concept' and 'even remotely commercially viable'; a fair point, but it's good to be able to hear the band's original ideas. Mellotron pretty much everywhere you look, of course, the biggest surprise being a flute part on Rise And Fall, although the band's regular tapeframe didn't contain the sound.
The latest (alive) arrival from the Great Pallas Reissue Programme is 2020's An Alternative Arrive Alive, a collection of live recordings of variable quality from (presumably) various venues, including all six songs from the original Arrive Alive cassette, albeit in different versions. Opening with a full-length Echoes, one of several crowd-pleasing covers they ambitiously tackled, complete with tape drop-out at one point, some of the soon-to-be-recorded album material appears in earlier versions, mostly even longer than their familiar arrangements, notably 5 To 4 and Queen Of The Deep. The only genuinely unheard piece here is the not bad/not great Moonline, while various Pallas-play-Genesis covers are perfunctory, if entertaining. Ronnie's Mellotron turns up on the last four tracks, with the expected parts on Heart Attack, Crown Of Thorns and The Ripper, while a strange little choir part appears at the end of their truncated Knife, cropping up again (of course) on Los Endos; shame they couldn't have worked out Tony Banks' chords, but there you go.
Unsurprisingly, The Knightmoves bridges the gap, musically, between the released version of The Sentinel and The Wedge, also being the recipient of the highest number of non-Mythopoeia tracks. It's... good, if variable, at its best on 12 String, Bring Down The Wall and a splendid version of Nightmare, while the last two tracks, Timewheel and Mad Machine, see an official release for both sides of the 7" that came with early copies of the original Knightmoves EP. Of the course, the band's one notable missing composition from the period is their last bona fide epic, Sanctuary, presumably as no demo version exists. On the Mellotron front, notable use includes a huge church organ part on Logo, an icy string melody and chordal choirs on Bring Down The Wall, choirs on Piper Play Your Tune and Celtic Tinge and the previously-mentioned, unfeasibly-speedy church organ run on Stranger In A Strange Land.
2020's download-only Arriving Alive is a huge, four-hour catalogue of live material from the 1980-82 period, including (mostly multiple) versions of all six tracks from the original Arrive Alive, plus cover versions, material later to turn up on singles or on their first EMI album and one entirely 'new' piece, Deja Vu, although its first couple of minutes consist of Niall Matthewson playing solo renditions of Rush and Zeppelin's greatest hits. Perhaps you had to be there. Other notable inclusions are two versions of Genesis' I Know What I Like, both featuring the Firth Of Fifth guitar solo as an interlude and a vastly superior, early version of future (and rather faceless) b-side The Hammer Falls. Mellotronically speaking, the first four tracks (from April '80) are clearly prior to their Novatronic purchase, but it appears on the vast majority of the rest of the material, the only holdouts being Deja Vu and the only appearances of Arrive Alive itself and Paris Is Burning. Previously-unheard use includes a handful of choir chords at the end of another burst of Genesis, The Knife, and the expected choirs on Los Endos, even if they hadn't been able to work out Tony Banks's chords in the middle section. Ronnie uses the strings, very effectively, I must say, in place of the original's organ in the middle of Pink Floyd's Echoes, gets some flutes onto the February '81 version of 5 To 4, making me think their church organ tapes must have been a subsequent purchase, adds strings to the choruses of I Know What I Like, another flute line on Heart Attack and strings on The Hammer Falls. And if you think this release is an epic...
The equally download-only The Journey to Atlantis, released a few months later, is five and a half hours long, making Arriving Alive look like an EP. Well, almost. This must be the last word for the Pallas completist, covering a raft of album demos, writing phases, live material and outtakes, strangely sequenced in reverse order. We kick off with rough mixes of the album, a couple of obvious differences apparent, followed by demos of most of the album plus a raft of largely familiar material that ended up not being recorded, including the demo version of The Cell, which sounds exactly like the live version we've known for years and Christmas In Atlantis, which turns out not to be the expected joke number. The writing phase recordings really sort out the wolves from the sheep (sheep from the lambs?), complete with bum notes, false starts, dead ends... You name it, they do it. Fascinating listening for the dedicated fan, albeit probably only once. You want complete? You've got it. The August '82 rehearsal tapes are, in some ways, more enlightening, not least by informing us that Dance Through The Fire, despite sounding like a mid-'80s piece, er, isn't. Despite its bitty nature, the fourteen minutes of East West might just be the most interesting thing in this section, if still very much in 'completists only' territory. Should they have included twelve minutes of 21st Century Visits? Hard to say: if you like the sound of a new arrangement of some of the suite's main themes played on modern, pseudo-orchestral keyboard sounds, be my guest. Or 3 Guys With An RE-501 [a.k.a. the Roland Space Echo]? Think: another sixteen minutes of rehearsal recordings, sounding more like the band's attempt to move into Tangs territory than anything.
Mellotronically speaking, as you can see, it turns up somewhere on most tracks, if only in the form of a brief burst of choir (a common tactic). More notable parts include a church organ line on the rough mix of Rise And Fall, choirs on the Scrolls demo, flutes on the Rise And Fall demo, choirs on Christmas In Atlantis and The Tattie Song aka Mad Hatters Tea Party v2 and strings on Dance Through The Fire Origins 08/82. The Mellotron on the sixteen-minute The Origins Of Atlantis Rehearsals And Chat, however, consists of quite literally half a second of strings (? It's too brief to say for sure), possibly the lowest Mellotron→song length quotient on this entire site (around 0.02%, for what it's worth. Yes, I checked). Don't get me wrong; there's some great material on here, but this massive, unwieldy release (I had to break it into several chunks for review purposes to avoid Pallas Overload) almost defines the phrase 'fans only'.
So! Buy the vinyl and CD versions of Arrive Alive, at least until the band decide to put all six live tracks out officially. Get the Sentinel CD, the Southampton tape, if you can find it n.b. now available on Bandcamp] and the River Sessions discs. The Knightmoves EP is worth it, too, but don't spend too much on the Wedge/Knightmoves to Wedge CD. To save you the trouble of trying to sort out the EP confusion, the Paris is Burning tracks are on the Arrive Alive CD, the two Sentinel EP's extra tracks are on either that album's CD or Arrive Alive, the Knightmoves tracks are on the various Wedge reissues and the Throwing Stones live b-side tracks (recorded in front of a home crowd in Aberdeen) are currently unavailable. And of course, get the Mythopoeia CD-ROM. Some of it's almost unlistenable, but you're still getting a good three albums of essential material.
Incidentally, it seems that after Mike Stobbie left the band for the second time, he took the Novatron with him (it apparently always belonged to him, anyway). I believe it sat in a state of disrepair for some years before he sold it to UK electronicists Add N to (X), who used it on three albums before splitting and selling it on to I Monster.

See: SI Magazine
---