---
Sugarbomb (US)
Bully (2001, 39.40) ****/TTT½

What a Drag
Bully
Hello
Mail Order Girlfriend
Motor Mouth
Clover
Over
Gone
Posterchild for Tragedy
Waiting
After All
Current availability:
Mellotron used:
Another excellent Jim Rigberg review, ladies'n'gents!
Apparently, as with all excellent - and somewhat unique (sort of like the bastard child of Weezer and Queen) - new bands these days, Sugarbomb managed to last long enough to issue only one full-length release, 2001's Bully. I suppose a potential silver lining exists - vocalist/keyboard man Les Farrington, on the one hand and vocalist/guitarist David Harville, on the other, are now free to form two good bands. Unfortunately, given the lack of commercial success of Sugarbomb and the prospects these days for any act that doesn't need to rely on those two Swedish guys that supply the tripe for the Justin Aguileras of the world, it would not surprise me in the least if these talented gentlemen blew off music for lucrative careers in web-design, real estate sales, or catering.
Anyway, Bully really is a power-pop gem. Reviews of the CD included comparisons and references to Todd Rundgren, Cheap Trick, XTC, the Beatles, Smashing Pumpkins, Jellyfish and - of course - Queen, a stated favorite of Mr. Farrington's. Sugarbomb's music echoes all of these bands and, at the same time, carries plenty of complementary modern production finishes, punk energy à la Supergrass and great, great hooks. Several songs - What A Drag, Bully, Hello, - are radio-ready (but in a good way); it's hard to believe that this CD (which was released on RCA) didn't do a whole lot better. I can't profess to know all the facts, but I suspect that the usual factors (ahem, abandonment of record company financial and advertising support) contributed to the outcome.
Not much Mellotron on the opening track, What A Drag - just some string washes here and there. Mail Order Girlfiend and Motor Mouth, on the other hand, are stuffed with Mellotron. Mail Order Girlfriend sounds like Queen channeling some boy-band (but, I promise, it does not suck) with plenty of creepy-carnival sounding Mellotron and organ figures. However, the Mellotron centerpiece - and the reason an 11-track CD with Mellotron on only four tracks still merits a TTT½ rating - is Posterchild For Tragedy. The verse, chorus and outro of this piano-based track boast three distinct melodies that would make Paul McCartney proud. The Mellotron strings are up front, come in on the first chorus and, after the second chorus, don't leave. Most importantly, there is that rarest of rarities, a Mellotron solo!
Equally impressive is the Mellotron-less closer After All, the best Queen song not written or performed by Queen. In fact - I hate saying this - the melody of After All is better than most anything Queen ever came up with.
Five of the songs on Bully were apparently re-mastered/re-engineered/re-recorded tunes that appeared on an EP Sugarbomb released in 1999 or 2000. I've not heard the original versions. I have heard a great acoustic version of Killer Queen they performed which is definitely worth down-loading if you can find it. At any rate, if you like any kind of intricate pop music, Bully is a must-buy. Please, Les and Dave - if you are reading this - either get back together or form your two new bands and get us some new stuff!
Sugarloaf (US)
Sugarloaf (1970, 37.47) ***/½

Green-Eyed Lady
The Train Kept-a-Rollin' (Stroll on)
Medley: Bach Doors Man/Chest Fever
West of Tomorrow
Gold and the Blues
Things Gonna Change Some
Current availability:
2-on-1 with Spaceship Earth: Collectables
Chamberlin used:
Sugarloaf were based around the talents of vocalist/organist Jerry Corbetta, so it's hardly surprising that their eponymous 1970 debut is stuffed with his fiery Hammond work. Sugarloaf's a strange album, half mainstream pop/rock of the era (big hit Green-Eyed Lady, West Of Tomorrow), half more eclectic material, including a strange instrumental version of The Train Kept-A-Rollin' (a.k.a. Stroll On), the similarly vocal-free Medley: Bach Doors Man/Chest Fever (Corbetta's organ showcase) and the overlong slow blues of Gold And The Blues.
Corbetta adds Chamberlin flutes to the dying seconds of West Of Tomorrow, although that appears to be it, unless there's anything else hidden in the mix. Why bother? Who knows? Anyway, a decent enough album of its type, if a little unexciting. As a sidenote, Corbetta's been known to say that he used 'the Chamberlin music box sound' on, er, Music Box on their follow-up, 1971's Spaceship Earth, but given that a) I'm completely unaware of any music box sound on the Chamby (which doesn't necessarily mean anything, in fairness) and b) he's credited with celeste on the album, which would produce that sound most satisfactorily, it seems unlikely.
Sula Bassana (Germany) see: Samples etc.
Sulphat'Ketamine (France)
Giant Runk (2015, 44.09) ***½/T

Black Stuff
Stop the Grind
Alrightotherapy
Jackass Boogie
Blue Marine's Blues
The Strange
Birth of the Runk
Current availability:
Mellotron used:
Sulphat'Ketamine are a new French psychedelic blues-rock outfit, whose debut full-length release, 2015's Giant Runk, works its way through several variations on a theme over its seven tracks, notably on lengthy opener Black Stuff, which might just be the exemplar of the band's style, an eleven-minute heavy blues-rock jam bookended by stoner-esque vocal sections. Elsewhere, the electric piano-led instrumental Stop The Grind showcases their more laid-back side, Alrightotherapy features female vocals (from Rita Pradinas) and an epic end section, while Blue Marine's Blues is everything you'd expect from its title.
Bassist Sébastien Grammond (once of the excellent 4/3 de Trio) adds the Mellotron (the same one you'll hear on his previous band's albums) to Hendrixesque closer Birth Of The Runk, with some volume-pedalled choir chords and a more full-on part towards the end. Worth it for the Mellotron? Not really, but a fine album in its own right.
See: 4/3 de Trio
Mark Sultan (Québec) see: Samples etc.
Sume (Greenland)
Sume (1977, 40.25) ***/½

Pûke / Puk
Ikíngutingâ / Min Ven (der er Ikke Længere Brug for Dig)
Inûnek / Livet
Sume / Hvor?
Sisimiut / Sisimiut
Kalâliuvunga / Jeg - Grønlænder
Kaugdloringme Igdlinersiorata / Nye Spor i det Lyse
Kanok Inûguvit / Hvordan du End Lever
Sikorngâ / Drivis
Nunakarfît Nâparkigdlugit / Genrejse
Current availability:
Mellotron used:
Sume were formed by a pair of Greenlanders studying in Denmark in the early '70s. For those unaware of their country's status at the time, it seems it was, essentially a Danish chattel nation, the relationship not dissimilar to that of the Canaries to Spain, although it's now considered an 'autonomous constituent country', apparently. Sung in Greenlandic (a form of Inuit), 1977's Sume was their third and last album before splitting, a rather ordinary, 'middling rock' album of its time, at its best on Inûnek, the folky Sisimiut and the punchy (relatively speaking) Kanok Inûguvit.
As you will already have correctly surmised, Greenland was (and probably is) woefully short on well-equipped recording studios, or, indeed, any other kind, let alone ones owning a Mellotron. However, this was recorded at Copenhagen's Sweet Silence - yes, the same venue that first successfully captured Metallica's sound - Nikolaj Steenstrup playing Mellotron, if barely, with what I presume is a faint chordal string part on Sikorngâ, although, again, it could be nothing of the sort. Only one step up from a fat '0' on the Mellotron front, then.
Cree Summer (US)
Street Faërie (1999, 59.19) ***/T

Revelation Sunshine
Miss Moon
Still Heart
Deliciously Down
Mean Sleep
Life Goes on
Fall
Angry Boy
Sweet Pain
Smooth My Heart
Naheo
Soul Sister
Curious White Boy
Current availability:
Mellotron used:
Cree Summer (Francks) is an actress, mainly known for voicing animated characters, although she's had a fair few 'regular' roles, too. After an unreleased 1993 album, it seems Street Faërie is her only proper release, falling somewhere between R&B, soul and rock, which isn't exactly surprising when you consider it was produced by her friend Lenny Kravitz, whose music is best described as falling somewhere between R&B, soul... you get the picture. As with most of his production efforts, Kravitz is the chief musician on the album, although he seems to have reined in his compositional talents this time round, with a mere single co-writing credit.
Kravitz plays Mellotron on four songs, which is rather more than he manages on his own albums, with rather murky strings on opener Revelation Sunshine and more of the same on Life Goes On. He's credited with 'Mellotron voices' on Smooth My Heart, but if it didn't say, you probably wouldn't know that the faint backing 'aahs' on the track were Mellotron, while Soul Sister has 'Mellotron orchestra', which sounds like it might be a couple of string sounds overdubbed. Overall, very little Mellotron, in true Kravitz style. Why does he bother?
Street Faërie apparently didn't sell very well; maybe it fell between too many stools? It's too laid-back and acoustic to really appeal to the R&B crowd, too rock for the soul fans, too soul... It isn't a bad record, but doesn't really stand out in any noticeable way and it seems the record-buying public agreed. Ironically, it's immeasurably better than anything by the likes of the horrendous Mariah Carey, or any number of other multi-million-selling 'artistes'; not unoriginal enough? Wouldn't surprise me. Anyway, not worth it on the Mellotron front, despite four credited tracks and most readers of this site really aren't going to like the music, though I expect you'd worked that one out for yourselves by now.
See: Lenny Kravitz
Sun City (Australia) see: Samples etc.
Sun City Girls (US) see: Samples etc.
Sun Dial (UK)
Acid Yantra (1995, 49.21) ***½/T½

Red Sky
Apollo
3,000 Miles
Are You Supernatural?
Bad Drug
Fly Into the Sun
Rollercoaster
Nova
Yantra Jam

Zen for Sale (2003, 42.11) ****/TT½

You're Still Wondering
Open Your Eyes
Believe in the Spaceman
Tumbling Down
Acid Test
Supernatural Man
Out of Space Out of Time
Blue Sugar
Reflections

Mind Control (2012, 38.12) ***/T

Mountain of Fire & Miracles
Radiation
Burned in
Mind Control
Last Rays of the Sun
In Every Dream Home a Heartache
Current availability:
Acid: Beggars Banquet
Zen: Acme
Mind: Tangerine/Sulatron
Mellotrons used:
Sun Dial (Sundial on some releases) are a fairly rare thing, a modern full-on UK psych outfit; formed in 1990 by mainman Gary Ramon, they went through numerous lineups while managing to release several albums, signing with Beggars Banquet in '93. Acid Yantra was their fifth album in as many years and features various takes on the whole psych thing, from acoustic whimsy (3,000 Miles, Yantra Jam) to all-out rock (Apollo, Are You Supernatural?), opening with almost the least obvious opener, the lengthy, stoned-out Red Sky. Ramon is credited with Mellotron, but by track eight I'd given up on hearing any, so I'm pleased to report that Nova is chock-full of Mellotron strings, played in an endearingly psych-ish manner, with distant flutes on Yantra Jam to finish off. Acid Yantra is possibly a better concept than an actual album, but it's not at all bad, while making you hope Ramon can hone his skills more finely next time round.
There wasn't actually a next time round until 2003, when a new lineup released Zen for Sale. It's more cohesive than its predecessor, with an even higher late '60s quotient - spot the early Floyd cop on Open Your Eyes - but better songs (listen to closer Reflections) and less aimless jamming, which has to be good. Doesn't it? Anyway, I presume it's Ramon on the Mellotron again, with flutes and cellos on Tumbling Down, heavily reverbed strings and cellos on Supernatural Man, strings on Blue Sugar and flutes and strings on Reflections, making for a healthier Mellotron selection this time round.
After a run of Mellotron-free releases, 2012's Mind Control is decent enough, but so druggy that you (or at least I) feel quite excluded. It's the band's absolute right to make very druggy music, but when you make late '60s Floyd sound straight (I kept expecting Ramon to sing 'Set the controls for the heart of the sun' during opener Mountain Of Fire & Miracles), you've either really got something, or the opposite. Surprise track? Their cover of Roxy Music's sublime In Every Dream Home A Heartache, half drugged-out psych, half manic guitar frenzy. Ramon plays a heavily-reverbed Mellotron flute line on Radiation, although that would seem to be it.
Bo Sundström & Frida Öhrn (Sweden) see: Samples etc.
Sundae Club (UK)
Technostalgia (2004, 52.24) ****/TTTT

Angels in the Sky
In Love With Sundae
Frankie & Tronny
Stuff
The Brummagem Fly
When Beechleaves are Falling
Great Big Homburg Hats
Smaller Fedora
Arabian Flights
Balky Mule
A Different Tide
British Summer Time (2008, 60.18) ***½/TTT

Good People
Pies
The Voder
Honey Bee
The Doddler
Flight Four India
Let's Go to Germany
London to Shanghai via Chipping Norton
Circles
My New Neighbours
Holiday Magic
Oh Roger Rum
Current availability:
Technostalgia: Technostalgic Tunes (UK)
British: out of print
Mellotrons used:
You know when you hear a piece of music and it effortlessly invokes a national or regional characteristic? Oompah bands are forever Bavarian, skirling gypsy violins transport one to Hungary in the blink of an eye, a samba lands you on Copacabana beach; you get the idea. Well, Sundae Club are British. Not a 'rolling green hills and Jane Austen' type of Britishness, more the 'wet bank holiday at Skegness' kind, with the whole family stuffed into your dad's Hillman Hunter, eating fish-paste sandwiches while watching the rain and hoping your little sister doesn't throw up on the way back to the guest house. But if you think this is starting to sound a little negative, think again...
Technostalgia is a celebration of growing up in the '60s and '70s in Britain, with everything that implies; I keep being reminded of the interval music in the local Odeon, with the cheesy, badly-made adverts for local boutiques and Indian restaurants and the ubiquitous wobbly Hammond they invariably used as a soundtrack. Nostalgia is the key element here, simultaneously with and without irony; the beautifully-designed CD digipack opens out to reveal the dashboard of an unidentified '70s British car (maybe that Hillman Hunter?) in loving detail, the icing on the cake being the pile of Ladybird books in the glove compartment, the bottom one of which is titled, "How it works: the Mellotron". If you're reading this with non-British bemusement, I apologise; I didn't make the album or design its sleeve, but I'm glad someone did.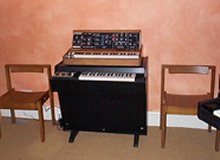 I haven't even tried to describe the music yet... Easier said than done, to be honest; think 'British film samples mixed with '60s easy listening over a faint techno beat', or 'weird Mellotron riffs in a chill-out room with extra added diva'. I dunno - it doesn't sound like anything else, which is entirely in its favour, but it may also be too eclectic for the average listener, which will somewhat restrict its audience. Do they care? Shouldn't think so; Technostalgia has all the hallmarks of an album made for the amusement of its creators, although I doubt if they'd complain if it suddenly took off. Some tracks catch my ear more than others, but that's hardly surprising, with the variety on offer here. I can't really warm to the girly warblings on three of the tracks and the vocal samples (of the title) in When Beechleaves Are Falling got on my nerves after a while, but the spoken-word samples in The Brummagem Fly and Great Big Homburg Hats are spot-on (no, I didn't spot their sources) and all the instrumental work is excellent.
Sundae Club are Dr. C.D. Mille on 'composition, production, Theremin, cello, keyboards, loops, percussion, tools' and the ingeniously-named Hamstall Ridware (haven't I seen that name on my phone bill? Sorry, UK Mellotron-owner's in-joke...) on 'composition, Mellotron, keyboards, percussion, tapes and wireless' and I think it's fair to say that they are both absolutely barking mad - in the nicest possible way, of course. Mille's contribution to their sound is described on their website as 'mainly techno', while Ridware's is 'mainly nostalgic', with a full equipment list on the CD sleeve, which informs us that not only do they own an M400 (I knew that, thanks), but a Bentley Rhythm Ace (see: Arthur Brown's wondrous Journey album), a Rhodes and a Wurly and a bloody DX7. Oh and a Theremin, that looms up out of the sonic morass here and there. Almost too many Mellotron highlights to name: the 8-choir that opens the album? the flute solo in Angels In The Sky? The MkI (yes, I) rhythms on Frankie & Tronny (actually recorded onto MiniDisc and imported from there, but it still counts)? I'm sure I've missed some more subtle Mellotron parts, but I couldn't hear a single track with nothing at all, though I'm sure I'll be corrected if I'm wrong (ah, correction: The English Vice).
It's taken the Sundae chaps four years to follow Technostalgia, with British Summer Time appearing as a download in 2008, preparatory to a full CD release, apparently. Opener Good People fools the listener into thinking they're going to get more of the same, although it has more of a mainstream 'full band' vibe about it. Pies sounds like some cockney geezer rapping over an Ian Dury outtake, giving the impression of a lite funk rewrite of Blur's Parklife, while Honey Bee goes completely overground, with a mainstream male vocal rather strongly resembling Jeff Lynne's warblings with ELO. You know, you can take this nostalgia thing too far, chaps... The Doddler's plethora of samples sounds more like what we've come to expect from the Clubsters, as does Let's Go To Germany, although the latter is a little repetitive. Circles is another mainstream pop song, while the last few tracks are more typical. What's with the guitar solos, though? Much less obvious Mellotron than last time round, although a typical string part on Good People might initially make you think otherwise. Strings (MkII moving strings?) and cellos on Pies, a lovely flute part on The Voder and distant, phased choirs on Flight Four India keep things going, but several tracks feature no obvious Mellotron at all, which is, of course, the band's prerogative. Strings on London To Shanghai Via Chipping Norton and faint, effected choirs here and there and once the band actually pointed it out to me, MkII guitar on The Doddler and MkII brass on Circles, but still well down on last time.
Technostalgia: wow, what an album! It certainly isn't yer run of the mill effort and it's a million miles away from my more typical listening, but isn't that a good thing? Completely bonkers, rather wonderful and more Mellotron than you can shake the proverbial stick at. Of course, you don't have to be British and Of A Certain Age to really appreciate this, but it probably helps. Whatever. Buy this album. British Summer Time is a very different record, but its charms may become more apparent if I find the time to give it repeated plays. Not bad, but not great.
Sundance (Sweden)
Sundance (1976, 41.41) ***/½

Yea Yea
Some Drunk
Buster
Aspects
So Soft
Current availability:
Mellotron used:
How do you find out anything about a Swedish fusion band from the mid-'70s? You don't, is the short answer. All I can tell you is that is was recorded in Gothenburg, on the west coast and something like thirteen people played on 1976's Sundance, probably their only release, although I don't know how many of them were 'proper' band members, assuming I can even make that distinction. It's all accomplished stuff, as you'd expect, although nothing stood out melodically to a non-jazzer.
Carl-Axel Hall played Mellotron, with a couple of brief, yet lush string parts on Aspects, not even managing to scrape a full T. While this isn't available on CD, downloads are out there, but you really aren't going to bother for the minimal Mellotron.
Sunflow (Ireland/US) see: Samples etc.
Sunny Day Real Estate (US) see: Samples etc.
Sunshine Collective (US) see: Samples etc.
Sunship (US)
Into the Sun (1974, 41.18) ***/TT

The Magician
A Man Could Get Killed
Travelers Through the Years
Ocean Song
I Feel Like I Love Her
Into the Sun
Just a Man
The Way it Was
Whip for a Blues Lick
Current availability:
Mellotron used:
If Discogs is to be believed, Sunship were a one-off mid-'70s soul/funk outfit, whose Into the Sun sounds as good to my ears as many bigger names of the era; I can see why Capitol saw fit to give them a chance. Saying that, the material's pretty generic, probably at its best on the nine-minute title track, a late entrant in the 'vaguely psychedelic soul' stakes and Just A Man, with its all-too rarely heard backwards guitar part.
None other than Mountain's Felix Pappalardi plays Mellotron, amusingly credited as 'flute, strings', presumably in a Musicians'-Union-related attempt to hide its use. We get strings on Travelers Through The Years and Ocean Song, a flute melody on The Way It Was and weird, skronky strings on closer Whip For A Blues Lick, to the point where I'm actually quite surprised the producer passed them.
Super Groovy Band (US)
Joyride! (2004, 38.15) ***/TTTT

I Like Your Hair
Fresh Apples
Coffee With God
Spin
It's a Beautiful Day
Don't Freak Out About the Future
Stay Happy All Day
Turn on the Television
Groovy Man's Lament
Elevator Ride to the Sky
Joyride! Finale
Current availability:
Mellotron used:
(Paul Roland) Gogo has been keyboard player with Canuck semi-legends Trooper since the mid-'90s (I'm sure I owned something by them back in the Cretaceous), forming The Super Groovy Band in the early 2000s. 2004's Joyride! is an unabashed tribute to the psychedelic era, albeit one with some more contemporary touches, possibly at its best on the mildly potty Coffee With God and closer Joyride! Finale.
Gogo plays his own M400 on the album, crediting '400 violins, flutes, mixed choir and MK V brass', although the brass escapes my finely-tuned hearing (cough). Anyway, we get close to a full house, with choir and flute lines on opener I Like Your Hair, strings on Fresh Apples, chordal choirs on Coffee With God, strings and choirs on Spin, a choppy choir part and flutes on It's A Beautiful Day, string swells on Don't Freak Out About The Future, a strings solo on Stay Happy All Day, chordal flutes, strings and choirs on Turn On The Television, faint strings and choirs on Elevator Ride To The Sky and more choirs and strings on Joyride! Finale. Whew! To thoroughly confuse the issue, Gogo has used his Mellotron on two other similar releases, Groovy Man's The Redneck Cookbook and Super Groovy Gogo's Oh Wow! (both 2001), which I'll review should I ever track copies down.
Super 400 (US)
Sweet Fist (2009, 51.27) ***/T

Needle Down
Another Heavy Word
FFMN
Flashlight
Wave
Sand Hill
Thought it Was the End
Dreamboat
Thorn Tree
I Feel the Earth Move
Devil Song
White Bird
Current availability:
Mellotron used:
Presumably named for Gibson's hollow-bodied archtop guitar, Super 400 are (or were) a New York State-based trio, taking inspiration from The Who, Cream and other proto-hard rock outfits of the era. I believe Sweet Fist is their fourth album, highlights including opener Needle Down, the quieter FFMN and the country-blues of Thought It Was The End, although the excision of their insidious indie influence would improve the band's sound.
Bassist Lori Friday's Mellotron sounds real to my ears - given that the album was recorded at Memphis' legendary Ardent Studios, is this their old M400, as used by Big Star and others? Anyway, assuming it's genuine (or even if it isn't), we get cello and flute parts on FFMN and flutes on the gentle Devil Song.
Superchunk (US)
Indoor Living (1997, 48.32) ***/TT

Unbelievable Things
Burn Last Sunday
Marquee
Watery Hands
Nu Bruises
Every Single Instinct
Song for Marion Brown
The Popular Music
Under Our Feet
European Medicine
Martinis on the Roof
Current availability:
Mellotron used:
Superchunk formed in the late '80s, which probably puts them at the forefront of modern US indie, for better or worse. Indoor Living is their sixth album, excluding compilations and pretty much defines the late-'90s American indie scene, being composed of equal parts pop/punk (backings) and modern pop (melodies), Mac McCaughan's vocals being of the 'relatively fey' variety, which you'll either like or you won't, I suspect; probably not too many half-measures here. The music does what it does perfectly well, without touching this listener emotionally in any way, which isn't to actually denigrate it; just because I don't particularly like it doesn't mean it's bad.
The strings on some tracks, particularly Burn Last Sunday and Every Single Instinct are clearly not Mellotron, generic string samples being a more likely source, but McCaughan plays (studio?) Mellotron on three tracks, with wobbly and very real-sounding cellos on Marquee (you really can't fake that wobble, you know), high flute and string notes on The Popular Music and a brief string part on European Medicine. While there were samples around in '97, all Mellotron parts here sound genuine, which makes a nice change, to be honest. So; American indie; I'd rather leave it than take it, but some of you will like it and there's the consolation of a few halfway decent Mellotron tracks.
Superdrag (US)
Regretfully Yours (1996, 41.39) ***½/½

Slot Machine
Phaser
Carried
Sucked Out
Cynicality
Destination Ursa Major
Whitey's Theme
Truest Love
What if You Don't Fly
Garmonbozia
N.A. Kicker
Nothing Good is Real
Rocket
Current availability:
Mellotron used:
A quick glance at the cover of Superdrag's debut album, Regretfully Yours, is liable to make one shudder and think, "Indie-schmindie time". While it isn't entirely true to say that nothing could be further from the truth, they're actually a really good punky powerpop outfit with great melodies and an obvious love of The Beatles, although they must have Hüsker Dü and The Replacements posters on their bedroom walls, too.
Mellotron on Truest Love, from vocalist/guitarist John Davis, presumably Fort Apache studio's M400, with a melodic string part slightly buried in the mix. I'm sure repeated plays would reveal this album's subtleties, but on a single listen, no one track particularly stands out (OK, N.A. Kicker is pretty good), although the overall effect is of tuneful but energetic pop/rock, with not a trace of that terrible indie wetness so many of their contemporaries insist on sporting (mentioning no names, Bright Eyes).
See: Samples etc. | John Davis
---