Reflections in a Radio Shower (2001, 72.27) ***/T

Second Degree Soul Sparks
New Spell
Drive-By Poetry
Retrospectre
Clear Audient
I'll Give You Cumulus
Hidden Rope Trick
Gods at the Top of the World
Eye=I
Bird Swarmy Loop
Intelligent Sparkling Fish
Blood & Oxygen (for the Brain)
Walking Shadow
The Idle Hours of the Fruit Fly
Clouds of Hypno Smoke
Elliptical Orbits (Over and Out)
Alien Injection (2008, 78.48) ***/TTT½

Alien Injection
New Religion
Alpha Harmony
Every Gun Plays its Own Tune
Logger's Revenge (Brian Tawn Speaks!)
Augustus
Future Memories
The Entropy Tango
Another World
The Hawk
Imported Serpents
Ingleborough
Upturned Dolphin
Salome
Montfallcon
Heaven (is One Quality Tree for the Road)
Bloodlines [as Spirits Burning & Bridget Wishart] (2009, 74.25) ***½/T

Eye of the Day
Cleopatra
Midas Touch
Chaminuka
Rocket to the End of the Line
Heavens Hide
Czaritsa
Queen of Ghosts
Goldmine
Follow Me
Mistress of the Age
Mother of the Dragon
Lady Jane
Holding Hands
Silene's Light
Crazy Fluid (2010, 76.01) ***½/T½

Holy Water and the Sea Movers
My Caspian Sea Monster
Slicing Through the Unknown Plantagenets
I Don't Want to Grow Up and Be a Scent
Dealer Like You
Caravelle
Pinball Symphonics (an Ancient Psychedelic
Performance @ the Tail End of Youth)
Martian Crystals
Liquid Clocks
Fondue Fuels
The Book of Luana
(i) Luana Doom!
(ii) Luana the Duchess
(iii) A Preacher for Luana
(iv) Luana the Host (and the Carnival for the Defense)
Behold the Action Man (2011, 72.10) ***½/TT½

Rendezvous at Larva Lounge
Stand and Deliver
The Real Time
Internal Detective
Strafed By a UFO
Outcast
Hypnospy
Crank Up the Vibes
The Train
Hemlock on the Rocks
Every Space Opera
Obelisk of Fondue
Astral Flight Gassed
This Mark You Make
Pieces des Innocents Noir
Underworld Messiah
Healthy Music in Large Doses [as Spirits Burning & Clearlight] (2013, 73.32) ***/T½

Treasures at the Dawn of the Century
Raised on Coal and Oil
Our Secret Cloud
Infinite City
Hand Signals and Daily Horoscopes
Cool Can of Cola on the Forehead
Healing Power of Magnets
Travellin' Sideways
The Kingdom of Music
In Search of Friends on the Day of Masks
Italian Lake
The Road to Shave Ice
Bring it Down
Make Believe it Real [as Spirits Burning & Bridget Wishart] (2014, 95.35) ***½/T

Make Believe (it Acoustic)
Cyber Spice
Revenant
Be Careful What You Wish
Skyline Signal
Demonkind
Eternal Energy
Embers
SpaceRocknRoll
Journey Past the Stars
Reflections
Always (Spirited Away)
No One Cries in Space
Iceflow (Icetalk Mix)
Take Up Thy Stethoscope and Walk
Make Believe it Real
Chain of Thought
The Roadmap in Your Head [as Spirits Burning & Clearlight] (2016, 75.13) ***½/½

The Roadmap in Your Head
Sun Sculptor & the Electrobilities
The Birth of Belief
Coffee for Coltrane
Isolation in 10 80
Mrs. Nooness
The Old College Sky is Where We Left it
Fuel for the Gods
Early Evening Rain
Black Squirrel at the Root of the Staircase
Outsiders Parachute in
Déjà Vu
La Rue Inconnue
Roadmaps (the Other Way)
An Alien Heat [as Spirits Burning & Michael Moorcock] (2018, 75.50) ***½/T½

Hothouse Flowers
Geronimo
Soirée of Fire
In the Future
Doomed
Fall in Love
Any Particular Interest
Dark Dominion
Seven Finger Solution
To Steal a Space Traveller
Virtue & Mrs. Amelia Underwood
Learning the Art
Back to 1896
Quest for Bromley
Thank You for the Fog
Old Friends With New Faces
The Hollow Lands [as Spirits Burning & Michael Moorcock] (2020, 76.13) ***½/½

To Hollow Lands
Isn't it Delicious?
Playing at Ships
Dance Through Time
Warm Snow Peaks
On the Hunt
A Haze of Crimson Light
Conflict & Illusions
Robot Nurse & the Children of the Pit
A Conversation With H.G. Wells
Awful Dilemma
Mr. Underwood's Soliloquy
Time Machine Cabriolet
We May Yet Be Saved
Morphail Megaflow
Memorable Night at Café Royal
To the Time Machine, at Last
Make a Fire
Higher & Higher: A Tribute to the Moody Blues (2006) ***½/TTT½

[Spirits Burning contribute]
The Story in Your Eyes
Current availability:
Reflections: Gazul
Alien: Black Widow
Bloodlines/Crazy: Voiceprint
Behold/Healthy/Make/Roadmap/Alien: Gonzo Multimedia
Hollow: Purple Pyramid
Higher: Mellow
Mellotrons used:
Variously Danny Caccavo's (Falcone) & The Moor's (Magnusson) M400s
Spirits Burning are a California-based space-rock collective, grouped around leader Don Falcone and originally formed as far back as 1986, including (at different times) Michael Moorcock, Daevid Allen and various members of Hawkwind from across the years.
2001's Reflections in a Radio Shower is their second album, a lengthy trip through some of space-rock's many facets, although its chief inspiration seems to be Gong, rather than the small genre's other market leaders. Opening with the Floyd-ish Second Degree Soul Sparks, complete with random voices dropped into the mix, despite some common features, not least Daevid Allen's ubiquitous 'gliss guitar', no two tracks sound that alike, making the album either 'something for everyone' or 'uncohesive', depending on your viewpoint. The Moor's Kenneth Magnusson plays Mellotron on two tracks, with strings on Clear Audient and strings and choir on I'll Give You Cumulus, although all other choir sounds are presumably samples.
2008's Alien Injection is their fourth album and first in some years, featuring a typical run of guests and a surprising variety of styles, not least the very strange The Entropy Tango and the acoustic avant-jazz of Montfallcon. Overall, though, it's fairly standard space-rock, coming with the usual caveat on the subject of style. You know, if you like this stuff you'll probably like this and conversely... Falcone plays Mellotron, with fairly upfront string parts on several tracks, plus choirs on Imported Serpents and flutes on closer Heaven (Is One Quality Tree For The Road), always nice to hear.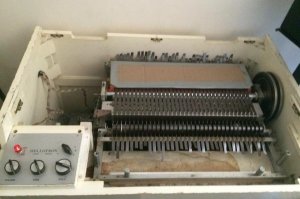 The following year's Bloodlines is the band's second collaboration with Bridget Wishart (the previous year's sampled Mellotron effort Earth Born being their first), featuring her vocals alongside contributions from Nic Potter (once of Van der Graaf Generator) and fellow Hawks Harvey Bainbridge, Alan Davey and Simon House, amongst others. Like Alien Injection, it works its way through various styles, some more contemporary than others, from the rock'n'roll of Cleopatra through the pseudo-Chinese Midas Touch, the hard rock of Rocket To The End Of The Line and the lovely acoustic Lady Jane. Falcone informs me that the string washes on Heavens Hide are the only Mellotron track, although there are Mellotronnish choirs to be heard on a couple of others.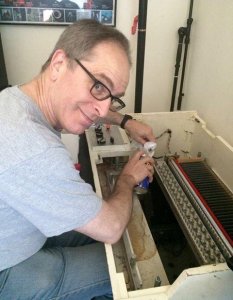 Danny working on the Mellotron at Don's studio
2010's Crazy Fluid is back to just Spirits Burning, although Wishart is involved, as are Daevid Allen and others, including electric violinist Cyndee Lee Rule. It's a far more abrasive proposition than its predecessor, but with surprisingly proggy touches, too, notably on the four-part The Book Of Luana, not to mention the near-jazz of Liquid Clocks. Falcone plays Mellotron strings on opener Holy Water And The Sea Movers and strings, choir and maybe cellos on Pinball Symphonics, while the strings on The Book Of Luana might be real or sampled, played by Randy Wilson.
The following year's Behold the Action Man moves back towards the more drifting end of the psychedelic spectrum for much of its length, highlights including the Hawkwind-alike Strafed By A UFO and Crank Up The Vibes, Wishart's clarinet to the fore. Magnusson and Falcone variously play Mellotron, with chordal strings (and vibes?) on opener Rendezvous At Larva Lounge, distant choirs on The Real Time, lush strings on Internal Detective, flutes and strings on Hypnospy and distant strings on Crank Up The Vibes and closer Underworld Messiah. 2013's Healthy Music in Large Doses (as Spirits Burning & Clearlight) is even more laid-back, at its best on Raised On Coal And Oil, the Floydian Travellin' Sideways and the groove-based In Search Of Friends On The Day Of Masks. Just Magnusson on Mellotron, with background flutes and strings on Raised On Coal And Oil, drifting strings and choirs on Hand Signals And Daily Horoscopes and distant choirs on The Road To Shave Ice's outro, although nothing obvious on its intro, despite a credit.
If 2014's Wishart collaboration Make Believe it Real has a fault, it's length: 95 minutes is an awful lot to absorb in one hit, but there are several gems scattered throughout the sprawl, notably opener Make Believe, Eternal Energy, the lengthy Reflections and particularly trippy closer Chain Of Thought. Falcone plays Mellotron on two songs, with a complex flute part on their version of The Floyd's Take Up Thy Stethoscope And Walk and string and flute parts on Chain Of Thought. 2016's The Roadmap in Your Head is a collaboration with Cyrille Verdeaux, a.k.a. Clearlight, also featuring members of Gong, amongst other guests, highlights including the opening title track, Isolation In 10 80 and the lengthy Fuel For The Gods. Magnusson on Mellotron this time round, with distant strings and choirs on the title track and more obvious ones on Black Squirrel At The Root Of The Staircase.
In 2018, Spirits Burning finally attained their spiritual home, collaborating with the legendary Michael Moorcock on their shared interpretation of his novel An Alien Heat, the first instalment in his Dancers at the End of Time series. Fittingly, the album also features several current and past members of the Blue Öyster Cult, not to mention The Damned, The Groundhogs and all the usual suspects. In what appears to be a first for the collective, the album's closer to 'rock opera' than any kind of looser concept, many of its lyrics eschewing rhyme and scansion for narrative clarity; only you can decide whether or not the tradeoff works. Top tracks? Doomed, Dark Dominion and Virtue & Mrs. Amelia Underwood, maybe. Just Falcone on Mellotron, with upfront strings on Soirée Of Fire and string and flute parts on Dark Dominion. This album's notable for being the nearest we've come to a new BÖC album in over fifteen years; not that near, admittedly, but you take what you can get. Note: This predates 2020's The Symbol Remains by two years.
2020's The Hollow Lands is the second of Moorcock's Dancers... series, in a similar vein to its predecessor, featuring various BÖCers, Hawks and even a Dictator. Again, the narrative overrides the music across much of the album, better tracks including violin-driven opener To Hollow Lands, the brief The Hunt and the amusing A Conversation With H.G. Wells, Moorcock narrating both parts of the dialogue. Mellotron? Isn't It Delicious? features Falcone's cello line snaking in and out of the track and little string swells, although whatever the 'Tron' credit's for on A Haze Of Crimson Light will have to remain a mystery.
Spirits Burning have improved over the years, making increasingly good albums, although it's difficult to sound at all original in this genre. Decent levels of Mellotron use certainly spice up Reflections... and Alien Injection, though.

Earth Born [as Spirits Burning & Bridget Wishart] (2008, 64.06) ***
2008's Earth Born is a straight collaboration between the band (essentially Falcone) and Hawkwind's Bridget Wishart, the latter singing on most tracks. As with all the band's albums, moments of sublime, er, sublimeness (sublimity?) are scattered amongst long stretches of trippy, jammed-out space-rock, mostly at the gentler end of the spectrum. On the site set up for the collaboration, Falcone gives the sample game away for all their recent releases, mentioning the M-Tron plug-in by name. He adds it to a handful of tracks, with a near-inaudible Genesis 'Watcher' strings/brass mix on the opening title track, upfront strings on Hit The Moon, backwards strings on Child Growing and a drifting string part on Candles.

See: Michael Moorcock | Daevid Allen | Hawkwind | Higher & Higher
---