Mental Notes [Aussie version] (1975, 44.23) ****½/TTT

Walking Down a Road
Under the Wheel
Amy (Darling)
So Long for Now
Stranger Than Fiction
Time for a Change
Maybe
Titus
Spellbound
Mental Notes
Mental Notes [UK version, a.k.a. Second Thoughts] (1976, 42.13) ****/TT½

Late Last Night
Walking Down a Road
Titus
Lovey Dovey
Sweet Dreams
Stranger Than Fiction
Time for a Change
Matinee Idyll (129)
The Woman Who Loves You
Dizrythmia (1977, 40.23) ****/½

Bold as Brass
My Mistake
Parrot Fashion Love
Sugar and Spice
Without a Doubt
Crosswords
Charley
Nice to Know
Jamboree
Frenzy (1979, 45.32) ***/T

I See Red
Give it a Whirl
Master Plan
Famous People
Hermit McDermitt
Stuff and Nonsense
Marooned
Frenzy
The Roughest Toughest Game in the World
She Got Body, She Got Soul
Betty
Abu Dhabi
Mind Over Matter
Beginning of the Enz (1979, recorded 1972-75?, 29.56) ***½/T

Split Ends
For You
129
Home Sweet Home
Sweet Talking Spoon Song
No Bother to Me
Malmsbury Villa
Lovey Dovey
Spellbound

A-Reefer-Derci!: Recorded Live at the Reefer Cabaret, Melbourne (1976, 12.07) ****/½

[Split Enz contribute]
Amy (Darling)
Lovey Dovey
Time for a Change
Current availability:
All titles: Mushroom (Australia)
A-Reefer-Derci!: Not on CD
Mellotrons used:
Split Enz are by far and away the best-known band to have come out of New Zealand. Oh, except for Crowded House, of course, who rose, phoenix-like, from the ashes of the Enz in the mid-'80s. I don't know what the Enz's image was like early on; they released several local singles, collected on Beginning of the Enz in 1979, but by the time of their debut, Mental Notes, they had concocted a bizarre visual mixture of, well, make your own mind up. Probably the most disturbing looking band ever (Slipknot? I think not...), the Enz made music to match, with a sound redolent of Zappa, Genesis, pre-war music hall and many other diverse influences. Live shows from the time apparently started with a surreal intro tape, as the band acted out a 'toyshop coming to life' scenario, slowly jerking into position behind their instruments before launching into their first offbeat piece of weirdness. God, I wish I'd seen 'em...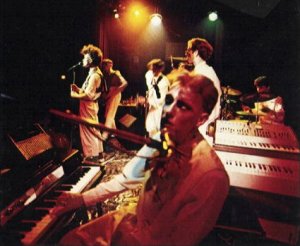 Mental Notes lives up to the promise of their image, although it isn't exactly instant; this is music that requires a bit of work, but rewards the persistent listener manyfold. Under The Wheel is a lengthy, complex piece that throws all the band's disparate influences into the melting-pot, complete with a largish helping of Eddie Rayner's Mellotron strings. In fact, there isn't a bad track to be heard on the album, with Stranger Than Fiction being the jewel in the crown, with its insistent string-synth melody lodging in your brain, along with a brief Mellotron flute part. Time For A Change is also recommended on both musical and Mellotronic grounds and... Look, just buy this album, OK?
The following year, the Enz decamped en masse to the UK, recording their first international release with Roxy Music's Phil Manzanera producing. Now, despite Roxy using a fair bit of Mellotron over the years, not to mention Manzanera himself on his first solo album, there's rather less to be heard here than you might expect. I've actually played the ex-Enz Mellotron, although I don't know whether they bought the machine in NZ (or Australia), or purchased a new one when they came to Britain. It has the most peculiar tape frame, with one of the best attempts I've seen at maximising the number of sounds; each tape set is split at key 22, with violins/flutes/cellos on the lower sections and brass/boys' choir/mandolins on top. They also used real mandolin, so I suspect the Mellotron version was only used live, but as with so many of the 'lesser-known' sounds, it's often difficult to tell.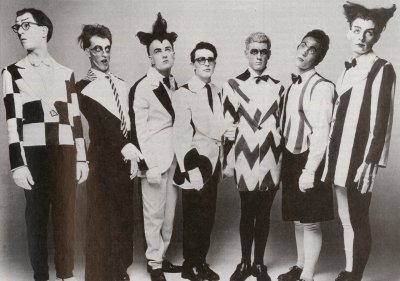 Anyway, as you can see, the album was titled Mental Notes in Europe (and presumably, if it was released there, America), but to avoid confusion at home, the Antipodean version was called Second Thoughts, although with Mental Notes itself removed from that version, the two albums only have four tracks in common, all of which were re-recorded. For anyone interested in the band, this album should probably be regarded as a companion to their debut, rather than as a totally different release. There are differences in the re-recorded tracks, but all five songs not on their debut are well worth hearing, with some excellent Mellotron strings and choir on opener Late Last Night.
Listening to these albums again, I'm struck by just how much Split Enz inhabited a sort of twilight world where Noël Coward and Genesis tried their damndest to write hit singles together; even the lyrics have a certain 'tea dance' quality to them and Rayner's piano work sometimes sounds like he paid his dues playing for elderly ladies amongst the faded splendour of a genteely decaying pre-war Palm Court somewhere. Er, I'm rambling, aren't I? Anyway, I mean that as a compliment; listen to The Woman Who Loves You to see what I mean. Incidentally, if you listen (not too) closely, you'll hear a distinct influence on UK mavericks Cardiacs and yes, I have confirmed that one...
A curio from this era is the A-Reefer-Derci!: Recorded Live at the Reefer Cabaret, Melbourne various artists effort, with three live tracks from the tail end of '75, the non-Mellotron two of which are also available on the impossible-to-find Oddz and Enz compilation, with another non-Mellotron track. Not that you'll find a copy of either album that easily... All worth hearing, of course, although the only Mellotron in sight is a few string notes under Rayner's string synth on Time For A Change.
By Dizrythmia (a succinct description of their music's effect on the human body?), Split Enz weren't becoming more mainstream, exactly, but had begun to move away from their overtly progressive influences, correctly sensing that they weren't the route to fame and fortune in the late '70s. It's still a great album and extremely quirky, but the songs are shorter and the arrangements tighter; the seeds of their subsequent pop career had been sown and the days of their unique image were sadly numbered. Standout tracks include My Mistake and Crosswords, ranking among the band's best, though be warned; if you can get the chorus of Crosswords out of your head after one hearing, good luck! When I first heard this album, I recognised My Mistake, presumably from hearing it something like twenty years earlier... Anyway, it's extremely hard to tell, but I can only positively identify Mellotron on one track here; album closer Jamboree has a tiny burst of strings, so you won't be buying this one for its Mellotron content...
I didn't think there would be any progressive influences left by Frenzy and I was pretty much right. The picture on the front of the band in normal garb is no surprise at all; they couldn't keep their image up forever and mainstream appeal beckoned. However, the album's perfectly good, with the Enz having shifted into 'intelligent pop' mode, especially Mind Over Matter and the Farfisa-driven I See Red, which only appears to be on later copies of the album. The only obvious Mellotron track here is The Roughest Toughest Game In The World, with some fairly upfront choir, but most of the keyboard work is on polysynth by this time, like most of their contemporaries. The band's work shifted into (relatively) straight pop territory after Frenzy, their Mellotron quietly retired, at least in the studio.
As previously mentioned, Beginning of the Enz (not to be confused with The Beginning of the Enz, a later compilation) came out in '79, gathering up pretty much all of the band's early singles from '73/'74, although the sleevenotes on my CD give no indication as to the origin of the other tracks. Demos? Anyway, the early band had a more acoustic sound than their later incarnations, but the songs are instantly recognisable as the Enz, when they were still known as Split Ends. Three of these tracks were reworked on their first two albums; Spellbound, Lovey Dovey and 129, re-titled as Matinee Idyll. Spellbound is the album's sole Mellotron track, with a different arrangement to its later version, including not only more Mellotron, but a more interesting part. It's difficult to recommend this as a 'Mellotron Album' for one track, but pick it up if you see it at a reasonable price. Incidentally, 2007 brought the long-overdue release of a lengthy set of demos, The Rootin Tootin Luton Tapes, recorded at a studio in said Bedfordshire town in 1978; a fascinating listen for fans, but, perhaps surprisingly, entirely Mellotron-free.
Split Enz headed quite determinedly for the mainstream in the early '80s; their later albums are worth hearing if you like intelligent, well-played pop. After they split, later member Neil Finn (younger brother of original member Tim) formed the phenomenally successful Crowded House, noted Chamberlin users themselves. Anyway, buy Mental Notes, Second Thoughts (a.k.a. the UK Mental Notes, of course) and Dizrythmia for some superbly odd sort-of progressive rock, but only the first two for their Mellotron content. Approach later albums with caution if you're a dyed-in-the-wool proghead, but fans of great songwriting apply here. By the way, some of the Australian Mushroom CDs are appallingly packaged, with mis-spelt song titles and little information of any kind, but they're probably your best bet and seem to've been widely exported. There's an expensive '1970s Box' floating around, including Oddz and Enz, but it's determinedly Mellotron-free.

See: A-Reefer-Derci! | Crowded House
---