The Light (1995, 57.04) *****/TTTT

The Light
The Dream
One Man
Garden People
Looking Straight Into the Light
The Man in the Mountain
Senor Valasco's Mystic Voodoo Love Dance
The Return of the Horrible Catfish Man
The Dream
Go the Way You Go
The Water
Introduction/the Water
When it All Goes to Hell
A Thief in the Night
FU/I'm Sorry
The Water (Revisited)
Runnin' the Race
Reach for the Sky
On the Edge
The Official Live Bootleg [a.k.a. The Beard is Out There] (1996, 66.19) ****½/TTTT½

The Light
Go the Way You Go
Thoughts
The Water
On the Edge

Beware of Darkness (1997, 58.14) *****/TTTT½

Beware of Darkness
Thoughts
The Doorway
Chatauqua
Walking on the Wind
Waste Away
Time Has Come
The Kindness of Strangers (1998, 56.39) ****/TTTT½

The Good Don't Last
Introduction
The Good Don't Last
The Radiant is
In the Mouth of Madness
Cakewalk on Easy Street
June
Strange World
Harm's Way
Flow
True Believer
A Constant Flow of Sound
Into the Source
From the Vault (1998, 71.49) ***/T

Stratus
Into Fire
Fire/Waste Away (live)
The Light (demo)
Excerpt From The Doorway (live)
The Doorway (demo)
Waste Away (alt.mix)
Walking on the Wind (demo)
Go the Way You Go (demo)
Day for Night (1999, 68.38) ***½/TTTT½

Day for Night
Gibberish
Skin
The Distance to the Sun
Crack the Big Sky
The Gypsy
Can't Get it Wrong

The Healing Colors of Sound
The Healing Colors of Sound (Part 1)
My Shoes
Mommy Comes Back
Lay it Down
The Healing Colors of Sound
My Shoes (Revisited)
Hurt
Live at the Whisky & NEARfest (1999, 100.25) ****½/TTTT

Introduction
Mouth of Madness
Gibberish
Skin
Go the Way You Go
The Distance to the Sun
Crack the Big Sky
The Doorway
The Light
June/Waste Away
Squonk
Walking on the Wind
Snow (2002, 114.47/166.08) ****/TTTT

Made Alive/Overture
Stranger in a Strange Land
Long Time Suffering
Welcome to NYC
Love Beyond Words
The 39th Street Blues (I'm Sick)
Devil's Got My Throat
Open Wide the Flood Gates
Open the Gates Part 2
Solitary Soul
Wind at My Back
Second Overture
4th of July
I'm the Guy
Reflection
Carie
Looking for Answers
Freak Boy
All is Vanity
I'm Dying
Freak Boy Part 2
Devil's Got My Throat Revisited
Snow's Night Out
Ladies and Gentlemen, Mister Ryo
Okumoto on the Keyboards
I Will Go
Made Alive Again/Wind at My Back
[Bonus disc adds:
Southside of the Sky
Good Don't Last/Open Wide the Flood Gates (live acoustic)
Working on Devil/Fiddly/Disco
Looking for Answers (live acoustic)
Stranger in a Strange Land Demo
4 o'Clock
Working on Ryo's Solo
Lost Bass Solo Demo
The Light (live acoustic)
Working on I Will Go]
Feel Euphoria (2003, 63.57/74.11) ****/TTTT

Onomatopoeia
The Bottom Line
Feel Euphoria
Shining Star
East of Eden, West of Memphis
Ghosts of Autumn
A Guy Named Sid
Pt.I: Intro
Pt.II: Same Old Story
Pt.III: You Don't Know
Pt.IV: Judge
Pt.V: Sid's Boys Choir
Pt.VI: Change
Carry on
['Special Edition' includes:
Moth of Many Flames
From the Messenger]
Octane (2005, 55.57/83.07) ****/TTTT

A Flash Before My Eyes
The Ballad of the Impact
Prelude to the Past
The Ultimate Quiet
A Blizzard of My Memories
I Wouldn't Let it Go
Surfing Down the Avalanche
She is Everything
Strange What You Remember
Words of Forever
Climbing Up That Hill
Letting Go

Of the Beauty of it All
If I Could Paint a Picture
Into the Great Unknowable
NWC
There Was a Time
The Planet's Hum
Watching the Tide
As Long as We Ride
['Special edition' CD adds:
When She's Gone
Follow Me to Sleep
Game Face
Broken Promise Land
Listening to the Sky
Someday I'll Be Found
I Was Never Lost
Paint Me a Picture]
Spock's Beard (2006, 77.13) ***½/TTT

On a Perfect Day
Skeletons at the Feast
Is This Love
All That's Left
With Your Kiss
Sometimes They Stay, Sometimes They Go
The Slow Crash Landing Man
Wherever You Stand
Hereafter
As Far as the Mind Can See
Dreaming in the Age of Answers
Here's a Man
They Know We Know
Stream of Unconsciousness
Rearranged
X (2010, 79.46) ***½/TTT

Edge of the in-Between
The Emperor's Clothes
Kamikaze
From the Darkness
The Darkness
Chance Meeting
On My Own
Start Over Again
The Quiet House
The Man Behind the Curtain
Jaws of Heaven
Homesick for the Ashes
Words of War
Deep in the Wondering
Whole Again
Brief Nocturnes & Dreamless Sleep (2013, 56.13/86.28) ***½/TT (TTT)

Hiding Out
I Know Your Secret
A Treasure Abandoned
Submerged
Afterthoughts
Something Very Strange
Waiting for Me
[Bonus disc adds:
The Man You're Afraid You Are
Down a Burning Road
Wish I Were Here
Something Very Strange (sanctified remix)
Postcards From Perdition]
The Oblivion Particle (2015, 66.17/72.31) ****/TTT½

Tides of Time
Minion
Hell's Not Enough
Bennett Built a Time Machine
Get Out While You Can
A Better Way to Fly
The Center Line
To Be Free Again
Disappear
[Bonus track:
Iron Man]
Noise Floor (2018, 51.56/69.04) ****/TTT½

To Breathe Another Day
What Becomes of Me
Somebody's Home
Have We All Gone Crazy Yet
So This is Life
One So Wise
Box of Spiders
Beginnings
[Expanded ed. adds:
Days We'll Remember
Bulletproof
Vault
Armageddon Nervous]
Progfest '97 (1997, 19.14) ****½/TTTT

[Spock's Beard contribute]
Thoughts
Go the Way You Go

Progfest 2000 (2001, 4.44) ****/T½

[Spock's Beard contribute]
Gibberish
Current availability:
Light/Beard/Beware/Kindness/Day/Snow/Euphoria/Octane/Brief: SPV/Inside Out
Vault/Whisky: Out of print
X: Music Theories
Mellotrons used:
Light - Snow (?)/Progfests: one or more borrowed M400s
Feel Euphoria - Brief Nocturnes: band's own M400?
Spock's Beard burst onto the prog scene in 1995 with the same sort of fanfare that greeted Änglagård three years earlier; 'the next big thing' was the cry heard at the time and, to an extent, the band have managed to live up to the hype, though with reservations. All the band members have been around the block a few times and I've really no idea of most of their musical backgrounds, but they obviously considered it was time to put their money where their mouths were and take the plunge.
The Light is a fantastic album, managing to be both 'traditional' and fresh all at the same time. Band leader/chief writer Neal Morse came up with an hour's worth of full-on prog that makes all the right moves in the right places, while adhering strictly to the genre's melodic sensibilities; in other words, while three of the four tracks break the ten-minute barrier, you can still sing them in the shower, should you so desire. My only reservation here is closer On The Edge, which points towards the AOR future which sometimes threatens to engulf the band, although the song is tempered by enough 'fiddly bits' to avoid that particular abyss. Saying that, there's some graffiti on the dressing-room wall of a well-known Belgian venue saying something along the lines of "Spock's Beard: an unholy cross between Gentle Giant and REO Speedwagon". Although it's an unfair criticism, I can sort of see where the writer's coming from.
Anyway, back to their debut. Morse's chosen instrument is piano, giving the band an unusual edge, as very few progressive bands have ever used it as a lead instrument in this way; unfortunately, Elton John occasionally springs to mind, but thankfully, these moments are few and far between. The Light itself opens with a brave solo piano and vocal part, before the whole band rips in with what has become the trademark 'Beard sound, with a particular melodic twist that I've never heard used before; God knows where Morse came up with this one, but it works brilliantly. The 15-minute piece works its way through several different sections without ever losing its way, reiterating melodic motifs from earlier in the song while introducing new ones as it progresses, before reprising the first two sections in reverse at the end. Absolutely masterful writing, which many, many bands could learn from. Go The Way You Go is more of the same, while The Water is my personal favourite from their whole canon; 23 minutes of sheer brilliance, including the controversial 'Fuck You' section in the middle that seems to have upset prog fans of a more delicate nature. One of the things that impressed me most on first hearing Spock's Beard was their eclecticism; not just throwing everything at the wall to see what'll stick, but using all their diverse influences intelligently to create a unified whole, illustrated superbly by The Water.
The Mellotron on The Light is played by both Neal and Alan Morse (Neal's guitarist brother) and is used sparingly but effectively along with more generic string samples where appropriate. Plenty of strings and choir and a superb once-only flute part in On The Edge. One particular part of note is at the beginning of Go The Way You Go, where after the initial descending run, there's a superb 'building' chord on the choirs, almost but not quite repeating a tone up after the following run. The motif is used again later in the piece, in true full-on prog style. The Light is an absolute classic of '90s prog; avoid at your peril. Incidentally, I've no idea why the album was given a new sleeve for the UK version, but it's horrible; what was wrong with the original design?
The Official Live Bootleg is an excerpt of the 'Beard's '95 Progfest performance, consisting of the whole of The Light played in sequence, with a new track, Thoughts, inserted into the middle. This has been reissued as The Beard is Out There with a bonus track, also available on From the Vault. By this time, the band had taken on ex-Kitaro keyboard man Ryo Okumoto to augment their live sound, although he was quickly integrated into their lineup. Going by the sleeve pics, Ryo played two M400s at the gig and makes good use of them, often playing a sampled part from the studio version on the Mellotron (e.g. the intros to The Light and The Water), contributing to the band's sound considerably. In fact, I remember when I first heard The Light wondering how on earth Morse was going to cover even half of the parts live; Ryo's recruitment was the obvious solution. It's fascinating to hear how the band tackle the material on stage; studio effects are reproduced as well as possible, although the 'backwards' bit of The Water sounds a little ramshackle. Neal Morse plays keyboards (a budget Roland used as a MIDI controller) standing at the front of the stage, an exceptionally unusual position, but he makes it work, sometimes moving away from the keyboard to add acoustic guitar to the proceedings.
Although the full results remain unreleased, the band also played both the '97 and 2000 Progfests, getting tracks onto both commemorative albums, with Thoughts and Go The Way You Go on Progfest '97 and Gibberish on Progfest 2000. All good versions, all with studio Mellotron parts largely reproduced by Ryo, but neither absolutely essential for 'Beard fans.
The 'Beard had introduced much of the material for their next album at Progfest; Beware of Darkness finally appeared in '97 and was another absolute triumph. The title track is, bizarrely, a George Harrison song from his magnum opus, All Things Must Pass, but the 'Beard make it their own to the extent that you simply wouldn't know it wasn't their own composition. Thoughts is similar to its earlier live airing, with its Gentle Giant-alike introductory vocal part, followed by what is probably the album's best track; The Doorway, still to be heard in the band's live set. Chatauqua was a departure for the band, being effectively a Morse brothers guitar duet, but less of a departure than the acoustic strumalong that is Waste Away. Now, this could very easily be too cheesy for many prog fans, but it's one of those things that works better live, although I've never been totally convinced by the track, or rather, its chorus. Both Walking On The Wind and Time Has Come are lengthy prog workouts of the sort you've already come to expect from the band; typical Morse melodic stuff crossed with highly individual lyrics and vocal delivery, not to mention Alan's manic guitar work.
As you can see, the only Mellotronless tracks are the two atypical ones. It's actually difficult to pick out Mellotronic highlights, as its deployment on Beware of Darkness is pretty much uniformly excellent, all played by new recruit Ryo Okumoto (credited with "Hammond organ (drawbar mover par excellence) and Mellotron (mover par excellence)"), which says it all, really. I've no idea what Ryo did between the early '80s and mid '90s, but his work with Kitaro, which I believe is limited to his Kitaro in Person Digital live album, consisted of playing synths and... Mellotron, along with the maestro himself. Anyway, if highlights really have to be found here, the strings crescendo at the end of the acoustic section of The Doorway and pretty much everything on the title track will do.
The Kindness of Strangers appeared a mere year after Beware of Darkness and found the band in a state of compositional flux, with the overtly-commercial June balanced by Flow, apparently written when Neal Morse was all of sixteen years old. The quality of its predecessors is mostly maintained, though, with The Good Don't Last and In The Mouth Of Madness standing out. Once more, there's loads of Mellotron, with the relatively indifferent Harm's Way and probably Flow standing out particularly in that department. It has to be said that the 'Beard were starting to spread themselves a bit thinly by this album, although it's still well worth the effort; maybe they should've used slightly more quality control and gone for either shorter songs or just scrapped the lesser ones.
From the Vault is a bit of an odd one; mostly rather inessential, it's mainly composed of various Morse home demos dating from as early as '92 and the 'bonus' tracks added to the Japanese versions of their albums, which is a nice touch for the rest of us. The demos give some insight into Morse's writing process and it's interesting to hear the "All of this in one man" bit from The Light originally sung as "Twentieth century man", but on the whole, they don't bear repeated listening. The odds'n'sods are more interesting, with Stratus being a Billy Cobham fusion effort and Into Fire being a Ryo song added to Jap copies of The Kindness of Strangers, featuring a rather ordinary bit of Mellotron choir. The only other bit of Mellotron is on the excerpt from The Doorway from that '95 Progfest appearance again (the excerpt being included to show off the Morse brothers' twin-acoustic skills, later expanded considerably); a few more choir chords just as it fades out makes the CD less than totally essential on the Mellotron front, though.
By '99's Day for Night, Spock's Beard had released four hours of material in four years, easily exceeding the workload of their influences from the early '70s. As a result, it's hardly surprising that they finally hit the wall in terms of quality; I'm afraid that you don't have to listen too closely to hear the rather distinctive sound of a barrel being scraped in places and a couple of tracks should probably have been quietly left on the cutting-room floor. All their three previous albums had included a more 'mainstream' track (On The Edge/Waste Away/June), but Skin is out-and-out radio rock and The Distance To The Sun is a dreadfully wussy ballad; horrendously catchy, but that's no excuse, chaps... There are several gems hidden away on the album, particularly the title track opener and Gibberish, but there are too many so-so efforts like The Gypsy and Can't Get It Wrong (actually, you can). Bizarrely, the album's 'epic' (although again, not up to previous efforts), The Healing Colours Of Sound, is listed as six separate tracks on the sleeve, presumably so as not to scare off potential purchasers with a twenty-minute number. As a result, I've listed the track and its parts as they should be, not as they appear on the sleeve. The seriously rocking Hurt is a bit of an oddity, by the way, as it's listed as a 'bonus' track, although I've never seen a copy without it. Maybe the band felt that it didn't really fit the 'feel' of the album, but wanted to put it on anyway. Who knows? Anyway, once more, a fair bit of Mellotron, although The Healing Colours Of Sound has rather less than you might expect from such a piece. No especial highlights, to be honest, although Gibberish and The Gypsy have some nice moments.
The limited-edition Live at the Whisky & NEARfest double features tracks from the two gigs, with the first five and their slightly ropey cover of Genesis' Squonk from NEARfest and the rest from the Whisky. Now, there's some Mellotronic confusion on the album, as they hired a real Hammond and Mellotron for the LA gig, so the genuine Mellotron tracks are by no means all the ones where they'd normally use one. The only unusual use is on Waste Away, where a part played on a digital patch on the studio version gets the Mellotron flute treatment here (Neal was playing acoustic at this point), plus some choir chords later on. There's a minor 'caveat emptor' in the sleevenotes, as both gigs are taken from stereo masters with no chance to overdub glitches (of which there are a couple). The plus side of this is that you get a real, honest-to-goodness live album with no tampering, which shows just how hot the 'Beard are on a good night. You probably won't be able to find this album, but it's worth it for the more committed fan if it turns up. Unbelievably, the band have put out another three live albums since this one (Don't Try this at Home (****), Don't Try This at Home Either! (****) and the double There and Here), all good, but slightly superfluous, if truth be told. Oh and of course, none feature real Mellotron.
With 2000's V (****), Spock's Beard made something of a return to form, but completely blew it as far as this site's concerned (reviewed below). Despite crediting Ryo with 'Mellotron', a 'making of' video makes the admission that they actually used samples, with some crap excuse about 'not being able to get hold of a real one'. Because I'm sure there aren't any hire companies on the West Coast, are there? My problem isn't so much with their not using a real Mellotron (their prerogative), but in their saying they had. The 'Beard's Swedish compatriots The Flower Kings appear to be guilty of the same thing, though right through their career; I'm told that "Putting 'Mellotron' on the sleeve sells more copies", which shows that I'm not the only saddo who looks for such things! This smacks of dishonesty, though, if only in a small way; there's no shame in using samples, as long as you don't try to claim you're not. Well, not much, anyway... The problem is, this subterfuge makes me begin to doubt the earlier 'Beard albums; is there a real Mellotron to heard on any of 'em? Alan actually has a 'Mellotron' logo painted onto his guitar, but if they've used samples once... So at the end of the day, the only albums we can implicitly trust to feature the Real Deal are the three containing live material from gigs where they were known to have hired Mellotrons. I actually think that their first four albums do contain the real thing (I've had it confirmed that The Light and The Kindness of Strangers are genuine), but I'll deeply distrust any future releases until I find proof that they brought in a real one.
Well, after saying the above, the 'Beard have redeemed themselves on the Mellotronic front with 2002's huge Snow double-CD concept piece, with a traditionally-bizarre plot, although less so than another famous concept album set in New York... In case there might have been any doubt on the issue, their website features several pictures of the band recording, with Ryo ensconced behind the holy analogue quartet of Hammond B3, Mellotron M400, MiniMoog and Roland Jupiter-8. The album? After several plays, I still don't know where I stand, to be honest; it's mostly business as usual, with all the by now traditional 'Beard melodic and chordal stuff. The trouble with that is that it sounds like... just another Spock's Beard album. There's a little too much of the AOR/prog stuff they've been experimenting with lately for my taste, but there are also some absolutely sublime moments dotted throughout the near-two hours. Actually, maybe that's the problem; it's so long. Once upon a time, double albums reached maybe 90 minutes, but I'm having trouble putting aside enough time to listen to this in one fell swoop. So, the jury's still out on whether or not it's actually any good; it certainly isn't bad, but it's nowhere near the quality of their first two albums, either. Anyway, I'll review it more from the Mellotron perspective, I think.
Although there's Mellotron to be heard on most tracks, some of the use is incredibly subtle, with maybe only a few chords or a little flute run per track. Solitary Soul has a gorgeous string melody line and the All Is Vanity/I'm Dying segue on disc 2 features string chords a-plenty. I'm not quite sure where Ladies And Gentlemen, Mister Ryo Okumoto On The Keyboards fits into the concept, but it's a killer keyboard piece, sadly bereft of any obvious Mellotron. After a raucous second half of the disc, it quietens down a bit before the Wind At My Back crescendo, with even more of those 'ol Mellotron strings, making a fitting climax to the album. Something I noticed on my second or third play was the occasional 'borrow' from elsewhere; not just the band's own canon - they constantly refer to their earlier work, but the odd nicked riff here and there. Somewhere on disc 1 is a little bit of slide that's straight off a Zeppelin album and Freak Boy is almost Crimso's Larks' Tongues Part 2 in 4/4; bit cheeky that, chaps... Whatever, I suspect the album will grow on me in time; how many albums have you got into straight away, only to grow bored with them in time?
Initial copies of Snow come with a bonus disc of outtakes, rehearsals, etc., an increasingly common procedure these days, largely instigated to ensure high pre-releases sales; associated acts The Flower Kings and Transatlantic are both guilty of the same trick. As usual, the third disc here's a bit of a mixed bag; the version of Yes' Southside Of The Sky (as it's spelt here) is magnificent, managing to sound like both the original and the 'Beard at the same time, although the several 'live acoustic' tracks don't sound like on-stage versions, at least to my ears. The Mellotron tracks are mostly working versions of tracks that made it to the album, but it's interesting to hear them in their formative stages. If you're going to buy the album anyway, try to get a copy with the extras, although none of them are utterly essential.
Just after the release of Snow, Neal Morse stunned the rest of the band and everyone else by leaving the band; it seems God told him to do it. After initial doubt as to the Beard's future, the other four members regrouped and 'did a Genesis', as drummer Nick d'Virgilio stepped forward to the mic. Feel Euphoria is the first fruit of their labours and... given that the band have lost their frontman and almost sole writer, it's surprisingly good. It doesn't actually sound much like Spock's Beard, treading a slightly heavier path than in the past, but it's good for what it is, although it's definitely less 'individual' than their previous efforts. As usual, a couple of attempts at radio-rock blandness (Ghosts Of Autumn) and an epic (A Guy Named Sid), plus plenty of Ryo's Hammond and Mellotron, with Mellotronnic highlights including the choirs on A Guy Named Sid Part 6: Change and the superb solo strings and flutes on East Of Eden, West Of Memphis. Maybe a change is as good as a rest?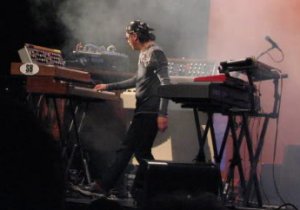 Two years on, the 'Beard released their second post-Neal album in Octane, the bulk of which is taken up with the multi-part A Flash Before My Eyes, the story of a guy involved in a car crash, taking in death, resurrection and all that stuff. Musically, they're inhabiting similar territory to Feel Euphoria, possibly sounding more comfortable with their new incarnation, although they still haven't really developed a new identity of their own. The very first sound you hear on the album is Ryo's Mellotron strings, with more of the same, plus choirs and flutes throughout The Ballad Of The Impact, with a bit of a Mellotron break before the flutes on She Is Everything and a veritable Mellotron strings solo at the beginning of Letting Go. Unusual strident male voices on Surfing Down The Avalanche and Of The Beauty Of It All, too. The initial 'bonus disc' (cruddy marketing technique, chaps) contains several more Mellotron tracks, notably the solo strings of Listening To The Sky. Incidentally, the band posted 'in the studio' pics, showing Ryo at a sizeable rig, including a white M400, so hopefully no more of that V business, thank you.
All of a year later, the band elected to release a self-titled album. Now, this often means an outfit is sitting in a holding pattern, musically speaking and I'm not sure this one's much different. Don't get me wrong, it's not a bad album, but as you may have read elsewhere on this site, possibly many times, it's... a little uninspired. There seems to be more of an 'old Beard' influence going on here, otherwise known as a deliberate attempt to ape their old style, chiefly in the 'unusual keyboard chord' department, although it's clearly recognisable as a modern Spock's Beard effort. Like more than one of its predecessors, it features a multi-part epic (in this case As Far As The Mind Can See) which, although being a perfect album closer, actually has a less suitable track following it (see: Day for Night), so I don't know what that's all about. Mellotronically speaking, Ryo uses less than he has in the past, reflected in the lower T rating above. Choirs and flutes on opener On A Perfect Day, although the strings are real (used on four tracks in total), while the Mellotron strings make their first appearance on Skeletons At The Feast. More of the same dotted throughout the album, but Spock's Beard is neither the greatest, nor the greatest Mellotron album the band will ever make.
After two albums in such a short space of time, it's taken the 'Beard four years to come up with X, coming over all Roman-numerals again. Once again, it's... well, it's another modern Spock's Beard album, really. While Neal Morse has reformed Transatlantic, I see that he's steering well clear of his old band, probably by mutual consent. Some of its material is pretty good, but The Quiet House is a typical example of a by-numbers Spock's tune, perfectly acceptable, yet ordinary enough that it would never be missed were it not there. Two sixteen-minute epics this time round, closer Jaws Of Heaven being the better of the two, opener Edge Of The In-Between (there's a Spock's title if ever there was one) probably being the album's other finest (lengthy) moment. Assuming Ryo's on real Mellotron, we get strings and/or choir on almost everything, part one of From The Darkness being the lone dissenter. Probably the chief use is the strings, choirs and flutes on part one of Jaws Of Heaven, Homesick For The Ashes, the album being relatively low on it overall.
2013's Brief Nocturnes & Dreamless Sleep features another lineup change, as Enchant's Ted Leonard takes over from Nick d'Virgilio to become their third lead vocalist. Can you tell? He's a better singer, so yes. So how about the album? I can't think of anything much to say about it that I haven't already said about X; a decent enough record, but with few real highlights, the best things here probably being one of the band's patented multi-vocal extravaganzas on Afterthoughts, twelve-minute 'regular album' closer Waiting For Me and the fractured (in a good way) Wish I Were Here, only on the two-disc edition. Further to my comment above, Waiting For Me contains a very telling couplet: "I got nothing left to say/Gonna say it anyway". Hmmm. I really can't tell whether Ryo's playing real Mellotron here or not; the strings on opener Hiding Out are almost certainly generic samples. Anyway, we get string and choir parts plus a flute melody on I Know Your Secret, although the flute part on A Treasure Abandoned is played rather too fast for real authenticity, background choirs on Something Very Strange, a full-on string part on Waiting For Me (y'know, those really don't sound genuine to me) and on the bonus disc, string swells on Down A Burning Road and strings and choirs on Postcards From Perdition.
2015's The Oblivion Particle is actually something of a return to form, I'm pleased to say. Opener Tides Of Time is the best thing I've heard by the band in years, other top tracks including Bennett Built A Time Machine (one of those oddball 'prog band writes weird science-fictional narrative' songs), the propulsive A Better Way To Fly and To Be Free Again. No obvious lowpoints, although a couple of tracks could be marked with the 'generic' tag. Is Ryo playing a real Mellotron? Once again, hard to say, but with strings and/or choirs on all tracks, he certainly uses what he has to its fullest extent. Oddest use? Hearing Mellotron strings on their version of Sabbath's Iron Man is, well, surreal.
2018 brings Noise Floor; it'd be easy to say, 'another Spock's Beard album, blah blah...', but this is actually an improvement over recent work, even more than its predecessor, highlights including the vaguely Kansasalike Somebody's Home (referencing Point of Know Return's Nobody's Home?), the dark Box Of Spiders and closer Beginnings. Ryo's M400 turns up on all but one track, with strings on everything except Beginnings (choirs only), plus flutes on Somebody's Home, although the real strings on a few tracks confuse the issue slightly. May I just say, at this point, that this 'limited edition two-disc' thing is getting on my nerves? All four of the extra tracks (the total length of both discs is under seventy minutes) are worth hearing, particularly closer Armageddon Nervous. Mellotron on all four, with flutes and strings on Days We'll Remember (another Kansasalike), while Bulletproof, again, combines Mellotron strings (and flutes) with real ones.
So...; buy The Light and Beware of Darkness instantly, if you haven't already, followed fairly quickly by the other six studio albums (yes, including V). The multifarious live releases are all worth hearing, but really, how many live albums do you actually need? From the Vault is a slightly interesting curio, but I wouldn't go out of your way. Incidentally, as if he wasn't busy enough already, Neal Morse got involved in the Transatlantic project, along with members of The Flower Kings, Dream Theater and Marillion. Their first album, 2000's SMPTe is excellent, if a tad formulaic; the opening track is instant 'Beard, though, showing off the band's dominant personality. TFK's Roine Stolt is credited with 'Mellotron', but I don't think you can place too much faith in that.

Don't Try This at Home (2000, 49.59) ***½
V (2000, 63.01) ****
Don't Try This @ Home Either! (2000, 73.02) ****
There & Here (2001, 131.07) ****
Gluttons for Punishment: Live in '05 (2005, 118.43) ***½
Live (2008, 112.49) ****
High Voltage (2011, 48.43) ***½
The X Tour - Live (2012, 118.04) ***½
Although Live at the Whisky & NEARfest contained a lot of sampled Mellotron, 2000's Don't Try This at Home (documenting the Day for Night tour) was (to my knowledge) the first full samplotron Spock's release. Featuring the best of their '99 set in Tilburg, Holland, it concentrates on The Kindness of Strangers and Day for Night material, while not actually doing anything in particular with it. Plenty of Ryo's samples, although, even with two keyboard players, the odd part has had to be dropped from the studio versions. Like so many 'document every tour'-type live albums, this is largely for committed fans, which can still be taken as a recommendation.
The band's fifth album, the unimaginatively-titled V, had me fooled on the Mellotron front until someone told me that the 'making of' video gave the game away. I've no idea why they didn't bother tracking down a real one for the recording, given that (to my knowledge) they have for their other studio albums, but they didn't. The album was a step back from the more overtly commercial approach of Day for Night, with forty-five minutes taken up with just two tracks, while none of the shorter material comes anywhere near the AORisms of anything from that album. Saying that, neither All On A Sunday nor Goodbye To Yesterday are actually that good, but Thoughts (Part II) is both excellent and funny, throwing in some of that outrageous multi-vocal arrangement stuff that the band do (did?) so well. The highlight is probably the extremely lengthy The Great Nothing, although with only one killer riff, it does go on a bit, but compared to what nearly everyone else was doing at the time, it's a masterpiece.
The fake Mellotron becomes apparent at the beginning of the aforementioned The Great Nothing, as some low choir notes hold for far too long; in fact, many of the album's 'Mellotron' strings just don't sound right, although they got it right on the closing epic. As ever, the easiest sound to sample seems to be the flutes, but both strings and choirs sound a bit ropey in places; who knows why they didn't hire in their usual machine for the recording? Anyway, samples on most tracks, with the notable exception of Thoughts (Part II), but don't let that put you off buying what is, generally speaking, still a pretty good album.
Later that year, the rest of the Tilburg set appeared as Don't Try This @ Home Either!, as the third 'From the Vaults' fans-only release. In many ways, it's actually more interesting than its predecessor, giving us Ryo's solo (admittedly rather overlong and more visual than audible, from what I remember), the acoustic guitar trio part in The Doorway (originally just the Morse brothers, Nick was in on the act by this time) and, er, the drum solo on The Light. The encore of Genesis' Squonk is fun, if inessential, with a few bars of Henrix's Fire stuck on the end for good measure, Yup, fans only, but fun if you were there, with most of the samplotron parts you'd expect.
2001's There & Here documents Neal's last tour with the band, for V (they never actually toured Snow, due to his unexpected departure), sourced from a variety of gigs on at least two continents. Highlights include a chunk of disc one, Thoughts Part 2, Harm's Way and Ryo's Solo (more worth hearing this time round) and a full-length The Great Nothing on disc two, not to mention some of the band's stage chat, Neal sounding absolutely nothing like a man contemplating his imminent-ish departure. Plenty of samplotron, as you'd expect, assuming the Californian gig excerpts don't actually feature a real one. Is this essential? No - none of these are - but were it the only SB live album in existence, you'd snap it up yesterday.
2005's Gluttons for Punishment: Live in '05 gives us a very different band, with Nick on vocals and a live-only drummer (er, sound like someone else we know?), featuring mostly new band material, with a handful of Neal-era tracks, The Light being the only one previously documented on a live album. I'm afraid to say that putting the new and old material back-to-back like this shows up the deficiencies of the new; sorry guys, but it sounds like progged-up singer-songwriter material in comparison with Neal's full-blown proggisms. As a result, while good, this is probably even more 'fans only' than their previous live efforts.
2008's simply-titled Live is a better effort all round; the band appeared to have recovered their joie de vivre (all assuming you ever thought they'd lost it in the first place), with a set a little more evenly split between new and old material. Highlights? Thoughts - Part 2, as vicious as ever, Beware of Darkness' Walking On The Wind and the closing medley, where the band resurrect the superb The Water from their debut. As on Gluttons for Punishment, Ryo is covering more bases than before, meaning that some keyboard parts are inevitably dropped, but there's still a fair bit of samplotron scattered across both discs.
2011's High Voltage documents the entirety of the band's fifty-minute set at the London-based 'classic rock' festival, notable for two things: 1) the absence of Nick D'Virgilio, temporarily replaced by Enchant's Ted Leonard (no, I don't know why) and 2) the end section of The Light, when Neal Morse (also playing that weekend) suddenly bursts onto stage and finishes the piece in fine style (I AM the CATfish MAN!), staying on to close the set with June. That aside, the band play a reasonable balance of old and new, although what's with Ryo's 'was that deliberate?' cock-up near the beginning of The Light? Unlike him to play that badly... Surprisingly little samplotron, all things considered, but yer man's been covering an awful lot of bases since Morse The Younger's departure.
You're never going to get 2012's The X Tour - Live under the Trades Descriptions Act; it does exactly what it says on the tin: a two-hour set consisting of the whole of the band's new album alongside one earlier post-Neal number, three from his tenure and the by-now traditional keyboard solo. Good? Of course it's good, although very little of the new material really stands up against the old. Sorry, guys. More samplotron than on some of their other live releases (I mean, have you EVER known a band to put out so many live albums?), but, as always, not the obvious reason to buy any live Spock's Beard.

See: Neal Morse | Alan Morse | Ryo Okumoto | Progfest | Transatlantic | Enchant
---