U I Blue (US)
Songbird's Cry (2004, 71.35) **½
U I Blue are the personal and professional duo of vocalist Laura Lindstrom and multi-instrumentalist Jon Paul (Davis), whose sole album to date, 2004's Songbird's Cry, combines folk, rock and trance influences into a not especially pleasing stew, particularly on its two opening tracks. The album has its moments (generally the folkier ones), not least When You Call and Monologue, but with too many insipid songs of the likes of Tomorrow, they're onto a bit of a loser, I'm afraid. Overall, I think this could've been improved by slicing about half an hour from its length, namely the weaker tracks and removing all the sampled beats and bloops, but that's merely one man's opinion, of course...
Fred Schendel from Glass Hammer is credited with Mellotron, amongst other things, but that means about as much as the 'Mellotron' on his own band's releases. Anyway, we get strings and choirs on When You Call and Roses Artificially Made, flutes, strings and choir on Thoughts In An Hourglass, flutes on Monologue, strings on the grungy No One, Mad Keys and The Songbird's Cry - Part 2 and strings and flute on My Dove, which do their best to improve the frequently substandard material. All in all, I'm afraid to say I really can't recommend this, as all concerned seem to've put a great deal of work into it, but then, isn't that usually the case? I'd stick with Glass Hammer, if I were you.


UNKLE (UK)
Be There (1999, 16.53) ***
Never, Never, Land (2003, 59.39) ***
End Titles... Stories for Film (2008, 73.44) ***
UNKLE are a British electronica outfit, shifting about within the dance spectrum from release to release as they see fit. Originally a duo, they now seem to be essentially James Lavelle's solo project plus various collaborators, some of whom stay in the set-up for years, including members of (amongst many others), Radiohead, Metallica (Jason Newstead, of course), Badly Drawn Boy, The Verve, Queens of the Stone Age, Masters of Reality... You get the picture. 1999's Be There single is a remake of Unreal from their debut from the previous year, Psyence Fiction, featuring ex-Stone Rose Ian Brown. To my ears, it typifies the indie/dance crossover, not that I know an awful lot about the scene. Imagine an indie single with a dance backing... Yup, that easy. The 'b'-side, so to speak, The Knock On Effect, does the same trick even better, rocking out in grand style with programmed beats. It can be done, folks... The original single was a three-track affair, expanded to album length in Japan through the addition of another five remixes and other pertinent stuff, although the extra material really is only for the faithful. Guy Sigsworth is credited with Mellotron on both versions of Be There, but it's only audible on the lead track, with ethereal choirs (sorry) all the way through, clearly sampled. Sigsworth isn't credited on Psyence Fiction, so I suspect it was added as part of the rebuilding procedure.
The wittily-titled Never, Never, Land followed four years later and, despite the collective's reputation for keeping ahead of the pack, it doesn't sound a million miles away from some of the material on the expanded Be There. Another impressive list of collaborators this time round, including Graham Gouldman, Eno and Jarvis Cocker, some more obviously than others. Lavelle plays samplotron on one track, with the most minuscule amount of choir on What Are You To Me?, sung by the very ordinary Joel Cadbury of South. 2008's lengthy End Titles... Stories for Film is usually listed as a compilation, but seems to be largely new work. Lavelle's shifted even further towards the rock/dance area with this release, distorted guitar audible on more than half its tracks, the rest sounding like, unsurprisingly, film music, contributors including Robbie Furze from The Big Pink and several members of Big in Japan/Lake Trout. Although several tracks contain what could be a Mellotron, it's only actually credited on one, with a vague, sampled string part on Heaven (Odyssey In Rome) from Lavelle's brother Aidan.


U2 (Ireland)
All That You Can't Leave Behind (2000, 49.36/53.19) **½
I discovered U2 in mid-1983, mere moments too late to see them play small(ish) venues, the nearest I've come to so doing being their 1987 Wembley Stadium 'club warm-up' at, er, the 10,000 capacity Wembley Arena. I've had to put up with all manner of insults over the years for owning up to liking their first few albums - yes, even The Joshua Tree - but I stand resolute: to my ears, they invented a new way of playing hoary old rock'n'roll, already in the doldrums even in 1980, utilising their relatively limited talents effectively and coming up with something fresh and new. Unfortunately, after surviving one reinvention (the Eno-produced The Unforgettable Fire and the aforementioned Joshua Tree), Rattle & Hum's faux-rootsy approach stuck in my craw, although the band just carried on getting bigger and bigger, so what do I know?
2000's All That You Can't Leave Behind was seen as something of a return to their roots when it appeared, but listening to it a decade or so on, all I hear is a cheesy, pop/rock version of U2's original sound, with all the guts removed and replaced by squeaky-clean, major-key paeans to, well, nothing in particular, it seems, featuring what have to be some of the most godawful lyrics ever. Aren't you embarrassed to be producing this kind of mainstream guff at your age, chaps? Clearly not, as I'm sure their bank balances will attest. It isn't all bad; opener Beautiful Day (a huge hit, I believe) won me over after a bad start, but overall, this disappointed me almost as much as I'd expected, although not quite enough to give it a really appalling rating.
For some unknown reason, the band opted to use Mellotron string samples on two or three tracks; definitely on Beautiful Day and Kite and possibly on In A Little While, although the strings on several other tracks sound like generic samples. Anyway, you already either love or hate this, I'd imagine, so a couple of moments of underwater fakeotron aren't going to make a jot of difference one way or the other. Incidentally, I've recently been made aware of the always amusing Half Man, Half Biscuit's superb Eno Collaboration: I'm sure it's on YouTube and it's funnier than U2.


Ufo Piemontesi (Italy)
Buonanotte ai Suonatori (1992, 45.07) **½
1992's Buonanotte ai Suonatori appears to be Italian pop/rock crew Ufo Piemontesi's debut, a strange album, full of rock and pop references, scattered about for no obviously good reason. Opener Sabato Pomeriggio kicks off à la The Sweet's Ballroom Blitz, albeit in Italian, other obvious references including snatches from The Knack's My Sharona, Lou Reed's Walk On The Wild Side and several rock'n'roll standards. Is any of it any good? Not really, to be honest; this is very much a 'locals' record, of the kind rarely heard outside its home territory.
Although bassist Andrea Tognoli is blatantly credited with Mellotron, this would appear to be yet another false alarm, a band attempting some weird form of 'cool', although to whom, I'm not at all sure. There really isn't anything here that would even vaguely pass as Mellotronic, but perhaps there's something buried in the mix. Who knows? Frankly, unless you're a fan of the early '90s Italian mainstream, you won't be interested anyway.


Magnus Uggla (Sweden)
Innan Filmen Tagit Slut... (2011, 36.06) ***
Veteran Swedish singer Magnus Uggla's folk-inflected pop/rock album, shifts between the mainstream likes of opener Är det Aå Här det Ska Vara Nu and Gör Mig Till Din Man to Ramones pastiche Bara Jag får Komma Hemifrån and cod-Celtic closer 15 Supar. Unsurprisingly, Peter Kvint's 'Mellotron' (background flutes on the title track and strings on Jag Vill Ha Dig Baby) is sampled. I've given this three stars for not hurting anyone. Mostly harmless.


James Blood Ulmer (US)
Bad Blood in the City: The Piety Street Sessions (2007, 48.48) ***½
James "Blood" Ulmer's career didn't kick off properly until his late twenties, when he joined Ornette Coleman's band at the beginning of the '70s, releasing his first solo album in 1977. 2007's New Orleans-recorded Bad Blood in the City: The Piety Street Sessions is something like his twentieth, an appealing mélange of blues, rock, funk and a smattering of jazz, Ulmer's raw vocals and ripping guitar work driving the whole shebang. Lyrically, at least two tracks deal with the fallout from the then-recent Hurricane Katrina, while covers include Willie Dixon's amusing Dead Presidents and material by John Lee Hooker and Junior Kimbrough. Leon Gruenbaum plays samplotron, with distant strings on Let's Talk About Jesus.


Majbritte Ulrikkeholm (Denmark)
Tilbage til Jorden (2000, 46.02) ***
Musician and author Majbritte Ulrikkeholm's fourth (?) release, Tilbage til Jorden (Back to Earth), is a sparse, synth-laden, Danish-language singer-songwriter album, at its possible best on Når Iskrystaller Smelter and the electronica of Veninder I Skoven. Ulrikkeholm, Jacob Christoffersen and Johnny Stage variously play obviously sampled Mellotron strings on opener Så Vidt Jeg Ved Var Det En Engel and Rundt I Manegen and flutes on the title track and Un Jour À Paris.


Ultrasound (UK)
Play for Today (2012, 53.04) ***½
After a decade's silence from Ultrasound, during which vocalist Tiny temporarily rejoined Sleepy People (a.k.a. Blue Apple Boy), before they quietly folded, Ultrasound reformed, producing 2012's surprisingly good Play for Today. By and large, they've maintained their compositional skills, highlights including superb opener Welfare State, Twins, Between Two Rivers and the sweeping Deus Ex Natura, although I'm less convinced by the punky Goodbye Baby, Amen and bassist Vanessa Best's almost consistently flat lead vocal on Glitter Box. Keys man Bob Birch is credited with Mellotron, although the chordal flute part on Twins, background choirs on Between Two Rivers, the high string line on Deus Ex Natura and chordal strings on Long Way Home are sampled.


Unconscious Collective (US)
Pleistocene Moon (2014, 78.07) **½
Texans Unconscious Collective play a particularly uncompromising form of improv-psych on Pleistocene Moon, incorporating elements of space-, jazz- and all-out avant-rock, to the point where a large chunk of the album will fall into the 'near-unlistenable' category for many people. Perhaps restricting it to 'vinyl length' would've produced a stronger end result? Bassist Aaron Gonzalez is credited with Mellotron, but the obviously sampled choirs and strings on the opening title track give this the lie.


The Underachievers (Norway)
The Underachievers Sings Maradona (2002, 20.21) ***
As far as I know, Norway's Underachievers only ever released the Sings Maradona EP, complete with football sound effects to, er, kick things off. Punky indie is the order of the day, probably at its best on Tattooed On Tattoine [sic.] One Benjamin Roxette is credited with Mellotron on Kick Back In The Sun, but the flutes are far too even for authenticity.


Unifaun (Sweden)
Unifaun (2008, 76.27) ***½
Vocalist Nad Sylvan (who has also worked with Roine Stolt in Agents of Mercy) and instrumentalist Christian "Bonamici" Thordin 'met' on an online Genesis message board, quickly giving birth to Unifaun (spot the quote)'s spot-on late '70s Genesis tribute/copy/pastiche. 2008's Unifaun ticks all the boxes: Collinsesque vocals? Check. Swirly, phased organ? Check. Rumbling (pseudo-)Taurus pedals? Check. Banks-esque chord sequences? Check, with bells on. Part of me wants to lambast this for its slavishly copyist approach, while another wants to proclaim its 'lost Genesis album' credentials from the rooftops, although the not-so occasional slide into near-plagiarism doesn't help their cause, viz the massive Yes rip (Yours Is No Disgrace) halfway through the lengthy Quest For The Last Virtue, The Carpet Crawlers on A Way Out, The Chamber Of 32 Doors on Finistère...
Despite their claim to use 'vintage, vintage and vintage' gear, the 'Mellotron' fairly clearly isn't; thankfully, they refuse to go over the top, just like, er, Genesis, with bursts of strings and choir here and there, not to mention flutes on Quest For The Last Virtue. Of course, the occasional part strays too close to their source material, notably towards the end of Swingers Party, where the strings describe a close relative to Watcher Of The Skies, while a guitar line from later in the same piece 'reminds' us of part of Robbery, Assault & Battery. Come on, guys... Ultimately, however, the undeniably talented duo are quite open about their intention to make 'the Genesis album Genesis never made', making it near-impossible to slate this for unoriginality, so we might just as well enjoy it for what it is.


Unified Theory (US)
Unified Theory (2000, 48.15) **½
Unified Theory (named for Einstein's final, unfinished work) grew out of an attempt to reform the ill-fated Blind Melon, after vocalist Shannon Hoon's senseless, drug-fuelled demise. Bassist Brad Smith and guitarist Christopher Thorn took on ex-Pearl Jam drummer Dave Krusen and an unknown frontman, Chris Shinn. Ex-Blind Melon and Pearl Jam? Whadd'ya reckon they sounded like, then? Pick an answer from the drop-down menu below:
Well, what did you pick? Either choice is correct. OK, maybe I'm being a tad unfair, but Unified Theory is a pretty bland record, with no obviously memorable material and a very generic sound. The band split up the year after its release, so it looks like they agreed with me. Samplotron? Thorn plays it, waiting until the album's dying seconds to put down a string line on Keep On, but it's hardly something you couldn't do without. So; Unified Theory: been and gone. No loss. Next.


Union Line (US)
Cernido Sonidos (2010, 19.57) **
Who are The Union Line? To be honest, I'm not entirely sure; some form of US indie outfit, essentially, going by their 2010 Cernido Sonidos EP. Actually, I'm having trouble categorising their style and not necessarily in a good way. Indie skiffle? Hard to say. They're really not helped by vocalist Richard Theisen III's overwhelming desire to be Television's Tom Verlaine so badly it must hurt. But he isn't. Although the EP's only twenty minutes long, it still managed to irritate the fuck out of me, Sorry, guys. Jordan Sabolick is credited with Mellotron, adding flute chords towards the end of On The Run California and alternating melody and chordal parts on Dirty Water, but the latter pretty much gives the sample game away, the notes sounding far too regular to be genuine. Can I recommend this? No, I can not.


Unit Wail (France)
Retort (2013, 43.12) ***½
Unit Wail's instrumental angular avant-prog reminds me, more than anything, of elements of King Cimson's mid-'90s THRAK period, for some reason. I'm not sure there's much point in trying to identify individual highlights - if you like the style, you stand a good chance of liking this album. While not specifically credited with Mellotron, Vincent Sicot Vantalon plays pretty obviously sampled strings and choirs on most tracks.


United Bible Studies (Ireland)
Doineann (2014, 37.16) ***
Doineann contains elements of post-rock, psychedelia, 'wyrd folk', even progressive rock in its drone-based approach, possibly at its best on Across The Blackened Fields and the thirteen-minute Halo. David Colohan plays Mellotron samples on Across The Blackened Fields (flutes and strings) and Seachránaí (strings) to reasonable effect.


United States Three (US)
Watergate (1999, 29.59) **½
Despite two of their members being ex-punk outfit The Zero Boys, United States Three are closer to '60s pop on the brief Watergate, less dull tracks including Lemonade, It Was Over and the powerpop of Eveyone Wants One. Mitch Getz and Paul Mahern are credited with Mellotron, but the flutes and cellos on opener Do You Believe? and flutes on its reprise and closer We Love You Bye Bye fail to convince.


Univers Zero (Belgium)
Implosion (2004, 48.48) ***½
Univers Zero are one of the longest-running uncompromising bands you'll encounter on this site, making it no surprise that their spiritual home, America's Cuneiform label, has become their actual one, too. 1981's Ceux du Dehors features a real Mellotron, but 2004's Implosion can only manage a fake, which barely detracts from the album's impact (and not at all to anyone with even the remotest sense of perspective), its sixteen mostly short tracks hovering on the edge of the region most supposed music fans consider unlistenable. Fuck me, they should hear Schoenberg.
Someone plays some pretty awful Mellotron string samples on - you guessed it - Mellotronic, the low notes stretching horribly, putting the 'ic' into the title of the piece, although it's not reiterated in Variations On Mellotronic's Theme. I can recommend this to anyone interested in angular, awkward music, along with the rest of the band's catalogue, but I wouldn't bother if you're one for 'anything with a nice tune'.


Universal Daughters (Italy)
Why Hast Thou Forsaken Me? (2013, 57.22) ***
It seems that Universal Daughters were something of a one-off project, involving members of Verdena and a raft of English-speaking vocalists, not least Jarvis Cocker, Suicide's Alan Vega (R.I.P.) and Stan Ridgway. As you can probably guess from the title, it's an ironically religiously-themed record, featuring songs by the likes of The Bee Gees, John Lennon, Big Star and, er, Al Bowlly. Marco Fasolo's 'Mellotron' credit on six tracks is clearly bogus, with various not-very-Mellotronic string and choirs parts scattered throughout.


Unreal City (Italy)
La Crudeltà di Aprile (2013, 59.21) ***½
Il Paese del Tramonto (2015, 70.20) ***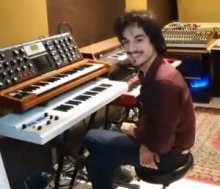 Young Italian progsters Unreal City (sort-of protégés of producer Fabio Zuffanti) are the latest entrants in the 'Italian retro prog' stakes, their 2013 debut, La Crudeltà di Aprile, making many of the correct moves. Unfortunately, it has one major failing: its juxtapositioning of 'straight from the '70s' sections with 'straight from the neo-prog '80s and '90s' ones, far too many of its chord sequences falling into clichéd 'Em/D/C/D'-style patterns, complete with Marillion-esque widdly Moog arpeggios. Don't get me wrong; I don't mean to denigrate the album, merely to point out areas for improvement, if the band aspire towards modern prog greatness. To redress the balance, highlights include the adventurously rhythmic piano work on opener Dell'Innocenza Perduta, the several-minute church organ/tubular bells section that opens Catabasi (Descensio Ad Inferos) and the several reflective Mellotron-and-vocal parts scattered across the album.
Emanuele Tarasconi is credited with both Mellotron and Chamberlin, although the latter seems as unlikely as it does on Maschera di Cera's recent Le Porte del Domani opus. For that matter, a quick look at the pic (right) of the band in the studio tells us all we need to know. Anyway, loads of string and choir parts on every track (not least the solo strings that open Ecate (Walpurgisnacht)), plus occasional flutes. All in all, then, a pretty decent album, although it should come with a 'some neo- influences' caveat.
Two years on, Il Paese del Tramonto is, if anything, less original than its predecessor, sadly. Not a bad album, not at all, but, despite some lovely moments (the accordion-and-fiddle section in La Meccanica Dell'Ombra, the Änglagård-esque opening to Oniromanzia), too much of this overlong release treads overly-familiar ground, with a dearth of real imagination in the compositional process. Plenty of samplotron again, with string, choir and brass parts scattered across the record; you wouldn't even mistake most of it for a real machine this time round.
Unreal City aren't bad, but nor are they especially good; I presume they wish to write semi-neo- material like this, but if they harbour any desire at all to do something genuinely new, they're going to have to take a sharp left turn somewhere along the line.


Unwound (US)
Leaves Turn Inside You (2001, 76.54) ****
Unwound, at least on their seventh album, Leaves Turn Inside You, are like a noisier version of Low, peddling a kind of very post-Velvets melancholy, that sometimes has little in common with 'rock' per se, which isn't to say they can't rock out at times. Is this what happens when a later-issue punk band discovers prog? Dunno, but it's pretty good, although at over 70 minutes (spread over two discs, oddly), it slightly outstays its welcome in places.
There's fake Mellotron on half the tracks, played variously by band member Justin Trosper plus Brandt Sandeno and Steve Fisk (a notorious fakester, pre-2005). Opener We Invent You has a nice string part, with cellos audible at the end, although Scarlette's strings and October All Over's flutes are somewhat sparser and the ten-minute Below The Salt only has a few seconds of flute at the end of the piece. The album's 'Mellotron' classics, though, are the major string use on Radio Gra and the strings and Mark II Mellotron rhythms on Who Cares, ending with the famous Bill Fransen 'yeah!' which can also be heard on Lol Coxhill's A Series Of Superbly Played Mellotron Codas (the 'Mark II' use is the album's chief sample giveaway).


Uookasz (Poland)
A Few of Autumn (2006, 23.12) **½
What can I tell you about Uookasz? Next to nothing, frankly; they're a Polish ambient dance outfit, whose 2006 EP, A Few of Autumn, is available as a free download, should you feel so inclined. To be honest, the bulk of the short release irritated the fuck out of me, although the laid-back title track's harmless enough, I suppose. In fairness, they have an occasional way with placement of samples, notably the harp on closer Compound Eye, but that just brings us back to the old 'recycling other peoples' work' argument, which I think we're probably all a little sick of by now.
Someone plays/programmed samplotron strings on the title track and strings and flutes on Leafs Dance [sic], for what it's worth, which isn't an awful lot. So; ambient your bag? Go for it: it's free.


Keith Urban (Australia)
Fuse [Deluxe ed.] (2013, 57.06) *½
Jesus Christ, what is this shit? Wildly successful NZ-born ex-pat Aussie Keith Urban's Fuse is an unholy cross between country, AOR and R&B (!), with a dose of Joshua Tree-era U2 thrown in for good (?) measure. If that sounds like the most hideous genre mashup ever, you'd be right. The album's only redeeming feature (and I use the term loosely) is Urban's voice, which manages not to especially irritate. Jay Joyce supposedly plays Mellotron on bonus track Lucky Charm. Really?


Midge Ure (UK)
Pure (1991, 50.15) **
While it's convenient to break events of all kinds into decades, real life isn't that simple; in some ways, the '60s finished before the end of 1969, but in other ways dragged on several years into the '70s, which in turn finished around 1978 or 9. The same goes for the horrors of 1980s music; as late as 1993, many atrocious '80s production tricks could still be heard on records (see: The Rime of the Ancient Sampler for details...).
James "Midge" Ure, OBE, worked his way up through Slik and the Rich Kids before joining Ultravox for their fourth album, Vienna, who eventually dissolved, leaving him to his sporadically successful solo career. Pure appears to be his fourth solo album and while not being the Full Duran, it still reminds the listener far more of the '80s than any other decade, despite being released in 1991, justifying my lengthy and tedious point above. This might be just about acceptable if the songs were any good, but with the exception of the fake-accordion driven Tumbling Down, they're not and as a bonus, Ure's voice seems to've lost its charm of old. I'm sure he's a very nice man, but this is a dull album. There's credited Mellotron on Rising, from Josh Phillips Gorse (note: this man once played with the mighty Diamond Head), but it's totally inaudible amongst the wash of duff digital synths; I mean, why bother?
So; a dull album, horrible production and inaudible Mellotron. Maybe not. Incidentally, there's supposed to be more 'Mellotron' on 1988's Answers to Nothing (a good year for Mellotrons, that), but rather predictably, there isn't.


Urusei Yatsura (UK)
Slain By Urusei Yatsura (1998, 43.35) **½
Scotland's Urusei Yatsura, confusingly known as Yatsura in the States and Japan for legal reasons, were named for a Japanese manga comic, opting to play a fairly raucous brand of British indie. Slain By Urusei Yatsura (or Slain By Yatsura) is the second of their three albums and, while fans of the style probably rate it, the rest of us are more likely to sit there mystified, wondering why they bothered. OK, there's a few amusing lyrical twists, but musically, it's more of that 'yeah, we've heard the Velvets' stuff that has almost entirely consumed the alternative scene in the Western world. Who'd'a thunk it, eh? Lou's boys becoming so influential? The Velvets are fine, it's just 99.9% of the bands that followed. Fergus Lawrie plays samplotron, with a screechy pitchbent strings part on No No Girl and cellos on King Of Lazy and closer Amber.


David Usher (Canada)
Little Songs (1998, 33.03) *½
Strange Birds (2007, 41.06) *½
The Mile End Sessions (2010, 48.20) **½
British-born Canuck David Usher was apparently frontman with Moist, who might mean something to me were I about half my current age. And Canadian. As it is, I'm neither, so they don't. Usher's solo career kicked off during his tenure with the band and if it all sounds like 1998's Little Songs, we're all doomed. Sorry, but this kind of 'confessional' singer-songwriter stuff sticks in my craw all too often, especially when it tries to get all 'contemporary' on us, with loops, samples and the like. Speaking of samples, the 'Mellotron' here is just that. The jury could be out on the strings on opener Trickster, but they're so obviously sampled on Million that this gets dumped straight onto this page without passing Go or collecting £200.
2007's Strange Birds is every bit as bad, exacerbated by the occasional semi-decent intro, which quickly slumps into a new slough of despond, characterised by Usher's irritating vocals and the exceptionally wishy-washy songwriting. Although Kevin Young is credited with 'keyboards, synthesizers, mellotrons, pianos' (note the plurals) on seven tracks, there's nothing here that sounds anything more like a Mellotron than a generic string sample, frankly, making this even more inessential than Usher's other two relevant albums.
Usher's seventh release, 2010's The Mile End Sessions (Mile End in Montreal, not London) is considerably less awful than his debut, if wildly unexciting itself. An all-acoustic effort, it combines reworked versions of existing material with new songs, none of which grabbed this particular listener, frankly. Young's credited 'Mellotron' flutes on My Way Out sound somewhat inauthentic to my ears, so unless I'm told otherwise, into samples this goes.
Little Songs and Strange Birds are pretty dreadful, while The Mile End Sessions is merely dull, but I'm still not sure exactly what is supposed to make David Usher stand out from hell's legions of similar bedsitter types.


George Usher (US)
Dutch April (1998, 47.23) ****
George Usher's second supposed 'Mellotron' album, 1998's Dutch April, is, like its successor, 2000's Days of Plenty, a superb powerpop release, full of the kind of twists and turns that show how well he understands classic songwriting. Highlights? It's all good, but opener My Life With Jack The Fool, the bittersweet I Can Still See Her Eyes and Why Don't You Say What You Mean (what is it with this guy and lengthy titles?) stand out. If I have one criticism, it's that the strummed acoustics bolstering every track become a little too ubiquitous for their own good, but, frankly, that's splitting hairs.
Usher's credited with Mellotron, but the skronky string line on Before The Next Bell Rings and murky flute and string lines on Begging For Rain, both played too quickly for their own good, fail to convince, I'm afraid. Then again, no-one in their right mind would buy this for a couple of tracks featuring occasional sampled Mellotron, anyway. Buy it because it's excellent. Incidentally, I haven't heard Usher's previous release, Miracle School, but I think its 'Mellotron' credit now has to be regarded with suspicion, too.


Us3 (US)
An Ordinary Day in an Unusual Place (2001, 62.35) **
I didn't realise how much I'd dislike Us3's An Ordinary Day in an Unusual Place until I stuck the disc in the player. Aargh! Hip-hop! OK, jazzy, Latin-flavoured hip-hop, but still hip-hop... However hard I try, I simply cannot understand why this is supposed to be a pleasurable listening experience; the two central tenets of hip-hop are rhythm and rhyme, whereas mine are melody and harmony, so it's hardly surprising that even when it isn't a tuneless racket, it still irritates me intensely. India and An Ordinary Day In An Unusual Place (Part 2) were the only tracks that didn't have me reaching for the 'skip' button, but that isn't actually a recommendation. Tim Vine plays various interesting keyboards on Sugar Sugar (She She Wah Wah), including a great MiniMoog solo, but the only samplotron I can even possibly hear is a faint string line about halfway through the song.


Ut Gret (US)
Ancestors' Tale (2014, 58.26) ****
Ancestors' Tale turns out to be an avant-prog album, to my surprise, obvious influences including King Crimson, Magma, various math-rock acts and King Crimson again. A challenging, partly-instrumental album, highlights include An Elephant In Berlin and the contrabassoon-driven Dinosaur On The Floor. Steve Roberts' credited Mellotron on several tracks turns out not to be, the sustained string notes on The Raw, The Cooked And The Overeasy finally giving the sample game away.