Face to Face (1966, 38.42/59.44) ****/0 (T)

Party Line
Rosie Won't You Please Come Home
Dandy
Too Much on My Mind
Session Man
Rainy Day in June
A House in the Country
Holiday in Waikiki
Most Exclusive Residence for Sale
Fancy
Little Miss Queen of Darkness
You're Lookin' Fine
Sunny Afternoon
I'll Remember
[CD adds:
I'm Not Like Everybody Else
Dead End Street
Big Black Smoke
Mister Pleasant
This is Where I Belong
Mr. Reporter
Little Women]
7" ( 1967) ****/TT

Autumn Almanac
Mr. Pleasant
7" ( 1968) ****/TT

Days
She's Got Everything
The Kinks Are the Village Green Preservation Society (1968, 39.45/164.19) *****/TTT (TTTT½)

Village Green Preservation
Society
Do You Remember Walter
Picture Book
Johnny Thunder
The Last of the Steam-
Powered Trains
Big Sky
Sitting By the Riverside
Animal Farm
Village Green
Starstruck
Phenomenal Cat
All of My Friends Were There
Wicked Annabella
Monica
People Take Pictures of Each
Other
[3-CD edition adds:
Mr Songbird
Days
Do You Remember Walter
People Take Pictures of
Each Other
Days
Mr Songbird
Polly
Wonderboy
Berkeley Mews
Village Green
Village Green
Misty Water
Berkeley Mews
Easy Come, There You
Went
Polly
Animal Farm
Phenomenal Cat
Johnny Thunder
Did You See His Name
Mick Avory's Underpants
Lavender Hill
Rosemary Rose
Wonderboy
Spotty Grotty Anna
Where Did My Spring Go
Groovy Movies
Creeping Jean
King Kong
Misty Water
Do You Remember Walter
Animal Farm
Days]
BBC Sessions 1964-1977 (2001, 102.51) ***½/½

Interview
You Really Got Me
Interview
Cadillac
All Day and All of the Night
Tired of Waiting for You
Ev'rybody's Gonna Be Happy
See My Friends
This Strange Effect
Milk Cow Blues
Wonder Where My Baby
is Tonight
Till the End of the Day
Where Have All the Good
Times Gone
Death of a Clown
Love Me Till the Sun Shines
Harry Rag
Good Luck Charm
Waterloo Sunset
Monica
Days
The Village Green
Preservation Society
Mindless Child of Motherhood
Holiday
Demolition
Victoria
Here Comes Yet Another Day
Money Talks
Mirror of Love
Celluloid Heroes
Skin & Bone/Dry Bones
Get Back in the Line
Did You See His Name?
When I Turn Off the Living
Room Lights
Skin & Bone
Money Talks
Picture Book [disc 2] (2008, recorded 1964-94, 77.10) ****/TT

Dedicated Follower of Fashion (alternate)
She's Got Everything
Mr. Reporter (alternate)
Sunny Afternoon
I'm Not Like Everybody Else
This is Where I Belong
Rosy Won't You Please Come Home
Too Much on My Mind
Session Man
End of the Season
Dead End Street (alternate)
Village Green
Two Sisters
David Watts
Mr. Pleasant
Waterloo Sunset (mono)
Death of a Clown
Lavender Hill
Good Luck Charm
Autumn Almanac

Susannah's Still Alive
Animal Farm
Rosemary Rose
Berkeley Mews
Lincoln County
Picture Book
Days
Misty Water
Current availability:
Face to Face/Village Green: Essential (UK)
Autumn Almanac: various greatest hits sets
BBC Sessions/Picture Book: Sanctuary
Mellotrons used:
All titles: studio MkIIs?
The Kinks were never the greatest Mellotron users, apparently ignoring the instrument's heyday in the '70s, preferring to use real strings etc. However, for a short time in the late '60s, they joined almost all their contemporaries by slapping a bit of 'Tron on a couple of songs. The wonderful Autumn Almanac relies heavily on the MkII trombones and mixed brass, the latter being particularly obvious on the raucous ascending runs at the end of each chorus. Days (a UK no.12) has some up-front strings, though somehow avoids being as 'classic' as Strawberry Fields or Space Oddity.
Village Green Preservation Society is almost certainly The Kinks' greatest achievement; Ray Davies' already individual, eclectic and very English songwriting filtered through the haze of psychedelia is a potent brew indeed. The title track gently pokes fun at society's 'traditionalists', while giving you a more than vaguely unsettling feeling that just maybe Davies actually means it. In fact, the whole album is probably worthy of the dreaded 'concept' tag, as most of the tracks seem to deal with the subjects of the past being allowed to slip away and what it meant to be English in the late '60s. In this, I suspect Davies was a couple of decades ahead of his time, as the nostalgia boom of the '80s and '90s proves; whatever, it's a fabulous album of only slightly psychedelic pop, without the often-unnecessary trappings of the era.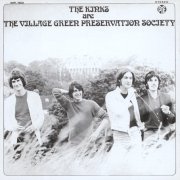 After Essential's 2-on-1 stereo/mono edition comes what has to be the final word on Village Green, Sanctuary's 3-CD version, encompassing full stereo and mono versions, with bonus tracks, plus a disc of rarities. For some reason, the original 12-track album was slated for a September '68 release, then was cancelled at the last minute, to be replaced by a revised 15-track version two months later. This CD issue mops up everything, including several previously unavailable Mellotronic tracks, although I've removed the second disc's straight mono repetition of disc one's stereo album, for the sake of brevity. There are several 'Tron tracks on the original album, two of them absolutely layered with the thing, with strings and brass on Starstruck, and MkII rhythm tapes, regular flutes and 'rock guitar' (!) on Phenomenal Cat. The stunning Do You Remember Walter and Johnny Thunder have some brass (trombones?), with French accordion on Sitting By The Riverside, although some of the more unusual use is reserved for the set's extra tracks.
Apart from various takes of Days, Mr Songbird (originally slated for the 12-track version) has some gorgeous flutes, with more strings on Berkeley Mews and Easy Come, There You Went (pitchbent here), with more trombones on Lavender Hill, leaving two tracks with more of those MkII left-hand rhythm tapes, with a sax coda on both versions of Berkeley Mews (mentioned in the sleevenotes), and a faint rhythm tape at the end of the first bonus version (on disc one) of People Take Pictures Of Each Other. For what it's worth, the sleevenotes also mention that the 'Tron was played by both Ray Davies and session god Nicky Hopkins, more often seen working with the Stones. Incidentally, the last three tracks on disc three are labelled 'BBC session remixes', which actually means the original tracks, overdubbed with a new Ray vocal, and slightly remixed, so the 'Tron parts are the same as on the album.
Just to add some confusion to the story, the remastered CD of 1966's excellent Face to Face album contains, as an unreleased bonus track, an instrumental backing track called Little Women, that is smothered in 'Tron flutes and strings, though I've no idea who, why or anything else. It's a fine album, anyway, containing gems such as Session Man, A House In The Country and Most Exclusive Residence For Sale, not to mention Sunny Afternoon, Dead End Street and Mr Pleasant, the last two also being bonus tracks.
2001's BBC Sessions 1964-1977, a.k.a. The Songs We Sang for Auntie, mops up all the band's surviving BBC sessions (a mere half of the total, sadly), although it's pretty much one for the faithful only. Covering studio and live sessions over the indicated period, it veers between their early, raw r'n'b, their sophisticated late '60s material and the flaccid, middle-of-the-road '70s rock they slipped into in the new decade, making it a decent enough listen without being in any way essential for any but the most committed. One 'Tron track, Nicky Hopkins adding strings to Days in a similar manner to its studio counterpart.
2008 brought The Kinks into the modern age, in the shape of Picture Book, a massive, six-disc box set, in the usual format: a handful of rarities spread amongst acres of familiar material and a high price tag. As has been said before, to whom, exactly, do these sets appeal? They piss off hardcore fans who feel they have to splash out the readies for a few unheard tracks (or often, merely versions of tracks), the casual buyer isn't going to spend this much for the hits, already compiled many times in cheaper form, while anyone genuinely interested in learning about the band's history is more likely to pick up a hits CD and their handful of classic albums (my preferred option). Anyway, disc two is not only the best musically (go on, argue with that at your peril), but the only one with any Mellotron content; of the disc's five 'Tron tracks, four are already available on the Village Green three-CD set, leaving the brief, jaunty Good Luck Charm as the newbie, with a string line, standing alone at the end of the track. Incidentally, as well as regular Kinks tracks (and handful in slightly different versions), we get Dave Davies' Susannah's Still Alive, as so memorably covered by the mighty Cardiacs.
Anyway, Village Green Preservation Society is a godlike album, worthy of anyone's attention. Buy, particularly the recent 3-disc version. Face to Face is a classic, too, though its Mellotronic input is strictly limited to the remastered CD, while BBC Sessions is one to think about when you've got everything else worthwhile by the band.

See: Ray Davies | Dave Davies
---