---
| | |
| --- | --- |
| OHO (US) see: | |
OK Go (US)
Of the Blue Colour of the Sky (2010, 51.19) *½/T½

WTF?
This Too Shall Pass
All is Not Lost
Needing/Getting
Skyscrapers
White Knuckles
I Want You So Bad I Can't Breathe
End Love
Before the Earth Was Round
Last Leaf
Back From Kathmandu
While You Were Asleep
In the Glass
Current availability:
Mellotron used:
I've seen OK Go (AWFUL name) described as 'alternative rock', which is enough to put me off straight away. However, I've been wrong before, so let's... AARGH! NO! 'Alternative rock' my arse! This is generic, modern indie crud, typified by the infuriating, pseudo-'African' guitar on Needing/Getting and the overall utterly piss-weak sound. The vaguely '60s-ish I Want You So Bad I Can't Breathe is possibly the least annoying thing here, but that really is clutching at straws.
I presume it's Andy Ross playing what might even be real Mellotron on a few tracks, with what sounds like string stabs during opener WTF? and more major string parts throughout While You Were Asleep and closer In The Glass, with some nice pitchbends towards the end. Real? It sounds a lot realer than a lot of recent usage; while the albums closes on a low F, it's pitchbent down from a G (bottom note on a Mellotron), so could quite possibly be genuine. Does it improve the album any? No.
Oak (US)
Oak (1979, 36.40) ***/½

Let it All Begin
Going Nowhere Fast
Listen to Your Heart
And You Win
King of the Hill
Draw the Line
Song to Sing
This is Love
Friends
Gimme More
Current availability:
Chamberlin used:
The Maine-based Oak (originally Pinette) were the brainchild of Rick Pinette, releasing two albums on Mercury before morphing into The Rick Pinette Band in the '80s. 1979's Oak is something of a lost pomp classic, all Styx song structures and Queen harmonies, sounding not unlike Styx's contemporaneous Cornerstone in places, top tracks including opener Let It All Begin, And You Win and mighty Queenalike Friends, although a couple of the gloopier ballads rather stick in the craw, frankly. And as for that sleeve, perhaps no more should be said...
Keys man David Stone (fresh out of Rainbow) supposedly plays Chamberlin, although I can no longer find any online references to the fact. As it happens, most of the album's string work (Listen To Your Heart, King Of The Hill, Song To Sing) sounds real, despite the Chamby's legendary ability to fool the ear, although I could be wrong... As a result, the only even possible use is the background strings on Friends, but I'm not actually convinced by any of it, to be honest. Anyone allergic to pomp's hard rock/prog/AOR mashup should avoid Oak at all costs, but I suspect I'll be playing at least a few of its tracks for some time to come. A quick thanks to Mark Medley (again!) for sourcing this rarity for me.
| | |
| --- | --- |
| Oasis (UK) see: | |
Pascal Obispo (France)
Un Jour Comme Aujourd'hui (1994, 54.49) *½/T

Assassine
Tu Compliques Tout
Où est l'Elue?
Ma Consolation
Un Jour Comme Aujourd'hui
Holidays
69%
L'Île Aux Oiseaux
Chlore
Est-ce Que c'est l'Amour?
Banquise
[unlisted track]
Current availability:
Mellotron used:
Pascal Obispo is a hugely successful current French singer-songwriter type, whose third album, 1994's Un Jour Comme Aujourd'hu, is a pretty wet affair, consisting mostly of ballads or soft dance numbers, with the occasional burst (I use the term loosely) of neutered rock'n'roll, the overall effect akin to being smothered by a marshmallow pillow. In French.
Jean Mora plays Mellotron on Chlore, with a pleasant enough melodic flute part, although I feel the album might have been at least slightly improved by using it elsewhere, too. If you like slushy French singers, you'll love Pascal Obispo. Conversely...
Obrero (Sweden)
Mortui Vivos Docent (2011, 47.56) ***/TTT

The Wolf's Hook
Son of Tutankhamun
Svantovit
The Fourth Earl
Octaman
Charles the Hammer
Exterminate
The Lost World
Current availability:
Mellotron used:
Obrero (Spanish for 'worker', apparently) are a Swedish stoner outfit and Phidion/Talion side-project (no, I don't know them either), which is another way of saying that they're effectively slavish Sabbath copyists, albeit with their own touches. Their debut, 2011's Mortui Vivos Docent, features vocalist Martin Missy's peculiarly literal lyrical bent, imaginary battles fought in excruciating detail across the record, rather like setting Lord of the Rings to music, line by line. Musically, the band actually nail that Sabbath groove in places, sounding far more fluid than many of their contemporaries, if no more original.
Mathias Öjermark plays pretty real-sounding Mellotron, with distant string parts on everything except The Fourth Earl, plus choirs towards the end of Exterminate and flutes on The Lost World. Those titles, guys... This is yet another one for those who wish Sabbath had used more Mellotron, although anyone looking for originality should probably go elsewhere.
Obscured By Clouds (US) see: Samples etc.
Ocean (Germany)
Melody (1981, 39.14) ****½/TT½

Ocean
Katrin
7 to 8 Melody
Wild Pig
Slow & Chromatic
Melody Bass
Bolero
Current availability:
Mellotron used: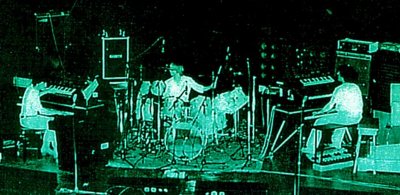 Ocean were a deeply obscure outfit, nothing to do with the French metal crew (whose eponymous '81 debut looks like it was made by a bunch of 19 year-olds). The German version produced a mini-masterpiece in Melody; entirely instrumental, it's (funnily enough) intensely melodic, with slight ELP and Focus influences, with much piano, although they suddenly lurch into a jazz feel on Melody Bass, sounding slightly out of place. Their, er, 'theme song', Ocean, is an absolutely fabulous classically-inspired piece that'll have all you '70s prog fiends salivating like rabid dogs, and the rest of the album's almost as good. Why is this so bloody obscure?
Their Mellotron use (from Mike Hoffman) is slightly odd, as they seem to use synth strings, except for a high string melody line on Wild Pig. Otherwise, it's choirs (Katrin, Wild Pig and Slow & Chromatic) and flutes (7 To 8 Melody), with especially good use on Slow & Chromatic. Although the 'Tron use isn't its best feature (while not being at all bad), if you see a copy of this, BUY. Incidentally, mucho thanks to my long-time info-finder Joe Ellis for providing the pics.
Ocean Colour Scene (UK)
One From the Modern (1999, 43.28) **½/T

Profit in Peace
So Low
I am the News
No One at All
Families
Step By Step
July
Jane She Got Excavated
Emily Chambers
Soul Driver
The Waves
I Won't Get Grazed
Current availability:
Mellotron used:
Ocean Colour Scene are, to my ears, one of the many wannabes Oasis have thrown up in their wake; I mean, they'd (almost) file next to them on this page, were Oasis still here... The music is very much in the same area, which should tell you all you need to know about OCS; mostly mid-paced modern indie stuff with rather overwrought vocals and terrible lyrics. Sorry, not my bag at all.
One From the Modern is their fourth album and, in keeping with their mentors, they elected to use a Mellotron on a couple of tracks. Profit In Peace has a tiny burst of flutes, played by producer Brendan Lynch, while Families has some more overt strings, uncredited, but probably played by Steve Cradock. That's it, really; if you like UK indie you'll probably like it and if you don't, you won't. One plus point for the album is its length; rather than try to fill the CD up, OCS have recorded a 'regular' length record, possibly so that it could also be released on vinyl without the usual messing about. Anyhow, don't buy for its Mellotron content.
See: Samples etc.
Oceana Company (Netherlands)
For the Boatman (2008, 55.53) ***½/TTT½

Landing
TrenchFever
Freedom of Mind
Imaginary Time
Silent
A Wayfarer's Travel
The Warning Light Stays on
Boatman
The Big Sky
Current availability:
Mellotron used:
Oceana Company seem to've got themselves labelled 'prog', but to my ears, they're more 'modern rock' than anything; you know, that hard rock/indie crossover that's so popular at the moment. Think Oceansize, but better. Their debut, 2008's For the Boatman, isn't a bad album by any means, better tracks including opener Landing and lengthy, trance-like closer The Big Sky. I'm not sure what's going on with the weird science fiction stuff on The Warning Light Stays On/Boatman, mind, but that's obviously how the band want it...
Vocalist/guitarist Matthijs Herder doubles on (genuine) Mellotron, to the point where it's pretty much his main instrument. The album opens with, essentially, the same Mellotron string chord that starts Crimson's Starless, carrying on throughout the track, with choirs and flutes on Freedom Of Mind, strings and flutes on Imaginary Time and Silent, a brief burst of choirs on The Warning Light Stays On and considerably more so on Boatman. Overall, then, not one for your symph enthusiast, but enough prog moments to just about make it worth hearing for the aficionado, with plenty of Mellotron.
James O'Connell (US)
Power to Love (1975, 38.30) */TT½

Spiritual Gold
When You Believe
Lift Up Your Voices
Supernaturally High
Psalm 34
Power to Love
Thank You Lord
Rainbow Hill
You Don't Really Have to Hide
Jesus Come Be My Lord
Current availability:
Mellotron used:
What can I tell you about James O'Connell? Effectively nothing; I don't even know whether or not he made more than the one album, 1975's Power to Love and to be perfectly honest, even if he did, I suspect most of us would be better off had we never heard it. This is an absolute stinker; think: slushy mid-'70s Christian country/folk/pop with extra added cheese. Oh, you'd rather not think about that? Me neither, but, unlike you, dear reader, I've just sat through this crud. It has no redeeming features (pun intended).
An unknown musician plays Mellotron, with a background string part on opener Spiritual Gold, more background strings and choirs on Lift Up Your Voices, flutes on Thank You Lord (distinct from the real one utilised elsewhere), cellos and really quite upfront strings on Rainbow Hill and choirs on You Don't Really Have To Hide (who's hiding, botherer?). Does it improve matters? Nope. This is properly, good old-fashionedly horrible. Let us thank the Lord that it's out of print. Er...
Octopus (Germany)
The Boat of Thoughts (1977, 35.29) **½/T

The First Flight of the Owl
Kill Your Murderer
If You Ask Me
The Delayable Rise of Glib
We're Losing Touch
The Boat of Thoughts
Current availability:
Mellotron used:
I should've known, as soon as I saw the Sky label. Sky appear to be the haven for second-division German prog outfits (so how come Eloy got a major deal?), i.e. the ones Brain didn't want. I've listened to The Boat of Thoughts several times, and it resolutely fails to impinge itself onto my consciousness in any way whatsoever; the compositions are poor, the playing merely competent, and the sound is pretty low-budget, too. Jennifer Hensel's vocals are too high in the mix and, frankly, pretty awful, while Pit Hensel's guitar work is utterly generic and average. It picks up slightly on the title track, which at least has a bit of energy to it, but it's hardly inspired.
Werner Littau uses a (presumably borrowed/hired) Mellotron on a couple of tracks, to no particular effect; Kill Your Murderer has a few ungainly slabs of strings, although The Boat Of Thoughts itself is slightly better, with some decent enough string block chords, but this is a very long way from 'classic' status. You know, I really hate having to be so harsh to a well-meaning progressive outfit, but Octopus are just so mediocre that I don't feel I can recommend this at all. Saying that, the following year's An Ocean of Rocks (**½) is even worse. However, if you're big on the 'German prog sound', you may get something from these albums; just because I've failed to doesn't mean that you will. Just don't go spending loads of money on them.
Erin O'Donnell (US)
No Place So Far (2001, 43.11) *½/T

Janie's Garden
Only You
No Place So Far
Your Love Will Get Me There
Hold on the Jesus
There You Are
Bigger
Some Things Never Change
Damaged Goods
For Me
There is No Fear in Love
Current availability:
Mellotron/Chamberlin used:
I'd already listened to the first two or three tracks of Erin O'Donnell's fourth album, No Place So Far before I clocked that she's a CCM artist and I already hated what I heard. I'm saying this to deflect imaginary-but-potential criticism of the anti-Christian bias on this site; yes, this is god-bothering crud, but I hated it before I realised. Why is it that this stuff is mostly utterly, utterly awful? I know the message comes before the medium, but couldn't they make just a little effort on the medium side? Hang on, you're not allowed to say 'medium' to a Christian, are you? They might think you're talking about spiritualism and get all upset. Out of interest, did you know that references to reincarnation were allegedly removed from the Bible early on, along with a load of other inconvenient stuff? Anyway...
This really is a very nasty album indeed. Slushy, schlocky, insipid, not to mention wholly unoriginal; Some Things Never Change nicks Boston's More Than A Feeling riff, in a really lightweight kind of way (don't start - the original rules). Blair Masters plays Mellotron, with Glenn Rosenstein on Mellotron and Chamberlin (are Jewish people allowed to play on Christian albums? Just wondering), with what sounds like Chamby strings on Only You, recognisable Mellotron flutes on the title track and fainter ones on For Me, although the source of the strings on closer There Is No Fear In Love is difficult to determine for certain. It's more than possible there's more tape-replay hidden away in the mix, particularly the Chamby, but as so often, it's impossible to tell.
The chances of my usual readers buying this shite are about as close to zero as it gets; not only is it resolutely horrible, but the tape-replay input is pretty minimal. If there was a god, I'd pray to Him to stop people making awful records in His Holy name (or is that Name?).
Rosie O'Donnell (US)
Another Rosie Christmas (2000, 50.00) **/T

Rockin' Around the Christmas Tree
Nuttin' for Christmas
Winter Wonderland
Merry Christmas From the Family
Face of Love
Ay Ay Ay it's Christmas
Spread a Little Love on Christmas Day
The Bells of St. Paul
Silver Bells
I'm Gonna E-Mail Santa
Christmas Auld Lang Syne
The Prince of Peace
Rosie Christmas
Because it's Christmas (for All the Children)
Current availability:
Chamberlin used:
Rosie O'Donnell is one of those US comedians (or comediennes, if you insist) who mean diddly-squat on the other side of the Atlantic, but are household names in their own country. She's actually a bit of a liberal star, being outspoken on the kinds of issues that make American conservatives see red, if you'll pardon the pun, which doesn't excuse Another Rosie Christmas. I'm glad to say I don't need to listen to its predecessor, as one was bad enough, thank you very much. OK, it has its amusing moments, not least the Dixie Chicks and O'Donnell collaborating on a trailer-trash piss-take, but generally speaking, it's awful. You want details? It's a Christmas album. I rest my case.
Patrick Warren does his usual Chamberlin thing; I'm not under the slightest illusion that the estimable Mr. Warren actually enjoys most of his sessions. Or maybe he does? It's easy to focus on your part of the jigsaw without feeling the need to pass judgement on the whole picture. Anyway, he adds strings and flutes to Winter Wonderland and strings to the bizarre Christmas Auld Lang Syne (can you hear The Bard spinning in his grave?), but that appears to be it. No, you don't want or need to hear this album. End of story.
Aoife O'Donovan (US)
Fossils (2013, 39.39) ***/T

Lay My Burden Down
Briar Rose
Thursday's Child
Red & White & Blue & Gold
Beekeeper
Fire Engine
Pearls
Glowing Heart
I'm Alone
Oh, Mama
Current availability:
Mellotron used:
Aoife O'Donovan is very much Irish-American, spending childhood summers in the Old Country, an influence that leaks through the otherwise fairly mainstream country of Fossils. A quietly beautiful record, it sidesteps the usual clichés and tweeness usually associated with the genre, making an album that could almost as easily be classified as 'folk' or 'singer-songwriter', highlights including Briar Rose, Thursday's Child and closer Oh, Mama.
Rob Burger plays Mellotron flutes on opener Lay My Burden Down and O'Donovan adds occasional block flute chords to Thursday's Child; I wouldn't swear they're real, but Burger's known for his Mellotron and Chamberlin use, so I'll give this one the benefit of the doubt, at least for now.
Odyssice (Netherlands) see: Samples etc.
of Montreal (US)
False Priest (2010, 53.41) **½/TT½

I Feel Ya' Strutter
Our Riotous Defects
Coquet Coquette
Godly Intersex
Enemy Gene
Hydra Fancies
Like a Tourist
Sex Karma
Girl Named Hello
Famine Affair
Casualty of You
Around the Way
You Do Mutilate?
Current availability:
Chamberlin used:
Athens, GA, Elephant Six psychsters of Montreal (note lower case 'of') turned towards '70s soul on 2008's Skeletal Lamping, for reasons best known to themselves, 2010's False Priest mostly carrying on in a similar vein. Better tracks include Coquet Coquette, with its deranged sitar (guitar) intro, the skronky Around The Way and nuts closer You Do Mutilate?, but I'm afraid the bulk of the album left this listener rather nonplussed. The band are, of course, making music to please themselves (and rightly so), but I'm not quite sure if this is going to please anyone else.
If the band's two previous releases are in samples, why is this here? Because, dear reader, this time round, the band have utilised the justly famed Jon Brion in a joint production/session capacity, openly stating that he persuaded them to replace their already-recorded Mellotron samples with his real Chamberlin. As so often with the Chamby, it's not always easy to tell where it might've been used, but we get definite flutes and cellos and possible brass on I Feel Ya' Strutter, more flutes on Our Riotous Defects and Enemy Gene (particularly upfront on the latter) and strings, what sounds like Chamby rhythm tapes on Sex Karma and strings on You Do Mutilate? Is that it? Who knows? I can't hear it anywhere else, but it could be on several other tracks, too.
See: Samples etc. | Jon Brion
Ogre (US)
Seven Hells (2006, 56.24) ***/½

Dogmen (of Planet Earth)
Soldier of Misfortune
The Gas
Woman on Fire
Review Your Choices
Sperm Whale
Flesh Feast
Current availability:
Mellotron used:
I don't think it would be unfair to say that Ogre's music is, er, 'informed' by that of Black Sabbath, to the point where, vocals aside, it's a virtual copy. Their second album, 2006's Seven Hells, is decent enough, as long as you don't find its overbearing Sabbath-ness a problem. Can you plagiarise a sound? Its best track is probably thirteen-minute closer Flesh Feast, if only because it does what every other track on the album does, but for twice as long.
Ross Markonish plays Mellotron, although I'm having trouble working out whether or not it's real, to be honest. Anyway, all we get is occasional distant choirs on Flesh Feast, so we're hardly talking 'Mellotron classic' here. So; doomier than thou, very little Mellotron.
Ohio Players (US)
Skin Tight (1974, 41.03) ***/T½

Skin Tight
Streakin' Cheek to Cheek
It's Your Night/Words of Love
Jive Turkey
Heaven Must Be Like This
Is Anybody Gonna Be Saved?
Current availability:
Mellotron used:
Skin Tight was the Ohio Players' seventh album, and their breakthrough into the mainstream. Their fat funk sound had been making waves for years, but it took a label change to Mercury to give them that all-important hit album. As with many funk outfits in the pre-disco mid-'70s, the Players allowed themselves to stretch out a bit on vinyl, with all six tracks on the album jammed out to one extent or another. I really don't feel qualified to comment on the music, as it seriously isn't my bag, but it seems to be good at what it does, particularly on the funkier, more uptempo tracks.
Although he isn't credited with it, vocalist/keyboardist Billy Beck plays Mellotron on a couple of tracks, with a pseudo-string section-style part on It's Your Night/Words Of Love, leaving the album's Major Mellotronic Moment for Heaven Must Be Like This, with string, flute and cello parts, all heavily reverbed and doing their best not to sound like a Mellotron. So; another unexpected 'Tron album from the funkier end of the spectrum, if not the heaviest use of the machine you'll ever hear.
Ohm (US)
O2 (1997, 43.32) ***/TTT

Untitled No.1
Untitled No.2
Untitled No.3
Untitled No.4
Untitled No.5
Current availability:
Mellotron used:
Ohm were a space-rock/psych outfit, featuring analogue keys enthusiast Doug Ferguson (also of Yeti). The first of their three albums, 1997's O2, is a fairly startling piece of work, full of the kind of sonic exploration that so many late '60s bands promised, but were ultimately unable to deliver (did I hear anyone say Jefferson Airplane?). Its two chief instrumental components seem to be synths and woodwind; not the commonest combination, but not the commonest band, either. None of the tracks are actually titled, which, while slightly irritating, at least dispenses with the 'what do we call instrumentals?' problem. This is far from easy listening, but isn't that a good thing?
Ferguson's first Mellotronic outing on the album comes several minutes into the first track, with a relatively lush string part underpinning the real violin, with massively pitchbent strings on track two. The choirs make their entry well into track three, reiterating on five, while four features some serious flute, string and choir action, although it's the most major use on the album. I'd vaguely expected more Mellotron than we actually get, but this is still pretty good on the 'Tron front, although more for track four than anything else.
There are another two Ohm albums, both almost certainly containing Mellotron, '99's Voices and 2001's Raw Ohm, although I've no idea how I'm going to get to hear copies. Tragically, Ferguson died in early 2002, signalling the end of the project, although Yeti have carried on. O2 is a fairly out-there album, but aren't you lot fairly out-there yourselves? Worth hearing, then, although most of its Mellotron work is fairly subdued.
See: Yeti
Oiseaux-Tempête (France) see: Samples etc.
Danny O'Keefe (US)
So Long Harry Truman (1975, 34.40) **½/T½

So Long, Harry Truman
Quits
Rainbow Girl
The Delta Queen
The Kid/The Last Days
Covered Wagon
It's Been a Good Day
Fiddler's Jamboree
Steel Guitar
Hard Times
Current availability:
Mellotron used:
Danny O'Keefe seems to be known more for his songwriting than as an artist in his own right, having had his songs recorded by a pantheon of major names, not least Judy Collins, Willie Nelson and Elvis. His fourth solo album, 1975's So Long Harry Truman, features most of the then-lineup of The Eagles on a few tracks, just prior to their massive breakthrough with Hotel California, along with Linda Ronstadt, which probably gives you some idea of what it sounds like. Yup, country-lite, although Covered Wagon and Steel Guitar are more rock'n'roll and The Delta Queen is a sort-of Sinatra-era ballad, leaving closer Hard Times (ironically Eagle-free) as the kind of country-rock epic that band had already made their own (think: The Last Resort).
John Boylan plays most full-on Mellotron strings on Rainbow Girl, plus an uncredited part on The Kid/The Last Days to actually pretty good effect. You're unlikely to want to hear this too badly unless you're already a fan of O'Keefe and/or his songwriting, although it has its moments, principally Hard Times and the Mellotron work.
Okkervil River (US)
Don't Fall in Love with Everyone You See (2002, 46.09) ***½/T

Red
Kansas City
Lady Liberty
My Bad Days
Westfall
Happy Hearts
Dead Dog Song
Listening to Otis Redding at Home During Christmas
Okkervil River Song
Down the River of Golden Dreams (2003, 45.57) ***½/T½

Down the River of Golden Dreams
It Ends With a Fall
For the Enemy
Blanket and Crib
The War Criminal Rises and Speaks
The Velocity of Saul at the Time of
His Conversion
Dead Faces
Maine Island Lovers
Song About a Star
Yellow
Seas Too Far to Reach
Black Sheep Boy Appendix (2005, 24.41) ***½/TT

Missing Children
No Key, No Plan
A Garden
Black Sheep Boy #4
Another Radio Song
A Forest
Last Love Song for Now
The Stage Names (2007, 41.46/46.40) ***/½

Our Life is Not a Movie or Maybe
Unless it's Kicks
A Hand to Take Hold of the Scene
Savannah Smiles
Plus Ones
A Girl in Port
You Can't Hold the Hand of a
Rock and Roll Man
Title Track
John Allyn Smith Sails
[bonus track:
Love to a Monster]
The Stand ins (2008, 40.12) ***/T

Stand ins, One
Lost Coastlines
Singer Songwriter
Starry Stairs
Blue Tulip
Stand ins, Two
Pop Lie
On Tour With Zykos
Calling and Not Calling My Ex
Stand ins, Three
Bruce Wayne Campbell Interviewed on the Roof of the Chelsea Hotel, 1979
Current availability:
All titles: Jagjaguwar (US)
Mellotrons used:
Okkervil River are a newish Americana band, originating in New England but based in Austin, Texas. They seem to have had multiple lineup changes in the decade they've been together, leaving just one original member, chief songwriter etc. Will Sheff. Where they win out over the likes of Ryan Adams is in their authenticity and their wind-blasted sound, all picked banjos and ghostly keyboards and strings. Something that might put some listeners off is Sheff's voice, which bears an uncanny resemblance to a slightly less hysterical Waterboys mainman Mike Scott at times, although he knows how to tone it down when he has to.
Don't Fall in Love with Everyone You See is their first full album, defining their sound nicely, with Kansas City's pedal steel contrasting nicely with the wonky brass of Lady Liberty and Westfall's mandolin. The material covers a wide variety of country-related styles sympathetically and without dipping into the Nashville schmaltz barrel at any point. Just one Mellotron track (from Sheff), with some wonderfully out-of-tune flutes on opener Red that almost sound like recorders.
Down the River of Golden Dreams is, somehow, slightly less appealing than its predecessor, though not enough to dock it any stars. One instrumental feature of note is Sheff's increasing use of the Wurlitzer, with several tracks featuring its percussive tones. New keyboard player Jonathan Meiburg adds Mellotron flutes to It Ends With A Fall and the wonderfully-titled The Velocity Of Saul At The Time Of His Conversion, although with credited cello and viola, I suspect all string parts are real.
Black Sheep Boy Appendix is a follow-up EP to the Mellotron-free Black Sheep Boy, showcasing a broadening of the band's sound, with the almost-ambient Missing Children and the rocky No Key, No Plan standing out. Mellotron from Alice Spencer this time round, with flutes on No Key, No Plan and, for the first definite time, strings on Black Sheep Boy #4, although other string parts sound real.
2007's The Stage Names is a typically 'themed' Okkervil release, possibly musically less exciting but better lyrically than its predecessors. Opener Our Life Is Not A Movie Or Maybe is good, but sounds like a Waterboys outtake, while Unless It Kicks has an almost Stones vibe about it, an influence that seems to be cropping up with greater frequency in Okkervil's work. Incidentally, John Allyn Smith Sails is probably better known to you as Sloop John B; an American folk song, the Beach Boys appropriated it back in '66. Mellotron from Meiburg and Scott Brackett, although I've no idea why it took two of them to play the almost-inaudible strings on Unless It's Kicks, only becoming apparent right at the end of the song, unless there are more parts hidden away. With several strings players credited, it seems the rest of the album's strings are real, and they sound like it, too.
The following year's The Stand ins is the second part of The Stage Names, originally conceived as a double; note how the two covers, here handily juxtaposed correctly, form a larger picture when placed one above the other. Sadly, the same problem applies to this album as to its 'first part', in that it's, well, less interesting than their earlier work. Some individuality seems to have been lost and the songs are less quirky, but maybe that's just my personal prejudices coming into play. Saying that, Bruce Wayne Campbell Interviewed On The Roof Of The Chelsea Hotel, 1979, is inspired by failed US glamster Jobriath (BWC being his real name), who died in 1983, decades before any possibility of musical rehabilitation. Three 'Tron players this time, Brackett, Justin Sherburn and Brian Beattie, with strings that don't sound particularly genuine on Starry Stairs, Blue Tulip and Calling And Not Calling My Ex, which probably means they are. It's possible that any of these three are, in fact, something else, and that other parts are, in fact, Mellotron, but by this point in the band's career it seems rather hard to tell.
To sum up, Okkervil River seem to have become more mainstream as time's gone along, with not only less interesting material, but also less obvious Mellotron use than on their earlier albums. Recommended? Don't Fall in Love with Everyone You See and Down the River of Golden Dreams, and maybe Black Sheep Boy Appendix (probably Black Sheep Boy, too, although I haven't heard it), all three for their songs and the latter two for the Mellotron, too.
See: Roky Erickson
Tamio Okuda (Japan)
29 (1995, 48.55) ***/T

674
[Japanese text]
[Japanese text]
[Japanese text]
[Japanese text]
[Japanese text]
[Japanese text]
[Japanese text]
Beef
[Japanese text]
[Japanese text]
[Japanese text]
E (2002, 62.21) ***/T

Oreha Shitteiruze
Manwojishite
Hanani Naru
Hananinaru (Tasogaren No Theme)
E
Mon Amour
Hana to Flower
Hana to Flower Sansei
Gomen Rider
Senshuu No Getsuyoubi
Minna Genki
Yakyuudeiuto
Aishuuno Kinyoubi
Raishuuno Nichiyoubi
Ieni Kaereba
Custom (Japan version)
Hehehei
The Standard
Dousuru
Current availability:
Mellotrons used:
When Japanese singer-songwriter Tamio Okuda isn't recording his own material, he's been known to write for other artists, not least Puffy. His debut, 1995's 29 (although he followed it up with 30, he seems to have refrained from any further age-related album titles), is a perfectly listenable, stylistically varied Japanese-language pop/rock effort, highlights including track two (sorry, most titles are only in Kanji), displaying Okuda's understanding of rock'n'roll tropes, not least by quoting from Johnny Kidd's Please Don't Touch at one point, and stomping closer, er, track twelve. Parliament/Funkadelic's Bernie Worrell plays (real-sounding) Mellotron, with a string part running through track four (possibly titled Musuko (Son)), although that would appear to be our lot.
I don't know whether Okuda used a Mellotron on any of his intervening releases (sorry, I simply can't be arsed to play them all to find out), but it appears again on 2002's E, a not dissimilar album to 29, in many ways, although it breaks up the 'regular' material with a series of brief, frequently instrumental vignettes, not least the under-a-minute new wave/synthpop Senshuu No Getsuyoubi. Best tracks? The bluesy, propulsive Manwojishite features some very Page-esque slide work, Gomen Rider's worth hearing and spot the Europe quote (The Final Countdown, obviously) on closer Dousuru. An unknown musician (Okuda himself?) plays Mellotron flutes (possibly not real) on two tracks, with a surprisingly speedy solo, complete with key-click, on Yakyuudeiuto and a chordal part on The Standard, plus possible background strings.
Do you bother with these? Not for their Mellotron use, no, while I can only see the music really appealing to his existing Japanese fanbase.
Ryo Okumoto (Japan) see: Samples etc.
Old Hickory (US)
Other Eras...Such as Witchcraft (1997, 46.25) ***/T

Drain the Lake
Three Rings
T.I.O.N.
Cross the State
Selopan
Flames Grow Tall
Poblecito
Spur Eye
Pontiac
Settle Down
Diamonds or Coffeecake
Broken
Science Fair
Current availability:
Chamberlin used:
Sylvia Massy's machine (M1?)
Old Hickory are a classic Mellotronic case of 'if I'm not told, I'll never know'; no tape-replay credit in the CD booklet, no (previous) online references... Actually, I was not only told by one of the band, but sent a copy for review, despite their non-existence for over a decade, which is above and beyond the call of duty. In the words of contemporaneous reviewers, every song on 1997's Other Eras...Such as Witchcraft sounds different to every other, or in the band's words, 'Flaming Lips meets Pavement with a bit of Nirvana', if that helps at all. Going by their name, they sound like they should've played prime Americana, but Pontiac's probably the only track that even partially fits that description. Common threads running through the album include songs with melodic intros that switch into a kind of post-grunge after about thirty seconds (Three Rings, Cross The State, Flames Grow Tall), occasional Neil Young-influenced guitar parts (notably on Broken) and (presumably) Jason Coile's overly 'rock'n'roll' vocals, which probably don't help to describe the music either.
Michael Marqueson played producer Sylvia Massy's Chamberlin (M1?), with flutes and cellos on Selopan, cellos on Flames Grow Tall and strings on Pontiac, although I wouldn't call it a defining feature of the album's sound. As you can see, I've found it rather difficult to convey the band's sound in cold print, but if the influences to which they admit appeal, you stand a good chance of liking this, too. Not much Chamby, but nice to hear it used on a non-mainstream pop album, for once. Incidentally, thanks to Scott Matz for going to so much trouble to get me a copy of the album.
Old 97's (US)
Too Far to Care (1997, 46.24) ***/T

Timebomb
Barrier Reef
Broadway
Salome
W. TX Teardops
Melt Show
Streets of Where I'm From
Big Brown Eyes
Just Like California
Curtain Calls
Niteclub
House That Used to Be
Four Leaf Clover
Current availability:
Mellotron used:
The grammatically-challenged Old 97's formed in 1993, releasing something like seven studio records to date. Fronted by the charismatic Rhett Miller, they're one of the better alt.country bands around, although without the psychedelic edge of, say, The Jayhawks, they're unlikely ever to appeal to a wider audience. 1997's Too Far to Care is their third effort, and while a respectable enough album, it fails to ignite in the way you hope it might, possibly being just a touch too trad for its own good.
Wally Gagel plays Mellotron, although the background strings on Salome seem to be the only place it crops up. Overall, then, a perfectly good alt.country album, but not the most exciting thing you'll hear in the genre, with very little Mellotron to boot.
See: Samples etc. | Rhett Miller
Mark Olson (US)
Salvation Blues (2007, 36.55) ***/T

My Carol
Clifton Bridge
Poor Michael's Boat
National Express
Salvation Blues
Keith
Winter Song
Sandy Denny
Tears From Above
Look Into the Night
My One Book Philosophy
Current availability:
Mellotron/Chamberlin used:
Mark Olson was a founding member of The Jayhawks, leaving in 1995 to become full-time carer for his wife, Victoria Williams, an MS sufferer. He made several albums her as The Original Harmony Ridge Creekdippers, in a much more traditional country vein, an approach he's carried over to his first proper solo album, 2007, Salvation Blues. There's no point trying to call this 'alt.country' or similar; the only thing that stops it being mainstream country is a traditional, non-schmaltzy Nashville approach, which is what makes it listenable, rather than dreck. I'm not saying "I love this album"; I don't, but it does what it does well, making me unwilling to give it a hard time for doing something I don't particularly like.
Zac Rae plays Mellotron and Chamberlin, with what sounds like Chamby strings on National Express, Keith and Sandy Denny, plus what I take to be Mellotron cellos and possibly flutes on the latter. Overall, then, a new country album from pre-schmaltz days, which probably means that most 'country' fans won't buy it and with very little tape-replay work, I doubt if you will, either.
See: The Jayhawks
---