Herd of Instinct (US)
Herd of Instinct (2011, 46.11) ***½
Conjure (2013, 52.53) ***½
Texans Herd of Instinct began as a guitar synth/Warr guitar (similar to a Stick)/drums trio, releasing their eponymous debut on Djam Karet's Firepool Records in 2011, featuring guest appearances from Karet guitarist Gayle Ellett, and drummers Jerry Marotta (Peter Gabriel), Pat Mastelotto (King Crimson) and Gavin Harrison (Porcupine Tree), amongst others. Unsurprisingly, it sounds like a conflation of its collaborators' day jobs, particularly Discipline-era Crimso (Warr/Stick players mostly end up sounding like Tony Levin), although the sequencer line on Hex stands out from the pack. Ellett is credited with Mellotron on Blood Sky, although the handful of string chords here and there don't really convince, despite his use on earlier Djam Karet releases.
By 2013's Conjure, Ellett had become a 'regular' member, bringing the band up to a quartet. The album shows considerable progression from their debut, material like sparse opener Praxis, the slightly neo-proggish Dead Leaf Echo and the rhythmic Alice Krige Pt.1 standing apart from Herd of Instinct's relatively unvarying approach. This time round, the 'Mellotron' string, choir and flute on Mother Night and strings on Vargtimmen are clearly sampled, especially obvious on the melody string line on the former. So; two good albums, but what has happened to Djam Karet's Mellotron? I think we should be told.


Benjamin Herman (Netherlands)
Hypochristmastreefuzz (2008, 44.55) ***
Deal (2012, 45.34) ***½
London-born Dutch jazz saxophonist (and leader of New Cool Collective) Benjamin Herman's style is apparently 'rooted in bebop'; I'm afraid my knowledge of jazz sub-genres refuses to expand as the years pass. 2008's mostly instrumental Hypochristmastreefuzz covers quite a lot of ground, from the mad 'Christmas jazz' of the opening title track, through his duet with guitarist Anton Goudsmit, Kwela P Kwana, to the mellow De Sprong O Romantiek Der Hazen. The last-named features Willem Friede's 'Mellotron' strings and flutes, although I'm afraid they just don't cut it, to my ears. 2012's Deal is actually a film soundtrack, which figures, given that (DUH!) it sounds like one. Kind of Bernard-Hermann-meets-Lalo-Schifrin in its funk/jazz (note: not jazz-funk) moves, highlights include A Man With A Plan and the full version of the main title, while closer Cat is especially good. Whither Fried's alleged 'Mellotron'? Who knows?


Herman's Wolf Band (Bulgaria)
IV (1999, 56.21) ***
Herman's Wolf Band are a Bulgarian rock/soul/blues combo (and a remarkably authentic one at that), if you can imagine such a thing. 1999's IV (originally released on cassette) is a sprawling, genre-bending effort, much of it sounding like Stax label outtakes from the early '70s; quite a trick, all things considered. One of its more interesting features is its pair of 'suites', the three-part An Eastern Mood... and the five-part Something Like..., to name them for their initial sections. The six-minute former shifts through psych and folk moods in reasonably pleasing style, while the eleven-minute latter encroaches on vaguely Focus-esque progressive territory, complete with some pseudo-classical moves and virtuoso piano work. Quite bizarre, if welcome. Incidentally, although I suspect vocalist Dimitar (Doockie) Philipov's cried of, "I'm a nigger!", on closer Black Soul Blues are intended humorously (?!), I'm afraid they merely come across as jaw-droppingly crass. Perhaps overt racism wasn't considered bad taste in '90s Bulgaria?
Keys man Hristo Namliev is credited with Mellotron, but if the murky strings on ...Moves The Existension (Of)... turn out to be a real machine, I'll be utterly stunned. The samples (seemingly layered with a pseudo-Vox or Farfisa) are more apparent on Idle Words Written On A Cloudy Sky, with more strings on ...A Hypothetical..., amongst other possible usage. Overall, then, a rather schizophrenic release that might appeal to prog fans for its 'suites' and to (original) R'n'B aficionados for the rest. Incidentally, the CD version adds four tracks from rare, early cassette-only releases. Surely better to reissue them complete?


Ari Hest (US)
Sunset Over Hope Street (2011, 41.26) **½
Bronx native Ari Hest has been releasing records since 1999, 2011's Sunset Over Hope Street being something like his eighth full-lengther. If ever someone fell into the category 'singer-songwriter', it's Hest; although the bulk of the album's material is musically rather dull (occasional exceptions include One Track Mind and the fiddle-driven Swan Song), his lyrics are spot-on, often transcending the usual 'boy-meets-girl' nonsense (SURELY that particular vein has been mined to death by now?), better examples including Business Of America and the title track, all delivered in his best 'Mr. Smoke-too-much' voice. Hest is credited with Mellotron, but the far too smooth flutes on Business Of America yell 'samples!' at me. So; rather ordinary singer-songwriter stuff, unless you're enthralled by lyrics and not so bothered about the actual music. Sounds like sampled Mellotron, too.


David Hetrick (US)
Deeds (2005, 57.34) **
Deeds is the limpest kind of singer-songwriter effort you can imagine, David Hetrick's voice over-emoting all over the place. Have any of its contents been used in tedious US TV shows? And if not, why not? Any better tracks? Outro's guitar solo lifts it above its neighbours, but only just. Hetrick's credited with Mellotron on Party Over. Really? I mean, really? FFS.


Doug Hewitt (US)
Picasso Tomato (2006, 49.36) ***½
You could classify Doug Hewitt's Picasso Tomato as jazz rock (as against fusion), but that's only the half of it, as material such as Relativity, prog workout This January Night or bluesy closer Pickled Jam tell another story. Diverse enough to hold the listener's interest, yet cohesive enough to sound like the work of one man. Quite a trick. Vague samplotron strings here and there, for what it's worth.


Hexvessel (Finland)
Vainolainen/Preacher's Orchard 7" (2012) ****
Led by Mat McNerney, Hexvessel are a multi-member Finnish psychedelic folk outfit, whose 2012 single, Vainolainen (b/w Preacher's Orchard), is a beautiful evocation of that country's forested landscape, reminding me slightly of the quieter end of Anekdoten's early work (similar influences?), although the flip has, at least to my ears, more of an early '70s British 'wyrd folk' thing going on. McNerney is credited with Mellotron on Vainolainen, although a reliable informant tells me it's sampled. Nonetheless, there's a lovely flute part running through the track, which really doesn't suffer from not actually featuring a full-blown, genuine Mellotron. Well worth hearing.


Richard X Heyman (US)
Tiers: & Other Stories (2011, 131.31) ***½
Richard X Heyman (born 1951) has not only drummed for luminaries of the stature of Brian Wilson and Jonathan Richman, but has also played guitar and keys for other major names over his lengthy career. Tiers: & Other Stories is his eighth solo album, a vast, sprawling, two-disc collection of over thirty songs, zig-zagging from powerpop through balladry, rock'n'roll and mainstreamish pop/rock to confessional singer-songwriter material and even hints of medieval music. Quite a ride, frankly, which might be more easily digestible in smaller chunks, but then, it came only two years after its predecessor and two before its successor, so if a man writes thirty-odd decent songs, what's he to do? I'd imagine most fans will pick and choose favourites, but at least Heyman gives us the choice. He credits himself with Mellotron, but the strings on Game Stays The Same and one or two other tracks (and did I hear some Mellotron brass somewhere?) are clearly fake.


Nick Heyward (UK)
Tangled (1995, 43.52) ***
The Apple Bed (1998, 54.02) ***
Anyone remember Haircut 100? Nick Heyward was their slightly unlikely heartthrob singer, though, let's face it, nowhere near as unlikely as ex-Undertone Feargal Sharkey... Seems he left the Haircuts as early as '83, after just one album, kicking off his sporadically successful solo career the same year, releasing his fifth solo effort, Tangled, in 1995. It's a major move away from that '80s pop sound, having more of a '60s influence about it, in line with the then-current Britpop movement, albeit without the naffness of Oasis et al, while still capturing some of that '90s zeitgeist. It's also not terribly exciting, but then, I don't think 'exciting' was where Heyward was coming from at the time, more 'well-crafted' and 'very listenable'. There's a surprising rockiness about several of the tracks, not least opener Kill Another Day and Carry On Loving, which would doubtless have appalled his jangly early-'80s self. 'Melatron' (aargh!) credited on one track, with Phil Taylor (not that one, stoopid) playing a faint, sampled flute part on London, but there are also uncredited flutes on Kill Another Day, that are actually more audible. Heyward followed up in '98 with The Apple Bed, similar to its predecessor in its bright'n'breezy pop stylings. It's the kind of album that, even if it doesn't particularly grab you, plays along well enough in the background, although I'm sure Heyward would rather I listened closely to his (admittedly thoughtful) lyrics. Once again, he rocks it up on a handful of tracks, although Goodbye Man's Beach Boys harmonies and the vaguely Squeeze-esque Reach Out For The Sun are more typical. Taylor's back on samplotron, with flutes on The Man You Used To Be.


Johnny Hickman (US)
Palmhenge (2005, 47.32) ***½
Cracker's guitarist Johnny Hickman's solo debut, 2005's Palmhenge, is, at heart, a singer-songwriter album in alt.rock/Americana clothing, Hickman shifting through various country-related styles across the record. Top tracks include The Great Decline (Palmhenge II), the acoustic Little Tom, the rocking Harvest Queen and redneck bromance paean Friends, but little here offends. Martin Pradler plays samplotron, with a flute part on Lucky.


Dylan Hicks (US)
Alive With Pleasure (2001, 40.53) ***
Alive With Pleasure is a singer-songwriter album of the 'does a bit of everything' variety, Dylan Hicks shifting between several varieties of mainstream rock, funk (City Lights, My Best Friend), blues/soul (Playing With The Boys In Willie's Band) and jazz flavourings (The Secret Of Life, closer Emma's Moving To Chicago). Perhaps surprisingly, the record retains a measure of cohesion, possibly at its best on Pushin' My Car and I Wanna Be Black Sometimes. Hicks plays obvious fakeotron strings on My Best Friend.


The High & Lonesome (UK)
From the Playground (2002, 49.18) **½
David Blazye, a.k.a. The High and Lonesome, is a serious young man from south London with a wispy beard, who seems to be under the impression that if he makes an album that sounds like the awful David Gray, or the quieter (quietest?) bits of Coldplay, he will be every bit as successful. Unfortunately, the success of these artists seems (to my ears, anyway) to be based less on their songwriting than on... I dunno, actually - what IS it based on? Image? Nope. Personality? NO! Sheer fluke? Maybe. Anyway, whatever it is they have, it would seem that Blazye doesn't, although From the Playground doesn't sound any worse to me than the debut efforts by the above-named artists. Maybe that's the problem - while exceedingly bland, maybe Blazye isn't quite bland enough. Anyway, an album full of string-laden ballads is enough to send me off the deep end, so at least I'll (hopefully) never have to hear it again, although the pace does pick up just occasionally (Riders On The Line). Samplotron on Out In The Longtime from Tim Oliver, with an arpeggiated string line cropping up here and there, along with real strings.


High Chair (UK)
Diamond Mind (2005, 64.05) ***½
Billy Surgeoner was keyboard player/vocalist/guitarist with The Mynd, one of many club-level British progressive acts of the '70s who never scored that all-important deal or released anything in their lifetime. Twenty five years later, High Chair are his ambient solo project, sitting somewhere inbetween the quieter end of Tangerine Dream and any number of new age synth albums, its probable highpoint being lengthy closer Saturn Return, featuring a discordant part that makes it stand out from its neighbours. Unsurprisingly, Billy assures me he used Mellotron samples, his own machine having been sold decades ago; Over The Moon opens with a samplotron flute part with more of the same on the title track and choirs on Saturn Return, all used to reasonable effect. Is this worth buying? (Amazon have copies in stock). Saturn Return aside, it's immensely relaxing and far better at being so than most albums specifically made for that purpose, while its final track is well worth hearing for EM fans, managing to sound like no-one else in particular, which is quite a feat in that genre.


High Dials (Canada)
Anthems for Doomed Youth (2010, 39.33) ***
In the A.M. Wilds (2015, 45.43) **
Despite being largely English-speaking, The High Dials actually formed in Montréal, Québec. Often described as 'indie', their sound is more powerpop, although their previous psych tendencies seem to've been largely reined in, sadly, on their fourth full-lengther, 2010's Anthems for Doomed Youth. The one obvious exception is the jammed-out Mysterio, other decent tracks including opener Teenage Love Made Me Insane and I'm Over You (I Hope It's True). Guitarist Robbie MacArthur is credited with Mellotron, with flutes and strings on The Rich Die Too... and strings on Snowed In, but the too-fast flute trill on the former and the general murkiness of the latter, not to mention the way-over-eight-seconds-long notes make it highly likely that we're occupying Sample City here. So, not bad, but despite the album's relative brevity, the quality of its material slackens off as it progresses. No real Mellotron by the sound of it, but worth hearing for powerpop fans.
For their fifth album, In the A.M. Wilds, The High Dials shift away from their powerpop roots into an indie/electronica hybrid. Does the transformation work? No, frankly. It's not that they've written songs that would fit onto Anthems... and played them in their current style; the song structures are completely different, and not in a good way. Any high points? Desert Tribe, perhaps, Yestergraves, with hints of early U2... Not many, no. Eric Dougherty's credited with Mellotron, but the strings on On Again, Off Again are clearly sampled, making for a big, fat, 'don't bother'.


El Hijo (Spain)
Las Otras Vidas (2007, 47.32) **½
Abel "El Hijo" ('The Son') Hernández is a Spanish singer-songwriter, whose second album, 2007's Las Otras Vidas, showcases his relaxed, semi-ambient style on material like Vals De Los Besos, Conmigo A Tu Vera and Cabalgar, although he loses his way slightly when he tries to inject any energy into the proceedings. Best track? Has to be the 'hidden' instrumental that closes the album, all drones and tinkling somethings. Raúl Fernández plays samplotron, with a very nice, full-on flute part on Los Reyes Que Traigo.


Hikashu (Japan)
Teichona Omotenashi (1990, 50.34) ***
Hikashu were never quite as experimental as revisionist Japanese music fans would like us to think, being more of a new wave/synthpop act than anything. Saying that, 1990's Teichona Omotenashi is actually a quirky pop/rock album, far better than their early '80s work, highlights including the lengthy Daikoukai, the choppy Waga Kuni and the atmospheric Chimera. Someone (probably Makoto Inoue) plays what are, for the time, excellent Mellotron samples on several tracks, with lush strings on Daikoukai, a string line on Chimera (samples obvious from the low notes and the overly-stretched one on the fade) and dark chordal strings on Inori, plus chordal flutes on closer Utaenai Uta. If you feel the urge to delve into Hikashu's catalogue, while this may not be your best starting-point, it's certainly a better bet than their better-known albums.


Hilotrons (Québec)
Hilotrons (2003, 32.20) **½
Hilotrons' (named for the Gretsch Hilo'Tron pickup) indie take on pre-psych '60s pop is fine for a couple of tracks, but quickly becomes wearing, to the point where even a half-hour album had me having to restrain myself from repeatedly hitting the 'next' button. Michael John Dubue plays a monophonic samplotron choir part on Lost You In My Eye.


Peter Himmelman (US)
Love Thinketh No Evil (1998, 61.49) ***
Apparently, Peter Himmelman is Bob Dylan's son-in-law, not that it has (or should have) any relevance to his music. Love Thinketh No Evil is a singer-songwriter's pop/rock album, sometimes shifting into more Dylanesque material like Checkmate or Made For Me, at its best on Lifetime Too Late, maybe. I'm not at all sure why Himmelman is credited with Mellotron.


Micah P. Hinson (US)
Micah P. Hinson & the Gospel of Progress (2004, 51.00) ***½
Micah P. Hinson & the Red Empire Orchestra (2008, 38.05) ***
Micah P. Hinson (real name, folks) is a startlingly young Texan singer-songwriter, releasing his first album, Micah P. Hinson & the Gospel of Progress in his early twenties. It's a strangely timeless work, relying on 'traditional' instrumentation to make its impact, along with Hinson's careworn voice and downbeat, yet oddly hopeful material. You could call this 'Americana', but that might be missing the point; that style is probably better seen as one of the weapons in Hinson's musical armoury than his entire raison d'être. The album contains precisely no bad tracks, although highlights include opener Close Your Eyes, Patience and lengthy closer The Day Texas Sank To The Bottom Of The Sea. Christian Madden supposedly plays Mellotron strings and flutes, with the first sound on the album being the tentative flutes that open Close Your Eyes, with flutes and strings on The Nothing, but it's all a bit sampled, to be honest.
2008's Micah P. Hinson & the Red Empire Orchestra bears a strong resemblance to its predecessor, but is somehow a lesser album, although you wouldn't say that Hinson's style has changed in the interim. Perhaps it's not different enough? Better tracks include the brief When We Embraced and the folky Throw The Stone, but it all seems to lack something on the excitement front. Hinson is credited with Mellotron this time round, but there's nothing obvious, all the strings appearing to be real.


Brian Hirsch (US)
Quest for Truth (1994, 49.16) **½
Quest for Truth is a wildly ambitious, completely OTT concept album, apparently about a battle between good and evil. Top marks for originality, then. Brian Hirsch's keyboards are largely of the horrible digital variety (I know it was 1994. No excuse), while his programmed drums are, like everything else here, overblown to the nth degree. Musically, this sits somewhere in between ELP (particularly on Man's Last Stand - The Total Battle/The Regeneration; the titles really have to be seen to be believed), generic EM and an off-Broadway stage show, which is every bit as bad as it sounds. Hirsch is credited with Mellotron, but the occasional string interjections during opener Quest For Truth - Overture/Why?!!? dip well below the instrument's range. Hirsch bounced back with Indeed, two years later, before disappearing.


His Name is Alive (US)
Tecuciztecatl (2014, 44.22) ***½
Three Sacred Hymns (2016, 51.40) ***
Patterns of Light (2016, 45.51) ***½
His Name is Alive, led by Warren Defever, have apparently shifted through multiple styles (not to mention combinations of styles) in their thirty-odd years of existence, depending on how you're counting. 2014's Tecuciztecatl is something like their fourteenth release, ignoring remix albums and other extraneous works and sits, effectively, in the 'rock end of prog' camp, which is probably something of a shock for long-term fans. Thirteen-minute opener The Examination lets us know how the album will progress (pun intended), shifting through several different sections, managing to reference the early '70s, early '80s and probably more recent decades in one fell swoop. Incidentally, I'm not sure they'd welcome the comparison, but the harmony guitar work on several tracks reminds me of Wishbone Ash's groundbreaking technique. Mellotron? Defever's credited, but The near-solo massed strings in the brief I'm Getting Alone pretty much give the sample game away, I think. Nice to hear the sounds, but I'm not too optimistic that we're hearing a real machine.
2016's Three Sacred Hymns is a very different beast, being more ambient than anything; is this how the band used to sound? Three lengthy tracks, all very similar: drone-rock, I suppose. Drifting samplotron strings on Two. Patterns of Light carries on the good work, operating in a similar vein to Tecuciztecatl. I'm desperately trying to remember who the opening title track reminds me of... Got it! Heart. No, really. In a good way, mind. Other standout tracks include Thanks A Million, Energy Acceleration, the almost Motörhead-esque Black Wings and eight-minute closer Silver Arc Curving In The Magnetic Field, all drifting strings and ethereal voices. Samplotron on several tracks, utilising strings, flutes and choirs, although it's sometimes hard to tell whether we're hearing Mellotron samples or generic ones. I can't attest to the quality of His Name is Alive's earlier work, but these two albums are both more than worthy of your attention, putting a new slant onto a retro style. Two more Mellotron-crediting albums: 2014's Dark Reflections (also available with some versions of Tecuciztecatl) and 2017's Black Wings, a collection of demos and alternate takes. However, my new 'don't go overboard for samples' policy means that I probably shan't bother to track them down.


Hiss Tracts (Québec)
Shortwave Nights (2014, 44.34) **½
Hiss Tracts are the duo of David Bryant (Godspeed You! Black Emperor) and Kevin Doria, whose first album under this name (they've previously worked together as Growing) pretty much does what it says on the tin: droning post-rock that sounds like an interrupted shortwave transmission, or a malfunctioning industrial plant. I'll be searingly honest and say that I really don't understand where they're coming from, although the instrumental, rhythm-free end result seems to have its own internal logic. Mellotron? Bryant's credited, but the distorted, cut-up choirs on closer Beijing-Bullhorn/Dopplered Light... are not only clearly sampled, but presumably aren't even meant to be taken for the Real Thing. Perhaps Mellotron samples have, by now, become so ingrained in many musicians' thinking as merely another sound source that they'll cheerfully credit 'Mellotron' when it's quite clearly nothing of the sort, without even any attempt to actually deceive? 'Mellotron' simply means 'Mellotron sounds'. Oh, brave new world.


Robyn Hitchcock (UK)
Propellor Time [as Robyn Hitchcock & The Venus 3] (2010, 40.13) ***½
Over a decade after Jewels for Sophia and another five albums later, Robyn Hitchcock released his third album with The Venus 3, his band consisting of R.E.M.'s Peter Buck, The Young Fresh Fellows/Minus 5's Scott McCaughey and Ministry's Bill Rieflin, guests including John Paul Jones (mandolin), Nick Lowe (vocals) and Johnny Marr. Propellor Time is a good collection, if not as immediate as Jewels for Sophia, better tracks including Ordinary Millionaire, the title track and closer Evolove. The last-named is the album's only Samplotron track (from Charlie Francis), with flutes, cellos and strings all over.


Hitchcock's Regret (Australia)
Her Life in Reverse (2003, 45.44) ***
Endless Intermission (2005, 47.35) **½
Hitchcock's Regret are an Aussie indie/psych/powerpop outfit, not entirely dissimilar to The Church (a member of whom played on their next album), whose second release, 2003's Her Life in Reverse, actually improves as it progresses after a slightly ropey start, shifting between the '60s-ish All That I Think About, the dynamic, riffy Tripping On A Wire (best track?), the acoustic In The Summer and the countryish Milkwood Moon, amongst other musical diversions. Paul Grant is credited with 'Mellotron', although producer Michael Carpenter's sleevenotes explicitly refer to 'Mellotron sounds', not to mention Sampletank. Anyway, Grant plays flutes on opener How I Wish You Were Her, choirs on Alfred's Delight Etc. and what might be MkII flute phrases on the brief, untitled 'joke' track at the end of the record, while Carpenter adds vibes and background strings to She's All That I Think About (spot the Beach Boys-esque a capella intro). Their follow-up, Endless Intermission, seems to take a backwards step, sadly, at its least uninteresting on closer Last Day/End Credits. Grant on samplotron again, along with Shane Pex and Mark Moldre, with obviously sampled strings on Sparks + Rain, not least due to stretching beyond the instrument's range, with more of the same on Nothing Really Matters, The Great Escape and Last Day/End Credits.


Doug Hoekstra (US)
When the Tubes Begin to Glow (1994, 41.56) ***
Blooming Roses (2008, 48.39) **½
I believe When the Tubes Begin to Glow was Doug Hoekstra's debut, a singer-songwriter/folk/country crossover album, probably at its best on its more downbeat material, not least opener On The Interstate and Fear Of Heights. The (admittedly uncredited) 'Mellotron' on Fear Of Heights isn't even sampled, merely a generic strings patch. Over a decade on, Blooming Roses is probably more 'sophisticated', whatever you take that to mean, but Hoekstra's loss of naïevity leads to a blander end result, sadly, typified by opener Aquired Taste and the jazzy Naper Vegas Scrabble Club. Better tracks? Subway Train and closing country ballad Everywhere Is Somewhere. Barry Walsh plays dodgy 'Mellotron' strings and flutes on The Best There Ever Was.


Kelly Hogan (US)
I Like to Keep Myself in Pain (2012, 44.34) **½
Kelly Hogan's been around since the '80s, involved in numerous projects, musical and otherwise, not least singing B/Vs for Neko Case. I Like to Keep Myself in Pain veers between mainstream country and a bluesier feel, gaining points for her darker material, then losing them for going all Nashville on us. Scott Ligon's 'Mellotron' flute notes on Sleeper Awake fail to convince, and that's before they drop to a note below the instrument's range.


Will Hoge (US)
The Wreckage (2009, 40.12) ***
Will Hoge went solo in the late '90s, producing at least an album a year since; he employed Dan Baird (ex-Georgia Satellites) early on, which has to be worth something. 2009's The Wreckage is titled in honour of Hoge's survival after an appalling road accident, consisting mainly of a slightly poppy take on Americana (the album, not the accident). He actually opens the album with its most irritating track, Hard To Love, probably because it's also (and uncoincidentally) the most 'commercial', but most of its material is worth hearing, at least within its genre. Jen Gunderman is credited with Mellotron, with a nicely full-on string part on What Could I Do, but its generally anodyne sound, combined with a final note that holds for over twelve seconds, gives the sample game away. So; not bad, not great, one for Americana fans who haven't yet run into Hoge.


Christopher Holland (UK)
Butterfly Effect [as Christopher Holland's Cosmic Harmony] (2004, 22.32) ***
Everything You Can Imagine is Real (2007, 39.47) ***
Corner Green (2012, 79.51) ***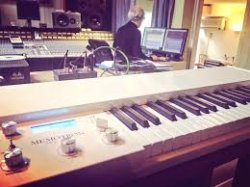 I'm sticking with my Mellotronic assessment of Christopher 'younger brother of Jules' Holland's 2003 album, Brother Sun Sister Moon, but all I can hear is samples on subsequent releases. 2004's Butterfly Effect EP (credited to Christopher Holland's Cosmic Harmony) is at its best on Whispering Wind's gentle grooves, with samplotron flutes on Butterfly Girl, Falling and Last Little Piece Of My Love, plus strings on Whispering Wind. 2007's Everything You Can Imagine is Real sees him finding an equilibrium between his soul, pop and rock sides, thankfully ramping the funk down in favour of his forté, mid-paced pop/rock. I have no problem with funk, incidentally, only when people do it badly. Best tracks? New Day, the '60s-esque Where Did Love Go? and heartfelt closer Believe, maybe. Samplotron (probably Memotron) flutes and/or strings on most tracks; listen to the flute chord at the end of Rhythm Of Life and the pitchbent strings at the end of the bluesy He's Got You.
2012's Corner Green would be a sensible length if you removed the raft of demos stuck on the end, which fail to enhance the album's overall appeal. It's... another Christopher Holland album, basically, probably at its best on the heartfelt Circus Comes To Town. The Mellotron samples here are, surprisingly, less good than before - a different sample set? - with the usual strings and flutes all over the place. Incidentally, the pic to the right (from his Facebook page) proves that Holland records his Memotron, which isn't to say that it's what he's always used, of course.


Lars Hollmer (Sweden)
Viandra (2008, 49.48) ***½
Lars Hollmer helmed Samla Mammas Manna and their successors throughout their career(s), made several solo albums and collaborated with many noted musicians from various disciplines over the course of a near-forty year career. 2008's Viandra was his last album before his untimely death on Christmas Day of that year; it has little in common with Samla/Zamla, being largely influenced by Swedish folk music, albeit adding an atonal, dark edge to proceedings, featuring large helpings of Hollmer's excellent accordion playing. As has been observed in other reviews, much of the album sounds like it belongs on a film soundtrack, particularly the little accordion vignettes that pepper the album. Hollmer plays samplotron flutes on Viandra (Jewel), Mirror Objects and Lilla Bye (Little Bye), three of the album's folkier pieces.


Askil Holm (Norway)
Seven Days in the Sun (2002, 24.31) ***
Askil Holm's second EP, prior to his first long-player, Seven Days in the Sun, is a pretty decent raucous-end-of-powerpop release, at its best on the brass-driven Wonderland and Moonlanding, with its distinctive Farfisa. Sander Stedenfeldt Olsen's credited with Mellotron, with background strings on Safe Embrace and Trampoline, plus high-end cellos on the latter and flutes on lengthy closer Soundtrack In His Eyes, but... it's sampled.


David Holmes (UK)
Lets Get Killed (1997, 59.21) **½
Ocean's Thirteen [OST] (2007, 44.33) ***½
The Holy Pictures (2008, 42.32) **½
David Holmes is a Northern Irish (note: not Irish) DJ who moved into making albums in the early '90s, around the same time as his contemporaries on the mainland. His style incorporates found sound, programming and film soundtracks, making for an eclectic mix that may appeal to those with an electronica bent. Lets Get Killed (sic) was his second album, which shifts from the faux-'60s-via-'90s My Mate Paul (apparently a hit), through pseudo-lounge and the James Bond theme to the near-prog of Don't Die Just Yet, all intercut with New York street sounds and dialogue. With no credited Mellotron, it's no great surprise to realise that the 'Mellotron' choirs on Don't Die Just Yet are sampled and not very well at that (maybe that's the point?). Overall, then, one for people who like to go to middling trendy clubs, or did in the late '90s, when I believe there was a brief lounge revival, for no obviously good reason.
2007's Ocean's Thirteen is his tenth soundtrack in a decade; in many ways, it's a typical modern Hollywood score, albeit one without all the tiresome pseudo-metal that any action-adventure flick deems necessary these days (admittedly, the Ocean's... franchise aren't those kind of films, but you know what I mean). Incidentally, I presume the naming of soundtrack pieces is down to the composer, in which case Fender Roads is an inexcusable (if rather witty) pun. Woody Jackson and Zac Rae are both credited with Chamberlin, with what sounds like female voices (multiply overdubbed?) on 11, 12 & 13, flutes on Caravan and strings on Suite Bergamasque, although I strongly suspect samples. His tenth 'regular' release, 2008's The Holy Pictures, is a far rockier proposition than Lets Get Killed all round, maybe surprisingly, although there's still a fair chunk of programming to be heard in its grooves, along with energetic indie (I Heard Wonders, Holy Pictures) and even (admittedly instrumental) piano balladry, with closer The Ballad Of Sarah And Jack. Three faux-replay tracks, all from different players: Jackson (again) adds some distant Chamberlin strings to The Story Of The Ink, while Leo Abrahams plays inaudible Mellotron on Theme/I.M.C. and Scott Kinsey sticks what I take to be Chamby strings on the brief Birth.


Holtz (US)
Leaving New York (2007, 44.39) ***
Andrew Holtz' Leaving New York sits at the cheesier end of powerpop, thrilling one minute (opener Fall In Love With Me, the title track, Emily) and infuriating the next (Grace, Picasso, closer What If I'm Right), his vocal lines sometimes just the wrong side of 'aiming for popular TV show incidental music'. Ron Haney's Mellotron credit nearly had me fooled, but the strings on Picasso and What If I'm Right and flutes on I'd Give Anything don't quite have that authenticity about them.


Holy Ghost! (US)
Holy Ghost! (2011, 49.16) *½
Dynamics (2013, 49.45) ***
Holy Ghost! are the New York-based duo of Alex Frankel and Nicholas Millhiser, whose eponymous 2011 debut consists of a most irritating form of electropop, almost guaranteed to infuriate anyone outside their target audience. Is there a least bad track? Possibly Static On The Wire, if only for its Clavinet work, but that's a pretty thin excuse for listenability in my book. No, this is crap. Alex Aldi is credited with various analogue keyboards (including the aforementioned Clav), but I'd love to know where the supposed Mellotron is hiding out. Is it sampled? Is it here at all? Fucked if I know, but I can only advise you to head in the opposite direction to Holy Ghost! as quickly as possible.
Well, what a difference a couple of years can make! Dynamics is a huge step up, sitting firmly in the 'neo-synthpop' category, heavily influenced by the first wave (if you ignore Kraftwerk) of synth-driven pop. Best tracks? Opener Okay, Dance A Little Closer's disco moves and Bridge And Tunnel, maybe. Are those analogue synths real? If not, they're doing a decent job of faking it, although God alone knows what Millhiser thinks a Mellotron is, as there's nothing here that even sounds like one.


Homesick Hank (Denmark)
Hey (2004, 35.41) ***
Denmark's Homesick Hank's Hey is an album of downbeat Americana, at its best on the sparse A Morning and When All Things Turned Black, maybe. Jesper Andersen is credited with Chamberlin. Hmmm. Even though the album was recorded in the more tape-replay-friendly Sweden: really? The distant strings on Waiting Forever sound authentic, but the chances of them being genuine are remote.


Honeyheads (Germany)
Trivia About (2011, 41.23) **
You'd never know Honeyheads were German, going by Trivia About. It's an English-language faux-'60s pop album, fatally combining the style with current indie tropes, featuring one of the worst male vocalists I've had the displeasure to hear in quite some time. Friedrich Paravicini's credited Mellotron strings on Goodwill St. are, unsurprisingly, not, although I see no mention of the samplotron flutes on Coimbra Skyline and choirs on Out Of Marseille.


HoneyHoney (US)
3 (2015, 46.55) **½
HoneyHoney are generally described as 'Americana'; going by 2015's 3, that's a fair description, although there seems to be a streak of indie-ness running through the album, in a not-especially-welcome kind of way. Better tracks include Bad People and You And I, but there are many other acts doing this stuff with rather more authenticity. Chief musician Benjamin Jaffe is credited with Mellotron on every track, but going by the vibes (?) on Big Man and the flutes on Whatchya Gonna Do Now, there's no way it's real. Other audible use includes the rather wispy strings on Numb It, You And I, Father's Daughter and Marry Rich, although what sounds may've been used on the rest of the album can only be guessed at.


Patterson Hood (US)
Heat Lightning Rumbles in the Distance (2012, 44.43) ***
Heat Lightning Rumbles in the Distance is a decent Americana album, nothing startling, but solid, highlights including the honky-tonk of Better Off Without, Depression Era and closer Fifteen Days (Leaving Time Again). Jay Gonzalez' Mellotron string samples on Fifteen Days are good, but they're still samples.


Hooters (US)
Out of Body (1993, 45.49) **½
The Hooters formed back in 1980, apparently, two of their members being ex- of an old second-hand shop perennial, Baby Grand. There's a Cyndi Lauper connection, making it unsurprising that she guests on their fifth album, 1993's Out of Body. I've occasionally wondered, idly, what this lot sound like and now I know. A bit like an American Waterboys, that's what. Sort of faux-folk rock/pop, with mandolin, accordion and fiddle thrown into the vaguely rootsy brew. To give them some credit, most of the keyboards are of the vintage variety, before they became fashionable again, but they're not really enough to save the band from 'mainstream dullards' status. Chief Hooter Rob Hyman allegedly plays Mellotron on Driftin' Away, in those mostly pre-sample days, but all I can hear is something that just might be a few background flute notes.


Hootie & the Blowfish (US)
Looking for Lucky (2005, 42.23) **½
Hootie & the Blowfish's Looking for Lucky is reassuringly similar to its predecessors, for those reassured by such things. A handful of tracks are less dull (opener State Your Peace has some Eagles-esque harmony guitars, which is actually a good thing), but most of the album conforms to their arena-pop/rock template, although their appeal seems to have become more selective over the years. John Hobbs plays samplotron, with background flutes on the obnoxious Hey Sister Pretty and what sounds like unison flute and string chords on The Killing Stone, with a rather ordinary string part on Can I See You.


Hooverphonic (Belgium)
Sit Down & Listen to: The Live Theater Recordings (2003, 54.51/58.07) **½
Hooverphonic interrupted their run of studio LPs to record live with an orchestra (but no audience), the end result being released as 2003's Sit Down & Listen to: The Live Theater Recordings. Most of the tracks given this treatment can be found on their earlier albums in their original versions, which may or may not sound better than their reworkings. This is entirely a matter of taste, but I find this kind of Nancy Sinatra-esque '60s orchestral pop a bit wearing, to be honest, although I'm well aware that at one point, it was considered the height of chic. Never was very chic, me... I suppose it's good at what it does, but I'm having trouble finding anything very encouraging to say about it. Although there's no Mellotron on the original album, some versions feature a bonus track, the single The Last Thing I Need Is You, with a nice samplotron flute part from David Poltrock, although it's hardly worth picking up the album to hear.


Hope of the States (UK)
Left (2006, 51.53) *½
Hope of the States (from an obscure 1930s American paper on mental health) were a south coast-based post-rock/pop band who released two albums in the mid-'00s, 2004's The Lost Riots and Left, two years later. Frankly, this stuff is bloody awful; an over-emoting radio-friendly version of 'crescendo rock' - guess what combining two rubbish styles makes? The horrible American-accented vocals don't help, either; you're from Chichester, guys... Guitarist Anthony Theaker and vocalist Samuel J. Herlihy both doubled on keys, including alleged Mellotron, although I'll be stunned to discover that the choirs on Sing It Out, the flutes on closer The Church Choir or the generic (or real) strings on several tracks had anything to do with Mellotrons; this barely makes it into 'samples'... Anyway, the band split in 2006, so at least we're not going to be assaulted with any more of this stuff. The only reason it gets as 'high' a star rating as it does is that it didn't actually make me feel violent.


Hopewell (US)
The Curved Glass (2000, 59.22) **
Beautiful Targets (2007, 45.33) **½
Hopewell's second album, the overlong The Curved Glass, contains a kind of psych/indie crossover, sadly of little interest to those requiring any level of innovation in their music, typified by the hugely distorted The Fish. Max Avery Lichtenstein (Camphor, Timesbold) supposedly plays Mellotron, but the strings and high-end cellos on opener The Angel Is My Watermark are quite clearly sampled. Incidentally, the timing above removes over fifteen minutes of tiresome silence inserted before the clichéd 'hidden track'. Two albums on, Beautiful Targets works well for a couple of tracks before becoming irritating. Better efforts include Tree and Over & Over, but it's all rather anodyne, if truth be told. Lichtenstein on samplotron again, the real (and sampled?) strings all over the album making it difficult to spot. Is that a brief squirt of strings at the end of Windy Day (Giant Dancers)? Who can say?


Jon Hopkins (UK)
Light Through the Veins (2009, 34.56) ***
Jon Hopkins is one of those British musicians who've emerged from the '90s dance scene, still making music influenced by that, while moving into TV and general soundtrack work. As you can see, 2009's Light Through the Veins EP is as long as a short album, only with far less variety, each of the four versions of the track contained herein almost, but not quite merging seamlessly into the next. Is it any good? It's good at what it does, at least to my ears and is at least inoffensive, which makes a nice change. Track three, the David Holmes remix, the nearest any of these gets to 'rock', features Holmes collaborator Woody Jackson on alleged Chamberlin, although it's hard to tell what it might be doing: strings? The faint, background choirs?


Marly Hornik (US)
Wildlife (2006, 39.24) **½
Wildlife is a singer-songwriter-plays-pop/rock kind of album, probably at its best on the energetic If I Could, although Hornik's warm contralto is excellent throughout. Andrew Hollander's distant 'Mellotron' flutes and strings on Deep Underground are obviously sampled.


Horrors (UK)
Skying (2011, 53.57) **½
The Horrors' third album, 2011's Skying, falls between several indie-related stools, notably goth and shoegaze, with two tracks, Moving Further Away and closer Oceans Burning both heading for long-form post-rock territory. Ten tracks in over fifty minutes, however, brings up the thorny 'track length' issue: yup, several efforts here definitely exceed their optimum length, although I appreciate why the two previously-named tracks are as long as they are. Either keys man Tom Furse or bassist Rhys Webb (let's face it, it doesn't matter all that much) adds fairly obvious samplotron strings to opener Changing The Rain, although any other vaguely Mellotronic sounds almost certainly aren't. Well, I've heard worse current indie-ish stuff, but that isn't really much of a recommendation, is it?


Rick Horvath (US)
Coming Home (2007, 38.45) ***
Coming Home is a very palatable album on the cusp of the singer-songwriter and powerpop genres, sometimes straying further into one territory than the other. Highlights? Maybe One More Chance, The Valley Of Antiago and amusing little closer 3 a.m. Horvath's credited Mellotron strings on opener A New Thing are obviously sampled.


John Hoskinson (US)
Miscellaneous Heathen (2004, 37.42) ***
Pancho Fantastico (2007, 41.40) ***
John Hoskinson's debut, Miscellaneous Heathen, is an old-school powerpop album, highlights including vaguely ELO-esque opener I Hope I Die Before You Do, She Still Plays Around and über-melodic closer Time Will Tell. Someone plays samplotron... something on Going Nowhere. Three years on, Pancho Fantastico seems to lose a little of its predecessor's joie de vivre, although material such as opener Miss Rejection, She's Changing My Mind and Only One By Your Side keep standards high. Hoskinson, Joe Ongie and Brian Whelan are all credited with Mellotron, but the background strings on Guaranteed, choirs on Just Think It Over and flutes on I Am Not Surprised fail on the authenticity front.


| | |
| --- | --- |
| Hostsonaten (Italy) see: | |
Hot Hot Heat (Canada)
Elevator (2005, 36.53) **½
British Columbia's Hot Hot Heat are current Noo Wave revivalist press darlings, having morphed out of a punkier phase of their existence. I'll be brutally honest here and say I can't see what all the fuss is about, but then, I'm at least twice the age of their typical fan and music that sounds like a modern and less quirky version of Elvis Costello really ain't gonna float my boat. You Owe Me An IOU seems to be the track that Those In The Know rave about, but to my ears, it's no less irritating than anything else here. Is it supposed to be about the lyrics? Probably, but my inability to hear most of them round vocalist/keyboard player Steve Bays' writhing lips rather spoils the effect. 'Mellotron'? Played by Bays, could be lurking in the background on several tracks, but is only actually audible during the fading seconds of Middle Of Nowhere, with a couple of seconds of sampled choir.


Hotel Alexis (US)
The Shining Example is Lying on the Floor (2004, 39.07) ***
Goliath, I'm on Your Side (2004, 64.35) ***
The Hotel Alexis is essentially a one-man band comprising Sidney Alexis a.k.a. Sidney Lindner. His debut, 2004's The Shining Example is Lying on the Floor, could well be described as 'dusty'; its contents largely drumless, mournful vignettes overlaid by Alexis/Lindner's fragile tenor. Sometimes this kind of stuff works amazingly well; I'm not sure that this is one of those times, but maybe the album requires more detailed listening than I really have time to give it. Rumoured Mellotron, with two interweaving flute parts throughout The Season For Working that just don't sound 'real' enough, to my ears, so samples it is unless proven otherwise. Three years on and the less murky Goliath, I'm on Your Side expands Alexis/Lindner's sonic palette with full-on Americana (The Devil Knows My Handle), drone rock (the enormously lengthy Hummingbird/Indian Dog) and vibraphone-driven ambient (Oh, The Loneliness), although the bulk of the album sounds like a better-produced version of his debut. After an entirely 'Tron(sample)-free 62 minutes, two minutes from the end of closer Our Good Captain those flutes appear again, still sounding a little bit too good to be true.


James House (US)
Broken Glass Twisted Steel (2014, 38.40) ***
Although James House was born in 1955, releasing his first (albeit rock) album in 1983, 2014's Broken Glass Twisted Steel is only his fifth solo release. Howcum? It seems that he struggled to break into the country mainstream in the '90s as an artist, taking more of a backroom role, writing hits for other people. As no more than a distant spectator of the genre, I'm bemused as to why he hasn't been more successful; the songs here are as good as anything I've heard on the country scene and better than many, highlights including upbeat opener Train Wreck, the beautiful Ain't That Lonely Yet (more folk than country), A Broken Wing and closer Before I Run Out Of Time. House is credited with Mellotron, but I'd love to know where. Something in the background on Before I Run Out Of Time? Not a Mellotron Album, then, but a fine country release, largely schmaltz-free.


House of Heroes (US)
Cold Hard Want (2012, 47.01) **½
Cold Hard Want is an album pulling in two separate directions, one passably good, one not. Alt.rock can be good, as on Remember The Empire or Touch This Light, or bad as in We Were Giants or Angels Of Night. A game of two halves, Brian. Although producer Paul Moak has some presence on this site, I'm afraid that none of the Mellotronalike here actually sounds, y'know, real.


Penelope Houston (US)
On Market Street (2012, 50.36) ***½
On Market Street is an above-average Amercana/singer-songwriter album, highlights including breezy opener All The Way, You Reel Me In, the title track and Dead Girl, mostly as much for the lyrics as the music. Jeffrey Wood's 'Mellotron' cellos, flutes and strings on the title track are good samples, but samples nonetheless.


Rebecca Lynn Howard (US)
Forgive (2002, 45.24) **
Rebecca Lynn Howard began her career writing for other country artists before releasing her first solo album in 2000. Forgive is its follow-up, fitting neatly into the 'modern country' bracket, containing elements of both 'traditional' country and AOR, although the schmaltz begins to take precedence after the first few tracks. As so often in the country world, the lyrics are presumably given more thought than the music (God, it shows), making Pink Flamingo Kind Of Love about the best thing here, in a manner of speaking. Tony Harrell on samplotron, with merely a few seconds of strings at the beginning of Memorized.


Terrence Howard (US)
Shine Through it (2008, 48.36) ***½
If you think you've heard of Terrence Howard, but can't place him, think: Ray, Crash, Iron Man. Yup, he's another in the long list of 'actors who want to be singers'. The difference is, Howard has a terrific voice and impeccable taste, his debut album, 2008's Shine Through it, being stuffed with the kind of soulful jazz that's long out of fashion, but musically a light year or two away from generic R&B drivel. What's more, Howard writes all his own material, making you wonder why he hasn't done this earlier. Top tracks include the balladic title track, Mr. Johnson's Lawn and the eccentric War, but, given that this isn't exactly what you'd call my thing, not one track here disappoints. It's difficult to work out where Kenneth Crouch adds any samplotron under all the big band work, but I think we can hear some flutes in the background on Sanctuary.


Sivert Høyem (Norway)
Long Slow Distance (2011, 60.06) **½
Unfortunately, Sivert Høyem's Long Slow Distance takes something of a backward step from his previous releases, losing most of their strong points and going for the post-rock/pop jugular, presumably because it sells. Best track on this overlong effort of overlong material? Probably the intense Give It A Whirl, non-coincidentally because it sits the closest to that Neil Young influence again. Christer Knutsen plays background samplotron flutes on Animal Child; when I say 'background', I actually mean 'audible for about a second'.


Neilson Hubbard (US)
Why Men Fail (2001, 46.07) **½
Why Men Fail is a rather insipid singer-songwriter album, not helped by Neilson Hubbard's rather wispy voice, at its least forgettable on the energetic Surrounded. Clay Jones' Mellotron strings on opener Towns and flutes on Hollywood 1995 sound sampled to my ears.


Brooke Hudd (US)
The Way it Goes (2010, 34.44) **
Brooke Hudd's The Way it Goes shifts between heartfelt balladry and hideous, dance-pop drivel like Over You and Never Too Late (spot the Autotune), her voice suiting the former rather better than the latter. Dave Mallen is credited with Mellotron, presumably the obviously sampled strings (and flutes?) on All These Lies.


Hue (US)
Hue (2001, 51.35) **½
Hue's eponymous album starts well, but quickly slumps into a kind of late-period Britpop knock-off, crossed with rather bland alt.rock; not an especially appealing combo, frankly. Any better tracks? Opener Paradise and The Hush, maybe. Neil Andrews plays rubbish Mellotron flute samples on closer Galaxy.


Huecco (Spain)
Dame Vida (2011, 49.14) ***
Iván Sevillano "Huecco" Pérez found fame with Spanish act Sugarless, going solo in the mid-2000s. Dame Vida is his third release, a kind of energetic Latin/alt.rock crossover, typified by material such as Solo Un Pokito and Krasivuye Glazha. However, Thom Russo's supposed Mellotron lacks that ring of authenticity to my ears.


Grayson Hugh (US)
An American Record (2010, 71.26) ***
Vocalist/pianist Grayson Hugh's been around since the '80s, although 2010's hugely ambitious An American Record is only his fourth release in thirty years. Hugh moves through various American musical styles (as you might guess) over its seventy minutes, although his default position is a kind of white-boy blues/soul with gospel elements. Not typical Planet Mellotron fare, but good at what it does. Hugh's credited with Mellotron, but I'd love to know where...


Hughes Turner Project (UK/US)
Hughes Turner Project (2002, 61.16) ***
Hughes Turner Project 2 (2003, 62.34) ***
Another of Glenn Hughes' current projects, alongside his solo career, is his duo with ex-Rainbow (and, shockingly, Deep Purple) vocalist Joe Lynn Turner. Now, excuse me for seeming a bit dim, but why would a vocalist of the calibre of Hughes wish to duet with a singer who almost defines wishy-washy AOR vocals (or would if Steve Perry didn't exist)? Turner ruined Rainbow (OK, it was Blackmore's fault), then had a good stab at doing the same to Purple (OK, that was Blackmore, too). Were he a lesser singer himself, I'd accuse Hughes of using Turner to look good in comparison, but since he isn't... Who knows? Maybe he thinks he can sing. OK, he can, but not with any great power and I don't think he's made a single good album in his entire career.
Hughes Turner Project could be described as 'classy hard rock', or even (wince) 'melodic rock' (sorry), although it's better than the run-of-the-mill AOR slop that usually bears that title. Saying that, it 'features' several fairly dippy numbers (mostly sung by Turner) alongside the rockier efforts (not sung by Turner). 'Jolene' is actually at his best on the album singing harmonies with Hughes, when the true wussiness of his voice is less apparent; his leads remind me why I disliked him so much in Rainbow. Anyway, keys man Vince di Cola sticks largely to (very well-played) Hammond, but sticks some obvious samplotron on a couple of tracks, with occasional flute interjections on gloopy ballad Heaven's Missing An Angel and a string part on the noticeably better On The Ledge.
In an exceedingly keen manner, the pair released their wittily-titled follow-up, Hughes Turner Project 2 a mere year later. While similar to its predecessor, the album seems to have more energy; there are certainly fewer of those awful ballads, although most of the material remains relentlessly average. Ed Roth on keys this time round, with four samplotron tracks, all strings: Losing My Head, Lost Dreams, Burning The Sky and Let's Talk About It Later. Losing My Head is the only one to do anything interesting, to be honest, with some nice pitchbends and a Kashmirish feel.


Hanne Hukkelberg (Norway)
Rykestraße 68 (2007, 38.07) **½
Hanne Hukkelberg's third album is a sparse, lonely sounding Norwegian singer-songwriter effort that occasionally picks up the pace, but is largely content to trudge along, head bowed, radiating an air of mild despair. I'm quite sure that's the effect Ms. Hukkelberg is after, in which case this may be considered a success, at least on its own terms. Musically, we get gently bowed cellos, tinkling glockenspiels and wistful pianos supporting Hanne's voice, mostly in a rather unmemorable way, although I'm sure its proggiest moment (on Ticking Bomb) is a classical steal. Hukkelberg plays samplotron on Fourteen, albeit no more than background strings and choir.


Human Abstract (US)
Midheaven (2008, 43.45) **½
The Human Abstract are an L.A.-based power metal band with nu-metal aspects (largely in the mostly non-sung vocals), with all the silliness and unoriginality that entails. Saying that, I've heard far worse albums than their second, 2008's Midheaven, but it's all just so... uninspiring. High-speed twin guitar leads? Check. Mucho sweep-picking? Check. Overblown lyrical concept? Check. Originality is, sadly, at a premium. At least it's a sensible length. Credited 'Mellotron' from Sean Leonard, although it all sounds muffled and sampley, so I think it's safe to assume it's fake. Anyway, strings on several tracks, including Metanoia, The Path and A Dead World At Sunrise and choirs on Calm In The Chaos, which, along with the (fake?) Hammond, help to make the album more palatable, but this isn't exactly a classic of the genre, I'm afraid.


The Humbugs (US)
Stereo Types (2002, 43.23) **½
Stereo Types is a breezy pop/rock effort, bordering powerpop in places. Sadly, The Humbugs fail to write the kind of songs to make a 'B band' fan's heart sing, leaving us with the mildly turgid likes of opener Chapter Two and When The Road Disappears. Pete Sands is credited with Chamberlin, but the flutes, strings and (particularly) male and female voices on Let The Credits Roll sound sampled to my ears.


Romain Humeau (France)
L'Éternité de l'Instant (2005, 57.08) **½
2005's L'Éternité de l'Instant is French singer-songwriter Romain Humeau's fifth studio album, slotting fairly neatly into a passable pop/rock groove, although by 'passable', what I actually mean is 'not actively offensive'. This really isn't a very exciting album at all, despite its uptempo numbers, surprising eight-minute intense closer La Mort Sifflera Trois Fois being about the best thing here. Pity Humeau has to start intoning (rather than singing) at all, really. Humeau is credited with Mellotron, but I have serious doubts as to how genuine it might be, the handful of possible parts all sounding like, well, something else, really. We'll call it 'samples', but it could be almost anything.


Ian Hunter (UK)
When I'm President (2012, 46.07) ***½
'Unter's When I'm President is the usual mix of rock'n'roll, country-rock ballads and singer-songwriter material in a rock setting, highlights including Fatally Flawed, the title track, Black Tears (very Mott) and Just The Way You Look Tonight, which, between them, cover all the above bases. This man is incapable of making a bad album, it seems. Andy York (credited with Chamberlin on two releases from the 2000s) supposedly plays Mellotron on Saint. Er... That crummy little synth sound that might be the credited Farfisa? Obviously not the credited flute, which leaves... nothing.


Zachary Hunter (US)
In Your Dreams (2006, 43.05) **
Zachary Hunter's In Your Dreams is a slushy country album, typified by the sentimental likes of the title track; musically inoffensive, but lyrically teeth-gritting. I've no idea why producer Ed Stasium's credited with Mellotron.


Hushdrops (US)
Volume One (2003, 43.00) **½
Hushdrops had links with Veruca Salt and Liam Hayes/Plush, amongst others, so it's no great surprise that their debut has that 'US indie' sound down pat, for better or worse. Zack Schneider's Mellotron? Don't think so.


Christian Lee Hutson (US)
Yeah Okay, I Know (2014, 46.56) ***
2014's Yeah Okay, I Know is newcomer Christian Lee Hutson's second album, a solid Americana effort, laced with a dry, dusty authenticity that comes without a price tag. Top tracks? Playing Dead, the electronica-infused Ghost To Coast and ultra-mournful closer Monster, although most of the album should keep genre fans happy. A quick quote from an online interview: "A lot of the really beautiful fullness you hear is just sitting with like 12 different mellotron samples trying to figure out what they all wanna say." Oh, what a giveaway. Hutson's credited on three tracks, but I presume the quote means that the cellos on opener One, Two, Three, the kind-of church organ on Dirty Little Cheat and choirs on Monster are all fake, as it's difficult to tell. A decent album, then, if not one to put Hutson into the 'outstanding' bracket.


P. Hux (US)
Purgatory Falls (2001, 32.38) ****
Parthenon "P. Hux" Huxley is a singer-songwriter of the highest calibre, having written major hits for other artists and worked with ex-members of E.L.O., amongst others. Purgatory Falls is his fourth solo album, detailing his wife's tragic struggle with and death from cancer, so those unable to cope with one man's outpouring of grief in song form should probably go elsewhere now. Far from all the lyrics are obviously grief-stricken, though, making it easy to see the album for what it is; a great powerpop/singer-songwriter record chock-full of songs of the quality of Goldmine or Red Eyeliner. Nic Peroni plays samplotron, with flutes and strings on the heart-wrenching Red Eyeliner and flute block-chords and more strings on Offer You The World, although the real sample giveaway is the cheesy MkII 'moving strings' part on closer Chordothelord.


Jenny Hval (Norway)
Apocalypse, Girl (2015, 38.51) **½
Experimental musician Jenny Hval's fifth album, 2015's Apocalypse, Girl, sees her using members of Swans and Jaga Jazzist, amongst others, conjuring up a stew of (extremely) vaguely post-rockish drones such as White Underground or ten-minute closer Holy Land. Better tracks? I'm afraid I find myself completely unable to say. I refuse to pretend to understand this; I really have no idea where Hval's coming from or what she's trying to achieve. Jaga Jazzist's Øystein Moen is credited with Mellotron, but... guess what? The cellos on Heaven and a melody line played on the standard 8-choir on Why This? really give the sample game away. I can neither recommend this or condemn it; I simply don't understand it. One for the experimentalists amongst you.


Hypnos 69 (Belgium)
The Eclectic Measure (2006, 48.21) ***½
Legacy (2010, 72.33) ***
Hypnos 69 are a Belgian psych/prog outfit who used (apparently real) Mellotron on their third album, 2004's The Intrigue of Perception. Two years on, the fittingly-titled The Eclectic Measure appeared, sounding nearly as, er, eclectic as its predecessor, highlights including the trippy title track, the gentle My Ambiguity Of Reality, Halfway To The Stars and closer Deus Ex Machina, although there's nothing here that disappoints. Tellingly, although there's a 'Mellotron' credit on The Intrigue of Perception, there's no such thing here and the sample use is given away almost immediately with the 'infinite sustain' 'Tron strings on the title track. Strings and/or flutes on most other tracks, top marks going to the full-on strings on Halfway To The Stars; this would probably have been a TTTT had it been real.
They followed up, slightly belatedly, with 2010's Legacy, an album that veers between moments of brilliance (the first two minutes of 'side-long' opener Requiem (For A Dying Creed)) to long minutes of jammed-out semi-tedium (notably the sax solo in Jerusalem). This is yet another case of 'could've done with an editor': over seventy minutes is a lot of music, even when an artist hasn't released an album for some time and Hypnos 69 don't quite have the chops to sustain interest for that long. Reasonable levels of fakeotron strings and choir, although I'm not sure if you'd notice were they not there.