---
Voice (1974, 38.48) ***½/T

I am and So Are You
Sad am I
Midnight Cruiser
Keep Death Off the Road (Drive on the Pavement)
Circumstances (in Love, Past, Present, Future Meet)
Current availability:
Mellotron used:
Capability Brown (named after the famous 18th-century British landscape designer, of course) only released two albums, 1972's apparently extremely average From Scratch, and Voice, two years later. There's also a compilation, Liar, released after the band's demise which sometimes tends to confuse the issue. Side one of Voice consists of four competent but average typical mid-'70s songs, whose main standout feature is the six-piece band's excellent harmony vocal work (all members sang), with track four being named after a particularly irritating joke t-shirt design of the day, although it features the best instrumental interplay so far.
Side two's Circumstances is where the album suddenly comes alive, with a largely successful attempt to fuse their folk and harmony influences with progressive rock, creating an unusual fusion that stills sounds quite startling even now. Moving through several different (unnamed) parts, the piece is a quite breathtakingly adventurous move by a band not previously known for their invention. Dave Nevin's Mellotron work is a little on the sparse side, but a couple of bursts of highly symphonic strings boost the album's appeal, although I doubt if he plays it for more than a minute in total.
So; decidedly worth a listen. I believe Circumstances is also on the Liar compilation, but it's probably easier to find Voice anyway. Incidentally, the entire band provided backing for Risa Potters' 1972 opus, Take Me Away, including Mellotron on a couple of tracks.
See: Risa Potters
Short Cut Draw Blood (1975, 44.06) ***/T

Goodbye Love
It's All Up to You
Love Hurts
Johnny Too Bad
Short Cut Draw Blood
Living on a Marble
Boy With a Problem
Keep on Trying
Seagull
Current availability:
Edsel (UK - out of print)
Mellotron used:
Traffic's singing drummer, Jim Capaldi, released his first solo album, Oh How We Danced, in 1972, following it with '74's appallingly-punning Whale Meat Again and the following year's Short Cut Draw Blood. Much like Traffic's later work, these are albums that haven't aged particularly well, finding themselves stuck in the mid-1970s, and not in a good way. Soulful, bluesy rock, anyone? It's perfectly good at what it does, in case you think I'm being unfair, but aside from the funky hard rock of the title track and the insightful Boy With A Problem, it all falls a bit flat, three decades later. Capaldi didn't help himself by tackling so many different styles on the record, and while there's nothing wrong with variety, his jaunty take on the Everlys' Love Hurts (a hit at the time) is still horrible, beaten to a pulp by Nazareth's vastly superior version.
Capaldi's Traffic bandmate, Steve Winwood, played Mellotron on the album's final cut, Seagull, a rather average ballad. His inconsequential string part sounds a lot like regular strings, except where he plays intervals rather than single notes, and doesn't especially enhance either the track or the album. All in all, then, a rather ordinary record, now apparently very hard to find on CD, should you wish to do so. Sadly, Capaldi died in 2005 at the age of 60, just before a major Traffic reformation, now most unlikely to ever happen.
See: Traffic
Joey Cape & Tony Sly (US) see: Samples
Capitaine Nô (1975, 31.29) **½/T

Ya Rien Drôle
Merci Mon Public
Maudite Badluck
Rien Faire
André
Baloney
Personne Ne M'aime
Le Musicien Heavy Raté
La Chanson du Brayard
Current availability:
Mellotron used:
One of Morse Code's M400s
Capitaine Nô was (and is) an eccentric French-Canadian musician/humorist, although, of course, most of his humour's lost on the non-French speaker. Saying that, some of the humour on his debut album, 1975's Capitaine Nô, still manages to cross the language barrier; Merci Mon Public? You sarcastic sod... The music's actually a mix of acoustic, busking-type stuff (with or without full band arrangements) and mainstream mid-'70s blues/rock, which isn't, frankly, the most exciting combination ever, but probably made sense at the time. Best track? Closing blues ballad La Chanson Du Brayard, although it wouldn't rate a mention on a better album.
Christian Simard (from the fab Morse Code) plays Mellotron, with a brief string part on Merci Mon Public and a far more major one on La Chanson Du Brayard, making this rather inessential for either music or Mellotron. There's another possible Capitaine Nô 'Tron album, the following year's Difficile, but information on the good Capitaine is hard to come by in English, so it remains unconfirmed at the time of writing.
Marinai, Profeti e Balene (2011, 85.32) **½/0

Il Grande Leviatano
L'Oceano Oilalà
Pryntyl
Polpo d'Amor
Lord Jim
La Bianchezza della Balena
Billy Budd
I Fuochi Fatui
Job
La Lancia del Pelide
Goliath
Vinocolo
Le Pleiadi
Aedo
La Madonna delle Conchiglie
Calipso
Dimmi Tiresia
Nostos
Le Sirene
Current availability:
Mellotron used:
Vinicio Capossela is an offbeat Italian singer-songwriter, so influenced by Tom Waits that he often uses his regular guitarist, Marc Ribot. 2011's two-disc Marinai, Profeti e Balene is something like his tenth studio album in a twenty-odd year career, nineteen tracks of Waits-influenced Weimar-esque folk, great in isolation, less so en masse, with no obvious highlights, especially for the non-Italian audience.
Capossela is credited with Mellotron, rumoured to be on Polpo D'Amor, but not only is it entirely inaudible there, but also everywhere else, despite a preponderance of various orchestral sounds. Well, had this been half its length, it may've earned three stars, but so much music, unless it's absolutely top-notch, gets to be a real grind. Less is the new more. Or something.
Doc at the Radar Station (1980, 38.48) ****/TTT

Hot Head
Ashtray Heart
A Carrot is as Close as a Rabbit
Gets to a Diamond
Run Paint Run Run
Sue Egypt
Brickbats
Dirty Blue Gene
Best Batch Yet
Telephone
Flavor Bud Living
Sheriff of Hong Kong
Making Love to a Vampire With a Monkey on My Knee
Grow Fins (Rarities 1965-82) [disc 5] (1999, disc recorded 1969-81, 69.54) ***½/T½

My Human Gets Me Blues (live)
When Big Joan Sets Up (live)
Woe is Uh Me Bop (live)
Bellerin Plain (live)
Black Snake Moan I
Grow Fins (live)
Black Snake Moan II
Spitball Scalped Uh Baby
Harp Boogie I
One Red Rose That I Mean
Harp Boogie II
Natchez Burning
Harp Boogie III
Click Clack
Orange Claw Hammer
Odd Jobs (demo)
Odd Jobs (demo)
Vampire Suite (live)
Mellotron Improv (live)
Evening Bell (demo)
Evening Bell
Mellotron Improv (live)
Flavor Bud Living (live)
Amsterdam '80 (2006, 77.07) ***½/T

Abba Zaba
Hot Head
Ashtray Heart
Dirty Blue Gene
Best Batch Yet
Safe as Milk
Her Eyes Are a Blue Million Miles
One Red Rose That I Mean
Doctor Dark
Bat Chain Puller
My Human Gets Me Blues
Sugar'n'Spikes
Veteran's Day Poppy
Dropout Boogie
Sheriff of Hong Kong
Kandy Korn
Suction Prints
Big Eyed Beans From Venus
Current availability:
Doc: Virgin
Fins: Revanant
Amsterdam: Major League
Mellotrons used:
All titles: Eric Drew Feldman's M400
It's difficult to know where to start with this one; if you're au fait with the good Captain's work, you'll either already know this, or won't have any trouble adapting to it. As for the rest of us... Zappa protégé Captain Beefheart (a.k.a. Don van Vliet, or Don Glen Vliet to his mother) was one of the few true originals; eccentric to a ridiculous degree, awkward, crazed, a genius and many other things according to both his supporters and detractors. He peaked early with his deeply weird third release, 1969's double album Trout Mask Replica, held by many to be one of the greatest albums ever, assuming you can penetrate its almost unfathomable depths.
The Captain released several albums of varying quality with ever-sillier titles through the seventies, before hooking up with his last band around 1978. John "Drumbo" French had rejoined after a long absence, but the rest of the band were only on their second Beefheart album by Doc at the Radar Station, including bassist/keyboard man Eric Drew Feldman, complete with Mellotron. He only used it on a few tracks, but he made sure you knew it was there... There's some standout flutes on Sue Egypt, and a particularly good strings part on Making Love To A Vampire.... Doc at the Radar Station is by no means an easy listen, but there's nothing wrong with being challenging, and this album never disappoints on that score... The Captain only made one more LP, 1982's Ice Cream for Crow, before retiring, it would appear permanently, into the desert to paint.
1999 brought the five-disc Grow Fins (Rarities 1965-82), doing precisely what it says on the tin. Beefheart obsessives almost certainly need this in exactly the same way as the rest of us don't; that's no reflection on the quality of the contents, merely their style. Disc 5 is the only one of relevance to us, so I've spared yourselves (not to mention myself) the rest of it. Discs 1-3 cover 1965-69, most of 4 contains video footage, leaving one disc to cover 1969-81 (I'm not sure what's supposed to be from 1982), most of which will probably leave you nonplussed, as it did me. Mellotronically speaking, there's strings from Feldman on a live 1980 Vampire Suite (a.k.a. Making Love To A Vampire With A Monkey On My Knee), plus atonal strings, apparently from Beefheart himself, on the two Mellotron Improvs from '78 and '80.
2006's Amsterdam '80 is a slightly edited, semi-official release of a high-quality bootleg from the Paradiso Club on November 1st of that year. I'll come clean here and say that I'm reviewing this from the 21-track bootleg version, which puts me at an immediate disadvantage, viz, what, apart from the obvious three tracks, has been cut in order to get this onto a single disc? Those lovely Discogs.com people inform me (not personally, you understand) that some between-song clutter has been excised, meaning that the brief Mellotron tuning-up session before Hot Head has been cut; seems to me that fans of the good Cap'n would probably shell out for a two-disc set in order to get the full concert, but there you go. This disc gives us a fascinating insight into the World Of Beefheart, showing us how gigs were broken up with solo guitar pieces (Flavor Bud Living (missing here) and One Red Rose That I Mean) and spoken-word pieces (One Man Sentence, also missing), not to mention Beefheart having to deal with repeat-offender hecklers. Who are these tiresome people? Incidentally, it's also blindingly obvious from this how massive an influence he's been on pretty much any skronky, angular band since. Feldman uses his Mellotron, but only just, with naught but a handful of screechy string notes on Hot Head and more upfront strings on Ashtray Heart, barely scraping the single 'T' above.
If you're a Beefheart fan, you already own Doc at the Radar Station, but can I recommend the other two releases here? Probably a 'yes' to Amsterdam '80, but a 'no' to Grow Fins; so many of these multi-disc archive sets are largely disposable and I'm not hearing an exception in this case. Don Vliet died on 17th December 2010, without having recorded a note of music for nearly thirty years, which was clearly exactly how he wanted it.
A Fondness for Hometown Scars (2008, 49.45) **½/T

Crawling (a Fondness for Hometown Scars)
In December (Beyond Our Grasp)
Troubles Down (Attic Crawlspace)
In This Life (Wake Up and Smell the Bodies)
Nothing to Lose (X-Ray Illusion)
Sad Eyed Lady (the Pressure and Need for Release)
Silver Candy (Shivering Leafless & Hollowed-Out)
Got Monsters (I No Longer Exist)
Son of a Gun (Jail Face)
Devils Pride (Forever in Transition)
Bleed for Something Beautiful (Turquoise Bloodline)
Society's Deep Sleep (Meat Stink)
Current availability:
Mellotron used:
Keith Caputo is apparently best-known as vocalist for US metal troupe Life of Agony, plus various other projects, although I have to admit his previous career has passed me by. 2008's A Fondness for Hometown Scars is his fourth full solo album, consisting largely of downbeat, rather depressive material, sadly displaying little of the transcendentality of better purveyors of the style, with a couple of metal numbers thrown in for good measure, none of which adds up to anything I'm going to want to hear again any time soon, I'm afraid.
Zac Rae plays (credited) effective Mellotron flute and string parts on opener Crawling (A Fondness For Hometown Scars), which might've worked nicely on a few other tracks, too. Why so stingy on the tape-replay front? Anyway, LoA fans will lap this up, the rest of us will probably shrug indifferently and get on with our lives. One decent 'Tron track.
In the Land of Grey and Pink (1971, 43.24/74.47) ***½/T½

Golf Girl
Winter Wine
Love to Love You (and Tonight Pigs Will Fly)
In the Land of Grey and Pink
Nine Feet Underground
Nigel Blows a Tune
Love's a Friend
Make it 76
Dance of the Seven Paper Hankies
Hold Grandad By the Nose
Honest I Did!
Disassociation
100% Proof
[Remastered CD adds:
I Don't Know Its Name (alias The Word)
Aristocracy
It's Likely to Have a Name Next Week (Winter Wine instrumental)
Group Girl (Golf Girl)
Dissassociation/100% Proof]
Current availability:
Mellotron used:
Caravan were (and still are) probably the 'purest' form of the 'Canterbury sound', characterised by a light, jazzy feel and dollops of English whimsy. It's an acquired taste, and I'll be perfectly honest in saying that I've never personally acquired it, but I'm not going to slag them on those grounds, as I can see perfectly well where they were coming from, even if I'm not. In the Land of Grey and Pink is apparently the album where all their disparate influences finally came together into a cohesive whole, with side two's epic, Nine Feet Underground and the rather more lightweight Golf Girl still being live favourites. While the album's never going to be a particular favourite of mine, Winter Wine is very good, as are parts of Nine Feet Underground, but I think it's safe to say, Caravan don't 'do' dark.
David Sinclair isn't known for his Mellotron use, but for some reason he dug one out for this album, with an upfront strings part (sounds like a Mark II) on Golf Girl, actually taking a rare solo on the instrument. The strings on Nine Feet Underground don't come in until halfway through the epic (I'm afraid I've no idea which part), then disappear just as quickly. So, not really a 'Tron album, to be honest, but if you like the Canterbury sound, go for it. Incidentally, this has been reissued recently with a plethora of bonus tracks, but I've no idea if there's any more 'Tron action; more news when/if I get to hear them.
A Little Man and a House and the Whole World Window (1988, 43.41/48.47/65.19) *****/TTT½

A Little Man and a House
In a City Lining
Is This the Life
Interlude
Dive
The Icing on the World
The Breakfast Line
Victory
R.E.S.
The Whole World Window
[UK CD adds:
I'm Eating in Bed
German CD adds several other single-only tracks]
Current availability:
Alphabet Business Concern (UK)
Mellotron used:
Cardiacs (no 'The', thank you) are one of those bands who seem to be impossible to describe accurately, although it never seems to stop people trying, so here's my two penn'orth: 'the weirder end of prog filtered through punk, with various other influences including ska. Think Gentle Giant and Frank Zappa getting a good kicking from the Pistols and Madness in a dark alley'. That doesn't even really begin to describe them; Cardiacs are absolutely unique, and the tragedy is that after over twenty years of making this strange but wonderful noise, they're still practically unknown, even in their own country.
A Little Man and a House and the Whole World Window was their first full-length vinyl LP containing songs they'd been performing, in some cases, for several years. As mainman Tim Smith tells it, "We really wanted a Mellotron on the album, and the only band we could think of with one were IQ, so we got hold of them and asked if we could borrow it". IQ let them have it for just one day, so they wasted little time in recording as much of it as possible; Tim found time to sample it as well, and the samples have cropped up on subsequent albums. Almost every track on A Little Man has some somewhere, even if only almost subliminally; opener A Little Man And A House has a few small bursts of strings, but track two, In A City Lining goes all the way with huge bursts of choir on its massive opening riff. Last-minute addition Is This The Life was actually on their first cassette release from seven or eight years earlier, as well as a later, more widely-available cassette, The Seaside (*****); because they were persuaded to give it a third go at the last minute, a separate recording session became necessary, which explains the slightly different sound on the track. No Mellotron, of course, but it's one of their enduring classics and doesn't sound out of place on the album.
Apart from the almost medieval tonalities of Interlude, there's very little let up from there on. Album closer, the emotional The Whole World Window seems to consist of nothing else in the keyboard department; keyboard whizz Bill ("William D.") Drake uses choir, flutes and strings to great effect, seeming to accentuate the almost pre-war feel of the song. Tim has told me that he played some too, but Bill has argued the toss. Whatever. Sadly, Cardiacs have never played the track since saxophonist (and Tim's ex-wife) Sarah Smith left the band at the end of the '80s. (STOP PRESS: they encored with it at their November 2001 gig in London, absolutely bringing the house down). Because of the limits of vinyl, something had to be left off to make way for Is This The Life, so I'm Eating In Bed was demoted to its b-side. Strangely, although it was supposedly recorded during the album sessions, there's no apparent hint of 'Tron on it, although it would have fitted perfectly. Eating was reinstated to its correct position in the running order when A Little Man... made it to CD. For some reason, there's a German issue of the CD, released some time before the UK one; it not only includes Eating, but all three tracks from the There's Too Many Irons in the Fire EP, and another b-side, Goosegash that isn't available anywhere else on CD in this form.
In 1998, Tim borrowed my own M400 to (so I thought) record it for the new Cardiacs album. In fact, the malfunctioning machine ended up inspiring a whole new side project, Spratley's Japs, where it can be heard on several tracks wheezing away, mere seconds from breakdown. I prefer my 'Tron working properly; Tim preferred it breaking down. I won.
So, if you want to hear Cardiacs, go to their official site or just bite the bullet and take the plunge. Many people are put off by the band's raw live sound, but this album demonstrates perfectly why they're held in such esteem by their small but dedicated fan base. Buy.
See: Samples | Spratley's Japs | William D. Drake
Long Gone Before Daylight (2003, 49.16) ***/T

Communication
You're the Storm
A Good Horse
And Then You Kissed Me
Couldn't Care Less
Please Sister
For What it's Worth
Lead Me Into The Night
Live and Learn
Feathers and Down
03.45: No Sleep
Current availability:
Mellotron used:
The Cardigans' fifth album, Long Gone Before Daylight, is slightly less overtly poppy than its predecessors, which isn't to say they've taken a sudden sharp left into the avant-garde; I mean, there's not even a Black Sabbath cover this time round (no, really). I can't really pick out 'highlights' as such, as none of the album appealed to me in the slightest, although, unlike many such efforts I've grimly ploughed through in the last few years, it doesn't actually offend me, and is clearly well written and played. However, it's an awful lot less interesting than vocalist Nina Persson's A Camp project, which isn't that interesting itself.
I'm told the band own not just one, but two of the new MkVI 'Trons (should be an M600, going by previous models), one for each of their Swedish studios, which are some distance apart. I believe Lars Olof Johansson plays the flutes (and later in the track, strings) on Feathers And Down; a perfectly pleasant part, without being particularly outstanding. Rather like the rest of the album, in fact. So, I can't really recommend this, unless you're already a devotee of the Cardigans' work; it isn't worth it for the Mellotron use, anyway.
See: A Camp
Cargoe (1972, 43.11) **½/T½

Come Down
Feel Alright
Horses and Silver Things
Scenes
Things We Dream Today
Time
Feelin' Mighty Poorly
Thousand Peoples Song
Heal Me
I Love You Anyway
Leave Today
Current availability:
Mellotron used:
Cargoe (not to be confused with the Dutch Cargo) were a pretty mainstream US rock band, going by the audio evidence on their sole, eponymous 1972 release. OK, it rocks it up a bit every now and again (Time, Leave Today), but the bulk of the record's pretty bland fare. Ever feel you've completely run out things to say about something?
Bill Phillips plays Mellotron, but not a lot, with naught but a faux-orchestral strings part on I Love You Anyway and flutes and strings on closer Leave Today; perfectly nice, but inessential. Actually, you could say the same about Cargoe as a whole, although 'perfectly nice' is probably overstating the case a little; 'rather dull' might be closer.
Give Up the Ghost (2009, 39.23) **½/T

Looking Out
Dying Day
Pride and Joy
Dreams
That Year
Caroline
Before it Breaks
I Will
If There Was No You
Touching the Ground
Oh Dear
Current availability:
Mellotron used:
Brandi Carlile treads lightly through the common ground between pop, folk and country, at least on her third album, 2009's Give Up the Ghost. Irritatingly, the album veers between the kind of alt.country you might wish to hear again (opener Looking Out, Dying Day) and the kind of pop/rock/AOR you probably won't (Dreams, Before It Breaks), other better tracks including the jaunty Caroline, a lesbian love song and gentle closer Oh Dear.
Jesse Carmichael plays Mellotron, although he makes us wait for it, with a pleasant flute part on Oh Dear. Overall, this really isn't that exciting, although its better moments are certainly listenable, so with one minor 'Tron track, I can't say I'd put this at the top of your 'wants' list.
Clocks Don't Count (2011, 41.46) **/T

Table for One
Spirits in Need
One of Those Days
Even Dead Things Can Feel Your Love
Built to Last
The World Can Wait
A Simple Reminder
Cornerstone
Home
Waiting in the Wings
Current availability:
Mellotron used:
On some tracks from Petter Carlsen's second album, 2011's Clocks Don't Count, his soft tenor voice could actually be mistaken for a female contralto, particularly on opener Table For One and Home, temporarily confusing me. His 'transcendent pop' (think: a far more straightforward Sigur Rós without the good bits) is unlikely to appeal to anyone looking for any real depth in their music, although it could be an awful lot worse, I suppose. If there's a 'best track', it might be the slightly more musically inventive Cornerstone, but we're not exactly talking Shostakovich here.
Vincent Cavanagh plays Mellotron on Built To Last, with a string part opening the track, then running through its quieter second half. Real? Fucked if I know, squire. Anyway, you're probably not going to bother hearing it for yourself, making the whole thing slightly irrelevant.
Rabbits on the Run (2011, 37.20) **/½

Carousel
I Don't Want to Be a Bride
London
Fairweather Friend
Hear the Bells
Dear California
Tall Tales for Spring
Get Good
The Marching Line
In the End
Current availability:
Mellotron used:
Ballet student Vanessa Carlton switched to music, signing with A&M soon after recording her first demo. Now tell me this: how is it that a complete nobody (as she was at the time) can get signed with so little real effort? Could looks and an ear for a commercial tune have anything to do with it? Thought so. Anyway, after a hugely successful debut, her next two albums relatively flopped, leading to her releasing no.4, Rabbits on the Run (a line from Wings' Band On The Run) on Razor & Tie. To be honest, Carlton's rather insipid singer-songwriter style does little for this reviewer, although I'm sure her fanbase will love it. Best track? Dark closer In The End stands out, although only in the context of such a wet record.
Steve Osborne adds a background Mellotron flute line to the second verse of opener (and single) Carousel. Real? Well, the album was mostly recorded at Peter Gabriel's Real World Studios, although a quick check reveals that there isn't a house Mellotron, while the strings were recorded at Ray Davies' Konk facility in London, who own an EMI M400, which, of course, means nothing. Frankly, the part's so buried in the mix that it's impossible to tell, so this'll have to stay here until/unless I find otherwise. I'm not exactly recommending it anyway, am I?
Fandangos in Space (1974, 46.27) ****/TTT½

Bulerias
Cante (Song)
Baile (Dance)
Reprise
Bullfight
Stepping Stone
Sailor Song
Lonely House
Por Tarantos
Looking Outside (My Window)
Theme
Zorongo
Finale
Tales of Spain
Retirando
Fandangos in Space
Reprise - Finale


Dancing on a Cold Wind (1975, 49.39) ***½/TTT

Viva Mi Sevilla
I've Been Crying
Drifting Along
She Flew Across the Room
Purple Flowers
Remembrances (Recuerdos de España)
Table Two for One
She's Changed
Gypsy Girl
The City
Time
People Dressed in Black
Dancing on a Cold Wind
Instrumental
Vocal
The Horseman
Conclusion (She Changed)


The Gypsies (1975, 37.15) ***½/TT

Daybreak
Shady Lady
High Time
Dedicated to Lydia
Joy
The Gypsies
Siren of the Sea
Come Back
Margarita
Current availability:
All titles: Line (Germany) - now out of print?
Mellotrons used:
All titles: band's own M400
Carmen were a fantastic concept; flamenco/prog, but from a US perspective, sung (mostly) in English. For a full history, see their site below; suffice to say, at their best, they were absolutely magnificent, with Roberto Amaral and Angela Allen both being credited with 'footwork', Amaral also playing castanets. They apparently had a mic'd-up metal-covered low platform for use at gigs, so said footwork could be channelled through the PA. Angela Allen (sister of guitarist/main man David Allen) also doubled on synth and Mellotron, both of which played an important part in their sound.
Fandangos in Space set their stall out admirably, opening with one of their best pieces, Bulerias, with much reference to 'gypsy lovers' et al.; the main theme from the song is reused at least twice later in the album, and why not? Angela's Mellotron strings are right up in the mix on the first part of Bulerias, then dip in and out over the course of the album, with particularly good use on Retirando and Reprise, with the odd bit of flutes here and there. Highly recommended.
Dancing on a Cold Wind looks like it should be a concept album, but only actually has one side as a concept piece, Rememberances, dealing with all the usual gypsy lovers etc. stuff they were so keen on; Viva Mi Sevilla actually repeats a line from the previous album almost verbatim. Interestingly, Rememberances is where the album's recording budget obviously went, as there's not a trace of 'Tron on the whole track, with a real string section being used. Reasonable amounts of Mellotron on side one, though, although no totally outstanding tracks, which is a fair summing-up of the album overall.
Carmen's third and last album, The Gypsies, carries on in a similar vein, though you wonder how much longer they could've kept the concept going. The album's actually slightly more cohesive than its predecessor, although without any of the concept stuff (other than the band's overall concept, of course). One really good track in The Gypsies itself, and two reasonable 'Tron tracks; Shady Lady is as flute-heavy as anything they did, with the usual strings on Joy.
So; a pretty good band, actually, unless you have a particular aversion to flamenco, in which case you're not going to like any of the genuine Spanish bands in that area either. If you don't like Fandangos in Space, you won't like the others, so start there and see how you get on. It's definitely the strongest 'Tron album of theirs, too, but all three are recommended. Incidentally, British bassist John Glascock eventually went off with Angela Allen, and joined Jethro Tull after Carmen supported them on tour. Extremely sadly, after a handful of albums with the band (he was nicknamed 'Brittledick' by Ian Anderson), Glascock died on the operating table while undergoing open-heart surgery.
Rock and Roll Symphony (1977/2001, 47.06) ***½/TT

A Drinking Man's Concerto
Variations
Never Give Up
Storybook Girl
Worn Down Piano
Rock and Roll Symphony
[hidden track]
Current availability:
Mellotron used:
Carnegie started life as The Mark & Clark Band, identical twins with a unique two-piano double-act, apparently having considerable success in Europe in the late '70s. After the name-change, the Seymour twins' record company (CBS, I believe) pushed them in a commercial direction for the sadly 'Tron-free Double Take (**½). They apparently resisted strongly, being more into the pomp side of things, with Queen being a constant comparison, but to no avail. Rock and Roll Symphony, doubling two tracks with Double Take, has apparently been salvaged from unreleased tapes, with the odd tape glitch here and there to prove the point. Musically, this is ridiculously wonderful; pompous beyond well, anything, really, this makes Queen look like a garage band, or at least it would with as extravagant a production. The two grand pianos make for a monster sound, with the twins' brother Scot on other keys, plus the regular guitar/bass/drums completing the lineup. Two female backing vocalists (almost all the band sang) tip the sound over into complete insanity; this is not for the fainthearted.
Scot Seymour's Mellotron seems to have been used exclusively as an orchestral strings substitute, cropping up all over the first four tracks, but not to the greatest effect, to be honest. The last two tracks are live (Worn Down Piano was their hit), and the Mellotron doesn't appear to have been dragged out for live dates; indeed, it isn't visible in the live pic on the back of the CD. So... difficult to recommend this wholeheartedly; it's a completely bonkers album, and the Mellotron work is rather unexciting. However, it's insanely unique, and I suspect its, er, 'individuality' may grow on me with time. Come back in a year and see if I've rewritten this review. Oh, and don't get too excited about the 'hidden track'; it's a live mess-around by the twins, with no musical involvement.
Rolling Ball (2004, 45.56) ***/TT½

Rolling Ball
Everyday
Emily Says
Good Enough
No One
Nothing at All
Let Down
The Day Before
The Ache
You & Me
On My Mind
Untitled
Current availability:
Mellotron used:
Rolling Ball is Michael Carpenter's sixth album and is apparently the one where his diverse influences come together, rather than sounding like several different records rolled into one. He still writes in a multitude of styles: powerpop (the opening title track), alt.country: (Nothing At all), singer-songwriter: (Good Enough), almost-hard rock: (No One), but the album retains a cohesive sound overall. Its chief problem seems to be the old 'handful of great tracks and lots of filler' syndrome; while there are no genuinely bad tracks on offer, there just aren't quite enough really good ones to make the album a satisfying overall listen.
Carpenter plays the Mellotron himself, with faint flutes on Emily Says, more obvious strings on No One, flutes and strings on Let Down and The Ache, with a background string part on On My Mind to finish things off nicely. None of his use is that upfront, to be honest, thus the album's relatively low 'T' rating, but it's worth hearing for powerpop fans, especially those with a yen for a bit of Mellotron in the mix.
From the Top [Disc 1] (1991, 54.58) **/½

Caravan
The Parting of Our Ways
Looking for Love
I'll Be Yours
Iced Tea
You'll Love Me
All I Can Do
Don't Be Afraid (demo)
Invocation (demo)
Your Wonderful Parade (demo)
Good Night
All of My Life
Eve
Ticket to Ride
Get Together
Interview
Maybe it's You
(They Long to Be) Close to You
Mr. Guder
We've Only Just Begun
Merry Christmas Darling
For All We Know
Current availability:
Chamberlin used:
As I'm sure I've ranted elsewhere on this site, there's an opinion that does the rounds every now and again that says The Carpenters were actually the epitome of cool (well, sort of) and Richard's arrangement skills were absolutely top-notch. The latter is undeniable, but cool??; The Carpenters were, and remain, the cheesiest, most MOR, mainstream horror ever to descend upon the Great Listening Public, despite Richard's dislike of their 'Pepsodent image' (your fault, Rich, your fault). And no, covering Klaatu's Calling Occupants Of Interplanetary Craft doesn't let 'em off the hook. Nor am I the first person to think there was something exceedingly creepy about the brother/sister duo, although Karen's anorexia-related death in 1983 was a classic 'everyone turned a blind eye' tragedy, not to mention Richard's quaalude addiction in the '70s. Did I hear someone say 'dysfunctional family'?
1991's From the Top is a four-disc box, mainly interesting to Carpenters fans for the first half of its first disc, containing a selection of pre-Carpenters work, some of which (gasp!) isn't actually that cheesy at all. It seems Richard was a decent jazz pianist in his day, while Karen's voice (the audio equivalent of honey, for better or worse) didn't always offend ears attuned to a rock aesthetic quite so much, which isn't to say this, er, rocks; it doesn't. Some of it is, however, less offensive than you might expect, and I'm amazed to hear something here I actually like: Invocation, the lead-off track on their first album, is a beautiful Baroque vocal harmony piece, comparable to The Beach Boys' contemporaneous Our Prayer. So there.
So, er, why is this here? I don't know the story behind it, but Richard plays Chamberlin flutes on a 1966 track, The Parting Of Our Ways, to passable effect. Which brings me to a really odd Mellotron-related story I heard somewhere: apparently, The Carpenters owned what has to be the world's only split Mellotron. Yup, a touring M400 was split, à la a Hammond, under the keyboard. Er, why? It's not as if they're that heavy... It allegedly now resides in a museum somewhere in the Midwest, although this remains unconfirmed.
Anyway, I can't honestly recommend this to you, certainly not for its minor tape-replay component, although I stand by my view that there are several non-offensive tracks here for those allergic to the duo's particular brand of schmaltz. Incidentally, if you're absolutely hellbent on hearing the track, it's also available on a similar box set, 2002's The Essential Collection: 1965-1997.
Carptree (Sweden) see: Samples
Pools of Mercury (1998, 46.11) ***½/T

Train Surfing
Falling Down Laughing
Zeno's Law of High-Heeled Shoes
Desert Town
It Goes
My Ruins
Pools of Mercury
Things That Fly
I am Not Kurt Schwitters
Hairshirt Fracture
Female as Thunder
Cinco de Mayo
Message Left on a Phone Machine
The Beast Within
8 Fragments for Kurt Cobain
Runaway EP (2000, 18.28) ***/T

Runaway
Hairshirt Fracture
I Want the Angel (live)
It's Too Late (live)
Falling Down Laughing (live)
Current availability:
Pools of Mercury: Polygram
Runaway: Kill Rock Stars
Mellotrons used:
Jim Carroll was born in 1950, detailing the hard drugs and prostitution of his teenage years in The Basketball Diaries, filmed in 1995. He formed the Jim Carroll Band in his late twenties, collaborating with various New York alumni, including Patti Smith, Lou Reed and the Blue Öyster Cult, amongst others. As much a poet as a musician, Carroll has released a handful of records, 1998's Pools of Mercury being his first in 15 years. Unsurprisingly, much of its content consists of poetry read to music, although there are some proper 'songs' on board, too, notably the excellent Falling Down Laughing and Desert Town, although Carroll speaks rather than sings, in the way that Americans seem to manage with effortless cool, while Brits just sound awkward and selfconscious. Anton Sanko plays Chamberlin, with strings on Things That Fly and (notably, albeit briefly and uncredited) on Hairshirt Fracture, although it's not groundbreaking stuff on the Chamby front, to be honest.
Two years on, Carroll released his latest recording to date, the Runaway EP and yes, it's the Del Shannon song, with a surprisingly faithful clavioline (or facsimile thereof) solo. Hairshirt Fracture is a completely different recording to the album version, featuring largish slabs of Mellotron church organ from Built to Spill/Truly stalwart Robert Roth, highly unusually outside a self-consciously 'prog' setting and all the better for it. The album's worth getting hold of, the EP less so, though neither really for their tape-replay work, despite the rare sighting of the 'Tron pipes. Is it just me, or does Carroll's pic on the Pools of Mercury sleeve makes him look like Thin White Duke-era Bowie? Deliberately? Who knows.
As a sad postscript, Carroll died of a heart attack, aged 60, mere months after I wrote this review.
Measure for Measure: The John Carter Anthology, 1961-1977 (2003, 158.56) ***/TT½

Carter-Lewis & the Southerners:
Will it Happen to Me
My Broken Heart
Somebody Told My Girl
Easy to Cry
Sweet and Tender Romance
The Ivy League:
Funny How Love Can Be
Lonely Room
Tossing & Turning
Running Round in Circles
My World Fell Down
Carter Shaw Keen:
I Couldn't Spend Another Day Without You
Ministry of Sound:
White Collar Worker
Carter Shaw Keen:
Time and Motion Man
Little Ray of Sunshine
John Carter:
Winchester Cathedral
Carter-Lewis:
Playing With Fire
John Carter:
She Won't Show Up Tonight
Brown and Porter's (Meat Exporters) Lorry
Viv Prince:
Light of the Charge Brigade
John Carter:
Am I Losing You
The Flower Pot Men:
Let's Go to San Francisco
A Walk in the Sky
John Carter:
Sunshine Girl
Conversations (in a Station Light
Refreshment Bar)
Carter-Lewis:
Birmingham Brass Band
The Flower Pot Men:
You Can Never Be Wrong
Friends:
Mythological Sunday
Haystack:
Letter to Josephine
Pantomime People
Tahiti Farewell
Dawn Chorus:
A Night to Be Remembered
John Carter:
My Sentimental Friend
Knock Knock Who's There
The Flower Pot Men:
White Dove
Say Goodbye to Yesterday
Scarecrow:
I Want to Be Where You Are


Stamford Bridge:
Little Boy Blue
Happiness and Rainy Days
Move Out of Town
First Day of Your Life
Arizona Lost and Gone
Stormy Petrel:
Hello Hello Hello
First Class:
Coney Island
Kincade:
Dreams Are Ten a Penny
Do You Remember Marilyn
Big Hand for Annie
First Class:
Beach Baby
What Became of Me
Kincade:
Slow Down
First Class:
And She Cried
Starbreaker:
Sound of Summer
John Carter:
British Caledonian (ad)
Bird's Dream Topping (ad)
Rowntree's Tots (ad)
Vauxhall Chevette (ad)
Current availability:
Mellotron used:
John Nicholas "John Carter" Shakespeare is a slightly forgotten figure these days, except among aficionados of British '60s pop, for whom he's remembered as the nearest the UK got to America's Curt Boettcher. Carter and his friend Ken "Lewis" Hawker played together in Carter-Lewis & the Southerners and The Ivy League in the early '60s, after which they backed away from the limelight and took backseat roles, writing and recording a huge quantity of material, using a pool of trusted session singers and musicians. This material was released under a bewildering variety of names, notably The Flower Pot Men, other monikers including Friends, Ministry of Sound, Dawn Chorus and The Haystack.
RPM's 2003 two-disc Measure for Measure: The John Carter Anthology, 1961-1977 could never be more than an overview of Carter's work, taking in his major hits, lesser-known material and demos, also covering he and his wife's equally fly-by-night '70s outfits Stamford Bridge, Scarecrow and Kincade. The duo finally hit gold as The First Class in summer '74 with the Beach Boys-go-glam of Beach Baby, after which their fortunes declined. Aside from the expected Mellotron tracks covered elsewhere, a solo Carter demo, Sunshine Girl, features a lovely MkII flute solo, while his demo of a track ultimately released as A.P. Dangerfield, the 'why wasn't this a hit?' Conversations (In A Station Light Refreshment Bar) has the same string and flute parts as the eventual single, only further in the background.
I have to say, over two hours of this stuff is a little wearing if you aren't really into lightweight '60s-to-'70s pop, but there are a handful of gems scattered amongst the by-numbers material in which Carter usually specialised. Several Mellotron tracks make this collection worth hearing, although you're probably better off with The Flower Pot Men's Listen to the Flowers Grow, also from RPM.
See: The Flower Pot Men | Friends | The Haystack | Ministry of Sound | Beautiful People
Now or Never (2002, 43.36/50.20) *½/0 (½)

Help Me
My Confession
I Stand for You
Do I Have to Cry for You
Girls in the USA
I Got You
Is It Saturday Yet?
Blow Your Mind
Miss America
I Just Wanna Take You Home
Heart Without a Home (I'll Be Yours)
Who Needs the World
[European bonus tracks:
Scandalicious
Forever Rebel]
Current availability:
Mellotron used:
I had no idea before I played this album, but Nick Carter is a member of The Backstreet Boys, which probably tells you all you need to know about him. 2002's Now or Never is his only proper solo album to date, ignoring his 'early demos' collection, Before the Backstreet Boys 1989-1993, and while it shows a reasonable diversity of style, it's still a mainstream pop album, mixing his usual boy-band thing with various dance styles, piano balladry and that kind of neutered 'metal' guitar sound on a few tracks, usually thrown in by producers in a vain attempt to portray their client as 'edgy'.
The original, 12-track US release has no Mellotronic input, but one of the two overseas bonus tracks, Forever Rebel, has an exceedingly brief 'Tron flute part from Phil Thornalley, although given that his credit includes the fatal words 'programmed by', one has to wonder just how real it might be. It might be just the bass that's programmed, but I'm not convinced. So; you really don't need to hear this album, but I think you'd already worked that out, hadn't you?
While You Weren't Looking (2002, 47.43) ***/0

Shallow Heart, Shallow Water
Please Don't Hurry Your Heart
Fireworks
What Will You Do?
Thick Walls Down
Sorry
Pony
The Fair
Too Many Keys
Hold on to Me
I Ain't Found Nobody Yet
I'm Staying Out (2003, 48.19) **½/T

Empty Rooms
Sleepin' in on Sunday
You Don't Have to Hide
The Next One
Please Break My Heart
Cello Girl
Beauty Fades Away
I'm Staying Out
Lorraine Today
In a While
I Want to Learn to Waltz With You
Current availability:
Mellotrons used:
Along with the better-known Ryan Adams, Caitlin Cary is the other ex-Whiskeytown member to have a visible solo career, taking that outfit's Americana template and, er, making it more mainstream. Saying that, several tracks on her solo debut, 2002's While You Weren't Looking put the alt. into alt.country, not least Thick Walls Down and Pony. Jen Gunderman plays Chamberlin, but, yet again, it's nowhere obviously to be heard. Why? Really, why? Why use such a cool instrument then ensure it's buried in the mix? I know it's shy and retiring, but a sympathetic producer can make it stand proud and tall, not hide its light under a bushel (whatever that is). Not this time, however.
Cary took a whole year to follow up with I'm Staying Out, which shifts yet further away from 'alt.' territory, despite the odd track of the quality of Cello Girl (great guitar solo) and closer I Want To Learn To Waltz With You, complete with Frank Gratkowski's clarinet. Gunderman on Mellotron this time round, albeit not very much, with strings on Sleepin' In On Sunday, Beauty Fades Away and I Want To Learn To Waltz With You (although at least one of these could be a real string part), but I can't say you'd miss it if it wasn't there.
Overall, two not particularly inspiring albums, although both have their moments, though certainly not in the tape-replay arena.
See: Whiskeytown | Ryan Adams
Full Service No Waiting (1998, 50.48) ***/0

Spell of Wheels
On the Way Downtown
Let Me Fall
Green Blanket (Part 1)
Honey Child
See Through Eyes
Until the Next Time
Crooked Mile
Beautiful Grind
Drunkard's Harmony
Still Playin'
Current availability:
Mellotron used:
Peter Case has had an incredibly varied career, from playing bass with The Nerves, who wrote Hanging On The Telephone, later covered by Blondie, to working his way through other powerpop/Americana-orientated acts, including The Plimsouls, before kicking off his solo career in the mid-'80s. 1998's Full Service No Waiting is his seventh solo effort, by which point Case seems to've moved across into alt.country - actually, not so alt, really - treating the genre for what it is: American folk, rather than the slushy Nashville version, which has to be applauded. Best track? Probably the lengthy Drunkard's Harmony, which seem to have the bite missing on much of the album's content.
Producer Andrew Williams is credited with Mellotron, rumoured to be on See Through Eyes, but I'll be buggered if I can hear it, there or anywhere else. So; decent enough alt.country album, no obvious Mellotron. Your choice.
Lazybones (1970, 36.00) ***/T½

Lazybones
Deep Down and Dirty
Venus
Stockmobile
Silly Sue
In the Smokehouse
Soul Tango
Change the Better
Peer Gynt
E.R.G.
Just Like Anyone
A Shade of Blue
Powerhouse (1970, 30.38) ***/0

The Train
Funky Business
Powerhouse
Save Our Soul
Wailing Arab
Heighty-Hi
This is Just the Beginning
Sour Grapes
Dynamite
Outasight
Current availability:
Mellotrons used:
Both titles: Phonogram Studios' M300?
Casey & the Pressure Group (ho ho) were a mostly instrumental Dutch soul/funk outfit, albeit more in what's come to be known as a 'rare groove' format than a 'matching suits with bow ties' one. Led by Cees (or C.M.) 'Casey' Schrama, they only seemingly lasted for two albums, both released in 1970, both now unwitting providers of breaks for those too untalented to actually write their own music (ouch...). They debuted with Lazybones, a decent enough collection if you're into such things, with more sonic variety that I'd expected, incorporating mainstream pop and country amongst the album's influences; and, chaps, what's with crediting Peer Gynt (a.k.a. a funked-up Hall Of The Mountain King) to yourselves, eh? Schrama plays keys, including (Phonogram Studios' M300?) Mellotron, with strings on Silly Sue, a high-speed flute part on Just Like Anyone (well, there's no flautist credited) and more strings (sounding like they involve studio trickery) on closer A Shade Of Blue.
Powerhouse was their speedy follow-up, a bare half-hour long, doubtless due to an unsurprising dearth of new material. Their debut must've sold well enough for Philips to pay for a brass section this time round, giving the material that authentic American sound for which Schrama was clearly striving, audible on most tracks. Schrama's credited with Mellotron again, but if it's here at all, it's obviously buried beneath layers of brass. Unavailable on CD, various tracks from these albums have been anthologised, and they're not difficult to find as downloads (shhh). Amusingly, Schrama was co-opted by a better-known Dutch outfit, Golden Earring, to play Mellotron on their eponymous 1970 effort (a.k.a. Wall of Dolls), although I'm not aware of any other Mellotronic activity from the man.
American II: Unchained (1996, 43.31) ****/T½

Rowboat
Sea of Heartbreak
Rusty Cage
The One Rose (That's Left In My Heart)
Country Boy
Memories Are Made of This
Spiritual
The Kneeling Drunkard's Plea
Southern Accents
Mean Eyed Cat
Meet Me in Heaven
I Never Picked Cotton
Unchained
I've Been Everywhere
American IV: The Man Comes Around (2002, 56.01) ****/TT

The Man Comes Around
Hurt
Give My Love to Rose
Bridge Over Troubled Water
I Hung My Head
First Time Ever I Saw Your Face
Personal Jesus
In My Life
Sam Hall
Danny Boy
Desperado
I'm So Lonesome I Could Cry
Tear Stained Letter
Streets of Laredo
We'll Meet Again
Big Iron
Unearthed (2004, recorded 1994-2003, 243.23) ****/T

Long Black Veil
Flesh and Blood
Just the Other Side of
Nowhere
If I Give My Soul
Understand Your Man
Banks of the Ohio
Two Timin' Woman
Caretaker
Old Chunk of Coal
I'm Going to Memphis
Breaking Bread
Waiting for a Train
Casey's Last Ride
No Earthly Good
Fourth Man in the Fire
Dark as a Dungeon
Book Review
Down There By the Train
(alternate take)
Pocahontas
I'm a Drifter (version 1)
Trouble in Mind
Down the Line
I'm Movin' on
As Long as the Grass Shall
Grow
Heart of Gold
Running Kind
Everybody's Trying to Be
My Baby
Brown-Eyed Handsome Man
T for Texas (Blue Yodel
No.1)
Devil's Right Hand
I'm a Drifter (version 2)
Like a Soldier
Drive on (alternate lyrics)
Bird on a Wire (live)
Singer of Songs
L & N Don't Stop Here
Anymore
Redemption Song
Father and Son
Chattanooga Sugar Babe
He Stopped Loving Her
Today
Hard Times
Wichita Lineman
Cindy
Big Iron
Salty Dog
Gentle on My Mind
You Are My Sunshine
You'll Never Walk Alone
The Man Comes Around
(early take)
Where We'll Never Grow Old
I Shall Not Be Moved
I am a Pilgrim
Do Lord
When the Roll is Called Up
Yonder
If We Never Meet Again This
Side of Heaven
I'll Fly Away
Where the Soul of Man
Never Dies
Let the Lower Lights Be
Burning
When He Reached Down His
Hand for Me
In the Sweet By and By
I'm Bound for the Promised
Land
In the Garden
Softly and Tenderly
Just as I am
American V: A Hundred Highways (2006, 42.51) ****/½

Help Me
God's Gonna Cut You Down
Like the 309
If You Could Read My Mind
Further on Up the Road
On the Evening Train
I Came to Believe
Love's Been Good to Me
A Legend in My Time
Rose of My Heart
Four Strong Winds
I'm Free From the Chain Gang Now
Current availability:
Unchained/Hundred Highways: American (US)
The Man Comes Around: Universal
Unearthed: Mercury
Mellotrons/Chamberlins used:
All titles: Benmont Tench's Chamberlin (?), with Roger Manning's M400 & Chamberlin (?) on American IV
The first two reviews here were written a couple of days after Johnny Cash's death, so I felt the least I could do was to honour him by listening to some of his recent music. For those of you who don't know, Rick Rubin (Def Jam) released a Cash album called American Recordings in '94, featuring a stripped-back sound; just the man and his guitar. Of course, Cash utterly transcends the genre with which he's always been aligned, predating 'alt.country' by decades, and the four Rubin-produced LPs released before his death prove it unequivocally.
The second album in the series, American II: Unchained, features Tom Petty and his inimitable Heartbreakers as Cash's backing band, a pretty inspired pairing, by the sound of it. Several of the tracks are covers, often from unexpected sources; Rowboat (Beck), Rusty Cage (Soundgarden) etc. with excellent results, in most cases. Both Petty and his keyboard player, Benmont Tench, play Chamberlain on the album, with a variety of strings (violas? Solo violin?) on Spiritual, Southern Accents and Unchained; almost fooling the ear into thinking it's a real string section. Nice Chamby use, but outclassed by the quality of the album itself.
No Chamberlin on American III: Solitary Man, but Tench was back on 2002's American IV: The Man Comes Around, this time on Mellotron, along with ex-Jellyfish man Roger Manning on Chamby and 'Tron. Sadly, it turned out to be the last album of Cash's life, released mere months before the death of his wife, June Carter Cash, followed with almost indecent haste by that of the great man himself. His voice is noticeably less sonorous than on Unchained, and his song selection is rather more variable (Bridge Over Troubled Water? Danny Boy?), but there are some stunning performances on the album, not least his searing version of Nine Inch Nails' Hurt, with a video to match. More covers, with The Beatles' In My Life and Depeche Mode's Personal Jesus, although hokey country like Give My Love To Rose slightly dilutes the overall effect. Hurt is the first of the album's two tape-replay tracks, with 'Tron flutes and strings from Tench. There's more flutes, plus strings, choirs and raucous cellos from Manning on Bridge Over Troubled Water, which is less cheesy than you might expect, although I'm not sure which is Chamby and which 'Tron.
A year after Cash's death, the astonishing 5-CD set Unearthed appeared, containing no less than four discs of previously-unheard material from the Rubin sessions, plus a 'greatest hits' compiled from Americans I-IV; to quote an online reviewer, "Cash's rejects are better than most artists' greatest hits", with which it's difficult to argue. The unheard material has been loosely grouped together according to style and subject, with disc one, Who's Gonna Cry, being exclusively acoustic, and disc four (an unreleased completed album from around the time of American III, which explains its relative brevity), My Mother's Hymn Book, being gospel songs. There are several duets spread across the set, including Joe Strummer (Bob Marley's Redemption Song), Nick Cave (Cindy) and Fiona Apple (a less successful take on Cat Stevens' Father And Son), but it's Cash's voice that captivates here, on old classics like Long Black Veil, or new ones such as Cash's own Caretaker, with the heartbreaking line, "Who's gonna cry when old John dies?"
On the Mellotron/Chamberlin front, Cash's version of Neil Young's Pocahontas has some flutes, while Jimmy Webb's Wichita Lineman (popularised by Glen Campbell, of course) has sympathetic string and cello parts, although Big Iron's cellos are rather less obvious. Two of the set's four discs (one and four) are entirely acoustic, with only one decent 'Tron track across the other two discs, but that isn't why you need this release. Of the five discs, the only one you may (I do say may) have trouble with is four, My Mother's Hymn Book. Gospel music is all well and good, but to a heathen like me, the usual preposterous nonsense about living for ever in paradise etc.etc. begins to grate after a while. Sorry, John. The tracklisting above omits disc five, as the entry's quite long enough already, and the two tape-replay tracks are available on the other two relevant albums.
Just to prove that the vaults are not only not empty, but still contain very worthy material, 2006 brought American V: A Hundred Highways, although, frankly, it could just as easily have been subtitled 'Songs About Death'. Of course, I doubt whether Cash actually intended these songs to fit together like this; posthumous editing can give a very different spin on things, but just about everything here has something to do with death, be it the jaunty Like The 309 or Hank Williams' heartbreaking On The Evening Train. And I think we all know what the authors meant on I'm Free From The Chain Gang Now... Benmont Tench is credited with piano, harpsichord and organ so what's that I can hear on Springsteen's Further On Up The Road? Polyphonic flutes, too much warble for a Mellotron, so presumably Chamby. Actually, the instrumental credits are exceedingly vague, with a long list of 'additional musicians who offered invaluable contributions', in contrast to the detailed credits on earlier albums. Incidentally, Rubin's sleevenotes are centred around the night he heard Cash had died and how he kept the news from his fellow diners so as not to spoil the evening. In their near-decade of collaboration, the two obviously became very close, and I don't think it's an overstatement to say that Rubin effectively retrieved Cash from his '70s and '80s doldrums and possibly even absolved him, in whichever way you care to take that.
So; Unchained is probably the best of these albums overall, but the highlights of The Man Comes Around are probably, er, higher, while Unearthed and A Hundred Highways have many gems among the also-rans. Either way, all these albums contain classic tracks, and are worthy closers to Cash's career. Reasonable Chamberlin/Mellotron stuff, too, with two excellent 'Tron tracks in Bridge Over Troubled Water, bizarrely, and Wichita Lineman. Buy? According to taste.
Casiotone for the Painfully Alone (US) see: Samples
Nature's Secret (1977, 33.52) **½/T

Come Along
Golden Avatara
Sign of Surrender
Simple Living
Spirit of Reason
Hidden Worlds
I'll Never Be Younger Than Today
Nature's Secret
Embodiment of Bliss
Oh Thoughtful Men
Current availability:
Mellotron used:
If you're British and have ever trawled through second-hand or charity shops (and who hasn't?), you will at some point have run into a copy of Golden Avatar's 1976 opus Change of Heart. I have one. Have I ever played it? No, I haven't. I believe that the reason the market's so flooded with them is that they were sold, probably for a 'contribution', by London's Krishnas (or Krsnas), a familiar, orange-robed sight to anyone who's spent any time in the West End.
The man behind the album, Michael Cassidy, released another album the following year under his own name, Nature's Secret, which seems to've been available in various sleeve designs, depending on the country of release. It's dated for '77, let alone '79, the release date I've seen quoted as often as not, it's mid-'70s soft rock aesthetic disappearing gently into a haze of... Hang on, this guy's a Krishna devotee, not a West Coast hippy, so the phrase I was about to use, 'pot smoke', is probably irrelevant. Or not? In fairness, I've heard worse, but the upbeat material's pretty disposable, leaving the gentler tracks (Surrender, I'll Never Be Younger Than Today) as its least dull.
Wayne Cook (Steppenwolf, other lesser-knowns) plays keys, with quite unmistakeable Mellotron strings on Spirit Of Reason and Hidden Worlds, although that seems to be our lot. Compared to Change of Heart, Nature's Secret is relatively hard to find, or maybe it turns up in places other than London. Either way, while vaguely acceptable, it's all distinctly unexciting, with only a couple of minor Mellotron appearances to spice it up at all.
Cast (Mexico) see: Samples
Castle Canyon (US) see: Samples
El Culpable Soy Yo (2009, 42.17) *½/½

En Este Bar
Como dos Tontos
Ten Valor
Por la Espalda
Mi Bien Amada y Yo
Nuestra Verdad
No Me Digas
No Engañes al Amor
Eres Tu
El Culpable Soy Yo
No Me Digas (Balada)
Current availability:
Mellotron used:
Cristian Castro is a Mexican actor/singer in possession of the requisite sultry good looks expected of such a thing, working in the mainstream Latin area, which is about as palatable to the rest of us as you can imagine. 2009's El Culpable Soy Yo is something like his twelfth album since the early '90s, full of plaintive Spanish-language balladry of the kind you try to avoid during Mediterranean (or Mexican) holidays. It's perfectly good at what it does, I suppose (he said, grudgingly), but what it does is awful.
Armando Avila plays Mellotron, although you'd be forgiven for not spotting it; assuming it's actually real, the nearest thing to it is the cellos on closer No Me Digas (Balada), but they could just as easily emanate from one of the album's programmed synths. In other words: just don't.
Catbird (Denmark) see: Samples
Catch Up Vol. 1 (1975, 35.47) ***/TT

Catch Up
Bordun
Onkel Joe
Moonlight on a Baldhead
Lydia
Blues for the Kaiser
A Night Without Dreams/The Little Things That Make Us Happy
Spinning Wheel
Current availability:
Crippled Dick Hot Wax (Germany)
Mellotron used:
The multi-national trio (Czech, Swiss and German) of Milan Pilar, Charly Antolini and Max Greger Jr. apparently met while playing in Greger's father's (doubtless jazz) band. They decided to record an album of them 'blowing' at their hottest, calling themselves Catch Up, although I've also seen them listed under their names. Catch Up Vol. 1 (I don't believe there was ever a Vol. 2) is in many ways a typical German fusion album, full of fiery playing, but this time adding a funk sensibility that most of their peers couldn't match, making this a favourite with the breakbeat crowd. As with most fusion, if you're of the post-beatnik persuasion you'll probably like it, and if not... Spinning Wheel was the one track that really caught my ear, probably due to Greger's ripping Hammond solo, reminding me slightly of the much-missed Rick van der Linden's playing in Trace.
Fairly typical fusion 'Tron use, with slabs of heavily-reverbed strings wafting around in the background on Onkel Joe and a cello line with discordant strings in Lydia. Slightly more tuneful strings and cellos in Blues For The Kaiser and a flute melody in the latter part of A Night Without Dreams/The Little Things That Make Us Happy makes for reasonably heavy Mellotron use in the genre, bordering the point at which you could buy it (cheaply) for that alone. Decent enough, with the proviso that it's instrumental jazz fusion of the most uncompromising kind.
Chris Catena (Italy) see: Samples
Stained Glass Stories (1978, 45.25) ****½/TTTT½

Introspect
Gong
The Crossing
Days and Changes
The Search
The Bridge (2007, 58.40) ****/TTTT

The Monsterhead Suite: parts 1, 2, & 3
Satellite
Hollins
Kithara Interludium
Angular World
The Lake
The Secret
Current availability:
Stained Glass Stories: Syn-Phonic (US)
The Bridge: Website or usual online retailers
Mellotrons used:
Both titles: band's own M400
For anyone who's heard Sweden's Änglagård, the Cathedral sound will have a strange ring of familiarity to it; that 'play a riff twice, then move on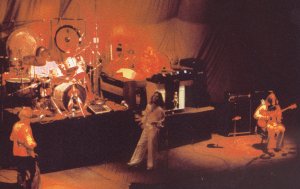 to something else before boredom sets in' approach. However, Stained Glass Stories predates the Swedes by nearly fifteen years, so Cathedral can probably be said to have actually invented the technique. It's impossible to pick a standout track, although album opener Introspect may just possibly be the best example of their sound, with Mellotron church organ as well as the more familiar sounds.
Keyboard player Tom Doncourt goes all-out on the 'Tron front, with more string section and (male voice?) choir than you can shake the proverbial stick at, including a possibly over-ambitious choir melody that stretches the machine, er, slightly past its design limitations. Fantastic use all round, though, making this one of the American Mellotron albums. Doncourt still has his machine, unlike so many of his contemporaries, and is talking about putting out some of his post-Cathedral work at some point. So, if you want to hear one of the best US prog albums EVER, buy!
Just when you thought it was safe to go back in the water... Fast-forward almost thirty years, and instead of solo Doncourt, what should appear but a new Cathedral album? 2007's The Bridge features, amazingly, four of the five original band members, with only guitarist Rudy Perrone missing (and then only recently), replaced by David Doig. So, have they mellowed in the interim? Have they settled into a comfy musical middle age, playing soft rock with a hint of neo-prog about it? Have they hell. Opener The Monsterhead Suite has a Crimson feel about it, while Satellite's angular riffs aren't going to please the armchair brigade one little bit.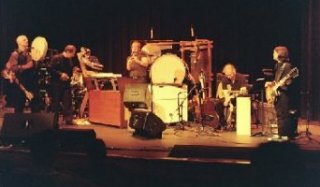 Good. Unsurprisingly, the album has echoes of the band's original sound about it, although also unsurprisingly, many other influences have clearly been soaked up in the intervening decades, which only serve to broaden their palette and make them more inventive. Paul Seal's vocals are both as melodic and as unconventional as ever, the marvellously-named Mercury Caronia IV's percussion work is still offbeat, while remaining strictly on the beat, and Fred Callan (driving force behind the reformation, apparently) still plays Taurus pedals, though nowhere near as much as I'd like. Album's highpoint? hard to say, but the closing couple of minutes of The Secret are pretty cataclysmic.
Doncourt's Mellotron work is as full-on as ever, with some tricky string pitchbends on The Monsterhead Suite, alongside cellos, choirs, and some unidentified woodwind. Of course, this is 2007, so he's also credited with 'other keyboards', so it's not always easy to determine what's what with the less-obvious sounds, although the bulk of his work consists of the Old Favourites, but since when did we have a problem with that? Although Tom plays real flute on the album, that's definitely the taped variety at the beginning of Angular World (see, told you they were angular), and is that Mellotron brass in The Secret? In fact, the only 'Tron-free track is Doig's acoustic solo piece, Kithara Interludium, which doesn't overreach itself, even at seven minutes, making this a Mellotron-lover's dream.
So; Stained Glass Stories is one of the '70s most inventive US prog albums, and The Bridge is one of the most inventive of whatever you call this decade, making the flaccid likes of The Flower Kings et al. look as safe as they are. If you have any interest in lesser-known prog, I strongly urge you to buy both these albums pronto (assuming you can actually find their debut, as I believe it's been criminally discontinued), both for the music and the Mellotron. And it's real! More, please.
See: Rudy Perrone | Fauve Museum
---