---
| | |
| --- | --- |
| Manfred Mann (UK) see: | |
| | |
| --- | --- |
| Manfred Mann Chapter Three (UK) see: | |
| | |
| --- | --- |
| Manfred Mann's Earth Band (UK) see: | |
Manna (1972, 39.19) ***/TT½

Good Old Rock and Roll
Tell Me Why
Save the Country
What Ya Gonna Do
We Can Make it
Red Man
Southern Bound
Clap Your Hands
Hold on
New Day's Coming
Children of the Mountain
Current availability:
Chamberlin used:
When Blues Image split at the beginning of the '70s, after bring unable to repeat the success of major hit Ride Captain Ride, keys man Frank "Skip" Konte joined Three Dog Night and some of the others formed Manna, releasing their sole, eponymous album in 1972. It's a pretty typical mainstream American rock album of the era, with a heavy country influence on many tracks, better efforts including funky opener Good Old Rock And Roll, the rocky(ish) We Can Make It and Red Man and the Allmans-esque Southern Bound.
Someone (Konte guesting?) plays Chamberlin, with strings all over We Can Make It, a flute/string mix (?) on Southern Bound, vibes and female voices on Hold On and strings on New Day's Coming, making Manna semi- worth hearing on the tape-replay front. After the band split, members (notably guitarist Mike Pinera) went on to various projects, including Iron Butterfly and Ramatam, although it doesn't seem as if any broke through in any major kind of way.
Manna (Finland) see: Samples
| | |
| --- | --- |
| (Guy) Manning (UK) see: | |
Antichrist Superstar (1996, 69.53) ***/T

Irresponsible Hate Anthem
The Beautiful People
Dried Up, Tied and Dead to the World
Tourniquet
Little Horn
Cryptorchid
Deformography
Wormboy
Mister Superstar
Angel With the Scabbed Wings
Kinderfeld
Antichrist Superstar
1996
Minute of Decay
The Reflecting God
Man That You Fear
Mechanical Animals (1998, 62.38) ***/½

Great Big White World
The Dope Show
Mechanical Animals
Rock is Dead
Disassociative
The Speed of Pain
Posthuman
I Want to Disappear
I Don't Like the Drugs (But the Drugs Like Me)
New Model No.15
User Friendly
Fundamentally Loathsome
The Last Day on Earth
Coma White
Holy Wood (in the Shadow of the Valley of Death) (2000, 68.11) ***/T

Godeatgod
The Love Song
The Fight Song
Disposable Teens
Target Audience (Narcissus Narcosis)
"President Dead"
In the Shadow of the Valley of Death
Cruci-Fiction in Space
A Place in the Dirt
The Nobodies
The Death Song
Lamb of God
Born Again
Burning Flag
Coma Black
Eden Eye
The Apple of Discord
Valentine's Day
The Fall of Adam
King Kill 33 Degrees
Count to Six and Die (the Vacuum of Infinite
Space Encompassing)
The Golden Age of Grotesque (2003, 57.46/63.52) ***/½

Thaeter
This is the New Shit
mOBSCENE
Doll-Dagga Buzz-Buzz Ziggety-Zag
Use Your Fist and Not Your Mouth
The Golden Age of Grotesque
(s)AINT
Ka-Boom Ka-Boom
Slutgarden
♠
Para-noir
The Bright Young Things
Better of Two Evils
Vodevil
Obsequy (the Death of Art)
[Bonus tracks:
Tainted Love
Baboon Rape Party]
We're a Happy Family: A Tribute to the Ramones (2003) **/T

[Marilyn Manson contributes]
The KKK Took My Baby Away
Current availability:
All Manson titles: Nothing/Interscope
We're a Happy Family: Columbia
Mellotrons used:
All titles: Manson's own M400?
It seems to be a matter of conjecture as to whether Marilyn Manson (originally Marilyn Manson and the Spooky Kids) should be classed as a band or an individual, a conundrum that also, ironically, applied to the early Alice Cooper, who has commented re. Manson: "He has a woman's name and wears makeup. How original". Go Alice! The original concept seemed to encompass each member taking a female icon (usually film star)'s first name, and a surname from a serial killer (Twiggy Ramirez, M.W. (Madonna Wayne) Gacy etc.), although this seems to've become diluted over the years. Their remit has always been to shock, and to expose society's (and specifically America's) hypocrisy, although the end result is nearer to a cross between Cooper, David Bowie and Nine Inch Nails, with whom the band have worked.
1996's Antichrist Superstar was Manson's second album proper, after 1994's Portrait of an American Family and the following year's hour-long 'EP' of remixes and covers, Smells Like Children, and is surprisingly varied, although much of the material is the full-on industrial/goth/metal crossover you'd expect. Manson (née Brian Warner, on the offchance you didn't know) writes frequently witty and pointed lyrics, often utilising wordplay to get his point across, although given that his voice is often heavily effected, it's not always so easy to make out what he's on about. An awful lot of you are simply not going to like this music - I'm not at all sure I like it myself - but it's been assembled with some care and skill, and shouldn't be dismissed lightly. Anyway, Nine Inch Nails' Trent Reznor plays Mellotron on Cryptorchid, with a distant, high string line and an upfront, almost solo flute part.
Two years on, Mechanical Animals is slightly more Bowie-esque, although the bulk of its material is business as usual, at least to ears unattuned to Manson's abrasive style. Lyrically, Manson's as astute as ever, but the music will (and has) put many people off who may otherwise have been intrigued by the band's imagery. This time round, M.W. Gacy plays 'Tron on two tracks, The Speed Of Pain and Coma White, but to little effect, with possible faint flutes on the former, and nothing recognisable on the latter whatsoever.
Holy Wood is quite clearly a concept piece, with a plotline alluding heavily to society's cult of personality (which, ironically, Manson uses towards his own ends), taking a major pop at Hollywood in particular and celebrity in general. Manson had curtailed his 1998 tour after the Columbine shootings, so it's no surprise that this album refers to the incident more than once, specifically on The Nobodies; frequently underestimated, Manson made possibly the most intelligent recorded comment on the shootings in Bowling For Columbine when he stated that he wouldn't have said anything to the boys, just listened. Back in Mellotronland, Manson himself plays choirs on "President Dead", while Gacy puts more of them onto Valentine's Day, although neither to any great effect, to be honest.
The Golden Age of Grotesque apparently has a Weimar Germany thing going on, though I can't say it's that obvious from the music, which sounds like... more of the usual. Distorted vocals, 'industrial' synths, buzz-saw guitars; yup, it's a Marilyn Manson album, although, in fairness, it's more electronic than his previous work, probably due to Tim Skold's presence in his band and at the desk. Manson's usual wordplay extends to several track titles this time round, and yes, the album's opening track is spelt correctly. He adds a little Mellotron to the album himself, with choirs and strings on the title track, although I didn't spot anything else, and without its predecessors' track-by-track credits, there's always going to be some guesswork involved.
So; given that I was expecting a horrible mess of tuneless pseudo-'industrial' goth/metal, these albums have been a pleasant surprise, although I rather doubt that they'll get played too often at chez Planet Mellotron. The Mellotron work is pretty sparse all round, with only one really worthwhile track, Antichrist Superstar's Cryptorchid, so don't go too far out of your way for any of these, really.
See: We're a Happy Family
Attack of the Grey Lantern (1997, 60.17) **½/½

The Chad Who Loved Me
Mansun's Only Love Song
Taxloss
You, Who Do You Hate?
Wide Open Space
Stripper Vicar
Disgusting
She Makes My Nose Bleed
Naked Twister
Egg Shaped Fred
Dark Mavis
An Open Letter to the Lyrical Trainspotter
Current availability:
Mellotron used:
Mansun came riding in on the coattails of Britpop, although in several respects they had little in common with that 'movement', such as it was. On Attack of the Grey Lantern, rather than write a bunch of tedious, '60s-'inspired' songs, they chose to write loads of little bits, then stick them together almost at random, with rather spurious track divisions inserted to try to deflect press accusations of 'prog rockdom'. Sadly, though, the end result is still fairly dull, with those awful whiny vocals so popular at the time (why?!). There's a few memorable moments, with the amusing Stripper Vicar standing out, but most of the album is simply dreary, making it hard to find anything very positive to say about it.
A teeny-style book written on the band during their brief stab at success quotes a band member as saying that they owned a broken-down Mellotron which they kept in their kitchen, so I don't think there's any doubt that the 'Tron is real. However... where is it? It seems likely that they (probably played by Paul Draper) used it chiefly for its sound effects, with familiar-sounding church bells and air-raid sirens popping up here and there, particularly between tracks. As a result, much of my highlighting is guesswork; is that harp glissando on Taxloss 'Tron? If you like that Britpop thing, you might like this album, but on no account buy it for the Mellotron. Oh, and guess what? A hidden track (yawn), An Open Letter To The Lyrical Trainspotter. I've knocked the requisite two minute gap off the album's length; at least it wasn't a ten-minute wait...
It's rumoured that Mansun used their 'Tron on their other two albums, Six (***) and Little Kix, but if there's anything on Six, it's even less audible than here. Avoid.
Time to Fly (1993, 62.58) ***/TTTT

New Foundation
Running With the Stars
Is it All Too Late?
Future is the Time (Hymn)
The Manticore Theme
Private Show
The Maiden
The Way of the Seasons
Sin of Origin
Time to Fly
This is an Orange: A Compilation of Scandinavian Progressive Rock (1995, 11.05) ***/T½

[Manticore contribute]
The Maiden
Current availability:
The Laser's Edge (US, now out of print)
Mellotrons used:
Manticore appeared in 1993 with their one and only album, Time to Fly which, unsurprisingly, has a heavy ELP bent to it, and late-period ELP at that, although Yes turn up as well (spot the shameless Yours Is No Disgrace rip on Running With The Stars). Unlike their Swedish contemporaries Änglagård, Anekdoten and Landberk, Manticore had no problem with using digital equipment alongside the analogue, so some rather nasty pseudo-brass sounds (very Emerson) are to be heard alongside the Hammond and Mellotron. The material is OK, but quite simplistic, with more than a hint of '80s neo- (The Manticore Theme has more than a little IQ about it), although they had quite a pleasing lushness in places, helped along by largish helpings of 'Tron strings from both Erik Olsson and Ulf Holmberg.
Not only do most of the tracks feature 'Tron, but they feature a good bit of it; mostly strings, although the odd flute bit creeps through, and they start using the choirs more toward the end of the album. Not many specific highlights, although Future Is The Time (Hymn) is stuffed with choir chords, and does actually has a slightly hymnal quality to it.
This is actually more a Mellotron fan's album than one for the heavy-duty progheads amongst you. It's not bad musically, but it's rather predictable, and as with a few other albums I've reviewed lately, the digital synths serve only to diminish the overall sound. There is a lot of Mellotron, though, so maybe you'd prefer to judge it mainly on that front. For what it's worth, if you can ever track down the considerable rarity This is an Orange: A Compilation of Scandinavian Progressive Rock, there's a different version of The Maiden on it, with Mellotron this time.
See: This is an Orange
Diamond Head (1975, 42.26) ***½/½

Fontera
Diamond Head
Big Day
The Flex
Same Time Next Week
Miss Shapiro
East of Echo
Lagrima
Alma
Current availability:
Mellotron used:
Manzanera, is, of course, guitarist with art-rock gods Roxy Music, although that doesn't automatically qualify him to make solo albums, or shouldn't, anyway. Diamond Head is OK, but its greatest achievement is as probable inspiration for the superb British band of the same name. It's a bit of a mish-mash, musically, to be honest, veering between Spanish-vocal Latin rock (Fontera), funkyish stuff (The Flex) and more progressive material (Big Day, Miss Shapiro). Having hundreds of his mates play on it doesn't really help, giving the whole affair a lack of much-needed cohesion, although Roxy's Paul Thompson and (current) bassist John Wetton guest on most tracks.
Wetton's responsible for the album's only Mellotron interjection, a couple of string chords on Same Time Next Week, which really doesn't qualify it for 'Tron classic status... Not rubbish, but a long way from 'special', too.
See: Roxy Music | John Wetton
Maple Mars (US) see: Samples
Maplewood (2004, 44.31) **½/½

Indian Summer
Darlene
Gemini On The Way
Little Dreamer Girl
Santa Fe
Be My Friend
Bright Eyes
Morning Star
Sea Hero
Think It Through
Poconos
Carolina Jasmine
Desert Queen
Yeti Boombox (2009, 41.39) **½/½

Moonboot Canyon
Easy
Embraceable
Over Hills and Down the Hollows
What it is to Fly
North Shore Baby
Oust
Long White Ride
Desert Fathers
Last Yeti
Daughters of the Empire
This Town too Long
Current availability:
Chamberlin/Mellotron used:
Maplewood are a minor supergroup, comprising members of Nada Surf, Champale and the like, formed as an homage to '70s 'canyon rock': Bread, America and the like, to the point where the current lineup of the latter have both covered and collaborated with the band. Their eponymous 2004 debut is pleasant enough, although knowledge of their source material probably helps in its appreciation; frankly, it's all a bit wet for anyone who hasn't grown up with this stuff. Geoff Sanoff plays Chamberlin, with literally a couple of flute notes on Darlene; if there's anything else here, I haven't spotted it.
It took the band five years to follow-up, probably due to other commitments, with Yeti Boombox, more obviously slightly parodic than its predecessor, with titles like Moonboot Canyon and Embraceable. In all other respects, however, it's pretty similar to Maplewood, right down to only having one obvious track of tape-replay. Mellotron this time, from Mark Rozzo and Gerry Beckley, but did it really take two of them to play the flutes on opener Moonboot Canyon? Maybe there's more hidden away in the mix, but I've no idea where.
Anyway, two albums for soft-rock enthusiasts or irony freaks, but nothing to get too excited about unless you're a member of the David Gates fan club. Next to no tape-replay, either, for what it's worth.
If You Didn't Laugh, You'd Cry (2005, 41.28) ***/T

The Closer
The Hustle
City of Dreams
Fat Boy
Sooner or Later
Out of Tune
Demon of White Sadness
The Dishwasher's Dreams
Poor People
Walt Whitman Bridge
The Apartment
The Sooner or Later Interlude
A Christmas Kind of Town (2006, 39.07) ***/0

Intro-Curtain Rises
Christmas Time is Here
New York is a Christmas Kind of Town
Baby it's Cold Outside
Boozing it Up With Friends
Holly Jolly Christmas
Here We Come a Wassailing (#1)
Christmas Time's a Comin'
Let it Snow
Quithmith Pudding (Skit)
Counting the Days ('Til Christmas)
Here We Come a Wassailing (#2)
Silver Bells
Christmas With the Snow
Have Yourself a Merry Little Xmas
Handsome Santa
Auld Lang Syne
Here We Come a Wassailing (#3)
Outro-Curtain Call
Counting the Days, a Christmas Polka
Current availability:
Mellotrons used:
Garage-band Marah formed in the early '90s and spent several years 'paying their dues', releasing six albums in seven years before 2005's If You Didn't Laugh, You'd Cry. It sits somewhere in between Americana and rockabilly (not as different as they may seem), typified by The Hustle and The Dishwasher's Dreams. Kirk Henderson plays real-sounding Mellotron, with a flute line on City Of Dreams (it actually starts at the end of The Hustle, but is clearly meant to be part of the following track) and very background flutes on Demon of White Sadness.
They followed up in 2006 with a Christmas album (!), A Christmas Kind of Town, in a vague song/sketch/song format, full of ironic jollity - or maybe not? Anyway, reasonably good fun, although I can't imagine wanting to listen to it too often, even (especially?) at Christmas. Henderson's credited with Mellotron again, but I can't hear a thing; a mis-credit? So; two very different albums from the same band; I'd have to recommend If You Didn't Laugh... over the Christmas album, both for the music and the Mellotron.
Savage Sleep (1991, 29.46) ***½/T

Intro
Please Come Down
Love's Just Begun
How Much You Cry
Sickness
Can't Be Myself
Girl With No Name
You're Never Gonna Hold Me
Never Existed
You Don't Have to Cry
Lucifer Sam/Interstellar Overdrive
Adventures in Mutation (1995, 50.05) ***½/T½

Tear it Down
No One Understands You
A Little Piece of Heaven
Paradise
Aging Years
I Wonder Why
Bad Girl
Out the Door
Green Back Dollar
I Know Nothing
Instrumetal
Already Gone
Library of Alexandria
World on Fire
River in Your Mind
Goin' Somewhere
Current availability:
Both titles: out of print
Mellotron used:
Both titles: band's own M400
Named for a slang term for a cemetery, Marble Orchard were a Portland, Oregon-based psychedelic trio (sometimes quartet), who released their first single in 1990, going on to stick out several more singles, three albums and a handful of compilation appearances. Since their demise, drummer Steve "Froth" Frothingham has gone on to greater acclaim with the mighty Bigelf, keeping one facet of his old band's oeuvre alive.
Their debut (almost) long-player, 1991's Savage Sleep, is actually shorter than current releases I've seen described as 'EPs', but eleven tracks looks like an album to me... It betrays the band's superb pick'n'mix approach to the psych canon, opening with the backwards Intro before lurching into the chugging Please Come Down, Love's Just Begun is far more '60s Byrdsiana, Sickness is more Stooges, Can't Be Myself is surf-metal ... You probably get the picture. Best track? Whew... Storming early Floyd one/two Lucifer Sam/Interstellar Overdrive segue, perhaps? Froth doubles on his own Mellotron, although sadly only on one track, with strings on Please Come Down.
I haven't heard '94's Agent Invisible, but their swansong, the following year's Adventures in Mutation, is a heavier effort than their debut, their Byrdsian element relegated to a supporting role. Highlights include punkoid opener Tear It Down (could almost be The Damned) and Paradise's unusual twee-melody-over-garage-backing crossover, while Already Gone rocks like a bastard and the slow, trippy Library Of Alexandria is a serious contender for 'best track'. Froth's Mellotron is slightly more evident this time round, with flutes all over I Wonder Why, complete with a lovely solo part at the end and suitably Arabic strings on Library Of Alexandria.
Are Marble Orchard worth tracking down? I suspect they're one of those bands who need a really good compilation, although, given that said albums never fully satisfy anyone, maybe they just need a full reissue programme. Which would immediately be ripped by someone in South America and posted on a blog, potentially (note: only potentially) damaging sales. Suffice to say, both of these records are worth the effort for garage/psych fans looking for something new, all assuming you can track them down. Are they worth it for the Mellotron? Barely, frankly. I've no idea when I might be able to get hold of a copy of Agent Invisible; it was only ever released on vinyl, making it that much harder to copy, although I doubt whether the band had that in mind at the time, given that the Internet was still in its formative stages and CD-Rs still cost several pounds/dollars apiece. I suppose it may turn up on a download blog sometime, but '90s albums are often hard to find; too 'new' to be considered 'classic', yet simultaneously far too old to be in any way current. Oh well, odder things have surfaced. Incidentally, many thanks to Ian for providing my review copies.
See: Bigelf
Marbles (US) see: Samples
Marcelina (Poland) see: Samples
Rock Reflections (1977, 30.10) **½/T½

Who's Rocking the Boat
Out of Love
A Race at the Opera
Mersey Light
Essoldo Rock
Southern Comfort
Cry Mama Cry
Digger Jig
Nashville Nursery
Shortcut to Heaven
Ghostwriters in the Sky
Dee Blues
Shadow Boxing
Current availability:
Mellotron used:
Well, here's a first for this site: library music. I'm sure you all know what it is, but just in case, library music, a.k.a. production music, is music recorded specifically for broadcast use, with the performers and frequently the composers waiving all rights to various royalties. Most performers are anonymous sessioneers, although I believe some higher-profile names have dabbled over the years, not least über-guitarist Gordon Giltrap. While some of this stuff has a cult following, not least 'crate diggers' looking for a previously-unheard breakbeat, it has to be said that the bulk of it falls into the 'half-arsed background music' category, of little use to man or beast.
I can't say I know an awful lot about Steve March. One report has it that he's the son of legendary US jazz singer Mel Tormé; Tormé had a guitarist son called Steve, whose website refers to him as 'Steve March Tormé', although it seems more likely he's a British session player. Whoever he is, he recorded a library album in 1977 called Rock Reflections, and while less bland than some, the bulk of it's a fairly pointless listen, consisting largely of pastiches of well-known songs backed by the dullest drummer in the world. March's own contributions are reasonably feisty, but the material's tedious enough to overwhelm any positive feelings you may develop for his style. Who's Rocking The Boat (ho ho) is a Pinball Wizard rewrite, Ghostwriters In The Sky (ho ho again) is The Shadows and Nashville Nursery is country-by-numbers, leaving A Race At The Opera (ho ho once more) as the album's most ambitious piece, with March taking on Queen's Brian May in the multiple-guitar harmony department, although his approach, er, is rather lacking in the finesse department.
The unknown keyboard player (March?) adds Mellotron to a handful of tracks, with phased strings on Out Of Love and more normal ones on Shadow Boxing, his most upfront use being on Ghostwriters In The Sky, with some high-in-the-mix flutes that leave you in no doubt as to what you're hearing. Well, I may never review another library record, or I may suddenly tap into a seam of Mellotron Madness in the library; who knows? You're unlikely to find this album very easily, and I have to say that you really shouldn't be that bothered; more of a curio than a genuine musical experience, with only a little Mellotronic input.
Márcia (Portugal) see: Samples
Marcus (1976, 43.23) ****/TT

Black Magic
Salmon Ball
Kelly
Gypsy Fever
Pillow Stars
Highschool Ladies Streetcorner Babies
Dream Wheel
Rise Unto Falcon
Current availability:
Mellotron used: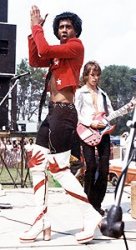 Marcus were one of those 'one-off' American bands from the mid-'70s, signed by a major (UA in this case), then not selling enough albums to be retained. Unlike most of the rest, though, Marcus had a secret weapon that you would've thought would ensure a little more longevity: Marcus Malone, a black guy with a great voice (rare live shot right), who was perfectly happy singing rock. Marcus is a damn' good album, although it is a little 'of its time' (particularly with regard to the frequently sexist lyrics), I suppose; largely mid-paced hard rock, with much duel-lead work from the three guitarists and the sort of song structures that were (sadly) just about to go out of fashion.
The album's credits are odd, to be honest; only the vocalist, guitarists and drummer are mentioned, with Cactus' Tim Bogert guesting on bass on a couple of tracks, with no mention of who played the rest of the bass or any of the keyboards. There's a nice synth solo on opener Black Magic, then, of course, some Mellotron on a couple of tracks. Kelly is the album's ballad, with some good flute and strings work, and there may be a tiny burst of choir at the end of Gypsy Fever, but the album's piéce de resistance is its final track, the superbly-titled Rise Unto Falcon. This is a real epic hard rock classic; great arrangement, excellent guitar work, Mellotron flutes and strings to die for. Brilliant.
Finally available on CD, pick this up if you see it. Probably not actually 'classic', but well worth hearing, and some nice 'Tron to boot.
My Soul (2003, 52.52) *½/T

Lonely
I Give, You Take
My Soul
Nowadays
Coffee in Bed
You, Me and She
Interlude (Dreams From the Hills)
Intoxicated
Weakness
Always
Simplified
Hate to Love You
Miss You
Current availability:
Chamberlin used:
Maria (Jensen) is a Danish-born R&B singer, although she apparently 'grew up in different parts of Europe', so I presume she isn't based in her country of birth. Anyway, her sole album to date, 2003's My Soul, is as tepid a slice of entirely unoriginal R&B as you can imagine (least crummy track: Simplified) with only one even slightly redeeming feature. You've guessed it...
Patrick Warren plays Chamberlin on two definite tracks: the brief Interlude (Dreams From The Hills) is essentially a Chamby strings solo spot and there's a flute part on Simplified. Possibly more, but you know, it's a Chamberlin... Awful album, but one good instrumental Chamby highlight.
Visions From Out of the Blue (1981, 37.32) ***½/TTTTT

Out of the Blue
The Change is Gonna Come
Human Race, Human Race
The Man From Another Planet
Prelude
Magical Man
Ace Deuce
Someone Told You a Story
Current availability:
Mellotron used:
Boston area-based Marianus was a solo artist, as against a band and obscure enough that I can't tell you an awful lot about him, other than that 1981's oddly-titled Visions From Out of the Blue was probably his sole release. Musically, it's a real stylistic hodge-podge, the uncohesive whole being held together chiefly by Marianus' extremely mannered vocal style; think: Pavlov's Dog's David Surkamp detuned and fed through a tremolo effect, if that gives you some idea. The nearest it gets to an overall style is Pavlov's/Styx-esque pomp, epitomised by the Prelude/Magical Man one/two and superb six-minute closer Someone Told You A Story, although opener Out Of The Blue is vaguely glammy, Human Race, Human Race is sequencer/synth-driven, with 'playground chorus' backing vocals and Ace Deuce is a quirky pop/rock effort. Confused? So, by the sound of it, was Marianus.
Having heard a snippet of this album (probably Prelude) on a mixtape-style CD-R years ago, I've been looking forward to tracking a copy down, while hoping it wouldn't be a disappointment. Oh no... Marianus plays the Mellotron himself, with 'lead strings' parts on most tracks, notably The Change Is Gonna Come, Human Race, Human Race, The Man From Another Planet and Magical Man, with choirs added to the mix on Prelude, Magical Man and Someone Told You A Story for good measure. You know when you hear about semi-legendary, ridiculously Mellotron-heavy albums that no-one's ever heard? Well, I've just heard one. Now this has FINALLY turned up on download blogs, let's hope it stays there for long enough for you lot to grab it, or even (wait for it) gets an official CD issue. Does anyone put anything out on CD any more? Can anyone afford to? What about a WAV-quality download? Anything? Please? The music's good, but the Mellotron's magnificent. Not a disappointment.
Elementary Seeking (2006, 53.33) **½/T

It Hurts
Absolutely Entertaining
The Promise
I Got a Light
Don't Get Lost
Free Now
I Say
Have You Ever
Alive
Nervous
Further Deeper Closer
Gravity
Sir, What's Your Name?
Grey is Bright
Brave Confession
Current availability:
Mellotron used:
German singer Mariha released her debut album, Elementary Seeking, in 2006, possibly best described as adult pop (isn't that any oxymoron?); it's certainly far more mature than your typical teenage fare, anyway. To be honest, unless you go for her relatively lightweight sound, you're not going to get much out of this; it hardly rivals, say, The Beach Boys for complexity, but then, it's probably not trying to.
Christian Fleps plays Mellotron, with flutes on opener It Hurts, Free Now and Alive, while Christian Decker adds flutes to Sir, What's Your Name? There's another version of the album, released later the same year, titled Elementary Seeking Revisited; aside from two bonus tracks, I have no idea what the difference is, if any - it certainly has the same four 'Tron tracks. Anyway, good at what it does, but not my bag at all; the Mellotron tracks are pretty feeble, too.
| | |
| --- | --- |
| Marillion (UK) see: | |
The Family Jewels (2010, 45.27) **½/T

Are You Satisfied?
Shampain
I am Not a Robot
Girls
Mowgli's Road
Obsessions
Hollywood
The Outsider
Hermit the Frog
Oh No!
Rootless
Numb
Guilty
Electra Heart (2012, 46.54) *½/½

Bubblegum Bitch
Primadonna
Lies
Homewrecker
Starring Role
The State of Dreaming
Power & Control
Living Dead
Teen Idle
Valley of the Dolls
Hypocrates
Fear and Loathing
Current availability:
Mellotrons used:
Marina Diamandis, of Welsh/Greek extraction, uses her professional nom de plume Marina & the Diamonds (from her surname) not in reference to her backing band, but her fans, apparently. Her debut album, 2010's The Family Jewels, is a not-too-appalling collection of new wave-ish pop, veering between pseudo-electro numbers and ballads, like a less irritating Lily Allen, maybe, nowhere near as bad as it might be, which isn't actually a recommendation. Liam Howe plays (real?) credited Mellotron, amongst other things, with background strings on opener Are You Satisfied?, alongside real ones, nothing obvious on I Am Not A Robot, faint string parts on Obsessions and Hermit The Frog, plus flutes on the latter and again, nothing obvious on Numb.
2012's Electra Heart is essentially more of the same, only a good deal less so; while its predecessor didn't overly appal me, this album had me reaching for the 'next' button on every track bar the relevant one. Speaking of which, Howe returns on supposed Mellotron, with naught but a couple of faint string chords on closer Fear And Loathing, which really don't strike me as genuine at all, frankly.
In other words, two modern pop albums, the first a lot better than it might be and the second a lot less, with little Mellotron. Maybe not.
Glass Floor (2004, 45.02) **/T

The Window is the Door
Sleep Around
Someone Has to Die
King of Doves
We've Got to Get Out
James
A Night Like This
Souvenirs
Adios
I'm Not Afraid
If All My Days Go By
Lights
Human Beings
Current availability:
Mellotron used:
Maritime coalesced out of two other bands, then mutated again before reaching their final (so far) form. 2004's Glass Floor (presumably as opposed to ceiling) is their first full album, after the preceding year's Adios EP and I have to say, you'd be hard-pushed to find a wetter record. Actually, you probably wouldn't, but I'm trying to convey the album's deep, abiding wetness; its wussy, badly-strummed guitars, its wetly-sung, insipid, cliché-ridden lyrics, its fake emotion... If you're thinking, "He doesn't like this album much, does he?", you'd be absolutely right. Flaccid indie nonsense, although, in fairness, I've heard worse.
Although string sounds crop up a few times, I suspect the bulk of them are the credited real violin and cello used in tandem. However, David Durst's Mellotron strings appear on Souvenirs, although, as so often, whether or not they're real is another matter entirely. Overall, I can't say I particularly care, and I wouldn't advise you to, either, as that might mean listening to this drivel.
Self Help Serenade (2004, 54.26) */T

Don't Believe
Halfway House
Empty Room
Stare
How Can You Laugh
Waves
Please Don't
Cracks in the Wall
Stand in the World
Hold on to You
Silver Gun
My Sun is Setting Over Her Magic
Current availability:
Chamberlins used:
Jon Brion & Patrick Warren's M1s
Marjorie Fair are... well, what are they, exactly? Utterly insipid, that's what. Their sole album (to date... don't get all complacent), 2004's Self Help Serenade, given that they've been compared to The Beach Boys (HOW!?) is about as wet as it's possible to get without falling off your surfboard. On the rare occasions when the music picks up slightly (notably on Waves), it's ruined by bossman Evan Slamka's horrible, soggy voice and painful lyrics. I mean, how can ANYONE write a song called My Sun Is Setting Over Her Magic and expect to be taken seriously? Maybe he doesn't. Maybe that's the whole point. Maybe the joke's on me. Doubt it, though.
Well, somebody believed this lot were worth spending money on (hey, never underestimate the general public's stupidity), bringing in both Jon Brion on Mellotron and Patrick Warren on Chamberlin, amongst many other major sessioneers. The drippy production (do you notice a preponderance of aquatic analogies here, dear reader?) hides both under waves (there I go again) of mush, although a strings swell in Empty Room and slightly more obvious parts in Please Don't (OK, if you insist) and Stand In The World (whatever the hell that's supposed to mean) are likely to be one or the other.
God, this is crud. There, I've said it. What a dreary, flaccid piece of shite. Despite the vaguely audible tape-replay here and there, please don't even think about picking this up. In fact, please don't even think about taking it if someone gives it to you, or even pays you to take it away (perfectly possible). Horrid.
Absolutely Positively (1993, 59.21) *½/T

Absolutely, Positively Friends
The Party's Over
Next Time You See Johnny
Make it Right
Soul Reviver
Single-Minded Love
Friends
Turn My World Around
White Dress
Right Where You Are
Running on Love
Like a Father Should Be
I'll Be a Friend to You
I Give it All to You
Current availability:
Mellotron used:
Kenny Marks is a Christian artist, which may well bring out a Pavlovian reaction in yourself; I know it did in me... His album, 1993's Absolutely Positively doesn't start too badly, like a clean-cut John Mellencamp, maybe, with opener Absolutely, Positively Friends' rootsy, Hammond-driven approach, but it all goes down the shitter soon enough, with drivelly God-bothering ballad after drivelly God-bothering ballad. Worst offender? Possibly White Dress, for its particularly puke-inducing, sentimental lyric. The nearest it gets to 'good'? Absolutely, Positively Friends and the punchy AOR of Running On Love, but it's pretty slim pickings...
John Mark Painter does his usual Christian Mellotron thing, with flutes on closer I Give it All To You, although it's nowhere near enough to redeem the song, which is another bucket of slop. You weren't even thinking about buying this, were you? Good.
The Electrical Morning (2007, 52.48) **½/½

Shout
Silence (in This Area)
Walkin' in Soho
Mind the Gap
Hold Me Tight
Never Trust Me
I Do
Sink Down to Me
Who is Me?
Every Now is Past
Not Without You
Dance! Dance! Dance!
Shiny Fish
Hold Me Tight
Current availability:
Mellotron used:
I've rarely heard a Spanish band sound less Spanish than Marlango; initially described as 'smooth jazz', by their third album, 2007's The Electrical Morning, 'jazzy indie with a hint of Tom Waits' might be more appropriate. It clearly does what it sets out to do, although I have no affinity with their style myself; the only track which catches my ear at all is the brief Rhodes-and-vocal Shiny Fish.
Alejandro Pelayo plays Mellotron on I Do, with a background cello line that may not have ever been anywhere near 35 strips of tape; it's too low in the mix to tell for certain. So; one for sophisticates, or at least, people who like to think they are. With next to no Mellotron, how can I possibly genuinely recommend this?
Marlene Kuntz (Italy) see: Samples
Reflections of the Marmalade (1970, 34.02) **½/T½

Super Clean Jean
Carolina in My Mind
I'll Be Home in a Day or So
And Yours is a Piece of Mine
Some Other Guy
Kaleidoscope
Dear John
Fight Say the Mighty
Reflections of My Life
Life is
Current availability:
Air Mail Archive; all tracks also on Rainbow: The Decca Years (2000)
Mellotron used:
(The) Marmalade were Scotland's most successful pop group prior to The Bay City Rollers' massive (and rather inexplicable) success in the mid-'70s. Their biggest hit was with a Beatles song, Ob-La-Di, Ob-La-Da; they were principally known for their singles rather than their albums, as was and is the way with mainstream pop groups. Go on, name a Spice Girls album. I dare you. OK, Spiceworld. Now name another. Er...
[Moving swiftly on...] As a result, 1970's Reflections of the Marmalade was only their second long-player, and the semi-title track was the only single, or at least hit. To be honest, it's a rather ordinary pop album of its time, with country influences on a few tracks, presumably as the band attempted to become more 'serious'. They finally do something different on Kaleidoscope, a psych-lite number featuring a brief Moog break (like a tea break, but with Moog), with more of the same on Fight Say The Mighty, complete with experimental cymbal work. No, really. Reflections Of My Life has a nice backwards guitar solo from William "Junior" Campbell; a huge hit, it's definitely one of the best tracks here, although that's no great recommendation, frankly.
Mellotron from some anonymous session muso, presumably, with pseudo-orchestral strings on the country-flavoured Carolina In My Mind, although the ones on I'll Be Home In A Day Or So are real. The only other 'Tron track is And Yours Is A Piece Of Mine, with strings and something woodwindish. My theory, given when this was recorded, is that an M300 was used, explaining the unusual string sound and the woodwind, presumably the M300's clarinet. Anyway, a far from jaw-dropping record, although assuming my theory's correct, a rare non-BJH UK example of the M300 in action.
Marmalade Souls (Sweden) see: Samples
It Won't Be Soon Before Long (2007, 40.33) *½/½

If I Never See Your Face Again
Makes Me Wonder
Little of Your Time
Wake Up Call
Won't Go Home Without You
Nothing Lasts Forever
Can't Stop
Goodnight Goodnight
Not Falling Apart
Kiwi
Better That We Break
Back at Your Door
Hands All Over (2010, 40.26) */½ (T½)

Misery
Give a Little More
Stutter
Don't Know Nothing
Never Gonna Leave This Bed
I Can't Lie
Hands All Over
How
Get Back in My Life
Just a Feeling
Runaway
Out of Goodbyes
[various versions' bonus tracks include:
Last Chance
Never Gonna Leave This Bed (acoustic)
Misery (acoustic)]
Current availability:
It Won't: Polydor
Hands: A&M/Octone
Mellotrons used:
Both titles: band's own MkVI
[Coughs, metaphorically sharpens metaphorical Pencil Of Bile] Maroon 5, eh? Ever hear 2002's Songs About Jane? No? How d'ya miss the bastard? One of the most truly horrible mainstream pop/rock bands coughed up in the 2000s, along with bloody Coldplay, their sound triggers all those murderous impulses you thought you'd left behind you. Er... Anyway, their belated follow-up, 2007's It Won't Be Soon Before Long (what the fuck's that supposed to mean, then?), is utterly vile; an appalling mish-mash of mainstream pop, indie and funk-lite that leaves a very nasty taste in the mouth. The only time it livens up at all is on the Latin punk (!) of Can't Stop, although Mr. Lydon's uber-sarcastic "We mean it, maaan..." could've been written for Maroon 5.
Keyboard player Jesse Carmichael appears on Mellodrama: The Mellotron Movie, sadly, making a complete tit of himself as he strokes his MkVI and talks about how he 'wants to paint farm animals on it, or maybe a space scene'. Twat. Try leaving it alone, so that when you get bored with it and sell it on, its new owner won't have to undo your stupid work. Anyway, it crops up here and there on the album, with background strings on Won't Go Home Without You, flutes on Goodnight Goodnight (the strings appear to be real) and strings on Not Falling Apart, although it sounds like more real ones on closer Back At Your Door.
If you think that's bad, you clearly haven't heard the utter horror that is 2010's Hands All Over; by their own admission, it's (allegedly) "...a killer hybrid of rock, pop, funk and R&B", which is every last little bit as gruesome as that sounds. Veteran producer Robert "Mutt" Lange (remember, this man has produced AC/DC) whacks Autotune all over (Autotune All Over?) several tracks, with the band's last pathetic vestiges of rock ruthlessly expunged from the album's ultra-ultra-slick sound. No, I didn't like it. Carmichael's MkVI turns up on a handful of tracks on the 'standard' version, with strings on Stutter (one standalone note near the end), How and Get Back In My Life, plus more strings on Last Chance, cellos and flutes on the acoustic version of Never Gonna Leave This Bed and flutes on the acoustic Misery, all from the deluxe/iTunes version (I believe this is standard practice these days).
You absolutely, totally and completely do not need to hear these albums. They stink. The only reason It Won't Be... gets as high (!) a rating as it does is that the producer manages to avoid Autotune, or any other crummy R'n'B trope, sticking to the lightest of white-boy indie pop/rock, which cannot be said for its successor. Very little Mellotron and the music's horrible. You know what you have to do.
See: Mellodrama
¿Quién te Cantará? (2003, 41.04) *½/T

Tómame o Déjame
Noche de Copas
Incondicional
¿Quién te Cantará?
Tengo Todo Excepto a ti
Rómpeme, Mátame
Acaríciame
Culpable o No (Miénteme)
El Primero, el Único, el Último
Enamorada
[Bonus track:
El Primero, el Único, el Último (versión pop)]
Current availability:
Chamberlin used:
It seems Edith Márquez began her career as a child star in Mexico City, releasing her first album at the age of fourteen. I couldn't tell you about any of her others, but 2003's ¿Quién te Cantará? is supremely schlocky Latin pop, all big ballads and pounding Spanish-language AOR; would you like extra cheese with that? Y'know, this is almost above criticism; Latin pop for a Latin audience. It does its job, and it does it well, it just does it in a truly horrible way. So what were you expecting? Slayer? Hell, I'll give it *½ anyway, just for the beyond-pain listening 'experience'.
Good old Patrick Warren plays Chamberlin, making me think the album was probably at least partly recorded in the States; listen to the country fiddle on Rómpeme, Mátame, bizarrely juxtaposed with the orchestra... Anyway, Warren plays flutes on the title track and Tengo Todo Excepto A Ti, and while it could be elsewhere, I'm sure all the album's strings are real. Slushy Mexican balladry, anyone? Thought not.
De-Loused in the Comatorium (2003, 60.56/67.59) ****/TT

Son et Lumiere
Inertiatic Esp
Roulette Dares (the Haunt of)
Tira Me a las Arañas
Drunkship of Lanterns
Eriatarka
Cicatriz Esp
This Apparatus Must Be Unearthed
Televators
Take the Veil Cerpin Taxt
[UK CD adds:
Ambuletz]
Frances the Mute (2005, 76.57) ****/TT½

Cygnus....Vismund Cygnus
Sarcophagi
Umbilical Syllables
Facilis Descenus Averni
Con Safo
The Widow
L'Via l'Viaquez
Miranda That Ghost Just Isn't Holy Anymore
Vade Mecum
Pour Another Icepick
Pisacis (Phra-Men-Ma)
Con Safo
Cassandra Geminni
Tarantism
Plant a Nail in the Navel Stream
Faminepulse
Multiple Spouse Wounds
Sarcophagi
Octahedron (2009, 50.03) ***½/T

Since We've Been Wrong
Teflon
Halo of Nembutals
With Twilight as My Guide
Cotopaxi
Desperate Graves
Copernicus
Luciforms
Current availability:
De-Loused/Frances: Universal
Octahedron: Warners
Mellotron used:
All titles: band's own M400?
The Mars Volta's debut album, De-Loused in the Comatorium, seems to have polarised people; many fans of the band they grew from, 'emo' kings At The Drive In, are appalled at their 'prog pretensions', while those of a slightly more open-minded bent have welcomed it with open arms, pretensions and all. The sound? Something like a hardcore outfit who've just discovered prog, I suppose. The only specific influence I can spot is the mighty King Crimson, particularly on longest track Cicatriz Esp (or should that be 'ESP'?), but this should appeal to anyone into challenging rock; this is absolutely not some cosy prog project, adhering to all the usual clichés. The band aren't afraid to go off at a tangent; in fact, I'd say they revel in it. Oh, if you're still not convinced, both Flea and John Frusciante of The Red Hot Chili Peppers play on the album, with Flea playing all the bass parts. Or has that put you off? Anyway, there are no keyboards credited on the album, so I've no idea who plays the Mellotron, but there's a lengthy polyphonic flute part on Roulette Dares (The Haunt Of), and some half-buried strings on Eriatarka, while Take The Veil Cerpin Taxt has a full-on solo 'Tron strings part in the middle, sounding cranky enough to be the real thing, although it's distinctly possible it's samples.
Two years on, and they've come up with Frances the Mute, which seems to have a concept even more impenetrable than De-Loused in the Comatorium, if that's possible. It could be just a fraction less eclectic than their debut, or maybe it's just that after the shock of that record, they're not going any further out on a limb, but it seems to be ever so slightly less exciting and innovative; too much of a good thing, maybe? Anyway, confusing track markers, with Cygnus....Vismund Cygnus and Miranda That Ghost Just Isn't Holy Anymore's various parts programmed as one track, but Cassandra Geminni's five parts spread over eight tracks. Huh? Anyway, more Mellotron than before, assuming it's real, alongside the string section employed on some tracks. I was wondering if the strings were all real, until a second listen confirmed that unmistakable 'Mellotron sound'; it sounds like flutes on the third part of Cygnus..., Facilis Descenus Averni, too.
I've had their fifth release, 2009's Octahedron, down as 'sampled' for some time, but an online interview with hand percussionist/keys man Marcel Rodríguez López (younger brother of lead Volta Omar) actually names the band's Mellotron (#863, for what it's worth) and I have to say, it sounds pretty real on the record... The album itself is less full-on than their early work, which isn't to say they've slackened off on the intensity front, they're just a little more quietly intense these days, although closer Luciforms' huge build-up to the album's climax gives the lie to that particular theory. Marcel plays Mellotron strings on opener Since We've Been Wrong and Desperate Graves, with a fairly upfront part on the latter, which I think we can probably now assume is real.
So; one great and two very good albums, which I'm certain will not only bear repeated listening, but should improve with each hearing. Buy.
See: Omar Rodríguez López
J J Marsh (Sweden) see: Samples
The Fragile State of Inbetween (2008, 47.44) ***½/TTT

Can't Stop the Dreaming
Don't Break Your Heart
When All's Done
All Light Fades
Lit By Night
I Watched, as You Disappeared
Liquorice Kiss
As I See You There
Undone
Spoken
Dulcima (2009, 53.02) ***½/TT½

In the Afterglow
The Frightened Souls
Divide in Silence
Nine Times Beautiful
The Safety of All You Know
You'll Never Fall
Surrendered
In Dark, in Light
Decameron: Ten Days in 100 Novellas, Part 1 (2011) ****/TT

[Rhys Marsh contributes]
In Deceit They Play
Current availability:
Both titles: Termo (Norway)
Decameron: Musea (France)
Mellotrons used:
Fragile: Anekdoten's M400/one or more of Mattias Olsson's M400s
Dulcima: one or more of Mattias Olsson's M400s (others?)
Rhys Marsh is a UK ex-pat living in Norway, whose debut, 2008's The Fragile State of Inbetween, is a cross between a gentle singer-songwriter effort and a '60s-inspired pop album, the brass (admittedly, not exactly full-on Motown) on When All's Done giving an almost Burt Bacharach feel to the proceedings. Most of the album (with the exception of a loud section in Liquorice Kiss) being melancholy, even mournful in places, with a strong symphonic element apparent on several tracks. Mattias Olsson (Änglagård/a million others) plays Mellotron strings and choir on Don't Break Your Heart and a major flute part on All Light Fades, while Anekdoten's Niklas Barker adds strings to Lit By Night, vibes and strings to I Watched, As You Disappeared and high cellos, strings, an unidentified woodwind (and viola?) on Undone, making for a most satisfying Mellotronic experience.
The following year's Dulcima is, as Marsh puts it in the sleevenotes, 'not very quiet'. It actually sounds like an Änglagård/Anekdoten hybrid, with more of a folk influence, although I'd be most surprised if he hasn't heard Dead Can Dance and other, more recent darkwave outfits too. Unsurprisingly, the album's at its most 'progressive' on its longest tracks, the vaguely Arabic Nine Times Beautiful, The Safety Of All You Know and epic closer In Dark, In Light, although there's a prog thread running through the whole album, alongside its gothier aspects. Marsh and Änglagård/a million others' Mattias Olsson play the 'Tron, although Wobbler's Lars Fredrik Frøislie restricts himself to other analogue noisemakers. Anyway, Olsson plays the strings on In The Afterglow and Nine Times Beautiful, plus the flutes on You'll Never Fall, while Marsh adds strings to The Safety Of All You Know and strings and cellos to Surrendered and In Dark, In Light, as far as I can work out. The strings on Divide In Silence don't sound Mellotronic, but the credited violin and cello are only on two other tracks, so I've no idea what they are, I'm afraid.
All in all, two pretty decent releases, although maybe a touch overlong, given their mildly despondent overall mood. Plenty of Mellotron, although it's used tastefully and kept in check; maybe sometimes too in check. Recommended anyway.
Here's Gene Marshall (196?, 37.28) *½/TTT½

Keep Talking Baby
One and Only One
He Understands and Cares
Two Hearts One Dream
Blue Memories
Love at First Sight
The Boy in Love
I'm on My Way to Success
No Place to Go
My Beautiful Star
A Tender Touch
Give Me Your Heart Today
I Miss You So
Let It Be Honey
Lift Every Voice
I Make Believe Iím With You
I Will Never Know
Where Does a Dream Go?
The Moods of Gene Marshall (1969?, 41.11) *½/TTT½

Blues
Tonight
A New Beginning
In Memorial
When it's Springtime in Oklahoma
We've Been Strangers Too Long
One After Another
Bobby
Just About All
This Change of Heart
Hiding Place
That Smile
I Was Only in Your Way
Forever
The Glow of a Rainbow
My Aching Heart
Don't Ask Me Why
You Little Doll
A Little Quarrel
Holding Hands Under a Table
Current availability:
Both titles: not on CD, thankfully
Chamberlins used:
It seems Gene "Marshall" Merlino is regarded as one of the gods of the song-poem genre, along with the legendary Rodd Keith; if you don't know anything about song-poems, have a quick scout about on the 'Net and despair. Remember those 'have your song recorded by professionals!' ads? Them. On the undated Here's Gene Marshall, his smooth crooner tones deal admirably with the junk he was sent, although the accompaniment is rarely better than perfunctory, the jaunty I'm On My Way To Success (oh no you're not) possibly excepted. The only other not-utterly-appalling effort is the standard country ditty No Place To Go, but I really wouldn't take that as any kind of recommendation. This is so low-budget that no-one bothered to even put a copyright date on it, but it seems it's an early release on the Preview label, so it's probably mid-to-late '60s.
...And the reason this is here? Chamberlin. Lots and lots of Chamberlin. Every bloody track, in fact. Chamberlin strings doubling for real ones wherever you look, bolstering up the sloppy rubbish people wrote back then (he says, naïvely, thinking anything's changed), plus a flute lead opening the album on Keep Talking Baby and male voices on He Understands And Cares. I've no idea who played it and probably never will, but it competently stands in for several expensive musicians in a clear violation of MU rules. So why not a higher T rating? Because after a few tracks, you wish it would stop. Yes, really. It sounds enough like cheesily-arranged real strings that any benefit gained from its tape-replay status is lost due to what it's actually playing.
Due to a serious lack of bio/discographical information on the estimable Mr. Marshall, it's unknown whether or not The Moods of Gene Marshall was his immediate follow-up. My source (hi, Mark) reckons it's probably from 1969, largely due to the especially bad lyrics to Bobby, clearly about Robert F. Kennedy, assassinated in mid-'68. Musically, the album starts off slightly less awfully than its predecessor, but quickly slips into the same slough of despond, sickly-sweet ballads alternating with, well, more sickly-sweet ballads, most of the lyrics concerning the age-old topics of love, love and more love. Once again, Chamby strings on every track; once again, they quickly become unlistenable, due to the universally cheesy arrangements.
Here's Gene Marshall is easily downloadable, should you actually be sick enough to gain any pleasure from this kind of stuff, although its successor is rather harder to find. Yeah, occasionally the lyrics tip over into 'surreal' territory (I Will Never Know), but is that really enough? For some people, the answer appears to be 'yes'. Are eighteen tracks of Chamberlin strings enough to make you want to hear this? In which case, you know what to do...
---