---
Deeper: The D:finitive Worship Experience (2001, 133.56) **½/½

Did You Feel the Mountains?
I Could Sing of Your Love
Forever
I've Found Jesus
I'm Not Ashamed
Deeper
Lord, You Have My Heart
Sanctify
Not Forgotten
Shout to the North
History Maker
Follow
All the Way
Kiss Your Feet
Happy Song
Come Like You Promise
Revival Town
Hands of Kindness
Find Me in the River
Jesus' Blood
King of Love
Message of the Cross
Oh Lead Me
Obsession
Thank You for Saving Me
What a Friend I've Found
Touch (2002, 42.44) ***/T

Touch
Love is the Compass
Fire
Alien
Angel in Disguise
Rollercoaster
Show Me Heaven
Take Me Away
Waiting for the Summer
Stealing Time
Current availability:
Mellotrons used:
One from Nick Hewitt
Before you take one step further, read the first paragraph of the review of The Prayer of Jabez, THEN come back here, using your 'Back' button.
Well, this is a surprise - CCM (Contemporary Christian Music) that sounds nothing like CCM! If I wasn't so indifferent to all things Christian, I'd say, "More, please". Seriously, as CCM goes, this is quite acceptable to ordinary punters, provided, of course, you ignore the lyrics. There again, the reason why it's not 'pure' CCM is that they have been copying styles!
From what I can gather from the poor liner notes on the CD, Delirious? (yes, the question mark IS part of the band name) are British, and have been on the go since at least 1994, when they called themselves The Cutting Edge Band, but I suspect that there is a Canadian input to them somewhere. They have made, up to the point of the release of Deeper, 7 CDs of uncertain quantity & quality. Even having heard nothing of these 7 CDs, and knowing even less about the band, I suspect that Deeper, a double CD, is a compilation, as they re-mixed or re-recorded 4 of their previous songs, add a new song and complete the set with 20 oldies. All of their songs are self-penned, lead singer and rhythm guitarist Martin Smith [Ed: not THAT one!] contributing over 80% of the material. The CD Touch, catalogued in Andy's Album List, probably came out immediately after Deeper. I'll review it IF (and only if) my wife buys it - I won't! I've got better things to do with my money! [Ed: See below]
It's difficult to categorise how Delirious? fits into the "Rock Spectrum" (if that's possible), as it is quite varied by any standards. Not Forgotten sounds very U2-ish, but then dives off into a typically full-on, choir-like, 'happy-clappy' "We rejoice in you, Lord" (so common of CCM) before returning to the U2 style. There's even a pseudo-bluegrass track (Happy Song), and a few other tracks are clearly imitating the style of other 'rock' bands (The Doobie Brothers, Stone Roses and Sisters of Mercy can certainly be heard). The actual musicianship is quite good - they know their stuff, and the song writing is acceptable (lyrics excepted, of course). Ditch the Christian aspect, and they could make it big. (Why not? Harry Webb got away with it for 40-odd years, AND he got a bleedin' gong along the way!) However, one point off their credibility chart for the use of a didgeridoo on Did You Feel The Mountains? I know Rolf Harris did an obscene cover of Led Zep's Stairway To Heaven, but this is out of order!
Mellotron is there, though it's as rare as Satan at a revival meeting. No specific credit for the 'Tron is given, but one Tim Jupp is credited as keyboard player. There is a possibility that Chuck Zwicky plays the 'Tron, as, according to Andy (the good Mr. Thompson to you), Chuck plays 'Tron on Touch (see above) [Having said that, Mr. Zwicky does get a credit - for some of the insert photography!] I Could Sing Of Your Love Forever has got a single chord of something indefinable in the middle of the song. I've no idea what it is, but it's there - no question. Follow appears to have low pitched flutes following the song vocal melody, then is reprised a little later. Kiss Your Feet also has something at the beginning of the track, but then gets buried by a combination of a String Synth AND a string orchestra.
Overall, the music is quite varied, covering a range of styles. This won't appeal to some of you, but I don't have a problem with that. Musicianship is excellent, though a lot of work in the production must have helped. Best track is Jesus' Blood on Disc 2 - the music is VERY non-CCM. The musicians know their instruments and what to do with them. DO NOT, however, buy this CD for 'Tron. There isn't enough to make that worthwhile.
Since Nick submitted the above review, I've obtained a copy of Delirious?' follow-up, 2002's Touch, and it seems to be pretty similar to its (compilation?) predecessor, being a mix of various 'modern rock' styles. It's actually largely inoffensive; even the lyrical content isn't too oppressive, which is something you can't say too often about CCM albums, and closer Stealing Time creates a genuine atmosphere over the course of its near-eight minute length.
Co-producer Chuck Zwicky plays Mellotron on three tracks, with rather un-Mellotronic strings on Love Is The Compass, actually quite Mellotronic flutes on Rollercoaster, although nothing obvious on Waiting For The Summer, making this a(nother) bit of a 'don't bother' on the 'Tron front. However, 'not actively offensive' must make this one of the most listenable CCM albums I've heard so far.
Official site (should you feel the need)
7" (1972) ***/TT½

Jesahel
King's Road

Lo Scemo e il Villaggio (1972, 37.27) ****/TTTT½

Villaggio
Tremori Antichi
Gioia, Disordine, Risentimento
La Mia Pazzia
Sogno
Dimensione Uomo
Culto Disarmonico
Pensiero per un Abbandono

Delirium III: Viaggio Negli Arcipelaghi del Tempo (1974, 34.51) ***½/0

Il Dono
Viaggio Negli Arcipelaghi del Tempo
Fuga N.1
Dio Del Silenzio
La Battaglia Degli Eterni Piani
Un Uomo
Viaggio N.2
Ancora Un'Alba
Current availability:
All titles: on '71-'75: Warners
Mellotrons used:
All titles: band's own M400?
Delirium (not to be confused with any other band of the same name)'s first album, Dolce Acqua, was pleasant enough folk rock, if a little uninspired, but they were moving towards getting the mixture right by '72's Jesahel single and its jazzy flip, King's Road (had this lot been to London?). Mellotron on both tracks from Ettore Vigo, with repeating strings chords on the 'A' and brass and major string parts on the other side. Both tracks are available on 2005's '71-'75, which appears to fit the band's complete works onto a two-CD set.
The same year's Lo Scemo e il Villaggio has a far more Jethro Tull-influenced sound, with distinctly Anderson-like flute leads. The band led a dual existence, juggling non-album commercial hits with their more serious LP material and the occasional leak from one style to the other is in evidence here, notably on La Mia Pazzia. Much of the album is laid-back folk/prog, but when the band let rip, as on the sax-driven Culto Disarmonico, they display interesting jazz sensibilities that are quite out of kilter with the rest of their material. As for Vigo's Mellotron, Villaggio has brass and strings, also possibly flutes alongside the real one, while all other highlighted tracks feature excellent, full-on string parts. Hard to pick out individual 'Tron highlights, suffice to say it almost gets full marks.
It took the band two years to produce Delirium III: Viaggio Negli Arcipelaghi del Tempo and while it's reasonably good, it suffers from the same musical schizophrenia as its predecessor, mixing, folk, pop, funk and various other styles, not always in an especially pleasing manner. The album's swamped in orchestral strings and although Vigo's credited with Mellotron, all I can hear is the actual string section, with some rather cheesy arrangements too, I'm afraid. If you're going to buy one Delirium album, there's really no contest: Lo Scemo e il Villaggio it is.
Incidentally, the band have reformed, releasing the rather good Il Nome del Vento in 2009, with credited Mellotron, although it turns out to be samples. Boo, hiss.
See: Samples
Foivos Delivorias (Greece) see: Samples
On My Mind (2010, 32.31) ***/TT½

To You
Your Queen
Ragunboneman
On My Mind
Pas Adieu
I Feel So Blue
And I Have Learnt to Dream
Take Your Seat
Faraway Spaceman Blues
Count Me Out
Ce Jour la
Strange Shadows
Current availability:
Mellotron used:
Although Fabienne Delsol is, unsurprisingly, French, her career is exclusively British, based around famed all-analogue London studio Toerag and owner Liam Watson (hi, Liam). After two albums with garage revivalists The Bristols, she went solo, 2010's On My Mind being her third release, containing an appealing mixture of mid-'60s beat and balladry, top tracks including the Farfisa (?)-driven Ragunboneman, the sparse title track and heartfelt ballads And I Have Learnt To Dream and closer Strange Shadows.
The studio hired my M400 early in 2010 and, although I had no idea what session it would be used on, I can only presume it was this one. Ed Turner plays it, with a lovely flute part opening the title track, running throughout, more muted flutes on Pas Adieu, what sounds like violas (I know, I know, they're my tapes) on And I Have Learnt To Dream and, finally, flutes and wobbly strings on Strange Shadows. Oh dear, is that my Mellotron? So; an album locked, as is the studio, in 1965, which is by no means necessarily a bad thing, with a decent helping of Mellotron, which is no bad thing either.
Deluge Grander (US) see: Samples
Anno 1972 (1972, 36.51) **½/TT

Story Demon Thor
East and West
Israel
Ant Hill
Good Old Oak
Simple Song
Groovy
The Army

Written in the Sky (1973, 37.23) ***/TTT

Written in the Sky
Pink Mary
For One Little Moment
Good Morning
Sweet Caroline
Current availability:
Both titles: Spalax (France, now out of print)
Mellotrons used:
Demon Thor are often listed as being German (Munich, specifically), though I believe I'm correct in saying the band were actually an Anglo-Swiss effort, with two British members in Tommy Fortman and Geoff Harrison. As far as I can work out, they debuted with 1972's Anno 1972 (credited to Tommy Fortman/Demon Thor), a middling rock/pop album of considerable averageness with few outstanding features, certainly not deserving of the 'progressive' status it seems to've gained retrospectively. Stephen Nuesch plays Mellotron flutes and strings on Good Old Oak, strings on Groovy and brass and choir on closer The Army, although that shouldn't be taken as any sort of recommendation.
The following year's Written in the Sky is one of the most weirdly schizophrenic records I've heard in a while, viz side one's side-long title track, which is a full-on heavy prog effort, smothered in Mellotron, while most of side two is workaday boogie, aside from one vaguely folky track in Good Morning. Nuesch plays most of the keys again, with the exception of piano, handled by Tommy Fortman. You'll be unsurprised to hear that the only Mellotron to be heard is on Written In The Sky itself, but it's a bit of a monster, loaded with strings, brass, cellos and choir - oh, and flutes later on. This is serious stuff, making it all the worse that it's let down so badly by the rest of the album. I'm sure it all made perfect sense at the time, but...
Anno 1972's pretty dreadful, aside from its 'Tron content, and as for Written in the Sky, while side one's a total 'Tronfest, the music isn't actually that great and side two is largely rubbish, knocking the album's star rating down noticeably. If you want that full-on 'Tron thing, though (and who doesn't?!), this just might be worth a flutter.
Denim on Ice (1996, 56.53) ***½/½

The Great Pub Rock Revival
It Fell Off the Back of a Lorry
Romeo Jones is in Love Again
Brumburger
The Supermodels
Shut Up Sidney
Mrs Mills
Best Song in the World
Synthesizers in the Rain
Job Centre
Council Houses
Glue & Smack
Jane Suck Died in 77
Grandad's False Teeth
Silly Rabbit
Don't Bite Too Much Out of the Apple
Myriad of Hoops
Denim on Ice
Current availability:
Mellotron used:
What on earth can I say about Denim on Ice? Denim were Lawrence (Hayward)'s second project, after the much-vaunted Felt, and, at least on their second album, are best described as, er... '70s-obsessed electro-glam? After Felt's ethereal Cocteaus-esque soundscapes, Denim come as something of a shock, with Lawrence's upfront vocals and bizarre, Brit-centric lyrics; hands up who doesn't know what a lorry is? Loads of references to very peculiarly British things: council houses, the job centre, Mrs. Mills, beermats, the NME... Synthesizers In The Rain's spot-on Visage piss-take, Ducks Deluxe and Wreckless Eric namechecks, the Glitter Band's Pete Phipps and Gerry Shephard guest... Wot - no Alvin Stardust? Shame on you, Lawrence.
The story I was told is that r.m.i.'s Duncan Goddard was asked to bring his Mellotron along to a session, which he duly did, as well as playing Moog on the album. Plenty of string synth, but I'm only certain I can hear the 'Tron (played by a certain Pete Z) on two tracks, with a few choir chords on Mrs Mills and Don't Bite Too Much Out Of The Apple, but nothing you can't actually live without. Anyway, a surprisingly good, witty album, but not one for the 'Tron fan in your life (what, you have a life? I don't. Oh, you noticed). Worth picking up. Oh, and Lawrence's latest project is called Go Kart Mozart; anyone not spotting the reference has to stay behind after school and write a hundred lines.
n.b. Duncan has expanded considerably on his studio experience, though much of it is probably libellous. It sounds like a bit of a nightmare all round, with Lawrence obsessing over particular sounds, then recording the first thing played over a track and insisting on keeping it. Glad I wasn't there.
Loverboy (2011, 56.16) *&frac12/0

Surprise, Surprise
Dancing at a Funeral
Comeback Kid (That's My Dog)
Frozen in Slow Motion
Sydney (I'll Come Running)
Make You Fall in Love With Me
Only Rain
Can't Stop Thinking
Must Be Losing My Mind
Song for Leaving
Queen of the Westside
Little Cosmic Girl
Walk Away, Watch Me Burn
Current availability:
Mellotron used:
Californian singer-songwriter Brett Dennen has one of the most infuriatingly whiny voices I've heard in a while, although Sinatra couldn't save the horrible, mainstream alt.pop of Loverboy. This is the kind of music that gets used (frequently, by the looks of it) on crummy mainstream TV programmes, the reggae-lite-lite backing on several tracks coming across as faintly offensive. Least awful track? vaguely folky/jazzy closer Walk Away, Watch Me Burn, but that shouldn't be taken as any kind of recommendation.
Andreas Olsson is credited with Mellotron. Where? Where? Can't hear a fucking thing. Hateful. I am weakened. Avoid.
Andy Denton (US) see: Samples
Here Come the Derailers (2001, 39.27) **½/0

More of Your Love
Bar Exam
You Know What She's Like
Your Guess is Good as Mine
I See My Baby
Country a Go-Go
I'd Follow You Anywhere
All the Rage in Paris
My Angel's Gettin' Tired
Mohair Sam
If it's Really Got to Be This Way
There Goes the Bride
Current availability:
Mellotron used:
The Derailers are a trad-country outfit from Texas (where else?), whose fourth studio album, 2001's Here Come the Derailers, harks back to the genre's honky-tonk roots in places, although a good chunk of the album consists of typical country ballads, thankfully without the almost-obligatory layer of Nashville schmaltz. While largely inoffensive, this is also largely forgettable, although I'm sure fans of the genre will lap it up.
Sandy Williams is credited with Mellotron, but I have absolutely no idea where, the only strings on the album sounding most un-Mellotronlike. So; generic country, no obvious tape-replay. Next...
Destroyer (Canada) see: Samples
Wermland (2008, 38.46) ***½/T

Om du Möter Varg
Kärlekens Alla Färjor
Honky Tonk of Wermland
Rymden i en Låda
Generation Celebration
Life/Universe
Neonland
Hus Vid Havet
Partyland
Camping
Sista Tryckaren
En Annan Typ av Disco
Dygnet Runt
054
Current availability:
Mellotron used:
Detektivbyrån were a Gothenburg-based trio who specialised in the use of highly unusual 'rock' instrumentation, including accordion, glockenspiel and toy piano. Their sole album 'proper' (E18 Album was a compilation of singles), 2008's Wermland, is an enchanting, instrumental tour de force of fairyland melodies, like a musical box come to life, accentuated by the glockenspiel work on every track. Trying to pick out specifics is pointless; this is one of those albums that should be experienced as a whole. The overall effect is what matters here, not individual highlights.
Since no one member is credited with specific instruments, it could be any of Anders "Flanders" Molin, Martin "MacGyver" Molin or Jon Nils Emanuel Ekström who play the Mellotron flutes on Hus Vid Havet, but they enhance the track nicely. I didn't expect to like this after hearing the first few tracks, but by the end of the album, it had cast its spell on me, making me want to go back to track one and play it again. And how often does that happen, boys'n'girls?
The Ideal Crash (1999, 55.56) ***½/TT

Put the Freaks Up Front
Sister Dew
One Advice, Space
The Magic Hour
The Ideal Crash
Instant Street
Magdalena
Everybody's Weird
Let's See Who Goes Down First
Dream Sequence #1
Current availability:
Mellotron used:
I haven't heard dEUS' first two albums, but I believe they were a bit noisier than The Ideal Crash. It's a pretty laid-back record, with a sort-of modern/retro sound, that doesn't make a lot of sense without hearing it, I'm afraid. It's song-based, but goes off at unusual tangents in places, making for a reasonably original whole. There's a slightly irritating reliance on 'beats', but I suppose that's contemporary, isn't it? The band is only four-fifths Belgian (Antwerp, in fact), with Craig Ward being the (Scottish) odd man out, although I originally wondered if it might be Tom Barman, with his perfect English-language vocals.
Klaas Janzoons (presumably) plays Mellotron on four tracks, although Sister Dew only has a couple of notes at the beginning. One Advice, Space is more like it, with a cool string line running through much of the song, while Magdalena has some typical flutes, and Let's See Who Goes Down First manages not only another string line, but some stabbed chords which may or may not be brass. So; not a bad album, not a bad Mellotron album, but not a classic in either sense.
Glöm ditt Huvud (2003, 14.14) ***½/T

Glöm ditt Huvud
Jag Kan Inte Slå er Nu
Du Och Jag
Stureplan
Ny Kärlek

EP3 (2004?, 22.22) ***½/TT

Vad Gör vi Här
Det Får Aldrig Ordna Sig
Palats
Varje Människa
Gå Försiktigt
Vad Som än Sker
Current availability:
Glöm Ditt Huvud: On CD, label unknown
EP3: Released?
Mellotrons used:
Devi are another Swedish 'skewed pop' outfit that have gravitated to Änglagård drummer Mattias Olsson's Stockholm studio, there to use some of his arsenal of vintage gear. Much of Glöm Ditt Huvud (means something like 'forget your head'. 'Lose your head'?) utilises either a Vox or a Farfisa organ (still can't tell the difference...), giving the music an authentic mid-'60s feel, with other stuff coming in here and there, including some analogue synth 'whoops' and Mellotron oboes on Stureplan and 'Tron strings/cellos/Chamberlin vibes (via Mellotron) on Du Och Jag. I presume Mattias plays it himself, although drummer Sofia Johnsson is credited with 'synth', so I suppose it may be her.
Mattias sent me Devi's no doubt unofficially-named EP3 a year or so later, although, due to a lack anything as tedious as copyright dates, and essentially no 'Net presence, I couldn't say for sure when it appeared. Is Glöm Ditt Huvud 'EP2' or '1'? I've really no idea. Anyway, it's pretty much more of the same, musically, nicely varied across its six tracks; I'm guessing that Mattias added the Mellotron, but that really is only supposition. Nothing until track 4, Varje Människa, with a nice string line, making a change from the ubiquitous monosynth that's all over the first half of the EP. Gå Försiktigt has a great 'Tron brass melody opening the song and repeating throughout, finishing up with flutes on Vad Som än Sker. Anyway, another odd little weird pop thing straight outta Sweden. Worth a listen.
Ptooff! (1968, 36.15) ***½/T

Opening
I'm Coming Home
Child of the Sky
Charlie
Nothing Man
Garbage
Bun
Deviation Street
Current availability:
Mellotron used:
The (Social) Deviants were part of the late-'60s Ladbroke Grove scene in West London, led by the charismatic and multi-talented (it says here) Mick Farren; musician, journalist, lyricist, author and all-round mover'n'shaker. Ptooff!, with its comic/pop art-inspired sleeve, was his band's debut album, sounding years ahead of its time, with the proto-metal assault of I'm Coming Home and the theatrical performance art of Garbage and the lengthy Deviation Street, the latter including an early piece of satire on the whole 'psychedelic' movement. It's a little uncohesive, but paints a broad picture of a time and a place, and is an invaluable document of the counterculture (London branch).
Mellotron (from Farren?) on just one track, with a beautiful (no, really) flute part on Child Of The Sky, a hippy hangover from the previous year; not enough to make it worth buying the album for it alone, but worth hearing if you're getting it anyway. These guys ate the brown acid; they clearly not only talked the talk, but walked the walk, or more likely staggered the stagger. When they split, a whole year after the release of their debut, the rest of the band went off to become free festival mainstays The Pink Fairies, making three rather variable albums in the early '70s before the inevitable round of splits and reformations, carrying on up to the present day. And Farren? Still doing what Farren does, as far as I can work out. All power to his elbow.
If You Forget Me... (1998, 56.18) ***/T

Prelude
Blue Miss Sunday
Three
Birdback
Form
Afraid of Loving You
Firehead
Key
Opus 7
Spooky
Heaven Please
Siren Song
With the Voice of a Girl Who Still Hasn't Learned
If You Forget Me...
Push the Heart (2006, 43.33) ***/T

Lie to Me
A Secret Message to You
Salty Seas
Song for a Sleeping Girl
Distant Radio
Just One Breath
Moments
If We Cannot See
City Lights
Come Up
Current availability:
Forget: Splinter
Push: Bella Union
Chamberlin/Mellotron used:
On their second album, 1998's If You Forget Me..., Devics fit fairly easily into the 'slowcore' mould, drifting along in a late-nite fashion (excuse the cliché). Standout tracks include the rockabilly-influenced Three, Firehead, piano solo Opus 9, the creepy Siren Song and the closing title track, vinyl crackle and all. Dustin O'Halloran plays Chamberlin, with cellos and strings all over Three and cello on Form, adding to the overall spooky feel of the album.
Some years on, 2006's Push the Heart isn't dissimilar, Sara Lov's vocals conjuring up mildly desolate images, intermingled with the occasional actually quite sweet lyric, notably A Secret Message To You, with its unusual typewriter rhythm. As so often with this kind of stuff, a few tracks are great, but a whole album of it drags after a while, as even the faster tracks sound like they're wearing lead boots and your heart matches the tempo to the point where you fear for your long-term prospects. O'Halloran adds Mellotron to one track, with surprisingly genuine-sounding choirs on opener Lie To Me (maybe they're genuine?). Sadly, that's your lot, as it would have fit quite nicely elsewhere, but it was not to be.
If you like slow, quiet stuff with little complexity (go on, prog fans, bugger off), you may go for these, but anyone hoping for a little more variety in their listening should go elsewhere.
See: Sara Lov
Queen of Pain (2003, 72.42) ***½/T

St. Christopher
You Are the Best Thing and the Worst Thing
Heart Sized Crush
It Was Raining
King of Brooklyn
16 Days
Walk With Me
Things You Make Me Do
Faith in Love
Bourbon in Your Eyes
Driven to Distraction
Liquor Store
Queen of Pain
You Put a Spell on Me
Union Square
Left
Why
If I Died in Your Arms
Current availability:
Mellotron used:
LA-via-Cleveland-via-NYC's Devil Doll, a.k.a. Colleen Duffy, are, of course, nothing to do with Mr. Doctor's (now probably defunct) ground-breaking Slovenian art-prog ensemble although, given that her career's kicked off in the Internet age, there's little excuse for using someone else's name. Yes, I know it's taken from either the 1936 or 1964 film. Anyway, Duffy started off as, of all things, America's premier female rockabilly/psychobilly DJ, before shifting into performance herself, although you have to listen pretty hard to hear the rockabilly influence on her music, probably best described as a rock'n'roll/swing/torch song cross, if that makes any sense at all.
Her debut album, 2003's Queen of Pain, is actually a pretty decent mixture of swing, Latin, the aforementioned torch and just a touch of rockabilly, one of its strongest suits being the lyrics. Try this for size...: "I will not open up my thighs/when you've got bourbon in your eyes". Genius, Colleen! If the album has a fault, it's that it's too long; this isn't the kind of music that works well in indigestible seventy-minute chunks, and several tracks could probably have been lost without affecting the listener's enjoyment. Of course, without a major-label budget, singles are pretty much a no-no, so keeping lesser tracks as b-sides probably isn't an option.
Phil Parlapiano (Kim Hill, Alannah Myles, Victoria Williams) plays Mellotron, with an outrageously upfront flute part opening Faith In Love, plus drifting choirs later on, although, sadly, that's your lot. Your typical prog and/or psych fan probably isn't going to like this very much, but anyone with a sleazy side should give this a blast and make Colleen Duffy a star. Shame about the name-clash; your call, Mr. Doctor: return and reclaim your crown.
Horse of a Different Color (1999, 39.09) ***½/½

Gypsy Deck of Hearts
Across the Borderline
Lay Me Down Easy
Goin' Over the Hill
One Love, One Lifetime
Needles and Pins
18 Hammers
(Don't Want You) Hanging Around My Door
Downing of the Flamingo
Bacon Fat
Time to Time
Chicken
Crow Jane Alley (2004, 41.14) ***½/0

Chieva
Right There, Right Then
Downside of Town
My Forever Came Today
Crow Jane Alley (for Jack)
Muddy Waters Rose Out of the Mississippi Mud
Come a Little Bit Closer
Slave to Love
(Don't Have a) Change of Heart
Trouble Comin' Everyday in a World Gone Wrong
Current availability:
Horse: EastWest
Crow Jane Alley: Eagle
Mellotron/Chamberlin used:
Willy "DeVille" Borsey's career kicked off when his band, Mink DeVille, hit the UK top 20 with the iconic Spanish Stroll in 1977. Over twenty years later, DeVille is long-haired and unrecognisable, but Horse of a Different Color's mix of R&B, soul, rock, Cajun and about a dozen other styles have a ring of familiarity about them, along with his unique voice. This is one of those albums that I can't see myself playing too often, but which screams "I'm brilliant!" from every pore (assuming records had pores. Well, you know...). It's almost a primer in American music of the last fifty years, from the French accordion-driven Gypsy Deck Of Hearts to the folk hollers Goin' Over The Hill and 18 Hammers to the rock/soul of (Don't Want You) Hanging Around My Door. Producer Jim Dickinson (Big Star) is credited with Mellotron on DeVille's take on Needles And Pins, but the only thing it even might be is a vague, high, background string part that could be almost anything, really.
After a chaotic few years in his personal life and a live album, Acoustic Trio Live in Berlin, DeVille released Crow Jane Alley in 2004, having tapped into his Native American heritage in the intervening years. Stylistically, the album isn't dissimilar to its predecessor, covering many bases to similar effect. John Philip Shenale (Tori Amos, Curtis Stigers) plays Chamberlin, with nothing obviously audible on any of the three highlighted tracks above, although (probably incorrect) credits for 'Chemberlin piano' cloud the issue. I'm quite sure the piano's real, ditto the strings on My Forever Came Today, so it's anyone's guess where it might be.
So; Willy DeVille: saviour of American song? On the evidence of these two albums, you could make a good case for it. Not an awful lot of tape-replay work, but I'm amazed there's any, frankly. Tragically, DeVille died of pancreatic cancer in August 2009, probably a complication from decades of (long-kicked) heroin abuse. R.I.P, Willy.
Orchards/Lupine (2011, 54.57) ****/TT½

Diamonds
Evil and the Midnight Sun
Everything Everywhere
Who Are You or the Magnificence of
Loving a Million Strangers
Love in C Minor
Higher Than the Sun
Pick Your Bones Out of the Water
Seashell Woman
Fever
The Pistol
Poison
IV (2012, 42.51) ****/TT

Voodoo Mademoiselle
Six Holes and a Ghost
Devil's Due
Crumbling Heart
The Only Thornless Rose
Northbound
A Mind Slip
I Devil on a Wire
II The Telephone
III Black Hole Raga
IV Sixth Dimension Blues
V The Telephone pt. II
VI Astral Awareness
VII Vicious Times
Current availability:
Mellotron used:
Orchards: unknown
IV: Matthijs Herder's M400
DeWolff are a Dutch psychedelic hard rock trio, making music in the grand late '60s/early '70s tradition, only with better production. 2011's mysteriously-titled Orchards/Lupine is their third album in as many years, full of rocking psych numbers like Evil And The Midnight Sun, fuzz-fest Love In C Minor and Pick Your Bones Out Of The Water sitting next to gentler fare such as Everything Everywhere, the beautiful Higher Than The Sun and the jamming The Pistol, although I'm not sure the laid-back Diamonds was the best opener available to them. Actually, this is so authentically retro I had to do a quick double-check to make sure it isn't on Rise Above. Pablo van de Poel and Robin Piso play Mellotron, with real-sounding strings and cellos on opener Diamonds, strings on Who Are You Or The Magnificence Of Loving A Million Strangers, a major flute part on Higher Than The Sun and flutes and strings on closer Poison. Wow - I wasn't sure this was going to be worth the effort, especially after a weak opener, but Orchards/Lupine is exactly the kind of antidote I needed to the drivel to which I usually subject myself.
Another year, another DeWolff album... 2012's IV is another superb effort (can this band do no wrong?), highlights including ripping opener Voodoo Mademoiselle, the rocking Crumbling Heart and the 'side-long' A Mind Slip. Matthijs Herder (Black Atlantic, Oceana Company) supplied the Mellotron (and this info), played by Robin Piso again, with strings on The Only Thornless Rose, alongside the real ones (I think), strings on Part III of A Mind Slip, Black Hole Raga, an upfront flute part on Part IV, Sixth Dimension Blues and pitchbent strings and distant flutes on Part VI, Astral Awareness. Incidentally, the super-elongated string notes on Black Hole Raga are officially 'studio trickery', not, just for once, an indicator of sample use. Another top-notch effort, chaps.
Do you need any more encouragement to dive into the DeWolff catalogue? Why?
Visions in the Dark (1987, 56.17) **/TT

Passage
Take Yourself Back
Chained Human
Untouchable Ghost/The Crazy
Life of Mr Tale
Fifteenth Century Fox
Last Chance Flight
Vision in the Dark
The Overture
The Solo
The Voyage
The Revelation
The Psychasonic
The Return in the Real
Current availability:
Mellotron used:
Early contributors to the excellent Gibraltar Encyclopedia of Progressive Rock had this to say about Deyss:
"The vocalist's grasp of English is horrendous"
"Do you like progressive music without originality? You're gonna love this band!"
although other writers were a little kinder. In fairness, some of these comments were referring to their debut, At-King, 'featuring' a different singer, although the originally-named 'Jester', who vocalises on Visions in the Dark is pretty ropey. I think you may've gathered by now that Deyss were no more than Marillion wannabees, operating at the dullest and most derivative end of the neo-prog spectrum, though they're not as bad as, say, the awful Multi-Story. All the clichés are there, from the MiniMoog arpeggios and 'funky' rhythm guitar of Untouchable Ghost to the parping pomp of Chained Human. Ironically, the album actually starts quite well, with the instrumental Passage sounding slightly like an IQ outtake, although the temptation to stray into Pendragon territory obviously overcame them mere minutes into the record. The side-long title track starts almost-promisingly, but by part 2, The Solo, we've already degenerated into plagiarismland again, this time ripping Steve Howe's solo excursion on Yes' Sound Chaser from Relayer.
Surprisingly, keys man Giustino Salvati uses a Mellotron on most tracks, along with the ubiquitous polysynth patches so beloved of the neo- scene. He doesn't just use the choirs, either, with a decent enough string part on Passage, although in fairness, most of the featured parts are rather distant-sounding choirs, making me wonder whether they're actually 'Tron. I don't know what else Salvati had in his arsenal, but it seems unlikely that he had a decent sampler way back in '87, so I can only imagine the 'Tron was reverbed into oblivion by some half-witted engineer, resulting in this wishy-washy sound. About the only other highpoint of the band's sound was the guitarist and bassist's use of Taurus pedals, adding that unmistakable low-end rumble to several tracks.
So, what can I say? Typical neo-prog, limiting the album's potential audience to those into that particular prog niche, as it's unlikely to appeal to those of a more 'classic' bent. More 'Tron that you might expect, though really not worth a purchase on those grounds alone. Incidentally, the album was apparently originally issued as a three-sided double LP, with side four left blank, making the CD version a rather better bet for those that may be interested. I believe the track order has been changed slightly, too; the one listed above is from the CD. Interestingly, in 2000, Musea released a CD entitled The Dragonfly From the Sun, consisting of a live recording from as early as 1979, of tracks written by the band throughout the '70s, so maybe it's marginally better. Maybe.
Diagonal (2008, 46.36) ****/TTTT

Semi Permeable Men-Brain
Child of the Thunder-Cloud
Deathwatch
Cannon Misfire
Pact
Current availability:
Mellotron used:
I was contacted in early 2008 by a band from Brighton called Diagonal, wondering if I knew where they could hire a Mellotron. Well, since you asked... Bizarrely, it turns out that not only were they signed to Rise Above, as I was (briefly) with Litmus, but we'd actually shared a bill the previous year, but I hadn't seen them play. They play a kind of psych/prog thing, not dissimilar to a lot of bands around the turn of the '70s, throwing just about anything they like into the mix, and rightly so. Every track's different to every other, so picking anything akin to a 'best' one is fairly futile; Deathwatch's jazzy feel is accentuated by their rare, late-model Rhodes (a MkV?), Cannon Misfire features some fairly bonkers bass work, while closer Pact sounds like the Soft Machine playing Pink Floyd. And your problem is...?
The album was recorded at Liam Watson's famed Toerag Studios, in Hackney, London, notorious for its hardcore 'analogue-only' policy; not just analogue, but no more than eight-track. And you're encouraged to use four. Toerag and my Mellotron: a perfect match. Ross Hossack plays it, with strings and flutes on opener Semi Permeable Men-Brain (ho ho), choirs on the (frankly) ridiculously-titled Child Of The Thunder-Cloud, sustaining longer than they should at the end. Reverb? There's a mere few seconds of strings on Deathwatch, although closer Pact finishes things off nicely with huge slabs of choir and strings, with ethereal flutes wafting around at the piece's false conclusion, before it all kicks off again (assuming something this stately can be said to 'kick off' at all).
So; do you buy this album? Short answer: yes. Long answer: yes, if you want to hear an inventive prog/psych album made my musicians young enough to be your kids, with shedloads of Mellotron. Whadd'ya mean, "You don't"? Just get out there and buy it.
Love at the Greek (1977, 70.39) ***½/TTTT

Streetlife
Kentucky Woman
Sweet Caroline
The Last Picasso
Longfellow Serenade
Beautiful Noise
Lady Oh
Stargazer
If You Know What I Mean
Surviving the Life
Glory Road
Song Sung Blue
Holly Holy
Brother Love's Traveling Salvation Show
Jonathan Livingston Seagull:
Be
Dear Father
Lonely Looking Sky
Sanctus
Skybird
Be
I've Been This Way Before
12 Songs (2005, 50.00/57.27) ***½/½

Oh Mary
Hell Yeah
Captain of a Shipwreck
Evermore
Save Me a Saturday Night
Delirious Love
I'm on to You
What's it Gonna Be
Man of God
Create Me
Face Me
We
[bonus tracks:
Men Are So Easy
Delirious Love]
Current availability:
Love at the Greek: Sony
12 Songs: Columbia
Mellotron/Chamberlin used:
Love at the Greek: hired-in MkV
12 Songs: Patrick Warren's M1
Neil Diamond's Love at the Greek has to be one of the most unlikely albums you'll find on this site; while you'll find reviews of all sorts of stuff from many different genres, singer-songwriter/MOR doesn't really fit amongst the prog and psych that make up the bulk of its content. For all that, it very much deserves to be here, as one of the most Mellotron-heavy LPs I've heard in a while. No, really! I'll be honest here and say that I'm not exactly wild about the music, but that isn't to say I'm going to slate the album (for a change); actually, I know several people who really rate Mr. Diamond, who you wouldn't expect to in a million years. Within his chosen oeuvre he's an absolute master, having fine-tuned his songwriting craft over many years of writing for other people (the Monkees spring to mind); OK, it's effectively showbiz MOR, but done with such panache that I feel churlish even thinking about running it down.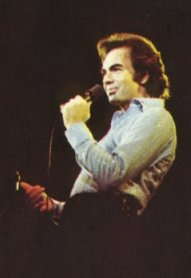 As far as I can work out, Diamond played a run of gigs at the Greek Theater, LA in 1976/77 in front of large numbers of his adoring fans, then put out a double album to commemorate the event. Just to prove his cross-genre appeal, it was produced by The Band's Robbie Robertson, who did a good job by pushing the Mellotron to the front of the mix. So, why a Mellotron? Diamond's material is usually arranged for strings, and these gigs appear to have been deliberately low-key, with a relatively small eight-piece band, and there really wasn't anything else around at the time that could reproduce a string section quite as well, so there's no attempt to use it as an instrument in its own right, just as an, er, emulator. It's actually Bill Eberline (US Mellotron distributors Sound Sales' boss)'s twin-manual Mark V, although despite the plethora of pictures on the inner sleeves, there's nothing close-up enough to identify any keyboard other than the B3 set high up at the back of the stage. There are several keyboards to be heard, including a grand piano, a Rhodes and a mono synth (on Jonathan Livingston Seagull), and keyboard players Alan Lindgren and Tom Hensley seem to switch between all of them, so I've no idea who plays what at which time.
Anyway; the music: As I've said, it's principally middle-aged middle-of-the-road, sung by a man who still only appears to be in his thirties, but his and his band's professionalism are impossible to knock; arranged to perfection, played brilliantly, and obviously loved by all present. The only track I find really hard to take is Sung Song Blue, which tips right over the edge into full-blown schmaltz, complete with guest vocals from Helen Reddy and Henry Winkler (The Fonz, for those of you too young to remember). Most of the Mellotron work is, as again I've said, emulating string parts, so there's much single-note work and few block chords. There are some flutes on The Last Picasso, but that's the only deviation until side 4. Jonathan Livingston Seagull is the album's oddity; 15 minutes, cut down from the original album-length piece, and is the only place the synth (probably a Moog) and the Mellotron choirs can be heard. As a concept, it's never going to hold up against The Lamb Lies Down on Broadway or The Wall, but then, it isn't trying to. It's a feel-good, pseudo-religious death-and-resurrection piece, and seems to work well enough within those constraints. As with most of the other material on offer, it's loaded with 'Tron strings, which definitely enhance the piece, and the occasional flute part. The choirs are also used here and there, along with the strings in Sanctus, which pretty much proves that a Mark V's being used (or, of course, two M400s...).
Fast-forward nearly twenty years... Enfant terrible Rick Rubin takes charge of what turn out to be the last few years of Johnny Cash's career, helping him produce some of his most acclaimed work. Despite overseeing two posthumous sets, Cash's death must have left something of a hole in Rubin's life, so for his next 'musical rehabilitation' project, he approached Neil Diamond. In all honesty, the end result hasn't set the world on fire the same way Cash's American Recordings did, but 12 Songs is probably the most satisfying album Diamond's ever made for those with an aversion to schmaltz. Comparisons with Cash's albums are unavoidable - at one point, he even sings, "He walked the line" - but, a couple of tracks notwithstanding, this is a singer-songwriter album, not a country one. The most important thing about the album, though, is that it contains no bad songs. Nope, not one awful schmaltzy piece of pap, no cringeworthy horrors of the Song Sung Blue variety, just heartfelt songs about the standard subjects of life'n'love, sung by someone who can now be seen as one of music's (if not rock's) elder statesmen. The ubiquitous Patrick Warren is credited with Chamberlin, but with all the string arrangements on the album, it's pretty hard to discern what may or may not be his contributions. Working on the basis that all the strings are real, Save Me A Saturday Night has a muted woodwind line (bassoon?) that's probably tape-generated, while I'm On To You's cellos simply don't sound 'real', although it's perfectly possible that neither of these are correct, and it's actually somewhere else entirely, which accounts for the album's low T rating. To be honest, unlike Cash's last few albums, I can't see myself returning to this on anything like a regular basis, but it's still a late-period triumph for someone who's spent so much of his career in the middle of the road, he isn't even aware of the gutter any more.
So; to buy or not to buy? If you like Neil Diamond, you can't really go wrong with Love at the Greek; for the rest of us, it entirely depends on how much you want to hear large amounts of Mellotron strings pretending to be the real thing playing only-just-this-side-of-MOR. I would've given the album a higher T rating, but there's almost no 'Tron work that falls outside the string section emulation area. I don't regret buying it, but I doubt if I'll dig it out that often, to be honest... As for 12 Songs, there's next to bugger-all Chamby, but it's a mostly highly listenable album with some great writing.
Dice (1978, 45.47) ****½/TTTT½

Alea Iacta Est
Annika
The Utopian Suntan
The Venetian Bargain
Follies
Esther
Labyrinth
At the Gate of Entrudivore
I'm Entrudivorian
You Are?
You Are...
The Four Riders of the Apocalypse (1992, recorded 1977, 38.54) ****½/TTTT½

War
Ouverture
Fronts
Battle
Deserted Battlegrounds
Disease
Greed
Death
Requiem
Dance of the Devils
Transition
Heaven
Current availability:
Both titles: Belle Antique (Japan, out of print)
Mellotrons used:
Dice were a superb, if little-known Swedish band from the late '70s; they only released one album in their lifetime, and neither of the above are easily available, even now. Four Riders was a mono demo recorded around 1977, remixed for stereo in the '90s. All instrumental, it is a superb piece of work; full-blown symphonic progressive, the material is melodic and memorable, unlike many of their more highly-rated contemporaries. I spent most of the album wondering where I'd heard the style before, until it suddenly hit me: Focus. Dice were the natural inheritors of the slightly jazzy, complex symphonic sound of Focus at their best, which is the sort of recommendation it's difficult to ignore. The album's themes move through all the expected moods given the subject matter; stirring martial stuff in War and a rather doomy feel to the other three tracks, with much Mellotron throughout from Leif Larsson.
Their self-titled official debut is every bit as good as their early demo, although the vocals are a tad unnecessary in places. If anything, there's even more Mellotron on Dice than Four Riders, with some excellent material to boot, with The Utopian Suntan being a sardonic reflection on the subject of the destruction of the ozone layer, some years ahead of the general public's perception of the issue. As the sleeve notes say, "This is a catchy tune about epithelial cancer". Follies appears to be about schizophrenia, so you can hardly accuse Dice of not tackling the issues of the (or any) day. Its long drawn-out coda consists of probably the slowest 'speed-up' I've ever heard, taking several minutes from the first perceptible pitch shift to the final high-speed squeak.
So, I recommend both albums highly, assuming you can find them. There's also a live album, Live Dice (****), recorded in 1979, but upon close scrutiny, it would appear to be entirely Mellotron-free. As for their two studio albums, however; buy? BUY OR DIE!
Andy Dick & the Bitches of the Century (2002, 32.33) ***/TT½

Love Ninja (the Stalker Song)
Hole Burns
Striped Sunlight
Little Brown Ring
Stephen Hawking
Cock & Balls
Secret Garden
I'll Fuck Anything That Moves
30 Days 30 Nights
Little Brown Ring (remix)
Current availability:
Chamberlin used:
Comedian Andy Dick (his real name, fortuitously) was originally a protégé of Ben stiller, going on to host his own show and piss audiences off across America with his gross-out style. We should probably be thankful that 2002's Andy Dick & the Bitches of the Century is his sole album to date, although, in fairness, some of it is actually funny, as long as you switch your PC detector off before listening. Musically, it defaults to a kind of mainstream rock template, shifting between acoustic opener Love Ninja (The Stalker Song), metal-lite on Hole Burns and the piano balladry of Cock & Balls, apart from closer Little Brown Ring (Remix), which is as crappily dance-orientated as you might expect, but at least pushes the total length (fnar fnar) to over half an hour. Lyrically (or the nearest this ever gets to 'lyrics'), it's as crass as the titles suggest, more amusing efforts including stalker anthem Love Ninja, all-night drug session tale Hole Burns and rehab epic 30 Days 30 Nights.
Kevin Augunas and Russ Irwin both play Chamberlin, with flute and string parts on Striped Sunlight, orchestrally-inclined strings on Little Brown Ring, with more strings on Stephen Hawking and Secret Garden. So; one for your sniggering teenaged nephew who splutters every time he hears someone say 'sphincter', or any other real-life Beavis or Butthead you may happen to know. A surprising level of Chamberlinity (ha! New word!), but I'm not fully sure I can really recommend this otherwise. Or can I?
Dawn of the Dickies (1979, 29.35/34.16) ***½/½

Where Did His Eye Go?
Fan Mail
Manny, Moe and Jack
Infidel Zombie
I'm a Chollo
Nights in White Satin
(I'm Stuck in a Pagoda With) Tricia Toyota
I've Got a Splitting Hedachi
Attack of the Mole Men
She Loves Me Not
[CD adds:
Gigantor
Bowling With Bedrock Barney]
Current availability:
Mellotron used:
The Dickies burst onto the moribund punk scene in 1979, spreading a little Californian sunshine with ridiculous covers of some of rock's sacred cows: Eve Of Destruction, Paranoid, The Sound Of Silence, Nights In White Satin, fer Chrissakes! Their debut album, The Incredible Shrinking Dickies, kept everything short and simple, despite having a keyboardist/saxophonist in the band in the form of Bob "Chuck Wagon" Davis, who tragically committed suicide a mere two years later. They followed up later the same year with Dawn of the Dickies, breaking the three-minute barrier on most tracks and allowing themselves a bit of leeway on the arrangement front, although the pace is largely still frantic throughout. Several tracks are clearly L.A. in-jokes - I mean, who outside Southern California knows what a chollo is? (A male of Hispanic descent, for what it's worth), but I think it's fair to say they're neither the first nor last band to write about their surroundings.
Chuck Wagon and possibly vocalist Leonard Graves Phillips are credited with Mellotron, amongst other keys, but you need bat-ears to hear it, to be honest. It could be mixed right in the background on a few tracks, but the only place I can even possibly spot it is on the album's, er, 'epic', Attack Of The Mole Men, with some background choirs, just about audible reverbing away as the track ends, but I'm really clutching at straws here. Not even anything on Nights In White Satin. Seriously, if it wasn't credited I'd have chucked this out (figuratively speaking) already; not a 'Tron classic, then...
An amusing album that defines a time and a place for many old punkers, as Brits would NEVER call them. Just don't even remotely think about getting this for any spurious Mellotron content. Just in case.
Accident of Birth (1997, 53.46/57.57) ***/T½

Freak
Toltec 7 Arrival
Starchildren
Taking the Queen
Darkside of Aquarius
Road to Hell
Man of Sorrows
Accident of Birth
The Magician
Welcome to the Pit
Omega
Arc of Space
[US/Japanese versions add:
The Ghost of Cain]
Current availability:
Mellotron used:
Bruce Dickinson seems to be rock's very own renaissance man; ex-public schoolboy, singer, songwriter, musician, DJ, fencer, pilot, novelist (but for Chrissake don't buy his awful and deservedly long out of print sub-sub-sub-Tom Sharpe novels, assuming you can find them). The ridiculous Iron Maiden's vocalist from 1981 to '93, then '99 to the present, Dickinson has also had a reasonably successful solo career since 1990, beginning with that year's Tattooed Millionaire. He hooked up with guitarist/producer Roy Z of Tribe of Gypsies for its follow-up, '94's Balls to Picasso, who returned for Dickinson's fourth album 'proper', '97's Accident of Birth.
I suppose I was hoping for something a little more 'epic' than the album has turned out to be; it's largely generic metal, rather reminding one (totally unsurprisingly) of... Iron Maiden, although Bruce's voice obviously aids the comparison. In fairness, Roy Z and another ex-Iron, Adrian Smith's guitar work is more contemporary than Maiden have ever managed, with several tracks featuring downtunings and almost-thrashy rhythms, though never enough to alienate Dickinson's core audience. It's difficult to pick out any highlights per se, as the album struggles to drag itself out of the bog-standard metal trap, although I'm sure many listeners would disagree with me heartily.
As far as Z's Mellotron work is concerned, I suspect the strings on Taking The Queen and Man Of Sorrows are the credited violin and cello (presumably overdubbed several times), although both tracks also feature rather muted 'Tron choirs, while Omega's strings must be 'Tron due to nothing else being credited. The only really overt Mellotron part is the strings on Arc Of Space, though, where they come right to the front of the mix, alongside the real ones.
So; if you like Maiden, you stand a fair chance of liking Accident of Birth; in fact, it does little to offend metal fans in general, which is also the album's downfall, in that it also does little to appeal to anyone outside the genre. Then again, is it trying to? I somewhat doubt it, so I suppose it could be considered a success on that level. As for Roy Z's Mellotronic input, Arc Of Space aside, it's sparse enough and low enough in the mix to be essentially useless, so I wouldn't go too far out of your way if I were you.
See: Tribe of Gypsies
A Beginning, a Detour, an Open Ending (2008, 74.35) ***/½

He Doesn't Know
Get to Know You
In Love
All I See
Some Other Day
Quarter to Forever
No Time to Sleep
Fallen Madonna
Glow
London
Heaven and Hell
Friend in a Bar
The Road
A New Situation
Stains
In Circles
Walls
Magic
Security Check
An Open Ending
Current availability:
Mellotron used:
Tina Dickow is known as Tina Dico in all 'territories' (aargh! Music-biz speak!) other than her home, Denmark, presumably to aid foreigners in their pronunciation. Her fifth album, 2008's A Beginning, a Detour, an Open Ending, is split into three fairly obviously named parts, although there are no obvious musical divisions. Most of the lengthy album's material consists of acoustic singer-songwriter fare, frequently tinged with folky touches, better tracks including the vocal-and-clean-electric-guitar In Love, Some Other Day and closer An Open Ending.
Dennis Ahlgren plays Mellotron, with cellos on All I See, although nothing else stands out as being Mellotronically-derived. Overall, a good, if rather overlong album, although I'm sure it was lyrically necessary and no one track stands out as being too long. Next to no tape-replay, sadly, but there you go.
---