---
| | |
| --- | --- |
| Mike Dickson (UK) see: | |
No Angel (1999, 52.00) ***/T

Here with Me
Hunter
Don't Think of Me
My Lover's Gone
All You Want
Thankyou
Honestly OK
Slide
Isobel
I'm No Angel
My Life
Take My Hand
Current availability:
Chamberlin used:
Vaguely interesting fact about Dido Armstrong: she's the sister of Rollo Armstrong (what was it with names in that family?) of Faithless, and she was 'discovered' after singing backing vocals on their Sunday 8pm opus. Almost certainly entirely uninteresting fact about Dido Armstrong: she went to school with my sister, and the 'mockney' accent she affects in interviews is entirely fake; on the scale of 'common' to 'dead posh', she's an awful lot nearer the latter than the former. So there you go.
I can't pretend I'm over-keen on this sort of stuff, to be brutally honest. I've got (overwhelmingly female) friends who love it to bits, but to my ears No Angel is simply thirty-somethings dinner party music; this generation's Carly Simon, if you like. Many of the songs explore the theme of lost love, which probably explains much of the album's popularity, so that'll be dinner parties and bedsitters then. The oh-so-modern programming will date it horribly within a few years, but then if Ms. Armstrong plays her cards right (and has a helping hand from Lady Luck), she'll have moved into different areas by then, and can re-record the best material acoustically, or something. Dido's voice is reasonably strong, and unusually high in the mix, with little reverb, giving an intimate feel that I'm sure has helped her rise to prominence (twelve million and counting, isn't it?). I am being slightly unfair, though. Or am I? My Lover's Gone has a genuinely desolate feel to it, until it's spoiled by more of that bloody programmed percussion. Why? Just leave the damn' songs alone, for God's sake...
No Angel's produced by a whole slew of different people, including Rick Nowels, who plays 'Chamberline' on two tracks. Notoriously difficult to spot, especially in a dense mix; I can definitely hear strings on Hunter, but I'm less sure whether the cellos and flutes on All You Want are Chamberlin or not. I suspect I'd find this album more palatable without all the irritating 'contemporary' production tricks, but I would appear to be in a minority on this one (again). If Dido ever chooses to re-record some of these songs more organically, I might feel inclined to give them a better listen. Until then...
Third semi-interesting fact about this album: I see a couple of tracks are co-written with a certain 'P. Gabriel'. I've now been assured that this is actually Belgian Pascal Gabriel, and nothing to do with the esteemed Peter (thanks, Kallie), which just goes to prove that I should do my research more thoroughly.
Affinity (1995, 62.50) ***/0

The Frankenhooker's Just Alive
You Don't Know...
C'mon Everybody
How Can I Get Breakthrough?
All Along the Night I Fly
Wargus
You Don't Know (Flash Back)
Scarecrow
Pillet
Affinity
Current availability:
Mellotron used:
The interestingly-spelled Differance were one of Masashi Kitamura's post-Ybo² projects, although I believe their last release predated his untimely death in 2006 by some years. Probably unsurprisingly, 1995's Affinity combines prog, avant-prog, funk, fucked-up rock'n'roll and a dozen other genres, to the point where every track sounds pretty much different to every other. Opener The Frankenhooker's Just Alive gives the impression that we're going to get an album of jamming hard rock, sort-of continued on You Don't Know..., but C'mon Everybody is Eddie Cochran as you've never heard him before, while You Don't Know (Flash Back) consists of no more than an insanely flanged guitar and psychedelic vocal effects and the closing title track sounds like something from side four of Physical Graffiti. And that's just half the LP...
Kitamura supposedly plays Mellotron on the last two tracks, but I'm not exaggerating when I say I'd love to know what and where. The faintest of faint strings on both? Who knows? Not me. One for fans of semi- (but only semi-) 'out there' Japanese psych-informed music, then, but not one for anyone wishing to hear some Mellotron.
See: Ybo²
Knuckle Down (2005, 57.14) ***/T½

Knuckle Down
Studying Stones
Manhole
Sunday Morning
Modulation
Seeing Eye Dog
Lag Time
Parameters
Callous
Paradigm
Minerva
Recoil
Current availability:
Chamberlin used:
Angela "Ani" DiFranco (pron. 'Arnie') has been making records for twenty years now, 2005's Knuckle Down being something like her fourteenth. It hasn't exactly garnered universal praise from her fans, but then, these are probably the same people who berated the bisexual DiFranco for marrying (THE HORROR!) a man in 1998. To the uninitiated, it comes across as a slightly jazzy, slightly off-kilter modern singer-songwriter effort where, as is usual in this ragbag genre, the lyrics often take precedence over the music, although DiFranco's acoustic guitar work is one of the album's highlights, pushing genre boundaries harder than most of her contemporaries.
The ubiquitous Patrick Warren does his Chamberlin thing here, with subtle string interjections on Sunday Morning and Lag Time, plus flutes on Modulation, although you'd hardly call it one of the album's lodestones. Overall, then, a decent enough effort, assuming DiFranco's feminist message and unusual stylistic quirks are to your taste, although you're probably not going to bother for Warren's Chamby use.
Unfold (2008, 49.19) *½/½

Fool
Better Off Alone
Say it Again
Miss Invisible
Stupid for You
Girlfriend
Traffic
Voice on the Radio
Spell
Beauty in Walking Away
Unfold
Umbrella
Current availability:
Chamberlin used:
Marié Digby is yet another US singer-songwriter whose drippy, anodyne work is perfect for crummy TV show soundtracks, at least, going by her debut, 2008's Unfold. Although she already had a contract, Digby's public profile shot through the roof after she posted videos of herself playing covers on YouTube, notably Rihanna's Umbrella, the album's closing track. Am I the only person in the Western world that doesn't know this song? Probably. Anyway, I've really tried to find something positive to say about this album, and the best I can come up with is 'the first few seconds are fairly harmless'. Dismal.
Mike Daly plays Chamberlin, with pseudo-orchestral strings on Miss Invisible, so despite other 'possibles', that would seem to be that. Well, what a tedious little record; I'm sure it's terribly popular, but not around here. Avoid.
Suite Per Una Donna Assolutamente Relativa (1972, 40.55) ***½/TT

Donna Paesaggio
Il Viso
Il Cuore
Intermezzo
La Cattedrale dell'Amore
Le Gambe
Suite Relativa
Monti e Valli
I Sogni
La Notte
Sintesi
Current availability:
Mellotron used:
I Dik Dik are yet another of the legions of early-'70s progressive bands in Italy, many of who released just one or maybe two poorly-selling albums. Like many others, they came from the '60s beat scene, later descending back into commercialism, leaving (deep breath) Suite Per Una Donna Assolutamente Relativa as their sole progressive legacy. It appears to be a concept album, although I've no idea what the concept may actually be; whether the cleaning lady (Donna?) on the cover is involved can only be a matter for conjecture, until someone enlightens me. The music is the usual highly melodic, keyboard-driven prog, probably somewhere in the middle of the quality range, so 'good, without being outstanding'.
Difficult to say precisely, but I believe the Mellotron was played by longstanding keys man Mario Totaro (or Todaro?); sounds like a MkII, though it's hard to tell. Mostly, he used it for background strings, though there's a 'Tron flute intro on Il Cuore, and a more upfront strings part on La Cattedrale Dell'Amore, although it has to be said, some of the string parts sound more like a string section than a Mellotron.
Anyway, yet another entrant in the 'good early-'70s Italian prog' stakes, loosely comparable to Latte e Miele, say, rather than the further out-there antics of Osanna et al. Worth hearing, though the 'Tron work rarely rises above 'ordinary'.
Late Music (2009, 47.36) ***/½

The Sun's Gonna Shine in the Morning
Standing in That Line
Long Lonely Ride
No One's Listening
I've Been Away
So Hard to Say Goodbye
Fall Into Your Arms
Lost Bird
Let Your Loved One Sleep
The Bad Merry-Go-Round
Don't Let Me Sleep Too Long
Temptation Cake
Tell All the Fools
Current availability:
Mellotron used:
Dennis Diken is drummer with The Smithereens, finally releasing his first solo album, Late Music, in 2009, almost thirty years after the formation of his band. Unsurprisingly, it's a concoction of various powerpop sub-styles, shifting between the mainstream powerpop of opener The Sun's Gonna Shine In The Morning and I've Been Away, through the Association-like Standing In That Line and Fall Into Your Arms to the jazzy, acoustic Lost Bird. In fact, the album's diversity is also its downfall; it's not a bad record, but it covers too much ground to have any real cohesion, although I suspect it consists of songs written by Diken over a number of years (a typical solo album approach), so maybe continuity was never going to be its strongest suit.
Diken and Dave Amels both play 'Tron, though not so's you'd notice, to be honest. An online interview mentions something used at the end of The Bad Merry-Go-Round; yup, there is something... The vibes? Trombones? Very hard to tell. Anyway, a good album without ever being in any danger of being 'great'. Smithereens fans will love it anyway, and anyone else into powerpop should probably give it a go, even if you're unlikely to like the whole album.
See: The Smithereens
Don't Lie to the Band (1976, 44.38) ***/T½

Two Time Love
Taxman
It's Not All Mine
Munchkin Men
You Lied
Robot Race
Coming Home
Bumpadidilly
Current availability:
Unidisc (Canada - now out of print?)
Mellotron used:
I don't know if Dillinger suffered comparisons with the contemporaneous reggae singer, but I've always confused them with Derringer, although the names aren't that similar. Their eponymous debut album sounds like it could be quite interesting, featuring a side-long piece, but their second and last effort, Don't Lie to the Band, despite frequently being referred to as 'progressive', is a rather middling, straightforward rock album with only slight progressive leanings. The best tracks tend to be the longest (big surprise there), with top marks going to Munchkin Men, despite the rather unfortunate 'Munchkin chorus' that crops up halfway through, and Coming Home.
Vocalist/keys man Jacques Harrison adds Mellotron to a handful of tracks, with not especially forceful string parts on their cover of Spooky Tooth's Two Time Love, Munchkin Men and Coming Home, plus cellos on the latter. Overall, an OK album, but is 'OK' good enough? With so much great music out there, you probably don't need to put this too high on your 'wants' list. Incidentally, the band eventually morphed into hard rock crew The Hunt, although no members played on their 'Mellotron Album', Back on the Hunt.
See: The Hunt
Nobody's Sweetheart (2003, 53.10) ***½/T

Feel the Way I Do
It Must Be Love
The Stain
Shoreline
Let's Go for a Drive
A Girl Like Me
Honeymoonee
The Silent You
Nobody's Sweetheart
Now You're Mine
Can't Make You Stay
Don't Blame You Now
Mamma's Backyard
Current availability:
Mellotron used:
Sandy Dillon's an American singer-songwriter who relocated to the UK after recording two unreleased albums. She married a British guitarist, Steve Bywater, and made several albums with him before his untimely death in 2001. 2003's Nobody's Sweetheart is her first subsequent album and is, unsurprisingly, full of songs of regret and longing. So far, so what? What lifts her above her contemporaries, however, is a refusal to play the game and make bland, pointless music to which lonely young women can relate, opting instead for a more individual vision and abrasive sound; even the quieter tracks sound somewhat on the tortured side (note: this is a good thing...).
Dillon herself plays Mellotron on two tracks, with (sorry) ethereal strings on Let's Go For A Drive and something completely inaudible on Can't Make You Stay. So; an unusual, individual album to which you could still loosely attach the 'singer-songwriter' tag, although its Mellotronic input is fairly low. Worth hearing anyway.
Shadow Instrumentals (2009, 41.24) ***/T

L'Appel du Verre
GG Narrows
Ask the Man Who Owns One
Sutures in
Cooper's Descent
Salle de Reconnaissance
Douse the Glim
The Patient Returns
Felt
Pantomime Magpie
Land Between
Perro Chino
A Housewive's Dream
Current availability:
Mellotron used:
It's difficult to tell just how many albums Seattle's Diminished Men have released, but 2009's Shadow Instrumentals (Is that an Anglophile Shadows reference?) is possibly their fourth, including some cassette-only (!) efforts. Stylistically, it sits in the grey area somewhere between Ventures-style surf, the aforementioned Shadows (and Joe Meek productions) and Morricone's spaghetti western soundtracks, full of heavily-reverbed twangy guitars and sound effects, not least the sample-and-hold synth on Sutures In.
Steve Moore (of Earth) plays (real?) Mellotron, with choirs on GG Narrows and Perro Chino, sounding, on the former, like he's using my trick of shifting a chord up and down an octave, as the male voices stay the same, giving the impression of an indefinite sustain. Or is it sampled? Anyway, one for Dick Dale and Clint Eastwood fans everywhere, showing any other pretenders to the surf crown how it should be done.
Pat DiNizio (2007, 29.31) ***½/T½

Since You Went Away
Night Without Sleep
Wonderful
Any Other Way
I Need You
Dear World
Love
Sometimes
You Said
Don't Look Now
Current availability:
Mellotron used:
Pat DiNizio is mainman of New Jersey's Smithereens, concurrently running a sporadic solo career, 2007's ludicrously short eponymous release being his third in a decade. When I say 'short', I mean (as you can see) 'under half an hour', some tracks actually fading before you feel they're done, which makes for an unusual turnaround from the more typical scenario. Unlike DiNizio's previous solo efforts, apparently, this is not dissimilar to his work with his main outfit, top tracks including opener Since You Went Away, the raucous Wonderful, Any Other Way and closer Don't Look Now, but not only does he appear to be incapable of writing a bad song, but the album's short enough to suggest self-editing, so maybe we're simply not getting to hear the second-rate stuff.
Kurt Reil plays Mellotron (as he does with The Smithereens), with strings on Since You Went Away and Sometimes, presumably from a real M400. Pat DiNizio is a fine album, fearlessly melodic and uncompromisingly powerpop; if you just can't get enough jangle for your jingle (huh?), apply here.
See: Smithereens
The Great Pretender (1974, 38.06) **½/T

The Great Pretender
Jamaica
Yellow Rose Express
Sunday Morning Fool
Last Dance in Salinas
Tattooed Man From Chelsea
Woman of Aran
Pentacott Lane
Icarus
Texas Knight
Current availability:
Mellotron used:
Although the intriguingly-named Michael Dinner began his career as a country singer, he subsequently moved into film production, finally finding success in that area. His first album (of two), 1974's The Great Pretender, is a proper, trad country release, of the kind that can sell millions with the right promotion. However, given that he was signed to the same label as Creedence Clearwater Revival, Fantasy, maybe we shouldn't be too surprised that this record effectively sank without trace. It occasionally deviates from the country template, notably on the rocking Tattooed Man From Chelsea and the country/blues of Woman Of Aran, its best tracks probably being the aforementioned Tattooed Man... and epic country closer Texas Knights.
John Boylan plays Mellotron on two tracks, with string parts on Icarus and Texas Knight, that sound, although the album features names of the calibre of Linda Ronstadt, Andrew Gold and pedal-steel god "Sneaky Pete" Kleinow, like an attempt to substitute for a real string section. Anyway, if you don't like mainstream country, you're probably not going to want to hear this, but it does what it does well and avoids most of the horrid Nashville clichés of the era.
Green Mind (1991, 41.33) ***½/T

Wagon
Puke + Cry
Flying Cloud
How'd You Pin That One on Me
Water
Muck
Thumb
Green Mind
Blowing it/I Live for That Look
Without a Sound (1994, 45.58) ***/½

Feel The Pain
I Don't Think So
Yeah Right
Outta Hand
Grab it
Even You
Mind Glow
Get Out of This
On the Brink
Seemed Like the Thing to Do
Over Your Shoulder
I Bet on Sky (2012, 47.03) ***/T

Don't Pretend You Didn't Know
Watch the Corners
Almost Fare
Stick a Toe in
Rude
I Know it Oh So Well
Pierce the Morning Rain
What Was That
Recognition
See it on Your Side
Current availability:
Green/Sound: Warners
Sky: Jagjaguwar
Mellotrons used:
All titles: band's own M400?
1991's Green Mind was Dinosaur Jr's first album after the major schism within the band, bassist Lou Barlow (Sebadoh) now history and drummer Murph only making a minor contribution to the record. It was also their first for a major, but you could hardly accuse them of selling out as it kicks off with the furious Feel The Pain, mixing pop and punk in a way wholly different to then-new acts such as Green Day or The Offspring, but strangely rather akin to Hüsker Dü, already several years gone. Mellotron credited on two tracks, from Sean Slade, although whatever might be on Water is completely inaudible. Thumb is another matter, however... It opens with an unaccompanied Mellotron flute part, which then keeps up all the way through the song, mixed high enough to be clearly audible over the band. Marvellous!
'94's Without a Sound, not dissimilar to Green Mind, finds J. Mascis still channelling Neil Young. it's another set of melodic post-hardcore, although the then-prevalent grunge movement should have worked more to their advantage than it did. Its sole Mellotron track is the album's first ballad, Outta Hand, with some distant strings cropping up here and there, but it's far from essential, particularly when compared to Thumb.
After Mascis' sample use on '97's Hand it Over (here), it was another fifteen years before the reformed original lineup used anything Mellotronic again. 2012's I Bet on Sky is a decent enough release, perfectly matching the description that titled a 2001 compilation: 'ear-bleeding country'. Better tracks include opener Don't Pretend You Didn't Know, the slower Stick A Toe In and Pierce The Morning Rain, while Recognition stands out for its herky-jerky chorus rhythm. Even more than on their early albums, it's really noticeable what a massive debt they owe to Neil Young, without whom, quite simply, they wouldn't have a career. Mascis plays what sounds quite like real Mellotron strings on Don't Pretend You Didn't Know, but they're hardly a defining feature of the album.
So; if you're reading this, you probably already know what Dinosaur Jr sound like and probably own these albums. For the rest of you, they're far more melodic than you might expect, but Green Mind's Thumb is the only Mellotron 'must have' here.
See: Samples | Mike Johnson | Sebadoh
Dio at Donington UK: Live 1983 & 1987 [Disc 1] (2010, 46.33) ****/T

Stand Up and Shout
Straight Through the Heart
Children of the Sea
Rainbow in the Dark
Holy Diver
Drum solo
Stargazer
Guitar solo
Heaven and Hell
Man on the Silver Mountain
Starstruck
Man on the Silver Mountain (reprise)
Current availability:
Mellotron used:
Ronnie James Dio fell out with Black Sabbath in 1982 over the mixing of their double live Live Evil (er, didn't Miles Davis get there first?), going on to form Dio, releasing Holy Diver the following year and securing a slot at that summer's Monsters of Rock at Donington racecourse. The band played there again four years later, by which time Dio (the man) had become an enduring metal icon, finding himself almost above criticism, however lame his studio output had become. Another two stints with Sabbath (the latter as Heaven & Hell) were to come, H&H's career fatally interrupted by Dio's death in 2010, aged 68.
Mere months after his death, the recording of both Donington sets appeared as the clumsily-titled Dio at Donington UK: Live 1983 & 1987, the '83 set, at least, reminding us of how vital the band were in their early days. Admittedly, they rely heavily on Ronnie James' Sabbath and Rainbow past, playing a mere three tracks from their debut; 'crowd pleasing', I believe it's called. From what I remember of the day (a little; it was 28 years ago...), they did precisely that; an excellent PR exercise that almost certainly boosted sales of both Holy Diver and their theatre tour that autumn.
Claude Schnell played offstage keys, including (I believe) Mellotron; Dio himself was certainly keen on the instrument, although I don't hear it on his studio albums. Anyway, we get choirs on Straight Through The Heart and Children Of The Sea, with a melodic part on the latter, although they're not obvious on Heaven And Hell, one of a handful of live Sabbath Mellotron tracks. So; do you love Ronnie James? Can you not get enough of his (admittedly huge) presence? This set's for you, then, although I wouldn't bother for its low-key Mellotron use.
See: Black Sabbath | Rainbow
Taking Chances (2007, 65.56) *½/TT

Taking Chances
Alone
Eyes on Me
My Love
Shadow of Love
Surprise Surprise
This Time
New Dawn
A Song for You
A World to Believe in
Can't Fight the Feelin'
I Got Nothin' Left
Right Next to the Right One
Fade Away
That's Just the Woman in Me
Skies of L.A.
Current availability:
Mellotrons used:
Tim Christensen's M400/other?
Celine Dion? Er, what? Yup, 'fraid so; good ol' Celine's released an album with some bloody Mellotron on it. Her 13th English-language record, Taking Chances (guess what: it doesn't), features the usual bevy of producers, programmers, musicians, technicians, hairdressers etc., not to mention the makeup artist whose career-crowning glory is no doubt her achievement in getting Celine to look almost exactly like an alabaster model of herself on the cover. So, what's the music like? I hear you cry. Well, I've done my level best to avoid her earlier product, but I believe this isn't the first time she's released a collection of perfect, soulless AOR; the Big Rock Hair on the cover gives the game away, as does the near- (but not that near) breast exposing pose.
Her musicians are far more interesting than the lady herself; names that leap out at me include Jamie Muhoberac, Pat Thrall ('digital editing', not guitar), Pat Leonard, Lucy Woodward, Jim Keltner (just another session, no doubt) and Canadian AOR god Aldo Nova, who also wrote one song. The names that interest us here, though, are ex-4 Non Blonde Linda Perry and Danish Mellotron god and ex-Dizzy Mizz Lizzy star Tim Christensen. Both contribute material, too, as does on/off Soft Boy Kimberley Rew, and while the songwriters' names aren't familiar, second track in is her version of Heart's massive '80s hit, Alone. If this album was 35 minutes long and cut all the shitty ballads, I might just about be able to have it on in the background without writhing on the ground in pain, but it's over an hour and features several ballads, so you can probably imagine how I'm feeling right now, only just over halfway through.
Perry and Christensen both play 'Tron, amazingly, with flutes and strings on My Love, strings on Surprise Surprise and flutes on Right Next To The Right One, and while the rest of the album's strings work seems to be real, there's a slight question mark over the opening title track. Listen, despite three 'Tron tracks and the sainted Tim Christensen's involvement, I STRONGLY URGE you to go absolutely nowhere near this horrible album. Listening to it has made me a sadder but wiser person; actually I was lying about the wiser bit, as I'm quite sure I'd do exactly the same thing, given another chance. Very nasty indeed.
Before the Dinosaurs (2011, 43.54) */½

Geronimo (Jost & Damien radio mix)
Reconnect
Friends
In Love With the World
What it's Like
Into the Wild
Masterpiece
Where the Wild Roses Grow
America
Recipe
Superhuman
Before the Dinosaurs
Current availability:
Mellotron used:
Maria Louise "Aura Dione" Joensen's background is confused, to say the least: Faroese/French mother and Swedish/Spanish father, born in New York and grew up in Denmark. Has any of this anything to do with the utter awfulness of her second album, 2011's Before the Dinosaurs, tasteful, 'empowering' sleeve and all? Probably not. It really is a dreadful record, opening with Geronimo (Jost & Damien Radio Mix), the most obnoxious piece of overproduced, autotuned mainstream shite it's been my displeasure to hear in some time. Least appalling tracks? What It's Like is marginally less horrible than its compatriots, at least until the vile chorus, er, possibly Into The Wild... It's like polishing turds, I tell you.
Patrick Warren plays Mellotron on Recipe, with a brief string part that, quite honestly could've been played on pretty much anything. OK, not a triangle. This really is as bad as my description. Just don't.
Deux (1977, 47.49) ****/T½

Ouverture
Le Prohète: Suite Fraternelle
Dans la Mémoire du Temps
Évocation de Rê
Léthargie
Chant Fraternel
Danse Françoyse
Gratte-Ciel Polyphonique/Postlude
Campus
Transit-Express
[CD adds:
Nr.9 Zyklus - Für einen Schlagzeuger
Fil de Terre]
Current availability:
Mellotron used:
Michel-Georges Brégent formed a duo with his brother, Jacques, in the early '70s, releasing one album, Poussières des Regrets, before teaming up with percussionist Vincent Dionne, releasing two albums, 1976's schizophrenic but brilliant Et le Troisième Jour (****) and the following year's Deux. Online reviewers seem to rate the former over the latter, which only goes to prove the old adage, 'horses for courses'; Et le Troisième Jour is nearer the avant-garde, while Deux is nearer to the progressive/electronic mainstream, such as it is. The near-side long Le Prohète: Suite Fraternelle is a beautiful piece, moving through several sections, combining keyboards and percussion in a quite unique way, making the duo difficult to compare to anybody else, while Campus and Transit-Express (also the name of a French fusion outfit of the time, so there may be a connection) are more energetic, with a jazz influence on the latter. The 2006 CD adds two bonus tracks, a Stockhausen percussion piece, Nr.9 Zyklus, and the truly excellent Fil De Terre, which both appear to predate the duo's debut, but are worth hearing.
Brégent's Mellotron is fairly hard to spot, as the album's strings appear to be produced by something else, although I've no idea what. There are no string players credited, so maybe it's creative use of a string synth? Hard to say, unless it's extremely cunning synth programming (not an impossibility). Two parts of Le Prohète: Suite Fraternelle seem to feature the instrument, with cellos on Danse Françoyse and flutes on Gratte-Ciel Polyphonique, plus strings on side two's Campus, juxtaposed with a real string section, making me wonder about those 'Mellotron' cellos.
So; an inventive electronic/progressive album, most easily obtained alongside its predecessor on XXI-21's excellent 2-CD set, although hardly a 'Tron classic. Brégent made a second album with his brother in 1979, Pour Partir Ailleurs, also rumoured to contain 'Tron, although it seems it was actually an Orchestron. Sadly, he died in 1993, leaving Dionne to ensure that their work made it to CD, finally finding a worldwide audience in the process.
Dionysos (France) see: Samples
Strange Generation (2004, 49.14) ***/0

No Rest
Car Crash
Strange Generation
Burn You Down
Time in Space
Give it Up
Dead Man
Control
Deep End
Way to Go
Light-Headed
Chico
We Were Young
Current availability:
Chamberlin used:
On 2004's Strange Generation, The Dirty Americans have captured the essence of rock'n'roll like lightning in a bottle, making most of the current crop of young pretenders look rather silly in the process. It's not all great, but material of the quality of the title track, Give It Up and the sort-of AC/DC-esque Light-Headed make this the kind of straight-down-the-line '70s-influenced rock album to put on when you've grown tired of more fashionable chin-strokers or, er, any kind of intricacy. The album does outstay its welcome by a couple of tracks, but that's picking holes in an enjoyable if undemanding record.
Producer Paul Ebersold is credited with Chamberlin, but I'll be buggered if I can hear where. The album has more acoustic moments than you might expect, but none of them seem to feature any Chamby interjections, so unless I can find out exactly where it's supposed to be used, this gets a big fat '0' on the tape-replay front. Worth hearing if you want to let your mind off the hook for a while, but with no obvious Chamberlin use, I'm afraid I can't recommend this on that front.
Unfolded Like Staircase (1997, 64.54) ****½/TTT½

Canto IV (limbo)
Crutches
The Carrot
The Silent Mirror
Down the Hatch
Crutches
Into the Dream
Descent
Chock Full o'Guts
Drawn and Quartered
Clearing
Stealing the Key
Sum Music
Turtles All the Way Down
Before the Storm
The Ocean
The Storm
Eden
To Shatter All Accord (2011, 56.47) ****/TT

Circuitry
When the Walls Are Down
Dead City
When She Dreams She Dreams in Color
Rogue
Current availability:
Both titles: Strung Out (US)
Mellotron used:
Unfolded: Chris Dale's EMI M400
Shatter: unknown (samples?)
The slightly cheekily-named Discipline's second album, Unfolded Like Staircase (it's a lyric quote, which doesn't make it any less odd) is an excellent piece of work, although the band seem to have gently slipped away since, sadly. It's a pot pourri of progressive styles, with the sax parts lending it a slightly Van der Graaf Generator air in places, and there's a constant King Crimson thing going on, although overall, it sounds more typically American than anything. Discipline were vocal/keyboard/sax/violin man Matthew Parmenter's band, so I've no idea how they managed to recreate this material live, although a more recent live album, Into the Dream... Discipline Live, proves that they could, and did.
Parmenter has confirmed that he used real 'Tron on the album (picked up in Canada for a day's recording, with its owner, Chris Dale), and it has to be said, he uses it with admirable taste and great restraint (there's next to none on Canto IV), although some of the more in-your-face parts include the end section of Crutches and the beginning of The Storm. I can't hear anything other than standard strings on the album, which seems slightly odd, as I'm sure the choirs would have worked in a few places, but that's obviously how he wanted it. I've heard a few people say they dislike this album, but unless you're totally stuck on '70s music from the '70s', I can't see how many progressive fans would have a problem with this. Highly recommended.
After two solo albums and a lot of dead space, Parmenter finally brings us the third Discipline album, To Shatter All Accord, a mere fourteen years after its predecessor. In case anyone might've been under the impression that he wasn't able to write this stuff any more, it's excellent, if just possibly not quite as jaw-dropping as before, that ol' Van der Graaf influence rearing its not unattractive head again on the hypnotic Dead City. Best tracks? It's not that kind of album, to be honest; listen to it in one sitting, then listen to it again. Criticisms? I'm really not sure about the occasional, slightly unwelcome touches of blues piano and guitar, which actually slightly subtract from the overall vibe, but that's about it. Mellotron? Parmenter adds occasional strings on When The Walls Are Down, with major parts in Dead City, When She Dreams She Dreams In Color and lengthy closer Rogue. Am I convinced by the 'Mellotron' here? I am not, but not enough to definitively quarantine it in 'samples'.
Incidentally, their first album, Push & Profit, contains a smattering of pseudo-'Tron that actually isn't at all, and is reviewed here.
See: Mistaken ID | Matthew Parmenter
Swap Meet Seers (2004, 44.01) **½/0

Time Trekker
Je Me Souviens
Coming of Wage
Somewhere Up There
Where Lost is Found
Off-Kilter
Dangling Strings
Buhdust
String Theory
Angels
Draft 2005
L'Ame Celeste
Current availability:
Mellotron used:
Dissent are (or possibly were) a San Francisco Bay Area collective, numbering at least a dozen members, whose third album, Swap Meet Seers (or Dissent 3: Swap Meet Seers) seems to be the West Coast's answer to British trip-hop, its twelve tracks moving through a series of dreamlike states, often with female French-language vocals (did I hear someone say, "Stereolab"? Or, for that matter, "Saint Etienne"?). It's perfectly harmless, but also, despite its length, exceedingly dull. I think this is music for late-nite kicking back, not rainy Wednesday afternoons, but I shan't be revisiting it later today.
Noted area producer Matt Henry Cunitz is credited with Mellotron, amongst other elderly 'boards, but it's effectively inaudible, sadly. His MySpace blog keeps track of his work (thanks, Henry), but this is one of a handful of entries labelled 'individual track info coming soon'; when/if it does, I'll amend this review. In the meantime, unless you're of a trip-hop persuasion, you're probably not going to like this: I didn't.
6 Elefantskovcikadeviser (1971, 35.33) ***/T

Introduktion V/Sigvaldi
Wallifanten
Narrevise
Snehvidekys
Kometen
Ta' Fri, Ta' Fri
Et Samfund
Tingel-Tangelmanden
Introduktion Til Medardus
Current availability:
Mellotron used:
Progressive rock's always been a bit thin on the ground in Denmark, with a mere handful of bands emanating from there, making it slightly ironic that the small scene's only representation on this site is a result of one of them, Burnin Red Ivanhoe, backing a charismatic Danish singer, Povl Dissing. Already in his thirties in the early '70s, 6 Elefantskovcikadeviser (try saying that after you've had a few) was Dissing's fifth (and BRI's fourth) album and is only 'progressive' in the loosest sense of the word, in that it goes beyond the mainstream chart music of the time. It's effectively a folky singer-songwriter record with a slightly proggy undercurrent from the band, notably on the lengthy, jammed-out Tingel-Tangelmanden and mad, experimental closer Introduktion Til Medardus, more band than singer. Think: the Danish Dylan and you can't go too far wrong.
Karsten Vogel plays Mellotron, with strings towards the end of Tingel-Tangelmanden, gradually shifting from the background to full audibility. It's hard to tell what's being used: an M300? Were there any in Denmark? The album was recorded in Copenhagen, so who knows? Anyway, Burnin Red Ivanhoe fans probably need to hear this just for Tingel-Tangelmanden, although the rest of the album will probably disappoint prog and psych fans alike.
Official Burnin Red Ivanhoe site
The Dissociatives (2004, 43.49) ***½/TTTT

We're Much Preferred Customers
Somewhere Down the Barrel
Horror With Eyeballs
Lifting the Veil From the Braille
Forever and a Day
Thinking in Reverse
Paris, Circa 2007slash08
Young Man, Old Man (You Ain't Better Than the Rest)
Aaängry Megaphone Man
Sleep Well Tonight
Current availability:
Mellotron used:
The Dissociatives are a new Australian duo comprising Daniel Johns from the vastly popular Silverchair and Paul Mac, a late-period Silverchair collaborator and producer. Rather unsurprisingly, The Dissociatives sounds like a cross between Johns' 'guitar rock' (for want of a better phrase) and Mac's electronica input, making for a slightly schizophrenic, though not unpleasant record. It's actually quite eccentric in places, which has to be a good thing, as the entire music industry slowly suffocates under the weight of the identikit drivel it spews out at an unthinking public. Thinking In Reverse reminds me of the so-called 'new wave' from the end of the '70s, while Paris, Circa 2007slash08 (yes, it is spelt like that) is more like Air on steroids, but there isn't a single track here that offended me.
Whoever plays the Mellotron (presumably Mac) plays it well, and lots: the strings and flutes on Somewhere Down The Barrel are a warning shot across the bows, before the full-on, right at the front of the mix 'Tron on Horror With Eyeballs, not to mention the flute solo in Lifting The Veil From The Braille, and... Listen, this is loaded with Mellotron, which is far more than you'd ever normally expect of a new, 'pop' album. Result! And what's more, the key-click to be heard on many of the flute parts makes it almost certain that they're using a real machine, not copping out with the M-Tron or similar (modern prog outfits, TAKE NOTE!).
So; not exactly one for you progheads, but an interesting album, difficult to categorise. Loads of Mellotron, too, so if you're feeling adventurous... In the meantime, it appears that Silverchair haven't actually split up, so we can but hope that Johns and Mac decide to work together again in the future.
The Ditty Bops (2004, 40.42) ***/½

Walk Or Ride
Wishful Thinking
Ooh La La
Sister Kate
Breeze Black Night
Gentle Sheep
Pale Yellow
Four Left Feet
There's a Girl
Unfortunate Few
Short Stacks
Wake Up
[Hidden track]
Current availability:
Mellotron (or Chamberlin) used:
The Ditty Bops are the duo of Abby DeWald and Amanda Barrett, plus whoever else is needed. They combine folk, singer-songwriterly stylings, ragtime, western swing and various other indigenous American styles into a slightly twee concoction that actually defies description. Their eponymous 2004 debut shifts through different moods over its length, from twee and bouncy (opener Walk Or Ride) through the aforementioned western swing influence (Sister Kate) to the appealing mixture of various folk styles on Four Left Feet, although nothing for anyone not into bright'n'breezy girly stuff.
Mitchell Froom plays keys, including some form of tape-replay instrument on Walk Or Ride, providing a faint flute part, only really audible during the song's dying seconds. Mellotron? Chamberlin? Who knows? You're certainly not going to buy The Ditty Bops for a couple of seconds of it in the background, anyway. Incidentally, the pair were married in California in 2008, seemingly one of the few states to (currently) recognise same-sex marriage. I can't understand why it's anyone else's business what domestic arrangements people prefer, but then, I'm not a right-wing religious bigot.
Determinazione (1995, 62.47) ***/T

E Con il Mattino Torneranno Gli Eroi
Libero
Robin Hood
Gargantua Bestemmia Dio e Viene Trasformato
nel Gigante di Pietra Posto a Guardia della
Tana del Drago di Altomonte...
Regina delle Fate
Frammenti
Determinazioni Oggettive? Determinazioni Suggestive!
Vento Che Va
Il Ritorno del Gigante Gentile
Il Ritorno del Gigante
Principessa Narda
Il Tempio
L'Ultima Battaglia
Un Giorno, un Amico
Addio Gigante
Current availability:
Mellotron used:
Divæ (or Divae) were a one-shot mid-'90s Italian progressive outfit who, although clearly influenced by various '70s bands, had trouble converting their influences into a whole album's-worth of strong material, sometimes slipping into duff neo-progisms. Given that Determinazione is over an hour long, they could easily have edited somewhat, ending up with a stronger record in the process, although the six-part, 12-minute closer Il Ritorno Del Gigante Gentile (the return of Gentle Giant...) is an unexpected treat, being probably the best thing here, even if it sounds nothing like Kerry and the boys. Opener E Con Il Mattino Torneranno Gli Eroi cheekily quotes from Grieg's Peer Gynt, and most tracks have at least something to recommend them, but overall, the album falls into an awkward '*** or ***½?' category, so I'll leave it where it is until/if it grows on me some more.
Enzo DiFrancesco was one of two keyboard players, not to mention the drummer, who chipped in as well, but DiFrancesco's the only one credited with Mellotron, although he didn't play it that much, with strings on Regina Delle Fate and Frammenti; the weak-as-water choirs that permeate the album sound like generic samples, and there are other string parts that could be 'Tron, though it seems unlikely. So; passable '90s prog, but excellent in comparison to some of the rubbish that Italy was throwing up at the time (Egoband, Theatre et al.); maybe I'm being a little harsh with my three stars? Not much 'Tron, anyway, so don't bother on that front. Oh, and if you're fussed, Lino Vairetti from Osanna and Gianni Leone from Il Balletto di Bronzo guest. Also oh, for what it's worth, track four is actually called (deep breath) Gargantua Bestemmia Dio E Viene Trasformato Nel Gigante Di Pietra Posto A Guardia Della Tana Del Drago Di Altomonte... Da Dove Il Suo Sguardo Scruta L'Orizzonte Per L'Eternità Sino Al Dorato Mare Di Sibari (!), and no, I've no idea what it means.
Once We Were Born... (2008, 52.52) ****/TTT½

Dance
Choose Your Green
Trota di Mare
Orange and Turquoise
In Search
Little Man
The Person
The Man From My Mother's Brother
Closing the Circle
Burned By the Sun
Rökstenen: A Tribute to Swedish Progressive Rock of the 70's (2010) ****/TT

[Divine Baze Orchestra contributes]
Här Kommer Natten
Current availability:
Once: Transubstans
Rökstenen: Musea (France)
Mellotron used:
The Divine Baze Orchestra are a new Swedish band who've got that retro hard rock/prog thing down to a T - appropriate, given my ratings system... Once We Were Born... is a surprisingly varied record, going by many of the band's contemporaries, with jazz and quite strong blues influences creeping in under the radar, although I'm not so sure the latter actually works in this context. Top tracks include opener Dance, with its ripping Hammond intro and Closing The Circle, although it's all good, frankly.
Daniel Karlsson plays keys, including Mellotron, with strings and/or flutes on all the highlighted tracks above. The only reason this doesn't get a higher 'T' rating is that he mostly uses it with some subtlety, to the point where some tracks only feature a few chords. All in all, then, this is a most worthwhile release, sounding wonderfully authentic for a new band. Progress? Progress schmogress.
See: Colossus Project
The Gabe Dixon Band (2008, 45.38) **½/0

Disappear
Five More Hours
Further the Sky
All Will Be Well
Find My Way
Till You're Gone
Far From Home
Ever After You
And the World Turned
Sirens
Baby Doll
Further the Sky (reprise)
Current availability:
Mellotron used:
Gabe Dixon is a pianist/vocalist; think: Ben Folds without the humour, or an updated version of various Californian '70s singer-songwriters and you won't be a million miles off. 2008's The Gabe Dixon Band is only his third studio album in nearly a decade, much of it consisting of a particularly insipid form of piano-driven pop (worst offenders: opener Disappear, Further The Sky), although it picks up slightly as the album progresses, more acceptable tracks including Find My Way and the almost-raucous Till You're Gone.
Both Dixon and Neal Capellino are credited with Mellotron, but all the strings sound real (there are several strings players on the album), so it's anyone's guess as to where it might be, assuming it's even real. I suppose Ben Folds fans might go for this, but I honestly can't recommend it to what I fondly imagine are typical Planet Mellotron readers.
The Devouring (1997, 71.13) ****/TT

Night of the Mexican Goat Sucker
Forbidden By Rule
Lost, But Not Forgotten
Lights Over Roswell
Myth of a White Jesus
The River of No Return
Room 40
The Indian Problem
The Pinzler Method
Old Soldiers' Disease
New Dark Age (2001, 55.38) ****/T

No Man's Land
Eclipse of Faith
Web of Medea
Demon Train
All Clear
Raising Orpheus
Kali's Indifference
Alone With the River Man
Going Home
Eulogy
Recollection Harvest/Indian Summer (2005, 71.31) ****½/TTT

The March to the Sea of Tranquility
Dr. Money
The Packing House
The Gypsy and the Hegemon
Recollection Harvest
Indian Summer
Open Roads
The Great Plains of North Dakota
Dark Oranges
Twilight in Ice Canyon
Requiem
The Heavy Soul Sessions (2010, 64.36) ****½/TTT

Hungry Ghost
The Red Threaded Sexy Beast
Consider Figure Three
The Packing House
Dedicated to K.C.
The Gypsy and the Hegemon
Current availability:
Soul: HC
All other titles: Cuneiform (US)
Mellotrons used:
Devouring/New Dark Age: Greg Walker's M400
Recollection/Soul: band's own M400
Djam Karet (pron. 'Jam Carray'), from California, formed at the beginning of the sterile '80s and immediately made their mark on a depressed progressive scene with their dynamic, forward-looking and inventive music. 1989's Reflections From the Firepool (****) was an early classic, while Suspension & Displacement (***½) ploughed a different furrow altogether, and Burning the Hard City (****) heads off at another tangent. All of which adds up to that rare thing (ironically, particularly within prog), an original, talented band with something new to say. I've never actually seen any pictures of the band's faces, although I'm sure plenty exist; they seem to prefer their witty take on anonymity (see below). There also seems to be some confusion as to the gender of guitarist Gayle Ellett, with a moronic 'writer' for UK mag Record Collector (who shall remain nameless, although his initials are T.J.) making idiotic sexist remarks about... a man. Dork.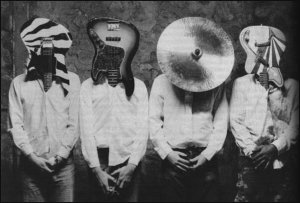 As the band's career progressed, Ellett in particular began to take on more keyboard duties, often favouring analogue over digital, although the band refuse to allow themselves to become hidebound in this area (or any other as far as I can ascertain), playing whatever instruments are required by the piece in question. Never the most prolific outfit, The Devouring was only their third release of the '90s, and the first to feature Ellett on Mellotron, among many other devices acoustic, electric, analogue and digital. The album consists of ten lengthy compositions, all instrumental (did I mention the band are entirely instrumental?), full of involved guitar interplay, unusual instrumental juxtapositions and a healthy dose of real tunes (remember them?). It's difficult to pick out highlights on a first listen, although Forbidden By Rule is notable, and guest violinist Judy Garf on the no doubt ironic Lights Over Roswell certainly makes her mark. Ellett restricts his (borrowed) Mellotron use to three tracks, although at least one other has an orchestral string pad that may just possibly have some 'Tron thrown into the mix. Forbidden By Rule and Lost, But Not Forgotten have fairly typical string parts, particularly strong on the latter, while closer Old Soldiers' Disease goes for strings, choir and flutes, mostly layered onto one short section of the piece.
Four years on, New Dark Age is generally more laid-back than its predecessor, although the compositional standard seems to be as high. As with much instrumental music, of course, there are fewer 'handles' for the listener, so consequently, an album may have to be played a greater number of times for the music to sink in, which adds up to: I'll be able to give this a better review when I've played it a few more times. Less of Ellett's 'Tron work this time round (the 'Tron, incidentally, being lent by Syn-Phonic's Greg Walker, who I believe bought it from Arthur Brown's one-time keyboard player Victor Peraino), so apart from a string line which is more likely to be a combination of samples and analogue strings, all I can hear is string and choir parts on Going Home.
After a couple of intermediate releases, 2005 brought the sprawling Recollection Harvest/Indian Summer, actually two albums in one, the first five tracks comprising Recollection Harvest and the remainder Indian Summer. There are distinct differences between the two halves; Recollection Harvest is more 'traditionally' DK, while Indian Summer has a more 'ethnic' bent and, while utilising percussion, is less rhythmic. In many ways, the first half is a typical Djam Karet album, although they've refined their sound yet further from their previous work; The Gypsy And The Hegemon is quite brilliant, and at no point does the intensity of the (naturally all-instrumental) affair slacken, while the second part is gentler, but no less effective. The album opens with a blast of Ellett's 'Tron strings (their own machine, at last; Aaron Kenyon also plays this time round) on The March To The Sea Of Tranquility, with cellos at the end of the track, while a calliope-esque flute part opens The Gypsy And The Hegemon and clusters of brass and choir chords appears halfway through Recollection Harvest itself. More choirs on Indian Summer, Dark Oranges and Requiem and strings on The Great Plains Of North Dakota; it's possible there are more parts, but given the album's generous use of analogue and digital synths, it's not always easy to tell.
A five-year wait ended with the release of 2010's The Heavy Soul Sessions, featuring the band playing pieces from their back-catalogue live in the studio, adding a version of Richard Pinhas' Dedicated To K.C. for good measure. I have to say, this is quite superb; DK have clearly cherry-picked some of their best material and play at the peak of their considerable abilities; interestingly, Ellett, one of the band's original guitarists, shifts completely over to keyboards here. This could almost be seen as a primer to the band's work, in some ways, with the bonus that they're playing better than ever. Ellett's Mellotron strings drop in and out of opener Hungry Ghost and The Red Threaded Sexy Beast (with a particularly upfront part around seven minutes in), chordal choir parts on The Packing House and Dedicated To K.C. and a repeat of the calliope-like flute part on Recollection Harvest/Indian Summer's The Gypsy And The Hegemon, as if the album needed improving.
So; Djam Karet deserve your attention, although those looking for 'trad' prog may be disappointed; this is at least a million miles away from the horrors of generic prog-metal, but the band aren't afraid to use riffing guitars when the music requires them. I've now heard many of their albums, all different to each other and I can recommend all of them, which says something. As far as these three go, Recollection Harvest/Indian Summer and The Heavy Soul Sessions duke it out for the coveted 'best' nomination, while The Devouring is probably marginally better, and definitely more of a 'Tron album than New Dark Age, but for what it's worth, I'd say, buy 'em all anyway. By the way, a small mention for Djam Karet's cover art; when so many bands settle for a cheap'n'nasty effort that cost about a fiver to sling together, they obviously go out of their way to make an effort. It really isn't that difficult.
n.b. 2003's A Night for Baku can be found on the Samples page.
See: Samples
Shakespearean Fish (1996, 41.47) **/½

Tell You Stories
All of Sunday
Never Doubt I Love
Forgive Me
Saltwater
Till I Start to Believe
Babe in the Woods
My Sister Sings
God So Loved
Silly Me
Shakespearean Fish
Current availability:
Mellotron used:
Shakespearean Fish was Canadian Melanie Doane's second album, and I think the one word that describes it to a T is: smooth. That doesn't have to be an insult, but it is in this case. This really is bloody dullsville; she's at the exceedingly sappy end of the singer-songwriter spectrum, with one of those voices that could so easily tip over into Shania bloody Twain territory, not to mention her anodyne, gutless songs. Bedsitter/wetter stuff, I think.
Well, that was a bit vicious, wasn't it? Sorry, but this sort of stuff really gets on my nerves, due to its complete adoption of one arm of the mainstream, although at least we're spared the 'sampled beats' you'll find on her more recent releases. Gack. Anyway, Mellotron on Saltwater from producer Rob Friedman, with some volume-pedalled chords that stop before they get anywhere, and a background flute part later in the song.
So; don't. Just don't. Just in case.
Bottomland (2002, 39.19) ***/T

Bottomland
This Day
Rocks to Pick
Beer Bottle Chandelier
Big Wide Open
Jimmy Roy
Like an Angel
The Ballad of Willie Holmes
Road Song for a Sailor
Bellingham Rain
Current availability:
Mellotron/Chamberlin used:
Allen Dobb couldn't be more different to countrywoman Melanie Doane (above) if he tried; rough, authentic acoustic blues-rock, with a voice that sounds like it's been there, come back, then done the round trip several more times for good measure. Bottomland was his second solo album after working in the duo Dobb and Dumela in the early '90s, and while I'm not about to call it my New Favourite Album, it's perfectly listenable, with songs that will doubtless grow on me should I ever find the time to give them the chance.
Two tracks of tape-replay, with Dave Kershaw playing (unusually) quiet Mellotron vibes on Like An Angel, and both Chamberlin and Mellotron on closer Bellingham Rain, one covering the cello, and one the strings, though I've no idea which is which. So; a decent album in its style, though steer clear if the sound of slightly countryish acoustic blues turns you off. Minor tape-replay, too, so don't bother on that account.
Hollywood Be Thy Name (1975, 40.20) ***/T

New Island Soiree
Reggae Doctor
The Way You Do the Things You Do
Swanee River Boogie
Yesterday
Babylon
Back by the River
Medley:
It's All Right With Me
Blue Skies
Will the Circle Be Unbroken
Hollywood Be Thy Name
I Wanna Rock
Current availability:
Mellotron used:
Mac "Dr John" Rebennack's career began in his teens in the '50s, doing sessions in his native New Orleans before inventing his Creole Witchdoctor alter-ego in the late '60s, Dr John the Night Tripper. After a move to L.A., his mangrove stew of soul, r'n'b, psychedelia, voodoo, jazz and anything else that took his fancy caught on quickly, 1972's Gumbo breaking him through to the world at large.
1975's Hollywood Be Thy Name was his first live album, although a few tracks sound as if they were put together well away from the stage. It typifies his style, taking standards and making them his own, combining them with traditional Louisiana songs and his own compositions in a live setting, complete with indispensible brass section. Ken(ny) Ascher (John Lennon, Airto Moreira) plays Chamberlin, with strings on an almost unrecognisable version of The Beatles' Yesterday, although (unless it's hidden away somewhere else) that would seem to be it.
This isn't going to appeal to most of my regular readers, I suspect, but it does what it does perfectly, although his mid-'70s show was probably better seen in person. A good album of its type, then, but not one to really showcase the Chamberlin.
My Life at 33 (2006, 52.04) **½/T

Live Wired
Taking Over
Theme for a Latter-day Lothario
Baby Bossa
Watch the Tables Turn
The Rooster
All Day Playing
Riding With the Ratman
Blow Away the Grey
Minus Three and Falling
Father's Lament
Hot Stone (2010, 38.44) ***/½

Part of Me
Trouble Woman
Northern Comfort
It's Not Clear
Get Away
Theme From Hot Stone
Rising Steps
Magic Beans
You're No Good
Sunset Breakup
Current availability:
Life: GPS
Stone: Jalapeno
Mellotron used:
Dr Rubberfunk is the nom-de-plume of Simon Ward, a British DJ/hip-hop type whose took his first musical steps in the late '80s, becoming Rubberfunk in 2001. 2006's My Life at 33 (r.p.m., of course) mixes'n'matches influences with gleeful disregard for convention; all well and good if that's what you're after, but his approach will probably turn off more than it'll turn on. Two credited Mellotron tracks, with Ward adding real-sounding strings to All Day Playing, although there's nothing audible on Father's Lament.
2010's Hot Stone is his fourth full album under that name, a soul/funk/jazz/hip-hop crossover effort, guests including Roachford and Sitzka, with some decent instrumental work, not least Ben Castle's sax and bass clarinet contributions. Ward is credited with Mellotron on Theme From Hot Stone, although the only thing on the track it even might be is an otherwise uncredited vibes part towards the end. OK, we'll assume it's real until/unless we discover otherwise.
So; good-at-what-they-do albums that don't appeal to me personally, which accounts for the relatively poor ratings above; I'll almost certainly never listen to them again. Don't bother for the Mellotron, though.
The Feeling of Far (2004, 58.54) ****½/TTT½

Cynical Eye
Amieveliano
The Feeling of Far
It's Only a Dream
All the Best
In the Tree
Over You
God is Hiding
Nothing But Laughter
The Lonely Path
Cynical Eye (radio mix)
It's Only a Dream (radio mix)
Current availability:
Mellotron used:
Fritz Doddy makes music for a living, but hasn't allowed the experience to affect his ability to produce a personal, heartfelt album in The Feeling of Far. All the right influences are present and correct; The Beatles, Big Star, Jellyfish even, all of which add up to a near-perfect album of 'intelligent pop', for want of a better phrase. Impeccably put together, the album is pretty much a 'how to' primer for anyone wishing to work in the field, although I suppose Fritz has an unfair advantage in his years of experience producing music for others. And this is a problem? The songwriting, playing and production are all spot-on, giving the impression of a big-production major label effort, rather than the completely homegrown artefact it actually is.
All sorts of people guest, including Susan McKeown, herself an occasional 'Tron user; it seems that Fritz's entire family appear somewhere or other, including his dad shouting at him (!), and even his dog. Fritz plays his (very real) Mellotron on several tracks, sticking mainly to the familiar strings and flutes, although a couple of choir chords sneak in here and there. He resists the temptation to overuse it, too, unlike a few I could name, with a sizeable 'Tronless chunk around the middle of the record. Of particular note are the string intro and 'Strawberry Fields' flutes of Cynical Eye and the flutes on the title track, although all the 'Tron work is (along with just about everything else here) quite exemplary. My only gripe (and it's a very small one) is the wisdom of putting radio edits of two tracks on the end; as Fritz says in his liner notes, "I mixed this album to flow with minimal interruptions of silence and I think it's best enjoyed when listened to from beginning to end", which is slightly disrupted by the 'bonus' tracks. Oh well; hit the 'stop' button after track ten if you're that bothered.
Fritz actually gave me my copy of The Feeling of Far when we met up in London in earlyish 2005. He really is the nicest chap you can imagine, which has absolutely nothing to do with my review; he did say, "Be honest", and I have been. This really is an excellent piece of work, which I unequivocally recommend to anyone who appreciates good songwriting with a largish side-helping of Mellotron. No, really. Fritz even drinks British beer and does a passable London accent. What can I say? Buy.
The Dog That Bit People (1971, 44.36) ***/TT

Goodbye Country
The Monkey and the Sailor
Lovely Lady
Sound of Thunder
Cover Me in Roses
Someone, Somewhere
A Snapshot of Rex
Red Queen's Dance
Mr Sunshine
Tin Soldier
Walking
Reptile Man
Current availability:
Mellotron used:
When organist Norman Haines left Locomotive to form The Norman Haines Band (subsequently producing the fab Den of Iniquity), bassist Michael Hincks and drummer Bob Lamb added two guitarist/vocalists and formed The Dog That Bit People. Their sole, eponymous album from '71 is the kind of stylistic mish-mash that usually gets labelled 'progressive' these days, despite having next to nothing in common with the brand leaders. OK, I suppose it's 'progressive' compared to the mainstream pop and rock of the day, but it's not a particularly adventurous album, opening badly with the overly gentle Goodbye Country, while halfway decent proto-prog like Cover Me In Roses is followed by the good-time country-rock of Someone, Somewhere. Closer Reptile Man is the most rocking thing here, with its distorted vocal, but it's a case of too little, too late.
Keith Millar plays Mellotron, with a string part towards the end of opener Goodbye Country, more of the same (endearingly out of tune) on Cover Me In Roses and (in tune this time) Walking. Overall, then, The Dog That Bit People isn't a hidden artefact from the era, just a rather ordinary album with a couple of good points, just scraping three stars, with some welcome Mellotron work.
Gunsmoke (1995, 40.56) ***/T½

Pollyana Penelope
Gunsmoke
I'm Not Insane
Nothing Better
Huge, Horrible Carrot
She and Me
Paperman
Cindy on the Sidewalk
Waiting Room
Blue
Fallen Angel (of Amsterdam)
Goin' to the Hashbar
Current availability:
Shimmy-Disc (out of print?)
Mellotron used:
Stephen "Dogbowl" Tunney is a somewhat singular artist, whose superficially pretty songs conceal a seriously warped sense of humour. You don't believe me? Gunsmoke is a rumination on homosexual cowboys, years before Brokeback Mountain, Nothing Better describes both varieties of oral sex in excruciating anatomical detail, while Goin' To The Hashbar is pretty much self-explanatory. The infamous (Mark) Kramer presumably plays most of the album's instrumentation, making it unsurprising that the end result sounds a lot like his other productions, a lo-fi aesthetic running through all twelve tracks.
Kramer plays Mellotron, with muted flutes and strings on Nothing Better, flutes on Paperman, only obvious at the end of the track and more upfront flutes and strings on Waiting Room, although none of it that overt, sadly. Well, this isn't yer average album, to say the least, but if you like the sound of lo-fi, (deliberately) lowbrow humour with a smattering of muffled Mellotron, you might just go for this.
See: Kramer
Døgntank (2006, 42.04) ****/TT½

Long Time Dead
Lucifer
Feel the Pain
Weird Sisters
Bad Sign
The Unjust Survive
Outpatient Blues
Waitin' 4' Tomorrow
Deep Seed
Job 2:6
Wandering Star
Stoned Out of My Mind
Current availability:
Mellotron used:
Døgntank is Julian Cope associate Anthony "Doggen" Foster's solo project, whose eponymous 2006 release is mostly a (clearly deliberate) spot-on copy of any number of mid-to-late '70s American hard rock albums, just before Van Halen's iconic debut turned the scene on its head. Is this irony? Homage? Both? This is like finding acetates of an unheard Y&T album in an attic, or hearing an unreleased Ted Nugent session recorded between his debut and Free for All, only without The Nuge. They've got the era's production techniques down pat; spot the stereo echo on Weird Sisters, just before the double-tracked guitar solo. YES! I know people whom, were I not to tell 'em it's a pastiche, would love this to bits. Things actually go slightly awry towards the end (on purpose?), Job 2:6 (complete with solo trumpet part) sounding too much like Spiritualized for its own good (never a good thing), while Neil Young-esque balladic closer Stoned Out Of My Mind is a little inauthentic for the genre, but these are minor quibbles in the grand scheme of things.
Cope plays 'Tron, with choirs on Lucifer, background strings on Outpatient Blues, upfront cellos on Job 2:6, a string part on Wandering Star and high-end cellos on Stoned Out Of My Mind, all in his usual 'non-prog' style. Listen, you have to hear this for its sheer chutzpah, not to mention the fact that this is actually better than many of the albums it's emulating/referencing, amusingly. Contrary to popular opinion, I'm not quite stupid enough to take this seriously, any more than Doggen and co. have, but Døgntank was obviously a fuckload of fun to write and record, not to mention to listen to, with a reasonable amount of Mellotron to keep people like me happy. Recommended.
See: Julian Cope | Sons of T.C. Lethbridge
Places (2012, 40.16) **½/½

ICU
Devil or Angel
One Day After Another
Defiant
Same Old Game
Jealousy
Make a Sound
Hushaby
Questions and Answers
Places
Real Smart
Current availability:
Mellotron used:
Lou Doillon is Jane Birkin's daughter, so no great surprise that she's gone into music, although her main career is as an actor; easy when papa's a director, eh? Anyway, 2012's Places is a passable English-language singer-songwriter effort, with a discernible French influence on most tracks. Is it any good? Good at what it does, as far as I can tell, but it probably isn't going to excite you any more than it did me.
Alexis Anérilles plays distant Mellotron strings on Make A Sound and Questions And Answers, although as to whether or not it's real... Sorry, but I really can't get too excited about this; file under 'adult pop', I think.
Loneliest in the Morning (1997, 37.03) ***½/T½

So Fast
Dance Me
Sorry, Part 1
Tell You Again
Explain
Crying Baby
Sweeter
Tonight We Sleep
Mother
Love to Annoy
Creative Depression
Sorry, Part 2
Condescending You
Le Soleil
Current availability:
Mellotron used:
After a spell in Eric's Trip, Julie Doiron released Broken Girl under that name in 1996, producing Loneliest in the Morning the following year under her own name. It's an incredibly sparse album, largely consisting of Doiron's broken tones (Broken Girl indeed) accompanied by her own guitar, with hints of other instrumentation dipping in and out of the mix. My main criticism would be that there's a certain sameyness to many of the tracks, although I'm sure their separate identities become apparent on repeated plays, and no, I'm not being sarcastic. For once. Originally released on SubPop, it's now available, expanded, on Jagjaguwar, and is definitely worthy of being kept on catalogue.
Howe Gelb of Giant Sand and Doug Easley both play Mellotron, although, despite the album's overall emptiness, it's not always easy to determine exactly where it's being used, as distant sustained guitar sounds infuriatingly similar to 'Tron cellos when low in the mix (see: Sorry, Part 1). The two definite sightings, though, are the woefully (deliberately?) out-of-tune flutes towards the end of Mother and a distinct cello arrangement on Sorry, Part 2. This is an album for the very quietest person you know, I suspect. It could be seen as depressing, or oddly uplifting in a downbeat kind of way, depending on your viewpoint, but I'm certain the songs will grow on me in the unlikely event that I should ever find the time to play this more often. Good album, passable 'Tron, your choice.
Doismileoito (2009, 39.17) **/½

O Caminho Que Fazias Ganhou
Silvas e a Tua Gaveta Pó
A Ponte Findling
Acordes c/ Arroz
Cântico Protoneo
Cabanas (Peterpanismo)
Caratéquide
Bem Melhor 12200074
SO05/SO06
A.T.L.
Música d'Homens
Tempo a Mais
Engate ao Espelho
Current availability:
Mellotron used:
I'm struggling to find out anything much about Portugal's Doismileoito; I think their eponymous 2009 album is their debut, but only because I can't find any references to anything earlier. It's... well, it sounds like an unholy cross between modern U2 and Rage Against the Machine in an indie setting, to my ears. Unappealing? Yup. I'd be lying if I said it had a 'best track', but piano ballad SO05/SO06 might just be the worst.
André Aires plays Mellotron on opener O Caminho Que Fazias Ganhou Silvas E A Tua Gaveta Pó, with an undistinguished flute part that I couldn't honestly say especially enhances the song. Doismileoito is pretty terrible; indie/rock for Portuguese teenagers who can't get to see their English-language heroes often enough. Avoid.
Erase the Slate (1999, 47.35/54.53) ***/T

Erase the Slate
Change the World
Maddest Hatter
Drown
Shattered
One
Who Believes
Voice of the Soul
Crazy Mary Goes Round
Haunted Lullabye
In Your Honor
Little Brown Pill
[Bonus tracks:
Upon Your Lips
Sign of the Times]
Current availability:
Mellotron used:
Don Dokken's long-running outfit are often thought of as typical '80s 'hair metal', although their roots lie at the beginning of that decade; I'm sure they 'glammed up' when everyone else did, but they remain a hard rock band, rather than heavy metal. Saying that, they're not especially interesting hard rock, although by 1999's post-post-reformation effort, Erase the Slate, they were ripping riffs and vocal harmonies from King's X with the best of 'em, sadly to little effect. It's not that it's a bad album, just a rather uninspired one, in a genre that ran out of steam a long time ago. Ex-Winger (stop laughing) guitarist Reb Beach, filling in for the departed George Lynch, does a decent enough job, but it's all a bit sub-Eddie Van Halen, as are practically all modern metal players.
Bassist Jeff Pilson plays Mellotron, as he was to do on 2003's Wicked Underground, with Lynch as Lynch/Pilson. All we get here, though, is a so-so string part on In Your Honor that seems to sustain for too long in places, although studio trickery could easily accomplish that. Hardly a Mellotron classic, then, but it's unexpected enough, given the genre. So; an average modern hard rock record with a bit of Mellotron. Your call.
See: George Lynch | Lynch/Pilson
Motel Swim (1998, 37.54) ***½/½

The Sound of Cologne
Respirator
One Revolution (Around the World)
A Viper in Hiding
Motel Swim
Gulliver Diver
Advanded Japanese Candlestick Man
Hang Around in Your Head
All Winter Long
Down Tiger, Down Tiger
Current availability:
Mellotron used:
The Doleful Lions are a powerpop outfit in the grand tradition, albeit with an indie tinge to some of their material. Their debut, 1998's Motel Swim, is a very likeable album, if somewhat in thrall to their forebears, which is a nice way of saying they're a little unoriginal, but if the songs are good, does it matter that much? Top tracks include opener (as you'd expect) The Sound Of Cologne, Hang Around In Your Head and All Winter Long, although there are no duffers, which is quite a result in itself.
Jeff Hart plays Chamberlin, with strings on One Revolution (Around The World), mixed with synth, by the sound of it, although that appears to be it. To be honest, it's not something that actually enhances an already perfectly good album, making you wonder why anyone bothered, but there you go. So; good album, pointless minor Chamby contribution.
The Dumbest Magnets (2000, 43.04) ***½/T

Apple Doll
The Thing You Love is...
The Dumbest Magnets
Second Chance
Progressive Note
I Come to You
Balcony
Be a Part
Along for the Ride
Too Good to Believe
Some Sequined Angel
Simple Pleasure
Current availability:
Mellotron used:
One of the joys (or otherwise) of reviewing so many essentially random albums is frequently not having the faintest idea what a band may sound like before hitting 'play'. More often than not, they're indie, or that dreadful post-rock/pop crossover area, but every now and again, it all comes out in the wash. Dolly Varden (named for a mode of dress popular for a few years in the Victorian period, itself named after a Dickens character) are led by husband/wife team Steve Dawson (not the Canadian Americana guy) and Diane Christiansen, who share lead vocal duties. They play a very acceptable form of Americana, at least on their third album, 2000's The Dumbest Magnets, top tracks including opener Apple Doll, the rockier I Come To You and closer Simple Pleasure. To be honest, there isn't actually a duff effort here, which makes a welcome change.
Drummer Matt Thobe plays Mellotron, with strings all over the title track and occasional ones on Some Sequined Angel. Real? As so often, almost impossible to say, although the overly-consistent attack is a little suspect, frankly. Do you bother with this? Do you like Americana? It's pretty much that simple, although not worth it for the possibly-not-even-real Mellotron.
La Quinta Stagione (2007, 38.19) **½/T

Settembre
Universo
L'Eclisse
I Duellanti
Migrazioni
Come le Lacrime
Niente di Particolare (a Parte il Fatto
Che Mi Manchi)
Laure (il Profumo)
Non Sempre Rispondo
Conosci
Current availability:
Mellotron used:
Cristina Donà has an Afterhours connection, which isn't exactly a recommendation and a Posies one, which is. Going by her fifth album, 2007's La Quinta Stagione, her own material veers between balladic stuff and 'alt.rock', seemingly neither better nor worse than that from the English-speaking world. Take that as you will; it's harmless enough, but makes little impression on the jaded listener (i.e. me).
Lorenzo Corti plays Mellotron flutes on opener Settembre, to pleasant enough effect, but it's hardly enough to recommend this rather ordinary album. Its most interesting aspect? The Photoshopped sleeve image of Donà with an unfeasibly long neck. Yup, the album's that good.
Manir Donaghue (UK) see: Samples
Beautysleep (2002, 47.14) ***/T

Life is But a Dream
The Storm
The Night You Saved My Life
Keeping You
Moonbeam Monkey
Wrap-Around Skirt
Another Moment
Darkside
So Much Song
The Wave
The Shadow
Head for Math
Current availability:
Mellotron used:
Tanya Donelly has had a pretty high-profile career, moving back and forth between Throwing Muses, The Breeders (with the Pixies' Kim Deal) and Belly, finding success with all three, which has to be fairly unusual in itself. Oh, and she's somehow found time to squeeze in a solo career, four albums and several EPs long at the time of writing. 2002's Beautysleep is her second full-length effort, capturing that '4AD sound' perfectly; you know, laid-back yet indefinably edgy, melancholic yet positive... The album's far from short of more energetic moments: Wrap-Around Skirt lurches along, overlaid with some incongruous rockabilly guitar, while Wave builds up to a mid-paced acoustic strumalong from a slow start, along with several tracks' intros, although the record's general default setting seems to be 'slow'. Best track? Possibly 'official' closer The Shadow, a doomy effort that precedes two minutes of silence and a 'hidden' track, Head For Math.
Donelly plays what have to be high Mellotron cellos on Moonbeam Monkey and Another Moment, although they're not specifically credited. This really isn't what you'd call a Mellotron album, it has to be said, but it's good enough at what it does, although I suspect fans of the lady and her style and 4AD groupies are its most likely audience.
Sunshine Superman [US version] (1966, 43.38) ****/½

Sunshine Superman
Legend of a Girl Child Linda
Three Kingfishers
Ferris Wheel
Bert's Blues
Season of the Witch
The Trip
Guinevere
The Fat Angel
Celeste
Sunshine Superman [UK version] (1967, 49.08) ****/½

Sunshine Superman
Legend of a Girl Child Linda
The Observation
Guinevere
Celeste
Writer in the Sun
Season of the Witch
Hampstead Incident
Sand and Foam
Young Girl Blues
Three Kingfishers
Bert's Blues
Cosmic Wheels (1973, 38.54) ***½/½

Cosmic Wheels
Earth Sign Man
Sleep
Maria Magenta
Wild Witch Lady
The Music Makers
The Intergalactic Laxative
I Like You
Only The Blues
Appearances
Sutras (1996, 50.53) ****/TT

Please Don't Bend
Give it All Up
Sleep
Everlasting Sea
High Your Love
The Clear-Browed One
The Way
Deep Peace
Nirvana
Eldorado
Be Mine
Lady of the Lamp
The Evernow
Universe am I
The Garden
Current availability:
Cosmic Wheels: Sony
Sutras: American/Sony
Mellotrons/Chamberlin used:
Donovan (Leitch)'s first two albums, What's Bin Did & What's Bin Hid and Fairytale were distinctly Dylan-lite, but with his star in the ascendant, he recorded the innovative Sunshine Superman in '66, only to have Pye UK dick about with it for nearly a year, losing him considerable momentum at a crucial point. His US label had no such qualms, however, putting it out ahead of the psychedelic pack in late '66, ensuring in the process that most of his future success would lie in the States. It's a remarkable pot-pourri of an album, moving from the driving pop of the title track through the lengthy acoustic Legend Of A Girl Child Linda and the eastern-flavoured Three Kingfishers in the first ten or so minutes, showing nearly as much variety over the ensuing half-hour. Best track? A toss-up between Guinevere and Celeste, although the album contains two major hits in the title track and Season Of The Witch.
There isn't an awful lot of Mellotron on the album, to be honest, with nowt but a sparse string line on Celeste, so don't buy it on those grounds, but if you want to hear top-notch folk/psych, you could do a lot worse. Donovan's US follow-up was Mellow Yellow, once again unreleased in Britain, meaning that its infuriating title track would be unavailable here on album until 1969's Donovan's Greatest Hits. Pye eventually capitulated, cherry-picking twelve tracks from the two US albums for the UK Sunshine Superman, although in retrospect, they haven't all stood the test of time as well as some that were left off (although Hampstead Incident's a highlight), although at least we're spared the cheesy Mellow Yellow.
After a rather fallow, post-fame period, Donovan returned for one last real career peak with 1973's fairly cohesive Cosmic Wheels, almost entirely connected with the return of Mickie Most to the (co-)producer's chair. The puerile The Intergalactic Laxative aside, the album holds together really rather well, and surely it's only a matter of time before someone covers the downtuned title track in a heavy stylee? Mellotron on one track only; Sleep, with what sounds like cellos, but it's all a bit background, to be honest. Played by "Rabbit" Bundrick, incidentally, stupidly misspelled 'Bundick', which must've cheered him up no end. Mind you, the album also credits 'Cosy' Powell on drums, so there you go.
23 years later, Sutras was Don's first album in over a decade, and sadly didn't include any of the new material he previewed on his heroically lengthy '92 UK tour, including a genuinely brilliant song called Against Your Will. Anyway, it was produced by Def Jam supremo Rick Rubin, with guests including the inimitable Danny Thompson (Pentangle, Richard Thompson), the also inimitable Benmont Tench (Tom Petty) and the slightly less inimitable but more famous Dave Navarro (Jane's Addiction, Red Hot Chili Peppers), who played both Mellotron and Chamberlin. The beautiful Everlasting Sea has 'Tron flutes alongside real cellos, The Evernow has (presumably) 'Tron flutes in a more upfront role, while Universe Am I has (I think) 'Tron flutes and Chamby woodwind, alongside real cello again. Incidentally, interesting to note that both these albums contain completely different songs called Sleep, despite Don's penchant for dodgy re-recordings of his hits.
Unsurprisingly, Sunshine Superman's the best of these albums, although, at least to my ears, Sutras is definitely the better of the two later releases, both musically and Mellotronically, although Don's older fans would probably disagree. His best work was largely recorded in the late '60s, but as a late-period album from someone once very famous indeed, it's very much worth the effort.
Eliza Doolittle (2010, 42.10) **½/T

Moneybox
Roller Blades
Go Home
Skinny Genes
Mr Medicine
Missing
Back to Front
A Smokey Room
So High
Nobody
Pack Up
Police Car
Empty Hand
Current availability:
Mellotron used:
Eliza "Doolittle" Caird (nom de plume taken from George Bernard Shaw's Pygmalion, popularised as My Fair Lady) is a young British singer-songwriter who, going by Google image results, seems to be exceptionally keen on showing off her legs. Sorry if that sounds a bit sniffy, but, y'know, maybe you could try selling yourself solely on your musical talent... Or am I just being hopelessly naïve? Probably. Her eponymous 2010 debut reminds me slightly of Lily Allen, albeit a quirkier, more mature version (although Doolittle's actually younger), its pre-psych '60s-influenced pop shifting between affecting (closer Empty Hand) and irritating (much of the rest), while Pack Up goes back another couple of decades, being based around wartime fave Pack Up Your Troubles In Your Old Kit Bag.
Will Johnstone plays Mellotron, with a string part all over Back To Front, sounding relatively real, although I'm beginning to doubt my ability to spot samples any more. Frankly, you're not going to go for this unless you're a) female and b) young, but I suppose it does what it does well enough (he said, grudgingly).
Unleash the Truth (2011, 70.47) ***/T

Eye for an Eye
Save Me
The AnnieChrist
Legacy
Welcome to the Future
Magic of the Black Circle
Slight Case of Madness
All Lies
Mind Slayer
Two-Wheel Wonder
Questions to My Answers
Metal Mayhem
A National Acrobat
Current availability:
Mellotron used:
Gothenburg's DoomDogs (or Doomdogs) are a classic doom outfit, right down to their name. Influences? Black Sabbath, of course. Their second album, 2011's Unleash the Truth, despite being somewhat overlong, is a solid genre release, better tracks including opener Eye For An Eye, the acoustic Legacy and the mildly psychedelic Magic Of The Black Circle, although closing the album with a lacklustre cover of the Sabs' A National Acrobat is a bit of a mistake. Look, chaps, you're not going to improve on the original, so why bother?
Emil Rolof plays big, fat (real?) Mellotron flutes and strings on Save Me, although the flute on Legacy is clearly real, despite one not obviously being credited. Doom fans will love this, while the rest of us may be inspired to dig out our Sabbath albums again.
---