---
Asa Milbankx (US) see: Samples
Robert Miles (Italy) see: Samples
Begin (1968, 41.38) ****/½

Prelude
To Claudia on Thursday
I Just Want to Be Your Friend
5 AM
I'm With You
The Island
Sing to Me
It's You
Some Sunny Day
It Won't Always Be the Same
The Know it All
Karmic Dream Sequence #1
There is Nothing More to Say
Anthem (Begin)
Magic Time: The Millennium/Ballroom Recordings (2001, recorded 1966-68, 174.53) ***½/T½

Spinning, Spinning, Spinning
Love's Fatal Way
Would You Like to Go
Magic Time
You Turn Me Around
Forever
It's a Sad World
I'll Grow Stronger
Musty Dusty
Crazy Dreams
Lead Me to Love
A Time for Everything
Baby, Please Don't Go
Would You Like to Go (instr)
Forever (instr)
I'll Grow Stronger (instr)
You Turn Me Around (instr)
Magic Time (instr)
It's a Sad World (instr)
Spinning, Spinning, Spinning
(instr)
I'm Not Living Here
Opus to a Friend
Believe You
The Island (orig.version)
5 AM (orig.version)
Karmic Dream Sequence #1
(orig.version)
Sun Arise
Milk and Honey
Too Young to Marry
Love's Fatal Way (instr)
Another Time (demo)
Sea of Tears (demo)
Sunshine Today (demo)
Sunshine Today (alt.instr)
Keeper of the Games (demo)
Dancing Dandelion (demo)
It Won't Always Be the
Same (instr)
There is Nothing More to
Say (instr)
To Claudia on Thursday
(instr)
Lonely Girl
Prelude
To Claudia on Thursday
I Just Want to Be Your Friend
5 AM
I'm With You
The Island
Sing to Me
It's You
Some Sunny Day
It Won't Always Be the Same
The Know it All
Karmic Dream Sequence #1
There is Nothing More to Say
Anthem (Begin)
Blight
Just About the Same
It's You (single version)
I Just Want to Be Your Friend
(single version)
5 AM (single version)
Prelude (single version)
To Claudia on Thursday
(single version)
There is Nothing More to Say
(single version)
Current availability:
Begin: on Magic Time
Magic Time: Sundazed
Chamberlins used:
Both titles: Curt Boettcher's machine? (model unknown)
The Millennium were a studio group, put together by the legendary Curt Boettcher, who was heavily involved with The Association (Beach Boys-lite, going by what I've heard), going on to sprinkle his fairy dust on several subsequent projects, none of which, sadly, made much of an impact at the time, although they've since assumed their proper place in Californian music history. 1968's Begin was also, sadly, the end, apparently due to falling between two stools; too light for the emerging rock audience and too complex for the pop mainstream. It's notorious for being Columbia's most expensive production up to that time, going on to sell diddly-squat; with over four decades' hindsight, there's no denying it's pretty light stuff, but the vocal harmonies are sublime, as is much of the material. Someone (Boettcher?) adds the tiniest smidgeon of Chamberlin strings to its bizarre closing track, Anthem (Begin), but not so's you'd actually notice.
To credit 2001's Magic Time: The Millennium/Ballroom Recordings to The Millennium alone is a misnomer; the three-disc set includes material recorded by several linked outfits, chiefly The Ballroom and The Millennium, plus odd tracks from Summer's Children, Sagittarius and Boettcher himself. Be warned: if you dislike the idea of 'sunshine pop', don't go anywhere near these recordings. This is the lightest end of vocal harmony psych-pop, and can sound pretty lightweight to ears attuned to a modern aesthetic, although fans of the style/era will be in absolute rhapsodies. Disc one ('The Ballroom') contains an imaginary album by said group (who included Michael Fennelly, later of Crabby Appleton, amongst their ranks), plus several instrumental backing tracks, disc two ('Assorted Milk & Honey') mops up the rest of the Ballroom tracks, adding two each by Summer's Children and Sagittarius, plus a handful of Boettcher demos and instrumental Millennium tracks, leaving disc three ('The Millennium') as a reissue of Begin, plus extras.
The set's Chamberlin content is concentrated on disc one, with unidentified woodwind (oboe?) and strings on Would You Like To Go (and its later instrumental version), vibes and strings on the set's title track (plus instrumental), wavery strings on the cheesily sentimental Musty Dusty and accordion on their genuinely radical take on Baby, Please Don't Go, and, of course, those few seconds of strings on Anthem (Begin). All in all, essential listening for sunshine pop aficionados, although maybe a bit lightweight for many psych fans, with enough Chamby to be worth hearing if you're listening anyway, but not enough to make a purchase necessary.
See: Curt Boettcher | Michael Fennelly
Summerland (1997, recorded 1966-68, 40.05) ***/½

Where Did it Go?
The in Things
Time Has No Meanings
Time and Time Again
Forget Me Not
Who Cares About the Moon
Soho Solitaire
Sweet Talk Town
Peter Pan
Willow Tree
Antoinette
Fiesta Time
Listen Girl
Oh Miss Halliday
Current availability:
Mellotron used:
'Big Boy' Pete(r) Miller is one of those shadowy figures that has apparently helped to quietly steer the music business since the late '50s, in his role as songwriter, engineer and producer, although his performing career has had rather less success. Well, have you heard of him? Vinyl fetishists Tenth Planet have released several albums of Miller's '60s demos, including 1997's Summerland, recorded between 1966 and '68, notable chiefly for not really sounding like anybody much else; it isn't beat, psych or folk-rock, although it has elements of all those styles, ending up sounding like, well, a Pete Miller album, I suppose. Miller's voice, while relatively tuneful, isn't the most endearing sound in the world, but the material isn't bad, so why it's taken these recordings so long to appear, I've no idea.
Derek Shepherd plays Mellotron, although the only part I can hear for definite is some background strings on Listen Girl, other possibles being covered by real instruments (oboe, brass). '60s obscurity obsessives need to hear Pete Miller now, if they haven't already done so, but the rest of you can probably limp along in your ignorance of his work without missing out on too much. Summerland certainly contains some decent songs, but their delivery isn't all it could be, so with next to no Mellotron... Maybe not.
The Believer (2006, 43.20) ***½/TTT

My Valentine
Help Me, Suzanne
Meteor Shower
Brand New Way
Ain't That Strange
I Believe She's Lying
Fireflies
Singular Girl
I'm With Her
Delicate
The Believer
Question
Rhett Miller (2009, 42.25) ***/T

Nobody Says I Love You Anymore
Like Love
Caroline
I Need to Know Where I Stand
Happy Birthday Don't Die
Bonfire
Haphazardly
If It's Not Love
Another Girlfriend
Refusing Temptation
Lashes
Sometimes
Current availability:
Believer: Verve
Rhett: Shout! Factory
Chamberlins/Mellotron used:
Believer: Patrick Warren's & Jon Brion's M1s
Rhett: unknown M400
Rhett Miller is The Old 97's vocalist, although he somehow finds time to run a parallel solo career; 2006's The Believer is his third album, although the first pre-dates his involvement with his main band. It's a pleasing mix of alt.country and powerpop, although most of its contents fall into one camp or the other, rather than combining them, highlights including opener My Valentine, the rockier Ain't That Strange and Delicate and closer Question. Patrick Warren and Jon Brion both play Chamberlin on the album; is this overkill? Thankfully not, with flutes on opener My Valentine, strings all over Help Me, Suzanne, Meteor Shower, Brand New Way and I Believe She's Lying, although I'm pretty sure the pedal steel on Fireflies is real (the Chamby's known for its emulation). More strings on I'm With Her and the title track and what sounds like solo violin (is there such a Chamby sound?) on Question. Excellent!
Miller followed up, three years later, with Rhett Miller, and I'm afraid to say, while perfectly pleasant, it's all a bit unengaging, being more alt.country than powerpop and a more downbeat record all round. Despite the presence of Jon Brion again, Rip Rowan plays Mellotron this time round, with a ripping (sorry) pitchbent string part on Another Girlfriend, plus a more subdued part on closer Sometimes, making for a rather lesser album, at least in my eyes.
So; The Believer beats Rhett Miller hands down on every front, it seems, unless you intensely dislike powerpop and love alt.country, in which case, ignore me.
See: The Old 97's | Pine Valley Cosmonauts
Rick Miller (Canada) see: Samples
Children of the Future (1968, 38.23) ***½/T½

Children of the Future
Pushed Me to it
You've Got the Power
In My First Mind
The Beauty of Time is That it's Snowing
Baby's Callin' Me Home
Steppin' Stone
Roll With it
Junior Saw it Happen
Fanny Mae
Key to the Highway
Current availability:
Mellotron used:
Steve Miller's first album, Children of the Future, is stylistically a long way from the mainstream radio rock he churned out later on in his career, sitting somewhere between blues-rock (Fanny Mae, Steppin' Stone) and psych (side one's linked tracks). It's actually pretty good, and nowhere near as formative as you might expect, with good musicianship all round, with Miller and future solo star Boz Scaggs sharing the guitar work. The album was recorded in the UK (Olympic Studios in London, fact fans), with noted engineer Glyn Johns at the desk.
There were few Mellotrons in America in the '60s (although Chamberlins were used), but recording in Britain meant that Olympic's MkII found its way onto the album, played by either keys man Jim Peterman or Miller himself. It's only actually on two tracks, with the chief use being on the lengthy In My First Mind on side one, with strings running right through the song in a most pleasing manner, with a little more on the following The Beauty Of Time Is That It's Snowing.
So; a good psych/blues album, for want of a better description, with one classic 'Tron track. No 'Tron on Sailor from later the same year, although it was another Glyn Johns production, although it's rumoured to be found on '69's Brave New World; more news when I get to hear a copy.
Leslie Mills (US) see: Samples
Bafflemania (2005, 47.00) ***½/TT½

Prologue
You're So Existential
Arcade Love Machine
Any Further Attempt to Contact Me
Will Be Ignored
The Sun Ain't Gonna Shine Anymore
Fragments
Expressions Worn in Autumn
Yesterday's Garbage
Barbecue Sauce
Psychotic Episode
Mighty Mouth (Version 2)
Liberation
Acka Raga
How's Your Fuzzy Box
I'll Wake Up Dead That Morning When I'm Gone
Epilogue
Current availability:
Mellotron used:
It's difficult to find out any hard-and-fast information regarding the Milman-Brignall Enigma, as they obscure the issue with misinformation; for what it's worth, Bafflemania was certainly not recorded between 1971 and 2007... Then again, the actual recording dates fell somewhere between those two years, so are they lying? You see what I mean, anyway... It seems likely that the band really does consist of Alan Milman (vocals and other bits) and Matt Brignall (assorted guitars and keyboards), both of whom have been around for 'a while', and are probably now headed inexorably for their 50s. Which matters not one jot when you hear the album (or indeed, at all); an insane blend of garage punk, authentic late-'60s psych and various other disparate influences, all chucked into a Magimix and sugar-coated with analogue keyboards and effects.
I'm not sure I even consider myself competent to describe the music, although some of it is actually quite straightforward. The parts that aren't, however, include fucked-up acoustic ballads, mangled psych and the new wonder of the modern world that is How's Your Fuzzy Box, veering wildly between arranged sections and anarchy. Brignall and David Will play the studio Mellotron, with strings and choirs on their suitably OTT version of the Walker Brothers' lugubrious The Sun Ain't Gonna Shine Anymore, and distorted flutes (!) on Mighty Mouth (Version 2). Choir on Acka Raga and strings and flutes on the fairly random How's Your Fuzzy Box finish things off, with much of the 'Tron work being original enough to earn them another half 'T'.
So; a weird album, both of the '60s and up-to-the-minute at the same time. If you like the sound of what they do, you can't go too far wrong, especially with the bonus of some decent Mellotron work. Worth the effort.
David Minasian (US) see: Samples
| | |
| --- | --- |
| Mind Over Matter (Germany) see: | |
Loneliness Anonymous (2009, 42.44) **½/T

Vulnerability
Rollerskating Song
Loneliness Anonymous
24
Bad Habits and You're Full of Shit
Wide Awake in Silence
Somerset
Patience, Boy
Trainwreck in Pennsylvania
There is No Getting Through
Current availability:
Mellotron used:
Although Darcie Miner's been around for a while, 2009's Loneliness Anonymous is her first full-length album, after EPs in '02 and '05. She's probably best described as her generation's Sheryl Crow; the same kind of alt.country-influenced mainstream singer-songwriter style and songs about relationships that aren't really going to appeal to anyone used to anything more sophisticated, be it King Crimson or Richard Thompson. The album's a long way from 'terrible', but also quite a trot from 'excellent', leaving it in a no-man's land of relative mediocrity, with no real standout tracks.
Matt Thomas plays Mellotron, with a lush string part on the title track and cellos on Trainwreck In Pennsylvania, improving both songs, particularly the former. Overall, then, not a very exciting record, but I'm sure that if Ms. Miner had intended it to be 'exciting', it would be. There's a definite market for what she does, but it isn't your typical Planet Mellotron reader, although Loneliness Anonymous itself is a pretty decent 'Tron track.
Men From the Ministry/Midsummer Night's Dreaming (2005, recorded 1966-68, 96.23) **½/T

Mary, Mary
Someone Like You
I'm Coming Home
Something Very Good
Goodbye to Rosalie
Sunday in the Park
Hey Girl (No Need to Push)
Something You've Got
Ooh la la
I Couldn't Spend Another
Day Without You
Three in the Morning
Angels Get Out of Bed
Big Top Heart
Get Outta My Way
Love Equals Love
Memory
Turn Around
White Collar Worker
Throw the Thing Away
Back Seat Driver
Rain Rain Rain
In the Sky
Sequin Sally
Laughing Man
Going Round and Round
Time Motion Man
Little Ray of Sunshine
Magic People
Midsummer Dreaming
Life is Living
Marjorie Morningstar
Roberto Billow
Mr. Light
When I Was Born
Rain Rain Rain (alt.version)
Current availability:
Mellotron used:
Decades before the current London club, the phrase Ministry of Sound had already been coined by Robin Shaw and Micky Keen for their studio project, although they only managed to release one single in their 'lifetime', White Collar Worker/Back Seat Driver. Their name wittily taps into a certain vein of '60s spy films, as does the forty-years-on compilation of their work, Men From the Ministry/Midsummer Night's Dreaming, although listening to it all these years later, it has to be said that's it's all a bit safe, certainly compared to what was going on at the time. It comes as no great surprise to hear that one of the kings of manufactured pop of the era, the legendary John Carter (The Flower Pot Men, The Ivy League, First Class etc. etc.) was involved in some of their recordings, either.
The set improves as it goes along, principally at the point where Shaw and Keen 'switched over' to psych/pop, a few tracks into the second disc, but even their soft psych material isn't really that engaging, to be honest. Maybe there's a reason most of this stuff wasn't released at the time. Anyway, an unknown sessioneer plays Mellotron flutes on In The Sky and the bizarre Laughing Man, with strings on Rain Rain Rain (Alternate Version), barely enough to give the lengthy set a full T. Men From the Ministry is by no means a bad album, just a rather ordinary one, although fans of the style will go ga-ga over it, I've no doubt. Three 'Tron tracks out of 35 just isn't enough to make it worthwhile on those grounds, though.
See: The Flower Pot Men
Minotaur Shock (UK) see: Samples
Wrestling the Angels (2003, 42.33) *½/½

This is My Offering
Open Up the Sky
Shade
Wrestling the Angels
Love Has Come
Say the Word
Miss You Here
Walk Me Through
Yet Will I Praise
Captives Dance
You're Listening
Current availability:
Mellotron used:
2003's Wrestling the Angels is Kelly Minter's third (second major-label) release; a sloppier selection of gloopy Christian balladry it would be hard to imagine, frankly. Love Has Come's alt.rock makes a welcome change from the standard sickly-sweet balladry, which isn't to say it's any good, just the least bad thing here. Bizarrely, an Amazon review opines that (I paraphrase), "While most CCM has little substance, this album has stacks". Where, sir, where?
Stephen Leiweke plays Mellotron on Walk Me Through, the album's other least offensive track, with a brief near-solo flute part on the final verse that may or may not have been played on a real machine. So; more horrible CCM: just don't.
Down With Wilco (a Tragedy in Three Halfs) (2003, 42.02) ***/T

The Days of Wine and Booze
Retrieval of You
That's Not the Way That it's Done
The Town That Lost its Groove Supply
Daggers Drawn
Where Will You Go?
Life Left Him There
The Family Gardener
The Old Plantation
What I Don't Believe
View from Below
I'm Not Bitter
Dear Employer (The Reason I Quit)
Current availability:
Mellotron used:
The Minus 5 could probably loosely be described as 'powerpop', although they refuse to fit into the standard Beatles/Big Star configuration, choosing to take influences from a broader range of styles. They're effectively a Scott McCaughey solo project, each lineup featuring different guest musicians, including members of R.E.M. and The Posies, amongst others, plus an early They Might Be Giants connection. 2003's grammatically-iffy Down With Wilco (a Tragedy in Three Halfs) is something like the band's fifth proper album (it's not that easy to tell) and is, unsurprisingly, a collaboration with Wilco, sounding, again unsurprisingly, not that dissimilar to that band in their later incarnation, i.e. perfectly respectable, but a little unengaging.
Charlie Francis plays Mellotron (Wilco's?) on Daggers Drawn, with a cello part that could almost be real. Nice, but inessential, to be honest. Overall, a good album, but possibly a little too like recent Wilco to really hit the spot, unless, of course, you like Wilco's recent work. One 'Tron track, but nothing you're going to want to splash out proper money for.
See: Wilco | R.E.M. | The Posies | They Might Be Giants
Holly Miranda (US) see: Samples
Nevergreen! (1972, 37.28) ***/T

Spoiled Love
Song for Ann
Time Will Change
Only Me
Sorcery
Filled Up
Kids Hunting
Current availability:
Garden of Delights (Germany)
Mellotron used:
Munich's Missing Link released their sole album, Nevergreen!, in 1972, apparently utilising Embryo's Dieter Miekautsch on keys. The album is a slightly odd mixture of styles, sounding very slightly how Uriah Heep may have sounded had they tried to play jazz-rock; since we've been spared that particular delight, the possibly more competent Missing Link can show us how it might have sounded. The material is rather less memorable than Heep's best, though closer Kids Hunting is a good, rocking track, with touches of fusion and prog thrown into the mix.
Miekautsch's highlight here is instrumental piano piece Song For Ann, although there's some nice ripping Hammond in places, particularly on Kids Hunting. Can't say there's much happening on the Mellotron front, unfortunately, with naught but an atmospheric string part towards the end of opener Spoiled Love. Overall, then, not a bad album, but nowhere near 'outstanding', although parts of it may grow on the listener with repeated plays.
Mission of Burma (US) see: Samples
Warm Motor [a.k.a. Dutch Treat] (1971, 40.44/59.24) ***/T

Did You Really Find Somebody
I am Not More Than a Sign
Electronic Baby
Let it All Hang Out
Bantal
Woman
[CD adds:
I Can't Help it
Show Me Your Tongue
Can't Find My Way Home
Hooked on You
Picking Up Your Page]
Current availability:
Mellotron used:
Warm Motor (retitled Dutch Treat in the States) was The Mr Albert Show's second and last album, largely consisting of rather average hard-ish rock like lengthy opener Did You Really Find Somebody or the funkyish Let It All Hang Out. Not bad, but not that good, either and far too similar to a thousand other albums to've made any real breakthrough at the time. Best track? Electronic Baby, simultaneously heavy and progressive, while the vague Tullisms of I Am Not More Than A Sign don't hurt, but it's still only enough to get the album three stars.
Either Bonki Bongaerts or Bertus Borgers played the Mellotron, probably that Hilversum Phonogram Studios M300, as on so many other Dutch albums of the period. Whoever plays it slathers strings all over original album closer Woman, to pleasing effect, plus a little strings and brass on one of the CD's bonus tracks, Hooked On You. Speaking of which, said bonuses are somewhat on the average side, but that's clearly the easiest way to get the album, should you so desire. All a bit ordinary, then, but one great 'Tron track.
Lightworlds (2008, 25.23) ***/T½

The Infinity Machine
Transhuman
Zoid
Conversations
Don't Try to Think
Stark
Metropoli del Ferro

Sounds From the Cave (2008, 24.20) ***/T

The Caveman
Snob
Trip Through the Water Door
Brainticket
Fuel
Monolith Voodoo Vibes
The Red Baron
Conduit Closing
For Pete's Sake (2009, 55.12) **½/T

For Pete's Sake
Good Life
Intermezzo
T.R.O.Y.
Intermezzo 2
Main Ingredient
Intermezzo 3
Mecca and the Soul Brother
Get on the Mic
Intermezzo 4
Straighten it Out
Intermezzo 5
Shut em Down
Intermezzo 6
I Got a Love
The World is Yours
Intermezzo 7
Silver Frequencies (2009, 65.16) **½/TT

Silver Frequencies
Feathers on Fire
Intermezzo 1
Psychic Psych
Intermezzo 2
8000 Volts
Intermezzo 3
Outside My Door
Ends and Means Dub
Intermezzo 4
The Zero Point
Intermezzo 5
Hole in the Sky
Intermezzo 6
Magic Box
Flashbacks
Intermezzo 7
Current availability:
Lightworlds/Pete: Now-Again
Sounds: Jazz&Milk
Silver: Now-Again/Five Day Weekend
Mellotrons used:
All titles: Ape Studios' M400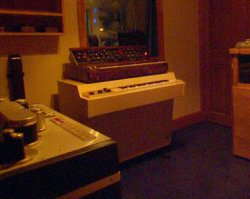 Mr. Chop is essentially Coz Littler, proprietor of Ape Studios, one of a handful of (mostly) analogue studios left in the UK. They/he play psychedelic electronica, for want of a better term, 2008's Lightworlds EP being their first release in several years. It's... efficient, although their influences clash badly with my sense of how this music should or could sound. However, it wasn't made for me and I'm sure there are plenty of people out there who love this stuff. Ape own a real, live M400, heard on a couple of tracks here (played by Littler and Glyn Williams), with strings, flutes and a melody line on, er, something on The Infinity Machine, while there are choirs and strings all over Zoid like a rash. The same year's Sounds From the Cave EP is more of the same, at least to my ears, with just the one 'Tron track (from Littler?), with strings (including some cool pitchbends) on The Red Baron.
Their first album, the following year's For Pete's Sake, I find rather less interesting than the EPs, featuring far more repetitive material that begins to drag after a while. Definitely Littler on 'Tron this time, with faint choirs on Good Life, T.R.O.Y. and Mecca And The Soul Brother, plus flutes on Main Ingredient, although, for some reason, it stops there. Silver Frequencies, from the same year, is structured around a series of ambient 'Intermezzos', surrounding more 'typical' Mr. Chop material; better efforts include Psychic Psych and Magic Box, but I'm having trouble getting excited about anything here. Littler's Mellotron is stupendously badly recorded, to the point where I'd imagine it's deliberate, for some reason. Although the background choir chords on the title track are held for longer than eight seconds, I suspect studio trickery (been there, done that) as against samples, with more of the same on Feathers On Fire, Outside My Door and Psychic Psych (plus flute on the latter), while a flute melody holds 8000 Volts together, although the second half of the overlong album is entirely Mellotronically bereft.
None of these are going to do much for your average proghead, but anyone into modern electronica may get something out of them, although none are worth it on the Mellotron front.
Barren Dream (1987, 52.22/57.05) ***½/½

All the Fallen People
Overtune
Madrigal
Rhapsody
Fantasy
Sweet Revenge
Intermezzo
Step Into Easter
Eternal Jealousy
Prelude
Intake
Stillglow
Return
Lagrima
Barren Dream
Act I
Act II
[CD adds:
Eternal Jealousy (single version)]
Current availability:
Mellotron used:
Mr Sirius, a.k.a. Kazuhiro Miyataka, is a multi-instrumentalist whose first (?) solo album, Barren Dream, falls broadly into that '80s Japanese prog' category, which doesn't really tell you that much about it, I suppose. It has elements of symphonic progressive, fusion and probably several other styles I haven't yet identified, which can make for a slightly disjointed listening experience although, overall, it's a good album. Difficult to pick out highlights on a first listen, but All The Fallen People is possibly the most cohesive track, and the nearest to 'typical' progressive.
Miyataka is credited with Mellotron on part one of All The Fallen People, Overtune (well, that's what it says in the booklet), but all I can hear is a couple of string chords on the intro, which don't even sound that 'Tronlike. As a result, this is no 'Tron album, but worth hearing for those into that peculiarly Japanese style of symphonic prog.
Yugake (2007, 41.17) ***/TTT

Yugake
Hanamizake
Yatagarasu
Riu
Tsukinokusa Tsuyunokusa
Ruten-Ame
Current availability:
Mellotron used:
Mizukagami, named for a Japanese historical epic, are a new progressive outfit, taking their inspiration from the '70s bands and the first wave of Japanese prog, I'm pleased to say. Their problem is, a few minutes of their music makes you feel that the future of progressive rock is in safe hands, but two or three tracks have you (or at least, me) reaching for the 'skip' button. The music's good, but there's a fatal lack of variety, and Tanaami Futaba's vocals are almost unerringly flat when she hits high and/or sustained notes, apart from the rare occasions when she's sharp. This is no small matter; her vocals are so central to the band's sound that her appalling tuning (who produced this, and are they incapable of asking for more takes?) frankly ruins the effect completely. You don't need to have perfect pitch to wince every time (and there are many of them) she doesn't quite reach the note.
2007's Yugake is their second album; their eponymous debut (reviewed here) appears to contain samples. It's not a bad album, but its cumulative effect is mildly numbing, to be honest, with the unwelcome addition of the aforementioned vocal problems. It's a real shame, actually, as she has a lovely voice. If only 'twere in pitch... Junya Anan plays various keys, including what (this time) sounds like real Mellotron, particularly in the flute department, with so much key-click that I'm beginning to wonder whether he's using samples deliberately infected with an unnecessarily loud click to prove their 'authenticity'. Let's hope not. Anyway, flutes on all tracks, with strings that may or may not be Mellotronic in the background on most tracks, too.
So; lovely in small doses, less so in larger ones, but reasonable amounts of (hopefully real) Mellotron. Just a shame about that voice...
See: Samples
Good News for People Who Love Bad News (2004, 48.40) ***/T

Horn Intro
The World at Large
Float on
The Ocean Breathes Salty
Dig Your Grave
Bury Me With it
Dance Hall
Bukowski
This Devil's Workday
The View
Satin in a Coffin
Interlude (Milo)
Blame it on the Tetons
Black Cadillacs
One Chance
The Good Times Are Killing Me
Current availability:
Mellotron used:
Modest Mouse seem to inhabit the odder end of post-punk US indie, being perfectly happy to juxtapose banjos with brass, or blatantly pastiche Tom Waits though, admittedly, not in the same song. I'll admit to being quite unqualified to review their fourth album, Good News for People Who Love Bad News, as I really don't get where they're coming from at all, but kudos to the band for making a commercial success out of being left-field, even if they slip into standard 'misery' mode every now and again.
Mellotron on three tracks, though the only overt use is a big string part on The World At Large, from Dann Gallucci. Right at the end of the song, the pitch is wound right down, and the 'Tron (it sounds pretty real) is played at a lower pitch, allowing notes to be held for longer; nice effect, guys. No, really. Gallucci also plays it on The View, and Eric Judy plays on Float On (sadly, nothing to do with the ludicrous Philly soul hit by The Floaters), although it's difficult to work out what exactly it's supposed to be doing, as it's pretty much inaudible in both cases.
So; US indie oddballs, one decent 'Tron track. Depends how you feel about oddball US indie, I suppose.
Dither (2001, 58.52) ***/½

Captain America
Faker
Understand
The Ghost of Ralph's Mom
So Long
New York City
Can't Seem to Find
Water
Tambourine
In a Big Country
Rise
Opium
Current availability:
Mellotron used:
Moe, usually (and highly irritatingly) spelled moe., complete with full-stop, are that peculiar-to-America thing, a jam band (see: The String Cheese Incident). In other words, bands taking their main cues from The Grateful Dead and usually picking up some of their following, slightly adrift since Jerry Garcia's death, The Other Ones and The Dead notwithstanding. In common with most jam bands, Moe play a bewildering range of styles, including various forms of psych (naturally), folk, country, blues, jazz, rock... At least they seem to avoid that terrible 'white dub' thing that too many of their contemporaries seem to consider a good idea.
2001's Dither is their eighth album proper, shifting between country (So Long), folk (New York City), Americana (Can't Seem To Find) and, bizarrely, a good cover of Big Country's In A Big Country, complete with folky fiddle part, although the bulk of the album consists of middling rock, tailor-made to be extended into live jams. Somebody or something calling itself Late Nite Rascals is credited with Mellotron (does this mean anything to fans?), with occasional strings on opener Captain America, although that would appear to be it.
So; a decent enough effort, although I'm sure its material takes on an entirely different aspect in its natural home, the auditorium. Definitely not worth it for the minimal Mellotron, either. Incidentally, the album duration above has had fourteen minutes of blank space stripped out between official closer Opium and a different version of Captain America tacked on the end.
The Moffs (1985, 33.57) ***½/TT

Look to Find
A Million Years Past
I Once Knew
I'll Lure You on
The Meadowsong
7" (1986) ***½/T

Flowers
By the Breeze
7" (1987) ***½/T½

The Traveller
Quakers Drum

Labyrinth (1988, 48.35) ***½/½

Touch the Ground
Tapestry
Surprised
The Grazing Eyes
Desert Sun
Always a Flame
Stealing Cake (to Eat the Moon)
Who'll Point You
Current availability:
All titles: in The Collection, Feel Presents (Australia)
Mellotrons used:
All titles: band's own M400
The Moffs were a Sydney-based psychedelic band, which probably wasn't the hottest route to success in the '80s, more's the pity. They released a demo and a single before their self-titled mini-album debut appeared in '85, sounding about as far from the pop mainstream of the time as it could. Early Pink Floyd are an obvious initial comparison, with plenty of Farfisa in evidence (although without the cavernous reverb that the Floyd preferred), and generally pretty laid-back material, though, like their mentors, a certain tension is apparent throughout the album, avoiding potential accusations of blandness. It's difficult to pick out a 'best track', but this reviewer particularly liked I Once Knew, while closer The Meadowsong is easily the longest piece here, topping twelve minutes, for fans of epic psych. Guitarist Tom Kazas doubles on Mellotron, playing string parts on all three highlighted tracks, with the most upfront use being on I Once Knew.
Two singles appeared before the next Moffs twelve-incher, 1986's Flowers and the following year's The Traveller. All four tracks are worthy additions to the band's catalogue, particularly the hooky The Traveller, albeit in an (unsurprisingly) shorter format than on The Moffs, true to their '60s inspiration. Two 'Tron tracks out of the four, with flutes on Flowers and flutes and strings on Quakers Drum (sic), the flip of The Traveller.
The band released their sole full album, Labyrinth, in '88. Opener Touch The Ground sounds a lot like '70s Floyd this time, unfashionable though they are amongst psych fans, although the band unblot their copybook with Tapestry, which could be an outtake from More or Ummagumma. Some of the material actually sits more in the progressive than the psychedelic camp, notably the fantastically-titled instrumental Stealing Cake (To Eat The Moon) and closer Who'll Point You. Practically no obvious credited Mellotron (from Kazas again), sadly, with possibly background strings on Surprised and flutes on Who'll Point You, though the instrument (if that's what it is) has been mixed so far down, it's very difficult to tell.
So; two quite different, but very worthwhile albums from an unfairly forgotten band, assuming they could ever have said to be 'known'. Psych fans most definitely need to apply, unless they're stuck in a 'late-'60s or bust' mentality, in which case they might as well give up now. If you're after some Hot Mellotron Action, though, while The Moffs might keep you happy for a short while, Labyrinth will only disappoint. OK, what we need now is official, easy-to-obtain reissues of both albums, with various single tracks as bonuses, to finally give the band some long-overdue respect. n.b. That now exists: The Collection, on Australia's Feel Presents label. Hurrah!
Mojobone (Sweden) see: Samples
7" (1968) ***½/TT½

We Are the Moles (part 1)
We Are the Moles (part 2)
Current availability:
On Simon Dupree's Part of My Past: EMI
Mellotron used:
The Moles were none other than Simon Dupree and the Big Sound, who later morphed into the phenomenal Gentle Giant, of course. I don't know the history behind this semi-novelty record's release, but I'd guess that after their major success with the wonderful Kites, The Big Sound's record company were desperate to get them another hit by any means. We Are The Moles failed miserably on that front, but manages to be a rather good little song in its own right, with 'Simon Dupree' (Derek Shulman)'s distorted vocal, rhyming (rather predictably) 'moles' with 'holes'.
There's barely any Mellotron on the A-side, but the (superior?) flip has loads of flutes and strings, creating one of the UK psych scene's lesser-known 'Tron classics. You'll never find an original copy, but that matters not one jot, as it's just been reissued on Simon Dupree's Part of My Past anthology, released in early 2004. The album's more than worthy of your attention anyway, with these two tracks being a bit of a bonus.
See: Simon Dupree and the Big Sound
A Night at Raji's EP (2001, 17.58) ****/TT

A Night at Raji's
Pavement Mute
Naples
Narcotics
22nd March
Songs for Vowels & Mammals (2004?, 61.41) ****/TTT½

Track 1
Track 2
Track 3
Track 4
Track 5
Track 6
Track 7
Track 8
Track 9
Track 10
Track 11
Track 12
Track 13
Track 14
Track 15
Track 16
Track 17
Track 18
Dial (2007, 32.55) ***/TT

Dial
Current availability:
Mellotrons used:
All titles: Mattias Olsson's M400
To be honest, I don't know an awful lot about Molesome, only that Änglagård drummer Mattias Olsson is heavily involved (it's Mattias' proud boast that there's Mellotron to be found on every single album he's played on, which has to be applauded...). Like most of his recent work, such as Geller and Pineforest Crunch, A Night at Raji's (sort of) falls into the 'intelligent, offbeat pop' category, which can be no bad thing. Mixing programmed instruments with good old-fashioned acoustic ones, it's actually effectively instrumental, although with some spoken word parts, so I suppose it isn't 'pop' at all, really. Narcotics is particularly good, with an amusing exchange on the subject of, er, 'substances'. Mellotron flutes on both Naples and 22nd March, with a couple of pitchbends to let you know it's real (as if...), along with the glockenspiels, tremolo guitar etc. A Night at Raji's is a pretty cool, modern record, which even died-in-the-wool prog fans may find acceptable; I've no idea if the band is an even remotely full-time proposition, or simply another one of Mattias' projects, but a whole album of this stuff would be most welcome.
You know when they say, "You should be careful what you wish for..."? Three or so years later, what should fall onto my doormat but a full-length Molesome album, Songs for Vowels & Mammals. Is this generally available? Depends on your definition of 'generally available', I suppose; I believe it is/was available on Mattias' Roth-Händle site, if you can actually gain access to the thing. It's weirder than its predecessor, and is clearly a Mattias solo project this time round, featuring the usual array of cranky old keyboards and drum machines, and what's more, I have no idea what (if anything) any of the tracks are called. What is undeniable, though, is that the man has a way with a tune; many of the tracks have beautiful melodies, usually played on MiniMoog or Mellotron, though possibly more in an 'art-house film soundtrack' way than a 'worldwide hit single' one, which is probably a good thing. Moments of humour rear their ugly heads here and there, too, with Track 8 being a worthy successor to Raji's Narcotics.
It's likely that some of the 'programmed drums' are actually Mattias' old Chamberlin Rhythmate, which, since it's a tape-replay device, should count as a Chamberlin, but unless/until I'm informed as to what is and what isn't, I really can't comment. As far as more standard Mellotron stuff goes, while I'm certain to miss some of the sounds used, particularly when they're stacked up in the mix, this is what I can actually hear: Cellos, flutes and strings on track 1, strings on 4 and some gorgeous, upfront flutes backed with cello on 5. Flutes and strings on 6, cellos on 10 and ghostly choirs (are there any other kind in Mellotronland?) on 11, with unidentified orchestral something-or-others on 13. 15 features flutes through a Digitek Whammy pitchbend pedal, making for some interesting octave effects, with a final Mellotronic appearance from the cellos, strings and flutes on Track 18. Now go on, tell me what I've missed.
2007 and it's another Molesome album - of a sort. Dial is the sort of thing that lazy reviewers might call 'ambient', only ambient music isn't meant to be this discordant and all-round odd, I suspect. It largely consists of moaning synth with random brass stuck on top, vocal samples, and the odd bit of piano thrown in, so it would seem that 'intelligent, offbeat pop' no longer applies. Actually, this doesn't sound entirely dissimilar to Julian Cope's very odd Odin, only shorter, and with slightly more variety. Mellotron? There's something stabby at around the 16-minute mark, and some background choirs a few minutes later, with some definite flutes and strings around 24 minutes. When suddenly... 26 mins, and full-on strings! Almost rhymes, too. That would appear to be your lot.
See: Änglagård | AK-Momo | Geller | Nanook of the North | Pineforest Crunch | Reminder
The Mommyheads (1997, 46.01) ***/T

Jaded
I'm in Awe
Bellhop
In the Way
You Keep on Looking Back
Sad Girl
Wake Up Irene
Thought of You
Monkey
Would He Know?
Corky
Screwed
Current availability:
Chamberlin used:
The Mommyheads, fronted by Adam 'son of Leonard' Cohen, operated from the late '80s to the late '90s, releasing five albums, of which their eponymous one was the last. Unusually, as this usually happens in reverse, it started off by irritating me, then as it played, I slowly got used to their sound until I ended up quite liking it. And their sound was...? Classic intelligent pop; plenty of Beatles, shades of their contemporary Michael Penn, basically good melodies over inventive chord sequences. Remember them? Well, no-one else does... Standouts? Hard to say after less than two plays, but Corky has a great lyric, and there's nothing here that makes you want to reach for the 'skip' button, which is a result in itself.
The ubiquitous Jon Brion plays Chamberlin on Thought Of You and Screwed, and just for once, you can actually hear the bloody thing. Strings (OK, violins) on the former, sounding, yet again, a lot like the real thing, and flutes on Screwed, although it could easily have been used on another half dozen tracks without over-egging the pudding. Well, I think so, anyway. So; why only three stars? Well, the songs are good, but not great, and without playing it several times in fairly quick succession (time, time...), it's impossible to tell whether its stature will grow or diminish with repetition. Saying that, it's a good album, and may just possibly have its rating bumped up at some point in the future. Two OK Chamby tracks, but don't buy it for them.
See: Adam Cohen
Avant qu'il Ne Soit Trop Tard (1978, 36.46/58.33) ****/½

Avant qu'il Ne Soit Trop Tard
La Peste
Souvenirs de Naufrageurs
Tripot
Lena
Créature sur la Steppe
[CD adds:
Souvenirs de Naufrageurs (live)
Créature sur la Steppe (live)
Lena (live)]
Current availability:
Mellotron used:
Mona Lisa are often, unfairly, labelled Ange copyists. OK, so they're a loosely Genesis-influenced French progressive band from the early-to-mid-'70s with a theatrical singer. And? They actually sound very little like them, at least within the prog oeuvre, although occasional Genesis comparisons do hold up. 1978's Avant qu'il Ne Soit Trop Tard was their fourth album, following hard on the heels of their classic, the previous year's Le Petit Violon de Monsieur Grégoire (****½), and actually holds up very well in comparison, given that the two-pronged punk/disco attack had hit in their homeland, too. This is a full-on progressive album, with no obvious concessions being made to modernity; y'know what, though? Maybe the band saw this as 'modernity' at the time. The most anyone can do is spot trends, and most of us can't even do that, so if Mona Lisa had an audience who went wild for what they were doing, why would they try to conform to a new set of media-imposed rules? Anyway... Keys man Jean-Paul Pierson is credited with Mellotron (the band had never used one before), but it's only to be heard on Souvenirs De Naufrageurs, with some background choirs near the end, making you wonder why they bothered. It doesn't feature on the live version added to Musea's CD release, making it highly likely that a studio machine was fired up for the sole track.
Vocalist and band linchpin Dominique Le Guennec left after Avant qu'il Ne Soit Trop Tard, so drummer Francis Poulet 'did a Collins' and stepped up to the mic for the original band's last album, '79's Vers Demain (***½). While it's rumoured to have some 'Tron input, there's nothing audible, so null points on that front, although it's a much better album than you'd expect from its year of release. As far as Avant qu'il Ne Soit Trop Tard goes, if you're into the French prog sound and like their earlier albums, you won't be disappointed. Next to no Mellotron, but it's a bit irrelevant here, to be honest. Incidentally, Le Guennec reformed the band in the late '90's, though with no other original members, choosing instead to co-opt most of current French outfit Versailles. They made one studio album, 1998's De l'Ombre à la Lumière, using fake Mellotron (reviewed here) and a live album before dropping out of sight again.
See: Samples
The ArchAndroid (Suites II & III) (2010, 68.37) **½/T

Overture II
Dance or Die
Faster
Locked Inside
Sir Greendown
Cold War
Tightrope
Neon Gumbo
Oh, Maker
Come Alive (War of the Roses)
Mushrooms & Roses
Overture III
Neon Valley Street
Make the Bus
Wondaland
57821
Say You'll Go
BabopbyeYa
Current availability:
Mellotron used:
Janelle Monáe released her first album in 2003, taking, for a new artist, an almost unprecedented seven years to follow up with the hugely ambitious soul/R&B concept album The ArchAndroid (Suites II & III). What's it all about? Fucked if I know, but it actually succeeds in drawing together many disparate styles, throwing not only the two previously-mentioned genres into the pot, but also hip-hop, funk, even Broadway... To be frank, unless you're into what I believe is now known as 'urban', you're probably not going to like this, but I have to give it kudos for its ambition, many of the tracks tied together by brief orchestral interludes in a way that would leave 50 Cent and his ilk shaking their heads in bewilderment.
Nate Wonder plays Mellotron, with flutes on Cold War and Neon Valley Street and literally four choir notes on Make The Bus; there may be more (the flutey thing on 57821?), but it's difficult to tell. So; not really one for Planet Mellotron readers (whoever you may be), but an impressive, if a rather overlong piece of work.
Brand New By Tomorrow (2007, 38.09) **½/T

Color of Your Blues
Pick Up the Pieces
Summer Blue
Pretend to Sleep
My Loss, Your Gain
Everyday I Die a Little
Radiate Nothing
Black Butterfly
Nice to Me
Eyes That Ring
Brand New By Tomorrow
Current availability:
Chamberlin used:
"Money" Mark Ramos-Nishita is a vocalist/keyboard player/producer who has collaborated with The Beastie Boys and Beck, amongst many others. 2007's Brand New By Tomorrow seems to be typical of his output, a mostly gentle, heartfelt, soft rock/soul album. Yes, I hate it. However, it avoids the gruesome ultra-cheesiness of many of his contemporaries, making it more dull than horrible, several of its songs sounding like they could easily have been hits (only one single was actually released from the album).
Mark plays Chamberlin on Pick Up The Pieces (the single), with a nicely high-in-the-mix string part throughout, although that's your lot. Not a very interesting album for those who prefer to stand (sit, or lie) outside the mainstream, but at least it's got one good Chamby track. And a witty sleeve.
In My Soul (2010, 45.03) ***/T

In My Soul
For All Time
Mama Don't Know
Feel the Vibe
Soul Dance
My Child
Shave My Head
Crazy Crazy Thing
Hypothetical
Revolution
Wish I Was a Bass
Current availability:
Mellotron used:
Although Candice Monique's been around for a few years, 2010's In My Soul is her first album, backed by her über-funky Optics. No, of course I don't like it, but (for once) it's difficult to fully dismiss the joie de vivre running through much of the record, tracks like Feel The Vibe being sure-fire dancefloor fillers in a world where R&B isn't considered the highest form of musical expression. On the lyrical front, while Revolution irritates musically and is, essentially, white hip-hop, it says some pertinent things about Australia's attitude towards the country's original inhabitants.
Mikey Chan plays Mellotron on Shave My Head, with an orchestral-ish string part that enhances the song nicely, making it a shame it wasn't used on a couple of the other slower tracks. Anyway, doubt if this'll be your bag, but at least it's done well, with a decent Mellotron part thrown in.
Formica Blues (1997, 53.16) ***/T

Life in Mono
Silicone
Slimcea Girl
The Outsider
Disney Town
The Blind Man
High Life
Playboys
Penguin Freud
Hello Cleveland!
Current availability:
Mellotron used:
I first heard UK electronica duo Mono around 1998, maybe a year after they'd released Formica Blues; I seem to remember my then girlfriend being less than wholly impressed by my interest being (publicly) piqued at the sound of what I thought was a Mellotron. Note the phrase 'then girlfriend'... I was so unsure, however, that I had it italicised on the albums list for years, until I tracked down an interview with their musical half, Martin Virgo, on the Sound on Sound site, although I'm sure there was a more definite remark re. the album's 'Tron use. Anyway, Formica Blues has a very mid-'90s sort of sound about it; you know, a bit trip-hoppy, a lot louche, '60s penthouse, fairly French pop blah-di-blah. It works quite well on a sub-Air kind of level, though Siobhan De Maré's breathy pseudo-Gallic vocals irritate after a while, and you find yourself wishing you could hear the production subtleties without her emoting over the top for once. Or I do, anyway.
The only mention of Mellotrons I can now find on that Sound on Sound page is: "...which is why there are things on the album like a dulcimer coming out of the left speaker and a Mellotron out of the right", with no mention of the thing in either the production notes or Virgo's favourite gear sidebars, although there's plenty of mention of sundry analogues, including a Juno 106, a MiniMoog, a Rhodes, a Wurly and a Vox Continental. Upon listening to this properly, I'm actually heavily doubtful that the Mellotron's real, though I've been wrong before. Ignoring the various sampled string sounds scattered across the album, what I can hear is flutes and strings on Disney Town, with the standalone strings part at the end of the song being overlaid with vinyl hiss, and not really sounding that much like a genuine 'Tron, with more flutes on instrumental closer Hello Cleveland!, alongside a great vibes sound apparently created using a tortuous process which seems to have justified itself by the end result.
Mono were apparently pretty big in the States for five minutes, mainly due to the album's opening track, Life In Mono, being used as the end-credits theme in what appears to be an already largely-forgotten remake of Great Expectations. I'm not even sure if they ever released anything else, as their name is particularly difficult to search for, and there's at least one other band (from Japan) with the same name who, coincidentally, also allegedly use Mellotron. Anyway, this is far from essential on the (fake?) 'Tron front, but lovers of '90s trip-hop may be interested. Incidentally, the album was reissued as a two-disc set, with the second disc containing various tedious remixes, but since neither of the 'Tron tracks is amongst those remixed, I haven't bothered to include its details here.
Mono (Japan) see: Samples
It's Fun to Steal (1998, 40.14) ***/T

Creepy
It's Fun to Steal
Poison Flowers
Mr. Hughes Says
Imaginary Friend
Taste the Bass
Extra Krispy
Dedicated
Back-Stabbing Liar
Hillbilly Drummer Girl
Dashiki Lover
Pretty Fly
I Just Found Out What Everybody Knows
Night Security
Current availability:
Mellotron used:
Mono Puff were, essentially, a They Might Be Giants side-project, helmed by John Flansburgh, active in the mid-'90s. It's Fun to Steal was their second and last album, ignoring several EP releases, and is probably best described as loungecore, combining '50s easy listening with 'noo wave', indie and other more contemporary styles. But is it any good?, I hear you cry. Well, it's amusing in places, although I can't imagine wanting to play it too often (as in, probably ever again). Instrumentally, there's some nice analogue synth work (Oberheim, as it happens) and the Clavinet on Mr. Hughes Says is pretty cool, but unless you're big on that '50s/early '60s thing and happen to be a big TMBG fan, you're probably not going to get too much out of this.
Flansburgh's credited with Mellotron on Back-Stabbing Liar, which presumably provides the viola solo section in the middle of the song. Well, I think it's viola, and I own the sound myself... Is it real? Who knows? It's an unusual enough sound to be, particularly in those pre-M-Tron days, so it can sit here until/if I should find out otherwise. So; one for TMBG fans who've already got every last one of their Dial-A-Song recordings, or those who wish to hear the super-rare Mellotron viola in action. Assuming it is.
Official They Might Be Giants site
See: Samples | They Might Be Giants
Dopes to Infinity (1995, 67.54) ****/TTT

Dopes to Infinity
Negasonic Teenage Warhead
Look to Your Orb for the Warning
All Friends and Kingdom Come
Ego, the Living Planet
Blow 'em Off
Third Alternative
I Control, I Fly
King of Mars
Dead Christmas
Theme From "Masterburner"
Vertigo
God Says No (2000, 55.54/64.42) ***½/TT½

Melt
Heads Explode
Doomsday
God Says No
Kiss of the Scorpion
All Shook Out
Gravity Well
My Little Friend
Queen of You
Down in the Jungle
Cry
Take it
[CD adds:
Silver Future
I Want More]
4-Way Diablo (2007, 57.46) ***½/T½

4-Way Diablo
Wall of Fire
You're Alive
Blow Your Mind
Cyclone
2000 Light Years From Home
No Vacation
I'm Calling You
Solid Gold
Freeze and Pixillate
A Thousand Stars
Slap in the Face
Little Bag of Gloom
Current availability:
Dopes/God: A&M
Diablo: Steamhammer
Mellotrons used:
Monster Magnet are one of the chief exponents of what the press dubbed 'stoner rock' in the early '90s, otherwise known as a propensity for slowed-down Black Sabbath-alike riffs and far too many drugs. However, they aren't that easy to nail down, stylewise; they don't restrict themselves to slow tempos, don't always try to be heavier-than-thou, and band mainman Dave Wyndorf has no problem with slapping Mellotron all over the place, at least every now and again. The drugs are another matter, though I believe he's now gone (relatively) clean.
Actually, what Dopes to Infinity reminds me of most of all (apart from the Sabs, of course), is Hawkwind, particularly on I Control, I Fly; not the extended space-rock jamming end of their sound, but the repetitive riffing and almost chanted vocals. Yeah, Sabbath crossed with Hawkwind. From New Jersey. Weird. Wyndorf even looks a bit like Dave Brock. You know, I wasn't expecting to like this album, but after a few plays it's sneakily grown on me, in a retro-'70s sort of way. Probably because it sounds so uncontemporary, I suppose. Anyway, Mellotron on four tracks, mostly strings, with some cellos on Blow 'Em Off. Look To Your Orb... and All Friends And Kingdom Come both have loads of 'Tron strings running through them, in a sort-of-Hawks' Assault And Battery kind of way. Tell you wot, I'm actually going to recommend this for Mellotron fans, although it could've done with being on a couple more tracks towards the end of the album. Worth the effort.
After the 'Tron-free Powertrip, Wyndorf went back to the Mellotron on God Says No. Unfortunately, to my ears, it doesn't work as well as Dopes to Infinity; it probably displays a wider range of influences, with Gravity Well reminding me of, of all bands, the Groundhogs, and the riff to My Little Friend being an almost straight cop from Whole Lotta Love. Not that it's a bad album, you understand, just that some of the manic energy seems to have dissipated somewhere down the line. Maybe that's what happens when you stop doing the drugs. Depends which drugs, I suppose... Anyway, less overt 'Tron use this time around, with the string parts sounding eerily similar to some of Sabbath's 'Tron use, with the heaviest Mellotron on the album being the upfront block flute chords on Take It. Somehow, God Says No fails to convince in quite the same way as Dopes to Infinity, and is definitely a lesser 'Tron album.
Again, I haven't heard the intervening Monolithic Baby (shit, only Americans could get away with these titles), but 2007's 4-Way Diablo is another good collection of hard rock as it was; as with so many similar, though, it's at least ten minutes too long for its content, although I'm not sure what you'd drop. Cyclone is particularly good, dual solo and all, while Solid Gold is a veritable psych-fest, although we only get two 'Tron tracks (from Wyndorf?), with (as you'd expect) a major string part on their take on The Stones' 2000 Light Years From Home and less of the same on I'm Calling You. Another three or four years, another clean-up attempt from Mr. Wyndorf, another Monster Magnet album. Worth hearing.
So; only buy these if you like your guitars loud, while as far as the 'Tron's concerned, Dopes to Infinity's the only one I'd really bother with.
Monsters of Folk (2009, 54.37) **½/T

Dear God (Sincerely M.O.F.)
Say Please
Whole Lotta Losin'
Temazcal
The Right Place
Baby Boomer
Man Named Truth
Goodway
Ahead of the Curve
Slow Down Jo
Losin' Yo' Head
Magic Marker
Map of the World
The Sandman, the Brakeman and Me
His Master's Voice
Current availability:
Mellotron used:
Monsters of Folk (as in, "...Of Rock", no doubt)) are yer classic 'supergroup'; members of other successful bands getting together for a collaborative side-project, to greater or lesser effect. This one consists of My Morning Jacket's Jim James (calling himself Yim Yames here), M Ward and Bright Eyes' Conor Oberst and Mike Mogis, so it's hardly surprising a Mellotron puts in an appearance on a couple of tracks. To be perfectly honest, the album's a bit of a disappointment, consisting largely of country-tinged indie, selling its constituent members short. Better tracks include Slow Down Jo and Magic Marker, but it all just seems a bit... flat, somehow.
James/Yames sticks Mellotron strings all over opener Dear God (Sincerely M.O.F.), although the string interjections on Losin' Yo' Head are almost inaudible, sadly. So; a brave attempt, works in places, doesn't work in more. In my opinion, of course. One decent 'Tron track.
See: My Morning Jacket | M Ward | Bright Eyes
---