---
Asia (1982, 44.13) **/½

Heat of the Moment
Only Time Will Tell
Sole Survivor
One Step Closer
Time Again
Wildest Dreams
Without You
Cutting it Fine
Here Comes the Feeling
Alive in Hallowed Halls (2001, recorded 1983, 54.32) **/TT

Intro
Time Again
Wildest Dreams
Without You
Midnight Sun
Only Time Will Tell
Daylight
The Smile Has Left Your Eyes
Keyboard Solo
Don't Cry
Open Your Eyes
Ride Easy
Enso Kai - Live at the Budokan, Tokyo 1983 (2001, 57.29) **/½

The Heat Goes on
Here Comes the Feeling
Eye to Eye
Steve Howe - Guitar Solo
Only Time Will Tell
Open Your Eyes
Geoffrey Downes - Keyboard Solo
The Smile Has Left Your Eyes
Wildest Dreams
Heat of the Moment
Sole Survivor
Current availability:
Asia: Geffen
Hallowed: Zoom Club
Enso Kai: Pilot/Superior
Mellotrons used:
All titles: Downes' own M400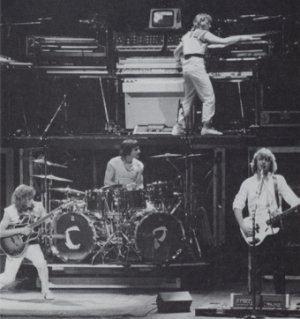 It's fairly unlikely that you've never heard Asia, especially if you're the wrong side of thirty; they were irritatingly ubiquitous in the early '80s, and 1982's Asia was an exceedingly major hit. All the progheads went wild when the band's formation was announced; "Howe, Wetton, Palmer and er, that bloke from Buggles? Dream team!" Except it wasn't. Far from being a prog supergroup, Asia were out-and-out AOR, with the occasional pomp flourish just to keep the old fans happy. Asia produced two HUGE hits in Heat Of The Moment and Only Time Will Tell, which made them an awful lot of money, while not endearing them to old proggers in the slightest. Like they cared.
Geoff Downes was a total keyboard freak, with the most outrageous collection of instruments; on their second tour, he lined up thirty or forty of the things (right) on a riser along the back of the stage, then just moved up and down the line during the set. In the middle of the massed banks of keys was his Mellotron M400; he may have used it more live than in the studio, but as far as I can hear, it's on just one song on Asia, Cutting It Fine and not much at that (a small burst of choir), although it's hard to tell, there's so much going on at once. Now, when I originally reviewed this album, some years ago, I wrote this:
This will probably piss a few people off, but I feel I have to say it. I hate Asia. Sorry, but I really, really can't stand them. Asia is immaculately produced, and generally brilliantly done, but I loathe it. It flies in the face of everything about music that I hold dear, especially from musicians of their calibre, who weren't entirely unsuccessful before... Everyone's entitled to make a decent living, but not when they foist this kind of dross on the general public. This gets one star simply in recognition of the work that went into it and the intelligence behind it, not for the music. Avoid.
Harsh? Perhaps, but definitely how I felt at the time. Having just listened to the album again for the first time since that roasting, I think it would be a lot fairer to say that, despite its excessively commercial leanings, it's difficult to fault it for what it is. What's more, I find that I actually quite like the pomp one-two of Time Again and Wildest Dreams, despite myself. I still can't seriously recommend this on any realistic level, but it's possibly not quite as awful as I once thought.
If you're of a seriously masochistic bent, there are a couple of recently-released live albums from this phase of the band's career, both of which feature a bit of Mellotron. The first is 2001's Alive in Hallowed Halls, a proper dog's dinner of a release, allegedly from Detroit in September '83, although bootleg evidence apparently says 'no'. Keen fans commenting on Amazon have pointed out that a) Midnight Sun begins in the middle of the song and b) Don't Cry has the opening from the studio version tacked on, not to mention c) that closer Ride Easy is actually a studio track. Musically, this could be a lot worse, but sonically, it's horrible, sounding more like a bootleg than something on which you'd want to spend proper money. Interestingly, Downes uses his Mellotron more here than on any other Asia recording, with choirs backing the harmony vocals on Time Again, Wakeman-style, an upfront string part on Midnight Sun and choirs on The Smile Has Left Your Eyes and Downes' solo spot, leaving us with two Mellotronic conundrums. You only get three sounds per tapeframe, so the only way of using more sounds without changing tapes mid-set (!) is to have custom ones made, splitting one or more of the selections, then playing very judiciously. Did Downes do this? Mellotronics were still in operation at this point, so it's not inconceivable... Tell you what, I'll really put my reputation (hah!) on the line and suggest that he might've done exactly that, meaning that both what sounds like the Mellotron church organ opening and closing Daylight and the tubular bells at the end of Wildest Dreams, with that 'hitting lengths of scaffolding pole' (© Mike Dickson) sound about them are both Mellotron. Or one or the other. Or neither. who knows? Either way, despite the awful quality, this is actually Asia's top Mellotron album, for what it's worth.
It was followed swiftly by Enso Kai - Live at the Budokan, Tokyo 1983, from their brief 'Greg Lake' period, after temporarily falling out with Wetton, reissued the following year as Live at Budokan, with two extra tracks. Well, despite loathing their studio work, it's difficult to fault this at what it does, although most of the material's still highly irritating. Only Time Will Tell still has a great intro (but that's it), while most of the rest passes me by without really making any impression. Downes sticks a bit of 'Tron choir onto Eye To Eye, but that's your lot, so don't even think about this on that front.
To my knowledge, Asia never recorded Downes' Mellotron again after their debut, but I suppose it could be on the following year's Alpha, which I shall grit my teeth and play, for your possible Mellotronic delectation, at some indeterminate point in the future.
See: Steve Howe | Yes | John Wetton | Buggles | Emerson, Lake & Palmer
Between Flesh and Divine (1980, 34.01) ****½/TT

Nightwind
Northern Lights
Boundless
Dedicace
Lost in a Dream Yell
Dreadful Memories
Current availability:
Mellotron used:
Asia Minor were a French/Turkish band who released two albums around the turn of the '80s, inserting a unique near-eastern influence into a by-then decade-old genre. Their first album, '79's Crossing the Line (****) was good, but they'd honed their sound even further by 1980's Between Flesh and Divine. Actually, this is a seriously underrated band; they had a fantastic sound, and the material is top-notch, with excellent dynamics and instrumental colouring, not to mention an unsurprising Arabic feel in places.
In the keyboard department, Robert Kempler relied heavily on a string synth, with occasional bursts of organ and monosynth in places. The Mellotron choirs on three tracks are heavily understated, except on closer Dreadful Memories, where they leap out of the mix in a fairly startling manner. I wouldn't go as far as to say that Between Flesh and Divine is a Mellotron Album per se, but it's more than worthy of your attention for the excellent music. Buy.
Tadj Mahall Gates (2001, 55.25) ****/TTT½

Tadj Mahall Gates
Nightmare
And I Hate Her
Autumn
You Who Know
Ghost of Love
Tu Qui Omnia Scis
Friends
Christmas Time
Loneliness
Carelessness Song
Fruits of Meaning
[untitled track]
Current availability:
Mellotron used:
I believe Tadj Mahall Gates is French newcomers' Aside Beside's first album, and rather fine it is too. Sounding distinctly French, despite the English lyrics, it has some of the jazziness of an earlier generation of French bands such as Atoll or Shylock, mixed with a pan-European symphonic feel. There's practically no neo-ness to their sound and a welcome propensity for experimentation, such as Romaric Hubert's operatic vocal in the brief Tu Qui Omnia Scis, lacking in so many of their contemporaries.
The instrumentation on the album is largely 'retro', although I can hear the occasional modern synth patch, mainly brass and strings. The Hammond, however, is real, and beautifully recorded. The whole feel of the album harks back to the '70s in many ways, actually, so while the band could be chided for refusing to take modern influences on board, they certainly won't be by me. More of this, I say! 'Retro' be damned - one Aside Beside are worth fifty dodgy fifth-rate neo outfits, peddling their sub-Marillion drivel... Er, sorry, got slightly carried away there.
Anyway, the Mellotron is played by both keyboard players, Frédéric Woff and Vincent Chevallier, with some tracks, notably Nightmare and Ghost Of Love being smothered in the thing (mainly strings and choir, with a smattering of flutes), although others are oddly 'Tron-free. Whatever sounded right on the day, I suppose. I feel compelled to give this album a distinct thumbs-up, which is a bit of a result, given that I'd never heard of the band until those nice people at Musea sent me a copy. If you like your prog symphonic, tuneful and a little bit different, BUY. Incidentally, the CD length above has been reduced by the blank space between Fruits Of Meaning and the unlisted rather weird extra track stuck on the end.
Tender City (1996, 59.02) **½/½

Corrinne
I'm Still Looking for a Home
Big Sky
A World So Rare
Little Darling
Cool Water
Tender City
Strangebird
From the Lips of the One I Love
This Ring
I Could Be Dancing
Hands Tied Tongue Tied
Current availability:
Mellotron used:
Joy Askew's a British girl with a long and varied career behind her, who moved to the States in the early '80s. After singing backing for Peter Gabriel on his Us tour, she ended up getting him and several of his band to play on her fourth album proper, Tender City. Although Askew's own voice sounds nothing like her, the backing vocals are very reminiscent of Kate Bush circa The Hounds of Love or The Sensual World; sadly, the music is far less inventive, being largely laid-back, slightly new-age/'world'-influenced stuff, which is OK for two or three songs, but begins to grate after a while, at least for this listener.
Mellotron on one track only, with strings from Gabriel collaborator Larry Fast (a.k.a. Synergy) on the title track, strangely alongside real ones. As a result, you can hear about two chords of the (real?) 'Tron, accounting for the extremely low T rating above. So; if yer into rather moody, slightly 'ethnic' music, you may like this, but I found it too upfront for background listening, even when played quietly, but not interesting enough to actually listen to properly, though you may well disagree.
Hin Vordende Sod & Sø (2003, 42.09) ***/T

Af Helvegum
Bruderov Paa Hægstadtun
Huldrandans - Hin Grønnkledde
Til Rondefolkets Herskab
Over Ægirs Vidstragte Sletter
Slit Livets Baand
Efterbyrden
Op af Bisterlitjernet
Vargr i Véum
Blodhevn
Valgalder
Arv (2008, 42.14) ***/T½

Fandens Mælkebøtte
Hiertebrand
Generalen og Troldharen
Arv
Yndifall
Gengangeren
Prunkende, Stolt i Jokumsol
En Myrmylne
Current availability:
Hin Vordende: Napalm
Arv: SPV
Mellotrons used:
Both titles: Lars Frøislie's M400s
Ásmegin ('by the might of the gods') are a Norwegian Viking metal band (stop laughing), incorporating elements of thrash, death metal and Scandinavian folk into their sound which, maybe surprisingly, actually works, by and large. Alongside the obligatory death-grunting and downtuned riffs, violin, accordion, flute and female vocals vie for the listener's attention, while the core band slots Norwegian folk melodies, complete with massed vocal harmonies, into their epic metal stew.
Their debut album, 2003's Hin Vordende Sod & Sø ('The Prospective Broth & Soup', apparently), has moments of greatness, but more moments of considerable silliness, unless you can actually take that faux-aggressive metal stance seriously (please don't tell me you can). The folk influences and unusual instrumentation are the album's saving graces, making for a partially listenable album for those of us not privy to metal's dark secrets. Norway's primo Mellotron man, Lars Fredrik Frøislie (Wobbler, White Willow, many others) guests on various keys, including Mellotron, although he's since joined properly (how does he find time to play in all these bands? I think we should be told), although all I can hear is a flute part on closer Valgalder, quite distinct from the album's real flutes.
Five years and some lineup changes later, Arv ('Heritage') is, essentially, more of the same, although I'm sure fans of the genre could point out the album's differences at some length. More violin, more folk melodies, more growling; good at what it does, assuming you like what it does. Although Frøislie plays on the album, he restricts himself to Hammond (pretty much inaudible until the last track), leaving Marius Olaussen to play the Mellotron. For some reason, though, unless I'm missing something, he doesn't touch it until near the end of the album, with what sounds like Mellotron strings and cellos under the real violin on Gengangeren, definite flutes on Prunkende, Stolt I Jokumsol and a full-on string part on closer En Myrmylne.
Overall, then, two relatively inventive metal albums, although the band's failure to distance themselves from the genre's sillier aspects hampers them in any chance of acceptance from a wider audience. Like so many genre outfits, though, I doubt whether they have any interest in appealing to anyone else, so that probably isn't regarded as a problem. Not all that much Mellotron on either, although Arv outdoes Hin Vordende Sod & Sø.
See: Wobbler
Lavender Edition (2004, 40.05) ***/T

Komisch...
Lavender Edition
Tickets for Two
I.S.W.Y. (Lavender Edition)
Most Children Do
...Wer Bit Du Denn?
Window of Noon
Agenda
Agendina

She's So Heavy [EP, as Ai Aso/Wata (Boris)] (2007, 12.01) ***½/TT½

Islands
Angel
Current availability:
Lavender: Pedal
Heavy: Diwphalanx
Mellotrons used:
Ai Aso (or is it Aso Ai?) is a Japanese psych artist, who has produced several albums and EPs over the last few years, including at least one collaboration. 2004's Lavender Edition is a quietly beautiful album, almost completely devoid of percussive interruption, consisting largely of Aso's vocals and clean electric guitar lines, other obvious instrumentation including bass (Most Children Do), ticking clock (I.S.W.Y. (Lavender Edition)) and an unearthly Mellotron string line on ...Wer Bit Du Denn?, played by You Ishihara. Yes, it enhances the track, yes, it's a pity it wasn't used slightly more.
Aso and Wata came together in 2007 to record a split 7", oddly titled She's So Heavy, while having nothing to do with the Beatles song. Aso's contribution is her version of King Crimson's Islands, getting to the core of the piece, while Wata (or Wata (Boris), going by the sleeve) covers Masashi Kitamura's Angel, presumably in her own style. Aso plays Mellotron strings on her track, opting to write her own part, rather than copying the original exactly, although Souichiro Nakamura's string part on the flip is barely discernable.
So; I doubt whether you're going to find these easily, but fans of somnambulant psych are going to love these to pieces. Decent 'Tron on two tracks over the two releases. Worth hearing.
See: Boris
King Richard's Collectibles (2001, 46.26) ***½/TT

Apple Street
King Richard
Poor Man's Falls
Monday Morning Gloom
Mercenary Man
Gotta Find a Better Way
Local Fashion Junky
Thank You R.E.A.
Queen of My Dreams
Little Flower
You Said
Urban Disaster
Current availability:
Mellotron used:
The Asteroid No.4 have been around since the '90s, releasing their second album, King Richard's Collectibles, in 2001. Gleefully describing themselves as part of 'the third wave of psychedelia', they've filled the album with homages to British '60s pop with a touch of the early '90s thrown in. Rickenbackers at dawn, then, I take it. Best tracks? A matter of opinion, as always, but opener Apple Street sets out the band's stall nicely, while Poor Man's Falls highlights their skills with a quieter number, although there isn't actually a bad track here, to be honest. About the only fault I can level at the album is its occasional propensity for over-influence: Monday Morning Gloom has a little too much of the early Beatles about it, while Mercenary Man is '65 Dylan to a tee, although most of the tracks' influences are general rather than specific.
Chris Zurzolo plays Mellotron on three tracks, with a minor flute part on the intro to Monday Morning Gloom being completely outclassed by a very major one on Little Flower, highly audible at the end of the track. He switches between flutes and strings on Urban Disaster, making for a nice hat-trick of 'Tron tracks, although he could easily have squeezed it onto a couple of others, too. So; one for those of you searching for lesser-known psych, even if it's current. What you'll get is a good without being jaw-dropping album, with a couple of cool 'Tron tracks, making them one of the better 'know nothing about them' bands I've reviewed recently. Worthwhile.
God & Other Stories (1993, 44.18) ***/T½

Big Dumb Song
The Monkey
God
Disco Lights
Miss A
Still Wednesday
The Lost Weekend Starts Here
St Paul's Mambo
On Saturday Night
Another Sunday
Underground
No Food is Blue
Ha Ha Ha
Big Dumb Song Again
Current availability:
Mellotron used:
Peter Astor is a veteran of fêted '80s British indie outfits The Loft and The Weather Prophets, going solo upon the dissolution of the latter at the end of the decade, 1993's God & Other Stories being his fourth album in four years, before he took a lengthy break from music. It's a very respectable singer-songwriter effort, full of well-constructed songs like Another Sunday or Ha Ha Ha and few (if any) '80s production hangovers, which is a bonus.
The album was recorded at Brian O'Shaughnessy's studio in Walthamstow, East London, who's used Radio Massacre International's Mellotron on occasion. Owner Duncan Goddard actually plays it this time round, with faint strings on On Saturday Night and much more upfront ones on Another Sunday and closer Big Dumb Song Again, to generally good effect. Overall, this is the kind of album which should appeal to fans of, say, Lloyd Cole or even Elvis Costello, and with two decent 'Tron tracks, is just about worth picking up for the Mellotron fan, too. Most acceptable.
The Black Chord (2012, 47.07) ****½/TTTT

Cocoon
The Black Chord
Quake Meat
Drift
Bull Torpis
Barefoot in the Head
Current availability:
Mellotron used:
Brian Kehew's purple M400
Regular readers of this site surely need no introduction to Astra; psychedelic hard rock/proggers from California, their Mellotronically sampletastic debut The Weirding got many of us exceedingly hot under the collar, even if it, shall we say, lacked originality in places. Three years on, The Black Chord is, if anything, even better, avoiding its predecessor's inclinations towards faint plagiarism, sounding exactly like Astra, but more original. All six tracks are superb, but mention must be made of the title track, which is, frankly, fucking massive and elemental closer Barefoot In The Head, named in honour of Brian Aldiss' most experimental (not to mention druggy) novel. There may be no one riff here quite as memorable as that one from The Weirding itself, but the overall impression is of a band who've found their feet and know exactly where they're going.
Richard Vaughan and Conor Riley both play real Mellotron this time round, heavily encouraged by producer Ian Lehrfeld to use Brian 'Moog Cookbook' Kehew's lairy purple M400, although I hear that the band's Memotron still made it onto a few tracks. It's almost irrelevant to detail their use; suffice to say, they use brass, strings and choirs across all six tracks, notable Mellotronic moments including the filthy solo brass melody that opens the title track and the huge, discordant string chord in Barefoot In The Head.
Do you need any more encouragement to go out and buy this? You know, BUY, as against 'find a free download'? A superb album, already up there as a contender for album of the year at Planet Mellotron. Buy. Now. Incidentally (and amusingly), the CD booklet, which devotes a page to each of the five band members, includes several pics from their sole UK gig to date from 2010, my hired-in M400 clearly evident in one shot.
See: Samples | Silver Sunshine
In Search of the Soul Trees (2008, 50.27) ***½/T

Part One
Spirits
Revelation
Reincarnation
Fountain
Woods
Part Two
Pilgrimage
Paradise
Storm
Soul Trees
Dawn
Current availability:
Mellotron used:
Asturias (named for a region in the far north of Spain) are effectively Yoh Ohyama's solo project, recording three albums from the late '80s to the early '90s before picking up again in 2003. 2008's In Search of the Soul Trees is his third album since 'reforming', a far more symphonic prog proposition than his original rather neo-works, moving through several different feels across its length, as you'd expect. Picking out individual highlights is difficult, as the album really should be listened to as a whole, but busy opener Spirits, the violin-led Woods and the reflective Paradise are possibly the tracks where his approach works best.
Akira Hanamoto plays real-sounding Mellotron, with strings on Spirits and Reincarnation, although all other potential parts sound generic. Overall, a decent and surprisingly non-synthetic modern Japanese progressive release, in a vaguely Mike Oldfield-ish direction, although that shouldn't put you off if you're not a fan of his work, either. Er... Not much Mellotron, though, so don't bother on that account.
Out in the Streets (1986, 11.18) ***½/TT

Farewell
Finale
[Japanese text]
Out in the Streets
Crystal Days (1987, 33.53) ***/T½

Bonnou
Chasing Shadows
Ain't No Crime
Ikarosu no Tsubasa
Jigyaku Mono
Crystal Days
Communicate War
Dead Line
Illusion of the Empty Room
Tight Rope
Remember Tomorrow (N.G)
In Your Dreams
Enbukyoku
Current availability:
Streets: out of print
Crystal: Still Life
Mellotrons used:
Asylum's 1986 EP, Out in the Streets, sounds like an '80s Japanese take on the proggier end of the metal scene, almost accidentally inventing prog-metal a few years early, although track three is punkier. Best track? Probably Out In The Streets itself. Ybo²'s Masashi Kitamura plays Mellotron, with a brief string part on opener Farewell, skronky flutes and strings on Finale and cellos (and strings?) on the title track.
1987's Crystal Days gives us an odd cross between punk and metal, with the occasional burst of something proggier. The album's eclecticism is also its downfall, as the impression given is of two different albums co-existing on the same piece of vinyl, often within the same song. Better tracks include Ikarosu No Tsubasa, Illusion Of The Empty Room and closer Enbukyoku, but it's all a little hit-and-miss, to be honest. Kitamura, this time billed as 'Joseph "K"', plays Mellotron on two tracks, with distant strings and flutes on the title track and upfront strings on Enbukyoku, although only the latter's really worth hearing for its Mellotron use. I haven't heard the expanded CD version of the album, but I doubt whether there are any more Kitamura contributions.
I'm not sure who might actually wish to hear these now; they have their moments, but they're too few and far between to make them anything more than historical curios.
So Long, Astoria (2003, 57.21) **½/½

So Long, Astoria
Takeoffs and Landings
In This Diary
My Reply
Unopened Letter to the World
The Saddest Song
Summer '79
The Hero Dies in This One
All You Can Ever Learn is What You Already Know
The Boys of Summer
Radio #2
Looking Back on Today
Eight of Nine
I Won't Spend Another Night Alone
The Saddest Song (acoustic)
Current availability:
Mellotron used:
The title of the Ataris' fourth album, So Long, Astoria, resonates fairly well with me at the moment, as the Powers That Be move in to demolish the grand old Astoria Theatre on London's Charing Cross Road, the city's last good-sized central venue. The band seem to play a rather derivative kind of pop/punk, although there is the odd interesting moment on the album, chiefly the rare ones where they use non-standard chords. The record seems to go on forever, although it's actually under an hour; when will bands learn that if you play a high-octane style, making long albums just doesn't work? If you edited out its best bits (do I mean the worst bits?), its star rating would probably rise a little, but the sheer drudgery of trawling through such a long album grinds the listener down eventually, at least if they're me.
Next to no Mellotron from Kris Roe, with the occasional 'Strawberry Fields'-style flute part in The Hero Dies In This One, one of the album's songs with slightly more interesting chords. So; overlong and boring with next to no 'Tron. Marvellous. Incidentally, their follow-up, 2007's Welcome the Night, is supposed to have some 'Tron input from Bob Hoag. Guess what: it hasn't.
Caribe Atómico (1998, 44.33) ***/T

Caribe Atómico
El Estuche
Maligno
El Desinflar de Tu Cariño
Mienteme
Cosmos
Péndulo
Humo y Alquitrán
Mañana
Doctora Corazón
Reacio
Días
Current availability:
Mellotron used:
Aterciopelados ('Velvety Ones') are apparently Colombia's top Latin rock act, and going by their fourth album, 1998's Caribe Atómico (literally, 'Atomic Caribbean'), they successfully fuse message politics, Colombian folk musics, more general Latin influences and Western pop/rock to create a heady whole that packs 'em in back home. As their countrywoman Shakira has proven, South American music can travel, although it seems to fight an uphill battle away from Latin areas. I'll leave track-by-track breakdowns of the album to those who understand this music better; suffice to say, it's very little like Santana, although the rhythmic base is similar, and is more likely to appeal to Spanish speakers and those who prefer dancing to chin-stroking.
Andres Levin produced the NYC-recorded album, adding various obscure keyboards as he saw fit, including an Ondioline and a Mellotron, although you'll have to strain pretty hard to hear the latter until the closing minutes of the album, where there's a full-on and definitely genuine flute part on Días, with what sound likes a single string note thrown in, as if Levin was messing about with the track selector. Anyway, yer rock/prog/Western music generally fan is probably not going to get much out of this, but it seems to be good at what it does. Oh, and if you want European credibility, Roxy Music guitarist and all-round Colombian Phil Manzanera produced their previous record, La Pipa de la Paz.
Can Atilla (Turkey) see: Samples
Neptune City (2007, 39.58) **½/TT

Maybe Tonight
Together We're Both Alone
The Way it is
Cool Enough
War Torn
Love Surreal
Neptune City
Brooklyn's on Fire!
Kill the Headlights
Party's Over
Current availability:
Mellotron used:
Nicole Atkins' Neptune City is one of those faux-'60s records that sound impressive, although upon further investigation are found to contain very little real content. Bold and brassy, the album grabs your attention immediately, but despite high points like the string melody in Together We're Both Alone (surely the album's best track?), it ultimately disappoints, trying to be something it just isn't. Swamped in strings, vibes and other easy listening instrumental staples, Atkins' strident contralto lays waste to the whole album, although, of course, if that's what you actually want...
Two Mellotron players are credited, Martin Gjerstad and Daniel "Shaolun" Chen, exclusively, it seems on Mellotron vibes, with parts on all the highlighted tracks above, some more obviously Mellotronic (notably Cool Enough) than others. Overall, then, pre-psych '60s pop with some rather non-standard 'Tron. To be honest, just don't.
Atlantis Philharmonic (1974, 36.04) ****/TTT

Atlantis
Woodsman
Death Man
Fly-the-Night
My Friend
Atlas
Current availability:
The Laser's Edge (US), now out of print
Mellotron used:
Atlantis Philharmonic were an American progressive duo comprising percussionist Royce Gibson and Joe DiFazio on everything else; amazingly, I'm told they managed to do it live, with DiFazio playing keyboards, bass pedals and guitar simultaneously (!) (thanks, David). Their sole release, Atlantis Philharmonic, is a mixture of magnificently pompous, overblown pieces like Atlantis and Atlas, and gentler songs along the lines of Woodsman, although even the quieter sections carry an undertone of menace. DiFazio was obviously a good all-rounder, as his keyboard playing sounds classically-trained, and his guitar and vocal work are perfectly respectable, too.
Three Mellotron tracks; Atlantis and My Friend have some reasonable string parts, but the real highlight is the lengthy, orchestrated strings part in Woodsman. I think this one track is almost the decider on its own; an absolute killer. You may find the album a bit on the heavy side, but if you don't mind a bit of 'oomph' in your prog, and you can actually find a copy (the CD is long deleted), go for it.
Blå Vardag (1979, 38.34/57.12) ****/TTT

Elisabiten
På Gata
Blå Vardag
Gånglåt
Den Vita Tranans Våg
[CD adds:
Björnstorp [from the Mosaik LP]
Hemifrån
Sebastian]
Current availability:
Ad Perpetuam Memoriam (Sweden)
Mellotron used:
Atlas were one of the many lower-division progressive bands from the '70s, particularly the tail-end of the decade. Blå Vardag (Blue Tuesday) was recorded in '78 and released in '79, just as the scene was coming to a close, at least for a while. Fully instrumental, Atlas had a jazzy feel in places, mixed with more traditional symphonic progressive rock. Much Fender Rhodes and MiniMoog from the two keyboard players, Erik Björn Nielsen and Björn Ekborn, with a little Mellotron thrown in for good measure on three of the album's five tracks, the most 'Tron-heavy track being the album closer, Den Vita Tranans Våg. While by no means a Mellotron Classic, this is an excellent album, well worth any prog fan's time.
The CD reissue includes three bonus tracks, one of which is the only 'Tron track from the post-Atlas Mosaik album from 1982. There's also some very nice Mellotron on CD closer Sebastian, rescued from a radio recording.
See: Mosaik
Lady of Shalott (2002, recorded 1977, 121.31) ****/T½

Lady of Shalott
Cuckoo (Love's Labour's Lost)
Tomorrow
Love is Waiting for a Lover
Cuckoo - alternate version
[Announcement]
Tomorrow (live)
Lady of Shalott (live)
Catharsis (by Isotopy)
Nightmare (by Me El-Ma)
Toridtagitar (by Me El-Ma)
The Children Dance (by Me El-Ma)
Current availability:
MIO (Israel, now out of print)
Mellotron used:
Zohar Cohen's M400 & ex-Pink Floyd MkII
Is this deluge of utterly obscure progressive bands ever going to stop? Hopefully not, going by the standards set by this double-disc set. Atmosphera were Israel's first symphonic prog outfit, including future members of Zingale, who are just about the only other one anyone's ever heard of and would'ja believe... they're excellent? There's a heavy Yes influence in what they were doing, with both Efraim Barak's vocals and Moti Fonseca's guitar style mirroring those of their Yes counterparts, which is in no way to decry the band's achievements; the material is well-written and recorded, and it's a real shame it wasn't released at the time. The CD booklet gives the band's full history, explaining how yet another promising outfit fell by the wayside; at least tapes a) were made and b) survived...
The title track and Cuckoo are both 16-minute epics, moving through all the requisite changes that the style demands, and although Tomorrow and Love Is Waiting For A Lover are cleaned up rehearsal tapes, I've heard an awful lot worse, although I'm not convinced the songwriting's quite up to the standard of the first two tracks. Now, the oddity here, and the reason the album's on this site at all is the alternate version of Cuckoo. As far as I can work out, it utilises elements of the other version, but with the intro and outro piano sections taken from a demo, and much overdubbing of keyboards, including the Mark II and M400 Mellotrons also used by Rockfour from original keyboardist Yuval Rivlin. Much upfront 'Tron, with strings and flutes probably from the Mark II, and M400 choirs, all complementing the piece very nicely, as do the ARP 2600, Hammond and Rhodes, amongst other vintage gear.
The second disc comprises various live and radio session tracks, a VCD video-only track and some post-Atmosphera things, including three from drummer Me El-Ma. To be quite honest, your life wouldn't be incomplete if you never heard most of this stuff, but I can perfectly well understand the urge to make everything available, although I suspect many of you will find the El-Ma stuff quite hard going. 'Weird shit' is, I believe, the appropriate expression. I haven't yet managed to play the video material, though I expect it's worth seeing, but I'm not entirely sure the listening public wouldn't be better served by a one-CD version, too, though that would almost certainly be too expensive a proposition to make it worthwhile. Anyway, disc one is excellent, with one 'Tron epic, albeit with recent overdubs.
L'Araignée-Mal (1975, 44.03/56.03) ****/½

Le Photographe Exorciste
Cazotte No.1
Le Voleur d'Extase
L'Araignée-Mal
Imaginez le Temps
L'Araignée-Mal
Les Robots Debiles
Le Cimetiere de Plastique
[CD adds:
Cazotte No.1 (live)]
Current availability:
Mellotron used:
I've owned copies of Atoll's first and third releases, Musiciens/Magiciens (***½) and Tertio (***½) for a while, finding them both 'good but not great', so I was completely blown away by L'Araignée-Mal, with its prog/fusion crossover feel, complete with great material. The only piece that sounds more jazz than prog is Cazotte No.1, reprised with a live version on Musea's CD reissue, with the rest of the material inserting some jazziness into the excellent symphonic prog, replete with violin.
Keyboard man Michel Taillet only seems to play clavinet and a gorgeous-sounding Eminent string synth (similar to the Solina, I believe), with Bruno Gehin guesting on most of the keys, particularly Rhodes and some superb MiniMoog work. Gehin's also credited with Mellotron, but apart from a single string note on Le Photographe Exorciste that may or may not be, the only thing I can hear is (I think) a few flute chords on the first part of the excellent side-long title track, so I really wouldn't go here for 'Tron. However... if you like your prog symphonic and a little jazzy, buy this immediately, while it's still in print. Superb.
Atomic (Germany) see: Samples
T4B (2009, 40.24) ***½/T½

Pawn Shop
Middle Man
Daisy Chain
Giant
Revival
Astronomy Domine
Don't Do it
Sometime Wednesday
Super Computer
Run
Wreck You
Current availability:
Mellotron used:
There seems to be some confusion over The Atomic Bitchwax' fourth album, known variously as T4B, TAB4 or The Atomic Bitchwax 4, possibly with two different running orders. It's actually a pretty decent hard rock album from the old school; y'know, proper riffs'n'shit, of the kind that seem to have gone entirely out of fashion, replaced by, er... What do modern metal bands use instead of the classic 'riff' structure? I don't like it, but I can't even work out what it is. Anyway, the terribly-named The Atomic Bitchwax don't do it, which is a blessing, and not even in disguise. Top tracks include
Bassist Chris Kosnik doubles on Mellotron, with strings all over opener Revival, to the point where you wonder how they could do it live without (my guess is they just won't play it) and closer Wreck You, sounding reasonably real, although it gets harder and harder to tell for sure... So; good album in its genre, assuming you like said genre, with a couple of decent 'Tron tracks. Tentatively, buy.
In Thrall (1993, 48.13) ***½/TT½

No Tears Tonight
Under Jets
Allegory
Angels in the Trees
Living in Another Time
The Evensong
Fall So Far
August Rain
Walpurgis Night
My Book
Home
Current availability:
Mellotron/Chamberlin used:
Jon Brion/Patrick Warren machines?
Murray Attaway was frontman with well-respected gentlemen Guadalcanal Diary, possibly the best 'Athens, Georgia scene' band, certainly superior to what R.E.M. became. After their (first) split, Attaway signed with Geffen and recorded the really rather good In Thrall, carrying on his former band's adventures with jangly guitars and meaningful songs. I really hate to keep quoting favoured artists as influences, in true 'Record Collector' style, but parts of this album don't half sound like Richard Thompson at his most upbeat, especially in the guitar department, which is no bad thing. I suspect it'll take a few more plays for its charms to make themselves fully apparent (quite when I'll find the time to do this, I've no idea), but there doesn't seem to be a bad track on the album, which is pretty good going by anyone's standards.
This album is absolutely stuffed with Chamberlin, with the odd bit of Mellotron creeping in, and all in the days before both instruments were routinely sampled. Saying that, with contributors of the stature of Jon Brion and Patrick Warren, samples aren't really in the offing, I'm glad to say. Attaway himself and Tony Berg also play various tape-replay instruments, while Brion gets some of his beloved Optigan in, too. Anyway, a weird Chamby flute pattern on No Tears Tonight, what I presume to be 'Tron cellos and Chamby brass on Under Jets, 'Tron flutes on Allegory, along with Chamberlin something. Chamby 'Strawberry Fields'-style somethings (not flutes) on Living In Another Time and Chamby solo male voices on My Book makes for a pretty good 'Tron/Chamby effort, although most of the parts are typically brief; whad'ya think this is? Prog?
So; good album for jangly guitar fetishists, or simply lovers of good songs. Reasonable tape-replay work, so worth picking up second-hand, at least. Incidentally, it seems In Thrall is Attaway's only solo album released to date, although he has worked on at least one other. Guadalcanal Diary have an on/off career, but Attaway doesn't even seem to have his own website.
Official Guadalcanal Diary site
Audrey Horne (Norway) see: Samples
Audrye Sessions (2009, 48.37) *½/½

Turn Me Off
Perfect, Sometimes
Julianna
Relentless
The Paper Face
Awake
New Year's Day
Where You'll Find Me
Nothing Pure Can Stay
She Had to Leave
The Crows Came in
Dust and Bones
Current availability:
Mellotron used:
Audrye Sessions are an Oakland-based indieslop crew, who apparently fondly imagine that their eponymous debut sounds like a cross between The Beatles and Muse. Well, possibly the worst excesses of the latter, but The Beatles? Are you 'avin a laff? Audrye Sessions actually sounds more like Coldplay duking it out with Travis, in exactly the way that you might imagine those two bands would fight: wetly, with tears before bedtime. Frankly, this is completely horrible; I blame U2. The band's awfulness may possibly be encapsulated by their re-recording of opener Turn Me Off in Simlish, an artificial language used in the Sims range of computer games, thus making a triviality even more trivial. Great. Amazingly, there is actually a 'best track', Nothing Pure Can Stay, which, after two minutes of the usual drivel, suddenly kicks into a genuinely good riff. Sadly, it's over all too soon.
Andrew Scheps is credited with Mellotron, but the only even possible use is the strings on closer Dust And Bones (the album's second least-offensive track), although they sound more like real ones to my ears. Listen, this is a terrible, terrible album. Please don't buy it.
Jon Auer (US) see: Samples
Keep it Hid (2009, 50.04) ***/T

Trouble Weighs a Ton
I Want Some More
Heartbroken, In Disrepair
Because I Should
Whispered Words (Pretty Lies)
Real Desire
When the Night Comes
Mean Monsoon
The Prowl
Keep it Hid
My Last Mistake
When I Left the Room
Street Walkin'
Goin' Home
Current availability:
Mellotron (Chamberlin?) used:
Dan Auerbach is the non-drumming half of The Black Keys, so it's no surprise that some of 2009's Keep it Hid sounds a lot like the parent outfit's r'n'b/soul/garage rock mash-up, raucous yet tuneful, although the acoustic tracks are less expected, not least opener Trouble Weighs A Ton and closer Goin' Home. Best tracks? Possibly Whispered Words (Pretty Lies), with an excellent speed-up to the end and Street Walkin', although nothing here really disappoints.
Auerbach plays pretty much everything on the album, including the keyboard string part on When The Night Comes. But what is it? It sounds 'grimy' enough to be a tape-replay instrument, but doesn't quite sound like a Mellotron. A Chamberlin? Not actually tape-replay at all? I'll keep this here until/if I find out for certain, anyway. Overall, although every individual track on the album works well, some of them don't appear to be the best of friends, accounting for the relatively low star rating, while fifty minutes is probably about ten too long, but if you're a Black Keys fan already, don't let that put you off.
See: Black Keys
Auf der Maur (2004, 51.59) ***/½

Lightning is My Girl
Followed the Waves
Real a Lie
Head Unbound
Taste You
Beast of Honor
I'll Be Anything You Want
My Foggy Notion
Would if I Could
Overpower Thee
Skin Receiver
I Need I Want I Will
Current availability:
Chamberlin used:
Bassist Melissa Auf der Maur is best known for her years in Courtney Love's Hole (so to speak), although she's also worked with The Smashing Pumpkins and Rufus Wainwright, amongst others. She kicked off her solo career with 2004's Auf der Maur, slotting fairly and squarely into the 'alternative metal' bracket, taking influences from the modern metal, punk and indie genres, not least her various ex-bands. The end result is an album that's likely to appeal to fans of The Pumpkins et al. and less likely to grab those for whom rock peaked in the '70s, although it features occasional nods towards the 'classic' era.
Melissa plays Chamberlin, with, of all things, a solo female vocal part on the powerpop of Would If I Could (think: that bizarre solo male voice, but, er, higher), making this possibly the only album on this site to feature the sound. Auf der Maur has its moments, although it's unlikely to get anyone over, say, forty too hot under the collar. One minor but interesting Chamby track is far from enough to make it worth hearing on that account, though.
Befour [Brian Auger & the Trinity] (1970, 32.26/46.41) ***½/T

I Wanna Take You Higher
Pavane
No Time to Live
Maiden Voyage
Listen Here
Adagio per Archi e Organo
Just You and Me
[CD adds:
Rain Forest Talking
Pavane
Fire in the Mind]
Closer to it! [Brian Auger's Oblivion Express] (1973, 36.30/59.48) ***/T

Whenever You're Ready
Happiness is Just Around the Bend
Light on the Path
Compared to What
Inner City Blues
Voices of Other Times
[CD adds:
Whenever You're Ready
Happiness is Just Around the Bend
Inner City Blues
Voices of Other Times]
Current availability:
Befour: Castle
Closer to it: EMI
Mellotrons used:
Auger's own MkII and/or M400?
After his groundbreaking work with Julie Driscoll, Brian Auger first made albums with the Driscoll-less Trinity, then shifted over to his own Oblivion Express, to explore the boundaries of jazz and rock more closely; whether or not you consider this a good thing will be tightly bound up with how you feel about jazz. 1970's Befour consists largely (solely?) of Augered-up covers, with loads of ripping (if predictably jazzy) Hammond work, with classical adaptation Adagio Per Archi E Organo being particularly impressive. Mellotron strings (in the left channel only for some reason) on another classical piece, Pavane, but not enough to make a purchase worthwhile, methinks.
Three years on, and Auger was on his fourth Oblivion Express LP, Closer to it, and I really have to say here, if you ain't into jazz, you ain't gonna get it. I didn't... It's all impeccably played and arranged, but this is a jazz-rock record without much of the rock, to be honest. I mean, compared to, say, Airto Moreira's work, this is so... white. I find it difficult to pick out any highlights from something that's just so tame; suffice to say, this is jazz (Have I already said that?). Mellotron on one track, with an unexciting string part in the background on Inner City Blues, with the same on the extra version of the track on the CD.
So; whitey-boy jazz, albeit exceptionally well-played. You either love this stuff or you don't; it's pretty much innovation-free, like so much jazz from the last three or four decades, and there's very little excitement to be had listening to Closer to it, although Befour is rather better. Very little 'Tron, so don't bother on that account, either.
See: Julie Driscoll, Brian Auger & the Trinity
Girls Sing (2007, 61.05) ***/T

Profukal
Padal
Zhdat
Rogan Born
Tam-dam
Slova
Debil
Vozle Menya
Dolgi
Devushki Poyut
Current availability:
Chamberlin used:
Auktyon/Аукцьіон (duh, Auction) are a St. Petersburg-based band, whose origins date back to the dying days of the old guard in Russia, actually forming as early as 1983. 2007's Girls Sing (or Девушки Поют) is something like their twelfth album, sung in Russian, as are all their releases, with a heavy Russian folk-influenced sound mixed in with the New York avant-garde crowd (John Medeski, Marc Ribot) with whom they worked on the recording. It's actually really difficult to describe this music; suffice to say, if you're after something a bit different and already appreciate the Medeski sound, you may well get something from it.
For once, Medeski plays Chamberlin, rather than Mellotron, with skronky pitchbent flutes on Zhdat (Ждать) and the tiniest smattering of the same on Dolgi (Допги). As is so often the case with the instrument, it could be on other tracks, but with several real woodwinds also present, it seems unlikely. So; a strange album, but a not entirely unpleasing one either, with one decent Chamby track.
See: John Medeski | Marc Ribot
7" (197?) ***½/TTTT½

Citadelle d'Illusion
Vibrations de Terre
Current availability:
Mellotron used:
Switzerland's entirely obscure Aumether appear to have only ever recorded this one single, release date unknown, though clearly from some point in the early-to-mid-'70s. Going by the composition and arrangements, they clearly wanted to play full-blown progressive rock, not a genre known for its single-friendly song lengths, so it wouldn't be unreasonable to assume that these were either two of their shorter tracks, or they were edited heavily. Citadelle D'Illusion goes great guns until around the 1:30 mark, when the vocals finally enter the fray and spoil things a little, while Vibrations De Terre is a lot like the 'A', only without with instrumental intro.
The unknown keyboard player sticks dirty great slabs of Mellotron strings all over Citadelle, with choir and cello (?) parts thrown in for good measure, with more strings and choirs on the flip, making this one of the more Mellotron-heavy rarities I've run into recently, especially in 7" format. I'm sure an original will set you back a fairly stupid sum, but that's what downloads blogs are for, isn't it? Incidentally, thanks once again to Mauro for pointing me at this.
The Aura [a.k.a. Sativa] (1976, 30.38) ***½/T

You Got Something
Clap Your Hands
First Taste of Love
It's a Feeling
Gonna Make it
Sativa
Mess Up Your Mind
Don't You Worry
Trying to Hold it Down
Skyrocket
Current availability:
Mellotron used:
Oakland's Aura are usually described as psych/funk or similar, but the sound on their sole LP, 1976's The Aura (originally to be titled Sativa, until the drug reference got someone running scared), is more Bay-Area Latin rock than anything, sounding an awful lot like early Santana, right down to the ripping guitar leads and massed percussion. OK, so it's probably funkier than most of Santana's output, while the female vocals and brass lead the music more in that direction, but this really is more Latin than anything. The album was apparently rediscovered through hip-hop crew Oaktown's 357's sampling of Mess Up Your Mind, leading crate-diggers to search out originals and an eventual reissue, under its original title, by Lion Records.
So, is it any good? Yes, is the simple answer, tracks like propulsive opener You Got Something, the funky Sativa and freak-out closer Skyrocket lifting the album above other, second-division Latin rock/funksters. The same can be said for Eddie Weiss' guitar work, his acid-drenched (sorry) leads being singled out for particular praise. Robin Kutulas plays Mellotron (a studio machine?), with strings doubling the Hammond on You Got Something and full-on string and flute parts on First Taste Of Love, although it's not exactly what you'd call a major feature of their sound. All in all, definitely a lost classic, at least of its kind, which is more than you can say for many so-called 'buried treasures'.
Uncertain Words (2008, 75.24) ***/T½

Shooting the Air
You Don't Care...
Total Peace
Love on Earth
Calling You From Far Away
Bpeмeнa (Times)
Grey Sky, Cold Wind, You
My Tears
Don't Fade Away
World Trade Center
Dom-2 Treated
Open Your Mind
Calling You From Far Away (Summer Night Version)
Current availability:
Mellotron used:
Autumus is Ivan Udintsev's solo project, 2008's highly limited-edition CD-R Uncertain Words seemingly being his debut release. Aside from Jane Harrington's vocals on two tracks, it's entirely instrumental (OK, therefore it's not entirely instrumental, pedant), written and recorded on a variety of (presumably real) analogue machines, namely a MiniMoog, a Moog modular, an ARP 2600 with sequencer, a Yamaha CS-80, a Roland SH-101, a Roland CR-78 drum machine and a relative rarity, a Polivoks. Oh, and a Mellotron, of course. The material shifts between more and less dancey electronica, better tracks including the gentle Total Peace, the lush Love On Earth and the robotic Times.
Udintsev adds Mellotron strings to three tracks, with block chords on Love On Earth and basic lines on World Trade Center and Open Your Mind; nice to hear, but used with little imagination, I'm afraid. Uncertain Words definitely has its moments, but its excessive length makes listening to it in an unaltered state something of a chore, although it's (almost) always nice to hear analogue gear used in anger.
AWB (1974, 41.09) ***/½

You Got it
Got the Love
Pick Up the Pieces
Person to Person
Work to Do
Nothing You Can Do
Just Wanna Love You Tonight
Keepin' it to Myself
I Just Can't Give You Up
There's Always Someone Waiting
Current availability:
Mellotron used:
AWB was the Average White Band's second album, containing their only UK hit, the iconic Pick Up The Pieces, which sounds an awful lot better now than it did at the time, I have to say. It's a strange album, split straight down the middle (er, weren't they all back then?), with the more uptempo, funky stuff on side one, leaving the flip for their more soulful material, although, thankfully, they ran out three songs in, upping the funk factor for the last two tracks.
One 'Tron track, with strings on Just Wanna Love You Tonight from sessioneer Ken Bichel; passable use, but nothing to raise the blood pressure. So; white soul/funk your (papa's got a brand new) bag? Nope? Don't bother, then, although it's surprisingly good at what it does, once removed from its era.
The Carpenter (2012, 46.38) ***/T

The Once and Future Carpenter
Live and Die
Winter in My Heart
Pretty Girl From Michigan
I Never Knew You
February Seven
Through My Prayers
Down With the Shine
A Father's First Spring
Geraldine
Paul Newman vs. the Demons
Life
Current availability:
Mellotron used:
Scott and Seth (plus collaborators), the prolific Avett Brothers, have produced seven full-length efforts (not to mention several EPs and live albums) in a decade, combining a trad-ish form of Americana with bursts of punk energy and a real feel for the genre, missing in many other adherents. Unfortunately, 2012's The Carpenter very slightly outstays its welcome (in this listener's opinion), although material such as opener The Once And Future Carpenter, I Never Knew You, A Father's First Spring and the energetic Paul Newman Vs. The Demons are as strong as pretty much any Americana you might hear.
Benmont Tench (Tom Petty) plays Mellotron flutes on A Father's First Spring, with a melodic part that helps to carry the song, rather than simply being added for effect, which makes a nice change. The Carpenter's a decent enough record, but without hearing the Avetts' earlier work, I can't say whether or not it's one of their better albums.
Aviary (1979, 37.10) ****/0

Soaring
Anthem for the U.S.A.
Puddles
As Close as You Can Get
Mystic Sharon
Feel the Heart (Then You'll Be Mine Again)
Average Boy
I Will Hear
Maple Hall
Ambition (2003, recorded 1977-79, 51.11) ***½/TTT

Hello
The Sun, the Sand
Apathy
Ambition
You
Desert Songs/Pharaohs March
I Should of Known
Eva's Birthday
Fine Lines
Working Girl
Yes and No
Current availability:
Aviary: Sony Rewind
Ambition: AV
Mellotron used:
Both titles: band's own M400?
Aviary, if they're remembered at all these days, are usually lumped in with the late '70s AOR crowd, which is to heavily over-simplify the matter. Their sole, eponymous 1979 album can list various artists as influences, not least Queen, ELO and Styx, who had only just shifted over to full-blown AOR themselves at that stage, remember, so calling it 'AOR' gives the potential listener a distorted picture. Aviary actually fits fairly and squarely into the small and much-maligned 'pomp' sub-genre: the place where hard rock, prog and AOR meet (stop cringing at the back), as practiced by (amongst others) Saga, Angel and yes, Styx.
Of course, in keeping with their genre-mates, the album's ridiculously overblown and pompous; I find it helps to see these things as being in a record's favour, rather than to its detriment, which aids the appreciation of its more uncomfortable aspects, not least the opening chords to Anthem For The U.S.A., the woodwind-driven Puddles (probably the oddest track here) and Mystic Sharon, though only for its title. I'm giving a bad impression, I suspect; this is actually a wonderful record, full of neo-baroque synth flourishes (imagine ol' J.S. with a MiniMoog) and falsetto harmonies to die for. Top tracks include opener Soaring (does what it says on the tin), Feel The Heart, with its OTT Hammond intro, Average Boy and closer Maple Hall, although, in truth, there's little to fault here, despite my earlier caveats. Although vocalist/songwriter Brad Love doubles on keys, it seems it's full-time keys man Paul Madden who allegedly plays the album's Mellotron parts; allegedly because their label clearly gave them a big enough budget to afford a string section, employed on several tracks, to the point where if the Mellotron's here at all, it's been successfully buried under real strings. Pity. Bet it got heavy use live...
That was it for Aviary, or so it seemed, as 2003 brought an archive disc of recordings from 1977-79, Ambition. Less luxurious than Aviary, it's still full of wildly extravagant pomp, not least its prog epic (actually two tracks very visibly stuck together), Desert Songs/Pharaohs March and the nutsoid Eva's Birthday, which reminds me more of the bonkers Carnegie (a.k.a. The Mark & Clark Band) than anyone else. And who was responsible for the shockingly ungrammatical I Should Of Known, eh? 'Should of' indeed... Plenty of Madden's Mellotron this time round, with strings on all highlighted tracks, cellos on Desert Songs and very distinct choirs on Pharaohs March.
I believe Aviary has already gone out of print, but if you can track a copy down, it's a totally essential pomp classic, while Ambition is second-rung, but still worth hearing. I'm not even sure I should've reviewed their original album, as I'm not convinced there's actually any Mellotron there at all, but their archive release is worth it on the 'Tron front.
Cuatro (1998, 39.38) **/½

Y Si Te Vas
Mas Que a Mi Vida
No Soporto Más
Tú Me Vas a Dejar
Te Logré Olvidar
Me Olvidare de Ti
La Grandeza Que te Di
Si Sigo Enamorado
Hoy Que No Estás Conmigo
Y Por Siempre
Hasta Hoy
Corazon Ardiente
Current availability:
Mellotron used:
Mexico's Avila brothers, Armando, Emilio and Enrique, worked together as Los Avila Boys for a while; their second album, 1998's Cuatro, presumably being typical of their output. I believe their style is known as 'grupero pop'; a form of contemporary Latin pop, with little content outside the realms of light entertainment, the only obvious exception here being the brief jazzy interlude in Y Por Siempre. All well and good, if that's what you want, but this is unlikely to appeal to anyone outside their home market. Like they care.
Armando (Cristian Castro, RBD) supposedly plays Mellotron, but as with his other credits, it seems to be near enough inaudible, with only what sounds like a vaguely Mellotronic string line on La Grandeza Que Te Di to show for it. Does this guy actually own a Mellotron, despite his various Mexican-artist credits? I'm beginning to seriously doubt it.
Avion (US) see: Samples
Close to the Edge (2010, 25.30) ***½/TTT½

Close to the Edge
The Solid Time of Change
Total Mass Retain
I Get Up I Get Down
Seasons of Man
Rocket Man (I Think it's Going to be a Long, Long Time)
Meryl Streep
Close to the Edge (Reprise)
Current availability:
Mellotron used:
Playwright/Mellotron: the Machine and the Musicians That Revolutionised Rock author Nick Awde is also the man behind the two (to date) MelloFests, yours truly (and pal Gary) providing Mellotrons, bad playing and panic-stricken, last-second arrangement changes. None of which has much to do with Nick's first release on his Desert Hearts label (MelloFest 3, as it happens), the provocatively-titled Close to the Edge EP. Er, EP? Yup, it features no less than the first non-tribute act cover (to my knowledge) of Yes' timeless side-long classic, along with Nick's take on Elton John's Rocket Man, his own Meryl Streep (vocals from The Vibrators' Knox, which explains a lot) and a brief reprise of the title track.
Basically, the title track is a piano/Mellotron/vocal version of the original full band arrangement, the sampled piano being played by an age-old MIDI file (the project's been in various stages of completion for the last decade or longer). The overall effect of mad, high-speed jazzy piano with no drums, especially when you know the original inside-out, can be quite disconcerting, but it certainly gives the listener a different perspective on an overly-familiar piece. Nick's vocal contributions are fine, although some of the backing vox are slightly suspect on the pitch front, which is about the only real criticism I'd level at the disc.
Nick plays his own, brand-new M4000, with some vicious string pitchbends on part one of Close..., The Solid Time Of Change, a handful of string chords on Total Mass Retain, distant Russian choir and upfront flutes on I Get Up I Get Down and a huge amalgam of no fewer than four different choirs (male/female/boys/Russian) on the 'church organ' part on the original. Other, less obvious parts includes vibes in a couple of places and a cello/bass clarinet/church organ underpinning towards the end. Rocket Man's choruses are a female/boys choir amalgam, plus occasional strings and bass clarinet treated to sound like a didgeridoo (!), with background strings and even more background bass clarinets and brass on Meryl Streep. Close To The Edge (Reprise) loses the manic piano, going instead for completely OTT strings over a far more restrained piano part, making for a pretty full-on 'Tron release, unsurprisingly.
So; do you buy this? It's difficult for me to be impartial towards a friend's work, but the bulk of this EP makes for very interesting listening, particularly for the Yes fan who thinks they've heard it all. Of course, a shitload of Mellotron use helps in one's appreciation, but I think you'll get something out of Nick's reinterpretation, the 'Tron use being merely the icing on the cake.
Slimming Mirrors, Flattering Lights (2008, 43.43) ***/T

The Sun Goes Down on Girlsville
Your Heart Serves Only You
Anime Eyes
(Prettier...)
Skeletal Blonde
Hey Modern Schoolgirl
Only Good Days Caught on Camera
(Than...)
True Love on Three With Feeling
We Dreamt of Houses
I Hurt the Ones That Love Me
(Them...)
Youth is a War
Miniskirt of Christmas Lights
(Dandelion)
Current availability:
Mellotron used:
I suppose The Awkward Stage fit generally into the 'indie' catch-all non-category. While much of their second album, 2008's Slimming Mirrors, Flattering Lights could be described as such, several tracks, not least the slightly Big Countryish Anime Eyes, the rocking Hey Modern Schoolgirl and acoustic ballad Dandelion escape such pigeonholing and the sleeve-image-describing waltz-time Miniskirt Of Christmas Lights is just odd.
Shane Nelken and Tygh Runyan play (real?) Mellotron, with flutes on Skeletal Blonde and True Love On Three With Feeling; did I hear those flutes in the background elsewhere? Probably not. Anyway, better than your average indie-schmindie by quite some way, while also being a long way from 'classic'. Not much Mellotron, either. Incidentally, there's credited Mellotron on the band's debut, 2006's Heaven is for Easy Girls, too; review forthcoming at some point.
This is the New Year (2011, 40.05) **½/TT

Leave Me Alone
Afterglow
Gone
The Music That Haunts This Town
Waltz
This is the New Year
Hangman
Cannonball
Girl I Got a Thing
Pacific Sun
We Are
Say Something
Current availability:
Mellotron/Chamberlin used:
Despite being, in many ways, a typical modern American singer-songwriter (you know, he's had tracks used on various mainstream TV shows), Ian Axel's debut, 2011's This is the New Year, is far less offensive than I'd expected. Saying that, it's also far less interesting than it could've been, but material like jaunty, Ben Folds-esque opener Leave Me Alone and the nutty Waltz lift this at least slightly above the average, although only time will tell whether or not Axel sinks further into commercial depravity.
Dan Romer (Lelia Broussard, April Smith) plays Mellotron and Chamberlin, with (Mellotron?) flutes all over Leave Me Alone and Girl I Got A Thing, (Chamberlin?) strings and flutes on Afterglow and strings on Hangman, with real strings on several other tracks. Overall, then, passable, but could do better. Incidentally, due to Axel's songwriter partner Chad Vaccarino's increasing role in their music, it seems they'll be known as Ian and Chad from now on.
Axis (1973, 41.28) ***½/TT½

Waiting a Long Time
Sewers Down Inside
Materializing the Unlimited
Asymphonia I
Suspended Precipice
Roads
Asymphonia II
Dancing Percussion
Pa Vu Ga Di
The Planet Vavoura
Current availability:
Mellotron used:
I can't say I know an awful lot about this lot, but Axis is a very strange album; opening with the dull hard rock of Waiting A Long Time, it shifts into progressive gear on Sewers Down Inside, then covers several other musical styles over the ensuing eight tracks, including jazz, avant-garde dissonance and even ecclesiastical music on Pa Vu Ga Di. Being a progressive band from Greece is unusual enough (Akritas, from the same period are the only other one who spring to mind), but Axis' mix'n'match approach to their art puts them in a category all their own.
Demis Visvikis seems to've been the band's main man, playing all the keys as well as lead vocalising. There's no guitarist credited, so unless that's an interestingly effected organ, I can only think that someone's been left off the credits. Anyway, Visvikis plays 'Tron on four tracks, all flutes and strings, with a speedy flute run on Asymphonia II and what sounds like distorted 'Tron flute on Sewers Down Inside. Strings and more flutes on Materializing The Unlimited and a healthy dose of strings on The Planet Vavoura to wind things up nicely.
Well, an uneven album, but a good one for the more adventurous listener; a reasonable amount of Mellotron work, too. Worth hearing.
Joy of a Toy (1969, 41.43/67.17) ****/T

Joy of a Toy Continued
Town Feeling
The Clarietta Rag
Girl on a Swing
Song for Insane Times
Stop This Train (Again Doing it)
Eleanor's Cake (Which Ate Her)
The Lady Rachel
Oleh Oleh Bandu Bandong
All This Crazy Gift of Time
[CD reissue adds:
Religious Experience (Singing a Song in the Morning)
The Lady Rachel
Soon Soon Soon
Religious Experience (Singing a Song in the Morning)
The Lady Rachel
Singing a Song in the Morning]
Current availability:
Mellotron used:
Joy of a Toy was ex-Soft Machiner Ayers' solo debut, showcasing his eccentric songwriting in almost as many different styles as it has tracks. Joy Of A Toy Continued (following on from the Soft Machine's debut) opens with a piercing electronic squeal, mutating into a typical late-'60s singalong, before taking a distinct sideways lurch into the cod-medieval intro to Town Feeling, with the album continuing in a similar vein. Ayers declines to repeat himself throughout, while letting various ex-colleagues guest on different tracks, giving the album a vague 'Canterbury' feel, although that's the nearest it gets to any real sort of cohesion, which is absolutely not to be taken as a criticism.
Only two original album tracks contain any Mellotron, despite the lack of any mention in the 'instruments used' list. It's hard to say who might've played the odd, trebly strings part on The Clarietta Rag and the distorted MkII organ on Girl In A Swing (thanks for that one, Max), although Mike Ratledge is prime suspect; maybe it was Ayers himself? Anyway, that would be it if it wasn't for one of the excellent bonus tracks on the CD, the second version of Religious Experience (Singing A Song In The Morning), which features a barely-audible 'highly eccentric Mellotron overdub', as it says in the sleevenotes. It's actually a few choppy string notes played by Ayers, but it isn't what you'd call essential, to say the least.
So; Joy of a Toy is the sort of album that I'm sure will grow in stature each time it's played. The songwriting is extremely unusual, and is frequently all the better for it, although that doesn't make for an easy listen the first few times. One 'proper' 'Tron track makes it inessential for the Mellotron fan, though it's well worth hearing in itself, particularly for students of the era.
See: Bridget St. John
Change Up the Groove [as Roy Ayers Ubiquity] (1974, 35.27) ***½/TT½

Change Up the Groove
Sensitize
Don't You Worry 'Bout a Thing
Mash Theme
Fikisha (to Help Someone to Arrive)
Feel Like Makin' Love
When is Real, Real?
The Boogie Back

Daddy Bug & Friends (1976, partially recorded 1967/69, 36.39) ***½/T½

Daddy Bug
I Love You Michelle
Bonita
Slow Motion
Native Dancer
In the Limelight
Virgo Vibes (Outside Blues)
Current availability:
Change: Verve
Daddy: not on CD
Mellotrons used:
Both titles: Pat Rebillot's M400?
Jazz vibraphonist Roy Ayers worked with Herbie Mann, amongst others, making it unsurprising that he used some of Mann's sidemen on 1974's Change Up the Groove, credited to Roy Ayers Ubiquity. In some ways, it's a typical mid-'70s funk/fusion release, although Ayers' spectacular vibes work makes it stand out from the pack, three Ayers compositions scattered amongst five covers, not least Stevie Wonder's Don't You Worry 'Bout A Thing and Mash Theme (you know, Suicide Is Painless). Mann's mid-'70s keyboard player, Pat Rebillot, plays largish quantities of uncredited Mellotron (thanks, William), with strings and cellos on Sensitize, strings on Don't You Worry 'Bout A Thing, choir on Mash Theme, solo flute and strings on Feel Like Makin' Love (not the Bad Company song, sadly) and pseudo-orchestral strings on When Is Real, Real?
1976's Daddy Bug & Friends is a slightly odd album, with a fairly convoluted history: Daddy Bug was originally released in 1969, then reissued seven years later with several tracks missing, in a different mix with some contemporaneous overdubs from Mann cohorts, plus two tracks added from Ayers' '67 release, Virgo Vibes. Confused? Me too. Essentially, ...& Friends is a compilation of somebody's idea of the best bits of two previous albums with bits added, for what it's worth. It's mostly gentle piano/vibes jazz, so if you're allergic to the style, I can assure you you won't be interested in this, however impeccably it's been written, recorded and produced. Rebillot, is one of two musicians overdubbed onto the original tracks, playing uncredited Mellotron flutes and strings on I Love You Michelle and credited flutes on Slow Motion, although the strings on Bonita are real.
Change Up the Groove is worth hearing for funk fans, borderline for those who prefer a Mellotronic contribution. The original Daddy Bug's in print, but this strange, hybrid version is long unavailable, its Mellotronic charms clearly not proving enough to melt record label execs' hard hearts. Or maybe no-one can see the point, which is a shame, as not only is there some otherwise unavailable material on here, but it's got Mellotron on two tracks, which has to be worth something... Doesn't it?
| | |
| --- | --- |
| Ayreon (Netherlands) see: | |
Días de Luna (1979, 38.17) ***½/TT

Cuidado Con la Marisol
Los Dias Sin Sol
Cuando la Luna
Tio Carlos
Algun Dia
Noche de Meigas Galopantes
Solo en Mi Ruta
Días de Luna

No, Gracias (1980, 37.10) **½/T

Humos y Gases
Contra el Viento
El Calor de Tu Piel
Sopa de Mar
Estar Contigo
No, Gracias
El Mundo va a Reventar
Por los Viejos Tiempos
Cabeza de Test
Current availability:
Días de Luna: Fonomusic
No, Gracias: MoviePlay
Mellotrons used:
Azabache have only come to my attention recently, despite years of prog fandom; how many more little-known bands are waiting to pop up out of the woodwork? Even ones who got to release an album? Or, in Azabache's case, two. The band grew out of Azahar (below), releasing two albums into an increasingly hostile market, as even Spain's late-flowering progressive scene faltered. Amazingly, although neither are exactly classics of über-symphonicness, 1979's Días de Luna holds its head up amongst other prog albums released worldwide that year, although the following year's No, Gracias heads further towards the mainstream.
Días de Luna sounds pretty much as you'd expect: prog with a 'Spanish' sound (though less so than many flamenco-influenced outfits) crossed with new keyboard technology and an ...And Then there Were Three... feel in places. Surprisingly, Gustavo Ros still uses his Mellotron, although almost invariably mixed with string synth; a rich sound, but in some ways a diluted one. Anyway, we get strings on all highlighted tracks above, although the only really overt use is on Algun Dia, where it's used on its own, for once.
As mentioned above, No, Gracias is a more mainstream effort (with something of a Queen influence in places), although still just about worth hearing for fans of the country and era, particularly closer Cabeza De Test. Nowhere near as much of Ros' 'Tron, unsurprisingly, with flutes on Contra El Viento and strings on El Mundo Va A Reventar, but I think it's safe to say that we're lucky, at this stage, to get any at all.
To be honest, Azabache aren't the most exciting band you're ever going to hear, although they certainly had their moments, but then, when they made these albums, you can be pretty sure they weren't looking thirty years ahead to how a small but vociferous worldwide prog scene might view them. They just wanted to sell some albums while still making music they wanted to make. Días de Luna's definitely the better album of the two with the aforementioned thirty years' hindsight, but neither of 'em are that hot on the 'Tron front.
Elixir (1977, 37.55) ***½/½

Campos de Azahar
¿Qué Malo Hay, Señor Juez?
¡Es Que Esto No Tiene Nombre!
Mercaderes
Un Hombre Cansado
Cantaros de Fuego
Viaje a Marruecos
Flipados
Que No Me Vean
Colgados de la Rama Gorda
Current availability:
Mellotron used:
Azahar's first album is notable for being that rarest of things, a progressive rock album with no drums, although a little percussion is audible. And you know what? I didn't even notice. Been listening to too much prog, I suspect... The bulk of the album's rhythmic input comes from the piano and bass parts, although the guitar provides the occasional rhythmic figure, too. Elixir is actually pretty good, if slightly lacking in originality; it's certainly very melodic, with plenty of lush string synth backing, in typical Spanish style. Dick Zappala's vocals are a bit of an acquired taste, to be honest, but there are plenty of instrumental passages, and some of the vocal parts are fairly restrained, so don't let that put you off.
Gustavo Ros is credited with Mellotron, along with piano, Rhodes and synths, but I'd pretty much given up on hearing any until the final, three-part track, Viaje A Marruecos, when a 'Tron string part suddenly swells up under the string synth on part 2, Que No Me Vean, lasting about 30 seconds. Sadly, that appears to be it; why not use it more? Who knows?
Anyway, a good album without being outstanding, but worth the effort, though not for the 'Tron.
Hold on Love (2003, 42.05) ***/T

The Devil's Feet
New Resolution
We Are Mice
Look to Me
The Drinks We Drank Last Night
Across the Ocean
If You Fall
Sea of Doubts
Dragonfly
Nothing Like a Song
These White Lights Will Bend to Make Blue
Hold on Love
Current availability:
Mellotron used:
Azure Ray are/were the duo of Orenda Fink and Maria Taylor, who have a strong Bright Eyes connection, with members of both bands playing on each others' records. There are both similarities and differences between the two bands; Azure Ray actually manage to be more melancholy than Bright Eyes, which is a feat in itself, although you wouldn't mistake their music for Conor Oberst's crew. Hold on Love is their third (and last?) album, the duo splitting up a year after its release, although a recent reformation may not be a one-off. Its chief fault is that its relentlessly downbeat approach starts to drag after a while, although several individual tracks sound great in isolation. Now, regular readers will be thinking at this point, "Er, doesn't he LIKE downbeat stuff?" Well, yes and no: miserabilists can be fine, but you can have too much of a good thing, and as in so many other areas, it's not just what is done but how. That's probably a bit unfair; this isn't a bad album, just a slightly one-dimensional one, and please don't bother telling me a one-dimensional object is impossible. I know. It's a figure of speech.
Someone allegedly plays Mellotron here, quite possibly Bright Eyes' Andy LeMaster, but given the quantity of real strings on offer here (small ensemble, by the sound of it), it's pretty hard to tell precisely where, although the strings on We Are Mice seem to be the strongest contender. Not much of a Mellotronic recommendation, that, is it? It's possible that someone was lying, and there's no 'Tron here at all, in which case I'll remove this review forthwith. Anyway, if you like the sound of a gloomy female duo, you may well go for Azure Ray, and if you don't, there must be several million other bands you can listen to.
See: Maria Taylor | Bright Eyes
---