---
| | |
| --- | --- |
| N.Æ. (Poland) see: | |
NHU (1978, 39.21) ***½/½

Na Terra do Verde Chan
A Titritada
Friky & Alexo
Doente
Hay un Tren
A Trancas e Barrancas
Current availability:
Mellotron used:
From Galicia/Galiza, in the north-west of Spain, NHU were a psychedelically-inclined progressive outfit who released just the one eponymous album at the height of Spain's late-flowering prog scene. Its organ-heavy sound hasn't dated that well, to be honest, though the material's good; like so many progressive albums, there are no bad tracks per se, only varying levels of 'fairly good'. Unlike many of their contemporaries, there's absolutely no flamenco influence in NHU's sound whatsoever, their style being more early-'70s post-psych, but if you're a Spanish prog devotee, don't let that put you off. Highlights? Hard to say, although opener Na Terra Do Verde Chan catches the ear quite nicely.
The unknown organist plays Mellotron strings, briefly but forcefully, on Hay Un Tren, although that seems to be your lot on the Mellotron front. So; NHU's a good album without being at all outstanding. Put it on your prog wants 'B' list.
Fee Fi Fo Rum (2012, 54.55) ***/0

Fanfarum for Forum
Borkum Riff
Jimmy
Buss 446
Dinner With Inner
Yasuragi
Gluck
Occasions
Fanfarum for Electric Forum
Current availability:
Mellotron used:
Swedish avant-jazzers Nacka Forum (who appear to be a part-time proposition for four busy musicians) have been around for a decade or so at the time of writing. Their third album, 2012's Fee Fi Fo Rum, is pretty hard going for non-avant-jazzers, frankly; its more straightforward material (lengthy opener Fanfarum For Forum, Jimmy) is perfectly listenable for 'regular' jazzbos, but when they head off-piste (Borkum Riff, Buss 446, Gluck), it all becomes rather more, er, 'difficult'.
Saxophonist Jonas Kullhammar doubles on keys, including a MiniMoog (audible on closer Fanfarum For Electric Forum) and, allegedly, the expected, the sleevenotes stating: "And special thanks to Opeth for letting us use your Mellotron!" Small problem here; I didn't know Opeth even owned a Mellotron; in fact, they've only just started using a real one. Admittedly (and unsurprisingly), no-one from the band or their circle has told me whether they do or don't, but it seems more likely that they borrowed one for 2011's Heritage. Another small problem is that whatever Kullhammar's doing with it is entirely inaudible. Shame. As The Bonzo Dog (Doo-Dah) Band once said, 'Jazz: Delicious Hot, Disgusting Cold'.
Thirteens (2008, 39.23/46.45) **½/0 (½)

Ghosts in the Attic
Leave Your Boyfriends Behind
Learning as We Go
Unnamed (This Song Makes Me Happy)
Not the Same Girl
Swing Swing Gently
Heavy Like Sunday
Shiny on the Inside
The Lipstick Song
When Sharks Attack
On My Mind
[Bonus tracks:
Danke Schoen
Unnamed (mellow version)]
Current availability:
Mellotron used:
Leona Naess (actually Næss) is a truly multinational artist; Swedish mother, Norwegian father, born in the States, grew up in the UK, moved back to the States in adulthood... Her (admittedly enormously wealthy) dad even subsequently married Diana Ross, which, as claims to fame go, isn't a bad one. 2008's Thirteens is her fourth album, starting pretty well by modern singer-songwriter standards, although a purple patch halfway through knocks a half star from its rating. Better tracks? Gentle opener Ghosts In The Attic and the mildly jazzy The Lipstick Song, the only real stinker being one of two bonus efforts, Unnamed (Mellow Version).
Samuel Dixon plays Mellotron, although all string parts on the basic album sound like the credited quartet, leaving the chordal strings on bonus track Danke Schoen as his only obvious contribution, assuming it's real. Well, I've heard a lot worse in this vein, although Naess' propensity for upping her tempos needs to be squashed post-haste. Not worth it for the Mellotron, of course.
Feel (2002, 62.28) **½/T

The New World
Song About a River-Crossing Song
We
Strength of the Wind
Piho
Morning Glory
Speed of the Fish
Strength of the Waves
Song for Malo
Stars
The Same as a Flower (2004, 50.39) ***/T½

The Same as a Flower
Threads of Souls
River
A Light
Wife
Bramble
Beyond the Grass
After a Song
Hope

Dream Sounds (2005, 41.41) ***/T

The True World
Anxiety
Me, on the Beach
The True Sun
Current availability:
Mellotrons/Chamberlins used:
Nagisa Ni te ('On the Beach') have been fêted for some years now as psychedelia's Next Big Thing, meaning that when I finally heard them, I was a little underwhelmed. They're basically the duo of Shinji Shibayama and Masako Takeda, who provide the male-female vocal dynamic, plus whoever else they need to realise their vision. Their music is probably best described as a modern take on 'weird folk', or the acoustic end of late '60s psych, complete with rather iffy vocal and instrumental intonation, unfortunately. There's Mellotron credited on 1999's The True World, which I'll review when I get to hear it.
2002's Feel is somewhat overlong for its content, causing this listener to run out of patience after forty minutes or so. I can only assume that considerable substance intake is recommended before playing, as the album crawls through ten tracks of tuneless acoustic psych, complete with dodgy recorder solos and the like. Best moment? The acid-drenched (sorry) guitar work on closer Stars, for what it's worth. Takeda plays Mellotron, while Shibayama plays Mellotron and Chamberlin (I've no idea where the band sourced one, assuming it's real), with strings on opener The New World and the oddly-titled Song About A River-Crossing Song, nowhere near enough to make this worth hearing on that account.
Their sixth full album, 2004's The Same as a Flower, has its moments, but a great deal of it's rather dreary, sad to say; maybe its rather downbeat approach can be seen as 'transcendent' if you're in the right frame of mind? It's mostly one-paced (slow), with little development of musical themes, concentrating more on its lyrical content, I suspect. Tape-replay credits are the same as Feel, with lush strings and obvious brass (complete with key-click) on the lengthy Bramble and flute and strings at the end of After A Song. My guess is that the instruments were added in one take, played together by the duo, which would probably mean that the strings are Chamby and the brass and flute, 'Tron.
The following year's Dream Sounds is a slightly different proposition, featuring just four tracks over its forty-minute length, one of them 'side-long', in vinylspeak, although it's more a collection of disparate bits than a 'proper' piece, to be honest. Said track, The True Sun, deviates from their usual template a few minutes in, when the drums and lead guitar kick in, although the pace remains as funereal as ever. Shibayama on Mellotron this time round, with strings on Me, On The Beach and The True Sun, although less vibrantly than on The Same as a Flower.
So; I can't comment on their earlier work, but these two albums will probably appeal to those with a high tolerance for fractured, folk-influenced psychedelia and out-of-tune vocals. While both feature some nice Mellotron/Chamberlin work, neither is essential on that front. I don't believe there's any tape-replay on their latest outing, 2008's Yosuga, but I'll review their first Mellotron album when I get hold of a copy.
Naikaku (Japan) see: Samples
Yael Naïm (2008, 51.48) **/T

Paris
Too Long
New Soul
Levater
Shelcha
Lonely
Far Far
Yashanti
7 Baboker
Lachlom
Toxic
Pachad
Endless Song of Happiness
Current availability:
Mellotron used:
Although born in France, Yael Naïm moved to Israel as a child, later moving back to Paris, where her eponymous second album was written and recorded, sung variously in Hebrew, French and English. It should really be titled Yael Naïm & David Donatien, I suppose, as her percussionist and musical partner actually gets a co-credit on the sleeve. She had the very good fortune to have New Soul chosen by Apple to advertise one of its products, giving her massive exposure in the English-speaking market that she could never have managed without this boost. Yael Naïm has its less irritating moments, but they're few and far between, I'm afraid; no one track offends, but their cumulative effect is enough to make the listener begin to lose the will to live.
Naïm plays Mellotron on the album, with a nice little flute part on New Soul and what sounds like a variably-tuned recorder-type thing playing over 'Tron flutes on Naïm's rather odd cover of the immensely talented Britny Spears' Toxic. This is all pretty dull; to accuse it of blandness would be far from unfair, but many millions of people love this kind of safe singer-songwriter stuff, so what do I know?
R. Carlos Nakaí & Cliff Sarde (US) see: Samples
Pete Namlook & Klaus Schulze (Germany) see: Samples
The Täby Tapes (2001/4, 37.37) ****/TTT

Reaching the Shores of Arlanda
Karin Boye's Grave
Israel and Palestine - a Solution
Nanook's Ark
Phonecall
St George and the Dragon
Näsby Park
Hey Fragile
Where Will You Go?
Nanook and the Beast
The Explorer
Forget it Jenny, Love is Just a
Privilege for the Rich
Current availability:
Mellotron used:
Änglagård's Mattias Olsson's latest project, Nanook of the North, specialise in (you guessed it) slightly melancholy pop with a retro sort of sound and twin male/female vocals (see: Reminder, Geller et al.). The band are named after the 1922 film, an early filmic attempt at understanding other cultures rather than just wiping them out, and have been favourably compared to Björk in various online reviews. Unless I'm entirely mistaken, The Täby Tapes crept out as long ago as 2001 as a cassette-only release, although the CD took another three years to appear. The above scan gives little idea of the sumptuousness of the packaging; pictures of some of the grottier areas of Stockholm (?) in midwinter are overlaid with layers of translucent 'tracing paper' containing lyrics etc., knocking your standard CD booklet into a cocked hat (so what exactly is a 'cocked hat' anyway, and why would you wish to knock anything into it?). The album has some highly eccentric lyrics in places; what's all that stuff in Reaching The Shores Of Arlanda about "Mattias, play your omnichord", anyway? The odd stuff just adds to the album's appeal for me; who wants 'normal'? Well, most people, I suppose, but I can still dream, can't I?
Anyway, the mysterious "Nanook" (not Mattias, for what it's worth) plays 'Tron throughout, with the most overt parts being the flutes on Nanook's Ark, Phonecall and St George And The Dragon, the strings on Where Will You Go? and a brief choir part on Nanook And The Beast. Mattias assures me that there are also various vibes and 'Tron piano parts, not to mention the oboe in Hey Fragile. Apparently, the 'distant orchestra' on Nanook's Ark comprises multiple 'Tron overdubs, including flutes, strings, cello, oboe, vibes, church organ and choir, amongst others. Anyway, the album itself is probably not for prog fundamentalists (you know who you are), but if you've heard and liked any of the man's other projects, you'll probably like this.
See: Änglagård | AK-Momo | Geller | Molesome | Pineforest Crunch | Reminder
Aquarium (2006, 47.57) **½/TT

Personal Big Bang
Gone
Another Bite of the Apple
Perfect Day in Hell
Relax She Said
Anything Can Change
Nothing
Needle on the Record
Just a Habit
How Many Loves
Sorry Mister Please
All I Need
I am Here
Current availability:
Mellotron used:
Naomi isn't a person, but the German electro-pop duo of Bernd Lechler and Nico Tobias, whose third album, 2006's Aquarium, combines mainstream pop, hip-hop and R'n'B, with an unexpected hint of psych thrown in. Apparently, their first two albums relied more on instrumental work, but this time round it's songs all the way, for better or worse. To be honest, I've heard a lot worse in this vein, which is why it doesn't get a lower star rating, although it's hardly what I'd call essential listening.
I've no idea who plays the Mellotron - either member of the band or an outside musician? Anyway, we get faint strings and flutes on Gone, with much more upfront flutes and choirs on Another Bite Of The Apple, volume-pedalled strings and flutes on Relax She Said and finally, more of those flutes on All I Need. Amazingly, it actually sounds fairly real, although I'm not sure what that means any more, as the clones get better every year. You don't really need to hear this, but it does feature a surprisingly amount of the ol' 'Tron.
Aslan is Not a Tame Lion (1974, 36.32) ***/TTT

You'd Better Believe it
Muddy Ground
The Juggler
Agapé
To a Fountain
Miracle of Birth
In the Forest
Boogie for Narnia
Living Water
Current availability:
Mellotron used:
Narnia were a one-shot female-fronted UK outfit, operating in the lightweight, folky end of the progressive spectrum, with a Christian bent to a few tracks, notably Miracle Of Birth and In The Forest; hardly surprising, given their whole C.S. Lewis thing, I suppose. I don't personally find the music especially enthralling, but if you like the quieter, simpler type of '70s stuff, you may be into it.
Keyboard man Peter Banks (no relation to the ex-Yes/Flash guitarist) plays Mellotron on four tracks, with solid strings throughout their cover of Tom Paxton's You'd Better Believe It and Muddy Ground, with flutes and strings on Agapé and To A Fountain, making this quite a 'Tron album, on the quiet. As I said, don't expect anything wildly exciting, but it's all competent enough, and the Mellotron stuff's worth hearing.
I Can See Clearly Now (1972, 34.10) ***/TTT

Stir it Up
That's the Way We Get By
Guava Jelly
(It Was) So Nice While it Lasted
Ooh Baby You've Been Good to Me
You Poured Sugar on Me
I Can See Clearly Now
Comma Comma
We're All Alike
How Good it is
The Fish and the Alley of Destruction
There Are More Questions Than Answers
My Merry-Go-Round (1973, 37.18) **½/½

My Merry-Go-Round
Nice Time
You Better Stop (Messing Around)
Gonna Open Up My Heart Again
Ooh, What a Feeling
Love is Not a Game
Loving You
Yellow House
(Oh Jesus) We're Trying to Get Back to You
Salt Annie Ginger Tree
Current availability:
I Can See Clearly Now: Sony
My Merry-Go-Round: RPM-Retro
Mellotrons used:
Both titles: Rabbit Bundrick's M400?
American Johnny Nash was the acceptable face of reggae in the early '70s, which isn't to dismiss his place in its history; indeed, he helped The Wailers out in the late '60s after visiting Jamaica and recorded enough Bob Marley songs to help him on his way. Of course, Nash was, at heart, a soul singer, and a bloody good one, but he's known to this day for his incursion into the world of reggae in the '70s.
I Can See Clearly Now is best known for its catchy title track, but most of the album's material is pretty much on a par, including four Marley compositions. John "Rabbit" Bundrick plays keys on the album, including Hammond, MiniMoog and, of course, Mellotron, with flutes and strings (under real recorder) on Marley's Stir It Up and orchestral-ish strings on every other highlighted track, sounding very much as if it was used as a string section substitute, rather than as an instrument in its own right.
Nash's follow-up, the following year's My Merry-Go-Round, waters the reggae down to the point where it's pretty much a soul album played on the offbeat. Little of the material matches the best of its predecessor, opting for slushy ballads instead of statements of (admittedly fairly bland) intent like Stir It Up or The Fish And The Alley Of Destruction. No specific credits again, but a 'thanks' to Rabbit makes me heavily suspect he plays keys this time round, too. Most of the strings are real this time (bigger budget?), but it's definitely 'Tron on Loving You.
Johnny Nash seems lost in the early '70s, despite his timeless voice and major role in the propagation of reggae, probably as his material sounds determinedly lightweight these days, in comparison to the biggest Jamaican names. Anyway, loads of Mellotron on I Can See Clearly Now, very little on My Merry-Go-Round, which may or may not affect your decision re. purchase.
Still Waiting for Spring (1999, 30.15) **½/T

Parade
Wings
Lucky Boy
Loud
Answering Machine
Then I'll Be Smiling
More Than This
Everything You Say Sounds Like Gospel
Amazing Again
Little Victories
When Everything Meant Everything EP (2002, 17.31) **½/TT

Pretty the World
Fall to Pieces
Princess
Weight of it All
Bent
Current availability:
Mellotron/Chamberlins used:
Still Waiting: Charlie Gillingham's M400 & M1 (?)
Everything: unknown Chamberlin
It seems Matt Nathanson sidestepped the 'join a band' thing and went straight into a solo career (how do people do this?), releasing his first album as far back as 1993. '99's Still Waiting for Spring is his fourth, best described as chirpy pop/rock alternating with ballads, of the kind that irritates non-aficionados after, well, usually a couple of minutes, to be honest. It's harmless, as far as these things go, but it drags rather, which is a harsh accusation for an album only half an hour long. Counting Crows' Charlie Gillingham plays Mellotron and Chamberlin, with what sounds like (Chamby?) cellos under the real one on Loud and a major ('Tron?) flute part on Everything You Say Sounds Like Gospel.
Nathanson's next release was an EP in 2002, When Everything Meant Everything, essentially more of the same, or should that be less? Jason Borger on Chamberlin this time round, with a string part on Fall To Pieces and upfront flutes on Weight Of It All, making it more tape-replay heavy than its full-length predecessor. So; all rather dullsville if you're not into this stuff, but one great tape-replay track in Everything You Say Sounds Like Gospel.
Meskalin (1995, 42.12) ***/TT

Tränen in Mein Herz
In Wien
Tütensuppe
Zombie Hungrig
Alles
Star
Entmaterialisieren
Sperrangelweitoffen
Immer Wieder Sonntags
Hier und Übermorgen
Bis Ans Andere Ende der Welt
Current availability:
Mellotron used:
As far as I can work out, Nationalgalerie were a German (-language) alt.rock outfit from the early '90s, who released four albums over a five-year period. The last of these, 1995's Meskalin, is one of those inoffensive, strangely characterless albums that rarely actually inspire anyone to really like or dislike them, which might explain why the band split soon afterwards. The nearest it gets to a standout track is the Oriental-esque Tütensuppe, but, despite its sensible length, it still rather outstays its welcome towards the end.
Christian "Reverend Ch.D" Dabeler plays Mellotron, with skronky strings on In Wien, a similarly cracked flute melody on Sperrangelweitoffen and cello and strings on Hier Und Übermorgen, the album's top 'Tron track. This really isn't a very exciting release, if truth be told, but its Mellotron tracks are perfectly pleasant, if rather undemanding.
Earthmover (1974, 37.21) ***/TT

Lookin' for Rock'n'Roll
Going Home
Summer in the City
20th Century Kid
Mystery Brew
Midnight Dreamer
Meating
One Room Country Shack
Follow My Heart
This Wheel's on Fire
Current availability:
Mellotron used:
Sweden's Nature were one of those mid-'70s bands who tried to be all things to all men, going by their second album, 1974's Earthmover. This has a bit of everything; rock'n'roll-by-numbers (opener Lookin' For Rock'n'Roll, Midnight Dreamer), pop/rock (20th Century Kid, Meating), blues-rock (One Room Country Shack) and contemporary covers (The Lovin' Spoonful's Summer In The City, Dylan's This Wheel's On Fire), not to mention the odd, percussive Going Home and by far and away its best track, psychedelic mini-epic Mystery Brew, complete with a superb, properly ripping guitar solo. Perplexing.
Björn J:son Lindh (a man with his own lengthy history) plays Mellotron, with string and flute parts on Summer In The City, Mystery Brew and Follow My Heart. Is this worth hearing? Just about, mainly for Mystery Brew and some of the Mellotron work, although an album this short containing this much filler can't really be called a success.
Nautilus (UK) see: Samples
Smashed for the Holidays (2007, 45.51) ***/T

Santa Claus is Coming to Town
Santa Baby
Celebrate Early and Often
Happy Xmas
What Child is This
Thank You Baby
We Three Kings
The Christmas Song
Winter
Father Christmas
Silver Bells
Christmas Ain't What it Used to Be
Have Yourself a Merry Little Christmas
Current availability:
Mellotron used:
Although Jacqui Naylor fits loosely into the jazz field, her chief musical contribution to date seems to be her invention of 'acoustic smashing': fitting the lyrics of one song to the music of another. I'm sure this has been done before, if only for comic effect, but Naylor clearly takes the technique very seriously, at least going by her 'holiday' (i.e. Christmas) album, 2007's Smashed for the Holidays (ho ho). On the smashing front, Santa Claus Is Coming To Town is set to Lynyrd Skynyrd's Sweet Home Alabama and an unidentified boogie, Silver Bells is a mutated take on The Police's stalker's charter, Every Breath You Take and we get no fewer than three Zeppelin tracks: D'yer Maker (Santa Baby), Babe, I'm Gonna Leave You (What Child Is This) and When The Levee Breaks (We Three Kings). Not every track fits that description; her jazzy take on The Kinks' Father Christmas is played relatively straight, but it's a rarity here.
Art Khu plays a (real?) Mellotron cello part on Silver Bells that, while nice to hear, doesn't especially enhance the song, to be perfectly honest. I'm not sure whether or not I can really recommend this; Naylor pitches too low for her already deep contralto on several songs, while the actual styling is unusual enough that you'll either love it or... you won't. Definitely a brave experiment, but possibly not an entirely successful one.
Real (2007, 50.54) **/½

Alguien Más
Todavia
No
Me Quedo
No te Mentia
Puedo
Después de Ti
Hoy
Cuestón de Tiempo
Cuando No te Queden Lágrimas
Azul
Days of Innocence
Real
Current availability:
Mellotron used:
Ednita Nazario, a child star in the early '60s, is still performing and recording today, having notched up over fifty years in 'the biz', but have you heard of her? Nope, nor me; such is the fate of Latin American artists, although their own market is large enough that I'm sure few of them are too fussed. 2007's Real is something like her nineteenth studio album (it's hard to say for sure), a fairly typical Latin pop/rock effort, sadly more pop than rock, although Después De Ti cranks it up ever so slightly.
Armando Avila (Avila Boys, many others) supposedly plays Mellotron, although, as with all his other album credits, it's hard to tell exactly where, especially given the preponderance of real strings here. The background strings on No? Who knows? Or, frankly, cares? You're not going to bother with this, anyway.
Winds of Isis (1974, 41.39) ***½/TTTT

Prelude
Into the Valley of the Ancients - a Glimpse of Isis
Full Moon Lightning - the Field Test
Ritual Eternal - Initiation of the Searcher
The Legend
From the Castle the Winds Arose...
Through the Corridors of Time, Including the March of the Undead - Temptation to Turn Back
Carnival of the People - a Brief Respite
Nightmare - Isis Unveiled
Dance of the Astral Shadows - Beyond the Point of No Return
Flight From the Unknown
Ashes to Ashes
Current availability:
Mellotron used:
These days Chris Neal seems to be mainly a composer of film scores, but three decades ago, he produced one of Australia's first symphonic progressive albums. Winds of Isis is instrumental, with more than a hint of psych-throwback to it, and an unusual melodic approach, quite possibly influenced by his interest in film music and probably Hollywood musicals, too. He's more of a keyboard player than anything else, although he plays most of the instruments on the album, proving himself a capable guitarist and drummer. He lists all equipment on the back cover, which reads like a wish-list of mid-'70s keys and effects, using various Mu-Tron devices from the States, through which he sticks just about everything in sight.
Neal's Mellotron work is well over the top, with every track heavy with very raw-sounding 'Tron; don't expect a two million buck production here... He lists choir/cellos/strings, and uses all but the cellos extensively, usually in great chordal slabs stomping all over whatever else is going on at the time; almost the first sound you hear on the album is choir chords, and he only ever lets up for a couple of minutes or so before slapping some more on. I've had to guess which parts of side two's The Legend contain 'Tron, as there's no timings for parts, so apologies if they're wrong.
All in all, a good, if unusual prog release, with very healthy doses of Mellotron, so if you don't object to something a little different, I can heartily recommend a purchase. I've no idea if Neal produced anything else in the progressive field; there seem to be several Chris Neals who've made their mark somewhere down the line, including an Abbey Road engineer, a modern country artist and a Mike and the Mechanics collaborator (collaborators usually get shot, don't they?), so Web research is extremely difficult. Anyway; worth the effort. Buy.
See: Marshall Brothers Band | Bob Hudson
Reminder (2005, 41.24) **½/T½

One Day I Was Gone
Straight to Nowhere
All is Lost
Liars Day
Prins Hendrik
Mary Vincent
Blackwing
Step Into the Light
Wrong
Up in the Trees
Tributary
Release
Current availability:
Mellotron/Chamberlin used:
Nearly (or, irritatingly, nearlY) are ex-Nine Inch Nails drummer Jerome Dillon's occasional band, who've released just the one album so far, 2005's Reminder. A pretty downbeat record, it contains pointers towards NiN's sound, not least the gothic soundscapes of Blackwing and Up In The Trees, although Claudia Sarne's vocals on most tracks (Dillon also sings on four) separate this from your typical NiN copyist outfit.
On the tape-replay front, Dillon adds background Mellotron strings to Straight To Nowhere, Step Into The Light and Tributary, plus Chamberlin strings to Prins Hendrik, Sarne adds very background Mellotron strings to Mary Vincent, while Jeff Ciampa plays Chamby strings on Up In The Trees, although none of it's that overt, sadly. Generally speaking, one for NiN fans, I think; I'm not sure the rest of us will get too much out of this. Reasonably good at what it does, but really not my personal bag.
See: Nine Inch Nails
Nova Express (2002, 46.53) ****/TTTT

Blackmail
Stimpy Bar
Redrum
Cinema 1920
Nova Express

Zepto (2006, 46.14) ***½/TT½

Pillars of Birth
Majnuns
The Old Ones
The Thing in the Walls
Fabric of Reality
De Thriumpho Naturae
Do What Thou Wilt
Station 9
Current availability:
Both titles: Cuneiform (US)
Mellotrons used:
Both titles: band's own M400
Nebelnest (or, as they seem to prefer, NeBeLNeST) released their first, self-titled album in '99, using Mellotron samples. An excellent record, sitting firmly in the Crimson/Anekdoten camp, it's a mixture of improvs and arranged pieces, well worth hearing. Three years on, they followed up with Nova Express, on Cuneiform (amusingly spelt 'CuNeiFoRM' on the spine), where the band have noticeably tightened up their style, although the overall sound remains the same. This is wild, frequently improv'd music which whips up an impressive sonic maelstrom, with all four musicians pushing themselves to the limit; I hear distinct comparisons with Britain's Guapo whose new album is, coincidentally, also out on Cuneiform.
Keyboard man Olivier Tejedor wrote to me to confirm their Mellotron use on the album, although they used samples of some sounds, too. The choirs, cellos and flutes are played via a Kurzweil, but the strings, string section and vibes (strange combination!) are 'real', with particularly powerful strings on the excellent Stimpy Bar. For the record, there are more strings on Redrum, string section and strings on the title track and what must be vibes on Cinema 1920, although they're played at the sort of speed you wouldn't normally associate with the instrument. The flute samples turn up on Nova Express, sounding remarkably realistic, I have to say, although the few seconds of 'cellos' right at the end of the album are a bit manky.
All in all, an excellent album, well worth shelling out your hard-earned for, with plenty of real 'Tron action. Mellotron highlight? Probably the choppy pitchbend work on Nova Express, where Tejedor goes completely off the rails, to the point of possibly being guilty of 'Tron torture. There's a pic of him playing their M400 on their site, although it's written in Flash, and is a complete bitch to navigate. The 'Tron is also incredibly hard to spot, being painted black and shot against a black background; watch for the shot of Tejedor sitting behind an undistinguished black box, facing the camera and wearing yellow slippers (!).
Three years on, and Zepto is, essentially, more of the same, which is both a good and a bad thing. Good because it's a good sound, and bad because it seems the band haven't progressed very much in seven or eight years. I'm sure they'd argue that they have, but to the casual observer, Nebelnest and Zepto really aren't that different, with all three of their albums being semi-improvised instrumental jazzy Crimsonesque stuff with more than a dash of RIO. Fabric Of Reality is the one track where they step outside the box, being a quiet, if unsettling piece, dominated by Tejedor's deliberately screechy violin glissandos, and no Mellotron. Assuming Tejedor's using the same setup as on Nova Express, there are 'Tron strings on most tracks, with the odd flute sample thrown in and what I take to be his string section tapes on Majnuns, although I couldn't hear the vibes anywhere.
So; Nebelnest may possibly be beginning to hit the law of diminishing returns after three albums, although all three are perfectly good. Their debut may just be the best of the lot, but if you want real 'Tron, you'll want both Nova Express and Zepto.
Nebulosa (1977, 43.21) ***½/TT

Dagen Gryr
Strezz-Rock
Mörka Tankar
Digital
Det Vackra Folket
Undergång
Ensam
Nödrop
Mittpelarna
Tryckvåg
Ödestrand
Verklighetsflykt
Apokalyps
Current availability:
Mellotron used:
Nebulosa were your typical prog one-off from the '70s, Swedish division this time, rather than the usual Italian. Nebulosa is a reasonable enough album, although the band seemed to have trouble deciding what exactly they wanted to play, making for a slightly disjointed end product. Even in Sweden, 1977 wasn't exactly the height of the progressive movement, either, so it's not especially surprising the band didn't get to record again. Much of the album's material is actually very good, with the near-seven minute Undergång being a highlight, although the white-boy funk of Nödrop and Mittpelarna really don't work in the context of the rest of the album.
Thomas Kascó's Mellotron doesn't rear its head until the choirs on track four, Digital, after which he can't seem to stop using it for the next few tracks, with particularly heavy use on Undergång, with an almost constant strings backdrop, plus flutes and choirs. Faint flutes on Verklighetsflykt are the only other use on the album, but with three 'Tron-heavy tracks, this is borderline 'worth it for the 'Tron' territory. A reasonably good album, which appears to be available in a limited edition with a 'hand-painted sleeve', which appears to be a splash of paint in various colours over the design you can see above, which isn't quite the same thing.
Necroplex (2013, 52.41) ****/TTTT

Pea
Asshole Vote
Elements
Tuba Melt
Small Rome
Every Dead Indian
Empty Traps and Nightfall
Spoken
The Utopian and the Teaspoon
Winds Over Iceland
Knock Knock Hornets Nest
Notebook Memory
Last Entry
Current availability:
Mellotron(s)/Chamberlin used:
Mattias Olsson's M400(s) & MusicMaster 600
Mattias Olsson (Änglagård, a million others) should need no introduction to regular readers of this site; Necromonkey (with David Lundberg) is his latest project, their debut, 2013's Necroplex, being every bit as eclectic as we've come to expect from the fertile imagination of Mr Olsson. It shifts between a host of disparate styles, the larger part of the album falling into the 'uncategorisable' bracket, personal highlights including the thoroughly epic Asshole Vote, Every Dead Indian and closer Last Entry, probably chiefly due to their 'proggier' sound. Other notable tracks include ominous opener Pea, the piano-led waltz-time Small Rome and bass clarinet solo piece Notebook Memory, rather proving the point that, Optigan rhythms aside, there's no such thing as a 'Necromonkey sound'.
Mattias has thoughtfully provided full instrumental credits, so I can, with complete authority, tell you that on the Mellotron front, we get:
Pea: string section, male choirs
Asshole Vote: male choir, boys choir, pipe organ, Chamberlin solo female voice
Elements: mixed choir
Tuba Melt: male choir
Small Rome: flute
Every Dead Indian: MkII brass, Chamberlin solo female voice
Empty Traps and Nightfall: Chamberlin flute
Spoken: Chamberlin solo female voice
Knock Knock Hornets Nest: male choir
Last Entry: flute
Mellotronic highlights? All of it, really, although one section in Every Dead Indian that almost screams 'Mellotron strings attack' turns out to be nothing of the sort. Hey, it's that kind of album. Suffice to say, anyone who liked any of Mattias' various 'off-piste' projects is almost certain to like at least some of Necroplex; this is the kind of record that will reward repeat playings, refusing to give up all its secrets upon first listen. Very recommended.
See: Änglagård
Ko Me to Od Nekud Doziva (1976, 32.27) ***/T½

Šalvare
Sarajka Djevojka Majci Plakala/Mene
Majka Kara/Neko Tiho Zapjeva
Tri Djevojke
U Mene Se Zagledalo Jedno Momče Vrlo Milo
Došli Momci Veseli
Ima Babo 100 Ovaca
Oj Daljino, Daleka Bila
8 Dana
Proći Će Jednom Ovi Dani
Ko Me to Od Nekud Doziva
Current availability:
Mellotron used:
Neda Ukraden is a popular Serbian singer, still recording today. 1976's Ko Me to Odnekud Doziva was her second album, in a solid Yugoslav folk/middling rock style, taking songs from the former and adding the sound of the latter, not an uncommon technique in many European countries at the time. It's not a bad effort of its type, but not something that's going to thrill many these days, I suspect.
Srećko Zubak is specifically credited with 'Mellotron 400', with strings on opener Šalvare, Mene Majka Kara and the title track and what sounds like mixed strings on Sarajka Djevojka Majci Plakala. It's possible it doubles the Hammond elsewhere, but it's hard to tell. So; Euro folk/rock/pop with a little Mellotron. Unlike several other Yugoslav Mellotronic 'sightings', at least this one's real and easily found as a download, should you be that curious.
Dandies Entre Basura (2009, 43.26) ***/T

Polaroid Nocturna y Personal
Dandies Entre Basura
Madre Lucía
Capitán Escarlata
Creación Instantánea
Fotos del Ayer
Overdrive
Flash!
Las Calles Vacías
Parque Portugués
La Buhardilla del Lirón
Sacerdotisa de la Carne Eléctrica
Current availability:
Mellotron used:
Los Negativos (PLEASE don't ask me to translate that) are a modern Spanish psych outfit, active since the mid-'80s, clearly as obsessed with all things '60s as their better-known compatriots worldwide. 2009's Dandies Entre Basura is at least their fifth album, although there could be many more, a decent enough effort, although its appeal seems to pall as it progresses. One of its highpoints is Capitán Escarlata is a Spanish-language tribute to one of Gerry 'Thunderbirds' Anderson's greatest creations, complete with samples from the original series, but tracks like closers La Buhardilla Del Lirón and Sacerdotisa De La Carne Eléctrica (does that really mean 'The Church of the Electric Meat?) drag somewhat, losing the album half a star.
Carlos de Ordax plays (real?) Mellotron on the title track, with a string part running right through the song. Pity he didn't use it a bit more, but there you go. So; not bad, particularly the first half, but not classic, either. No idea what they're singing about, but I'm not that sure it matters. Not a psych 'A'-lister, but definitely on your 'B'.
Paolo "Apollo" Negri (Italy) see: Samples
Journey to the Centre of the Eye (1971, 42.03) ****/TTT

Prelude
Astronaut's Nightmare
Countenance
The Nine Lifeless Daughters of the Sun
Warp Oversight
The Dream Nebula
The Dream Nebula Part II
It's All in the Mind
Burn Out My Eyes
Void of Vision
Pupil of the Eye
Look Inside Yourself
Death of the Mind
A Tab in the Ocean (1972, 35.54) ****½/T½

A Tab in the Ocean
Desolation Valley
Waves
Cryin' in the Dark
King of Twilight

Down to Earth (1974, 37.08) **½/T½

Astral Man
Nelly the Elephant
Early Morning Clown
That's Life
Fidgety Queen
Oh Willy
Little Boy
Show Me the Way
Finale
Current availability:
All titles: Bellaphon (Germany)
Mellotrons used:
All titles: band's own M400?
Nektar are often mistakenly lumped in with the German progressive scene, or, more bizarrely, 'Krautrock'. A British band, they, like many of their contemporaries, found an audience in Germany; unlike their contemporaries, they effectively emigrated, signing to the prestigious Bacillus label and recording there too. Journey to the Centre of the Eye is proto-spacerock, with the layers of delay effects and tripped-out lyrics that the emerging genre demanded. It tells the story of an astronaut intercepted by aliens and shown a better way to live. Or something. An obvious drug metaphor, the plot borrows heavily from Clarke/Kubrick's recently-released '2001: A Space Odyssey', although the lyrics can probably be dismissed, the music being the more important half of the equation. There's several tracks of 'Tron, played by both keyboard man Allan "Taff" Freeman and bassist Derek "Mo" Moore, to good effect. All the tracks run into each other, and without a lyric sheet I've had to guess at which tracks contain 'Tron; apologies for any mistakes.
Nektar's next album, A Tab in the Ocean, blatantly continued the drug theme of its predecessor; the band have admitted that they found many of their ideas while tripping, and this album's title was inspired by the idea of lacing the world's oceans with acid. Ahem. It's a great album in that spacerock/prog crossover region, especially the side-long title track, although the only 'Tron to be heard is on final track King Of Twilight, a more straightforward rocker (relatively). Amusingly, this song was covered on a b-side by Iron Maiden a decade later, showing their prog roots for all the world to see. I'd stick with the original, if I were you...
Their third release was the rather self-indulgent double Sounds Like This, much of which was jammed live in the studio, and sounds like it. They went back to a more heavily-arranged style for the excellent Remember the Future (beware the crap remixed CD!), following that with the rather inessential Live at the Roundhouse. For their sixth album, they dug out the Mellotron again; sadly, Down to Earth is one of the worst albums of their career, carrying none of the band's sonic trademarks, and being based around a rather naff 'circus' concept for no particularly good reason. Hawkwind fans often obtain copies for Robert Calvert's cameo as the ringmaster, but I have to say the album as a whole is a great disappointment, and the 'Tron use is sparse and uninteresting to boot.
So; A Tab in the Ocean's a definite musically, though not for the 'Tron, Journey to the Centre of the Eye's a definite for the 'Tron, though not so much for the music, and Down to Earth isn't a definite for anything. Nektar's best non-'Tron work are the aforementioned Remember the Future and the superb Recycled (****½), presumably recorded as an apology for Down to Earth.
See: Samples
One for the Road (1979, 57.36) ***/TTT½

Detour
I Saw the Light
Heartbreak Hotel
Let the Rest of the World Go By
Trouble in Mind
Don't Fence Me in
Wild Side of Life
Ridin' Down the Canyon
Sioux City Sue
You Are My Sunshine
Danny Boy
Always
Summertime
Because of You
Am I Blue
Tenderly
Far Away Places
That Lucky Old Sun (Just Rolls Around Heaven All Day)
Stormy Weather
One for My Baby (and One More for the Road)
Current availability:
Chamberlin (?) used:
Outlaw country, eh? So when is the most conservative musical force on earth not the most conservative musical force on earth? When it's not sanctioned by the Nashville Mafia, and/or it's by Willie Nelson, Kris Kristofferson, Waylon Jennings or Johnny Cash, who (non-)coincidentally all recorded together in the '80s as The Highwaymen. "So, this is outlaw country, yeah?" "Yup". "But it sounds just like ordinary country!" "Yup". "The most conservative musical force on earth!" "Yup". Actually, Willie Nelson's 1979 collaboration with Leon Russell (himself no stranger to the world of C&W), One for the Road, is less straight country than a double album of standards, some of which are performed in a country style, but with enough stylistic variation to ban it outright from the Grand Ole Opry, which, admittedly, doesn't take much. Heartbreak Hotel is taken at a fair country-rock lick, although I'm afraid I can't hear it without thinking of Spïnal Tap, while Wild Side Of Life sounds little like either the '20s original or Status Quo's ripping version from a couple of years earlier. You Are My Sunshine and Danny Boy are immediately recognisable, and Summertime hints at other interpreters' jazzier takes, leaving us with an album that's less Nashville and more, um, Vegas?
Uncredited as always, it seems likely Russell used his Chamberlin on the album, probably to save money hiring an orchestra; even when it stands alone in the pleasingly sparse mix, it still tries to hide in the corner, having little of its British cousin's brashness. Strings on all highlighted tracks, plus what sounds like vibes on Danny Boy and solo sax on Summertime (listen to the fast run), with a mélange of sounds on several tracks, doing a passable job of aping an orchestra; this is why the Musicians' Union wanted them banned... Top Chamby track? Probably Tenderly, where for a few brief moments, it actually sounds like tape-replay rather than some ersatz pseudo-orchestral emulator. Of course, Willie & Leon clearly didn't want the Chamby to sound like a keyboard, so its refusal to 'make that Mellotron sound' could be seen as a triumph, not a failing.
So; a vaguely countryish album by a country legend, aided and abetted by someone who isn't a country legend, but possibly should be. This is definitely more Willie's album than Leon's, although the latter gets a couple of lead vocals, and I'm sure the arrangements are largely his, not to mention all the keyboard work. Believe me, this isn't an album for the rock fan in your life, but nor is it yer typical country workout, either - not a pedal steel in sight. It would get a higher 'T' rating, but the Chamby sounds so much like real strings in places (although it isn't) that it just doesn't have 'that tape-replay sound'. Like Mr. Russell cares. Both participants are still going strong at the time of writing, and although they never collaborated again, One for the Road went gold at the time, so maybe they didn't want to jinx it by attempting a repeat performance?
See: Leon Russell
Nemo (France) see: Samples
A Dream of Glory and Pride (1974, 45.06) ***/T½

Sensation
A Picture of Me
Love Rock
Primo
Let's Go and Get That Boy
Julia's Dream
A Dream of Glory and Pride

Two (1975, 41.25) ***/T

I'm an Entertainer
False Star
Thoughts
My Lady
Waiting for the Train
Bloody Welfare
Is There an Eden

Reload (1975, 40.04) ***/T

Dead Eyes
Night Birds
Too Long
Race for Knowledge
A Man's Not a Man
A Smell of Death
Reload
Dust and Rust
Tears of Pain
Current availability:
All titles: Sound Pollution
Mellotrons used:
All titles: band's own M400?
Neon Rose were a Swedish hard rock outfit with progressive tendencies, though considerably less than, say, Trettioåriga Kriget. In many ways, they're a classic 'local band'; you know, picked up a following in their home town/region/country, but weren't original or charismatic enough to break through into a wider market, as against 'didn't get the breaks'. That isn't to say there's nothing of merit about them - far from it - but much of their material has dated badly and doesn't bear comparison with better-known bands of the era.
They debuted with 1974's A Dream of Glory and Pride, the bulk of which rather predictably consists of workaday hard rock, despite some of the track lengths. It gets more interesting towards the end of the album, notably on the proggiest thing here, the lengthy closing title track, with inventive riffing from all concerned. Vocalist/guitarist Roger Holegård's Mellotron finally appears on Julia's Dream (er, has a ring of familiarity about it?), with a flute part over the acoustic intro, plus cellos and strings on the title track, but it's hardly a runaway 'Tron classic.
They followed up early the next year with Two, which is largely more of the same, with plenty of 'would've worked live to a bunch of pissheads' boogie and not enough material of any real interest. Holegård and bassist Benno Mengarelli on 'Tron this time round, with choirs on the balladic My Lady and the proggier Bloody Welfare, the best track here. The CD adds three live tracks, including a beery version of Eddie Cochran's C'mon Everybody, but I actually haven't bothered listing them, as not only are they (obviously) Mellotron-free, but they're of little interest to anyone but diehards.
Their last album, Reload, appeared later in '75, displaying a modicum of sophistication, at least in comparison with its predecessors. Tracks like Race For Knowledge and Reload itself are less boogie-by-numbers than before, showing the band's increased knowledge of dynamics (in fairness, they already knew how to write longer-form songs). Back to Holegård alone on 'Tron, with choirs on Night Birds and strings on the title track, so once again, notalottatron.
Overall, then, fairly unexciting hard rock in a mid-'70s kind of way. Look, I LIKE this kind of stuff, and they leave me largely unmoved... There's one passable album to be made from these three, mostly comprising the long tracks and the ones with Mellotron (which are mostly the same). None are individually worth it on the 'Tron front, or probably on the musical one, sadly, although all three have their moments.
About Everything (2000, 58.56) ***/T

Dying Each Day
Best Days
Granny Ate the Buttons
Waters May Run (Troublesome & Deep)
Bulldog
Sophie
Red Shark
Reach Out for Love
7 in the Morning
48 Hours
Rougher Ground
Where is the Summer
Current availability:
Mellotron used:
Nervous released one album, Son of the Great Outdoors, in 1996 to little acclaim, then spent many months in '98 working on the follow-up for Grapevine, About Everything (or Nervous About Everything, I suppose). By this time, they had ex-Cardiac Bill "William D." Drake on board, who rang me up and asked if they could use my Mellotron. Well, you don't tend to say 'no' to anyone involved with Cardiacs (well you don't, do you?), so I duly delivered it to the basement studio they'd had rented for them, where it stayed for several months, alongside a bevy of other analogue gear, including a Wurlitzer, a late-period Hammond and Leo Sayer's old Rhodes Suitcase 88. My poor 'Tron was ailing at the time (this was just before it broke down completely during the recording of the Spratleys Japs album), and I believe they sampled it at some point, so I've no idea how many of the 'Tron tracks here are 'real', and how many are samples, so I'll treat them all as real.
What I don't actually know is whether or not this album ever obtained a proper release; I've had a 4-track promo for a while, then found this full-length version for a quid recently, sans inlay, so the image is the promo's sleeve with the 'promo' bit removed. Maybe there never actually was a cover? As a result, the 'release date' info is no more than an educated guess, either. I'm afraid to say the album itself is not fantastically interesting (sorry chaps), being country-flavoured pop, however unlikely that sounds coming from a London-based outfit. The songs aren't bad, but it looks like we'll never know how they would've fared in the marketplace. The one track that really leapt out at me was Bulldog, which turned out to be The Beatles' 'Hey Bulldog' anyway.
Bill played my 'Tron on a good few tracks during the sessions, but I suspect most of them ended up on the cutting-room floor (I believe there were 30+ on the go at one point). The very first sound you hear on the album is an introductory flute part, kept up right through Dying Each Day, and it's possible there's more 'Tron buried in the mix; the choirs on Waters May Run (Troublesome & Deep) only really become apparent at the end of the song. Various string parts throughout the album sound like samples, but who knows? Anyway, your chances of actually running into a copy of this are fairly slight, I'd have thought. If you do, don't pay too much, but it's at the very least an interesting curio.
See: William D. Drake | Cardiacs
Barbara Nesbitt (US) see: Samples
Head in the Sand (1979, 39.45) **½/½

Too Much Money
Looking in Your Eyes
A Song of War
Lightning Stars
Spanish Singer
Unreal Body
It's a New Day Dawning
Head in the Sand
Current availability:
Mellotron used:
Nessie's first album, The Tree (**½) is a distinctly average set, being rather cheesy nearly-prog, languishing in an unfortunate slough of despond somewhere between symphonic prog and mainstream pop/rock. Head in the Sand starts off as if it's going to be a better proposition, despite the appalling vocals (anonymous as all four members are credited; very sensible too), but by track four it's descended into tedium, Lightning Stars being dull pop-boogie. It gets worse, but you probably don't need the gory details.
Henri Leruth is credited with 'Tron, although all the strings are produced by an over-loud string machine. There's a definite (male voice?) choir chord pedalled in near the beginning of opener Too Much Money, and some very background choirs on Looking In Your Eyes, but that really seems to be it. Nessie are one of those obscure bands that collectors are on the lookout for, but I can tell you now; this is not a long-lost prog gem, it's tediously mainstream, with the merest glimmer of interest on about two tracks. Avoid.
In the Following Half-Light (1981, 44.04/54.31) ****/TTT½ (TTTT)

Too Hard to Forget
Son of Sam
Straight Into Infinity
Maybe if They Burn Me
Isle of Man
A Matter of Time
Sargasso I-II-III
[reissue CD adds:
Cumulo Nimbus]
Current availability:
Mellotron used:
Despite forming in 1975, it took Netherworld until 1981 to release their only album, In the Following Half-Light; the usual story of not getting the breaks when prog was popular, then soldiering on for years before finally releasing a self-funded LP, now highly collectable. Their sound is rather like a more American Genesis, with a few 'later' influences creeping in here and there, possibly comparable to an updated Lift. No one track is especially outstanding, but the overall effect is excellent, although Netherworld were never really going to be frontrunners.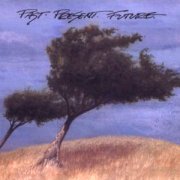 Randy Wilson played Mellotron on most tracks, mostly strings, with male voice choir on Sargasso. Good use throughout, particularly on Isle Of Man and A Matter Of Time, with those strings right at the front of the mix. I've seen a quote from the band where they remark on what they called their 'God Sound', which was a mixture of 'Tron strings and choirs, though I don't actually hear any audible evidence of it here. Given their one M400, they couldn't have produced it live, either; maybe it was more concept than reality. Incidentally, the only reason the album doesn't get a higher 'T' rating is the rather background 'Tron use on the album's earlier tracks.
Anyway, before the album's reissue by those wonderful Musea people, Greg Walker's Syn-Phonic label in the States released a double-vinyl compilation in 1992, Past-Present-Future (right), which gathered together tracks from eight bands (two per side - hoorah!), some of which remain otherwise unreleased over a decade later. Netherworld's contribution was the slightly disjointed Cumulo Nimbus, which seems to consist of three different tracks with gaps in between, tied together by a 'thunder' sample (in pre-sampler days, of course). It takes a while for the 'Tron to kick in, but when it does, it's with full-on choirs, far more in-yer-face than anywhere on ...Half-Light. This had been added to the Musea CD, bringing the disc up to nearly an hour.
On their website, the various ex-members sound hopeful that more unreleased material will be unearthed at some future stage. Let's hope so; Netherworld were a good band, if not timelessly classic, and more of this stuff would be most welcome. In the Following Half-Light is definitely worth the purchase, and Past-Present-Future's worth picking up if you can find a copy (I don't even own one myself). Worth the effort.
Albion (1986, 38.12) ***/T

Kohti Kesää
Naiselleni
Saaga Auringosta
Ruusujen Sota
Sana Saapui Ranskaan
'39
Albion
Gwaihir
Tuuliruhtinas
Mennyt Maailma
Gaudete
Current availability:
Mellotron used:
As with so many lesser-known overseas artists, I'm having trouble finding out much about Finland's Pertti Olavi "Neumann" Nieminen. Going by 1986's Albion, he's essentially a folk artist; while the '80s were barely any kinder to folk than to other non-contemporary genres, he has a decent stab at making a good album, highlights including the fiddle-led Ruusujen Sota, his decent, Finnish-language version of Brian May's Queen classic '39 and closer Gaudete, a straight version of the medieval hymn as popularised by Steeleye Span, sung in the original Latin. On the downside, while opener Kohti Kesää starts with a very pleasant melodic 12-string part, the promise isn't kept up; Saaga Auringosta is all gloomy vocals and digital synth, Tuuliruhtinas is slightly dodgy country, while a few too many 'traditional' Scandinavian influences crop up: you know, accordions, massed male vocals, that kind of thing.
Esa Kotilainen, probably the only Finnish Mellotron owner/player in the '80s and '90s, adds flutes, strings and choir to the folky Naiselleni, to good effect, although it's a shame it wasn't used elsewhere. I don't believe this is on CD, although it's recently cropped up on download sites; worth hearing for folk-rock fans, with one decent Mellotron track.
Battlement (1978, 39.05) ***½/TT½

Loafer Jack
Ice With Dwale
Intruders and the Punishment
Beyond the Bugle
Battlement
Zärtlicher Abschied
Current availability:
Mellotron used:
If I had a pound for the number of times I've seen Neuschwanstein described as 'exactly like Genesis; a complete clone', etc. etc... Well, excuse my ears, but I really can't hear it; Battlement's a pleasant enough album, but even after several plays the first band I think of when I put it on is Marillion. OK, so it predates them by several years, but the essentially fairly simple song structures, washes of string synth and tortured vocals remind me of none other than Aylesbury's finest (?). Good news if you like Marillion; however... To be absolutely fair, from other reviews I've read, the CD was completely remixed, and apparently sounds more like Genesis as a result. By the looks of it, they messed about with the cover art too; the original LP is far less 'yellow' than the scan I downloaded from the 'Net.
I'm probably being a little harsh here, but I wouldn't want anyone to rush out to buy it on my recommendation expecting a symphonic classic; I seem to be in a minority on this one, but it sounds more like proto-neo-prog (new category, anyone?) than yer full-on '70s thing to me. None of the tracks stand out especially, although there's some nice Mellotron here and there from keyboard player Thomas Neuroth; again, nothing to write home about, but the choirs in the oddly-titled Intruders And The Punishment are particularly effective, and there's some nice string swells in places.
Pleasant enough, but I really wouldn't put it at the top of your 'wants' list.
---