---
A Sucker for Your Sound (2009, 22.15) ***/TT½

A Sucker for Your Sound
A Sucker for Your Sound (remixed by Toddla T & Ross Orton)
A Sucker for Your Sound (remixed by Tim Bromhead)
A Sucker for Your Sound (remixed by Sawdust of Oak)
A Sucker for Your Sound (remixed by Putty Thumb)
A Sucker for Your Sound (remixed by Tansey's People)

A Dense Swarm of Ancient Stars (2009, 48.51) ***½/TT (TT½)

The Circus of Deaf
A Sucker for Your Sound
Goodbye Sun
Cool Coconuts
Lust for a Vampyr
Mr. Mallard
She's Giving Me the I
Escape From New Yorkshire
Dear John
Inzects
Inzects 2 - The Mutations
Sickly Suite
Part One: How Are You?
Part Two: Out Of The Shadows
Part Three: Gone
A Pod is Waiting
The Best
[bonus tracks on various eds. include:
You Won't Get Home
Only a Show
Wake Up Tony
Let's Swing]
Current availability:
Both titles: Twins of Evil Recordings
Mellotrons used:
Both titles: band's own M400 (ex-Pallas/Add N to (X))
I've had a brave stab at describing I Monster in their Samples review: to my ears, a sort-of electronica/lounge/pop crossover, although that nowhere near covers their broad range of influences. Never the fastest of workers, 2009's A Dense Swarm of Ancient Stars is only their third album in over a decade, so ridiculously diverse that anyone not attuned to their collective mindset may have trouble taking in everything that's going on. Stylistically, it veers between the fairground madness of opener The Circus Of Deaf, the pop/reggae of A Sucker For Your Sound and the pseudo-'70s pop (vocoder non-optional) of Goodbye Sun, and that's just the first three tracks, which may give you some idea of its diversity.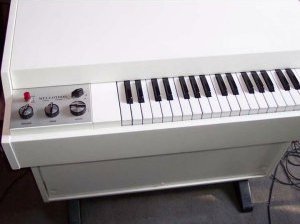 Five of the album's tracks (counting all three parts of Sickly Suite as one) feature Jarrod Gosling's mighty 'Tron, bought from the defunct Add N to (X), who in turn bought it from the once-mighty Pallas, making it actually a rebadged Novatron. Anyway, they add strings to A Sucker For Your Sound, strings and flutes to Goodbye Sun, inaudible flutes to Lust For A Vampyr, inaudible choir to Escape From New Yorkshire (ho ho!), strings and flutes to Sickly Suite Part 1, choir and trombones to Part 2 and full-on strings (at last!) and flutes to Part 3, although I presume that means the flutes on Mr. Mallard are produced by something else entirely. In addition, of the bonus tracks on various versions of the album, You Won't Get Home (from the vinyl) has inaudible flutes and very nicely upfront strings (grinding to a halt at the end of the track), while an iTunes bonus, Let's Swing, adds strings and inaudible choirs.
Incidentally, A Sucker For Your Sound was released as a single in '08, with a six-track promo version appearing early in '09, featuring the original track plus five remixes, largely (as you'd expect) barely recognisable, from the techno of Toddla T & Ross Orton's, Tim Bromhead's punky take on the track and Sawdust of Oak's balladic version. Two remixes feature new Mellotron parts from Jarrod, with Sawdust of Oak's mix adding not only the usual strings and flutes, but recorders and the harpsichord-like 12-string guitar, while Tansey's People's mix features the vibes prominently, alongside the strings, flutes and 12-string again.
I'm not quite sure to whom I should be recommending I Monster, although what they do is undeniably worth hearing. With elements from prog, dance, lounge and a dozen other genres, this is for broad-minded individuals (with the emphasis on 'individual') only; almost the legendary, probably nonexistent 'something for everyone', then? Very British, although, contrarily, that could aid its popularity amongst Anglophiles worldwide, particularly those of a 'lounge revival' bent. Recommended, anyway. Incidentally, you'll also hear Jarrod's Mellotron on an I Monster offshoot, Skywatchers.
See: Samples | Skywatchers
Old Friends (2010, 30.00) ***/T

The Wylde Boys
Echoes
Learning to Fly
Nightwalking
Snow Song
Someone is Waiting
Unreal
Forgive and Forget
Daybreak
Kontrari
Here to Stay
Old Friends
Current availability:
Mellotron used:
I Was a King's second album, 2010's Old Friends, is a slightly uncomfortable mixture of fairly generic powerpop and something rather further out, so jangly stuff like Echoes or the closing title track rubs shoulders with the twisted Americana of Learning To Fly and lethargic psych-fest Unreal. Not that I have a problem with diversity, you understand, but I'm not fully convinced that it necessarily works in this case. I also have a quibble with an element of the mix: given that this is presumably meant to be a variant on 'pop', why are the vocals so muffled? I'm beginning to feel a little churlish, actually; this is a good, listenable record, although were the less essential tracks removed, it would end up as more of a long EP.
Joshua Stamper plays (real?) Mellotron flutes, with a nice line on Snow Song and a chordal part on Here To Stay, with all the usual caveats surrounding its veracity. So; a slightly confused release, although its high points make it worth the effort for powerpop fans.
Where Are We Going (1976, 43.58) ***/TTT½

Sunrise (a New Day)
(Part One) Where Are We Going
(Part Two) Where Are We Going
Solar Wind
Current availability:
Aura? (US)/Flash 53? (Italy)
Mellotron used:
As far as I can work out, ID were a quartet (?) from Maryland who recorded just the one album, Where Are We Going, before imploding. It's basically an acid guitar freakout from beginning to end, showcasing the 'talents' of one Gary Oickle, who proves himself to be highly adept at wanking furiously on his chosen instrument, to little effect, as hoping for any remote hint of melody or invention from him is essentially equivalent to pissing in the wind, sad to say. Don't get me wrong; the album has loads of energy, just a certain lack of... focus, maybe. While not entirely instrumental, vocal appearances are few and far between, as the band (or Oickle) are clearly far more interested in just letting rip.
The copious amounts of Mellotron strings on display here were played by David Oickle (or Bob Halsell?); it's essentially used for chordal backdrops to his brother's guitar work, although there are a few moments of near-solo playing, not least towards the end of the arse-about-face titled (Part One) Where Are We Going, which closes side one. And is that 'Tron brass on Solar Wind? Hard to tell, mainly due to the beyond-murky production, not to mention the fact that the Mellotron sits mainly in the upper registers, in a vain attempt to be heard over the ever-present guitar. So why haven't I given this a higher T rating, given how much 'Tron is actually present? Lack of originality, never mind listenability; there's an awful lot of Mellotron here, but you're exhausted by the end of the first (and shortest) track, and the album's end really came as some sort of relief. A random 90-second burst of this stuff is exhilarating; 45 minutes is mind-numbing.
I.E.M. (UK) see: Samples
| | |
| --- | --- |
| IQ (UK) see: | |
Ianva (Italy) see: Samples
Cuevas de Altamira (1978, 34.52) ***/TT½

Cuevas de Altamira
Romance del Conde Lara
La Virulencia del Ferrocarril
Las Chicas de Laredo
A lo Alto y a lo Bajo
Pastor
La Baila de Ibio
Current availability:
Mellotron used:
Ibio made a pleasant enough sound on their sole LP, Cuevas de Altamira, although it's all a big unengaging, to be honest. Mid-paced, with little of 'that Spanish sound' that many of their countrymen employed (an honourable exception being Pastor), and vocals (when they were used) from a guy who sounds like he'd have been better off doing cabaret on the Costa del Sol. There's some nice folky stuff here and there, although comments like 'the Spanish Strawbs' aren't very helpful or accurate.
Despite using a string synth, Ibio also used their Mellotron for string sounds, and make quite a nice job of it, although their 'Tron use is quite a long way from innovative. It lifts the album where it's used, however; best track is probably opener Cuevas De Altamira itself. So; not bad, not great. Don't pay full whack for it.
Broken UFO (2002, 52.58) ***/T

Broken UFO
Coming After You Again
Beautiful Fields
Head Down
Stay in the Same Room
Diplomat's Daughter
Why'd You Have to Leave Me This Way?
When the Show is Over
Because You're Young
Come Down Come Down
Rain Hail Shine
Waterproof
Leaving All the Best
Happy in the Sky
Current availability:
Mellotron used:
Ice Cream Hands are an Australian powerpop band who seem to be highly rated by many, though I'm not entirely sure why. I've heard plenty of good stuff in this area, but most of Broken UFO passed me by without making any real impression, I'm sorry to say. Stay In The Same Room is the first track that really pushes the classic powerpop button, coming on like a Big Star outtake, but too much of the album suffers from Country Wannabee Syndrome (see: Leaving All The Best), or is content to plod along unexcitingly, without bothering too much about memorable melodies; surely a given in this genre?
Mellotron on a handful of tracks from East VanParks, with a distant flute melody on Head Down and a more upfront one on Diplomat's Daughter, with occasional background bursts of flute on Come Down Come Down, none of which should be confused with the real orchestration to be heard in places. Overall, then, a so-so pop album that spends too much of its time trying to be commercial rather than trying to be good. Disappointing.
Tutankhamon (1978, 36.52) ****/TTTT

Tebas
Prólogo
Sacerdotes de Amon
Amarna
Lying on the Sand
Amenofis IV
Himno al Sol
La Muerte
Close to God
Too Young to Be a Pharaoh
Tebas (Reprise)
Current availability:
Mellotron used:
Iceberg are primarily known as a pure fusion band, but their debut, Tutankhamon (presumably a concept piece), is a masterpiece of prog/fusion crossover, with great material and fiery playing from all concerned. There is the occasional lapse, like the drum solo in Close To God (why does anyone record studio drum solos?) and the average balladry of the opening section of Too Young To Be A Pharaoh, but overall, this is an excellent album that should appeal to both prog and fusion fans.
Josep Mas "Kitflus" slaps Mellotron all over the first four tracks, then, mysteriously, ignores it until near the end of the album. Tebas opens with a full-on symphonic section, 'Tron strings to the fore, with more of the same on the following three tracks and Too Young To Be A Pharaoh. There are (male voice?) choir parts on Sacerdotes De Amon and Tebas (Reprise) too, making this something of a distinct Mellotron Album. So; recommended on all fronts; I may even come back to this in a while and bump up its star rating. Excellent.
Iceberg Does it Live: 100th Week at Walt Disney World (1978, 38.31) ***/TTTT

Side One
Side Two
Current availability:
Chamberlins used:
Michael Iceberg's Iceberg Does it Live: 100th Week at Walt Disney World is one of the odder albums you'll find on this site, and it's up against some fairly stiff competition. Basically, Iceberg (clearly his real name) spent many years playing a weekly set on his synth setup (the "Amazing Iceberg Machine") in a silver pyramid at Walt Disney World. As you do. So why isn't he deified in the world of EM? Because he was an entertainer, that's why. He played snippets of popular tunes (classical bits, film stuff, standards, unsurprisingly lots of Disney, er, Boston's More Than A Feeling...), all while keeping a very non-techie crowd interested. I said he was an entertainer...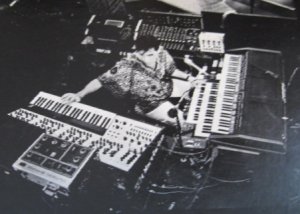 I've no idea how long his sets tended to be, but the album features a forty-minute segment of, as it says on the tin, his 100th week's performance. After ten minutes or so of playing, he goes into a demo section, where he tells his audience (and, by default, us) what's going on. Basically, he had around thirty instruments in his setup, controlled from just three keyboards, several years pre-MIDI, which is a pretty jaw-dropping technological feat by anyone's standards back in '78. The picture on the sleeve show a Polymoog and an Oberheim 4-voice, other obvious contenders being a Yamaha CP-70 piano and several Chamberlins. One of these was presumably a manual model, from where he could control (I believe) another three, any or all of which could have been keyboardless 'remote' models, a path down which the Mellotron was destined never to go.
Although there's loads of synth work (mono- and poly-) on the record (not to mention a snippet of Moog Taurus at one point - looks like he had a de-pedalled set in his rig, going by the pic to the right), the Chambys crop up all over the place, with a little flute melody on the Zip-A-Dee-Doo-Dah segment (yes, I'm afraid so), followed by what sounds like Chamby banjo, percussion, brass, female voice, loads of sound FX (animals, jeers etc.)... And, of course, lots of strings, including a solo section on side two. You want Chamberlin? And analogue synths? You gottem.
The album has several downsides, not least Iceberg's unfortunate habit of singing along, rather tunelessly, to several of his ditties, and the choice of material is seriously cheeso, though it has to be said, what did you expect? Black Sabbath? I believe Iceberg sells CD-Rs of the album himself, although his website seems to've disappeared, so I don't know how you'd contact him. He still plays, but I rather doubt whether his beautiful setup from thirty-odd years ago is still functioning, or even extant. Wonder what happened to all that gear...? Anyway, a rather strange album, but worth hearing, if only for a laugh. And here he is doing it live...
Grown Unknown (2011, 38.44) ***/½

Love is Won
Daphne
Little Marriage
Bag of Wind
Grown Unknown
After is Always Before
Ice Wine
Lilac
New Myth
Current availability:
Mellotron used:
Why is it that female singer-songwriters are almost invariably compared to their peers, unlike their male contemporaries? The comparisons have become reviewing clichés; you know, the 'Joni Mitchell type', the 'Kate Bush type', even the 'Vashti Bunyan type'. It's not as if it's uncommon for women to write songs and sing them, is it? Nonetheless, it seems to be expected, which makes Lia Ices, on her second release, 2011's Grown Unknown, a cross between the Kate Bush and Joanna Newsom varieties. Lazy journalism? You got it. It's one of those albums which promises a great deal and may well deliver it on repeated plays (when?), but left this reviewer feeling slightly deflated on an initial listen, although I'll admit that's almost certainly my fault, not the record's. It's difficult to pick out highlights, as most of its near-forty minutes sounds pretty much the same, but Daphne (a collaboration with Justin "Bon Iver" Vernon) and closer New Myth might just tip the scales.
Lia plays Mellotron flutes on New Myth, but only just. An online interview has her stating that she used 'Mellotron and synthesizers'; the pic of a Nord by the article means nothing, as she freely admits to using it live, so I think we'll have to assume it's real until or if I should find otherwise.
Three Sheets to the Wind (1996, 42.43) **½/T

If You Dare
Catapult
Pomegranate Bleeding
Shame
Stare at the Sky
No One's Watching
Alive Again
A Sound Awake
Glass Bottom
Get You Back
Current availability:
Chamberlin used:
The only interesting thing about California's Idaho (huh?) seems to be their guitarists' use of four-string tenor guitars, although the end result is merely a low-end guitar sound, rather than anything really radical. Usually described as 'slowcore', Idaho continually hover on the brink of 'boring', at least to this listener. Shame just might be the album's best track, although it's hard to say why. Maybe I simply find it the most appealing? Duh.
Patrick Warren does his usual Chamberlin thing on just one track, with a string part on Glass Bottom that shows the instrument at its best, sounding almost real, if you ignore the lack of glissando between chords. Overall, this album sounds like Low, if they forgot how to write interesting slow material. Rather dull, I'm afraid, with one decent Chamby track.
Ideal Free Distribution (2007, 47.04) ****/TTTT

Apples and Oranges
Saturday Drive
Tropic of Cancer
Someone's Gonna Die
The American Myth
Elegant Sunbeam
Mr. Wilson
Son of a Gun
Nine on a Side
New Madrid, 1811
All Over the World
Hit the North
All That Once Was Wonderful
Red Letter Days
Current availability:
Happy Happy Birthday to Me (US)
Mellotron used:
Despite forming in 1997, it's taken Ideal Free Distribution a decade to produce their eponymous debut, which turns out to be a minor masterpiece of modern psychedelia, influenced yet not entrapped by the late-'60s. Obvious influences include The Beatles (of course) and The Zombies, but brief psych-period Kinks and the West Coast scene also play their part in defining the band's sound. It's difficult to pinpoint standout tracks on an initial listen; suffice to say, it's all good, and the ten-year wait has clearly been worthwhile.
Although initially a trio, the band have now expanded to a loose seven-piece, including Marci Schneider on Mellotron and castanets (!) The 'Tron's all over the highlighted tracks above, with a triply-overdubbed part in Son Of A Gun, with a flute melody overlaying a strings-and-cello backdrop, with plenty of (mainly) strings use on everything else. After something of a 'Tron dearth at the beginning of the album, once it kicks in properly, it doesn't let up for the rest of the record, in highly pleasing fashion. Is it real? Not entirely sure, but it sounds pretty good, but then, when played sympathetically, modern samples tend to. Anyway, a very nice little album, loads of (hopefully real) 'Tron. Worth the effort.
May You Live in Interesting Times (2009, 45.05) ***½/T

Interesting Times
Emergency
The Rest
Sunshine
Horse's Head
Incident
Collectibles
Uneventful Day
No Thought
Paper Goose
Quares
Your Signature Here X____________
Current availability:
Mellotron used:
Chicago's Ideamen are devilishly difficult to categorise, which is rarely a bad thing: prog metal? Intelligent pop? The bastard sons of Houston heroes The Galactic Cowboys? 2009's May You Live in Interesting Times (the alleged old Chinese curse) features mad waltzes rubbing shoulders with riffarama and accomplished piano playing paired with multi-part vocals in a heavy-yet-quirky mish-mash that reminds some reviewers (though not especially myself) of Faith No More. It's difficult to pick out specific tracks for praise; the album works best as a whole (thankfully, it's a sensible length) and should probably really be listened to that way.
Chris Gardner plays (real?) Mellotron, with strings on Emergency, Sunshine, Incident and Your Signature Here X____________, plus cellos on Quares, albeit always in the background and usually only for a few seconds at the end of the song. While this album could, at a pinch, be described as 'prog metal', it's so, so much more than that; unusual, original and interesting, I look forward to hearing whatever they might do next. Despite the number of highlighted tracks above, though, there's next to no Mellotron, so don't bother on that account.
World Woven (1972, 38.14) ***/TT

Mother America
Baby's Gonna Grow
Diamond Fire
Children
Mellow Your Soul
Landlady
Flip Side
Colorado Morrow
All Join Hands
Current availability:
Mellotron used:
The Ides of March, including Jim Peterik, later of the phenomenally successful Survivor (yes, the Eye Of The Tiger crew), are primarily known for their major 1970 hit Vehicle. Their brass-rock sound bore comparison with Chicago or Al Kooper's Blood, Sweat & Tears, to the point where many confused Vehicle with that band, in the way that some people still think Focus' House Of The King is by Jethro Tull, but then, ignorance is everywhere.
1972's World Woven was the band's original incarnation's third album of four. It's a kind of prog-lite effort, definitely an influence on Styx, Kansas and their ilk; in fact, the refrain from opener Mother America must've influenced Styx' Suite Madame Blue a few years later. Which, in turn, influenced Judas Priest's Beyond The Realms Of Death... And on it goes. It's actually a rather confused effort, switching between the pre-pomp of Mother America and Children to the rock'n'soul of Mellow Your Soul and All Join Hands, not to mention the folk-influenced Landlady... Then again, who said a band had to sound consistent throughout a whole album? That seems to be a recent conceit and, after all, this appeared in the latter stages of the only period of real freedom the industry's ever allowed...
I presume it's keys man Scott May on Mellotron, with a few string chords at the end of Diamond Fire, more of the same throughout Children (obvious 'real strings substitute' playing), flutes and strings on the balladic Landlady and strings on Flipside, the only track to feature any brass, with a slightly superfluous trumpet solo. I don't believe this is on CD, but if you're interested in the roots of American prog, it's worth a listen if you can track down a copy. Not that much Mellotron, but worth hearing if you're listening anyway.
The Birthday Party (1968, 28.48) ****/TT½

The Skeleton and the Roundabout
Happy Birthday
The Birthday
I Like My Toys
Morning Sunshine
Follow Me Follow
Sitting in My Tree
On With the Show
Lucky Man
Mrs Ward
Pie in the Sky
The Lady Who Said She Could Fly
End of the Road
Current availability:
On Back to the Story double CD: Premier (UK)
Mellotron used:
The Idle Race seem to have been consigned to a strange, forgotten corner of UK psych, which is doubly odd as they were not only a perfectly good band, but also the first recording home of future ELO man Jeff Lynne. Their debut effort, The Birthday Party, is a really rather good little typical psych-pop album, with all the period detail you could ask for, married to an excellent selection of songs. The best-known of these is the opener, the wonderful The Skeleton And The Roundabout, but The Birthday, I Like My Toys and Mrs Ward are all right up there, too.
There's a fair helping of Mellotron (almost certainly a studio instrument) on the album, played, I believe, by Barry Pritchard, although I can't find any reference to him, just rhythm guitarist Dave Pritchard. Anyway... The Skeleton And The Roundabout has what sounds like some form of muted brass (saxes?), while I Like My Toys has a classic 'Tron flute melody, as does Morning Sunshine. Lucky Man has more of those probably saxes (key click and all), and Mrs Ward has both strings and pitchbent flutes. The strings on End Of The Road are definitely real, but I think I'm correct in my 'Tronspotting on the other tracks.
They followed up with The Idle Race (***); not bad, but not really a patch on its predecessor, and there's no Mellotron. There was a third album, too, Time is (***), recorded after Lynne left to join The Move and subsequently ELO, but it's not really anything to write home about. There were also several single-only tracks, including their other best-known number, Imposters Of Life's Magazine, but sadly, there's no more 'Tron to be heard. Incidentally, the Idle Race's entire recorded output is available on a double CD set, Back to the Story (***½), which is almost certainly the easiest way to track this material down. Anyway, I'm not sure I can call The Birthday Party a Mellotron Album as such, but it's a worthy addition to any collection of late-'60s UK psych. Buy.
Devil's Playground (2005, 54.26) ***/½

Super Overdrive
World Comin' Down
Rat Race
Sherri
Plastic Jesus
Scream
Yellin' at the Xmas Tree
Romeo's Waiting
Body Snatcher
Evil Eye
Lady Do or Die
Cherie
Summer Running
Current availability:
Mellotron used:
Billy Idol? Stop laughing at the back. AND at the front. Ever since Generation X's 'weekend warrior' status in the punk pantheon (Kleenex my arse, er, so to speak), William Broad has had a serious credibility problem, although the masses that bought his mid-'80s albums couldn't have cared less. Rightly so, you might say; he's been a provider of raucous, heavy rock'n'roll for the last three decades, making it difficult to knock him when he does something so well. I discovered the Mellotron use on 2005's Devil's Playground by sheer fluke, spotting it while listening to a compilation which just happened to feature the relevant track. The album itself is... well, it's a Billy Idol album; what more can I say? Highlights include ridiculous (OK, more ridiculous) opener Super Overdrive, Sherri and Scream, all adhering to his usual template, Plastic Jesus is (intentionally) amusing and while Yellin' At The Xmas Tree's seasonal tale of domestic violence (!) might not be the best thing here, it seems to be at least trying to make a serious point.
Derek Sherinian (Dream Theater, the onanistic Planet X) plays on some of the album, including what might even be real Mellotron choirs (albeit fairly distant ones) on Plastic Jesus. Real? Who knows? I think he used a real one with Dream Theater, but without hearing from the man himself, I'm unlikely ever to find out... Anyway, if you thought ol' Bill had stopped making albums after the '80s and are yearning to hear more from the man, Devil's Playground is loads of fun and is unlikely to disappoint.
Plastic Silver 9-Volt Heart (2003, 56.52) ***/T

Yesterday
Machete y Maiz
Mexican Candy
Flame on
9 Volt Heart
Sugar Cane
Zacatecas
The First Kiss is Free
I Dig You
The Liquor Dance
Abandonado
Un Avion
Goodbye Again
[unlisted track]
If You Should Ever Fall on Hard Times (2008, 48.42) ***/½

If You Should Ever Fall on Hard Times
Malas Vibras
Her Red Fishnets
El Huracan y Pin Pon
Okemah
The Beep
Back in the Limelight
Dancing for Dollars Again
Celos con Mezcal
Sour Grapes
Pelican Bay
The Fall
Morgan City
Warm Sun
Current availability:
Mellotrons used:
The New Orleans-based Iguanas mix pop/rock with a Latin sensibility; think, a younger Los Lobos with more of a Tex-Mex feel. Their fifth studio album, 2003's Plastic Silver 9-Volt Heart, is a decent enough album, if rather unexciting in places, although Flame On is that rarity, a great modern 'party' song. Either Rod Hodges or Joe Cabral has an excellent, whisky-sodden voice, used to good effect on several tracks in the way that only Americans can do. Rene Coman plays Mellotron, with strings all over opener Yesterday (no, not that one) and the brief, unlisted track tacked onto the end of the album.
It took the band five years to follow up with If You Should Ever Fall on Hard Times, which starts off sounding like any other contemporary garage band, until second track in, Malas Vibras, which, er, switches straight into Latin mode. Like its predecessor, it's a bit of a mixed bag, the Tex-Mex stuff working less well for yours truly, but it's a reasonable listen. Coman on Mellotron again, but despite flutes and (especially) strings on several tracks, the only one that actually sounds anything like the real thing are the strings on Morgan City, although I'm willing to concede that there may be more hidden away on other tracks, low in the mix.
Overall, these aren't the kind of albums your typical Planet Mellotron reader (yes, you) are probably going to like, but they're perfectly acceptable records of their type, with some reasonable Mellotron use on Plastic Silver 9-Volt Heart, at least.
Out of the Mist (1977, 36.00) ***½/TTT

Isadora
Roads to Freedom
Beautiful Country
Solo Flight
Everywhere You Go
Face of Yesterday
Candles Are Burning

Illusion (1978, 37.23) ***½/TTT

Madonna Blue
Never Be the Same
Louis' Theme
Wings Across the Sea
Cruising Nowhere
Man of Miracles
The Revolutionary
Enchanted Caress (1990, 36.59) **/T

Nights in Paris
Walking Space
The Man Who Loved the Trees
Getting Into Love Again
As Long as We're Together
Slaughter on Tenth Avenue
Living Above Your Head
Crossed Lines
You Are the One
All the Falling Angels
Current availability:
Out of the Mist/Illusion: 2-on-1: Edsel (out of print)
Enchanted Caress: Renaissance (US - out of print)
Mellotrons used:
All titles: band's own M400?
In 1968, the Yardbirds fragmented, and guitarist Jimmy Page recruited a new lineup, initially called the New Yardbirds; you know the rest. Bassist Chris Dreja became a professional photographer, and vocalist Keith Relf and drummer Jim McCarty formed a new outfit with Relf's sister Jane, bassist Louis Cennamo and keyboardist John Hawken called Renaissance. This lineup made two albums, then in what appears to have been some bizarre power struggle, the entire band was replaced by the musicians more commonly associated with the name. The original Renaissancers went on to play in various bands; Cennamo and Keith Relf eventually formed Armageddon, releasing their self-titled effort in 1975, and John Hawken spent a couple of years in the Strawbs. Tragically, Relf died in 1976, electrocuted at home by a malfunctioning guitar amp.
The following year, the surviving members of the original Renaissance, with a couple of other guys, reformed as Illusion, named after the second Reniassance album. Their sound is best described as somewhere between the Strawbs and what the then current Renaissance lineup was doing; lush folky prog, if a little lightweight. Jane Relf's voice had lost none of its quality in the intervening years, and several of the other members had honed their playing skills in the interim. John Hawken's stay in the Strawbs had introduced him to a wider keyboard palette, including the Mellotron, to which the band added real strings on a few tracks.
Even more mainstream than their first two releases, Illusion's Enchanted Caress, finally released in 1990, consists largely of demos for their third album, recorded in 1979. Most of the tracks are short, MOR-ish pop songs that make their first two albums sound like King Crimson. On steroids. Believe me, this is NOT an album for your inner Rock Monster, or even for anyone wishing to hear something at the more lightweight end of the prog spectrum. It's not all completely horrible; The Man Who Loved The Trees sounds more like their earlier work, their version of Richard Rogers' Slaughter On Tenth Avenue (also covered by synthesist Larry Fast as Synergy) is pretty decent and although it's not that great, closer All The Falling Angels (from several years earlier), is Keith Relf's last recording and is also the only Mellotron track here, with a rather ordinary string part from Hawken. n.b. Said track has recently been included as a bonus on a reissue of Renaissance's rather poor 1971 effort Illusion, as All The Fallen Angels, giving you even less reason to buy this crummy album.
There's little stylistic variation between Illusion's two 'proper' albums; Out of the Mist uses slightly less 'Tron than Illusion, but there isn't that much to choose between them on that front. The closing tracks on each album probably feature the 'Tron the most, but it's mainly strings and choir used here and there, rather than blanket coverage. The material is indubitably pleasant and highly melodic, but don't expect much excitement. Chiefly for fans of Renaissance, old or new. Enchanted Caress is mostly shite, though, so don't go paying the inflated prices I've seen for second-hand copies.
Apparently, the original four ex-Renaissancers reformed in late 2001 (sans Mellotron, I think it's safe to say...), but nothing's happened in the intervening years, so I think we can fairly safely discount that one.
See: Renaissance | Strawbs
Illya Kuryaki & the Valderram (Argentina) see: Samples
Children (1995, 57.45) **½/T

Haze
In Our Lives
Given Away
Late of Conscience
Cracker
Eye Next to Glass
Your Darkest Hour
The Final Stroke

A Story Two Days Wide (1999, 59.15) ***/TT

Sojourns
Savant
Dreaming With the Lights on
Holidays and Miracles
Better Days
Even Angels Fall
Indian Rain
Current availability:
Both titles: Kinesis (US)
Mellotron used:
Both titles: Jim Rezek's M400
It has to be said; Ilúvatar (with or without the ´) are solidly, unrepentantly neo-prog. Whether or not this makes your hackles rise is, of course, an entirely personal matter, and largely dependent on where you stand on the great Marillion debate, i.e. are they, or are they not shite? Ilúvatar clearly don't think so, and have proved it over the course of a handful of rather unimaginative albums, not least their dull self-titled debut.
Children, from '95, didn't exactly herald a New Dawn Of Prog, being completely bog-standard neo-, with its only even slightly unusual (note: not welcome) feature being vocalist Glenn McLaughlin's Phil Collins fixation, along with the usual Fishisms, of course. The rest of the band plod away in time-honoured fashion for at least twenty minutes too long, although twelve minute closer The Final Stroke is probably the most inventive thing here. As far as Jim Rezek's Mellotron use goes, background choirs on Late Of Conscience and a reasonably upfront string part on The Final Stroke are all I can hear, apparently from M400 #1463.
Four years on, A Story Two Days Wide is a marginal improvement, with the odd interesting musical idea (Dreaming With The Lights On, Indian Rain) battling it out with the usual musical same old same old. Rezek's more pronounced Mellotron strings can be heard on Sojourns, Savant and Better Days, with choirs on the latter and Indian Rain, but nothing that you couldn't live without, to be honest. I'm afraid I can't think of anything more inspiring to say about this album; the band obviously weren't the slightest bit interested in coming up with anything new and it shows.
Overall, I'd find it difficult to recommend either of these albums; unlike, say, Visible Wind, Ilúvatar don't seem to've moved beyond their neo-prog roots, Mellotron or no Mellotron. Despite not having released anything for a while, the band are still going, so we can always hope they've taken some new influences on board sometime during the last decade.
Images in Vogue [EP] (1983, 22.46) ***½/½

Lust for Love
Masks
Just Like You
For Germans
Breaking Up
Collection Version 2.0: Chronology (2004, 76.25) ***/½

Travel
Quiet Room
Politics of Sound
Anxiety Reaction
Lust for Love
Masks
For Germans (mix 2)
Breaking Up
Call it Love
Save it
Promised Land
Holiday
King's Service
In the House
Look Me in the Eye
Someday
Piece of Your Heart (version 1)
Everytime
One Hand Cleanses ... the Other (Where's Kenny?)
Current availability:
EP: out of print
Collection: Carlos Monte
Mellotron used:
Strange Advance's 4-Track?
Little-known outside Canada, Images in Vogue were the Canucks' joint answer to Britain's early '80s synthpop boom, alongside Strange Advance. As far as I can work out, their discography is now partially available, in a rather piecemeal kind of way, split into three volumes of Collection Version..., missing quite a few tracks in the process. Irritating.
1983's Images in Vogue was their third release and second EP; it would be another two years before they released an album. It's a pretty decent effort within its genre, its five tracks utilising drool-worthy Prophet 5s, Memorymoogs and Oberheims, amongst other now sought-after gear. Musically, it cements their reputation as the Canadian Ultravox, with all the right Bowie and Roxy influences, plus an unfortunate hint of Duran Duran in places, but we won't hold that against them. And as for, er, For Germans, shouldn't that be Four Germans. Eh? Eh? The EP contains what is likely to be their sole Mellotron track, Masks, with some background choirs (possibly from Strange Advance's elusive 4-Track) that add to the song without being overly blatant.
2004's Collection Version 2.0: Chronology covers four of the EP's five tracks; it's actually a very nice compilation of their work, previously unreleased instrumental opener Travel setting the scene nicely, followed by another 18 presumably typical IIV tracks. Moreover, it's the only place to easily find Masks, although you really shouldn't bother just to hear some distant Mellotron choir. Images in Vogue were good at what they did and still reform for occasional (apparently well-attended) gigs. A couple of their members went on to form or work with industrial pioneers Skinny Puppy, but we shouldn't hold that against them, either.
Imán, Califato Independiente (1978, 42.11) ***½/T

Tarantos del Califato Independiente
Canto al Califa
Tarantos
Estate Quieto, Boabdil
Pasco por la Plaza
Cuarto Menguante
Darshan
Cerro Alegre
Cancion de la Oruga
Current availability:
Mellotron used:
Imán, Califato Independiente were one of the all-too many obscure progressive bands from the '70s; Spain in this case, although they were on the local branch of CBS, giving them some local mainstream credibility. Like many Spanish bands from this era, they had a slightly jazzy touch and also brought in a flamenco influence; Imán, Califato Independiente is instrumental and a good example of its genre, particularly the side-long Tarantos Del Califato Independiente.
Marcos Mantero is credited with playing Mellotron on three out of four tracks, with strings under the Elka string synth on parts one and four of Tarantos del Califato Independiente, Canto Al Califa and Cuarto Menguante and album closer Cancion De La Oruga, plus a few seconds of choir and more of those mixed strings in Darshan. Confusingly, Mantero also plays a 'Farfisa Syntorchestra', as if the waters needed muddying further. So; a cool album, particularly the sort-of title track, but not really one for the Mellotron fan, I fear. There was a second album, 1980's Camino del Aguila, but it appears to be Mellotron-free.
Natalie Imbruglia (Australia) see: Samples
Catch a Singing Bird on the Road (1973, 37.32) **½/T

Humphrey Bogart
The Dark Lord
Barricade
A Poet's Conversation
Catch a Singing Bird on the Road
Sunday Morning After Church
Breed
Mountain Moonshine
Rio Bravo 59
Hot Biscuit Slim
Current availability:
Mellotron used:
As far as I can work out, Improved Sound Limited were a vaguely proggy outfit who went off the boil around 1973, producing what appears to be their tribute to the Americana of the day, Catch a Singing Bird on the Road. It opens well enough with the surprisingly proggish Humphrey Bogart, before turning up the blind alley of American-sounding soft rock, exemplified by the rest of the record. It's not awful, just rather dull, with the odd halfway decent song (the folky title track, Hot Biscuit Slim) to keep the listener from dozing off. And as for the bluesy, blatantly Lord of the Rings-influenced The Dark Lord, the less said the better...
Axel Linstädt plays Mellotron strings on opener Humphrey Bogart, as befits the nearest this album gets to 'prog', but it in no way makes this worth getting hold of, I'm afraid. One decent track, doubling as one passable 'Tron track. Maybe not.
Bellowing Sea - Racked By Tempest (2007, 49.26) ***½/TTTT

Oceanus Procellarum
Awe and Terror
Mirage
Relinquish
Lacus Somniorum
From Winsome to Bestial
Sowers of Discord
The Melancholy Surge
Salon des Refusés (2010, 44.48) ***½/TTTT

Full Fathom Five
Existence
Darkness
Catharsis
Like the Ocean
Into the Mincer
Open the Doors of Janus
(the Gates of War)
Electrocution
Skjelvende av Angst
A Force of Nature
Cold Void Messiah
Current availability:
Mellotrons/Chamberlin used:
Bellowing: one or more of Lars Fredrik Frøislie's M400s
Salon: one or more of Lars Fredrik Frøislie's M400s/Chamberlin M1
At first glance, In Lingua Mortua look like just another one of the 17,532 Scandinavian black/death/whatever metal bands in existence and indeed, as soon as Bellowing Sea - Racked By Tempest kicks in properly, one feels one's hopes begin to fade. However... Unlike most of their contemporaries, In Lingua Mortua are actually pretty damn' progressive, knowing how to make an album that the non-faithful can actually have a stab at listening to without falling about laughing or bursting into tears. Why? I'm still trying to work it out. Probably because it's more a progressive album with death metal tropes than vice versa, modulating key all over the place and structuring songs in an almost (dare I say it?) Änglagård vein. It's pointless picking out individual tracks; the album's best listened to as a whole anyway, but despite the blastbeats and 'uurgh' vocals, this is remarkably listenable. Startling.
Mellotron-player-to-the-Norwegian-metal-(and-prog)-community, Lars Fredrik Frøislie, does his usual thing here, sticking 'Tron all over the place, with strings on all highlighted tracks (the only 'Tron-free track, Lacus Somniorum, is under a minute long anyway), with flutes and choir on several and definite cellos on Relinquish, if not others. There are brass parts on the album, too, but with a credited saxophonist, they're more likely to be baritone sax than anything (no alto solos here, thanks).
The band followed up three years later with Salon des Refusés, essentially more of the same, although the sleeve notes say, "The songs were created and recorded between 2001 and 2008", presumably making much of the material predate that on Bellowing Sea. Like its predecessor, it contains a very workable form of death metal/prog crossover, acoustic interludes being shattered by mad guitar work, roaring vocals and blastbeats. The vocals are a bit hard to take in places, but that sort of goes with the territory... Lars plays not only all keys, but drums and some of the guitar and bass work, making this pretty much his solo project with guests, rather than a band as such.
Of course, he splatters one or more of his three M400s all over the album, with strings on most tracks, plus vibes (otherwise uncredited and therefore Mellotronic) on opener Full Fathom Five and Existence and cellos on Catharsis. We also get Lars' beloved new (well, to him) Chamberlin M1 on just one track (he only obtained it recently), presumably providing the massive strings on Like The Ocean, while the album's second instrumental, Electrocution, features a grungy mix of Mellotron cellos, violas and violins, making for another Mellotron Winner.
Overall, then, two really rather good extreme metal releases that stay true to their genre while taking other influences on board. I believe it's known as 'progressing' (ahem). Loads of Mellotron on both, too, so a cautious recommendation for those who think they can stand the heat.
In the Cage (UK) see: Samples
Mysteriernas Trädgård [a.k.a. The Garden of Mysteries] (1994/96, 73.53) ***½/TT

Gates of Andorra
Karakoram Pass
Escape From Canaan
Hiram Abiff
Kekova (the Sunken City)
Ali Hasan
Aslan
Meditating Minotauros
The Garden of Mysteries II
Monsoon
Andalucy
Journey to Hel
Moorish Rapsody
Trans Turkish Express
Aral
Moorish Waltz
Desert Visions
Ya Qader
The Garden of Mysteries I
La Dame Inconnue
Almeria
Palm-Cat
Walking on Clouds (1999, 56.35) ***½/TTT½

Kali
Mahatma
Over the Wall
The Caravan From Sheeba
Birka
Lop Nor (the Wandering Lake)
Dervish Dreams
Golgonda
Gates of Oneiron
Chandrika
Walking on Clouds
Dryad (2002, 59.37) ****/TTT

Lost in the Woods
Out of This Maze
Catch a Cloud
Nargal
Dryad (the Spirit of the Woods)
Trident
Jabberwocky
Muscarin Madness
Deep Saffron
Night of the Baskerville Killer
Farewell Little Brother
Rökstenen: A Tribute to Swedish Progressive Rock of the 70's (2010) ****/T

[In the Labyrinth contribute]
Worlds on Fire
Current availability:
The Garden of Mysteries: CD-R only? Completely out of print?
Walking on Clouds/Dryad: Record Heaven (Sweden)
Rökstenen: Musea (France)
Mellotrons used:
All titles: Peter Lindahl's M400
Peter Lindahl, born in 1951, formed the ethnic outfit Aladdin's Lantern in Stockholm in 1980, which (very) eventually morphed into Labyrint in the early '90s. After releasing the initially cassette-only Mysteriernas Trädgård, they changed their name to In the Labyrinth, and have been singlemindedly ploughing their world/prog crossover furrow ever since. The tape was reissued under their new name as The Garden of Mysteries in 1996, although, due to disagreements with ex-members, it has been officially unavailable for some years. The band actually make a pretty unique noise, with elements of various ethnic musics combining with a modern progressive style to create something new; surely what 'progressive' rock should be all about? About the only clear influence you could point to is that brand of krautrock acts who assimilated 'world' influences before there was such a term, particularly Embryo. Led by the multi-instrumentalist Lindahl, their lineup seems to be fairly fluid apart from his lieutenant, Håkan Almkvist, with other musicians obviously being brought in as and when needed.
The Garden of Mysteries sets out their stall quite unequivocally, opening with what sounds like plucked banjo, although it has to be something more exotic, going by the musicians' credits on their site. Their chief ethnic influence is definitely Middle Eastern, carrying on from their Aladdin's Lantern days, when they apparently worked backing belly dancers (!), among other gigs, although all sorts of stuff pops in and out of the mix. Most of the material is instrumental, which seems to work better to my ears than their actual songs. Not actually that much of Lindahl's Mellotron (yes, it's real), with quick flurries of echoed 'Tron flute on Karakoram Pass, a more 'standard' string part on Kekova (The Sunken City), and what sounds like tape-replay flutes, rather than the real thing, on Ali Hasan. I think the flute on Monsoon is real, but those are definite 'Tron strings on Moorish Rapsody [sic] and Moorish Waltz, although the flute on the latter is, again, inconclusive.
'99's Walking on Clouds carries on in similar vein, only maybe more focussed, being a real pot pourri of influences, often applied simultaneously. It's difficult to pick out highlights on a single listen, as I imagine this will take several plays to really appreciate, although the middle-eastern pipes on Golgonda are notable. Not so sure about the vocal tracks, though they're relatively few and far between. Lindahl plays Mellotron on several tracks, mostly strings, although some of the flute work is quite clearly 'Tron, too. The string parts are mostly upfront, if not actually solo, blending nicely with the more unusual instrumentation, at least to my ears. 'Tron highlight? Probably the end of Mahatma, although several similar parts could also qualify.
Three years on, Dryad is actually slightly less 'world' than its predecessor, although sitars, darboukas, tablas and the like still proliferate. The vocal tracks here seem better integrated into the album as a whole; in fact, 'well-integrated' is a phrase that sums the record up in general. Lindahl's diverse influences come together more smoothly here, at least to my ears, making for a more satisfying listen all round. Marginally less Mellotron than on Walking on Clouds, with a similar mixture of about 90% strings to 10% flutes, with Muscarin Madness only featuring a few seconds of the latter. Overall, a slightly better album than its predecessor, but a little less 'Tron.
So; if you're intrigued by this description of In the Labyrinth, either of the easily-available albums is worth a shot. Decent Mellotron work on both, too, though if you're offended by the sound of 'ethnic' instrumentation, you may wish to go elsewhere.
Kankaku Shikou (1974, 36.02) ***½/T½

Original #1 Claude Debussy
Original #2 L. van Beethoven
Original #3 L. van Beethoven
Current availability:
Mellotron used:
According to the estimable folk at the ProgNotFrog blog (try saying that quickly), a Japanese quartet confusingly called ARP released a single in 1974, the band name mysteriously changing to Yasuo Inada & Bemi Family somewhere along the line. After some fury and a lineup change, they recorded an album, Kankaku Shikou, consisting of contemporary reworkings of classical pieces and featuring Inada rather heavily on the sleeve. Can you spot the originals? Some of the piano (acoustic and electric) parts are familiar, but when the other keys lurch over the horizon, any pretence at attempting to copy the originals disappears. The Debussy and first Beethoven are marvellous, worth the price of admission alone, although the (relatively) brief second Beethoven is awful, a vocal number that sounds nothing like any Ludwig van B. that I've ever heard. Stylewise, the two good tracks (between them, 5/6ths of the album's length) alternate solo piano and band arrangements, Inada blasting away on Hammond, Solina and at least two different synths, in proper full-on prog style.
Inada also plays Mellotron, of course (look closely: it's behind the Rhodes on the sleeve), with massive, albeit rather brief choir parts on the Debussy and first Beethoven pieces, although it really isn't enough to make it worth hearing for that alone. According to a recent post on the CD Reissue Wish List blog (two blogs in one review!), this is lined up for a Bridge label reissue in 2013. Here's hoping...
Incredible Moses Leroy (US) see: Samples
Tales From the Beach (2008, 74.16) **½/T

Love, Joy, Understanding
I've Been Waiting
When the Sun Comes Down
Step Aside
N.O.T.
Happy People
I Come Alive (Rimshots & Basses)
Freedom to Love
I Remember a Time
It May Rain Sometime
Never Look Back
When Words Are Just Words
Feel the Pressure
Silence of My Mind
Tales From the Beach
Current availability:
Mellotron used:
Incognito (alumni include Carleen Anderson) grew out of late '70s Brit-jazz-funksters Light of the World, releasing their debut album, the 'does what it says on the tin' Jazz Funk, in 1981, although the band effectively split up for a decade, until '91's Inside Life . Although I've seen them described as 'acid jazz', their sound on 2008's Tales From the Beach is essentially smooth soul/funk, professional in the extreme, while complete anathema to anyone whose booty isn't in the mood to be funked, or something. Part of the album's problem is its sheer length; not just as a whole, but individual tracks. I mean, six tracks over six minutes? Are you sure? Like many musical forms, danceable stuff of most types doesn't work well in this long-form setting, particularly when you don't like it...
Dominic "Ski" Oakenfull plays Mellotron, with strings throughout N.O.T. and a few seconds on Never Look Back, assuming it's real. This album gets a relatively high rating for its sheer professionalism and exuberance, although I hate it with a passion; the band really sound like they're enjoying themselves, even if I'm not. Then again, they didn't make it for me, did they? Great playing from all concerned, too, particularly on the mercifully brief closing title track.
Incubus (US) see: Samples
Good Enough to Eat! (1999, recorded 1969, 27.10) ***/TT

It's Been a Hard Hard Day
Big Ben
Is it Love
The Kids Are Alright
Baby I Love You
Brother Where Are You
I Gotta Love You Again
Take a Little Bit of Lovin'
The Rest of My Life
Take Me for One Last Ride
In Too Deep
The World is Ended Right Now
Current availability:
Chamberlin used:
Several years after originally writing this review, I received an e-mail from Indescribably Delicious (known universally as I.D.)'s vocalist, Jim Conroy, giving me the true story of the band and 1999's cobbled-together Good Enough to Eat! They were an L.A. Bay Area beat group who formed in the early '60s and released one single on a local label, also home to the iconic Strawberry Alarm Clock. After the band split, their ex-manager, Gary Solo(mon), got Jim to sing on some demos he was recording with Greg Munford, who sang on the Clock's iconic Incense And Peppermints. Jim wasn't over-keen on the material, but was eventually sent an acetate of the rather amateurish sessions, with the three I.D. tracks added. About a decade later, Jim was persuaded to part with a copy of the acetate to a record-collector friend. Fast-forward a decade or two...
In the late '90s, Jim got a call from the Strawberry Alarm Clock's old manager, Bill Holmes, whingeing about a European bootleg of songs that he 'owned'; turns out some chancers have put the acetate out as a CD, crediting it to Indescribably Delicious. Holmes sued and got the rights back to the recordings, subsequently licencing them out himself, getting material from Jim for the package. It crept out some months later as Good Enough to Eat!; Holmes has evaded any tedious financial responsibilities, meaning Jim won't get any royalties from the release, despite having sung on the whole thing. It's the same old, same old story, isn't it? Anyway, to the actual album:
It's (unsurprisingly, all things considered) a bit of a mish-mash of styles, with the three tracks from their lone single session (The Kids Are Alright/Baby I Love You/Brother Where Are You) rubbing shoulders with the demos, which are of a rather dated psychedelic bent. Their version of The Who's The Kids Are Alright has a wrong chord, which can apparently be blamed on Solo's rearrangement of the song, much of the rest being OK, but really nothing special. In 1969, the Mellotron had barely had any impact in the States at all, although, of course, the originator of the tape-replay concept, Harry Chamberlin, had been building his machines in California since the early '50s. As a result, the 'is it/isn't it?' dilemma hovering over this album is resolved by its final track, The World Is Ended Right Now, which is smothered in that weird Chamberlin solo male voice, proving beyond a doubt that the Chamby had vocal tapes several years before the 'Tron. Anyway, keyboards were played by both Munford and Jack Bielan, so I've no idea which one plays the Chamby, but there's also strings on Big Ben, one of the album's more psychedelically-inclined numbers, and on the more straightforward The Rest Of My Life.
So; a rather ordinary album, probably best described as a 'curio', to be honest. Three Chamberlin tracks, but apart from the male vocal (which may just possibly crop up elsewhere, too), it's all rather run-of-the-mill. Jim Conroy's clearly fairly unhappy about the whole business, though also fairly sanguine, and who can blame him? As he says, he's still playing today and has never had to do the crapulent 'oldies' circuit, like so many one-hit wonders. To sum up, this album is NOT the original I.D., except for three tracks, and they aren't especially representative of the band's garage glory.
Indian Summer (1971, 49.50) ***½/TT

God is the Dog
Emotions of Man
Glimpse
Half Changed Again
Black Sunshine
From the Film of the Same Name
Secrets Reflected
Another Tree will Grow
Current availability:
Mellotron used:
Indian Summer fall fairly and squarely into the 'UK proto-prog' category, along with Spring, Beggars Opera, Gracious! and many others; think 'late-'60s feel in the early '70s' and you're getting near. This isn't a criticism by any means; many of these bands were excellent, but had the misfortune to head up one of music's blind alleys. Pink Floyd aside (who were always completely a law unto themselves, anyway), the progressive bands who 'made it' were mostly those who had the courage to really push at the boundaries, and leave the '60s behind.
Indian Summer's a good album, though, with several lengthy Hammond workouts, but it fails to transcend its influences and create anything genuinely new. Opener God Is The Dog is one of the best tracks, with Bob Jackson's Mellotron lifting it towards its conclusion. The 'Tron is used sparingly and tastefully throughout, in fact, although you sometimes feel they could've used a little more without spoiling the pudding.
So; a good psych/prog crossover album, and a few nice 'Tron bits. One for enthusiasts, but by no means a bad record. Recommended for fans of the genre.
Indianism (1993, 46.00) **½/TT

Bed of Roses
Love
A-I-A-O
Look Up to the Sky
The Key
Caught a Rainbow
Believe
I Love the World
Head in the Clouds
If the Children Ask Why
Current availability:
Mellotron used:
It's not easy to track down information on a band called The Indians, even when they have the good grace not to name their (probably) sole album eponymously. 1993's Indianism has its moments, in a pop/rock kind of way, but by and large is a bit too wishy-washy to make any great impression, despite a handful of decent tracks, notably opener Bed Of Roses and the heavier The Key.
'John Brian' plays Mellotron; quite certainly our old friend Jon Brion, before he acquired enough of a name to get his name spelled properly. It could be on most tracks, but I'm of the opinion that you'll only hear distant flutes on opener Bed Of Roses, strings and flutes on Look Up To The Sky and Caught A Rainbow and strings on If The Children Ask Why, all excellently-played and not too low in the mix. Overall, powerpop aficionados may find parts of the album palatable, but it didn't grab this particular listener. Not bad 'Tron use, though, especially for the early '90s.
Rock the Boat [a.k.a. Dread Reggay Hits] (1974, 46.37) ***/TT½

You Make Me Feel Brand New
I'm Going Home
Here I am Baby
Westbound Train
Duppy Gunman
Book of Rules
Homely Girl
Rock the Boat
Some Guys Have All the Luck
Everything I Own
None Shall Escape the Judgement
Curfew
Have Some Mercy
T.S.O.P.
Current availability:
Mellotron used:
Unusually for a reggae outfit, Inner Circle (still active today) are a proper band, as against a featured singer with backing musicians. Their debut, 1974's Rock the Boat (issued in Jamaica with two tracks cut as Dread Reggay Hits), combines covers of US soul hits with a handful of originals, more recognisable numbers including You Make Me Feel Brand New (The Stylistics), Rock The Boat (Hues Corporation) and Everything I Own (Bread/Ken Boothe). This is mainstream reggae, with nary a hint of revolutionary activity about it, but then, so was most reggae, contrary to contemporary popular opinion.
Charlie Roberts plays Mellotron, with strings all over opener You Make Me Feel Brand New, I'm Going Home, Some Guys Have All The Luck and closer T.S.O.P., plus choirs on the last-named. Unless you're already a fan of pop-reggae, you're really not going to go for this at all, but it's perfectly good at what it does, with the added bonus of four decent Mellotron tracks.
Kōri no Sekai (1973, 37.31) **½/T

Akazu no Fumikiri
Hajimari
Kaerenai Futari
Chie-Chan
Kōri no Sekai
Shiroi Ichinichi
Jiko Ken'o
Kokoro Moyou
Machibouke
Sakura Sangatsu Sanpomichi
Fun
Koharu Obasan
Oyasumi
Current availability:
Mellotron used:
Yōsui Inoue is famous in his home country for being the first artist to sell over a million copies of one album, 1973's Kōri no Sekai (World of Ice). The album was partially recorded in the UK, contributing musicians including Peter Robinson and John Gustafson from Quatermass, Ann Odell (Shawn Phillips) and arranger Nick Harrison (Rolling Stones). The material is pretty much what you'd expect of an album that sold so well; mainstream pop/rock with a Japanese folk influence on some tracks, all pretty unexciting, to be honest, although better tracks include sort-of rocking opener Akazu No Fumikiri and the memorable Machibouke.
Mellotron duties are split between Robinson and Jun Fukamachi, with a lush string part on Kaerenai Futari and flute on Chie-Chan (under real strings), with real strings on several other tracks, too. Overall, far too mainstream to be of any real interest to all but early J-pop aficionados, with one decent 'Tron track. Maybe not.
Official Japanese-language site
Colours & Lights (2004, 51.56) ****/TT½

Running Around
Colours & Lights
Top of the Mountain
Her Mystery
Under the Moonlight
She Passes By
Freeway
Flowers on My Grave
Tarantula
Kites
Such a Slow Way Home
Will You Think of Me?
Current availability:
Mellotron used:
London-based Instant Flight incorporate members from all over Europe, proving the city's unasked-for role as the continent's music capital (go on, prove me wrong). Their Hammond-heavy psych comes as welcome relief to these jaded ears, proving themselves true scholars of the era with Freeway, a classic slice of (the retrospectively-dubbed) freakbeat, a sub-genre usually passed over by modern psychonauts. In truth, there isn't a bad track here, other highlights including opener Running Around (great organ solo), the proto-prog of Top Of The Mountain (even greater organ intro) and their fab cover of Simon Dupree & the Big Sound's fab Kites, with none other than Arthur Brown on vocals (he also sings on Freeway, while Sundial's Gary Ramon guests on Under The Moonlight).
Lucie Rejchrtova plays Mellotron, sounding really quite real, with Arabic-esque strings on Top Of The Mountain, flutes on Her Mystery, complete with a solo and Kites, although the background strings on Under The Moonlight and She Passes By sound rather less authentic and I haven't even highlighted Will You Think Of Me? All in all, then, a fine album, previously criminally unbeknownst to me, well worth shelling out for on musical grounds, never mind several good 'Tron tracks. Excellent. Incidentally, their follo-up, 2008's Endless Journey, appears to use samples and is reviewed here.
See: Samples | Arthur Brown
Instruments (US) see: Samples
Intergalactic Touring Band (1977, 47.18) */T½

Approach (Overture)
Silver Lady
Universal Zoo/Why
Starship Jingle
Heartbreaker
Reaching Out
First Landing
Space Commando
Robot Salesman
Love Station
A Planet Called Monday/Epilogue
Keeper Keep Us
Current availability:
Mellotron used:
The Intergalactic Touring Band were, ironically, a studio outfit put together in 1976 consisting of a couple of members of US progressives Fireballet, synth whizz Larry Fast (a.k.a. Synergy) and a cast of thousands. The concept appears to be a science-fictional band zooming around the galaxy playing to the music-starved masses of Ursa Minor or wherever. Sadly, this has all the hallmarks of a 'vanity project', funded by a record company too out of touch to realise the futility of the whole affair; by the time of its release it was hopelessly outdated, with Wil Malone's rather cheesy orchestral arrangements dating from an earlier (and by no means better) age. I'm afraid to say that it's difficult to recommend this in any meaningful way; vocalists such as Rod Argent, Annie Haslam, Dave Cousins, Arthur Brown, Meatloaf and even Rossi and Parfitt from Status Quo (!), along with instrumentalists of the calibre of Anthony Phillips, Percy Jones and Clarence Clemons were unable to drag the leaden material up to a listenable level. Sorry to be so harsh, but Intergalactic Touring Band was not a very pleasurable listening experience. This is why punk happened.
Larry Fast's Mellotron? Flutes and choirs on album opener Approach, then choirs on Silver Lady and Robot Salesman, though it's hardly the most audible 'Tron you'll ever hear. There's a 'thanks' in the album's expensive-looking booklet to US Mellotron distributors 'Bill Eberline and Sound Sales Inc. for use of their Mellotron tape library', too. Surprising they didn't use it a little more.
See: Fireballet | Synergy | Rod Argent | Annie Haslam | Arthur Brown | Dave Cousins | Anthony Phillips
Mislead Into a Field By a Deformed Deer (2010, 39.00) **½/TTT

½ Retarded Tuner of Hurricanes
Bee Calmed
9 Tomorrows
Arlie
Dead Arm Blues #B510
Talking Hoshizaki Blues
Mr. Baby
Songbird
Parasol
Fixed Confidence
Long Thin Heart
Invalid Terrace
We Breathe
Current availability:
Mellotron used:
The duo that comprises Internal Tulips, Brad Laner and Alex Graham, both have previous with the Planet Mu label, although their current collaboration (2010's oddly-titled Mislead Into a Field By a Deformed Deer is their debut) owes as much to classic '60s pop as modern indie electronica, although there's a good dose of the latter to be heard on the album. My overall impression is of an earnest, melancholy pair in thrall to The Beach Boys and sampling technology who've made an album full of momentary glitches, deliberately OTT Autotune and surprisingly sparse arrangements. But does it work? If you listen to their influences, then maybe, but to the ear unaccustomed to their particular brand of digital manipulation, the more electronically-inclined tracks quickly begin to drag.
Graham plays Mellotron, with occasional strings on Bee Calmed, flutes and strings on 9 Tomorrows, cellos and flutes on Arlie, flutes on Dead Arm Blues #B510 and Talking Hoshizaki Blues, with an authentic-sounding pitchbend on the latter, strings on Mr. Baby, what sounds like bits of everything on Songbird, flute on Invalid Terrace (InVALid or InvaLID?) and stabbed flute chords on closer We Breathe. But is it real? That pitchbend suggests yes, but several other moments point to the opposite. As with so many releases, hard and fast information is hard to come by, so this stays here until or if I should find out that they used samples. As to whether or not it's any good, you're probably better off asking someone who understands where they're coming from.
Interpose+ (2005, 47.30) ***½/½

Aircon
Dayflower
Zitensia
Koibumi
Last Sign
Current availability:
Mellotron used:
Interpose formed in the mid-'80s, and after two turbulent decades of lineup changes, splits and reformations, finally regrouped as Interpose+ in 2003. Their eponymous debut starts badly, with Aircon sounding just like every neo-prog horror you've ever encountered, but more so, making their abrupt shift in direction on Dayflower towards more 'standard' female-fronted '80s Japanese prog all the more surprising, not to mention welcome. Zitensia is a bonkers, full-on Japanese fusion workout, while Koibumi shifts back towards Dayflower territory, and Last Sign sits somewhere between the album's better tracks, being a good prog/fusion crossover, making the bulk of the album well worth a listen.
I really don't know whether Ryuji Yonekura's Mellotron is real or not; they don't use one live, but nor do many bands who use one for recording. Basically, all you get are a short string part at the beginning of Dayflower and a few chords in Koibumi, and I'm not convinced about the latter. Interpose+ would have got four stars were it not for that appalling opening track; I can only urge you to start playing the album at track two, should you buy a copy. The rest of the album ranges from 'good' to 'excellent', but that opener is truly horrible.
Into the Abyss (Greece/Germany) see: Samples
Se Allous Kosmous (1976, 62.09) ***½/TT

Eisagogi
Mia Fylaki
To Dentro
Solo Piano
Thelo Na Taxidevo
Magiki Apoklisi
Dyo Parallages
Na Ha Ftera
Taxidi
Kalesma
To Panigyri
Se Allous Kosmous
Anazitisi
Tha Rthei Vrohi
Poios Xerei
Xekinisame
Ehoume Fotia
Gia Polemo
Finale Chorodiako
Current availability:
Mellotron used:
Iraklis Triantafylidis' Iraklis (sometimes referred to as Hiraklis, due to an anomaly in transliteration) were a Greek progressive outfit, seemingly an offshoot of the more commercial Iraklis & Lernaia Hydra, whose 1976 double concept effort, Se Allous Kosmous ('In Other Worlds'), was reissued as a single disc in the States in 1981, making it difficult, until recently, to source the original recording. The full album is a wildly ambitious, folk-influenced effort, whose chief thrust (the concept) is entirely lost on non-Greek speakers, which shouldn't preclude most of us from enjoying the music for what is, particularly when (as on To Panigyri or Xekinisame) it heads off into skirling fiddle territory. The album's lack of overall focus can be irritating, though, as in the shift from the full-on prog of Anazitisi to the rock'n'roll of the first half of Tha Rthei Vrohi.
Someone (Nikos Sakelis?) plays Mellotron on several tracks, with strings on To Dentro, Kalesma and in the background on the title track, strings and choir on Anazitisi and more strings on Tha Rthei Vrohi, Poios Xerei and finally, Finale Chorodiako, although the use is rarely upfront, to be honest. So; do you buy this record? Probably not for the Mellotron, but to hear a unique specimen of mid-'70s Greek folk/psych/prog, that's a yes.
The Pair of Us (1977, 32.11) ***/TT½

Jamboree
Carrigfergus
Kilfenora
James Connelly
Greenflag
Old Brigade
Rivers
Cuanla
Mermaid
Glenside
Current availability:
Mellotron used:
The Irish Brigade (unfortunate name, carrying a whiff of violent republicanism about it) were the ex-pat Limerick duo of Gerry Goodwin and Mike Wallace, who relocated to the States in the mid-'70s, finding a ready audience for their entirely authentic repertoire amongst the descendants of the nineteenth-century diaspora. 1977's The Pair of Us, recorded at a studio in Illinois, is pretty much what you'd expect: an all-acoustic combination of traditional Irish ballads (Carrigfergus, Cuanla) and rebel songs (James Connelly, Old Brigade), indistinguishable from anything you'd hear in a Shannon pub of a Friday night. Do they do it well? As far as I can hear, although I could've done without the IRA references, being old enough to remember their mainland (i.e. UK) bombing campaigns. I'm not sure what's going on with the titles, either; the ones above, from the rear sleeve, appear to be edited versions, so Jamboree is actually Whip Jamboree, Greenflag is Wrap The Green Flag Round Me etc.
Stephen G. Wilcox plays Mellotron, with what sounds like high-end cellos and definite strings on Carrigfergus, lush strings on James Connelly and Rivers and a string part on closer Glenside that actually rides over the guitar and vocals. The band (now based in St Paul, Minnesota, the late Goodwin replaced by Joe Smith) are still going strong, which explains this album's availability on CD, although their website gives no more info. Do you need to hear it? Only if you go for Irish folk without the fiddles and uilleann pipes; perfectly competent, doubtless amazing in a packed Irish pub, but a bit cold on vinyl. Nice Mellotron use, though.
Sun & Steel (1975, 36.26) ***/TT½

Sun and Steel
Lightnin'
Beyond the Milky Way
Free
Scion
Get it Out
I'm Right, I'm Wrong
Watch the World Going By
Scorching Beauty
Current availability:
Mellotron used:
Iron Butterfly reformed in the mid-'70s, having initially split a few years after 1968's groundbreaking In-a-Gadda-da-Vida album and single. By 1975's Sun & Steel, however, they were on an unstoppable downwards trajectory, which was a shame, as instead of the washed-up career-end effort you might expect, it's actually a passable mid-'70s hard rock record. Stronger tracks included the title track, Get It Out and I'm Right, I'm Wrong, although wussy ballads like Beyond The Milky Way tended to let the side down somewhat.
Keys man Bill DeMartines (replacing Howard Reitzes, who played on the previous year's Scorching Beauty) got some Mellotron on the album, with a brief burst of flutes on the opening title track, while I'm Right, I'm Wrong has a scorching strings intro, with more flutes later in the track, oddly alongside real strings. More strings and choir on Watch The World Going By, with a final flurry of strings on what should've been the title track to their previous release, Scorching Beauty, although the strings on Beyond The Milky Way are real.
Well, while no classic, parts of Sun & Steel are fairly decent, with a surprising amount of Mellotron work, largely towards the end of the record. Could've been far worse.
Dismorphophobia (1996, recorded 1971-73, 55.36) ***½/T½

Claustrophobia
Let it Grow
Gonna Be Free
Lightning
Pavement Artist
Loving You
All I Really Need
Take Me Back
Knock 'em Dead
Winter
Strait-Jacket
Rock Band Blues
Real Mean Rocker
Spider's Web
Current availability:
Mellotron used:
I can't say I know an awful lot about Iron Claw; it seems they were a very early-'70s Scottish hard rock band, with Black Sabbath influences, among others, although they also had an unfortunate penchant for 'good-time boogie', or whatever you care to call it. Although they never released anything at the time, they laid down a whole load of tracks; now, this has always confused me. How is it that obscure, penniless bands can record so much material that an hour-long CD can be compiled thirty years hence, when I never managed more than a three-song demo with any of my old bands? How did they afford it in those 'studio or nothing' days?
They did, however, and those excellent Audio Archives folks have given us 55 minutes of Iron Claw at various levels of clarity, with some tracks featuring fairly untenable levels of hiss, although I suppose you take what you can get, really. Incidentally, I've no idea how much say the band had in the title, but Dismorphophobia means 'a disorder where the sufferer is unhappy with aspects of their own body', or somesuch; sounds like a wider-reaching version of anorexia to me, and I've zero idea what relevance it had to their music. Anyway, for the record, track 1 is from 1970, 2-9 from '71 (an aborted album project?), 11-14 from '72 and 10 from '73, although it has to be said that the first half of the album fares better than the second, with disposable efforts such as Rock Band Blues and Real Mean Rocker (ugh!) serving only to dilute the power of Claustrophobia or the Stray-like Let It Grow, although I accept that if you're going to clean up a bunch of old tapes, you should be pretty completist about it.
It's difficult to work out whether the band were a four-piece who added keyboards where necessary, or whether Billy Lyall was a full member who wasn't used on every track, as he adds sax and percussion to some of the keyboardless numbers. Anyway, on the Mellotron front, he provides a strings intro on Pavement Artist, but goes for it properly on All I Really Need, with a strings part throughout, with a cello and strings intro on Take Me Back. Three tracks, all dating from the same period looks like a studio machine to me, although given his cello use, it must've been a new M400, which only came out the previous year.
So; a very archive recording of a primitive hard rock band from the early days of the genre; probably one for completists rather than the casual listener, and not as good as Audio Archives' usual hype would lead you to believe, but also nowhere near as bad as many similar efforts. Three 'Tron tracks, only one of which is at all essential, so you know the drill: pick it up if you see it cheap...
n.b. A very odd piece of information has cropped up regarding Iron Claw... Another early-'70s bunch whose work has appeared on CD in recent years, Antrobus (quite possibly named in honour of the first man to restrict access to Stonehenge, fact fans), are no more or less than the same band! Their CD, Buried Together, includes the four surviving tracks by the Flying Hat Band, who included a pre-Judas Priest Glenn Tipton amongst their ranks. Irritatingly, although fewer Iron Claw/Antrobus tracks are included on this version, they're better quality than on Dismorphophobia. Your choice, I suppose.
Ironweed (US) see: Samples
Silver Lightning From a Black Sky (2007, 40.39) *½/½

The Passionate
New Rising Sun
A Tall Companion
Snakes in the Grass
Anytime, Kid
Hell
Misfits in Love
SÖS
Don't Touch My Brother
Bright Time
Highway of Madness
The Sword
Current availability:
Mellotron used:
Kenneth Ishak used to sing with supposed Norwegian Mellotron users Beezewax, his style apparently changing little for his solo debut, 2007's Silver Lightning From a Black Sky. And that style is...? Insipid indie singer-songwriter guff, frankly. Ishak's at his least bad when crooning mournful ballads (opener Passionate, closer The Sword) and when he approaches Americana (A Tall Companion, Hell), but his toneless voice ruins everything he touches, like King Midas in reverse, to, er, coin a phrase.
Ishak plays Mellotron (as so often, difficult to tell whether or not it's real) with a flute line on A Tall Companion, although that would appear to be your lot. To be honest, this is quite awful; a handful of passable musical ideas are strangled at birth by Ishak's dulcet tones in a way that could only ever be pleasing to those brought up on a diet of utter mediocrity. Avoid.
Isildurs Bane [a.k.a. Sagan om den Irländska Älgen] (1982, 37.17) ***½/½

Sagan om den Irländska Älgen
Overtyr
Saga Eller Verklighet
Ove P.
Sex Minuter
En Vilja Att Leva
Evighetens Visdom
Marlboro Blues
Fredrik
Sea Reflections (1985, 39.25) ***/½

Blizzard
Batseba
Sea Reflections Part I
Sea Reflections Part II
Poseidon
Bilbo
Top Secret - UFO
The Story of Chester & Sylvester
Current availability:
Both titles: Svenska Unikum (Sweden)
Mellotrons used:
Isildurs Bane are a decidedly strange sort of band, spending their first decade constantly changing styles, doubtless confusing the small number of people who knew who they were anyway. Of course, CDs and the Internet have made their music, like so many others', widely available, but it's difficult to know what to recommend, as they've taken several different paths in their career already. The one thing that seems to tie all their different incarnations together is their use of mallet instruments. I saw them in late '98, and they had no less than three different sets of mallets up there (presumably vibraphone, xylophone and marimba), helping to make them one of the most impressive bands of the festival.
Isildurs Bane (later available, retitled Sagan om den Irländska Älgen with Sagan om Ringen on one CD) is a neo-proggish effort, but ends up being better than that sounds. Some of it is quite pastoral, some a little jazzy (not least because of the vibes), and it ends up being really quite listenable, if not exactly wildly exciting. A little Mellotron choir, probably played by Mats Johansson, at the end of Sagen... part 3, Ove P., but not nearly enough to make it worth buying on those grounds alone.
As far as I can work out, despite recording four of Sagan om Ringen's tracks right back in '81, the next album the band actually released was '85's Sea Reflections, and it's immediately obvious they'd moved in a jazzier direction, with much sax and those mallets to the fore again. A couple of 'Tron tracks this time round (I've no idea whether or not the band actually owned a Mellotron, but I rather doubt it); Batseba and Sea Reflections Part II have some faint choirs, but there's only a few seconds in each song. Barely worth mentioning, to be honest.
Isildurs Bane settled down after their mid-'80s jazz period, and are still going now. If you like the sound of their jazz stuff, Sea Reflections and the album with which it's doubled-up on CD, Eight Moments of Eternity, might be your thing, but the rest of you might be better off going for some of their later stuff (Cheval: Volonté de Rocher is particularly good), or maybe the first CD. I wouldn't bother for their minimal 'Tron use, though.
Vapours (2009, 42.23) **½/½

Switched on
No You Don't
Vapours
Devout
Disarming the Car Bomb
Tender Torture
Shining
On Foreigner
Heartbeat
The Drums
Eol
Everything is Under Control
Current availability:
Mellotron used:
Islands formed in Montréal in 2005, working hard and releasing three albums in the space of four years. 2009's Vapours is the latest of these, a pretty ordinary indie/pop effort (actually, all indie is, at heart, pop, isn't it?), albeit with an electronica influence missing from its predecessors, enlivening a few tracks slightly, though unable to lift its overall mood of ennui and torpor.
Nick "Diamonds" Thorburn adds Mellotron flutes to the unpleasantly Autotune-ruined Heartbeat, nowhere near enough to improve the album overall, I'm afraid. So; drippy indie with one (real?) 'Tron track. Maybe not, eh?
See: Samples
Go All the Way (1980, 34.56) ***/T

Go All the Way (Parts 1 & 2)
Say You Will (Parts 1 & 2)
Pass it on (Parts 1 & 2)
Here We Go Again (Parts 1 & 2)
Don't Say Goodnight (it's Time for Love) (Parts 1 & 2)
The Belly Dancer (Parts 1 & 2)
Current availability:
Mellotron used:
The Isleys were well over twenty years into their career by the time they released 1980's Go All the Way; like almost every other soul/r'n'b record of the time, it largely sits in the Disco camp (and I mean camp), every one of its six tracks having two sections, a vocal part (editable into single form) and an instrumental outro (presumably for b-sides). The end result is completely flawless, perfectly-executed dance music, useless to anyone looking for genuine musical content, although I'm sure aficionados would argue that one at length.
Chris Jasper (an Isley brother-in-law) plays keys, presumably including the album's Mellotron work, with pseudo-orchestral strings right through the album's ballad, Don't Say Goodnight (it's Time for Love), although it's hardly worth getting hot'n'bothered about. So; a decent album of its type with one reasonable 'Tron track, assuming that's what you're after.
Iviron (1981, 35.56) ***½/TT

After the Push
Bernie the Faust
Bhairava
Wings of Perception
Part II
Part III
Irish "Madley"
Sister Magic
Tales of Iviron
Ode
Current availability:
Mellotron used:
Do you want obscure? Well, do ya, punk? Iviron are about as unknown as it gets, it seems. I'm only aware of their existence due to the kindness of one of my correspondents (thank you, Wolfgang!) - in fact, I can find precisely two 'Net mentions of it, one of which is an expired auction on Belgian eBay... I think you get the picture. So, what are they like? Well, Iviron is definitely 'progressive' - more so than a great many later 'prog' albums, as the band experiment extensively, no one track on the album really sounding like any other, which is something that just doesn't seem to happen any more. After The Push is a classical guitar/flute duet that turns into a Spanish-sounding piece with tabla backing and the occasional soprano voice, Bernie The Faust is a fiddly unison guitar/bass and vocal thing that picks up the pace halfway through, with operatic interjections, Bhairava is as Indian-influenced as you'd expect, Wings Of Perception is a slower prog thing on Part II (whither Part I?) that turns into jazz on Part III... Get the idea? And I haven't even mentioned the bonkers Irish "Madley" or Sister Magic's sad tale of a transsexual pickup...
Ingo Schleicher-Atanasov plays various guitars, sings and adds Mellotron to a handful of tracks, the only keyboard on the album aside from Robert Säbel's piano, fact fans. It's not over-used, but works well where it is heard, with distant strings on Bernie The Faust, a quiet church organ part on Wings Of Perception, Part II and string chords running right through Ode. To be honest, you're probably not going to find this very easily, unless someone does the decent thing and reissues it at some point, but if you want to hear a rare and unusual prog album with enormously diverse influences, you've come to the right place. Of course, Austria in 1981 probably wasn't a hotbed of progressive activity, so this obscure album is even more to be treasured. I'm not saying it's a classic, but it's very much worth hearing for the progressive aficionado, with some nice Mellotron work to boot.
See: Exciting Café
Ixion (Netherlands) see: Samples
---