---
Memory Muscle (2008, 37.09) ***/½

How Maggie Got Her Bounce Back
I'm Sick
So it Goes
Buckle Up, Baby Doll
Alcoholiday
Digging a Hole
Lemon & Lime
Unwanted Friend
Bienvenido
Lay Low
My Autumn's Done Come
Current availability:
Mellotron used:
2008's Memory Muscle is 'Britpop survivors' Bluetones' vocalist Mark Morriss' first (and to date, only) solo album, giving him a break from their indie thing and allowing him to do something outside the confines of a band setting. Most of its material is slow-paced, almost funereal, and while two or three chirpier numbers give the album a sense of balance, the slow ones tend to work better, notably acoustic opener How Maggie Got Her Bounce Back, the organ-heavy So It Goes and his version of Lee Hazlewood's My Autumn's Done Come.
Gordon Mills adds a little Mellotron flute melody to opener How Maggie Got Her Bounce Back, although that would appear to be it on the 'Tron front. Memory Muscle's a decent enough album of its type, although it's unlikely to excite anyone not already into that indie/singer-songwriter thing.
Alan Morse (US) see: Samples
| | |
| --- | --- |
| Neal Morse (US) see: | |
La Marche des Hommes (1975, 34.08/42.05) ****/TTTT

La Marche des Hommes
Le Pays d'Or
La Cérémonie de Minuit
Cocktail
Une Goutte de Pluie
Qu'est-ce que t'as Compris?
Problème
[CD adds:
Cocktail (disco mix)
Qu'est-ce que t'as Compris? (edit)]
Procréation (1976, 50.50/59.28) ****/TTT½ (TTTT)

Précréation
Qu'est-ce t'es v'nu Faire Ici
Nuage
L'eau Tonne
Des Hauts et des Ha!...
De Tous les Pays du Monde
Procréation
Procréation 1
Procréation 2
Procréation 3
[CD adds:
Punch
Image]
Je Suis le Temps (1977, 37.21) ***½/TTTT

C'est Déjà du Passé
La Réalité
Berceuses
Chevaliers d'un Règne
Picadilly Circus
Sommeil
Je Suis le Temps
Magie de Musique

Code Breaker (1983, 38.23) *½/T

Still on My Mind
Help the Man
Finders Keepers
My Turn
Modern Problems
Tough Times
I'm Not That Kind
Never Grow Old
Hall of Mirrors
Current availability:
Marche/Procréation/Je Suis: ProgQuébec (Canada)
Code Breaker: Unidisc
Mellotrons used:
All titles: band's own M400(s)
Morse Code started out as the slightly more mainstream Morse Code Transmission, releasing two albums in the early '70s, before disappearing for three years. They returned with La Marche des Hommes, and it's a bit of a monster. Mixing Genesis-style prog with a distinct French influence from their homeland, it consists of the classic 11-minute title track, with all the other songs being not only of 'regular' length, but also more straightforward, although still retaining a progressive edge. Every track on this album features Christian Simard's Mellotron (it seems they owned two), with highlights being the title track, Cocktail and Qu'est-ce Que T'as Compris? Strings all round, but with quite unusual chord voicings in places, doubtless inspired by French chanson music as much as progressive rock. The very 'mainstream' sound of Cocktail, incidentally, is entirely due to those enlightened folks at Capitol demanding a 'disco' number. Right... The band duly complied, as it allowed them to record an album of the music they wanted to play. Those wonderful people at ProgQuébec finally reissued these albums in 2007, adding a lengthier remix of Cocktail, and its b-side, an edited Qu'est-ce Que T'as Compris?.
Their follow-up, Procréation, is every bit as good as its predecessor, and over 15 minutes longer, with the magnificent 26-minute title suite taking up the whole of side two. As with La Marche des Hommes, the rest of the material is best described as being in the 'compact progressive' style; shorter songs, but with a prog feel, although L'eau Tonne moves slightly towards the middle of the road, if truth be told. On to Procréation itself; this is superb symphonic progressive, with all the twists and turns you expect from the genre, and a fantastic theme coming in towards the end, with the whole being built along the lines of a lengthier La Marche Des Hommes, this time split into three parts because... they could. And why not? Answers on the back of a Mellotron to the usual address. Preferably a Mark II. Talking of which, although a couple of tracks are 'Tronless this time around, the rest of them feature it pretty heavily, especially the end of De Tous Les Pays Du Monde and the bulk of Procréation. Again, mostly strings, but a cello line or two crops up here and there. Bonus tracks on the CD are two non-album single sides, another disco-ish effort, Punch, and its 'Tron-heavy flip, Image.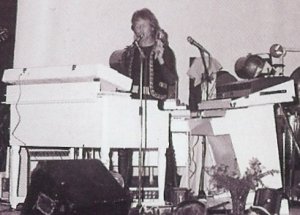 Typically, by '77's Je Suis le Temps, Morse Code followed progressive outfits worldwide in simplifying their approach, although for them this consisted simply of not including an epic, and incorporating a few less interesting bits, although opener C'est Déjà Du Passé is as good as any of the shorter pieces on its two predecessors. While the Mellotron count is slightly down, there's some decent enough strings and cellos on C'est Déjà Du Passé, while the balladic Berceuses features a good chunk of strings over the piano part. The nearest the album gets to a 'Tron classic, though, is the instrumental Picadilly [sic] Circus, with an excellent repeating rising string line leading into a key change. Oh, and for the only time on any of these albums, there's a little 'Tron choir to be heard on Sommeil, along with the more ubiquitous strings, and an excellent part at the end of the title track. OK, it's all over the bloody thing.
Now, until recently, none of these had ever been issued on CD, leaving naught but a compilation, Les Grands Succès de Morse Code. Despite the omission of the classic three-part Procréation, it used to be the only way you were going to track this music down with any ease, and at least it opened with La Marche Des Hommes. Given how much second-rate (and third-, and fourth-...) stuff is available, complete with even ropier 'bonus' tracks of the drummer farting in rehearsal, it's bizarre how long it's taken for these albums to be reissued, and it's taken an indie to do it. ProgQuébec have also reissued the legendary, if Mellotron-free Maneige albums, plus some live recordings. Now, we know Morse Code were recorded for Québecois radio; is the recording still out there somewhere?
There is one more Morse Code Mellotron album... After splitting in the late '70s, following being dropped by their label, the band got back together a few years later, sans Simard, releasing the English-language Code Breaker in 1983. By and large, it's appalling English-language commercial hard rock/AOR slush, with just one vaguely acceptable track in six-minute closer Hall Of Mirrors, although I really wouldn't want you to take that as any sort of recommendation. What Mellotron there is played by Marc Leach, known to his mère as Marc Maheux (the whole band Anglicised their names, presumably in a desperate attempt to appeal internationally), with a few string chords in Tough Times, leaving Hall Of Mirrors (probably unsurprisingly) as the album's only proper 'Tron track, with a repeating and rather screechy pattern of string chords reprised throughout the song. This is a truly horrible album, heavily besmirching a great band's reputation, and I can only urge you to distance yourselves from it with some urgency. Bear in mind these wise words written by Atavachron on ProgArchives: "Code Breaker can best be described as what would happen if Eddie Jobson produced a collaboration between Survivor and Journey". Couldn't have (and didn't) put it better myself.
So; you need La Marche des Hommes and Procréation, and Je Suis le Temps' pretty good, with excellent 'Tron work all round. Buy! I shan't mention Code Breaker again.
Symphonic Holocaust (1998, 57.19) ****½/TTTTT

Apoteosi del Mistero
Threats of Stark Reality
Sequenza Ritmica e Tema
Lullaby
Quiet Drops
Opening Theme
The Photosession
Symphonic Holocaust
[Double LP adds:
Irrealtà di Suoni]
...E Tu Vivrai Nel Terrore (1998, 3.11) ***½/TT½

[Morte Macabre contribute]
Irrealtà di Suoni
Current availability:
Symphonic: Mellotronen (Sweden)
...E Tu Vivrai: Black Widow (Italy)
Mellotron(s) used:
Anekdoten's and/or Landberk's M400s
Morte Macabre are what appears to be a one-off side project from two of Sweden's best progressive groups of the '90s: Anekdoten and Landberk, featuring two members from each band, although Anekdoten's website doesn't rule out the possibility of another collaboration in the future. The guilty parties are Niklas Berg (guitar) and Peter Nordins (drums) from Anekdoten, with Stefan Dimle (bass) and Reine Fiske (guitar) from Landberk. All four members play Mellotron. Yes, all four, with various members chipping in on Rhodes, Moog, Theremin etc.
The concept behind Symphonic Holocaust was to cover various horror film themes in their own inimitable style and on the whole, it works. For horror buffs, the full run-down of what's from where is as follows:
Apoteosi del Mistero: 'City of the Living Dead'
Sequenza Ritmica e Tema: 'The Beyond'
Lullaby: 'Rosemary's Baby'
Quiet Drops: 'Beyond the Darkness'
Opening Theme: 'Cannibal Holocaust'
The Photosession: 'Golden Girls' (not actually a horror flick at all)
Irrealtà di Suoni: 'City of the Living Dead'
Threats Of Stark Reality is the band's own rather disturbing intro to Sequenza Ritmica E Tema and the title track is group-written, presumably inspired by the rest of the album. The track selection was made by Stefan Dimle (Mellotronen label boss, incidentally), who also arranged the pieces. The tracks were obviously carefully chosen for maximum 'gloom factor'; generally speaking, it doesn't get much gloomier than this, with every track except the unaccountably frivolous Opening Theme to 'Cannibal Holocaust' being quite unremittingly dark and minor-key. There's more Mellotron than you can shake a stick at, of course, although it's impossible to work out who plays what and where, although the two guitarists' different styles are pretty easy to spot.
It's actually quite difficult to pick out 'Tron highlights, although both Apoteosi Del Mistero and Sequenza Ritmica E Tema may have the edge on the rest of the album, and Lullaby from 'Rosemary's Baby' is pretty cool, too. The 17-minute Symphonic Holocaust, which sounds largely jammed-out (apologies if I'm wrong) sticks some 'Tron brass in, joining the more standard strings/choir/flutes and possibly cellos splattered bloodily across the disc.
Anyway, what can I say? The music's excellent, the Mellotron more so; an absolute must for progressive and Mellotron fans. Incidentally, there's a double-LP version of the album which adds Irrealtà Di Suoni, from the ...e tu Vivrai Nel Terrore various artists effort released around the same time.
See: Anekdoten | Landberk | ...E tu Vivrai Nel Terrore
Mosaik (1982, 56.15) ***½/½

Återfunnen
Björnstorp
Kirstens Rum
Tiden Bara Går
Önnestad
Ett Oskrivet Blad
Pappa Har Gått Vilse
Re-Båpp
Trio
Mosaik: Gul, Röd, Orange
Current availability:
Mellotron used:
It seems Sweden's Atlas never had a very easy time of it, only releasing one album in their six-year history, 1979's Blå Vardag. Ad Perpetuam Memoriam's mid-'90s CD reissue includes several bonus tracks, including one by the post-Atlas outfit, Mosaik, formed by all of Atlas minus one of their two keyboard players, Björn Nielsen. Mosaik is a surprisingly progressive album for the time, although as Isildurs Bane proved, progressive rock didn't completely die out in Sweden in the '80s, though it really wasn't looking too well for a while. Mosaik's a bit of a mixed bag, going from gentle acoustic opener, Återfunnen, through the piano and sax duet Önnestad to the rather overlong Rhodes and MiniMoog jazz workout Re-Båpp, although overall, the band kept the quality pretty high.
Blå Vardag's CD insert features a small but readable reproduction of Mosaik's rear sleeve (though strangely, not its front), so it's possible to see the individual instrumental credits, proving that the album's only Mellotron piece is the one they chose to include on the Atlas CD, Björnstorp. It's a decent example of an early-'80s progressive song, as against piece, with real flutes and faint 'Tron strings from guitarist Janne Persson, but nothing to get too worked up about, especially as it's already on (an admittedly out of print) CD. The rest of the album's good, but don't go paying big money for this, though it's worth picking up should you be second-hand shopping in Sweden.
See: Atlas
Get Right (1973, 41.45) ***/TT½

Get Right
Here We Go Again
Kiwi Stumble Boogie
Ole Man Trouble
What Kind of Woman Would Do That
Barroom Sweeper
It's a Whole Lot of Fun
Ode to Drugan
All That I've Got (I'm Gonna Give it to You)
Julia's Beautiful Friend
Get Right (reprise)
Current availability:
Mellotron used:
As you've probably gathered from their place on this site, Mose Jones were a band, not a person; discovered by Al Kooper and signed to his Sounds of the South label, they were also instrumental in his signing of Lynyrd Skynyrd, for which they deserve their own little place in history. They debuted with 1973's Get Right, displaying the 'southern' sound that Kooper clearly loved, albeit in a far less 'rock' vein than Skynyrd, taking in soul, r'n'b, blues, boogie and a dozen other related genres, highlights including the energetic It's A Whole Lot Of Fun, the folky Ode To Drugan and the storming Julia's Beautiful Friend.
Guitarist Jimmy O'Neill (as against keys man Steve McRay) plays Mellotron, with background strings parts on Here We Go Again and Ole Man Trouble, more upfront ones on the funky What Kind Of Woman Would Do That and flutes on Ode To Drugan and Julia's Beautiful Friend. In hindsight, you can see why the band's relatively generic sound never broke through to a wider audience, but this is a pretty decent album, its Mellotron usage merely icing on the cake.
Trevor Moss & Hannah-Lou (UK) see: Samples
Clean Modern & Reasonable (2007, 42.36) **½/T

Counting
Celia
Take the L
Only the Lonely
Superstar
Total Control
Danger
Somethings Never Change
Suddenly Last Summer
Shame
Angel
Current availability:
Liberation Music Oz (Australia)
Mellotron used:
Shockingly, the original version of The Motels (The Warfield Foxes) coalesced as early as 1971, with Martha Davis on vocals, although it took a name-change, a split and a reformation (including drummer Brian Glascock, elder brother of now late Carmen/Jethro Tull bassist John) for them to break through in 1979. After splitting in 1987, Davis put a new lineup together a decade later, releasing So the Story Goes in 2005, following up with the Australian-only Clean Modern & Reasonable two years later. Containing mostly acoustic versions of old Motels hits, non-hits and Davis solo material, it's surprising just how few tracks I recognise, as in 'none'; have they been changed out of all recognition, were they never any kind of name in the UK, or am I just being dense? I'm afraid to say, none of it actually grabbed my attention, either; maybe you had to be a fan first time round.
Davis, Nick Johns and Matthew Morgan all play Mellotron, with flutes on Take The L and strings on Superstar, although I don't know if it's supposed to be anywhere else. As you can see, I also deeply distrust its veracity, though not quite enough to hurl it bodily into 'samples'. Frankly, unless you're already a fan, I wouldn't bother anyway.
The People Tree (1995, 66.15) **½/½

Institution Man
Jesse
Stardust Bubblegum
Mister Freedom
Warlocks of the Mind, Part 1
Dragster
Find it in the End
The People Tree
Apple Green
Time of the Future
Saturation 70
Illusions
Warlocks of the Mind, Part 2
A Trip Down Brian Lane
Current availability:
Mellotron used:
Paul Weller's Novatron M400?
Mother Earth appeared in the mid-'90s, fêted as the Next Big Thing for a few short months. Labelled Acid Jazz, they were apparently working in the same area as the James Taylor Quartet (ex-Prisoners organist, guests on the album), with similar heavy (and welcome) reliance on the Hammond, although their soul influences were rather less welcome in some quarters, not least at Planet Mellotron Towers. It's like bloody Weller (who also guests); what's this fascination with Motown and Stax? OK, some cool music at the time, whether or not you like it, but it never sounds right reinterpreted by white Brits, does it? Go on, admit it.
The People Tree was Mother Earth's overlong (note: not overdue) second album, with most tracks well exceeding their natural length (Time Of The Future is an obvious example), rather in the manner of Oasis' contemporaneous (and awful) Be Here Now. It has some nice touches, not least the voice-box guitar running right through Stardust Bubblegum, without once sounding like Peter Frampton, and the oddly Uriah Heep-ish organ on Mister Freedom, although they're relatively few and far between. Santana aren't so much an influence on the presumably ironically-titled Warlocks Of The Mind, Part 1, as source material, right down to the guitar tone, while Dragster's chorus melody rips The Beatles, albeit subtly. Find It In The End could be any one of hundreds of turn-of-the-'70s ex-soul bands who discovered the joys of Rocking Out and the otherwise by-numbers Illusions throws an unexpected neat little 'turn on a sixpence' unison guitar/bass break into its verses. The outrageously lengthy A Trip Down Brian Lane references Yes' manager, for no known reason, the male and female vocalists sounding like the joke's gone straight over their heads while the band jam it out for all they're worth for over ten minutes, sounding as close to Traffic as they're ever going to.
Basically, though, most of this album seems to be an attempt to turn soul, funk and jazz influences into a big, '90s-style hippy-friendly stew, rather missing the mark on most fronts, only really working for your jaded reviewer when they crank the guitars up a bit. Mellotron from Bryn Barklam on the title track, incidentally, with some background flute chords, although the string and woodwind on Jesse sound real. So; Acid Jazz: hot or not? Only you can decide, dear reader; I'd have edited this sprawling mess down to forty mins, TOPS, and shucked off a few of the more obvious influences, but it wasn't my album, so it's as it is.
See: Paul Weller
Back to the Grotto (1993, 60.43) ***½/T

Hey Emilie
Potrero Road
Run Around Me
Chum
Back to the Grotto
This is a Man
Precious Opal
Two Young Queens
Stephanie's for L.A.
The Figure 11
Hot Lunch
Turtle Bones
Part-Timer Goes Full (1995, 57.55) ***/½

Shut the Door
Stoned Up the Road
Mona Lisa and the Last Supper
Poison Oak
Afternoon After Afternoon
Magazine
Are You Breathing?
Pet Foot
Sunshine Feel
Tehachapi Bloodline
Bent Carousel
Showing it All to Bad Marie
Been Lost Once
Trunk Box
Green Hills of Earth (2001, 49.52) ***/TTT

Given for You
Life in the City
Take Us Out
Pull Us All Together
Singing Seems to Ease Me
Protein Sky
Channel Island Girl
Sarah Bellum
Such a Thing
Emotional Gold
Del Mar Station
Rich Little Girl
Smoke
Seaward Son
Current availability:
Grotto: American
Part-Timer: Warner
Green Hills: Munich
Mellotrons used:
The Mother Hips released their debut, Back to the Grotto, in 1993 (or possibly '94; the date seems slightly nebulous), a rather appealing alt./roots rock effort which, although a little overlong, somehow manages not to outstay its welcome too badly. My guess is that, like many debut albums, this is the result of several years' songwriting, distilled and honed to perfection, top tracks including Potrero Road, the title track and The Figure 11, although the disc finishes on a strangely inconclusive note, as Turtle Bones peters out in a rather non-album-closing kind of way. Paul Hoaglin wrote to me some time back to tell me about his session involvement with the band, which on this release consists of a background Mellotron string part that suddenly swells up under the guitar solo on Potrero Road; it's only a shame it wasn't used more.
They followed up with 1995's Part-Timer Goes Full, sitting fairly firmly in the 'alternative rock' non-category, being a bit indie, a bit heavy, a bit pop and probably a bit of several other things. It's not a bad record, but lacks any particularly special songwriting; something of a handicap in their field, I'm afraid. For all that, the playing's good, the songs aren't actually bad and everyone involved seems to be obviously extremely enthusiastic about what they're doing. Hoaglin plays keys right across the album, although there's only any Mellotron on one track, with some barely audible 'violined' string chords on Poison Oak.
Their next Mellotron album was three releases later, 2001's Green Hills of Earth (named for the Robert A. Heinlein short story/anthology, fact fans), but I'm sad to report, it's no more captivating than its predecessor, being another so-so, slightly Americana-influenced 'alt.rock' effort. By far the most interesting thing about the record is its obviously real Mellotron use from Hoaglin once more, plus Greg Loiacono, with strings on the wittily-titled Sarah Bellum, Emotional Gold, Del Mar Station (sounding wonderfully like it was recorded in about 1973) and Rich Little Girl, plus flutes on closer Seaward Son. Well, they made us wait for it, but it was sort-of worth it when we got there.
So; one decent and two barely-OK records, with only one featuring any reasonable amount of Mellotron. Buy only if that 'alternative' thing's your bag.
Grande (2008, recorded 200?-07, 41.18) ***/½

Get That Girl (remix)
Five Stars (live)
Four Walls (new version)
Brain Child
Jaded Little Princess (live)
Meltdown (remix)
Beg Borrow Steal (live)
Moanin
Happiness is a Warm Gun
Let it Go (new version)
Current availability:
Mellotron used:
LA-based Mother Superior have been around since the early '90s, peddling their own particular brand of rock'n'roll, containing elements of '60s garage rock, '70s hard rock and '80s US punk. 2008's Grande isn't actually a new album as such, being a (thankfully not overlong) collection of radio recordings, outtakes and the like, including two brand new tracks, overseen by West Coast guru and Mellotron owner Brian Kehew. This is one of those albums that are a perfectly good listen, but unless you're really into the band's 'thing', its contents are largely going to pass you by, be they the garage punk of Get That Girl and Five Stars, the hard rock of Brain Child and Meltdown or the Americana of Four Walls and closer Let It Go.
Kehew's credited with Mellotron, although the only place it even might be is the background brass on Brain Child. Overall, then, hardly one for Mellotron freaks, although garage rock types should probably give the band a go, assuming you're not already aware of them. Is this a good starting point for them? Probably as good as any.
The Flax of Reverie (2008, 48.56) **½/T

Riverside
The One in Water
The Untouched Dew
Neverbegoodwood
Cauldron
Hypnogogue
Current availability:
Mellotron used:
Mothlite (named in honour of Stan Brakhage's avant-garde 1963 film Mothlight) are the duo of multi-instrumentalist Daniel O'Sullivan (Guapo, Ulver) and Antti Uusamaki, who've released just the one album, 2008's The Flax of Reverie. Er, what? What the hell's a 'flax of reverie'? Anyway, it falls between various stools, those being post-rock (its chief component), various avant- and prog stylings and, er, a smattering of Coldplay, chiefly in the vocal department. It consists of three mid-length and three lengthy tracks, all murmured vocals, doomy piano chords and real strings, alongside various woodwinds. But is it any good? Matter of opinion, I suppose, like everything, really; it has good elements, but I'm not convinced it works as a whole, particularly the dull, overlong Cauldron. Too goth, frankly.
Now: the Mellotron. How, you may ask yourself, can Thompson not know whether or not the machine in question belongs to him? Because, dear reader, Mr. O'Sullivan borrowed my M400 for an evening back in 2005, but I never found out on what album the end results finally appeared. He seemed rather vague about it when questioned on the matter some years later (what is this, a bloody police procedural?), but 'thought it might have been an Æthenor record'. Having listened to three (a tedious task), I can report that it isn't. A false Mellotronic credit on the last Guapo album, Elixirs, led me to believe that Flax... would be the same, but about halfway through closer Hypnogogue, there it is, strings (and background choirs?) blasting away in very real-sounding fashion, not to mention a choppy string part later on that you simply can't do with samples, even though we're presumably talking something recorded at least two years before the rest of the album, then slotted in somehow.
So; rather pretentious, overlong sort-of post-rock, anyone? Don't get me wrong; as with other O'Sullivan projects, I like bits of this album (chiefly the instrumental parts), but it's too long and too diffuse to bear repeated listening. One passable Mellotron track doesn't really make it worth the effort, I'm afraid.
See: Guapo
Electric Baby (1969, 43.27) **½/T

It's Alright
Wedding of the Hundred Brides
What's Your Name
Illusions
Looking in My Eyes
Freedom
Electric Baby
As Long as I Have You
Eliza
Slow Motion
Little Boys Life
Shilly, Shally
Hey Everybody
Chicks
Current availability:
Mellotron used:
The Motions were a Dutch beat group who, like all their contemporaries, had to adapt to changing fashions towards the end of the '60s. 1969's Electric Baby was their sixth album in four years and is... well, a bit of a mess, to be honest. It opens with the cheese-pop of It's Alright, quickly moving through the poppy blues/rock of Wedding Of The Hundred Brides, the music-hall of What's Your Name, while the bluesy Slow Motion features a ripping Hammond solo. Confused? Oh yes... Maybe they were just trying to appeal to everyone, with the obvious danger of that approach.
Presumably either Jan Vennik or Han Cooper play Mellotron, with a swirly, pitchbent string part on the title track, plus what may well be muted brass, although all other string parts are real. Fans of the late '60s psych/hard rock crossover area will find a handful of tracks worth hearing, but for everyone else, I'm afraid Electric Baby's a bit of a waste of time, even with one decent 'Tron track.
Motis (France) see: Samples
Stay Loaded (1994, 39.46) ***/½

The Buddha
The Habit
Straightfaced
Farah
Broken Eyes
Pull the Plug
Uranus
Dual-Active
Truth
Motorolla Blues
Sweet Pearl
Current availability:
Mellotron used:
As far as I can ascertain, North Carolina's Motocaster only made the one album, 1994's Stay Loaded, the raucous contents of which are possibly best illustrated by Motorolla Blues (named for their original, rather corporately-unwise moniker choice) and closer Sweet Pearl, other highpoints including opener The Buddha, the pounding The Habit and the point where Pull The Plug speeds up over the course of a few bars.
Although drummer John Heames' credited Mellotron flutes on Truth are a bit on the shaky side, given that the album's produced by the legendary Mitch Easter, I'd be surprised if they were sampled, which isn't to say that they sound particularly real. Fans of US college rock may find this a little noisy, but Motocaster are a welcome alternative to the serried ranks of noise-by-numbers outfits that plagued the era.
| | |
| --- | --- |
| Motorpsycho (Norway) see: | |
The Gooseberry Sessions & Rarities (2000, recorded 1975-79, 65.00) **½/½

Love Now
Love Me Always
Hey! There, Annie
The Bright Days
!GYP!
Shout it All Out
Leave My Woman Alone
I'll Tell You Something
Did I Dream Last Night?
She Does it
Shout it All Out
I'll Tell You Something
Krazy Kristmas Krackers
Pass the Port, Gramps
The Million Ton Snowflake
Golders Green (Stomp)
The Spook Meets the Kook
Massacre
Let's Rat
'Ave a Maria
Broadstairs Beach
Holmes on the Rage
Current availability:
Mellotron used:
When Ian Hunter left Mott the Hoople, he probably expected them to fold, so it must've come as a surprise to hear that they were carrying on as simply Mott, with Nigel Benjamin on vocals. Amazingly, they managed another two albums, '75's Drive on and the following year's Shouting & Pointing (shades of the post-Jimbo Doors here, albeit without the death), before changing lineup and becoming the entirely average hard-rock-by-numbers British Lions.
Move on to 2005 and those estimable Angel Air folks released The Gooseberry Sessions & Rarities, mopping up the results of various Mott sessions for the faithful, those being 'The Gooseberry Demos' (between Hoople and Mott), 'The Gooseberry Auditions' (Benjamin and guitarist Ray Majors' auditions) and 'Christmas Collection 1976' (self-explanatory). But is any of it any good? I hear you cry. Weeeeell... The two Mott albums used to be second-hand shop staples in London, alongside similarly flaccid efforts by the likes of Bandit (who supplied AC/DC with bassist Cliff Williams) and Widowmaker (featuring ex-Love affair vocalist Steve Ellis), which, it seems to me, was the real reason punk happened; the big bands were untouchable, but the club circuit was clogged up with second-rate hard rock and prog (admittedly, the latter was preferable to the former) and youngsters wanted some excitement. Am I not wrong? Lecture over.
But what of The Gooseberry Sessions? Well, it's all a bit ordinary, truth be told; echoes of Mott's previous glam/hard rock style mixed with the kind of middling rock that was rapidly going out of fashion (largely due to its dullness), with Benjamin's rather faceless vocals to the fore. The occasional moment of excellence slips through (the guitar solo on I'll Tell You Something is worthy of the original band), but it's really all a bit, y'know, average. The oddest track here is easily Golders Green, a ludicrous rewrite of Steeleye Span's Gaudete, but the rest of the Christmas stuff is as much of a waste of time as you'd expect.
So what about the Mellotron, then? Keys man and all-round nutter Morgan Fisher adds a rather screechy string part to The Bright Days, plus a weird, high-pitched, clicky keyboard solo on Shout It All Out, although if it's a Mellotron, I can't imagine what tapes are being used. Overall, collectors only, I think; certainly not worth it for the minimal Mellotron.
Richard Moult (UK) see: Samples
New Skin (2004, 39.16) ***/T

Haywire
Harry Smith's Cats
Night Night
Bell & Howell
Festival of Errors
Fall
Giving Up the Ghost
Gospel Melodica
Still
Freeze Green
The Wake
Current availability:
Mellotron used:
Mount Analog are based around producer Tucker Martine and whoever he wants to work with, it seems, 2004's New Skin (their only album?) adding another nine musicians, including noted NYC avant-gardist Bill Frisell. The album's actually quite difficult to quantify: is it low-fi experimentation? Weird folk? Laptop electronica? All of the above? Suffice to say, 'songs' are notable only by their absence, replaced by 'pieces', utilising various instrumentation to varying effect, Night Night being a sparse piano work, Bell & Howell neo-jazz, Festival Of Errors glitchy electronics... You probably get the idea.
Steve Moore plays (real?) Mellotron, with background strings on Harry Smith's Cats plus flutes (and cellos?) on Bell & Howell, although I suspect all other string sounds are samples or taken direct from other artists' records, as Martine is credited with turntables, amongst many other things. This isn't an album for the Lady Gaga fan in your life (God, that reference is going to look so dated in a few years... Imagine if I'd said 'spice Girls'), and is all the better for it. I'm not sure I really understand where it's coming from, but I'm somehow glad that it goes there, although I couldn't honestly say it's worth it for the Mellotron.
Mt. Desolation (2010, 48.54) **½/T

Departure
Annie Ford
Bridal Gown
State of Our Affairs
Bitter Pill
Another Night on My Side
The 'Midnight Ghost'
Platform 7
My My My
Coming Home
Halo of Fireflies
Current availability:
Mellotron used:
Mt. Desolation are effectively a Keane offshoot, which really doesn't bode well, although their sole album to date, 2010's Mt. Desolation, could, I suppose, be worse (he said, grudgingly). Tim Rice-Oxley and Keane's new bassist, Jesse Quin, are joined by members of The Killers, the horrible Mumford & Sons and others, making a lightweight countryish record that sounds like exactly what it is: country as imagined by nice, middle-class English boys. While nothing here's truly horrible, nor does anything particularly stand out. 'Authentic' this is not.
Rice-Oxley plays Mellotron, with background strings on Bitter Pill and flutes on Another Night On My Side, although (guess what) it's hard to say whether or not it's real. There's a studio session YouTube video on their website (one of those irritating ones that tries to inflict some Quicktime bollocks onto the viewer on every page), which shows three pianos, a CP70 (of course), a Rhodes and a Wurly, plus a harmonium, but no Mellotron. Which means nothing, of course; it might just not've been in shot, or only hired in for a day. Anyway, country music for wispy English indie kids. Not utterly terrible, but not very good, either.
See: Keane
Climbing! (1970, 32.38) ****/½

Mississippi Queen
Theme for an Imaginary Western
Never in My Life
Silver Paper
For Yasgur's Farm
To My Friend
The Laird
Sittin' on a Rainbow
Boys in the Band
Avalanche (1974, 42.10) ***½/T

Whole Lotta Shakin' Goin' on
Sister Justice
Alisan
Swamp Boy
Satisfaction
Thumbsucker
You Better Believe it
I Love to See You Fly
Back Where I Belong
Last of the Sunshine Days
Current availability:
Climbing!: Sony
Avalanche: Castle
Mellotrons used:
Climbing: unknown
Avalanche: band's own M400
Mountain are the subject of one of those weird 'Mellotron myths', to boot, they used 'Tron Hammond tapes. Well, maybe they did, but given that they had a perfectly good Hammond, it seems a little odd; more news if I ever get any sense out of anyone knowledgeable on the subject. There's a smattering of Mellotron on guitarist/mainman Leslie West's solo LP Mountain (confusingly), also a little on Mountain's debut proper, Climbing!. Opening with two of the band's best-loved numbers, Mississippi Queen and Theme For An Imaginary Western, Climbing! sets out the band's style in no uncertain terms, sounding like, effectively, a US replacement for the much-missed Cream. The pressure only lets up occasionally, with the acoustic guitar piece To My Friend and the quiet, if slightly sinister The Laird, before more heaviosity ensues. Two credited 'Tron tracks, played by keys man Steve Knight; it's completely buried in the mix on Theme For An Imaginary Western, sadly, but there's a little brass to be heard on Boys In The Band.
Despite rumours, I can't hear any Mellotron on their classic, '71's Nantucket Sleighride (****½) and they didn't use one again until after their later split and reformation. Avalanche was Mountain's fourth studio effort (and their last until the mid-'80s) and isn't really a patch on Nantucket Sleighride, to be honest, although it's a fairly good hard rock album in its own right. They almost completely rewrite Whole Lotta Shakin' Goin' On, other highlights including the acoustic Alisan and the rather rocking You Better Believe It. The only Mellotron, from bassist Felix Pappalardi, who originally played one when producing Cream back in '68, is on Sister Justice; basically, some nice string chords over the fairly heavy chorus. Pleasant, but inessential.
So; Nantucket Sleighride is the band's classic, Climbing!'s pretty good and while Avalanche isn't a bad album, it's far from their best. One reasonable 'Tron track over two albums, which just isn't enough for me to recommend purchase on those grounds alone.
See: Leslie West | Creation/Felix Pappalardi
The Essence of Mystery (1972, 44.35) ***/T½

The Essence of Mystery
Funky Finger
Crying Angels
Why Can't We Make it
Macrobian
Spring Water
Sunflower
Thank You Lord
Antonia
Current availability:
Mellotron used:
Alphonse Mouzon is a jazz drummer who's worked with Larry Coryell, Miles Davis, Stevie Wonder, Carlos Santana... He's also found time to release a slew of solo albums, of which 1972's fusion-fest The Essence of Mystery was the first, a mixture of jazz, fusion and the R&B of the era, with some fiery playing from all concerned on the jazzier material. Best tracks are probably the title track, the Rhodes-heavy Sunflower and closer Antonia, where Mouzon gets a chance to show off his percussive skills to the max, but as always, that's really down to personal taste.
Mouzon plays the Mellotron himself, with strings and cellos all over the opening title track and strings on Macrobian, used extensively on both tracks. Overall, then, a decent soul/fusion album, should you be into such things; enough great playing to keep jazzers happy, but not quite enough Mellotron for the likes of you and I.
7" (1968) *****/TTT½

Blackberry Way
Something


7" (1969) ***/T

Curly
This Time Tomorrow
Current availability:
On several compilations, including Looking Back... (Music Club) and The Very Best of the Move (Metro)
Mellotrons used:
Both titles: studio MkIIs?
The Move emerged from the early-'60s beat boom as Birmingham's prime contender, led (eventually) by multi-instrumentalist Roy Wood, but as the decade progressed they quickly shifted across to a more interesting area along with many of their contemporaries. Infamous for being the first act played on the fledgling Radio 1 in 1967, by this time The Move had become an excellent psychedelic pop group with several hits which stand up well today. The fifth of these, Blackberry Way, hit the charts in December 1968, reaching No.1 (their only chart-topper) early the following year and is not only a killer song but a minor Mellotron classic, too. The ominous reverb-drenched minor-key ascending string line under the verse finally modulates wonderfully via an intricate bridge into the major-key chorus. There's more 'Tron in the middle-eight, too, before the song shifts back into the last verse. Incidentally, apparently future ELO keyboardist Richard Tandy played harpsichord on the track, although I suspect Roy plays the Mellotron.
Their next hit, Curly reached the charts in July '69, the equivalent of a couple of geological epochs at a time when singles were banged out every two or three months. The recorder-led track is more commercial than Blackberry Way, but still rates way above almost anything else around at the time. There's very little 'Tron on this one; just a few bars of strings in the middle-eight, but it's definitely worth a listen. Having now listened to all three of the band's albums, I can quite categorically state that there's not a jot of Mellotron among the lot of 'em, despite rumours that there was some to be heard on their last effort, Message From the Country (***).
Neither of these singles was included on the band's regular albums, but both are available on a plethora of 'greatest hits' sets; I've got them on Looking back...the Best of The Move, but they're easy to track down, especially Blackberry Way, which is one of those songs which in an ideal world everyone should own. Pity we don't live in one, really...
See: ELO
The Movies (1976, 35.25) **½/T

Dancin' on Ice
Rainy Weather
American Beauty Rose
Satellite Touchdown
Better Wages, Better Days
Empty Room
If I Can Just Get Through Tonight
You Think You're Too Good to Be True
Sugarloo
Would You Believe?
Current availability:
Mellotron used:
The Movies unintentionally confused matters greatly with their name and sole album title, as an identically-monikered British outfit also released an eponymous debut the previous year. The American Movies slot firmly into that now-deeply unfashionable 'piano-led late '70s pop/rock' bracket, like a cross between, say, Supertramp and Billy Joel. The album has its moments, not least cheery opener Dancin' On Ice and the swing-era references in Sugarloo, but overall, it's all a bit bland, I'm afraid.
Michael Morgan plays Mellotron, with a cello line and a string part on Better Wages, Better Days, although the strings on If I Can Just Get Through Tonight and Would You Believe? are real. To absolutely no-one's surprise, this isn't available on CD, or even official download; does this style have any fans these days? Harmless enough, then, with one decent Mellotron track, but not exactly what you'd call exciting.
Wood (1995, 51.21) ***/T

Down From Above
Horseshoes
Fly
The Present Tense Tureen
Poor Mary Lane
On Her Doorstep
Misplaced
It's Too Cold
Bed and Breakfast
Nuits de Rêve
Sad Today
Organ Grinder
Current availability:
Mellotron used:
Nothing to do with Canadian second-division hard rock crew Moxy, Moxy Früvous have been known to say that they picked the name because it was neither memorable, nor meant anything, which is quite admirable in itself. Forming in 1989, partially as an a capella political outfit, they broke through at around the same time as Barenaked Ladies, while being considerably less irritating. 1995's Wood was their second album, largely falling (loosely) into the folk area, the band's massed vocal arrangements bearing comparison with CSN&Y. Better tracks include opener Down From Above, Horseshoes, the jokey, banjo-fuelled The Present Tense Tureen and the very Gallic Nuits De Rêve, but nothing here offends in the way of some of their wackier countrymen.
David Matheson plays Mellotron on Sad Today, with a full, solo flute arrangement at the end of the track, closing the album 'proper', before ridiculous bonus track Organ Grinder. All in all, a very listenable album, providing you're not allergic to acoustic guitars and on/off acerbic lyrics, with one nice Mellotron track, or rather, section.
For Mr. see: Mister
Waiting for My Rocket to Come (2002, 47.40) **/½

You and I Both
I'll Do Anything
The Remedy (I Won't Worry)
Who Needs Shelter
Curbside Prophet
Sleep All Day
Too Much Food
Absolutely Zero
On Love, in Sadness
No Stopping Us
The Boy's Gone
Tonight, Not Again
Randy Jackson's Music Club, Volume 1 (2008)

[Jason contributes]
Something to Believe in
Current availability:
Waiting: Elektra
Randy Jackson's: Dream Merchant
Mellotron used:
It seems that Jason Mraz has only released self-financed live recordings prior to his major label debut, Waiting for My Rocket to Come. Well, I hope they're better than this; bland, 'modern', 'alternative'... Boring covers it, I think. I'm told the lyrics are the most important thing about Mraz' music; I bloody hope so, 'cos the music's dull as ditchwater. He covers a variety of styles, frequently singing those 'half melodies' that seem to be so popular at the moment; you know, a tune that isn't really a tune at all (see: Oasis), and his voice irritates after a few numbers, too. Possibly the most infuriating thing about Waiting for My Rocket to Come is that a few song intros promise something interesting (notably The Boy's Gone), then fail to deliver. Surprisingly, about the best thing here is a rather drippy ballad, Absolutely Zero, but I wouldn't take that as a recommendation, if I were you.
Mellotron on one track, with what sounds like rather tremulous cellos on Who Needs Shelter, from Michael Andrews, though it has to be said that they don't especially enhance the song, being largely inaudible. Anyway, Jason Mraz seems to have all the requisite qualities for success, you know, looks, irritating voice, drippy songs etc., and good luck to him. Just please don't use a Mellotron again, so I never have to hear any more of your tedious music. Thank you.
See: Randy Jackson's Music Club
For Mt. see: Mount
Alert Today Alive Tomorrow (1999, 34.05) ***/½

I Wish I Could Be You
Silly People
Another Ugly Face
Prettier Than Me
Clown
Your Kiss
Numb
I'm Not Around
Blow Your Mind
Room With No View
Dear Liar Love Me
In
Jack Champagne
Current availability:
Mellotron used:
The Muffs are a California-based punk/pop outfit, originally all female, though the rougher sex slowly infiltrated, until by their fourth album, 1999's Alert Today Alive Tomorrow, two of the trio were male, including Redd Kross drummer Roy McDonald, leaving frontwoman Kim Shattuck as the sole original member. The album appears to have been released in at least two different versions, making reviewing it a tad confusing, but I think it's safe to say that whichever version you get, it's going to be stuffed full of decent pop/punk tunes that predate the likes of the tedious Green Day by quite some way, avoiding their sense of 'humour' in the process.
Brian Kehew of Moog Cookbook plays Mellotron, although it only crops up on Dear Liar Love Me, with a rather muted, though nicely played strings intro. Why is it here? Who knows, but don't look a gift-horse in the mouth, eh? So; pop crossed with punk, or vice versa; The Buzzcocks did it over twenty year earlier, as did The Ramones, I suppose, but that doesn't make this less valid. No classic, but decent enough at what it does, with a short but sweet 'Tron part to boot.
See: Redd Kross
Sinfonia Della Luna (1984, 46.05/52.09) ***½/TT

Sinfonia Della Luna
Magical Wand
Venezia
Dance... Romantic
A Parade of the Wonderland
Ballo Della Luna
[CD adds:
Leonardo]

Léda et le Cygne (1986, 44.31) ***½/TTT½

Léda et le Cygne
La Rosa
Salomé
Edmond's Old Mirror
Bluge
Kamira
Pavane pour une Infante Défunte

The Princess of Kingdom Gone (1988, 43.59) ***/T½

The Princess of Kingdom Gone
The Lady of Shalott
Legend of the Forest
Dazzling Ligeia
Black Panther
Trident Rock
Una Donna
Current availability:
Sinfonia Della Luna: Musea (France)
Léda et le Cygne: Spalax (France)/King (Japan)
Princess of Kingdom Gone: Made in Japan (Japan)
Mellotrons used:
All titles: band's own M400?
Mugen are yet another Japanese prog band from the '80s (by no means necessarily a bad thing), with Sinfonia Della Luna being the first of their three releases. I'm afraid I find it a little cheesy in places, with overly 'sweet' synth leads, although no worse than many of their contemporaries, and better than many. There are occasional Genesis comparisons on their debut, like the synth/organ break in Dance... Romantic, or the 12-string work in Leonardo, but most of the album doesn't sound too like anybody else. Ballo Della Luna is excellent, with a lengthy acoustic part kicking things off (so to speak), although the side-long title track is probably overlong, and is one of the worst offenders on the cheese front. Katsuhiko Hayashi uses (presumably) analogue string synth on most tracks, with a rather insipid choir sound, generated from an unknown keyboard, but he gets some 'Tron in on a few tracks. Sinfonia Della Luna itself has a short flute part, well into the song, as does Leonardo, added to the CD release. Venezia goes for a full-on strings part, as does Ballo Della Luna, with a beautiful unaccompanied 'Tron section, bumping its T rating up slightly.
Léda et le Cygne is better than its predecessor, if not quite a four-star effort, although several tracks still manage some of those cheesy synth brass parts beloved of '80s Japanese outfits. The Genesis influence is less obvious this time round, although a few seconds in Salomé are straight out of The Return Of The Giant Hogweed, and a synth arpeggio later on could easily have come from the pen of Mr Banks. Hayashi sticks Mellotron all over the place, with the first sound on the album being a faint 'Tron strings part leading into the title track, with strings and flutes scattered across most of the rest of the album. The choirs on Salomé are distinctly un-'Tronlike, so whatever their tapeframe's third sound is doesn't appear to get used, but there's enough string work to get your Mellotron Aficionado all hot under the collar. Which is nice.
Mugen's third and final album, the frequently-misspelled The Princess of Kingdom Gone, gets a bad rap from many online reviewers, but is near-as-dammit the match of their debut, if not quite as good as its predecessor. OK, it may sound in places like they're running out of ideas, but I've heard an awful lot worse albums, not least a good few from the contemporaneous Japanese scene. Not an awful lot of 'Tron this time round, with merely strings on the title track and strings and flutes on Trident Rock, while all other string parts appear to be generic samples.
So; Sinfonia Della Luna and The Princess of Kingdom Gone are not bad, not brilliant, some decent 'Tron work in places, while Léda et le Cygne is better both musically and for the 'Tron. You know what you have to do.
---