---
Autiobiography (2004, 43.59/51.12) **½/T

Autobiography
Pieces of Me
Shadow
La La
Love Makes the World Go Round
Better Off
Love for Me
Surrender
Unreachable
Nothing New
Giving it All Away
Undiscovered
[bonus tracks:
Harder Everyday
Sorry]
Current availability:
Chamberlin used:
I was expecting Ashlee Simpson to be one of the ten million or so American country divas I've never heard of, so was quite surprised to hear rockin' guitar on the first track of her debut, 2004's Autobiography. The album actually treads a fine line between rock, pop and a hint of country, which is more a description than a recommendation, although I've heard far (far) worse. Saying that, I've heard far better, too; it's about as anodyne as you'd expect of a twenty year-old female singer signed to Geffen, but I suppose people who don't really like music have to have something to listen to, eh?
Patrick Warren does his usual hired hand Chamberlin thing, with (credited) nicely audible string parts on Shadow and closer Undiscovered; nice to actually know for sure where it's used for once... Anyway, all terribly mainstream, but at least it isn't 'R&B' and doesn't obviously use Autotune.
Peace & Love (2000, 68.45) **½/½

Which Way (Intro)
100
A New Jam
When You Go
Summer
Write One This Way
Alone
The Way it Used to Be
Coming Home
The Ballad of Sophie
It Don't Matter
Love's Patience
Peace and Love
Which Way (part 2)
Current availability:
Mellotron used:
Tommy Sims is probably better known for his production and sideman duties as for his singing career; in fact, he's only released the one solo album, 2000's Peace & Love. Far too varied for the mass market, the album throws R&B, soul, jazz, folk and various other styles into the melting pot, although it's broadly categorisable as a soul record; Alone has something of a (Sittin' On) The Dock Of The Bay feel about it, while Coming Home is more early Jacksons, although opener Which Way (Intro) and its closing counterpart have a distinct and unexpected Dylan feel to them.
Phil Madeira plays Mellotron, with flutes on The Ballad Of Sophie, alongside real strings, although I can't detect any other useage. It's a shame Sims hasn't recorded again in the decade since this album's release, as his excellent soul voice and eclectic tastes would be a breath of fresh air in a stultifyingly rigid scene, but then, is anyone interested? He refuses to bow to the lowest common denominator and as such, will never be as successful as he deserves.
For Once in My Life (197?, 33.31) ½/T½

For Once in My Life
Something Beautiful/Through it All
I Could Never Out-Love the Lord
Sheltered in the Arms of God
Redemption Draweth Nigh
I Wish You All Could Know Him
(Like I Know Him)
Ten Thousand Years
I Saw a Man
Because He Lives
The King is Coming
Current availability:
Mellotron used:
Aaarghh! My pal Mark has sent me some more carefully-converted-to-digital thrift-store horrors, including this effort. Peggy Sineath was (and is) a S.Carolina-based 'gospel' singer, who seems to've released an indeterminate number of appalling records on local labels, including the undated For Once in My Life, although, going by the sleeve, I'd guess it's from the mid-to-late '70s. This has to be the nadir of Christian music of the era; unbelievably slushy, MOR slop, with zero connection to anything resembling black gospel music. This is a stern, joyless drudge of an album, Sineath's respectable but anonymous voice warbling its way through ten funereal grinds, making the whole worship business sound as much fun as an invitation to your own funeral. Funny, that. Maybe the happy-clappies got it right after all? Worst track? The King Is Coming starts with a bright fanfare (best moment), before slumping back into the album's default slough of despond, overlaid with some truly vile lyrics.
Instrumentally speaking, it's exactly what you'd expect: tinkly piano, tea-dance strings and tippy-tappy percussion, with some particularly obnoxious harp playing on Something Beautiful/Through It All. Otis Forrest is credited with Mellotron, playing pseudo-orchestral strings on Something Beautiful/Through It All, I Could Never Out-Love The Lord, Sheltered In The Arms Of God (Christ, these titles!) and Ten Thousand Years, with real strings elsewhere. The choir on Redemption Draweth Nigh sound a little peculiar, but as Mark says, it sounds more like a real choir 'sounding like a Mellotron' than the real (?) thing. Incidentally, sleevenote author the Rev. Jay Snell (Pastor) could have done with learning how to spell before he opted to splatter his purple prose all over the back of the sleeve: " She looses herself in her presentation..." Looses, Rev.? Absolutely, totally appalling.
The Joy of Sing-Sing (2001, 53.14) **½/0

Everything
Tegan
I'll Be
Me and My Friend
Far Away From Love
Panda Eyes
Command
Feels Like Summer
Emigré
You Don't Know
Underage
I Can See You
Current availability:
Mellotron used:
I've seen Sing-Sing described as 'dream pop', which seems as good a description as any for their rather fey indie stylings. Essentially the duo of vocalist Lisa O'Neill and ex-Lush vocalist/guitarist Emma Anderson, they recorded a mere two albums in their decade together, the first being 2001's The Joy of Sing-Sing. It is, frankly, pretty wet, although I'm sure it sounds exactly as it's meant to; I think you've really got to be into the limper end of British indie to get anything much out of this...
Producer Mark Van Hoen supposedly plays Mellotron, along with stacks of great synths (and a DX-7), with many excellent synthpop-era sounds cropping up. Unfortunately, the Mellotron is essentially inaudible; I thought I spotted some strings on Underage, but they turned out to be real. So; despite a couple of better tracks (notably closer I Can See You), this is a rather drab album, although indie fans probably love it to bits. No obvious Mellotron, either, so maybe not.
The Singing Saints Quartet (197?, 30.19) *½/T½

Beyond Tomorrow
Don't Try to Tell Me God is Dead
Lighthouse
He's Living in My Soul
He Looked Beyond My Faults (and
Saw My Needs)
Time Has Made a Change
I'll Be in the Rapture
He Did it All for Me
I'm Founded on the Rock
Most of All
Heaven is Awaiting
I'll Soon Be Gone
On the Jericho Road
Current availability:
Mellotron used: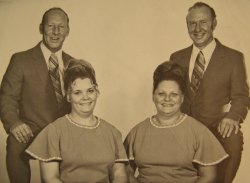 I can tell you next to nothing about The Singing Saints Quartet (right, terrifyingly), which makes me wonder whether their eponymous album was their sole recording. We can but hope. Unlike many similar, at least this bunch sound like they're enjoying themselves in places, even though their hideously out-of-tune harmonies seem to be a characteristic of this kind of stuff; you know, someone's sainted godliness is rather more important than the unimportant ability, as a member of a singing group, to sing in fucking tune.
'Not quite as bad as some other stuff' doesn't make the undated The Singing Saints Quartet any better in real terms; only relatively. The more upbeat material can at least claim some distant relationship to 'gospel', but it's pretty distant. I'm having trouble commenting on the material at all; the oddly-titled Don't Try To Tell Me God Is Dead made me laugh; 'dead' has nothing to do with it - try 'never existed' and you might be getting closer. Multi-instrumentalist Mel(vin) Pierce (Jerry Cline) opts to play sitar on a couple of tracks (notably on Time Has Made A Change), for no obviously good reason, but that's about it. Incidentally, has anyone else noticed a strong narcissistic streak running through not only this album, but the entire genre?: 'I' this, 'I' that... What about other people, you fucking solipsists?
Pierce plays either his own or the label/studio's Mellotron, with pervasive-yet-strangely-empty string parts on opener Beyond Tomorrow, Lighthouse, He Looked Beyond My Faults (And Saw My Needs), He Did It All For Me and Heaven Is Awaiting. More narcissism, then. Possibly the funniest thing about this album, even better than the horrible harmonies or That Picture, is the last sentence of Pastor Don Grice's sleevenotes: "Take this album, play it for your unsaved friends [you're allowed any?] and they too can experience the Joy [note capitalisation] of Christ through singing." That'll make all the difference, eh? Priceless!
Aurum Nostrum (1997, 58.49) ****/TTT½

Snålblåst
Manuel
Ågren
Ättestupan
Live at Progfest '97/Aurum Nostrum, Version 1 (1998, studio tracks recorded 1996, 75.07/60.33) ***½/TTTT / ****/TTTT

(Spoken Introduction)
Manuel
Ågren
Jag, Änglamarks Bane
Snålblåst
Ättestupan
Snålblåst
Manuel
Ågren
Ättestupan
Cirkus (1999, 47.30) ****½/TTTT

Jag, Änglamarks Bane
Positivhalaren
Kakafonia
Valkyria
Ulv i Fårakläder

Kalevala: A Finnish Progressive Rock Epic (2003, 5.43) ****/TT½

[Sinkadus contribute]
Trubadurens Kval

The Colossus of Rhodes: The 7th Progressive Rock Wonder (2005, 23.13) ****/TTT½

[Sinkadus contribute]
God of Silence

Dante's Inferno: the Divine Comedy, Part I (2008, 6.44) ***½/TT½

[Sinkadus contribute]
Stuck in Hell
Current availability:
Aurum Nostrum/Progfest/Cirkus: Cyclops (UK)
Kalevala/Colossus/Dante: Musea (France)
Mellotrons used:
All titles: borrowed M400s?
The first the world heard of Sinkadus was a demo version of Manuel on the Third Cyclops Sampler from '96, which made one comparison unavoidable: Änglagård. Their website says the band formed in 1991 and while I don't dispute this, I have difficulty with the concept that they came up with an almost identical sound to Änglagård's without hearing them, reinforced by the fact that it took them five years longer to release their debut album. They make all the same compositional and instrumental moves, with nowt but analogue gear, playing lengthy 'linear' pieces with little repetition, although (Swedish language) vocals are slightly more prominent.
However, given the constraints they seem to have set themselves, they do a pretty decent job, only with less invention and lesser musicianship than their erstwhile mentors. All four pieces on '97's Aurum Nostrum have great moments, particularly Manuel (possibly their best song?), but these are tied together with a little too much, er, 'arrangement', rather than melody, especially on Ättestupan, which does, to be honest, drag a little. They certainly make all the right moves, but the end result is slightly unsatisfying, making you wish they'd spread their ideas a little less thinly, making a shorter, but tighter album. For all that, it's a damn' good record; it just isn't very original, even within the rarefied prog world where, as in so many genres, a change that would appear infinitesimal from the outside assumes major significance and often precipitates the conception (pun intended) of a whole new sub-genre. However, it knocks seven shades of unholy shite out of the likes of Pendragon, so that's quite enough sniping, thank you.
There is, of course, more of Fredrik Karlsson's (borrowed, though I don't know from whom) Mellotron than you can shake a stick at; pretty much all strings and choir, but used effectively and tastefully, along with the other analogue keys on offer (no Manticore-style digital unpleasantness here), mostly organ with a bit of string synth here and there. Incidentally, the band featured both a flautist and a cellist, both female, though sadly, both have now left, taking some of the band's vocal and instrumental diversity with them. I actually find it quite difficult to pinpoint any major 'Tron moments; suffice to say, there's a lot of it about. 'Troniacs will not be disappointed.
Sinkadus played LA's Progfest the same year, with Malcolm Parker at Cyclops (their European label) releasing the recording of the event as Live at Progfest '97 the following year, packaged with a bonus disc entitled Aurum Nostrum, Version 1 (recorded mere months before the 'official' version), containing that original version of Manuel, 'Tron to the fore. The trouble with putting out a live recording this early in a band's career (see: Spock's Beard) is their lack of material, usually resulting in a run-through of their sole album with a new track or two thrown in. Well, that's exactly what you get here, although at least they changed the album's track order around. The album has a great sound, very 'in your face', with the standard Progfest vintage keyboards to the fore. It's certainly a very 'live' document, with occasional dodgy musicianship, but it makes up for that with a real energy lacking in their studio work. Unsurprisingly, Sinkadus play the Aurum Nostrum versions of the tracks, so slightly less Mellotron than on the original demos, but still enough to earn the much-coveted 'Mellotron-drenched' award.
The trouble with Aurum Nostrum, Version 1 is that, without knowing an album fairly intimately, it's usually difficult to spot the differences in a slightly different version, so apart from the extra added Mellotron in Manuel, I'm really not sure what differentiates it from the official version. Mind you, every track on this version is slightly longer, though they may just be slower, of course. Unsurprisingly, the tracks sound less 'polished', but what they lose in sound quality, I'd say they gain in passion and all-round rawness. I prefer this version to the finished article, personally, but it's horses for courses on this one. There seems to be a little more 'Tron, too, though I refer you to my remark above re. how well you know an album.
'99's Cirkus is an improvement on their debut compositionally, although there's no one highlight like Manuel. Track lengths are noticeably shorter all round, which is probably a good thing, with the compositions avoiding the extraneous faff that marred some of the Aurum Nostrum material. The songs are definitely melodically stronger, with better structure, and less obviously Änglagård-influenced, although they're still pretty close, to be honest. The Mellotron work is more upfront this time, with flutes used here and there, sometimes under Linda Ågren's real one, and is that 'Tron brass on Kakafonia? Anyway, more 'Tron, more to the front of the mix, so no complaints whatsoever.
It's hard to know which of the three versions of Aurum Nostrum to recommend, to be honest. Version 1 is the rawest, the official version's more polished, and the live version is, er, livelier; you pays yer money and yer takes yer choice. Or something. I don't actually know whether the live album ever appeared minus Version 1, but the latter is definitely unavailable without the former. This is a bit crap of me, really, 'cos a large part of the reviewing process is recommendation, and I honestly can't say which you should go for. At the end of the day, the offical version's probably easier to find, so maybe you should just go with that. Cirkus is probably the better album, but I'd say the committed progger should buy both, for both music and Mellotron.
By the way, one small gripe. Chaps: Please lose that dodgy 'elf' graphic that's splattered all over your CD booklets and website - it just fuels the 'bloody hobbits' variety of anti-progressive sentiment. Take a(nother) leaf from Änglagård's book and use understated and tasteful artwork. You know it makes sense. Stop press: Sad to say, in early 2003 I heard that the band had quietly knocked it on the head, though whether it was due to their inability to find suitable replacements for their departed members or not is unknown. Stop stop press: So how exactly does that fit in with their contributions to Musea's Kalevala and Colossus of Rhodes multi-artist projects? The former is from '03, and they could conceivably have recorded their track before they split, but the latter dates from '05. Are they still together, but only as a studio project? Both tracks only seem to have the standard vocal/guitar/bass/keys/drums lineup, so it's possible the four remaining members could have done them... Anyway, two excellent efforts, pretty much the best thing on each album, with plenty of Mellotron to boot. Try to hear them.
Here's the band at that Progfest appearance.
See: Colossus Project
The Enchanter Persuaded (2003, 50.09) ****/TTT

Dwarf Reaching the Arch Wonder
Naro Way
Through the Valley
The Wicker Chair
Sundown in the New Arcades (Milky Way Echo)
Evil Ball
Current availability:
Mellotron used:
Sinoia Caves (named for a formation in Zimbabwe) are a Black Mountain side-project; effectively Jeremy Schmidt solo, in fact. The Enchanter Persuaded is no more or less an electronic album, at heart, although it utilises Floydian drones (spot the Echoes 'pings' in Sundown In The New Arcades) alongside the Tangsesque synths and yes, Schmidt is an analogue nut, claiming to own 'no modern gear at all', which is pretty hardcore, even by my standards. Track lengths vary wildly; two are under three minutes, while another two top the quarter hour, although all share an instrumental commonality.
Mellotron on several tracks, with choirs on opener Dwarf Reaching The Arch Wonder, strings and choir on Through The Valley, full-on phased strings and a choir melody part on The Wicker Chair and choir stabs and strings on closer Evil Ball, although three of those are on short(er) tracks. All in all, then, a fine electronic album that avoids all the usual EM clichés while getting a load of real 'Tron in there. Result!
See: Black Mountain
Fortress (2000, 58.11) **/½

Change Your Mind
Backporch
Thank You
Champagne High
Beautiful Thing
Surreal
Shame on Me
Your Winter
Strange Cup of Tea
Save Me
Give in
Out There
Elvis
Fortress
Current availability:
Mellotron used:
It took me until the last track on Sister Hazel's tedious Fortress to pin down where I'd previously heard their style: Counting Crows. Yup, the same vapid, empty, scene-stealing bombast allied to a kind of fake Americana, full of pointless anthemic nonsense. So: tell it like it is. Say what you think. Don't beat around the bush. I tried, you know, I tried... I failed. This is rubbish. I've heard worse, which is why it doesn't get an ever lower rating, but fourteen bloody songs of this were enough to well and truly grind me down. Had the album only contained eight tracks, I mightn't have found it quite so relentlessly awful, but it doesn't.
Kim Bullard and Jamie Muhoberac both play Mellotron, allegedly, but the only places it even might be are the strings on Shame On Me and Your Winter. So; not good. Not good at all. Very little Mellotron. Don't.
Sithonia (Italy) see: Samples
Sixpence None the Richer (1997, 47.51/50.33) **/½

We Have Forgotten
Anything
The Waiting Room
Kiss Me
Easy to Ignore
Puedo Escribir
I Can't Catch You
The Lines Of My Earth
Sister, Mother
I Won't Stay Long
Love
Moving On
[Later copies add:
There She Goes]
Divine Discontent (2002, 55.10) **/T

Breathe Your Name
Tonight
Down and Out of Time
Don't Dream it's Over
Waiting on the Sun
Still Burning
Melody of You
Paralyzed
I've Been Waiting
Eyes Wide Open
Dizzy
Tension is a Passing Note
A Million Parachutes
Christmas in Heaven (1996) ***/T

[Sixpence None the Richer contribute]
You're a Mean One, Mr. Grinch
Current availability:
Sixpence: Myrrh (US)
Divine: Reprise/Squint
Heaven: Flying Tart
Mellotron used:
Sixpence...: John Mark Painter's M400?
Divine Discontent: unknown
Sixpence None the Richer is said band's third album proper, and I have to say, a right load of wussy old crud it is, too. They don't help themselves in my book by being Christians - y'know, I don't bleat on to you about what I believe (or don't); do me the same courtesy. The first two tracks actually sound they could be a continuation of each other, they're that similar - same key, tempo, feel... I don't know how God-bothering this record actually is; I caught a lyrical reference to a 'burning bush', so the omens aren't good, but it's far from being the most offensive thing about it, beaten hollow by their general tediousness and Leigh Nash's irritating, whiny voice. Mellotron flutes on Anything from Mellotron Player To The Christian Community, John Mark Painter, alongside real strings. Anyway, I'm highly amused to see their cover of the La's There She Goes on later copies of the album; I mean, haven't they read the fucking lyrics? Speaking of which, I was force-fed UK radio station Virgin Radio on a job I was on recently, and was exceedingly amused to be played, all in one day, the Stranglers' Golden Brown, The Chilis' Under The Bridge and There She Goes. "Good morning, and today is heroin chic day on Virgin Radio!" Fantastic. All they missed was Waiting For The Man.
For some unknown reason, it took Sixpence etc. (who got their name from a C.S. Lewis book about being a God-botherer, apparently. Yeah, another one) five years to come up with another album, Divine Discontent; well, it wouldn't have been drug addiction, would it? Maybe that was why they covered There She Goes... Conspiracies? We gottem. Anyway, more slushy shite; they manage to bugger up Crowded House's sublime Don't Dream It's Over, simply by playing it in their usual style. I mean, where's the bloody Hammond solo, you tossers? Drivel. Couple of less awful tracks in Melody Of You and Paralyzed, but it's like polishing turds, really. Mellotron this time from Jerry Dale McFadden, with a passable flute part on Waiting On The Sun.
So; do NOT buy these records; they're shite. Y'know, these days, I seem to've lost what little tolerance I had for crud; I just can't be arsed any more. Why bother being nice? Call a spade a fucking shovel, then beat them to death with it. Shitehawks. Very little Mellotron, either (he says, vainly attempting to get back on course for a moment). I hope I never have to hear this band again. Ever.
Skafish (1980, 35.01) ***½/TTT

Joan Fan Club
Maybe One Time
Obsessions of You
We'll See a Psychiatrist
Romantic Lessons
Work Song
Guardian Angel
Disgracing the Family Name
No Liberation Here
Take it Out on You
Urgh! A Music War (1981) ***½/TT

[Skafish contributes]
Sign of the Cross
Current availability:
Mellotrons used:
The frankly bizarre Jim Skafish and cohorts burst out of Chicago in 1976, stunning (and frequently repelling) audiences wherever they played, while managing to pick up both critical acclaim and a growing fanbase of similarly alienated weirdos. It took them until 1980 to release their debut, Skafish, and a rather strange album it is, too, the nearest description I can find for it being 'symphonic new wave', which is actually an awful lot better than it sounds. There's considerable musical variety to be found amongst its grooves, with jerky and disturbing opener Joan Fan Club followed by the near-prog of Maybe One Time, with doowop pastiche, show tunes and up-to-the-minute noo wave all vying for space amongst the grooves, usually all in the same song.
Keyboardist Javier Cruz and Skafish himself almost makes the album single-(double-?)handedly, adding a sheen of professionalism to every track, with great piano and Clavinet work mixed with contemporary polysynth sounds and, of course, a Mellotron. Half the album is graced with its presence, with string parts on Obsessions Of You, Romantic Lessons and No Liberation Here, with weird, phased choirs on We'll See A Psychiatrist. However, the album's full-on 'Tron classic is Maybe One Time, with a near-as-dammit prog string part, probably emanating more from the band's theatrical background than its musical one.
Skafish released one more album on IRS, with a couple of independent cassettes appearing subsequently. He's paid the price for being original, though, being now largely forgotten, although I remember the fuss the British music press made of (or about) him at the time. Do yourself a favour; if quirky, original music sounds like it might just be your thing, try to find a second-hand copy of this, and luxuriate in its eclecticism, not to mention its excellent Mellotron work.
Incidentally, there's one more Skafish 'Tron track available (I use the term loosely); a live recording of Sign Of The Cross was available on Urgh! A Music War, an IRS label sampler released in 1981; worth hearing if you can find a copy. Here's the clip from the film, M400 occasionally visible.
See: Urgh! A Music War
Let Come What May (2008, 37.45) ***½/T

Let Come What May
Killing Time
Run From My Mind
Mural War
Mother
She's Mine
Colorblind
Rising Sun
Pardon My Kicking Your Ass
Current availability:
Mellotron used:
I'll be quite honest here and say I have little knowledge of the US ska-punk scene. I've heard the dullsville No Doubt (well, any band who could foist the blandola Gwen Stefani on the world...), but the rest of the scene remains a mystery to me. Anyway, the nice chaps from Skamasutra (great name) have sent me their debut album, Let Come What May, containing not only some real 'Tron, but a brief burst of ye olde Taurus pedals, too. So, wossit like? Well, nothing like Madness or The Specials, that's for sure. If you haven't heard this stuff before, imagine a ska outfit whose guitarist whacks the distortion on and goes for the full punk/metal riffing thing, usually for the chorus, while the rest of the band carry on as before, with plenty of brass filling in the gaps, in this case, alto/baritone sax and trombone. Lyrically, the band come from the 'life lesson' school; being messed about by unfaithful women (Killing Time, She's Mine), growing up (the fiery title track), war and racism ((Mural War, Colorblind), with reasonable musical variety keeping things interesting.
Vocalist/trombonist Nick Gilbert plays keyboards on a couple of tracks, including Mellotron, with a few choir chords at the beginning of Run From My Mind, and some more at the close of their 'prog epic', Rising Sun, along with those bass pedals, although the wobbly flute-ish sound at the beginning of the song is the credited Korg synth (model unknown). So; while you're not going to go out to buy this for its Mellotron content, if you have any interest in high-energy contemporary music with a bit of thought put into it, you could do an awful lot worse than Let Come What May. Nice one, chaps; let's hope you can keep the momentum up for your next effort.
Hardt Regn (2009, 40.19) ***/0

Vår Bør
Kom Hell
Løgnprofitør
Det Tar Tid
O Desverre
Feil
Trygge Rammer
Slukk Meg (for Eg Brenner)
Malin
Når du Ber Din Nød
Tanker Som Mareritt
Current availability:
Mellotron used:
Skambankt apparently started out as a muck-about kind of band, taking a decade to decide to make a proper go of it. 2009's Hardt Regn is their third album, in a solid '70s hard rock (note: not heavy metal) vein, albeit sung in Norwegian; while perfectly acceptable (and vastly better than the hordes of modern metal drivel), it's disappointing in comparison to the '70s greats, but then, what isn't?
Christer Knutsen supposedly plays Mellotron on O Desverre, but it's anyone's guess as to what he's playing, as the 'choirs' seem to be no more than the band singing 'aahs' in unison. So; heard worse, heard better, no appreciable Mellotron use.
7" (1975) **½/T½

Hold on to Love
Too Much, I'm in Love
Current availability:
Both tracks: various compilations, including The Very Best of Peter Skellern: Spectrum Audio
Mellotron used:
I met Peter Skellern a couple of times in the mid-'80s: he was one of two keyboard players in a pick-up band a well-connected friend of mine put together for a couple of gigs, the other being Gentle Giant's Kerry Minnear, who played my MiniMoog as I've never seen it played, before or since. Sadly, Skellern came across as a bit of a miserable bugger, although everyone else involved was really friendly; maybe he didn't really want to be there. Of course, he played Hold On To Love, also re-recording it for the band's four-song demo, presumably now that strange thing, a rarity of a rather uncollectable artist.

I've always been under the impression that it was also the title track of Skellern's album of the same name (right), but although that's technically correct, it turns out that the long-player's actually a compilation chucked out by Decca, the label he was leaving for Island. It seems Decca never quite knew what to do with Skellern, a man as happy writing comic songs as serious ones, even though his preferred oeuvre was material that sounded like it hailed from another era, which should've fitted in pretty well with the label's rather dated approach. The album contained tracks from his debut, 1972's She's a Lady and '74's ...Not Without a Friend (though nothing from Holding My Own, a jokey effort from later the same year), plus single-only tracks, not least both sides of his second and last chart-botherer from earlier that year.
Hold On To Love itself is a memorable, laid-back, Rhodes-driven piece that got to no.14 in the UK in March '75, still very recognisable well over three decades later. I wasn't sure on an initial (re-)listen, but the track's high string line is definitely a Mellotron, ditto the part running right through the flip, Too Much, I'm In Love. Do you need to hear either of these tracks? Depends on how much you revere mid-'70s easy-listening pop, I suppose. The Mellotron is played and EQ'd to sound as much like real strings as possible (budgetary restrictions, no doubt), so we're not exactly talking 'lost Mellotron classic' here. Pleasant, but unremarkable.
See: Cliff Richard
Skies of America (US) see: Samples
Fake Chemical State (2006, 35.54) **½/½

Alone in My Room
She's on
Movin'
Just Let the Sun in
Purple
Don't Need a Reason
Nothing But
Take on Me
Fooling Yourself
Falling for You
Current availability:
Mellotron used:
Deborah Anne "Skin" Dyer, ex-Skunk Anansie, embarked on a solo career after the band split (they've now tentatively reformed), 2006's Fake Chemical State being her second (and latest, to date) release. It's an odd mixture of almost-punk and commercial hard rock, certainly more commercial than I believe Skunk Anansie ever were. The punkier tracks (opener Alone In My Room, She's On) work better than the poppy stuff (Purple, Don't Need A Reason) or the slushy ballads (Nothing But, closer Falling For You), but none of it's that great, frankly.
Linda Perry (4 Non Blondes, a million productions) plays credited Mellotron, with background strings on Nothing But. Overall, one to keep Ms Dyer's fans happy, but not something that's really going to excite the public at large, I fear. Hardly any Mellotron, either.
Skin Alley (1969, 41.55) ***½/T½

Living in Sin
Tell Me
Mother Please Help Your Child
Marsha
Country Aire
All Alone
Night Time
Concerto Grosso (Take Heed)
(Going Down the) Highway
Current availability:
Mellotron used:
Skin Alley's eponymous debut used to be available only as part of a 2-on-1 CD with its follow-up, To Pagham and Beyond, with a track missing, but has subsequently been issued in its own right. It's a reasonably good, jazzy progressive album that usually gets missed out when the roots of prog are discussed although, unlike its more-heralded contemporaries, it hasn't aged that well, to be honest. There's only two Mellotron tracks, played by Krzysztaf-Henryk Juskiewicz and Thomas Crimble; Tell Me has some upfront MkII strings and brass, while Night Time has some more background strings, but that would appear to be that.
It's rumoured that their fourth and last effort, Skin Tight, has some Mellotronic input, but not only does it not seem to be credited, but nothing's audible, either, so scrap that one. Bizarrely, this album and its predecessor, Two Quid Deal, were released in the States by Stax (!), who presumably sold next to no copies of either. So; Skin Alley: OK album, OK 'Tron, nothing special. Your choice.
Snake Charming Music (2009, 40.15) ****/TTT

Intro
Astral Ars
Rapture
Snake Charming Music No.1
Outtro
Castle Green
Amongst Clouds
Duhova Mačka
Recluse
Snake Charming Music No.2
Falls Cut (2010, 48.17) ****/TTT½

March of Falls Cut
New Jerusalem
Fairhope Suite
Dance of the Crackle King
Rydza Bryndza
Weis Et. No.15
Hallucinations for Ensemble
Wills Creek
Current availability:
Both titles: Analog Glass House (US)
Mellotrons used:
Both titles: borrowed M400
Sklenik (hothouse, or glasshouse, in Czech and associated languages) are a current US instrumental progressive trio, dedicated to the almost lost art of keeping it analog(ue); the pictures on their website show a Hammond C3 (not the more common-in-the-States B) topped with ARPs Osyssey and Axxe, a Farfisa and what looks like a 'poor man's Moog', a Realistic MG-1. What's more, guitarist Jamie (J.P.) Kožuško doubles on electric bassoon, which has to be the coolest 'unusual instrumental credit' I've seen in a while.
Their second album, 2009's Snake Charming Music, is an intriguing combination of synth-heavy progressive, more readily identifiable symphonic styles and even (very briefly) prog metal on Recluse, albeit more in a '70s way than a '90s one. Best tracks? Hard to say, although the ten-minute Astral Ars stands out on an initial listen. Keys man Andy Legler plays a borrowed M400, with bursts of choir towards the end of Astral Ars, strings and choir on Outtro, with a more major string part and more choirs on Castle Green, flutes and solo strings on Amongst Clouds and strings on Recluse to finish things off nicely.
Sklenik quickly followed up with 2010's Falls Cut, every bit as good as its predecessor; fast work by most bands' standards these days. Again, a mixture of progressive styles, the lengthy New Jerusalem coming across vaguely like an instrumental Uriah Heep, with a slightly medieval feel to some of the tracks. More Mellotron than before, with major choir use on opener March Of Falls Cut, strings in New Jersusalem's quiet section, heavily-reverbed flutes on Fairhope Suite, with strings and choirs later on, choirs on Weis Et. No.15, little choir swells on Hallucinations For Ensemble and more choirs on closer Wills Creek.
Never mind the Mellotron, listen to the music! Sklenik are one of the best new progressive bands I've heard in a while and with their DIY ethos, there's no reason they can't go on producing music of this quality for as long as they'd like. Seemingly only available from their website (come on, lads, CD Baby!), these are both well worth hearing for a breath of fresh air in a foetid, overcrowded and under-talented progressive scene.
A Return to the Inner Experience (1994, 70.03) ***/T

Walla Walla
Moving Like Water
Gone
Circus Church
2000 Light Years From Home
When the Fear Stops
Lay Down Your Head
Rain
Ocean Which Humanity is
Broken Down
Rosaleen
Buss to Gate 23
Joey's Aria
We Will Fall
Moonbathing on Sleeping Leaves (1996, 73.46) ***½/T

Breathe in
An Ant, the Stars, an Owl and its Prey
Moonbathing
Grey Eyes
Queen of the Slug Theater
Ringing
Smoke Break
Want
The Headless Man (Another Song)
Sister
Deep River
Gliding
Nowhere
Insectoria
Current availability:
Return: World Domination (still in print?)
Moonbathing: Warner Bros (still in print?)
Mellotrons used:
How to describe the Hendrix-paraphrasing Sky Cries Mary? Psychedelic dance indie? They seem to have elements of all those genres on '94's A Return to the Inner Experience, for better or worse, although ultimately, they become mired in the 'indie' part of the equation, at least to my ears, making a 70-minute album a good half hour too long. It has its moments, not least the cut-up Buss To Gate 23 (buss??) and Velvets-esque closer We Will Fall, but it does all drag rather, leaving this listener twitching with boredom after a while. Joseph E. Howard's Mellotron only obviously appears on a couple of tracks, although several others could include it buried in the mix, not least their 'more psych than the original' cover of the Stones' 2000 Light Years From Home. Of the definite use, there are a few string chords here and there on Ocean Which Humanity Is, and some rather more adventurous stuff on Buss To Gate 23, with dissonant string and flute parts, although that would appear to be it.
Two albums on, '96's Moonbathing on Sleeping Leaves is rather more cohesive, the band seemingly finding their musical feet properly. Although there's still a dance element to the record, it's better described as 'modern psych', its fourteen tracks spread over a long, yet rarely dull seventy-plus minutes. Gordon Raphael plays 'backwards Mellotron' on the curiously-titled An Ant, The Stars, An Owl And Its Prey and indeed, the repeating string line sounds slightly odd, although the flute seems perfectly normal.
Return... is an overlong psych indie-fest, with decent bits here and there, but a classic neither in the musical nor Mellotronic realms, while Moonbathing...'s a big improvement all round on both fronts.
Sky Picnic (US) see: Samples
Una Lux Una Sonas (2011, 32.35) ***½/T

Colony Collapse
Una Lux Una Sonas
Dead Star Valley
Current availability:
Mellotron used:
One of David McNally's M400s
Sky Shadow Obelisk are Peter Scartabello's solo doom project, whose brief debut, 2011's Una Lux Una Sonas (from renowned sixteenth-century madrigal composer Luca Marenzio), is vastly more interesting than most of the genre's practitioners; Scartabello clearly listens to a great deal of music outside the genre in which he works, a 'trick' from which many of his competitors could learn. Saying that, Colony Collapse's opening vocal salvo is in full-on grunting mode, although he shifts into 'regular' singing during the lengthy quiet section, maintaining the style until the end of the piece, with only one more grunting part on the rest of the album. The heavy sections are suitably heavy, although far less clichéd than usual, while the slow parts, as you'd expect by now, display more imagination than the (black) mass of similar bands doing the rounds, not least the recorders on the title track.
David McNally plays his own Mellotron on Colony Collapse, with a suitably eerie string part, although the cello on the track is real. Overall, if you're allergic to grinding guitars at a funereal pace, you're probably best off avoiding Una Lux Una Sonas, but if you're partial to a bit of doom, this is a much better bet, at least to my ears, than many better-known artists. Worth a flutter.
Official Peter Scartabello site
See: Anechoic
Great Civilizations (2011, 41.35) **/TTT

No One Can Tell
Capsized Jackknifed Crisis
Tightrope Situation
Serrated
Am I Second
Nothing's Ever Easy
Tracey Jayney Girl
Great Civilizations
All I Hear is Snow
Sad Reasons
Current availability: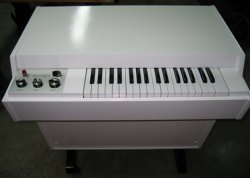 Mellotron used:
Skysaw (originally and ill-advisedly known as This) are drummer Jimmy Chamberlin's post-Smashing Pumpkins project, completed by guitarist Anthony Pirog and multi-instrumentalist Mike Reina. Their debut, 2011's Great Civilizations, makes a brave attempt to be a modern take on '60s orchestral pop combines with, er, the Pumpkins, but ends up as a bit of a sloppy mess, sadly. Opener No One Can Tell isn't too bad on its own, but when it's the first of ten similar efforts, its failings become all too obvious.
Reina plays his own M400, with choir and strings on No One Can Tell, strings on Am I Second, Nothing's Ever Easy and Tracey Jayney Girl, strings, flutes and cellos on All I Hear Is Snow and flutes and choir on closer Sad Reasons, making for an album rather more satisfying Mellotronically than musically. Is it worth it for the Mellotron? Despite relatively heavy use, I'm really not sure I can say it is. Very dull.
See: Smashing Pumpkins
Skyscraper Frontier (US) see: Samples
The Skywatchers Handbook (2010, 36.50/52.16) ***½/T½ (TTT)

Dead Flowers for Her
Soul Baptist
The Curious Village
Rhythm of Ashes
Serves Me Right
The Lunar Tune
Do You Want to Go to Space
Young Man?
Ever Felt the Sky?
Small Lights
Keep Watching the Sky
[iTunes bonus tracks:
When Up Falls Down
The Sirens of Scopuli
Licked By Love]
CDS (2011, 15.50) ***/TT½


Serves Me Right (single mix)
The Fool and the Star
Serves Me Right (serves me impeccably mix by Unit Delta +)
Serves Me Right (remixed by Saint John Chadwick Junior School)
Current availability:
Both titles: Twins of Evil
Mellotrons used:
Both titles: I Monster's M400
Skywatchers are an I Monster offshoot, comprising both members of that outfit, Dean Honer and Jarrod Gosling, plus Kevin Pearce, although they're listed in their eponymous album's booklet as 'Venik, Aden and Radjor'. Concentrating on the folk/psych/prog end of I Monster's thang, The Skywatchers Handbook is a very listenable release and while the parent band's lounge proclivities leak through (Rhythm Of Ashes, Small Lights), as do their 'dance' (whatever you take that to mean) ones (Ever Felt The Sky?), the album's overall feel is more Floyd than Chemical Brothers. Jarrod plays his M400 (ex-Pallas/Add N to (X)) to a couple of tracks, with strings and flutes on Do You Want To Go To Space Young Man? and strings, flutes and stabbed choir chords on Small Lights, plus no fewer than three iTunes bonus tracks, with choir, strings and inaudible flutes on the lengthy When Up Falls Down, strings on the rocking The Sirens Of Scopuli and strings and more inaudible flutes on Licked By Love.
Serves Me Right, one of the dancier tracks from the album, turns up as a single early in 2011, embellished with a 'proper b-side and two remixes of the title tune, Gosling adding Mellotron vibes, strings and flutes to the haunted The Fool And The Star and strings, flutes and brass to Serves Me Right (Remixed By Saint John Chadwick Junior School), only slightly less odd than it sounds, adding another two worthy 'Tron tracks to the rapidly growing I Monster/Skywatchers collection. Incidentally, the beautiful series of paintings in the package are more than worthy of mention.
Overall, then, more an album for the psych/folk crowd than the lounge lizards, although I Monster's eclecticism still shines through, particularly on the bonus tracks (which is probably why they're...). Recommended.
See: I Monster
Slack Alice (1974, 39.42) ***/TT½

Put Me on the Railroad
Gravelstone Cottage
Mama's Gonna Boogie
Slack Alice
Mr. Sharpshooter
Southsea Island Girl
Motorcycle Dream
Na-Ma-Nihcam (Soldier of the World)
Current availability:
Mellotron used:
London-based Slack Alice, fronted by Alice Springs (her real name, surely?), were one of the many hopeful outfits who trawled their live show around the UK in the early '70s, when there was still money to be made on the gig circuit for relatively unknown bands. The bulk of their repertoire on Slack Alice stuck pretty closely to the R'n'B format - pub rock, frankly - with the occasional diversion into acoustic balladry (Gravelstone Cottage) or, bizarrely, pseudo-vaudeville (Slack Alice itself), the supposed tale of how the band got their name. Springs' vocal style veers between raucous (the rock'n'roll numbers) and really quite melodic (the quieter ones, funnily enough), when she actually stands out from the crowd slightly.
Keys man John Cook liked his Mellotron, assuming it wasn't a studio machine, adding some pretty major strings to Gravelstone Cottage and Na-Ma-Nihcam (Soldier Of The World) and an unexpected part on Slack Alice, which is far more than I'd expected. This is unlikely to ever get a CD issue, as its style is desperately out of fashion and pretty uncollectible, but if you get a chance to hear it, at least two tracks are worth it for the 'Tron.
All Hands on the Bad One (2000, 36.58) **½/½

The Ballad of a Ladyman
Ironclad
All Hands on the Bad One
Youth Decay
You're No Rock n'Roll Fun
#1 Must Have
The Professional
Was it a Lie?
Male Model
Leave You Behind
Milkshake n'Honey
Pompeii
The Swimmer
Current availability:
Mellotron used:
Sleater-Kinney are your archetypal Riot Grrrl band: all-female, with a full-on feminist agenda, musically in the 'post-punk indie' camp. All Hands on the Bad One is their fifth album, and while I'm sure fans of the genre swoon over it, it leaves this reviewer a little cold. Their lyrical concerns are probably considered more important than the music used to deliver them (how often have we heard this before?), so anyone looking for a visceral musical thrill is probably best off looking elsewhere.
Sam Coomes plays Mellotron on Milkshake N'Honey, although it's buried under the other instrumentation for most of the song, only coming out to play with a sustained string chord at the end, sounding real enough, for what it's worth, which makes a nice change. So; Riot Grrrl indie. You'll either love it or hate it, I suspect, assuming you know anything about it at all. Next to no Mellotron, anyway, so don't even think about it on those grounds.
After the War (2004, 47.02) ***/T

Introduction
After the War
Drums of War
Caroline, London 1940
Waiting
Come Back Again
My Darling
Burden to You
All That Remains
Silver in the Sun
A Final Prayer 1
A Final Prayer 2
A Soldier's Dream
N 49°, W 0°
With You Now
Lullaby
Goodnight to the Moon
The Pride of Chester James (2008, 41.13) ***/T½

Hello Mr. Coughlin
Under the Lights
What You Hide
Settle on Your Name
Tired of Me Now
Bells
Paris
Anna
Thunder
Hell Has Come With Me
Fall
Distance
Always in the Fire
Our Carnival
Current availability:
After the War: Bardic
Pride of Chester James: Eyeball
Mellotrons used:
Sleep Station are effectively the one-man band of David Debiak, although some of his/their albums feature other musicians, too. Debiak's schtick is to release what amount to concept albums, although he doesn't use the term himself (wisely), preferring to refer to them as 'thematic'. 2004's After the War is his fourth full album, slotting loosely into the indie/singer-songwriter area, with tracks often tied together by snippets of British World War II soldiers reading poetry to their loved ones. While I can appreciate that the album's good at what it does, I have to say that it left me entirely unmoved, though I'm sure the fault is mine. Debiak plays Mellotron (real?) himself, with background choirs on the title track, although that appears to be it.
After a few-year break, Debiak resurrected Sleep Station in 2008, releasing The Pride of Chester James, telling the tale of the drifting circus worker of the title. More of a band effort this time, the album's also slightly rockier than its predecessor, although the songwriting style remains the same. Brad Paxton plays Mellotron on Always In The Fire, with an affecting little flute melody that reiterates throughout the song and a stabbed chordal flute part in closer Our Carnival.
These are albums for fans of modern singer-songwriters, which isn't to say that no-one else will like them, just that they didn't really grab me. Not much Mellotron, either, so I can't imagine I'll be playing them again in the near future.
Many Hands Should Throw Stones (2006, 66.17) **½/T

The Broken City Yawns
Kodak Moment
I Failed You
Saviour's Knuckle
God or Whatever
The Broken City Rests
Apocalyptic Caress
The Library of Babel
Absence
All Bridges Look Better
Not Alone
The Broken City Sleeps
Current availability:
Mellotron used:
Sleeping Pictures are the London-based duo of Marc Blackie and Gary Parsons, whose second album, 2006's Many Hands Should Throw Stones, throws genres together with abandon, although it's more neo-folk than anything. It might be a lot more palatable were the lyrics sung, rather than intoned. Much as I prefer to hear British as against American accents (sorry, Americans), I find this trick profoundly irritating, for no readily apparent reason. Some of the material would be pretty good were it sung (or instrumental); incidentally and amusingly, The Library Of Babel accidentally rips off Rush's classic Xanadu, doubtless to the duo's chagrin were they to find out.
Parsons plays Mellotron strings on brief opener The Broken City Yawns to good effect, assuming they're real, that is. So; one for folk/electronica types who don't mind a bit (or a lot) of spoken poetry, as against sung lyrics. Not my bag, though and that Mellotron doesn't fully convince.
Slow Electric (UK) see: Samples
Virgin Stripes (1998, 41.42) ***/T

Railroad
I Can't See You Anymore
Lorraine
Hey! Alma Mater
Valentine
Broadcaster
Am I Shade?
Tonka
Belladonna
Dirty Hands
Before the Fight
Goodnight, Mr. Kennedy
Current availability:
Mellotron used:
The Dallas-based Slowpoke were generally regarded as being a mid-'90s indie outfit, although their second album, 1998's Virgin Stripes, has a broad streak of rather unfashionable powerpop running through it, not least in the band's insistence on writing vocal melodies and harmonies. What, they don't have a 'singer' who emits his turgid lyrics in a strangulated half-wail of forlorn, hopeless despair? And they expected to sell any records? Anyway, the album starts off in a more 'indie' direction, moving into more listenable territory on Lorraine, other better tracks including Am I Shade? and Belladonna.
Dave Gibson plays Mellotron, with string stabs on Lorraine and long, held notes on Valentine and Dirty Hands, although they don't sound that realistic on the last-named. Anyway, one for powerpop fans who, until now, might have seen this is as yer typical indiepop release. Don't bother for the Mellotron, though.
Slychosis (US) see: Samples
Rok Cirkus [a.k.a. Rock Cirkus] (1980, 36.53) **½/T

Rock Cirkus
Profesor
Ogledalo
Cigansko Srce
La Kukarača
Instrumental Baby
I to Je Za Ljude
Hirošima

Zašto Ne Volim Sneg (1981, 39.57) ***/T

Južni Voz
Zajdi, Zajdi
Talisman
Zašto Ne Volim Sneg
Balet
Maht Pustinja
Nebeski Splav
Current availability:
Mellotron used:
Both titles: Laza Ristovski's M400
Smak formed in 1971 in what is now Serbia, playing a form of jazzy progressive blues, rapidly becoming one of Yugoslavia's top rock bands. After losing popularity in the late '70s, they returned with Rok Cirkus (a.k.a. Rock Cirkus), in a more commercial hard rock direction, although Instrumental Baby is more progressive fusion, while closer Hirošima is more funky, Clavinet-driven pop with a cod-Japanese feel. Unlike some Yugoslav albums of the period featuring false 'Mellotron' credits, there's no doubt that Smak had access to one; in fact, it was played (and presumably owned) by Laza Ristovski (Laza & Ipe), with flutes and strings on Ogledalo, Ristovski playing Hammond on the bulk of the record.
The following year's Zašto Ne Volim Sneg is very noticeably less commercial and more progressive, Balet moving off into fusion territory again, while the lengthy Maht Pustinja is nearer a fusion/space rock crossover than anything. Ristovski on 'Tron again, with flutes and strings on Zajdi, Zajdi, the band's reworking of a folk tune from the region and nicely upfront flutes on Talisman. I couldn't honestly say either of these albums exactly sets the world alight, but they're both listenable enough, Zašto Ne Volim Sneg definitely being the better of the two, although Rok Cirkus has better Mellotron use.
Small Faces (1967, 30.19) ***½/T

(Tell Me) Have You Ever Seen Me
Something I Want to Tell You
Feeling Lonely
Happy Boys Happy
Things Are Going to Get Better
My Way of Giving
Green Circles
Become Like You
Get Yourself Together
All of Our Yesterdays
Talk to You
Show Me the Way
Up the Wooden Hills to Bedfordshire
Eddie's Dreaming
7" (1967) *****/T½

Itchycoo Park
I'm Only Dreaming


Ogden's Nut Gone Flake (1968, 38.35) ****/T½

Ogden's Nut Gone Flake
After Glow
Long Agos and Worlds Apart
Rene
Song of a Baker
Lazy Sunday
Happiness Stan
Rollin' Over
The Hungry Intruder
The Journey
Mad John
Happy Days Toy Town
The Darlings of Wapping Wharf Launderette: the Immediate Anthology (1999, 140.43) ****½/TT

I Can't Make it
Just Passing
Here Comes the Nice
Talk to You
(Tell Me) Have You Ever
Seen Me
Something I Want to Tell
You
Feeling Lonely
Happy Boys Happy
Things Are Going to Get
Better
My Way of Giving
Green Circles
Become Like You
Get Yourself Together
All of Our Yesterdays
Show Me the Way
Up the Wooden Hills to
Bedfordshire
Eddie's Dreaming
Itchycoo Park
I'm Only Dreaming
Tin Soldier
I Feel Much Better
Ogden's Nut Gone Flake
Afterglow (of Your Love)
Long Agos and Worlds Apart
Rene
Song of a Baker
Lazy Sunday
Happiness Stan
Rollin' Over
The Hungry Intruder
The Journey
Mad John
Happy Days Toy Town
The Universal
Donkey Rides, a Penny, a
Glass
Wham Bam, Thank You Man
The Autumn Stone
Collibosher
Red Balloon
Call it Something Nice
Wide Eyed Girl on the Wall
Don't Burst My Bubble
Every Little Bit Hurts
Picaninny
The Pig Trotters
The War of the Worlds
Take My Time
Mad John
(If You Think You're) Groovy
Wham Bam, Thank You Man
Green Circles (backing)
Current availability:
Darlings of Wapping Wharf Launderette: Sequel (UK)
Mellotrons used:
All titles: studio MkIIs?
The Small Faces' rise to fame was fairly meteoric, shifting from good, if generic r'n'b through to cockney psychedelia in the space of two years. Their first two albums both bear the same eponymous title, for some unknown reason, so have become known as 'The Decca Album' and 'The Immediate Album', the latter being the only one to concern us here. After leaving Decca, the band, signed to Stones' manager/producer Andrew Loog Oldham's Immediate label, producing a brief but incendiary run of hits and two albums. The Small Faces (Immediate version) shows the band on the cusp of their stylistic shift, with straightforward r'n'b like the instrumental Happy Boys Happy rubbing shoulders with more adventurous material like Green Circles. Organist Ian 'Mac' McLagan sticks some Mellotron on opener (Tell Me) Have You Ever Seen Me and some very background brass on Feeling Lonely, but his main use on the album is on the more psychedelically-inclined Become Like You, with its melodic string line, shifting up an octave just before the end of the song.
One of their (possibly the) career peaks was their huge summer '67 hit, the fabulous Itchycoo Park (which I remember from a rather unlikely 1975 reissue, when it hit for the second time round). I could wax lyrical about the song for paragraphs, but I won't 'cos it's not relevant to this site. Its b-side, however, I'm Only Dreaming, features McLagan on Mellotron vibes; I wasn't sure if they were 'Tron or real, until I heard the block chords at the end of the song, complete with key-click. Available on various compilations, it's hardly worth obtaining for its 'Tron input, but isn't a bad song, whatever.
1968 found the Small Faces still mods, but having already dipped their collective toes into the murky world of psychedelia the previous year with Itchycoo Park, they were reasonably well-equipped to take on the late-'60s mob-handed. Anyone who may have any even remote doubts as to the band's drug credentials should give an at least cursory listen to Here Comes The Nice - I mean, how DID they get away with that lyric? Anyway, I don't know how much acid the band were doing, but going by side two of Ogden's Nut Gone Flake there was definitely something in the water down at Wapping Wharf.
Most of the songs are a more laid-back update on the r'n'b style they'd made their own, with Steve Marriott's distinctive 'cockernee' vocals, the best-known being Lazy Sunday, although there isn't a bad track on the album, to be honest. Side two is an odd little concept piece, Happiness Stan, with bizarre narration from Stanley Unwin, speaking his own superb and unique distortion of the Queen's English, Unwinese. McLagan's Mellotron work is unfortunately limited to three tracks; Happiness Stan itself has some reasonable background string work, while The Journey is limited to a few pitchbent string chords and there's a brief 'Tron sax solo on closer Happy Days Toy Town. There's also a brief mention of the instrument in Unwin's rambling on the latter track, where he says something like "And [someone] brought his Mellotrone [sic] and freaked 'em all out". So; great album, but only so-so 'Tron.
After seemingly dozens of reissues, of greater or lesser quality, the reactivated Immediate (through Castle) released the double CD The Darlings of Wapping Wharf Launderette: the Immediate Anthology in 1999. I'm no expert on the band's career, but it apparently includes every studio track they recorded for the label, although the live tracks from their original posthumous odds'n'sods release, The Autumn Stone, are missing. I've also read that a between-song link on Ogden's has mysteriously gone walkies, while the album itself is irritatingly split over the two discs, with the original side division as the split point. Minor quibbles aside, this is an excellent release, mopping up all their single-only tracks, both albums and various extraneous bits and pieces, not to mention a quick, 'hidden' burst of a backing track for Green Circles stuck at the end of disc two, after a gap. All five of the band's 'Tron tracks are present and correct, so if you want to hear what the 'magic midgets' got up to in their two-year Immediate period, and you're not fussed about Ogden's being split, this is the place to go.
Three-quarters of the band went on to become the Faces, of course, while Marriott played in the inexplicably (temporarily, now essentially forgotten) successful Humble Pie. With both Marriott and bassist Ronnie Lane now dead, the Small Faces are about as 'history' as any band can be. Saying that, isn't there a version of Humble Pie doing the rounds consisting of the original rhythm section plus hired-hand frontmen? Heinous.
Small Wonder (1976, 37.13) **½/TTTT

It Was Meant to Be
Time is Passing Me By
I'm a One Way Train
Pray for the World
Be Yourself
Why Walk When You Can Dance
You and I
Midnite Plane Ride
Atlantis
Current availability:
Mellotron used:
Small Wonder are determinedly obscure; the only information I've been able to find about them is that vocalist/violinist Henry Small is Canadian, an ex-member of Scrubbaloe Caine (who?!) and future singer with AORsters Prism. The band's style was mainstream pop/rock, mid-'70s style, with distinct progressive tendencies in the instrumental department, going by the amount of Moog and Mellotron on their sole album (Atlantis sounds like a pop version of '70s Yes), not to mention Jerry Morin's twin-neck.
Jimmy Phillips slaps 'Tron all over Small Wonder, with strings on every track, although his use sometimes seems a little gratuitous. Mellotron highlights are Atlantis, the intro to Midnite Plane Ride and, most of all, You And I, although you have to fight your way through the layers of rather sickly harmonies and self-consciously upbeat commercialism to get to it. So; difficult to recommend musically, but loads of 'Tron for the aficionado. I got my copy for US$1.00, thrown in with another album, and unless you're really into this type of thing, I wouldn't bother paying a lot more.
---