---
Leech (Switzerland)
7" (2000) ***/½

Zerotonine Days
Nachtfilter
Current availability:
Mellotron used:
I'm having trouble locating much information about Leech; all I can tell you is that they're a vaguely gothy indie band from Switzerland who've released three albums, well spaced apart. Zerotonine Days (more of an EP than a single) was released two years after their second album, 1998's Soundtrack to an Individual Emotion Picture Mindmovie; the A-side's all a bit ordinary, to be honest, but the flip, Nachtfilter, is an excellent, intense twenty-minute piece of lunacy.
Urs Meyer plays Mellotron, listed as a MkII (I'd be surprised, frankly) on Nachtfilter, with a string part towards the end that sounds like it just might be real. I don't know how easy this is to find, but the B-side's so much better than the A that they almost sound like different bands. Not worth it for the Mellotron, though...
John Lees (UK)
A Major Fancy (1977, recorded 1972-73, 52.25) **½/0

Untitled No.1 - Heritage
Child of the Universe
Kes (a Major Fancy)
Untitled No.2
Sweet Faced Jane
Witburg Night
Long Ships/Link Piece
Untitled No.3
Current availability:
Mellotron used:
John Lees was, of course, guitarist and sometime singer with Barclay James Harvest, who obviously felt, a few years into their career, that he had enough leftover material to record a solo album. Said record was duly knocked up around 1972/3, then stuck on the shelf due to obscure and idiotic record company politics, to finally emerge long after the event, in '77. Good year for soft rock, that. Actually, it probably was a good year for soft rock, what with the global success of such as Fleetwood Mac and ELO, though Lees was to see little of their sales figures. A Major Fancy would just about have passed muster in the early '70s, though it's no more dynamic than the work of his day job, but by the end of the decade it was a Record Out Of Time, and the cover pic of the slightly pudgy artiste in his best woolly jumper wouldn't have done an awful lot to sell it to Clash fans.
Sadly, the material is pretty insipid, not that BJH were ever the most raucous of prog bands, or even the most prog, for that matter. Child Of The Universe was rerecorded by BJH for '74's Everyone is Everybody Else, but nothing else here will be familiar. A quick note at this point to congratulate the hapless sleevenote writer, one Don Hurley, who elected to utilise purple prose such as 'there are very few writers who can inject such nerve-shattering thrust into their lyrics and deliver them with such crushing force', or 'he will spit out lyrics that cut like a machete'. 'Nerve-shattering thrust'? 'Crushing force'? All in his woolly jumper, no doubt. It hardly needs to be said that Lees does no such thing, and A Major Fancy is a pretty wussy effort all round, to be honest. In fairness, it isn't actually offensive, but it couldn't really be said to impinge itself on the consciousness very much at all, and gives the air of being slightly unfinished, with no fewer than three tracks being titled, er, Untitled, although one of them also has a title. Right.
In all honesty, by the time I got to the album's sole 'Tron track, the decisively-titled Untitled No.3, I'd rather lost interest, not helped by what appears to be a total lack of Wally Waller's 'Tron anyway. Incidentally, my copy of the album is on Harvest's Heritage reissue imprint, but I suspect that's how it originally appeared, due to its already-several-years-old status on its release. Side one is pressed fractionally off-centre, too, giving Untitled No.2 the vague impression of being played on a set of steel drums, so all expense spared, it seems. Buy? I really wouldn't...
The Lees of Memory (US) see: Samples etc.
Leevi & the Leavings (Finland) see: Samples etc.
Left Banke (US)
Strangers on a Train [a.k.a. Voices Calling] (1986, recorded 1978-79, 35.08) **½/T

Hold on Tight
Heartbreaker
Lorraine
You Say
And One Day
Queen of Paradise
Only My Opinion
Strangers on a Train
I Can Fly
Yesterday's Love
Current availability:
Mellotron used:
The Left Banke should need no introduction to anyone interested in rock and pop history: formed in '65 by Michael Brown, they quickly broke with the baroque pop of Walk Away Renée before internecine warfare slowly destroyed the band. Brown went on to Stories, while another three members reformed the band briefly in the late '70s, recording an album that finally saw release in 1986 as Strangers on a Train (resequenced as Voices Calling in Europe). Much of the album's fairly limp pop/rock, although it improves towards the end, the title track being about the best thing here, I Can Fly coming in second.
An unknown musician plays Mellotron, with a major string part on Lorraine, although all other string parts appear to be either real or synth. I'm not sure if Left Banke fans need to hear this or not, as it lacks Brown's melodic genius, try as it might, but I suppose I've heard a lot worse. Only one Mellotron track, though, making it somewhat inessential in that area.
Left Side (Netherlands)
(Like a) Locomotion (1976, recorded 1972-76, 50.38) **½/T

Gimme Your Love
Be-Bop Baby
Tessie (I Love You)
I'll Be There
Mamma Mia 'Everytime I See Ye'
I Can't Say Why
Can't You See Me
(Like a) Locomotion
Gold in New Orleans
Alcohol Ruins Your Life
I Want Ye and I Get Ye
This is Life
Hello, Goodbye, Baby I See Ye
Freedom Means a Lot of Words to Me
Current availability:
Mellotron used:
The Left Side (Left Banke (above), anyone?) were a Dutch pop group who formed in 1967, released loads of singles and split in '76. It's actually quite difficult to track down exactly how many albums they released; it's perfectly possible that 1976's hits set (Like a) Locomotion (a.k.a. The Best of The Left Side?) was their only long-player, assuming it actually appeared that year... You may be able to understand my problem. Anyway, whenever it actually appeared, ten of its fourteen tracks were definitely single A- or B-sides, veering between the funkyish Gimme Your Love (a 1975 single) through the rock'n'roll of Be-Bop Baby, the electric sitar-driven Moody Blues-esque Tessie (I Love You) and several other rather tepid light rock efforts. And what, precisely, is all this 'ye' business, guys? Medieval English in the '70s and you're not Gryphon?
I presume keys man Dick Plat plays the Mellotron on a couple of tracks, along with various synths, with a harmony flute part on the reggae-ish I'll Be There (possibly an unreleased single from '72) and chordal flutes and strings on This Is Life (year unknown), although I wouldn't really say it's worth getting hold of this for that alone. To be honest, I've heard far worse bands than The Left Side, but they sound a little uninspired by today's standards. Maybe not, then.
Andrew Leigh (UK)
Magician (1970, 40.10/45.11) **½/½

Magician
Get Myself Together
Goin' Out to the West
Solitaire
Windy Baker Street
Take Me Back
Leaving Song
Fresh Brown Eggs
Up the USA
[CD adds:
The Passing]
Current availability:
Mellotron used:
Ex-Spooky Tooth bassist Andrew/Andy Leigh (who also played on Gary Farr's 1969 opus Take Something With You) recorded his lone solo effort, Magician, around the same period, seeing it released on Polydor in 1970, where it proceeded to make little impression. In all honesty, forty-odd years down the line, you can see why, its mostly laid-back country/folk/psych/rock/boogie sound being pretty much of its time; 'hasn't aged well', I think you could say. The most impressive thing about it (don't hold your breath) is its low-level stellar(-ish) cast, including Farr, Spooky Tooth's Mike Kellie, Titus Groan's Tony Priestland and Blossom Toes' Brian Godding, while its best moments are probably the upbeat, sitar-driven opening title track, the mournful Get Myself Together and jammed-out, nine-minute, Neil Young-ish closer Up The USA.
Leigh is credited with 'Melotron' on two songs, with a high part that I presume is either MkII trombone or muted brass (tenor sax?) on Get Myself Together and something indistinct, chordal and background (possibly the same sound) on Windy Baker Street, only the former to any great effect. He went on to join Matthews' Southern Comfort (led by ex-Fairporter Iain Matthews, of course), before quietly disappearing from the scene in the early '70s. I feel rather churlish not being nicer to this record, but it really hasn't dated too well, to the point where I'm really not sure where the audience lies for Sunbeam's 2011 reissue, although full marks to them for resurrecting a perfectly pleasant, if undemanding obscurity.
See: Spooky Tooth
Sonia Leigh (US)
1978 December (2011, 41.35) **½/½

Ain't Dead Yet
My Name is Money
Bar
Ribbon of Red
I Just Might
Virginia
Poem From the Ocean Floor
If You Won't Tell
Roaming
1978 December
Current availability:
Mellotron used:
Sonia Leigh is a mainstream country artist, although her fifth album, 2011's 1978 December (her birth month) has enough rock input to avoid the full Nashville, coincidentally making it slightly more palatable to the average Planet Mellotron reader. Better tracks include poppy opener Ain't Dead Yet, the lyrically vicious My Name is Money and the vaguely rocky Ribbon Of Red, although country hoedown Bar is slightly unnecessary.
Clay Cook plays distant Mellotron strings on the closing title track, although whether or not they're real can only be a matter for conjecture. Although perfectly acceptable (within the confines of the country scene), I'd have trouble recommending 1978 December to you lot, not least due to its minimal Mellotronic content.
Leiner & Hrnjak (Croatia)
Viša Sila (2010, 43.19) **½/½

Kralj Birtije
Teška Sudbina
Došla Sam Vam Japa Dimo
Vrela
Dorica
Viša Sila
Mađarska
Tunelarina
Ftiček Veli
Lepe Naše Senokoše
Curica
Vinjeta
Current availability:
Mellotron used:
Croatians Boris Leiner and Mišo Hrnjak were two thirds of '80s Yugoslav new wave trio Azra, so it's no great surprise that their third album, 2010's Viša Sila, features an eclectic mix of styles, from reggae-lite opener Kralj Birtije (and several other tracks) through the '80s hard rock of Došla Sam Vam Japa Dimo to the folky new wave pop (!) of the title track. Best track? Probably one of Došla Sam Vam Japa Dimo, odd little folk ditty Curica or pleasant instrumental closer Vinjeta, I suspect.
Jurij Novoselić plays Mellotron flutes on Vrela, with a line following the pop/reggae guitar melody; a wobbly pitch-bend at the end of the track pretty much confirms it was played on a real machine, although I've no idea whose. I can't really recommend this to non-Serbo-Croatian speakers, to be honest; it's too culturally specific to reach out to other audiences, but then, it isn't actually meant to. One minor Mellotron track is unlikely to increase its appeal to Planet Mellotron readers, either.
Silje Leirvik (Norway)
Endless Serenade (2013, 45.37) ***½/TTT½

Glass of Water
Silver & Gold
Black Heart
When in the Water
Leah's Song
In the Garden
And Then Love Came
Sno
The Last Dance
Serenade
Current availability:
Mellotron used:
Silje Leirvik's Endless Serenade is a quietly beautiful singer-songwriter album, very Scandinavian, despite her flawless English diction. Highlights? Lengthy opener Glass Of Water, Leah's Song and Sno, maybe. The energetic Silver & Gold works slightly less well (at least, to my ears), although In The Garden and And Then Love Came survive the treatment.
Rhys Marsh plays Mellotron on most tracks, with strings on everything highlighted, plus background choirs on opener Glass Of Water, cello on When In The Water and flutes on several others. Whose? Dunno, but, as on his own records, it sounds real. A rather lovely album, then, recommended for both content and Mellotron.
Lemmus Lemmus (Israel)
Chameleon Mood Swing (2004, 40.58) ****/TTT½

Better Off With You - Part 1
Ain't Got No Time
Hands of Time
Chameleon Mood Swing
Suddenly Sunday
Bulldog & Sneakers
I'll Be the Same
Better Off With You - Part 2
Silly Princess
Lemmus Lemmus (2008, 43.05) ****/TT

Happen
Chasing a Ghost
Feathers on Your Body
Tame of the Shrew
The Angels We Thought We Should Be
Smiling Back
Me Chewing on Your Sonar Heart
My Stars, My Moons, My Love
Your Dream Revisited
Violet & Blue
Current availability:
Both titles: Naked Lemming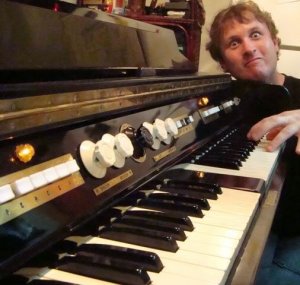 Mellotron used:
Both titles: Zohar Cohen's MkII
Lemmus Lemmus (the Latin name for the common lemming) are Israel's premier (only?) current psych outfit, whose albums are as pure late '60s-esque records as you're likely to hear all year. Their debut, 2004's Chameleon Mood Swing, covers all bases, admittedly mostly early Pink Floyd ones, but who's complaining? Ex-Floyd (fittingly) MkII Mellotron from Noam Rappaport, with a wistful flute part on opener Better Off With You - Part 1, a lush string part on Hands Of Time, a more subdued one on Suddenly Sunday, plus choirs (new tapes, as the choirs weren't on the original MkII ones), upfront strings again on Bulldog & Sneakers, ditto (under Elia Semama's vocals) on Better Off With You - Part 2 and major flute and string parts on closer Silly Princess, from Rappaport and the machine's owner, Zohar Cohen.
Their 2008 eponymous follow-up doesn't miss a trick, sliding through several styles, including '68 Floyd again (opener Happen), jaunty psych/pop (Tame Of The Shrew) and psych/prog on closer Violet & Blue, making for a deeply satisfying mind-enhancing experience, and all entirely legal. Rappaport plays Cohen's MkII again, with the tiniest string swell on Feathers On Your Body and more of the same on Your Dream Revisited, while Cohen himself adds strings, flutes and brass to Violet & Blue, easily the best use on the album. This man clearly knows how to handle a Mellotron...
Overall, both albums are well worth your time and money; their debut's a little single-minded (early Floyd and more early Floyd), while its successor is more varied. Anyway, good music, great (and very real) Mellotron.
Selim Lemouchi & His Enemies (Netherlands) see: Samples etc.
Lenka (Australia)
Lenka (2008, 39.00) **½/½

The Show
Bring Me Down
Skipalong
Don't Let Me Fall
Anything I'm Not
Knock Knock
Dangerous and Sweet
Trouble is a Friend
Live Like You're Dying
Like a Song
We Will Not Grow Old
Two (2011, 38.50) **/T

Two
Heart Skips a Beat
Roll With the Punches
Sad Song
Everything at Once
Blinded By Love
Here to Stay
You Will Be Mine
Shock Me Into Love
Everything's Okay
The End of the World
Current availability:
Mellotron used:
Lenka (Kripac) occasionally comes across as a less offensive Aussie version of Lily Allen, although most of the material on her eponymous debut is less feisty and more blandly mainstream. Lenka isn't actually an offensive album, just a rather dull one, but then, it isn't aimed at me, but at her teenage girl fans, I'd imagine, with titles like Dangerous And Sweet and Live Like You're Dying. Mike Elizondo plays Mellotron on Knock Knock, but only just, with a deep background string part than only becomes even slightly apparent at the end of the song, although the strings on Live Like You're Dying seem to be real.
2011's imaginatively-titled Two is, effectively, more of the same, better tracks including the vague electro of the opening title track and the '60s girl group sound of Roll With The Punches, although it's mostly lightweight pop, a more unnecessary moment being the Autotune on You Will Be Mine. No! Fail! Lenka and Eamon Ryland play Mellotron, with flutes on Sad Song and strings on Blinded By Love, assuming it's actually real.
Overall, then, blandly pleasant but unengaging, with very little Mellotron work. Next...
John Lennon (UK)
Unfinished Music No.1: Two Virgins (1968, 28.59/33.04) ***/TTT

Side One
Side Two
[CD adds:
Remember Love]
Mind Games (1973, 40.38) ***½/T

Mind Games
Tight A$
Aisumasen (I'm Sorry)
One Day (at a Time)
Bring on the Lucie (Freda Peeple)
Nutopian International Anthem
Intuition
Out the Blue
Only People
I Know (I Know)
You Are Here
Meat City
Walls & Bridges (1974, 40.57) **½/½

Going Down on Love
Whatever Gets You Thru the Night
Old Dirt Road
What You Got
Bless You
Scared
#9 Dream
Surprise, Surprise (Sweet Bird of Paradox)
Steel and Glass
Beef Jerky
Nobody Loves You (When You're Down and Out)
Ya Ya
Current availability:
Two Virgins; Rykodisc
Mind Games/Walls & Bridges: Parlophone
Mellotrons used:
Two Virgins: John's MkII
Mind Games/Walls & Bridges: Ken Ascher's M400?
Unfinished Music No.1: Two Virgins is technically Lennon's first solo album, although it was credited to John Lennon and Yoko Ono. I say 'technically' (or maybe 'album'), because very little of it consists of what most people would regard as 'music' at all; it's a highly experimental work, containing much found sound and wailing from Yoko, along with snippets of speech, electronic drones, an upright piano and... John's MkII Mellotron, in its only known recording role, at least at the time. The 'music' is comparable to Lennon's soundscape on the White Album, Revolution 9, and should probably be judged using the same criteria.
It's an interesting listen, with several amusing moments, not least John muttering something about a 'fucking tin opener' on side one. I believe the album is officially split into twelve tracks, but with no track divisions, it's impossible to work out what's what. The 'Tron turns up on both sides, with various left-hand manual rhythms coming into play, and much messing about on the right-hand manual, with strings and organ being subjected to some extreme pitchbending measures, notably about eight minutes into side two. I can't realistically recommend this as a musical listening experience, but it's a fascinating glimpse into Lennon's rather fractured state of mind at the time. Not forgetting the cover... A full-frontal nude shot of the pair upset an awful lot of people, thus having the desired effect, while allowing me to show a picture of John Lennon's knob. Worth it for its oddness, and some quite revolutionary Mellotron work. The CD's bonus track, incidentally, is the b-side to Give Peace A Chance.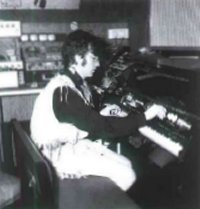 After the Beatles' final split in 1970, all four members went all-out to prove that they didn't need the others by sticking out stacks of solo albums, of rather variable quality although, amusingly, Ringo was (briefly) the most successful. John took a few albums to find his feet, finally getting it right on his second proper post-Beatles release, Imagine in 1971. Love it or loathe it (I'm staying out of this one), it sold shitloads, and the title track still tops 'greatest ever song' polls. It seems there was supposed to be some Mellotronic input to the album, with the Moody Blues' Mike Pinder being drafted in to play the thing, no doubt working on the basis that you might as well get the best. However, the 'Tron he was supposed to play (presumably John's) wouldn't work properly (don't tell me, not maintained...), so he ended up merely bashing a tambourine. Andy Davis from the marvellous Stackridge was also supposed to play some guitar on it, but blew the session out as the band had a gig. And which would he remember more now? And doesn't he know it?
Paul McCartney was the only ex-member to use the Mellotron on a regular basis in his solo career, although John used the odd bit on a couple of albums, the first being 1973's Mind Games, from his regular keyboard man, Ken Ascher. It's the first thing you hear as you put the needle down/press 'play', a high string part lurching straight in on the title track, and although the track's smothered in it, it's not the greatest use you're ever going to hear, to be honest. One Day (At A Time) has a flute part, and what might be a couple of choir chords, though it's hard to tell, while there's some background strings on I Know (I Know), which, going by the lyrics, seems to be a semi-retraction of the 'sentiments' expressed on Imagine's How Do You Sleep?, regarding the breakdown of his personal and professional relationship with Paul.
Lennon followed Mind Games with Walls & Bridges, made during his so-called 'lost weekend', otherwise known as the 18 months when he swapped Yoko for May Pang (what was it about him and oriental women?). The album has its fans, but I can't say I'm among them; soul-influenced mainstream '70s rock is never going to thrill me overmuch, and there's little here that either floats my boat or even makes me think that anyone would bother listening to it now were it not by John. Elton John guests on two tracks, but I'd be lying if I said he livened proceedings up to any noticeable extent, although he was responsible for John's last live appearance at Madison Square Garden a few months after the album's release, after winning a bet. Ken Ascher is credited with 'Tron, again, this time on just one track, Bless You, on which you can just about make out some background strings if you listen really closely.
Well, Two Virgins is surprisingly listenable, in a completely-off-the-wall kind of way, and has some very interesting Mellotron work to boot. However, I couldn't really recommend either Mind Games or Walls & Bridges as top Mellotronic experiences, to be honest, although Mind Games itself is fairly full-on. Not for all you progheads out there, shall we say.
See: Beatles | Paul McCartney | George Harrison | Ringo Starr | Yoko Ono
Julian Lennon (UK)
Help Yourself (1991, 58.29) **½/T

Rebel King
Saltwater
Get a Life
Would You
Maybe I Was Wrong
Help Yourself
Listen
Other Side of Town
New Physics Rant
Take Me Home
Imaginary Lines
Keep the People Working
Current availability:
Mellotron used:
John's elder son spent a few years as a critics' darling, before it finally dawned on them that he was nowhere near as talented as his dad. He was unfortunate enough to rise to prominence in the '80s, complete with that decade's appalling production values, and a misplaced faith in the power of the Studio As Musical Salvation. Help Yourself consists largely of run-of-the-mill pop/rock, with uptempo stuff like Get A Life contrasting with balladry such as Take Me Home, although most of the material is resolutely mid-paced and unchallenging.
The only Mellotron on the album (player unknown, although it may well have been producer and past 'Tron-user Bob Ezrin) is on Saltwater, a horrendous rip-off of his dad's inimitable Strawberry Fields Forever, with a cheesy synth-flute intro that's far too close to the original for comfort. The 'Tron strings sound wobbly enough to be real, but Lennon's motive for its use has to be questioned, assuming he actually had any say in the decision. You might have gathered that I'm not very keen on this album, although I believe it did well enough when it came out. One 'Tron track isn't enough to make a purchase worthwhile, although since Saltwater was released as a single, it might be worth grabbing if you should run into a second-hand copy anywhere.
Sean Lennon (US)
Into the Sun (1998, 49.08) **½/T

Mystery Juice
Into the Sun
Home
Bathtub
One Night
Spaceship
Photosynthesis
Queue
Two Fine Lovers
Part One of the Cowboy Trilogy
Wasted
Breeze
Sean's Theme
Alter Egos [OST] (2013, 45.16) ***/½

Alter Egos Theme
My Hero
The Killer
The Conspiracy
Fridge Walks
Ms. Unseen
Dr. Invisible
Emily Vs. Claudel
The Capture
C-Thru's Theme
The Shrink
Love Life
Jimmy's Theme
The Supercore
The Fight
The Dance Part 2
The Nephew
The Kiss
Mind Control
Exile
Current availability:
Sun: Grand Royal (US)
Egos: Chimera
Mellotrons/Chamberlin used:
I'm sure you all know perfectly well that Sean Lennon is the only offspring of John and Yoko's decade-plus together, born in New York in 1975, so I won't bother mentioning it. 1998's Into the Sun is his first solo album, made while personally and musically entwined with Cibo Matto, making it hardly surprising that some of their retro-cheesiness rubbed off on the record. Lennon's fondness for Brazil's Os Mutantes is also fairly apparent in places, although the album seems strangely anodyne in comparison to that outfit's Tropicalia-influenced psychedelia. Sadly, Lennon's voice is something of an irritant on the album, largely 'cos he sounds almost exactly like his dad (listen to Queue), despite being (technically) American. Some (many?) of you love John's voice. Some of us don't. Lennon apparently used a mixture of real 'Tron and samples on the album. Why? Why not use all real? Anyway, the difference is fairly easy to spot: the quiet flutes on opener Mystery Juice are probably real, while the strings on Queue almost certainly aren't, leaving the cellos on closer Sean's Theme, which sound genuine.
Fast-forward a decade and a half; Lennon acts in and soundtracks 'superhero comedy' Alter Egos, his accomplished, frequently noir-ish compositions and arrangements working well even without the visuals. Of course, this isn't for everyone, often sounding more like a record made in the pre-long-player days of the '40s than anything remotely contemporary, although the electronica of Fridge Walks and skronky New York-ness of The Dance Part 2 stand out from the pack. Lennon supposedly plays both Mellotron and Chamberlin on the album, but the only even slightly obvious use is the (Chamby?) vibes on Ms. Unseen and even then, it's hard to tell whether or not they're genuine.
Overall, Into the Sun fails on several fronts, although I'm sure it has as many admirers as detractors. Two probably real Mellotron tracks don't make it worth getting, though, the same going for the bulk of the material. Disappointing. Alter Egos is a pretty decent soundtrack, but somewhat niche, with little tape-replay work.
See: Cibo Matto | Ghost of a Saber Tooth Tiger
Deke Leonard (UK)
Iceberg (1973, 47.06) ***½/½

Razor Blade and Rattlesnake
I Just Can't Win
Lisa
Nothing is Happening
Looking for a Man
A Hard Way to Live
Broken Ovation
Jesse
Ten Thousand Takers
The Ghost of Musket Flat
Crosby (Second Class Citizen Blues)
7171 551
Current availability:
2-on-2 with Kamikaze: BGO (UK)
Mellotron used:
Erstwhile Man guitarist Roger "Deke" Leonard's first solo album, Iceberg, is an odd mixture of styles, like many similar efforts, where an artist writes a disparate collection of songs that aren't suitable for their parent band, then sticks them all together on one record. To quote the Mighty Boosh, "I think it is perhaps something to be saved for your solo project". Stylistically, the frenetic hard rock of Razor Blade And Rattlesnake, the rock'n'roll of I Just Can't Win, the country balladry of Lisa and half a dozen other styles all rub shoulders, seemingly getting on quite well together, despite their differences.
Full credits give the game away on the Mellotron front (doubtless the Rockfield machine, where the album was recorded), with Deke himself playing it on the electric folk instrumental The Ghost Of Musket Flat. Now, before I put the album on, I guessed we'd be getting either a 'Strawberry Fields'-style flute part, or some quavery strings. Wrong. Under the track's real violin you can just about hear... trombones. I think. You can only really hear them at the very end of the track, and I can't really say they especially enhance it in any meaningful way. Oh well.
This probably isn't an album for your average Man fan, as it only occasionally sounds much like them (notably on Broken Ovation, and 7171 551, later to become a Man classic, of course), but hardcore fans probably need to own a copy, along with its successor, the following year's 'Tron-free Kamikaze. Just don't bother for the Mellotron, OK?
A quick footnote: why has my French UA LP got 7171 551 listed as '2138920716' on the label? Is this some Gallic in-joke - a girlfriend's phone number, maybe? I thought French numbers had eight digits. Whatever.
Another quick footnote: Deke is pictured standing in front of a Bristol Fighter on the sleeve, and the album's called Iceberg. For the follow-up, he was apparently keen on being pictured in front of an iceberg, while calling the album Bristol Fighter. Why do people drop these great ideas? It's like the follow-up to 'A Fish Called Wanda', 'Fierce Creatures' (yawn), which was originally going to be called 'Death Fish II'. Why, I mean, WHY, change something so perfect?
Ken Leonard & Jimmy Moore (US)
Improvised Waves (2005, 64.57) ***½/TTTT

Arpeg Two
As the Water Recedes...
Flute and Piano
Track 1
Current availability:
Mellotron used:
Moore's 'Formicatron' - formica-covered M400 (!)
Ken Leonard and Jimmy Moore are two of the East Coast's major Mellotron luminaries; Ken is intimately involved with MONEYPIT (Mellotron enthusiasts' meetings - don't ask), while Jimmy is Streetly Electronics' East Coast rep. In late 2004, they decided to hook up to record some improvised electronic music, heavily featuring the Mellotron. The end result (released the following year) is Improvised Waves, with four pieces spread over slightly over an hour, mostly recorded live in the studio. Three of the pieces are pretty much as you'd expect, improvised EM with loads of Mellotron, although Flute And Piano does exactly what it says on the tin, being a highly melodic Mellotron flute/piano duet.
Moore plays most of the Mellotron parts, although Leonard adds some on Arpeg Two, with lots of string section, the occasional flute line and some background choirs. Flute And Piano is fairly obvious, while the other two tracks (including the 26-minute As The Water Recedes...) stick mainly to the string section and the odd flute part. The reason this 'only' gets four Ts is that the Mellotron work is, unsurprisingly, rather vague, as is most of the music, although it must be featured on at least two thirds of the album's length.
This is available from Ken's site (above), should you wish to indulge in the duo's indulgence. Despite its unsurprising lack of structure, this is far better than most modern EM albums, with their computer-driven, sample-triggering nonentitieness (well, it's a word now), and worth hearing for fans of the genre, or anyone who wants to hear loads of Mellotron.
Sondre Lerche (Norway)
Faces Down (2001, 53.11/57.18) **½/T

Dead Passengers
You Know So Well
Sleep on Needles
Suffused With Love
Side Two
Modern Nature
Virtue and Wine
On and Off Again
No One's Gonna Come
All Luck Ran Out
Things You Call Fate
[US bonus track:
Rosebud]
Current availability:
Mellotron used:
Sondre Lerche is a Norwegian singer-songwriter who crosses over into the mainstream pop market, going by his debut, 2001's Faces Down. It's not that it's an inherently unpleasant album, but its cheerfulness disguised as misery (well, I know what I mean) becomes an irritant after a few tracks. If the album has a best track, it's probably opener Dead Passengers, but chances are that's only because the irritation hasn't kicked in yet. Worst? Possibly Modern Nature, largely because it's a duet with the entirely tuneless Lillian Samdal, whoever she may be, or the neverending Things You Call Fate that closed the original release, simply because it's over nine minutes long, for no good reason.
Producer H.P. Gundersen plays Mellotron on a couple of tracks, with flutes on You Know So Well and Virtue And Wine, both alongside real strings; nice to hear, but I couldn't honestly say it enhances the album that much. So; heartfelt Norwegian pop, anyone? Didn't think so.
See: Samples etc.
Nolwenn Leroy (France) see: Samples etc.
Lesbian (US)
Power Hôr (2007, 62.17) ***/T

Black Forest Hamm
Powerwhorses
Loadbath
Irreversible
Current availability:
Mellotron used:
Lesbian are so-named because (excuse me if I misquote), "All the cool names had gone" and because it, "Evokes pure, sexually-charged freedom", which certainly shows some insight into the lesbian demi-monde, I have to say. I've seen Power Hôr (with or without the ˆ) described as 'a run through the history of heavy metal' or somesuch, but to my ears, it's merely a modern progressive/death release, written by guys who listened to Iron Maiden a little too much in their youth. The album's four pieces ('songs' seems a little inadequate) average out at around fifteen minutes apiece, moving through vast, distorted soundscapes, punctuated by the occasional (and really, really unnecessary) 'cookie monster' vocal. Please don't do that again, chaps. It's ridiculous and not the slightest bit threatening. It's certainly 'progressive', but it's also a real grind (pun intended) for the non-faithful, but then, Lesbian are directing their energies at their core audience, while the rest of us can go fly a kite.
Mellotron from Steve Moore, with background strings on Powerwhorses, Loadbath and Irreversible and possible flutes on Loadbath, but as to whether or not it's real... It's all low in the mix, and while it adds to the album's atmosphere, it isn't ubiquitous enough to be one of its defining features; I'm reminded of Trettioåriga Kriget's mid-'70s use in a hard rock setting, for some reason. So; long, slow and noisy, with minimal Mellotron, real or otherwise. yes for the metalhead, no for the rest of us.
---